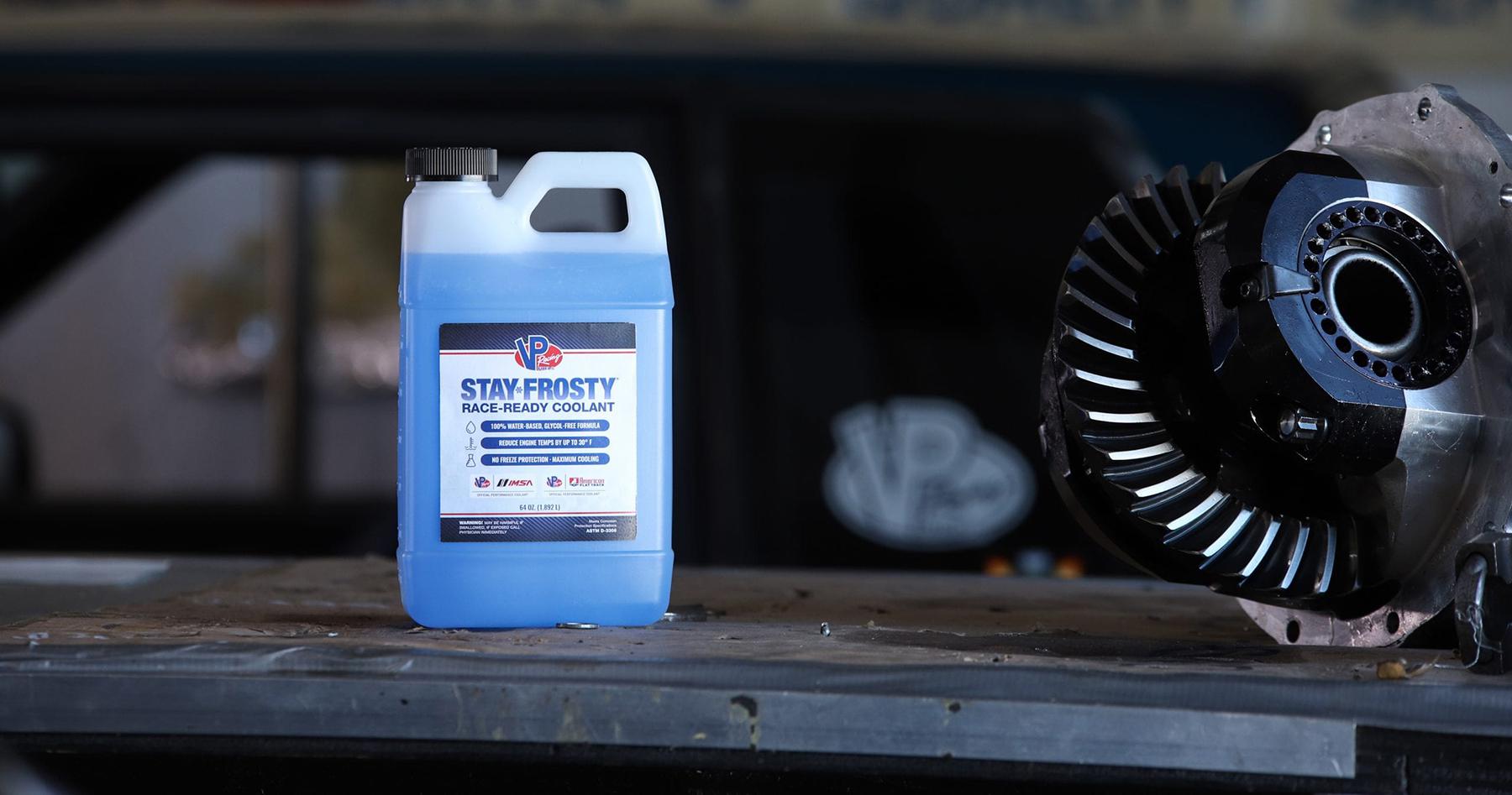 Stay Frosty Race Ready
Founded in 1975 by Steve Burns, VP Racing Fuels is now recognized as one of the leaders in race fuel technology. With a catalog of more than 80 fuel blends, and a roster of racing champions across the spectrum of motorsports, the company's name is seen at races of nearly every type across the country.
In addition to a wide array of performance fuels, the company also offers one of the premier coolants in the racing industry. The Official Performance Coolant of IMSA, Stay Frosty performs for Saturday night grassroots racers and top level pros across the racing industry.
According to driver Robby Gordon, "With race day weather over 100°F, our engine temps climbed to about 225°F with our standard water and coolant formula. After replacing with Stay Frosty Race-Ready Performance Coolant our engine temps only came up to about 202°F on race day, even with a radiator fan failing mid-race." 
Product details:
Stay Frosty Race Ready is a proprietary VP Racing Fuels coolant formulated for high-compression, high-heat racing engines. It contains a specialized blend of heat transfer agents that drastically improve coolant's ability to transfer heat away from high temperature cylinder heads. Temperatures of engines are reduced by up to 30°F compared to conventional glycol-based coolant. This increases the density of the air/fuel mix, and allows ignition timing to be safely advanced without the threat of detonation – resulting in more power and torque.
Ready-to-Use – Just Pour In

Contains No Slippery/Hazardous Glycol

Reduces Engine Temps By Up To 30°F

100% Water-Based Formula

Maximizes Horsepower and Torque

No Freeze Protection – Maximum Cooling

Non Toxic and Biodegradable

Blended with Chemically Stable Reverse Osmosis Water
Learn more about the Stay Frosty Race Ready coolant, and all of VP Racing Fuels products, by visiting vpracingfuels.com