Image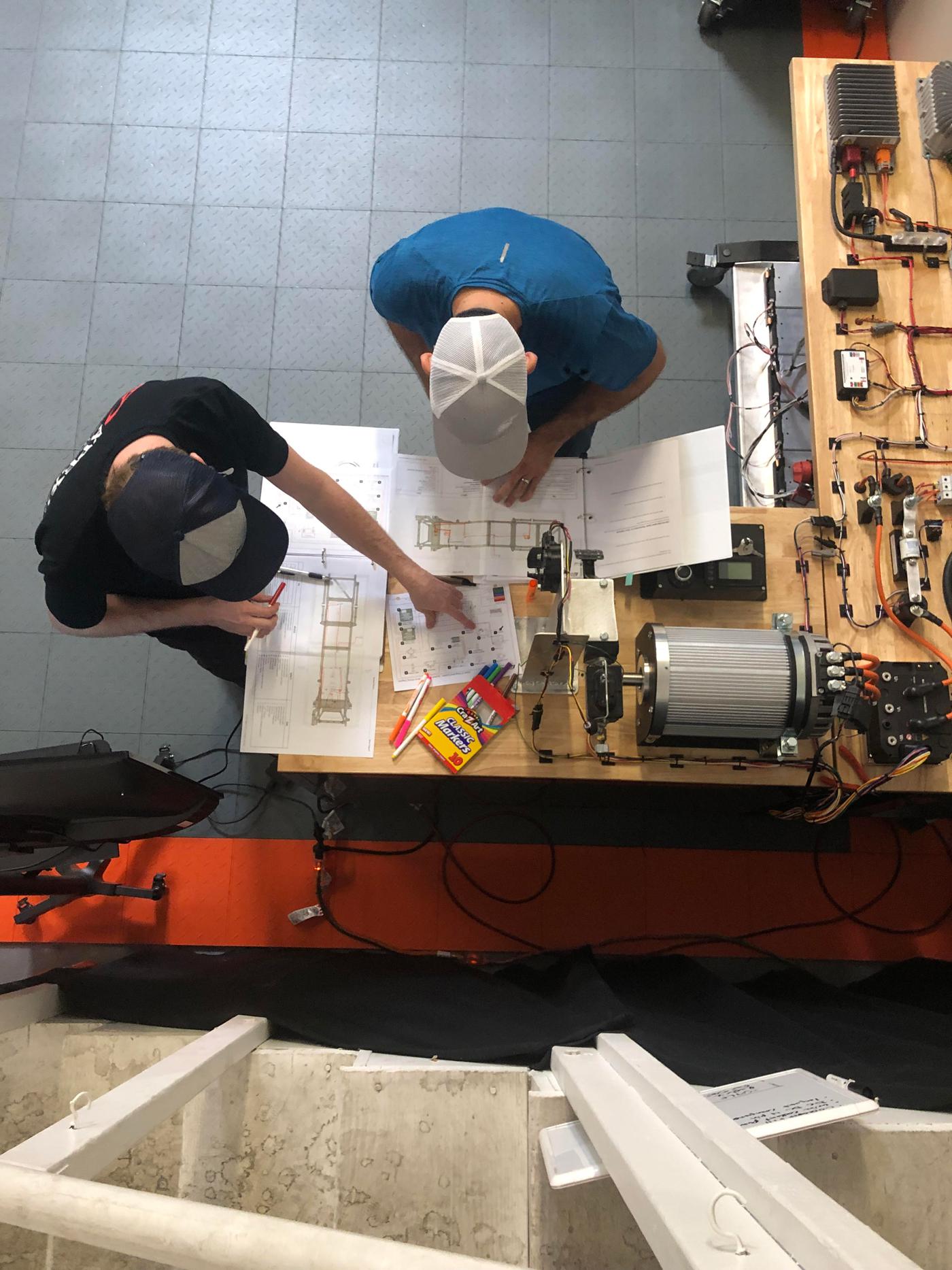 As more electrified platforms find their way into motorsports, the demand for engineers and technicians with specialized expertise is poised to rise in turn. A growing number of certification and training programs are now available that are focused on EVs.
EVs still account for a small fraction of annual new car sales in the United States and throughout most of the world, but if manufacturers and governments maintain their projected roadmaps, we're in for a significant shift over the coming decade. Considering that there are more than one billion internal combustion vehicles on the road today, according to a Bloomberg New Energy Finance report, it will still likely take some time for battery power to become the prevalent means of propulsion, but the implications for performance shops and top-tier racing teams may prove to be more immediate.
"Our mindset at the college is that we don't expect this to entirely replace internal combustion engines," said Taylor Brooks, Automotive Technology faculty member and department chair at Saddleback College, Mission Viejo, California. "What we'll more than likely see is a mix of multiple types of technology that integrate the benefits of different types of systems into appropriate applications. I think that affects the focus for technicians. They might have a strong background in internal combustion, but we're moving toward an environment where ICE and motor generators are working in the same space. We're already seeing that in road-going supercars and at the upper levels of racing. So it would be wise for individuals who're really interested in piston-driven engines to understand these emerging technologies."
Given that need for training and foundational knowledge in the electrified realm, an increasing number of schools and automotive organizations are developing curriculums that reflect this evolution in the industry. These programs are designed to help new technicians establish those skill sets, and also provide seasoned professionals with the foundational knowledge required to safely and effectively develop, tune, and maintain high-performance vehicles that utilize these technologies.
Legacy EV
Established in Tempe, Arizona, in 2019, Legacy EV is a parts distributor and educator, said Tom Santilli. "We provide parts and kits for electric vehicle conversions, as well as the documentation and education needed to install those components safely."
Legacy EV has partnered with more than 60 different manufacturers to create turnkey solutions for those looking to integrate this technology into vehicle platforms that weren't originally designed for it. But to make it all work, the individuals who are turning the wrenches need proper familiarization as well.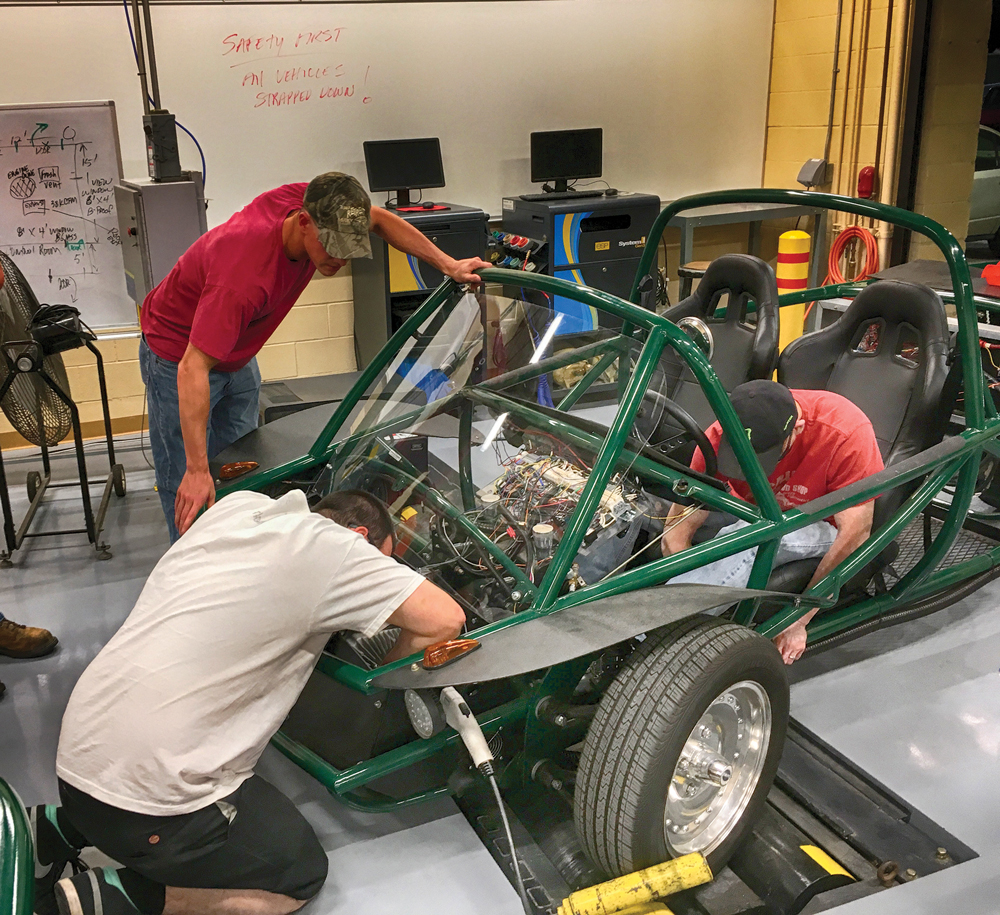 "The company's president and co-founder, Mavrick Knoles, is also a Teach for America alumni," said Santilli, who is a Legacy EV curriculum specialist. "So, like myself, he has a background in education, and he recognized the opportunity to upskill, and allow automotive technicians to grow into also servicing electric vehicles. A gas-to-electric conversion is a great way to leverage an automotive tech's existing knowledge about ICE while expanding their understanding of high-voltage electrical systems."
He said that technicians will need to be fluent in both ICE and EV technology in the coming years. In terms of the latter, the safety protocols are crucial to that fluency.
"High-voltage safety is a huge component to this learning," Santilli explained. "It can be difficult to know when you're in an electrically dangerous situation because often it is silent and not clearly noticeable. You need to have an understanding of things like how to use electrical measuring tools and an awareness of the consequences of resistance and insulation, and how to identify proper PPE and when to wear it. Creating electrically safe working conditions is something we really emphasize in our training."
Legacy EV's Certified Technician program consists of a five-module online course that covers topics ranging from an overview of EV components and safety best practices to wiring, mounting and fitment of parts, and tuning. "We cover the common parameters you'd set with this type of powertrain, data logging, and how to interpret that data in order to refine and tune the vehicle's behavior," said Santilli. "For example, when you're setting parameters for your battery management system, you're going to have to know what type of battery chemistry you're using because that will have a certain low-voltage and high-voltage cutoff, and the battery is going to operate optimally within a certain set of conditions."
In addition to these online courses, Legacy EV also provides a week of in-person training to give students hands-on experience that they can then apply to the EV conversion project they're working on. Students are also provided with support as they work their way through the build.
Although Legacy EV developed its certified technician training program before industry standards had been established for the technology, Santilli told us that the company's curriculum closely follows the EV testing and certification program that was announced by ASE earlier this year. "It was reaffirming to see that a lot of what we're doing runs parallel with what they came up with," he said.
Going forward, Legacy EV has plans to move further into the EV certification and education arena. "We found a 501(c)(3) called EVTEC—Electric Vehicle Technician Education Council—and we are gathering industry partners to review more than 140 standards that relate to building, servicing, and maintaining EVs," Santilli said. "By getting industry input and accepting these education standards, our goal is to disseminate them to schools so they can teach about electric vehicles in a way that's congruent with industry standards."
Saddleback College
While many community colleges have well-established automotive departments, Brooks said that Saddleback College benefits from resources that can be tough to come by at other schools. "We pride ourselves on working with the best in the industry. We have a close working relationship with the University of California, Irvine, on their alternative fuel vehicle programs, for example. The goal is to provide the best training that we can."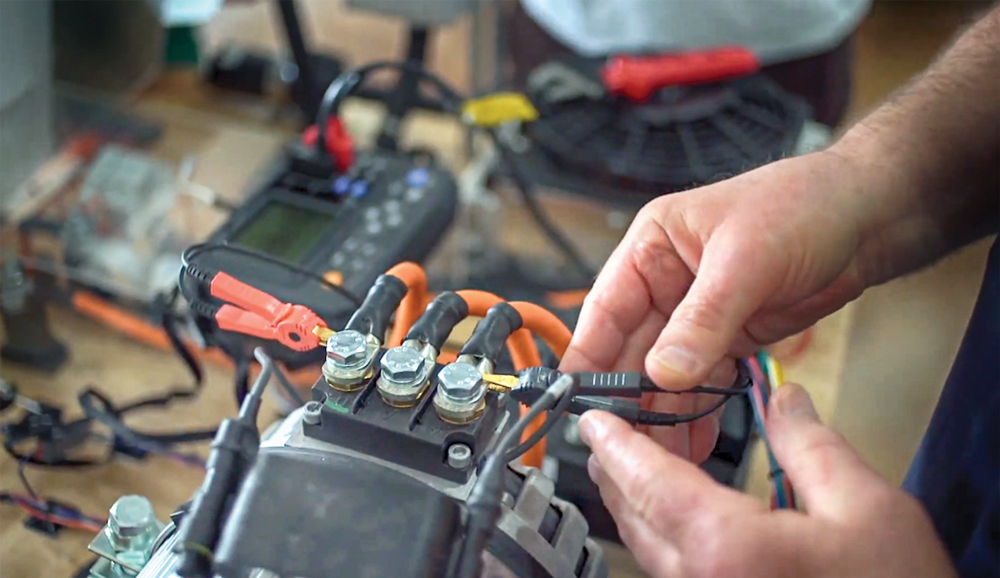 Saddleback offers automotive courses that cover topics ranging from engineering fundamentals to alternative propulsion systems, but the Auto 231 class focuses specifically on hybrid and electrical vehicle technology. These classes can be used for a certificate in a specified automotive field, or if a student chooses to also enroll in general education courses, the classes can be used as electives in the pursuit of an Associates of Science degree.
"231 is going to cover basic electrical theory, like understanding the differences between an AC drive motor and a DC drive motor, and we actually have two kit cars that demonstrate these two different configurations," he said. "We also go over series hybrids, parallel hybrids, and series parallel, and the drivetrain architectures of each. Additionally, we have a small fleet of Toyota Priuses that the students tear down and rebuild, and we've started teaching them how to rebuild battery packs as well. We mostly do that with nickel metal hydride batteries only because they're a little more stable and inexpensive, but they get experience rebuilding the lithium polymer batteries that are in our AC and DC Switch Lab vehicles, too."
Students are also given a primer to EV and hybrid technology in Saddleback's Auto 100 class, a prerequisite for every other automotive class that the school offers. A dedicated lecture and lab activities provide insight into EV and hybrid component design and purpose, and demonstrate how to safely perform a high-voltage disconnect. Brooks said that the goal is to give students a strong understanding of the technologies that are prevalent on today's roads while also establishing a working knowledge of what's around the corner.
"An older technician once gave me some really good advice," he recalled. "He told me that if a shop or a dealership wants to send you to training, you should always say yes. So, back when I was working at a Hyundai dealership, I was sent to hybrid training after they introduced their first hybrid vehicle, and I was the only individual at the dealership who got the training. A few months later, a recall came out. One day I was in my dealer principal's office to ask about a special tool that was mailed to the dealership to do these special recalls, and the fixed operations manager was in for a visit. The fixed operations manager asked why I needed the tool, and I explained that I was the only one who was hybrid certified at the shop. He looked over at the dealer principal and said, 'Well, you heard him—give this guy a raise. He's the only one who knows how to do it, so we've got to.'"
National Institute for Automotive Service Excellence (ASE)
For more than half a century, the National Institute for Automotive Service Excellence (ASE) in Leesburg, Virginia, has served as a certification group for automotive professionals. As Santilli previously noted, the non-profit organization announced two new certification standards specifically related to electric vehicles earlier this year, which now join a roster of more than 50 different tests offered by the organization.
"These standards specifically address safety in an automotive repair facility," said ASE's Trish Serratore. "We're addressing those standards for someone who is working in the office, the lot boy, the service advisor, and all the way up to the technician who is handling battery diagnosis, replacement, and recycling. EV Electrical Safety Awareness Certification (Level One) is intended for anybody who is working in a shop that is servicing EVs. It covers general safety for everyone in a facility where there is an EV present. The EV Technician Electrical Safety Certification (Level Two) test is focused on the technician, and the safety of that individual around the high-voltage system of the vehicle in the shop. We're also developing a third test that will deal specifically with those battery issues. We're really trying to be proactive about making sure that the industry understands the precautions that they should take when working around those vehicles."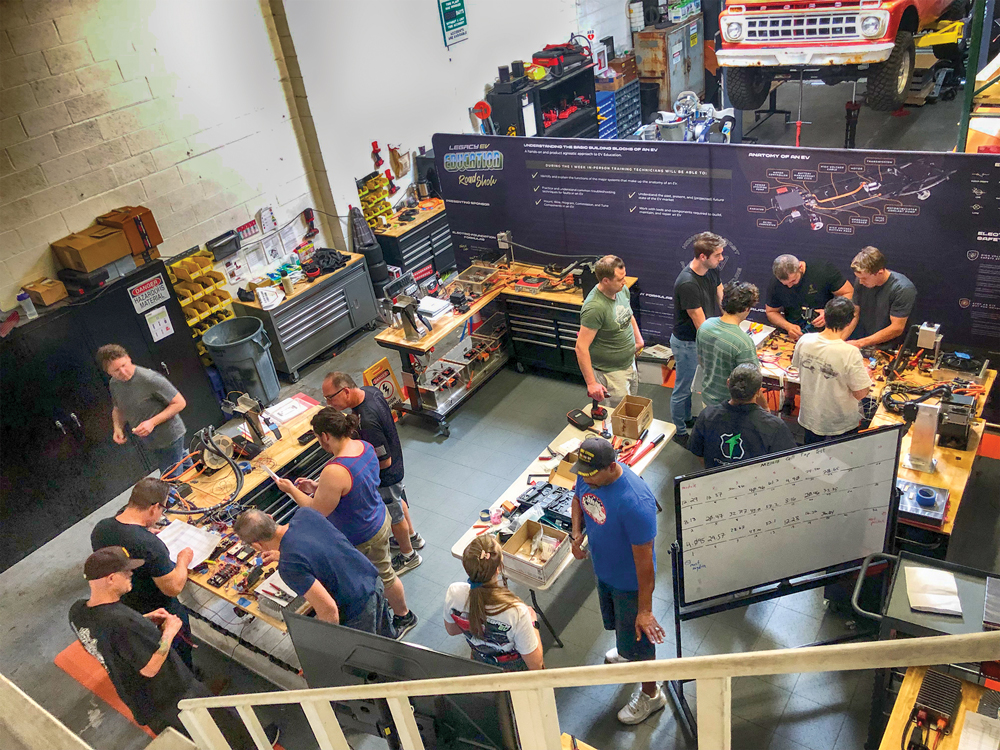 Serratore pointed out that, as a general rule, ASE doesn't offer training programs in preparation for these exams; its role is to provide standards that help to design the key elements of that training. "A business can take a look at these standards and make sure that their employees are following those guidelines, and we have these certification tests that would support that," she said. "Our standards are open source, so we hope that other organizations and educators out there will take advantage of them and start building those into the training that they offer to our industry."
ASE also offers a Master designation, which signifies that an individual is certified in all of the organization's automobile tests, or all seven of its medium-heavy truck tests, but the aforementioned EV certifications are offered outside of that framework.
"We additionally have the Light Duty Hybrid/Electric Vehicle Specialist Certification (L3) exam as well," she said. "That is an advanced-level test for technicians who possess the skills required to diagnose hybrid-electric vehicles. With an L3 test like this, there's an expectation that the individual has already acquired significant training and knowledge with these systems. There are several different ways that an individual might get that knowledge. They might work for a vehicle manufacturer and have gone through a specialized training program, or they might be working in the aftermarket and have attended a program offered by a number of different vendors out there."
Notably, ASE provides background information on the standards and expectations involved with the two EV Electrical Safety Awareness Certification exams. "That will help you pass those particular tests," Serratore added.
MiraCosta College
Paul Katson, the Automotive Technology department chair at MiraCosta College in Oceanside, California, told us that the aim of the school's program is two-fold. "Part of it is to prepare students for entry-level work as an automotive technician. But our program is also utilized by people who're already working in the automotive industry. We're ASE accredited, and so our other goal is to help folks prepare and pass the ASE examinations."
The school offers a course that focuses specifically on EV and hybrid vehicle technologies. The program covers a wide range of topics to lay a comprehensive groundwork for those who are new to the automotive realm, and it can also prove valuable for those with more experience who want to expand their skill sets.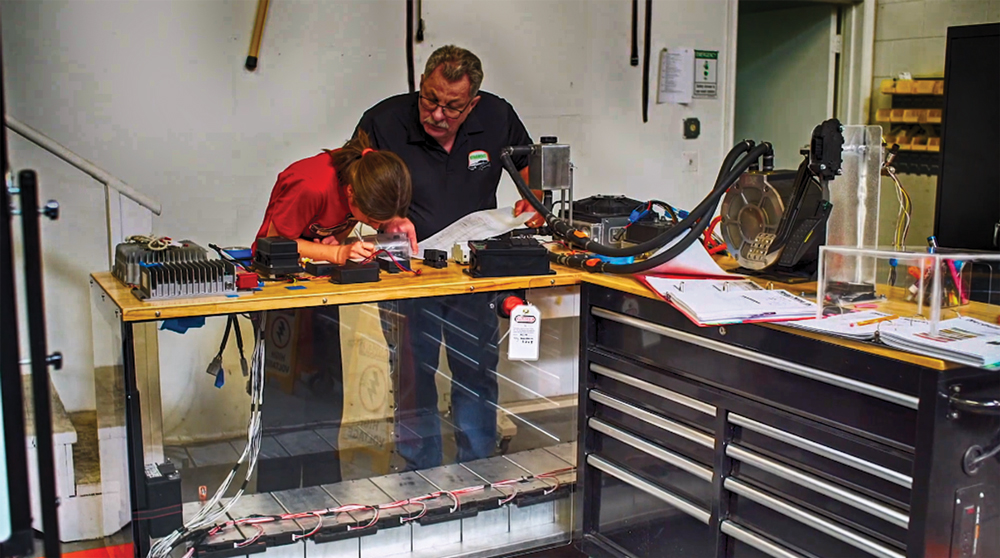 "In our EV courses, we go over the fundamentals like EV safety, how to use a multimeter, Ohm's law—which is basically mathematical formulations to determine voltage and resistance—AC/DC current principles, and electro-magnetism," he explained. "We also discuss different vehicle platforms and the differences in their drive system configurations."
The course also covers the differences in battery chemistries, the operating principles of motor generators and regenerative braking, and troubleshooting methods, among other topics. "We cover the rebuilding of battery packs as well, and they learn how to test for bad cells," Katson noted. "Understanding how to read wiring diagrams is really important, too. Even if someone has a lot of knowledge and experience in the automotive field, this can potentially fill in some gaps."
Credits earned from the course can be applied toward a certificate of achievement in automotive technology, which consists of six courses in total. "If they want to stop there, they can stop there," he said. "Or, if they want to get an associate degree in automotive technology, they can use those classes and take some core academic classes to work toward that. Our curriculum is designed to help prepare students to take those ASE exams as well. There are a lot of different options available to them."
SOURCES
Legacy EV
legacyev.com
MiraCosta College
miracosta.edu
National Institute for Automotive Service Excellence (ASE)
ase.com
Saddleback College
saddleback.edu