Image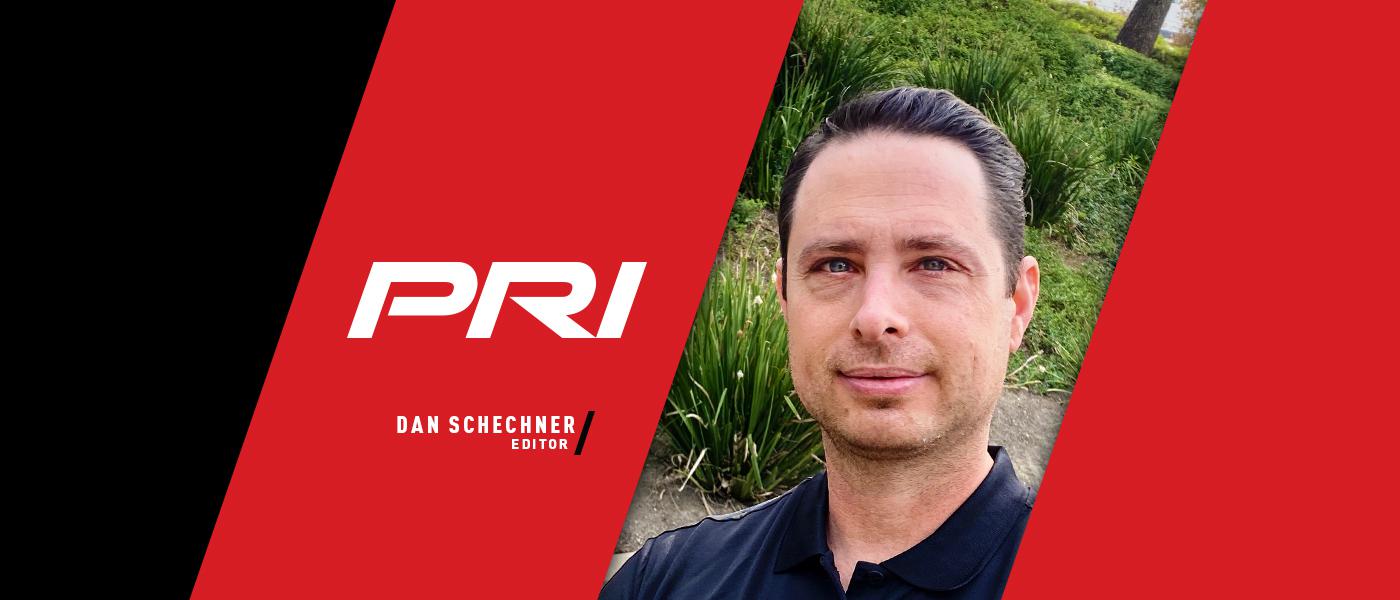 Here's what I think while tracking the PRI Road Tour's progress this month from Super Dirt Week (Oct. 7–10) to the Indy Autonomous Challenge (Oct. 22–23) to the Dodge/SRT NHRA Nationals (Oct. 29–31).
1) I think—no, I know—that I 
couldn't be more excited to share the news that Jim Liaw has just been named General Manager of Performance Racing Industry (PRI). Jim arrived at PRI last month from Formula Drift, the preeminent international drifting series he co-founded with Ryan Sage back in 2003. Truth be told, we've been big admirers of Jim's for years—he and Sage were profiled in our Industry Insights column in 2007, followed by Jim alone just a few years ago. I recently went back and re-read that interview (PRI Magazine, April 2018) in the context of Jim becoming our new GM and, I have to say, we couldn't have scored a bigger win. The track record at FD speaks for itself, but it was Jim's response to a question on leadership and keeping perspective, in particular, that I thought really spoke to his passion and approach to building successful operations: "I think I go back to something I realized when we started the series in the beginning: I am first and foremost a fan, and that keeps my feet on the ground…. I'm a racing and a car enthusiast; I go to all kinds of events, all kinds of races, as a fan. I always keep that in mind. The way we operate [at Formula Drift] and what we focus on is that our series is not solely about helping your company or your team drive revenue; there has to be a fan element and culture within the series. We want to take the time to create something people can enjoy, and that's been our primary focus." You can read more about Jim's role at PRI in the lead-off to our Industry News section on page 170. Keep an eye out for next month's issue, too, where we'll sit down for a one-on-one with Jim to discuss his thoughts on the present and plans for the future of PRI.
2) I think the list of "PRI firsts" just grew once again with the successful execution of SaveOurRaceCars.com Championship Night at Madison International Speedway (MIS). Yes, the August 20 program in Oregon, Wisconsin, where three track champions were crowned at the NASCAR-sanctioned half-mile paved oval, was the first time PRI has ever sponsored a race. And it couldn't have been for a better cause, as the event provided a perfect opportunity to connect on a grassroots level and raise awareness of the threats facing our industry. Those threats begin with the US Environmental Protection Agency (EPA) and its efforts in recent years to prevent vehicles designed for street use from being converted into dedicated race cars. PRI and SEMA have been working tirelessly to fend off EPA overreach, most notably through introduction of the Recognizing the Protection of Motorsports Act of 2021 (RPM Act), a bipartisan bill that, if passed, would confirm that it is legal to make emissions-related changes to a street vehicle for the purpose of converting it into a race car used exclusively in competition; it also affirms that it is legal to produce, market, and install racing equipment on converted race vehicles. There were several takeaways from the experience at MIS, which you can read about in our full report beginning on page 56. And, if you haven't already done so, please send a letter to your lawmaker in Congress, urging them to support the RPM Act, by visiting SaveOurRaceCars.com.