Hot Shot's Secret-Sponsored Firepunk Diesel S10 Sets New World Record
Image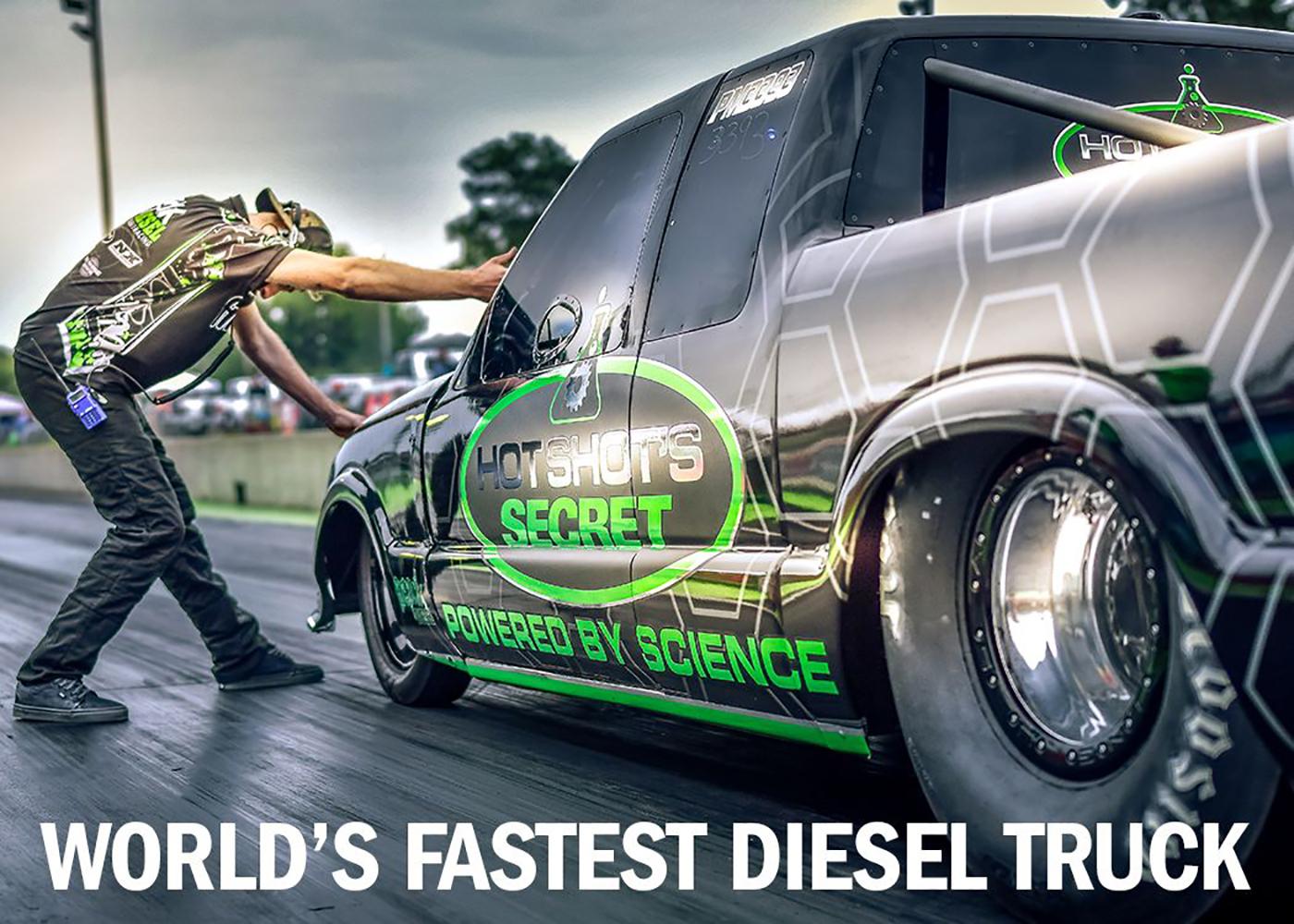 The Hot Shot's Secret-sponsored Firepunk Diesel S10 broke the world record during the qualifying round of the Radial Vs. World class at No Mercy 11 event. The event was hosted on one of drag racing's largest stages at South Georgia Motorsports Park. With Larson Miller behind the wheel, the Cummins-based D&J Precision Machine built billet diesel-powered S10 competed against the nation's fastest gas-powered cars. Traditionally on a big tire, the Firepunk team had only one day of testing on a new 315 radial tire setup before setting the record with a blistering 4.11 pass at 181 mph, making it the fastest diesel doorslammer in the world.
"We have high expectations to be the first diesel to run a 3-second pass, and the team at Firepunk made huge progress on the new radial tire setup. We certainly put on a show. This truck is a big crowd pleaser and a great representative for the diesel industry. We will be back at it early next year and expect more record-breaking runs," Kyle Fischer said, who is the Director of Branding Promotions for LSI, parent company of the Hot Shot's Secret brand.
There is no product in the world that contains the same chemical makeup as Hot Shot's Secret FR3 Friction Reducer. It is truly one-of-a-kind and is infused into their entire line of high-performance Adrenaline Racing Oils, including engine oil, transmission fluids, and gear oils, which helped Firepunk Diesel's S10 become the fastest diesel truck in the world.
WHAT IS NANOTECHNOLOGY?
At its core, nanotechnology is the concentration on the manipulation of atoms, molecules, particles, and compounds measured in dimensions and tolerances of less than 100 nanometers. As scientists and engineers at Hot Shot's Secret continue their formulations based on nanotechnology, the product compounds provide an improved microscopic-ball-bearing effect. When using nano compounds in the Hot Shot's Secret engine oil products, for example, nanocarbon particles dispersed in the engine oil are compressed between adjacent surfaces, providing an added gliding effect over chemistry-formulated ball bearings. As metal surfaces in constant friction against each other are introduced to the nanotechnology-based compounds in Hot Shot's Secret products, these oils and additives provide a smoother interaction between engine parts in constant friction with each other. Scientifically produced nano components of the oil adhere to the engine parts and provide a protective layer between each of the parts in friction, drastically reducing wear and heat, allowing for tremendous power gains.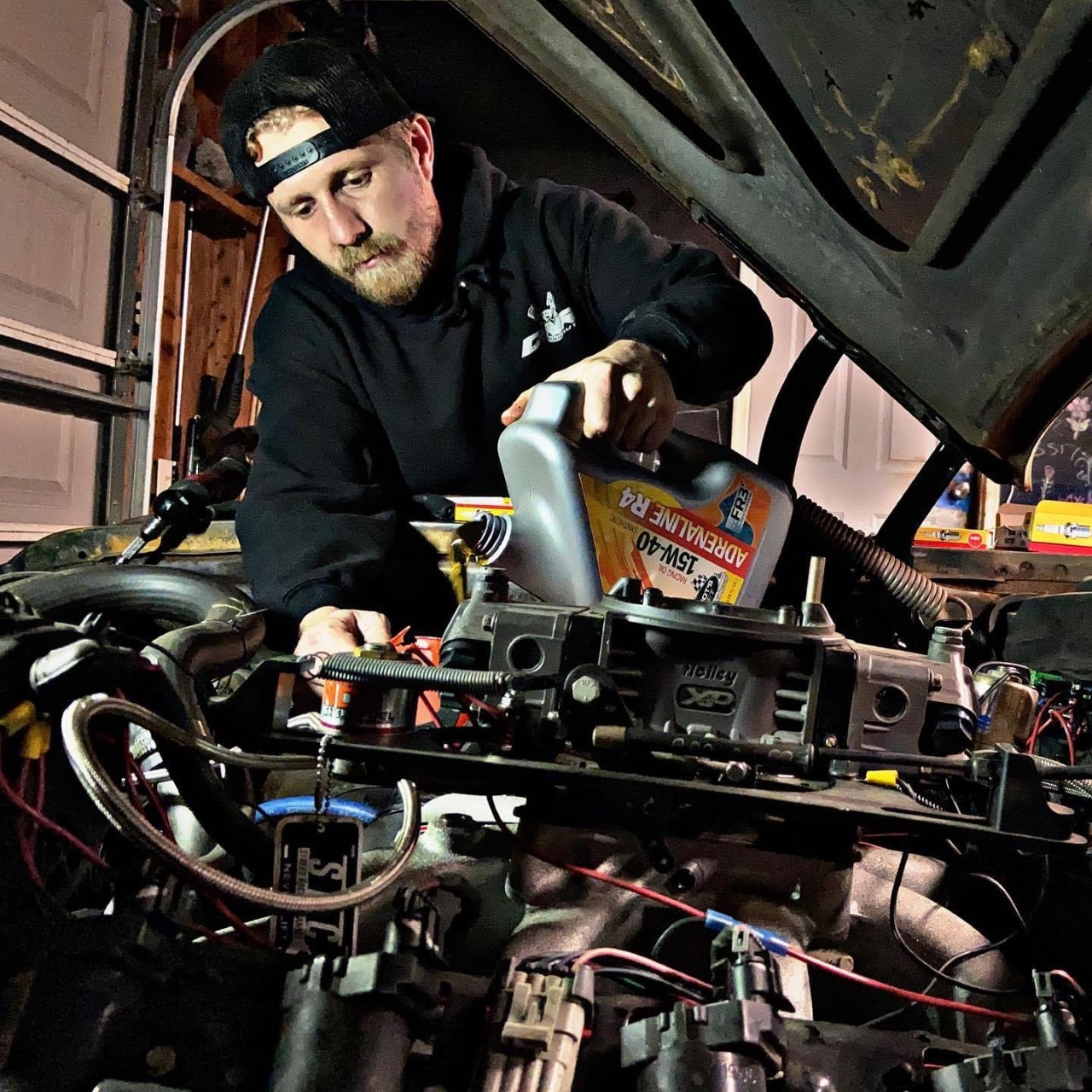 There are several different chemicals that manufacturers use in their products to help reduce friction in any lubrication application, including molybdenum, phosphorus, zinc, titanium disulfide, antimony, and more. These chemicals are known as "friction reducers" or "extreme pressure additives" and are widely understood within the field of tribology (the study of friction, wear, lubrication; the science of interacting surfaces in relative motion).
Another form of these friction reductions or extreme pressure additives, which have become popular of late, are nano lubricants. Nano lubricants also come in many different forms, including nanodiamonds, graphite, tungsten disulfide, borate, titanium, and more. Every one of these friction reducers has its pros and cons; however, through extensive lab and real-world testing, Hot Shot's Secret is using what is believed to be the most effective nano lubricant available, nanocarbon.
Nanocarbon particles are spherical in shape and are less than 10 nanometers in diameter. This allows the lubricant to find the voids and blemishes on a machined surface, fill these gaps, and provide a smoother surface for the lubricating film to form.
While nanocarbon particles are highly effective on their own, the researchers at Hot Shot's Secret have found one of the most innovative chemistry makeups in the world by combining these nanocarbon particles with two other patented lubricants. The synergy between these lubricants results in one of the world's most advanced friction reducers, Hot Shot's Secret FR3 Friction Reducer.
Hot Shot's Secret FR3 Friction Reducer has many benefits, but this oil additive is proven to reduce wear of oil-wetted components by up to 43%. It also reduces the temperature in the engine by absorbing the friction heat via the nanocarbon particles. This, coupled with its ability to improve the host oil's properties, allows for improved oxidation and shear stability of the oil. This helps keep the engine cleaner, longer.
Increased ring sealing is another benefit of FR3 Friction Reducer. This allows for an increase in combustion efficiency, and it lowers the amount of blow-by that takes place. The engine's increased efficiency also provides an increase in fuel economy and horsepower for any vehicle by up to five percent (5%).
ADVANTAGES OF NANOTECHNOLOGY
Engine oils treated with Hot Shot's Secret's nano-based additives improve adhesion to the metal surfaces in the engine cylinder that form a more effective tribolayer for less abrasion and friction between metal parts. This is why Hot Shot's Secret's line of Adrenaline Racing Oils have been infused with FR3 nanotechnology.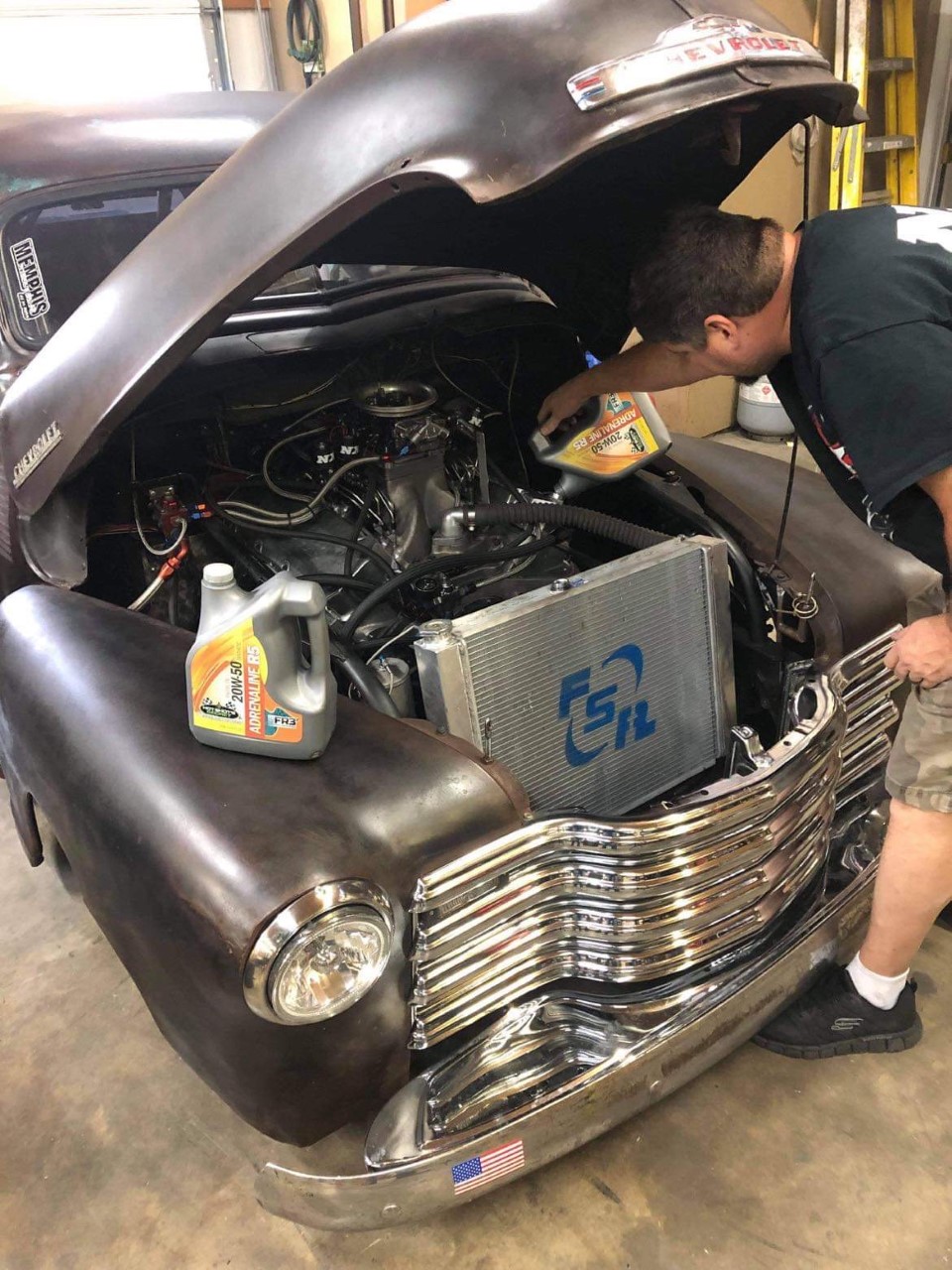 Hot Shot's Secret's patented nanocarbon formula improves thermal conductivity and dispersion for reduced heat throughout the engine's oil wetted parts. Nanocarbon acts as antioxidants, reduces oil breakdown, and maintains higher viscosity of the engine oil.
Reduces cylinder wall friction by applying a thicker nano-based oil film adhesive between the block and the piston ring.

Increases the seal between ring and cylinder for improved dynamic compression and combustion.

Improved ring seal reduces blow-by and hazardous emission particulates.

Increases thermal conductivity, reducing operational temperatures by absorbing and properly dispersing friction-based heat inside the engine.

Prevents oil breakdown cycles for extended oil life and viscosity.

Improves engine power, torque, horsepower and fuel efficiency.

Provides cleaner exhaust.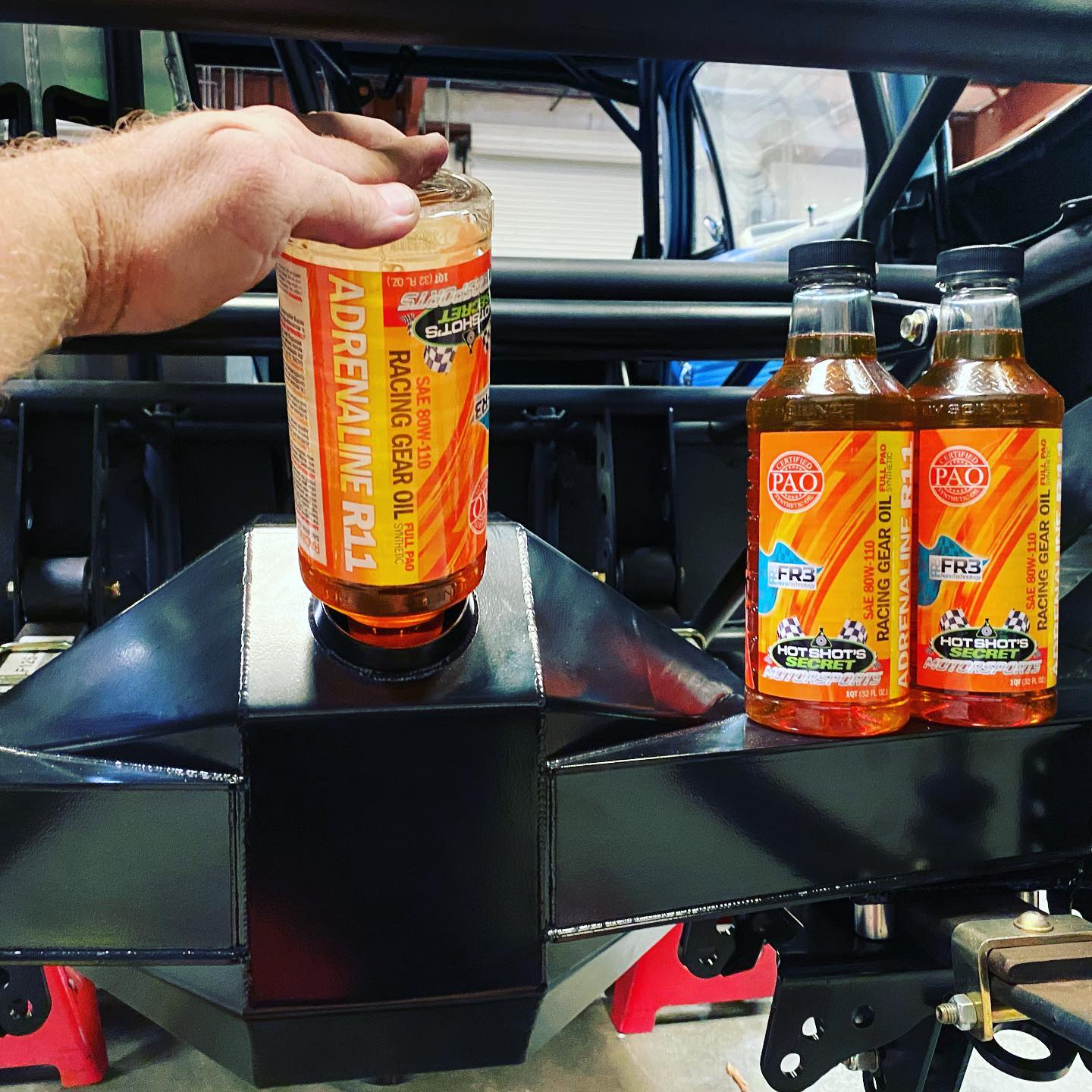 For a chance to win over $1,000 worth of Hot Shot's Secret high-performance products personalized for your vehicles, including a full line of nanocarbon-infused Adrenaline Racing Oils, visit Instagram to enter the PRI Road Tour Giveaway.
For more information about products and services, visit the Hot Shot's Secret's website here, or visit the Hot Shot's Secret social media pages, below.