The Drop-In Solution to Increase 10R80 Clutch Performance
Image

The 10R80 transmission is a 10-speed longitudinal automatic transmission designed to improve high-horsepower engine fuel economy in the Ford Mustang, Ford F-150, Ford Bronco and Ford Ranger. The Ford 10R80 was conceived in a collaboration between Ford and GM and was initially introduced in the model-year 2017 F-150. Engine power is improved during acceleration with miniscule gear ratio steps, while fuel efficiency is improved by a wide gear ratio that lowers the engine speed when the vehicle reaches speeds above 60 mph.
The 10R80 transmission has been put to the test on the drag strip time and time again since its initial release. Stock clutch failure has been a common occurrence as horsepower has been increased and the limits have been pushed. Raybestos Powertrain is proud to have been first to market in 2019 with the first set of 10R80 performance clutches. These stock-thickness GPZ friction clutch plates combined with high-quality steel clutch plates have been proven to handle increased horsepower and have helped produce dozens of sub-8-second quarter-mile track times.  
SAE transmission dyno testing reveals that Raybestos Powertrain GPZ friction material boasts a significantly higher static and dynamic coefficient, resulting in higher torque capacity than OE and competitor performance friction material. GPZ also achieves greater torque transfer capabilities with less change in its already higher coefficient as energy increases. GPZ's high torque capacity, great torque transfer capabilities and enhanced durability have enabled the 10R80 to handle upwards of 1,000 horsepower without increasing the clutch capacity by using additional friction surfaces. 
The 10R80 transmission platform is now more than five years old. Luckily for Mustang and F-150 racing enthusiasts, Raybestos Powertrain did not stop its 10R80 innovations at enhancing the friction material alone. Drag racers continue to put their 10R80 transmissions to the test and are pushing into the 1,500-horsepower range. Raybestos Powertrain engineers have continued analyzing clutch failures as horsepower and torque have increased and identifying 10R80 OE design limitations. Throughout this time, the weakest clutches within the 10R80 transmission have proven to be found in the D, E, and F clutch drums.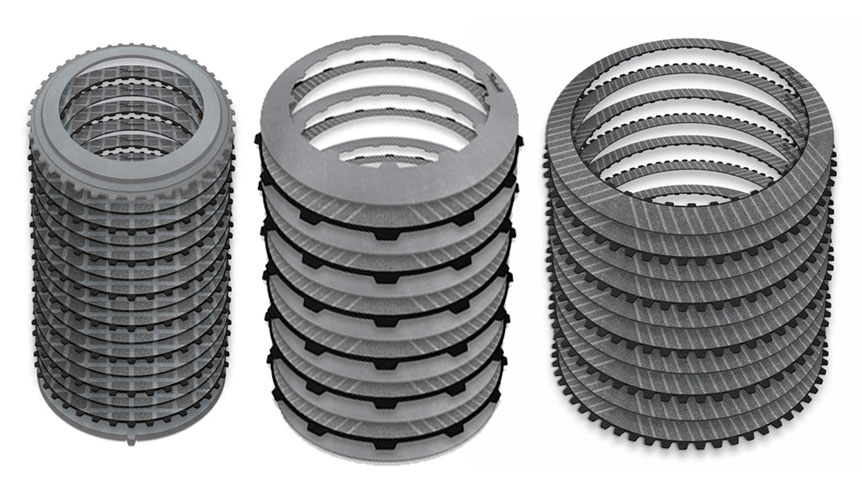 Exploded views from left to right of the Raybestos Powertrain 10R80 D Clutch (RTK-10R84), E Clutch (RTK-10R85), & F Clutch (RTK-10R86) Torqkits.
The engineering team not only sought out to simply design a solution for these clutch drums, but also to solve the problem in a way that proves to be efficient and more cost-effective to transmission rebuilders. As a result, Raybestos Powertrain has chosen to provide drop-in increased-capacity clutch pack solutions for the D, E, and F clutch. 
Savvy 10R80 transmission rebuilders have spent countless hours making machined modifications to the transmission drums to achieve increased clutch capacity by adding friction and steel clutch plates in each drum. On top of this time-consuming effort, some builders have also chosen to machine down the thickness of the steel clutch plates to aid in the fitment of additional friction clutch plates. Machining steel clutch plates will certainly help achieve the desired goal of fitting additional clutch plates into the D, E and F clutch drums; however, this often causes harm to the friction clutch plates. Machining steel clutch plates can cause an abrasive steel surface finish that is unseen to the naked eye. This abrasive machined steel surface causes premature wear to the friction clutch plate that it sits against.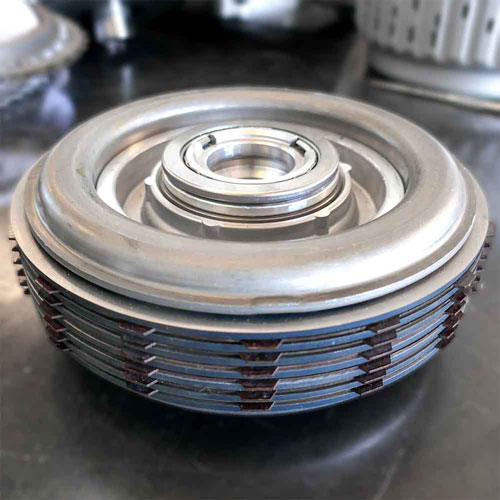 10R80 Transmission E Clutch drum loaded with the Raybestos Powertrain RTK-10R85 Torqkit.
Raybestos Powertrain's aftermarket new product development team has combined all the performance benefits of GPZ friction material with cleverly redesigned D, E and F clutch packs to provide 10R80 transmission rebuilders with a drop-in increased-capacity solution. It can sound like a daunting task to completely redesign and change a clutch pack in a 10-speed transmission; however, Raybestos Powertrain engineers are more than capable with over 120 years of manufacturing and designing clutch frictions. Raybestos Powertrain has brought many redesigned clutch packs to the aftermarket over the last two decades, including clutch pack redesigns for the 4L60E, 6L80, 6R80 and Allison 1000 transmissions. Raybestos Powertrain also draws on its experience of collaborating on numerous original clutch pack designs with OE manufacturers over the years. 
Raybestos Powertrain 10R80 E Clutch Torqkit featured on the left with six (6) GPZ frictions and seven (7) steels versus OE stack up with five (5) frictions and five (5) steels.
Raybestos Powertrain's initial examinations deduced that 10R80 E clutch failure at increased horsepower was the most common, even ahead of the all-too-common D and F clutch failures. The engineering team first hit the ground running and released the 10R80 GPZ E Clutch Torqkit in 2021, while the GPZ D Clutch and F Clutch Torqkits will be released in early 2024. Raybestos Powertrain's 10R80 GPZ E Clutch Torqkit is a performance upgrade beyond the OE design that features an increased clutch count with six (6) GPZ frictions, seven (7) higher quality than OE steels with a full 15 tooth count to increase durability and towing capacity.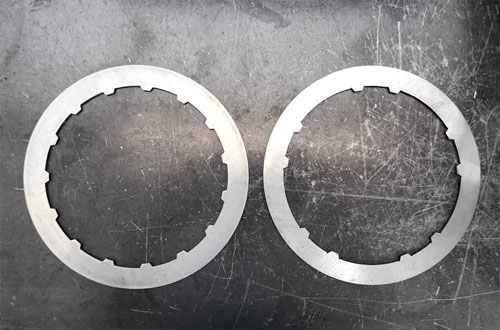 The Raybestos Powertrain 10R80 E Clutch Torqkit steel on the left features steel clutch plates made from a higher quality steel than OE with a full 15 tooth count compared to the OE steel clutch plates.
Raybestos Powertrain's 10R80 GPZ D Clutch Torqkit design completely throws the OE design out the window. The D Clutch Torqkit is a single-sided clutch pack design. Each clutch plate within the clutch pack in a single-sided design has a friction surface on one side and a steel surface on the other side, as opposed to the OE double-sided friction and double-sided steel design. The GPZ D Clutch Torqkit single-sided design allows for increased friction surfaces and reduces the propensity for hot-spotting. This design features seven (7) OD-splined full tooth count GPZ frictions, seven (7) ID-splined full tooth count GPZ frictions, one (1) bump plate, and one (1) stepped backing plate. Raybestos Powertrain also incorporated thick waffle grooves on the GPZ friction surface to improve cooling and lubrication. In addition, the GPZ F Clutch Torqkit features increased clutch capacity and reduced hot-spot propensity with a single-sided design that uses five (5) OD-splined GPZ frictions, and five (5) ID-splined GPZ frictions. 
Each Raybestos Powertrain 10R80 Torqkit is a drop-in replacement performance solution and comes with a complete set of installation instructions. All components within each Torqkit are made in the USA and each Torqkit can be purchased through Raybestos Powertrain's network of domestic and international transmission parts distributors. Each 10R80 Torqkit will also fit the GM 10L80 transmission. 
Visit raybestospowertrain.com/10r80-transmission for updates on the D and F clutch Torqkit releases and for purchasing information.