Isky Cams Builds a Tribute Car to Celebrate Its 75th Anniversary at the SEMA Show!
Image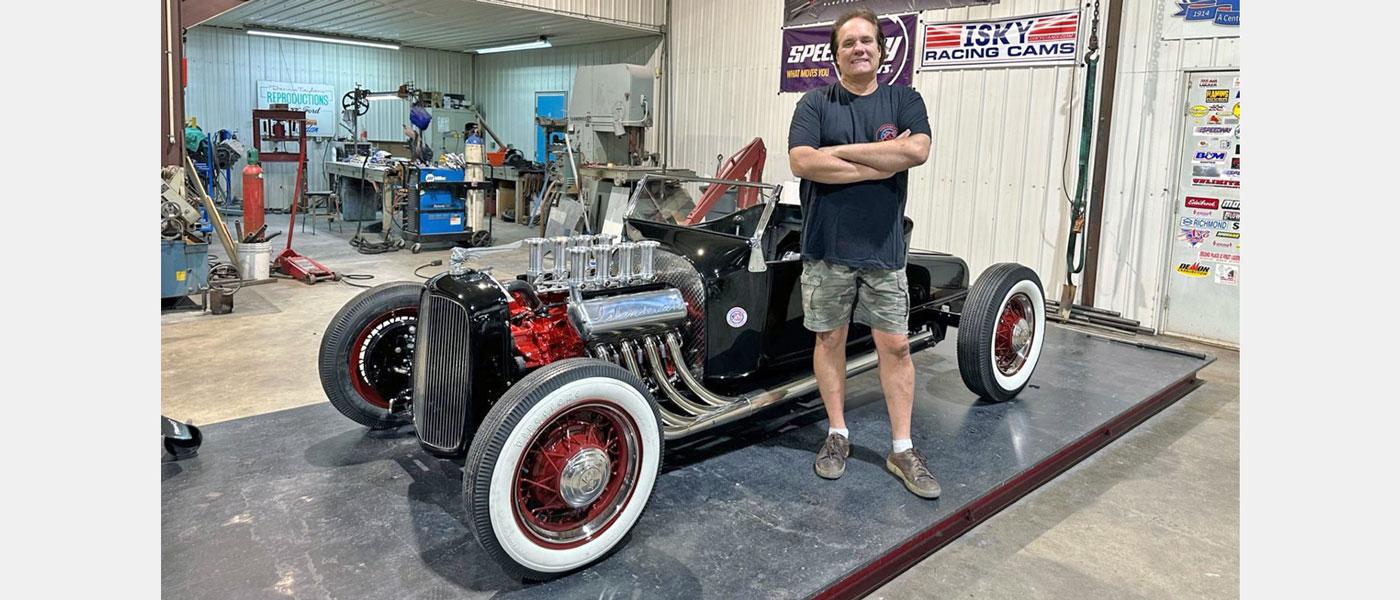 Dennis Taylor built the Isky Tribute T by mixing styling cues from Ed Iskenderian's original T with a modern Godzilla engine and design aesthetic.
Isky Racing Cams has built a tribute car to celebrate its 75th anniversary at the 2023 SEMA Show, and the story of how this project started began during the SEMA Show last year. While in the Isky booth, COO Nolan Jamora, Alex Taylor of HOT ROD Garage and Dennis Taylor of Hot Rods by Dennis Taylor were talking about doing a project car to celebrate Isky's 75th anniversary. After talking about Camaros and other platforms, Dennis came up with the idea of building a tribute car to celebrate Ed Iskenderian's iconic June '48 HOT ROD Magazine cover car that started it all.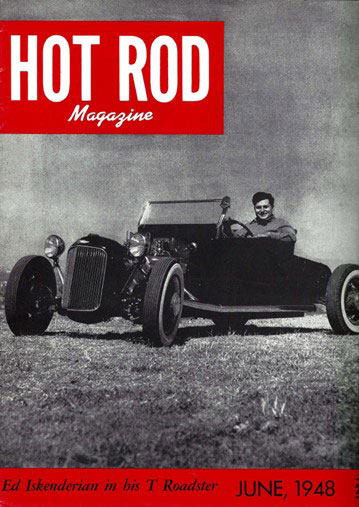 Ed's car was built in 1937 from a '23 Model T owned by Ed's friend John Athans at a time when the word "Hot Rod" did not even exist!
Dennis proposed building a car from the ground up just as Ed did in the late '30s, which meant nothing was going to be easy! After everyone agreed on the direction, the research started.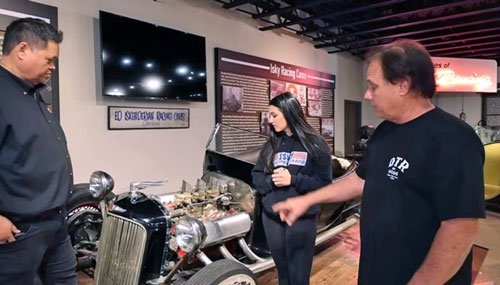 Isky definitely picked the right man for the job. In addition to being Alex and Megan Taylor's dad, Dennis and his wife Debbie have been building hot rods and show winners from the ground up since 1990!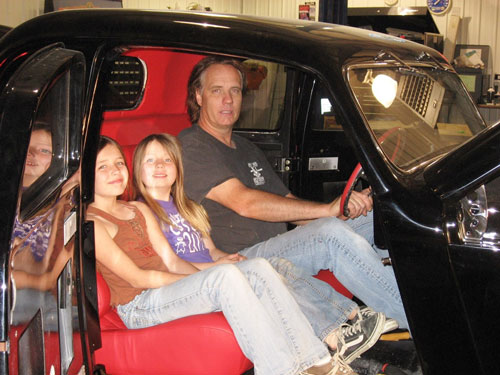 Hot Rods by Dennis Taylor produced many custom-built '33 Fords and '37 Fords and are known as the preeminent builders of '33 and '41 Willys, with over two hundred built. Isky wanted someone with the talent and experience to take on the giant task of designing and building a tribute car in-house in less than eight months so it could debut at the 2023 SEMA Show, and Dennis was the only one they could trust with the project.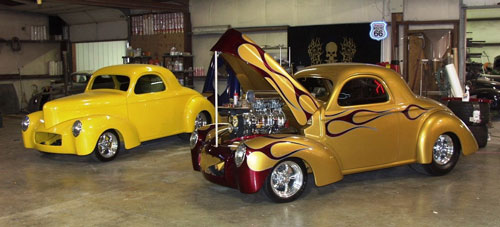 After discussions and what amounted to an archeological look at Ed's T in March at The Speedway Museum of American Speed in Lincoln, Nebraska, it was decided that the tribute would be based on Ed's car but have a modern engine platform and design aesthetic. Dennis wanted to make a tribute, not an exact copy. He also wanted to build it from scratch, including casting the one-of-a-kind valve covers and flying skull just as it had been done in the 1930s. After a few days of measuring and making templates of the original car, a build list was created. Speedway Motors came on board and was able to supply many of the parts needed for the build, such as the Godzilla engine that was decided on. Joe McCollough from Speedway Motors was a great source of historical information and was on the phone with Debbie constantly helping. After sourcing all the parts, including a rear end from David Freiburger that could not be found anywhere else, the race to build the car was on.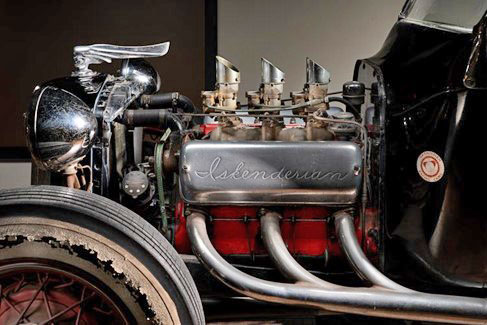 Staying true to what Ed and John did in the late 1930s, a '23 Model T was acquired so the body could be used in the build. It was in rough shape, but Dennis managed to salvage the parts and, after lots of work, ended up with a perfect body and turtle deck. From that point, the chassis started to come together.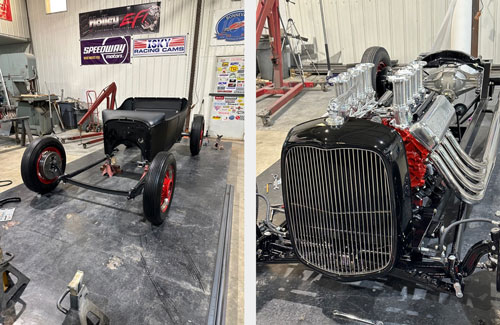 One of the hardest aspects was the choice to cast the valve covers. Nick Taylor of Nickky Bobby Inc. set out to design an adapter and valve covers that would fit on a Ford Godzilla engine but still look like the originals. After a lot of trial and error, Nick was able to design and 3D print the adapter and valve covers with the exact lettering script Megan Taylor provided. At this point, the easy way was to machine them out of billet, but in keeping with the spirit of the build, the pieces were used to make the molds for casting. After a week of working to get it right, Dennis and Nick were able to get good castings made. What followed was many hours of polishing.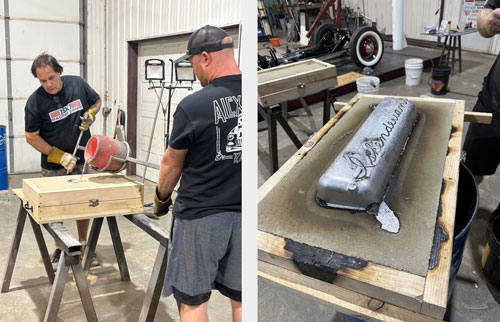 The Tribute T represents Isky very well. As a tribute to a man and company that is celebrating its 75th anniversary, the car, much like Isky, is built on hard work, craftsmanship, family and tradition and continues a legacy of innovation and modernization. 
A few companies helped with the build and deserve many thanks: Speedway Motors, Holley, XS Power Batteries and Pro Glass. Dennis is almost finished with the build and will just make the deadline when the Tribute T is revealed at the SEMA Show, Tuesday, October 31 in the Isky Booth #22619 in Central Hall. The Tribute T is the epitome of an old school/new school build, and Isky could not be happier with the results of all the hard work.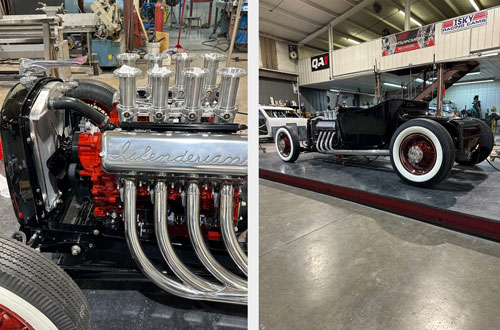 You can follow the build series videos on YouTube, @RidingWithAlexTaylor, and Instagram @dennistaylor522 and @alextaylorracing.
Hashtags: #TeamIsky #alextaylorracing #speedwaymotors
YouTube, Facebook, Instagram: @iskyracingcams
Website: iskycams.com