THE RETURN OF THE KEITH BLACK RACING ENGINES HEMI & WEDGE
Image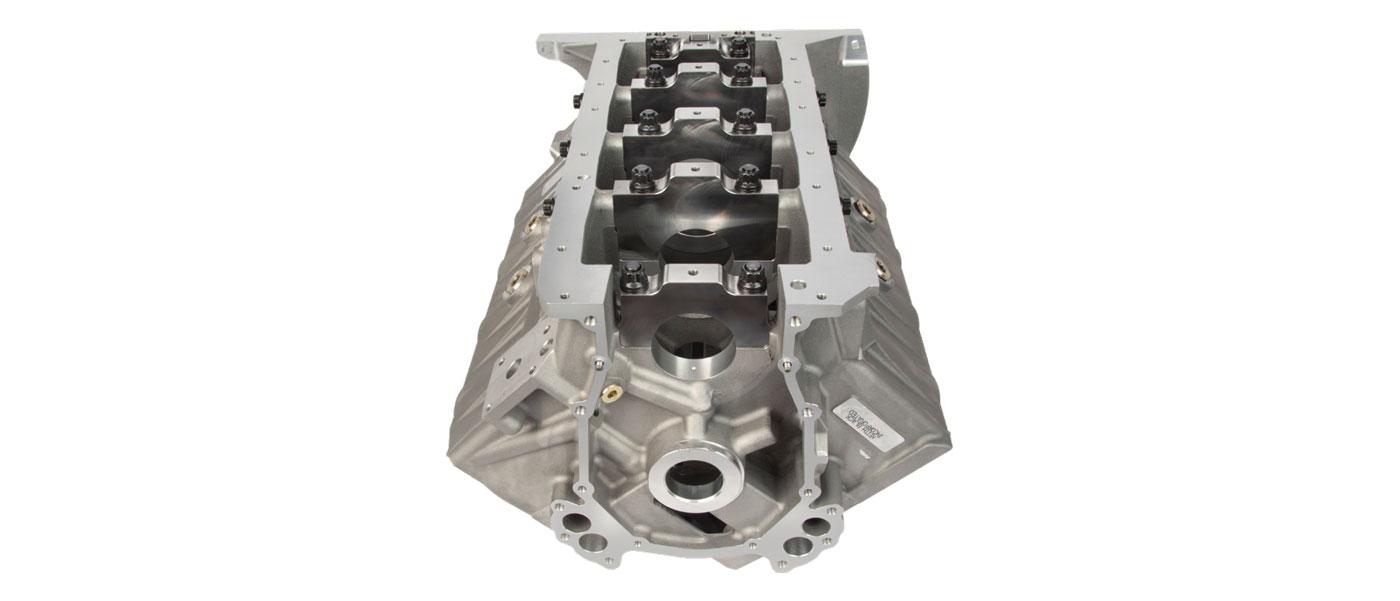 Shortly after the introduction of the KB HEMI engine block in the early '70s, it went on to hold every national record in Top Fuel between 1975 and 1984. It continues to set records today.
Modern Casting, an Enhanced Block, and Myths About Cast Aluminum
Keith Black Racing Engines has completely retooled and now manufactures the only low-pressure-cast aluminum HEMI and Wedge block available in the market.
All Keith Black HEMI and Wedge engine blocks start as the same casting, and the final configuration is decided by precision-machining to a finished HEMI or Wedge, Street, or Race block part number.
A356 T6 is the best overall performing aluminum and has the best properties for managing heat transfer and load, with 300% greater thermal conductivity than cast iron. While billet aluminum engine blocks may be de rigueur, they are expensive. They often rely on welded water jackets and have yet to prove themselves in street applications where consistent cooling system operation is essential across a great number of heat cycles.
Rob Smith from Wolverine Bronze in Roseville, Michigan explains, "low-pressure casting creates a superior microstructure leading to improved mechanical and thermodynamic properties, higher densification and superior grain structure. With modern technology, we can hold extremely tight tolerances that all but eliminates core shift," a problem that has plagued engine block manufacturers in the HEMI and Wedge for decades.
KB Hemi blocks also feature a revised steam hole pattern. The steam holes are relocated outboard, farther away from the cylinder sleeves. This eliminates common head gasket water leaks that occur with other designs and provides for extra cooling around exhaust ports and reduces air pockets. Cometic has worked with Keith Black Racing Engines to design KB-specific head gaskets.
Overall aluminum is lighter and runs cooler.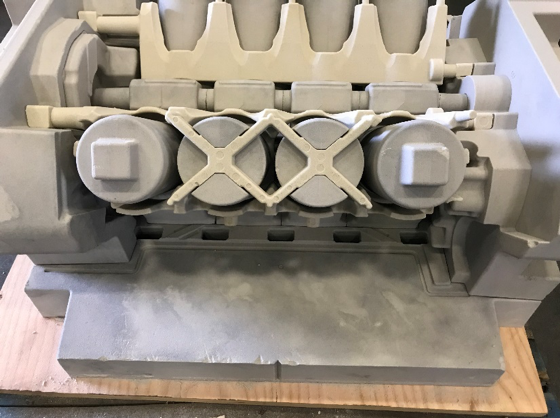 Toughest Mains in the Business
Cap walk is often a problem on RB/HEMI blocks when pushed to the limit, leading to oil pressure loss and catastrophic engine failure.
In the HEMI world, it's well understood and accepted that the KB block has the toughest bottom-end in the business. Keith Black Racing Engines has now taken it a level further by upgrading the cap material from ductile iron to 4340 billet steel.
All KB HEMI and Wedge blocks use custom-designed and manufactured main studs from ARP. KB studs are 5/8 UNC-9/16 UNF bottoming main studs with a built-in cap register, and double ½ in. ARP cross bolts on main caps 2, 3, and 4 (6 fasteners per cap) for massive clamp-load (main studs are torqued to 120 lb-ft and cross-bolts are torqued to 80 lb-ft).

KB mains have rolled, C3B specification internal threads for main cap studs that are blind tapped and matched to the studs so as to spread the tension across the whole thread and not just the block surface.
Locating of the cap also critical and this is where the KB design really excels. The most effective method of cap location is the surface-to-surface contact area between the cap and the block and the KB has a massive contact pattern, that when combined with the built-in main stud locating dowel and high clamp load, ensures the mains will handle any amount of abuse thrown at them.

Major Improvements to Oiling and Oil System Control
With major advancements in oil-system design, Keith Black Racing Engines took the opportunity to enhance and add a number of features to the block. Tim Banning reached out to Chuck Millen from Best Machine Racing Engines in Farmington Hills, Michigan. "Chuck suggested we add provisions for externally direct-fed oil supply to main oil galley—so performance oil-system scenarios like dry sump systems and oil accumulators could be easily added. No other engine blocks in the market were offering this type of provision, always requiring expensive machining and customization.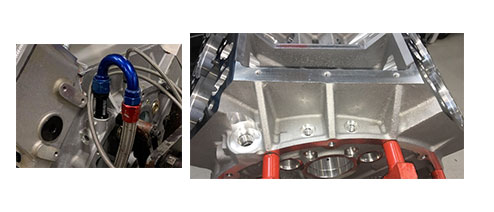 What a lot of people don't know is that it is not uncommon for other aftermarket HEMI blocks to be starved of oil supply. "We've had to shut down engines on the dyno with sudden oil pressure loss because the valve covers were full of the oil that should be in the pan," said Tim Banning of FHO. Tim goes on to say "The KB block has massive oil drain returns from the cylinder heads, and we enlarged them in the latest design revisions. It is simply not possible to do this with the other blocks—you just can't drill the drain hole larger in the block for obvious reasons."
Oil return is just one part of the equation, with the improvements engine builders now have a multitude of options to fine-tune oil supply to both lifters and valvetrain. All blocks come with lifter oiling machined in. Builders can fine-tune oil supply to the rocker system through a combination of oil-restrictors in the deck-to-head oil supply, direct-feed from lifter oil-gallies, lifter bore bushings, and restrictors. "All the KB blocks we build run terrific oil pressure; way, way higher than any other block we have used," said Tim Banning at FHO.
Keeping Extreme Cylinder Pressure In
The secret to making power is keeping cylinder pressure in and managing heat. The KB block started its life as a Top Fuel engine bock, so it's easy to understand why the KB block well and truly has a head start in this area, but there is way more to this story.
KB blocks utilize head studs designed for maximum clamp load, and service life: 1.7 x thread depth and engagement in KB blocks head studs when compared to other aftermarket aluminum blocks (which generally use OEM specification hardware designed for cast-iron).

KB internal head stud threads are roll-formed to C3B specification and blind tapped for use with bottoming studs. Bottoming studs spread the clamping load across the full thread. Threads are also rolled deeper into the block to avoid distorting the upper cylinder. The result is a longer service life and no more pulled head-stud threads which is common with other aftermarket aluminum blocks.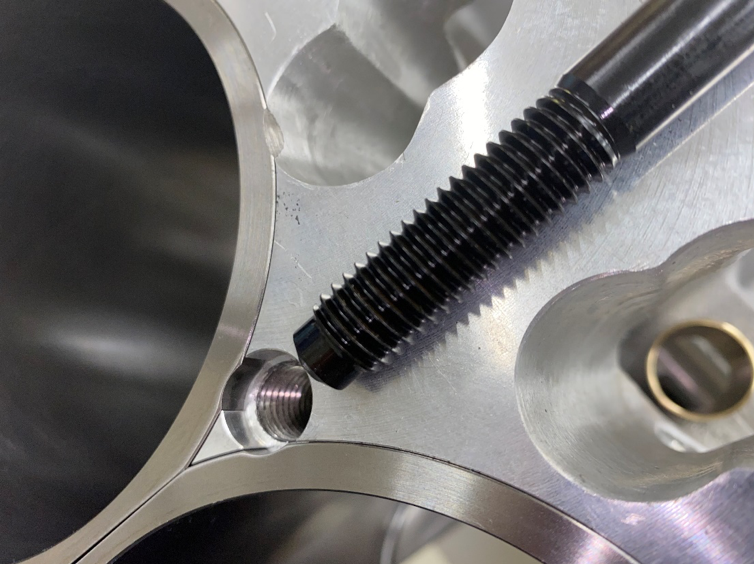 KB Hemi and Wedge engine blocks are the only aftermarket block to use Darton Sleeves. Each Darton Sleeve has the DNA earned from decades of development resulting in proprietary chemistry and metallurgy that enabled Darton to increase the service life of sleeves in Top Fuel from one (1) set per pass to one (1) set every three to four (3–4) passes with rapidly increasing power levels approaching 11,000 hp. Today, Darton is the exclusive supplier of its sleeves to all current Top Fuel engine block manufacturers.
Sleeve material chemistry and design go hand-in-hand with block design. All Darton Sleeves are made from centrifugally cast ductile iron, which has vastly superior properties to cast iron, such as malleability (crack resistance), toughness, and a hard surface (wear-resistant).
Dave Clinton (President of Darton Sleeves) explains: "the top third of the cylinder area does all the work, it suffers the most heat. This is why we work hand-in-hand with block designers and manufacturers to accommodate and realize the full performance advantage of Darton sleeves and improve cooling in the block. One area not addressed by manufacturers is managing the cooling of the siamese area between the cylinders, where it is important to focus on proper coolant/concentrate on water flow."

Modern Camshaft and Valvetrain Options
As camshaft technology has advanced things have fundamentally changed. With very large diameter cam cores for rigidity and improved ramp profiles, ultra-high lift, long duration roller cam profiles, and extremely high spring pressures now the norm. Keith Black Racing Engines has added significant block material around the cam journal bulkheads, now allowing its Race HEMI blocks to use 60mm roller cam bearings (65mm babbitt bearings), and its Race Wedge blocks are machined for 55mm roller cam bearings (60mm babbitt bearings). All of its Race blocks have a 0.250 in. raised cam location for improved valvetrain geometry and performance, as well as for additional rotating assembly clearance for large stroke combinations—Keith Black Racing Engines has customers who have built KB Race HEMI blocks at 650+ cubic inches (CI) in final displacement.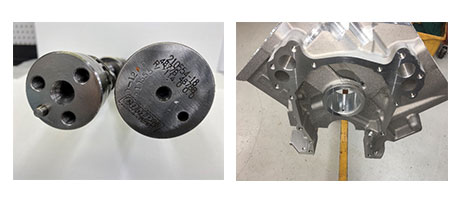 All Keith Black Racing Engines street blocks retain OEM cam specifications on camshaft location, journal size, lifter spacing, lifter diameter, and lifter angle. Whether a customer orders a street or race block, the lifter bores are finished to OEM specification—allowing builders to install their own lifter bushing and lifter combinations (or not), and tune the oil supply to suit.
What Blocks are Available and How Do I Get My Hands On One?
Visit the Keith Black Racing Engines website at keithblack.com to see the full lineup of its KB HEMI and Wedge engine blocks, download technical information, product brochures, and its Assembly Best-Practices guide. Search its dealer network to learn how you can get your hands on one, as well as read and watch original content on KB® All Stars customers' cars and builds.
Under new ownership since 2017, Keith Black Racing Engines® has been quietly running at full speed behind the scenes. "Honestly, I wouldn't be surprised if we have delivered more HEMI engine blocks to the market than all other manufacturers combined over the last four years, and that includes completely replacing our foundry and other tooling with state-of-the-art technology and casting practices," says Darren Beale, Keith Black Racing Engines CEO and co-owner. "We have a large product development pipeline and are looking forward to reconnecting with the industry at the PRI Show in December this year".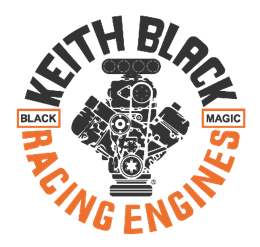 6895 Oslo Circle Unit B
Buena Park, CA 90621
P: 1-714-266-0116
W: keithblack.com
E: sales@keithblack.com
11910 Calumett Street Unit B
Clearwater, FL 33765
P: 1-714-266-0116
W: keithblack.com
E: sales@keithblack.com