2011 PRI Trade Show--What The Industry Is Saying
Image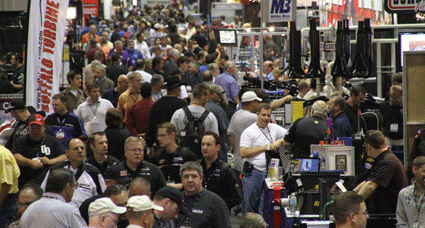 Substantial buying in all categories throughout the exhibit hall at the 24th Annual PRI Trade Show served as testament to the quality of buyers attracted each year to the epicenter of new racing technology.

Here's what the Industry is saying. We'll start with exhibitors, then follow with buyers.

Exhibitors:

Jeff Clark, of Roush-Yates Engines: "Opening day was fantastic. We had a great turnout with people in our booth. The racers are asking very good questions on the engines and on the parts. We've definitely been able to grow our business from this. The whole Roush-Yates initiative is branching out to drag racing, late-model, sprints, off-road truck, dirt late-models, dirt modifieds. We're engine builders and there are racers here at every grassroots level and we have an engine for those racers."

Jason Cobb, Impact by Mastercraft Safety: "It's been a fantastic show. The foot traffic has been phenomenal and the energy is really up. People are buying and it seems like they want to take stuff right off the shelf – unfortunately, we don't have the stock for that, but people want to get the product today. Impact's been part of the industry for years. It's absolutely imperative that we're here at the PRI Show."

Mark Kostrzewa, Motor State Distributing: "PRI is a great show. Our customers vary from drag racing to circle track, not just domestically but world-wide and PRI really gives us exposure to an international clientele. We see a fair amount of our international customers here every year and that gives us the opportunity to have a face-to-face with them. It's very important. I don't even know how to measure it. That exposure is just immense, it's so valuable to have a face-to-face with customers. They appreciate that opportunity and it's what really builds a strong business relationship."

Dale Aldo, Mopar Motorsports Marketing Manager: "We've been very, very busy. We haven't even had an opportunity to walk the show because we've been too busy."

Andy Anderson, Trend Performance/Diamond Pistons: "It's going really well for us so far. We had a good crowd on Thursday and then they came in Friday and it was really busy again. We do a lot of NHRA work, especially in the Pro Stocks, but we really provide product for a number of series. I've been coming to PRI for about 20 years now. We're really happy with what the show is doing for us this year."

Ryan White CV Products: "It's been a great show. We're getting a lot of good feedback and seeing lot of customers that we don't normally get to see on a personal level – and a lot of international customers that you may not get a chance to see anywhere else. It's been busy. It's been real steady, but not covered up – so you get real good quality time. We're coming out with a lot of our new dirt chassis stuff. The dirt market has really taken off. In the last six years, it just seems to continue to grow at a real steady rate. We've identified it as a target market. The dirt side of display is really doing well here. We're an international company – and this is how we set up our distributorships with our partners in Australia by developing relationships with people here. Our overseas customers that we're seeing here are a lot of engine builders and a lot of formula guys. The face-time here at the PRI Show is second to none. We've been coming here for more than 20 years and we're here for good."

Jeff Fortune, American Drag Racing League: "We feel we need to be here. A lot of our racers and almost all of our sponsors are here. It's a good chance to see everybody. Our season ends in October and doesn't start back up until March, so this gives us a chance to implement rules and a lot of things happen in the industry and it gives a chance to get in front of people and talk about them.

Drew Patey, SafetyKleen: "We saw on the first morning that we can sell parts washers without even having them on the floor. But the PRI Show is designed to showcase your entire company and this is the first time we've chosen to showcase everything we do. Not only the awareness of our parts cleaning, but also that we're in the oil collection business - and when, you bring a 4,000-gallon oil truck and park it right in the middle of the PRI Show, there's no doubt that people know we're in the oil business. We only do two shows a year, the PRI Show here and the SEMA Show in Las Vegas. It's a given that we'll be at PRI."

Rich Mersereau, Steele Performance Parts: "The show's been pretty good. We sell sprint car, midgets and mini sprint chassis, parts and related components. We're here to get our name out, meet the customers and educate them about what Steele Performance does."

Ben Bartlett, Australian Automotive Aftermarket Association: "This is the fourth time in the last 5 years we've been here. We've got 21 Australian companies. Aussies love motorsports, love to drive hard and make their cars go faster and we've got some Australian companies here that do that very, very well. We represent all elements of motorsports covered here. The show is going very well. It reaches all of our expections. We do shows all around the world, but no other motorsports shows here in the U.S. – just PRI."

Rich Schnippel, inTech Trailers: "This may have been one of the most successful PRI Trade Shows I have ever been a part of, and I've been coming to this show for over 10 years. Our booth had extremely steady traffic the entire show. We booked more sales at the Show than any previous year."


Attendees:

Ed Pink, Ed Pink Racing Engines: "We're here at the PRI Show because most every jobber and company we do business with is here and we're here to check out the new technology. There's a lot of people we know that are here and we've seen a lot of new vendors here. It's an excellent show."

Brett Thompson, Thompson Motorsports: "It's been a good show and it's very personable. We're here for a number of reasons. We run in the NASCAR K&N Pro Series, but we're also a dealer. I've been able to meet with a lot of our customers. It's very important to see people face-to-face and get down to business."

Dan McKeever, Director of Operations, Miller Motorsports Park: "We come to PRI every year for a variety of reasons. This whole thing is beautiful for us. We have a bunch of our partners that are here that we meet with, as well as being able to meet with the sanctioning bodies. We'll have probably 8-10 people attend here in total. We also sell racing gear and we're looking to expand on the mechanical side through our race shop."

Clayton Triggs, Swift Engineering: "It's great to be at PRI. We're expanding our equipment and we now have 60,000 square feet to fill with autoclaves and lathes and expand our equipment extensively and we're happy with what we've found. The only downside is that my feet hurt because there's so much to see here."

Tim Wilkerson, NHRA Funny Car: "I come to the PRI Trade Show every year. I'm here to learn anything new that's happening in the industry, to meet with my vendors, as well as some of my sponsors, and just to see people that I know. The new products are more interesting to me than anything. I like to walk around and see what the other racing series do as well, and some of the technology they use."