A Show of Strength For the Racing Industry
Image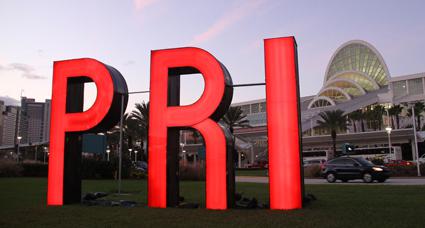 A successful week-long run of motorsports business activity concluded Saturday as the 2011 PRI Trade Show at the Orange County Convention in Orlando, Florida, came to a close.

"It was a very strong show, which we saw early barometers of with standing-room only at the breakfast on Thursday, and then with really strong numbers at our on-site registration," said Steve Lewis, PRI Trade Show producer. "We had three strong days that continued with people writing orders well into this afternoon. But more important than it being a good week for PRI, it was a really good week for the industry. What was going on in that building for the last three days will affect people at race tracks racing businesses around the world."

Approximately 38,000 credentials were printed up for the PRI Trade Show, said Lewis.

No less than six major events ran in conjunction with the show beginning on Monday. The Advanced Engineering Technology Conference (AETC), Claude Roelle's Optimum G Advanced Vehicle Dynamics Seminar, the Professional Motorsports Circuit Owners and Operators Convention, the International Council of Motorsport Sciences (ICMS) annual Congress, the PRI Industry Roundtable and the FAST EFI University training course on electronic fuel injection in racing applications all took place during this year's Race Industry Week.

Once again, this year's PRI Trade Show was buoyed by an exceptional international turn-out. Attendees from all over the world showed that racers have no boundaries or borders when it comes to reaching their one common goal – to go faster.

"The Show has been great for us. We love this show because it has a good international flair to it," said Ashley Garrett, of U.S. Legends Cars International. "Our growth overseas has been phenomenal for us and we can attribute most of that to the PRI Show. The international buyers don't buy four cars, they might buy 40 cars. In fact, we have a buyer here from Australia looking to buy 10 Bandoleros today."

The increase in exports abroad by American companies has been experienced by a number of PRI exhibitors.

"PRI is a great show," said Mark Kostrzewa, Motor State Distributing Product Manager. "Our customers vary from drag racing to circle track, not just domestically but world-wide and PRI really gives us exposure to an international clientele. We see a fair amount of our international customers here every year and that gives us the opportunity to have a face-to-face with them. I don't even know how to measure how important that is. That exposure is just immense. They appreciate that opportunity and it's what really builds a strong business relationship."

International companies also were on hand on Orlando to sell their latest racing products.

"This is the fourth time in the last five years we've been here," Ben Barlett, of the Australian AAAA. "We have 21 Australian companies exhibiting here and it has surpassed our expectations. We do shows all around the world, but no other motorsports shows here in the U.S. – just PRI."

Another PRI exhibitor may be bringing more to the U.S. in 2013 than racing products as the Brazilian Formula Truck Series was exhibiting one of the series' truck tractors on-site in preparation for its debut.

Preparation for the 2012 PRI Trade Show, which will take place Nov. 29-Dec. 1 at the Orange County Convention Center in Orlando officially began at 4:01 p.m. Saturday, right after the close of a very successful 2011 event.