PRI Trade Show Opens To Big Crowds Of Buyers
Image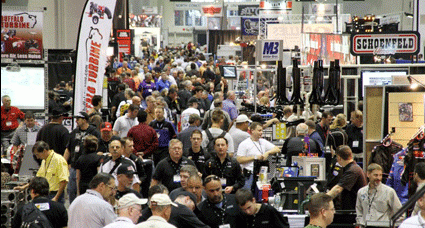 The 2011 PRI Trade Show opened to big crowds and enthusiastic buyers and exhibitors at the Orange County Convention in Orlando, Florida, on Thursday as the show returned to its traditional first weekend of December date. The event is widely viewed as the three biggest business days in auto racing.

The day began with a packed opening day breakfast as SPEED's Dave Despain brought a live version of the popular Wind Tunnel program to the day's festivities. SPEED personality Robin Miller, NASCAR driver Ken Schrader, and a host of guests that included the legendary Don "Big Daddy" Garlits joined Despain on stage.

"We had a very strong opening today," said Steve Lewis, PRI Trade Show producer. "We had a standing room crowd of more than 3,500 for breakfast. The show floor was packed, the aisles are full and everyone was happy. Our registration people upfront were about ready to pass out from making so many badges. It was a great first day."

Representatives from throughout the racing industry were on hand today including an all-star showing from the driving world, including Garlits, Melanie Troxel and reigning Winternationals champ Morgan Lucas from the drag racing world; Indy 500 pole winner Alex Tagliani, Ryan Briscoe, Townsend Bell, Jay Howard and others from Indy Car; and NASCAR stars A.J. Allmendinger and Cole Whitt.

But the biggest story of the day was that sales were reported to be brisk as companies looked to grow their businesses and introduce new product.

"Opening day was fantastic," said Jeff Clark, of Roush-Yates Engines. "We had a great turnout with people in our booth. The racers are asking very good questions on the engines and on the parts. We've definitely been able to grow our business from this. The whole Roush-Yates initiative is branching out to drag racing, late-model, sprints, off-road truck, dirt late-models, dirt modifieds. We're engine builders and there are racers here at every grass-roots level and we have an engine for those racers."

Those thoughts were echoed throughout the show floor.

"We've seen already this morning that we can sell parts washers without even having them on the floor," said Drew Patey, of SafetyKleen. "But the PRI Show is designed to showcase your entire company and this is the first time we've chosen to showcase everything we do. Not only the awareness of our parts cleaning, but also that we're in the oil collection business - and when, you bring a 4,000-gallon oil truck and park it right in the middle of the PRI show, there's no doubt that people know we're in the oil business. We only do two shows a year, the PRI Show here and the SEMA Show in Las Vegas. It's a given that we'll be at PRI."

Attendees proved to be as happy as the exhibitors.

"We're here at the PRI show because most every company we do business with is here, and we're here to check out the new technology," said legendary engine builder Ed Pink, of Ed Pink Racing Engines. "There's a lot of people here and we've seen a lot of new vendors here. It's an excellent show."

Over 40,000 racing business people from throughout the US, and 65 countries, are expected to be in attendance this year's PRI Trade Show to get current with the latest in racing technology courtesy of the 1,000 motorsports companies introducing their new lines in racing products, machining equipment, motorsport engineering solutions and more.