Brickyard Weekend Returning to Indianapolis Motor Speedway Oval in 2024
Image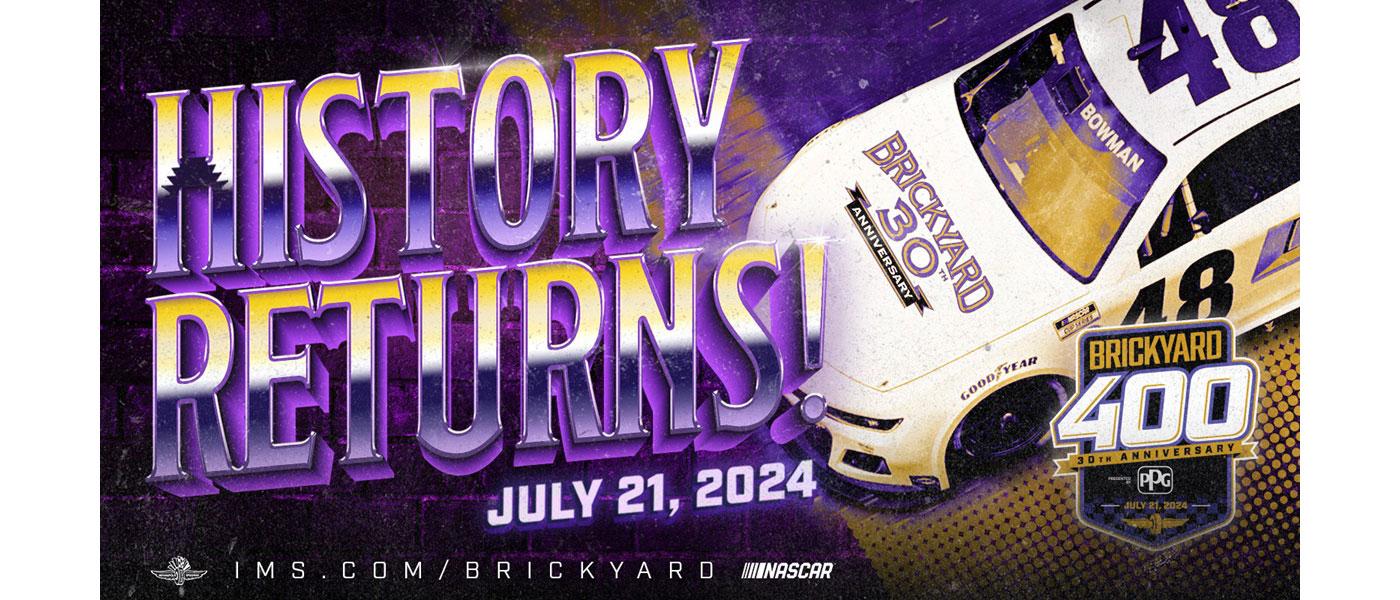 Image courtesy of Indianapolis Motor Speedway (IMS) 

Brickyard Weekend returns to its iconic roots--the 2.5-mile oval at Indianapolis Motor Speedway (IMS)--as NASCAR celebrates 30 years at the Racing Capital of the World on July 20-21, 2024.
The Brickyard Weekend race lineup will include the NASCAR Xfinity Series Pennzoil 250 on Saturday, July 20 and the NASCAR Cup Series Brickyard 400 presented by PPG on Sunday, July 21.
"While it's been exciting to watch the NASCAR Cup and Xfinity Series drivers tackle the IMS road course over the last three years, being back on the oval for the 30th anniversary is a much-anticipated homecoming for drivers and fans alike," IMS President J. Douglas Boles said. "Whether you've been with us all 30 years or are a new fan, the celebration as we 'come back around' will be a can't-miss and truly unforgettable."
The inaugural Brickyard 400 (Aug. 6, 1994) was the first race other than the Indianapolis 500 presented by Gainbridge to be held at IMS since 1916. From 1994 to 2020, the race was held on the 2.5-mile oval before shifting to the 14-turn, 2.439-mile road course over the last three years as part of a tripleheader weekend with the NTT IndyCar Series.
For more information, visit the IMS announcement or ims.com/brickyard.