New England Racing Museum to Honor Four Broadcasters During 2023 Legends Day
Image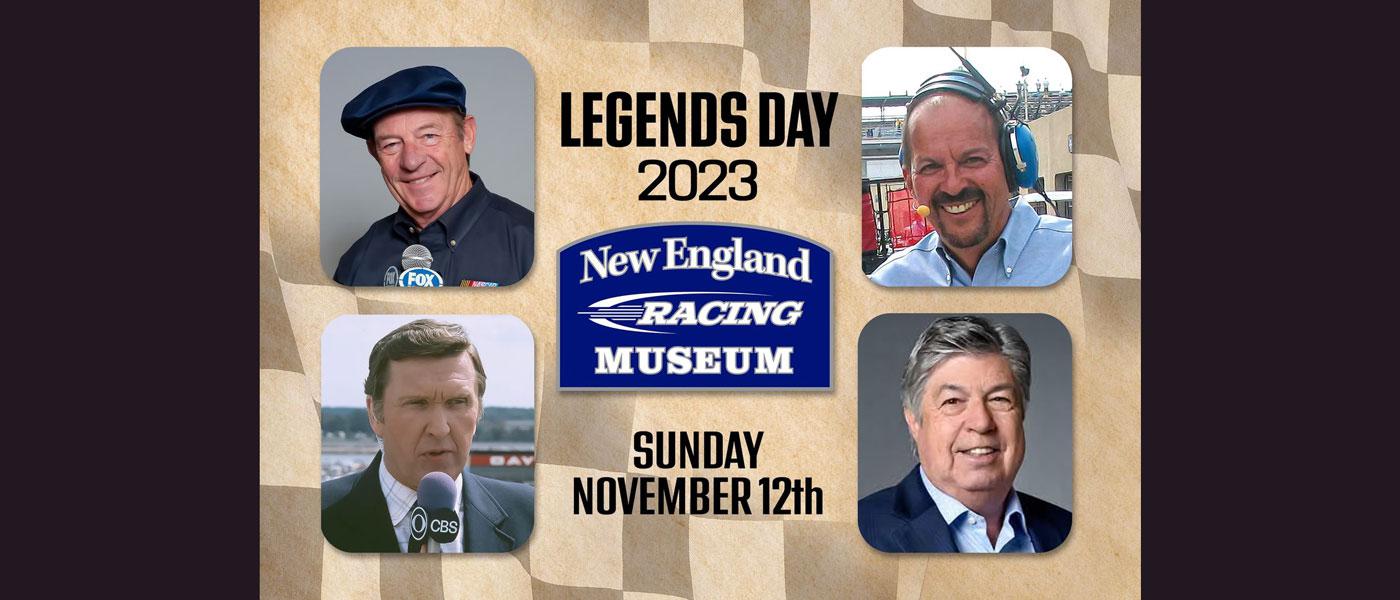 Officials with the New England Racing Museum have announced its annual Legends Day will honor four national motor racing broadcasters: Dick Berggren, Jack Arute III, Ken Squier and Mike Joy.
The museum's Legends Day is set for Sunday, November 12, at the New England Racing Museum located at 922 Rt. 106, Loudon, New Hampshire. The event will include an honoree panel discussion, a permanent banner unveiling and a buffet lunch. The event is supported by FOX Sports and is a fundraiser for the non-profit museum.
Dick Berggren, who founded the New England Racing Museum, was a fixture on NASCAR television broadcasts from 1981 to 2012 as a pit road reporter and color analyst. He also served as editor for Stock Car Racing magazine for 23 years and founded and edited Open Wheel magazine. He also founded Speedway Illustrated magazine.
Jack Arute III, also known as "Jackie," began his broadcasting career in 1972 with the Motor Racing Network. Arute worked as a pit reporter from 1984 to 2009, covering NASCAR and IndyCar races on television. He also served as president of the family-owned and nationally known Stafford Motor Speedway in his home state of Connecticut.
Vermont native Ken Squier was one of NASCAR's original television broadcasters starting in 1970. He called some of the most historic stock car races in history, including the legendary 1979 Daytona 500, the first flag-to-flag coverage of the "Great American Race," a moniker he coined. Squier was an on-air talent for NASCAR broadcasts until 2000. Locally, he is the founder of one of New England's most successful short tracks, Thunder Road Speedbowl, which opened in 1960. Dave Moody will sit in for Squier during the celebration.
Mike Joy began announcing auto races at Riverside Park Speedway in Agawam, Massachusetts, in 1970. His career as an announcer and broadcaster spans over 50 years. He spent fourteen years with the Motor Racing Network and anchored the first live NASCAR Cup Series telecast on ESPN in 1981 and continues to be the lead broadcaster for FOX Sports NASCAR coverage. Joy is a broadcaster, promoter, business executive and sports car racer.
For more information, including how to purchase tickets, visit the Museum announcement.