Infinity ECU-Tuned White Goose Bar VW Rabbit Pickup Sets Land Speed Record at Bonneville
Image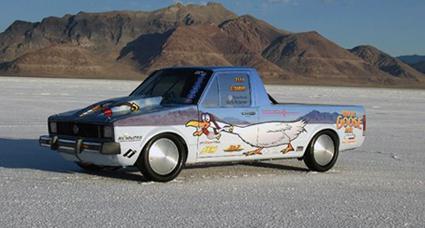 The Infinity ECU-tuned #2111 White Goose Bar VW Rabbit Pickup set a land speed record in the F/BMMP (under 3.0L, Blown Mid-Mini Pickup) class to 189.646 MPH at Bonneville Salt Flats. The existing record was 175.567 MPH and was set earlier in the week. The Keith Pedersen-piloted mini-pickup is powered by a 2.8L Volkswagen VR6 engine with an Exile Turbo GT4202.



In addition to the Infinity-10 EMS, the record-setting pickup used AEM wideband air/fuel ratio sensors, IGBT "Smart" ignition coils, and various stainless steel pressure and temperature sensors. The electronics ran flawlessly throughout Speed Week.



The event was not trouble free, however, as the truck suffered a serious clutch failure earlier in the week, which required pulling the engine, sourcing an uprated multi-disc clutch assembly and reinstalling everything—all in the extreme heat of the middle of the Utah desert.