Performance Aftermarket Showcased During Australian Automotive Week
Image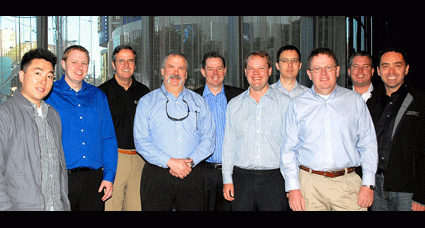 Australia's $11 billion a year automotive aftermarket industry showcased its technologies in the Australian Automotive Week program held in Melbourne during the week leading into the Australian Formula 1 Grand Prix.
In partnership with the Victorian Government - the overall sponsor of Australian Automotive Week - the
Australian Automotive Aftermarket Association
(AAAA) coordinated a comprehensive program to promote the industry's products and services to local and export markets.
The AAAA program for Australian Automotive Week included:
• Visits to Australian manufacturers by an international delegation of aftermarket industry buyers and magazine editors.
• One-on-one business matching meetings between international aftermarket buyers and Australian exporters.
• Launch of a High Performance Brands Showcase at the Australian Formula 1 Grand Prix featuring many of Australia's best known brands.
• Hosting the first national conference for the automotive aftermarket in eight years on the topic Harnessing Technology to Ensure a Sustainable Future.
• Hosting a gala dinner for over 190 industry executives.
In the photo: The visiting aftermarket buyer delegation from the USA included (left to right) Road & Track magazine News Editor Carter Jung, Rallysportdirect.com Purchasing Manager Ben Mertlich, Performance Racing Industry Vice President John Kilroy, Austrade Chicago representative Phil Jankura, AAAA Executive Director Stuart Charity, AAAA Senior Manager Government Relations and International Ben Bartlett, AAAA Southern Region Manager Lachlan Callaway, BCI Performance Warehouse Director Kirk Barnett, AAAA National Advertising Manager Cameron McLachlan, and Performance Racing Industry Director of Global Sales and Marketing Francisque Savinien.
AAAA Executive Director Stuart Charity said Australian Automotive Week offered the aftermarket a fantastic opportunity to promote "Victorian made" to both local and international customers. "We capitalised on the drawing power of the Australian Formula 1 Grand Prix to attract international buyers to Melbourne to meet some of our top performance product producers," he said.
"Australian performance products are exported to Asia, Europe and the USA. These products are proving their quality with huge sales growth in these fiercely competitive markets." said Stuart Charity.
The AAAA and its Performance Racing and Tuning Council (PRTC) have hosted successful export trade missions for many years. The inward buyer mission during Australian Automotive Week enabled the potential customers to meet 16 local aftermarket businesses with up to $10 million in incremental exports likely as a direct result of this activity.
This buyer delegation represented the huge USA market where the PRTC has built awareness of Australian products through the key American trade shows run by the Performance Racing Industry (PRI) and the Specialty Equipment Market Association (SEMA).
"In Victoria, we met with many performance and racing companies where the business models matched up with what racing companies do especially well—small- and medium-sized production runs, with high levels of expertise in engineering and manufacturing," said John Kilroy, editor and vice president of Performance Racing Industry. "It's reasonable to predict more and more Australian performance and racing companies gaining a foothold in the US racing marketplace, and growing their sales here in the US."
The AAAA also used the Grand Prix to attract local race fans to an exhibition of top Australian high performance products. Ideally positioned near the main straight at the Grand Prix, the special High Performance Brands Showcase featured 12 of our leading manufacturers.
"This Showcase delivered a key message directly to thousands of enthusiasts at the nation's biggest motorsport event - Australian high performance products are among the best in the world," said Stuart Charity.
Another AAAA initiative at Australian Automotive Week was convening a conference about harnessing digital technologies to make aftermarket businesses more competitive. "With frightening figures from major retailers showing the damage done to sales by not embracing digital technologies, this was a timely topic," said Stuart Charity.
USA Automotive Aftermarket Industry Association (AAIA) Technology Vice President Scott Luckett told the conference that consumers crave connectivity. "The millennials' spending power will exceed the purchasing power of the baby boomers. They are the internet generation. They want information and they want it now," he said.
"Customers are entering a self service shopping mode. The first step in getting the business is great information and presentation in your catalogues. Use lots of photos. They sell the product and give customers confidence in buying the correct item.
"At retail level, the career 'counter man' with a head full of product knowledge is a vanishing species. Used well, information technology can make your counter people look like experts in a few key strokes. For workshop owners, the AAIA has I-Shop (Integrated Shop Standard), which allows separate data systems used in their businesses to communicate.
"Last year the AAIA trialled a plug in telematics device that allows an independent workshop to remotely detect vehicle trouble codes. This technology sends a message to advise both consumer and the preferred workshop of the location of vehicle and the possible cause of the issue. The technician can then contact the vehicle owner to advise he has the part in stock and can book the car in when convenient. How well could this work with major service chains?" challenged Scott Luckett.
Other conference speakers encouraged aftermarket businesses to embrace digital media, including Glenn Cooper, executive chairman of Coopers Brewery, who discussed brand development and positioning in the digital age.
Principal of the Memphis Agency, Brenton Cannizzaro, advocated customer connectivity through Facebook, Twitter and YouTube. "If you engage with customers through media they use every day, you create opportunities for them to connect with you. The quality of your connection with them is more important than the number of followers you have. As you gain loyalty from those in your loop, they will become advocates for your business," he said.
Quicksales.com.au general manager Vange Sirianos told the conference that customers are getting smarter about how they do product searches. "Already, 40% of mobile phone users are buying products on their phones. On line, content is king. The more products you list, the more you will sell. Make sure you portray trust by promoting quality brands, your AAAA membership and a range of secure payment options," he said.
The AAAA has encouraged members to embrace sophisticated promotional techniques for many years through its Marketing Awards program run in tandem with its Auto Aftermarket Expo and Collision Repair Expo. The AAAA also communicates on line through Facebook, LinkedIn, Twitter and YouTube.
Stuart Charity said the 2012 Australian Automotive Week was a great success for the aftermarket industry. "We thank the Victorian Government for their sponsorship of our program, including the inward buyer delegation and industry networking functions, the conference and the High Performance Brands Showcase.
"For the first time the AAAA was appointed by the Victorian Government as the main auspice body for Australian Automotive Week. We thank them for their support and trust in us," said Stuart Charity.