Regional Report: Puerto Rico
Image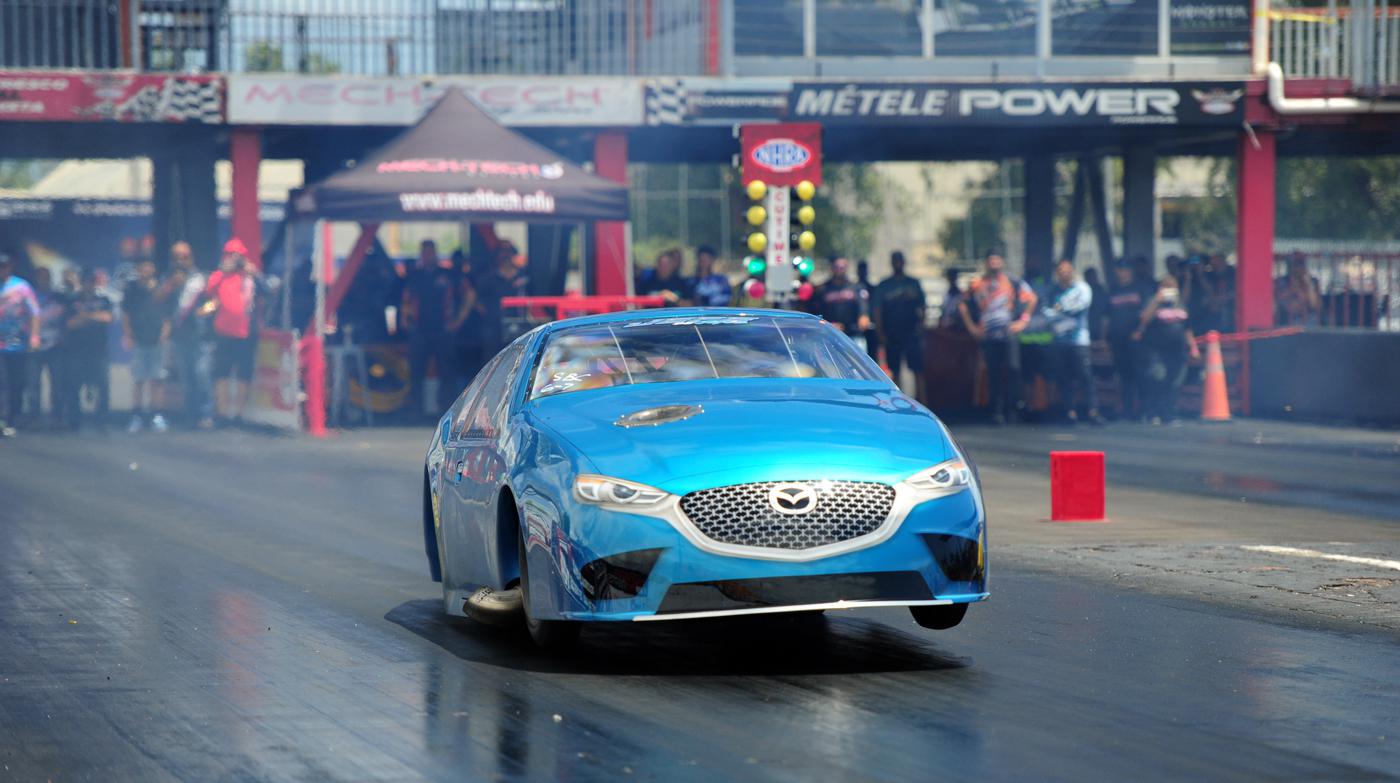 This island jewel in the Caribbean is more than just a sunny vacation getaway—it's also a hotbed of motorsports competition, where passionate competitors chase glory by shattering records at home and abroad.
Maybe it's the hundreds of glistening white-sand beaches. Or the powerful mountains that rise majestically from lush tropical rainforests. Or the temperatures that stay permanently pegged between 70 and 90 degrees day-in and day-out. Whatever the specific attractions are, they're enough to draw approximately five million visitors a year to the island paradise of Puerto Rico.
But paradise means different things to different people. While those picture-perfect attributes of the island may be ideal for restless sunseekers craving relief from the drab routine of Main Street USA, "paradise" tends to be quite a different concept for racers. Those who get their kicks from hauling booty more than tanning it typically measure the quality of a locale by things of the high-octane persuasion.
Simply put, any paradise without auto racing is just a temporary diversion.
If you listen closely, somewhere between Puerto Rico's bouncing lope of Reggaetón beats and shrill swooping chirp of Bananaquit birds, you'll hear a familiar siren song play. It's the glorious ring of internal combustion engines being pushed to their limits in competition. Although Puerto Rico spans only about 35 by 100 miles—roughly the size of Connecticut—it has a rich, vibrant motorsports culture that runs deep in the heart and soul of native Puertorriqueños.
Popular Rides
The most popular form of motorsports in Puerto Rico is drag racing, which has long had a passionate following among fans and racers on the island. "At one event, you can have over 200 cars," said Junot Medina of Jimmy Bou Distributors, San Juan, Puerto Rico. "The biggest event of the year is Festival Import de las Americas every year in March. And the second biggest one is Vispera Thanksgiving Miercoles, in November—the Wednesday night before Thanksgiving."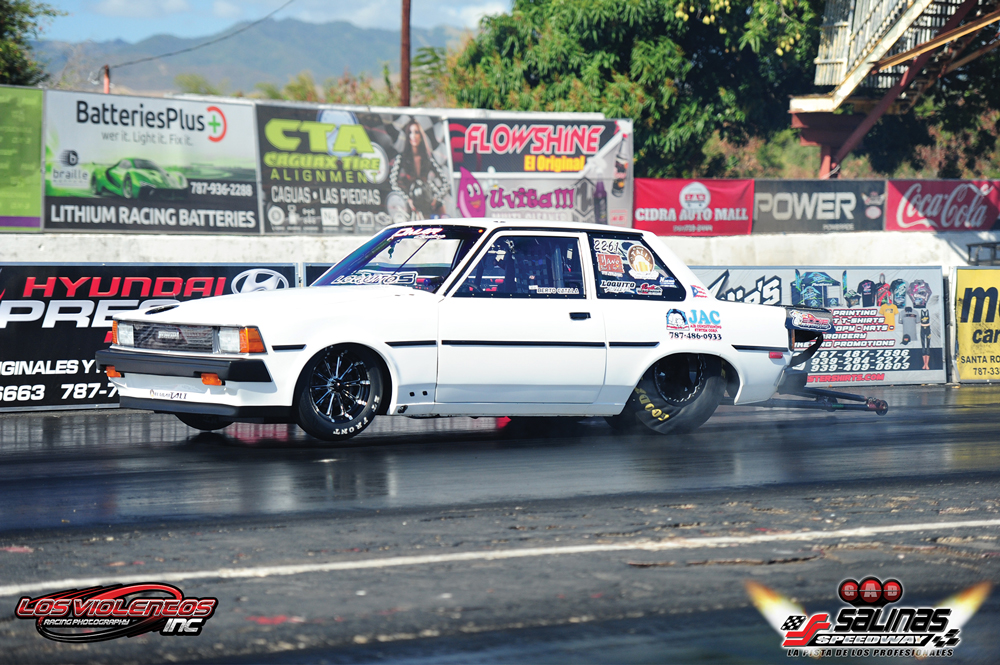 The types of cars that race in Puerto Rico for the most part mirror those found on the US mainland, but the relative popularity of those types can be considerably different in Puerto Rico. Sometimes those preferences defy expectations. For instance, the handful of American-style Pro Mod cars that race in Puerto Rico are fan favorites on the island. But the progenitors of those extreme machines, the typical steel-bodied V8 muscle cars that pour into mainland US drag strips, are generally a footnote in Puerto Rican drag racing competition.
Instead, the bulk of the action in Puerto Rico is in sport compacts, which fill staging lanes on the island and attract widespread attention from fans. Some sources even claim it's the island's racers that first discovered the performance potential of these affordable small cars, thereby forming the earliest roots of the entire sport-compact movement.
"From my point of view, Puerto Rico is where the sport compact thing began," said Erik Maldonado of PMS Race Cars, San Lorenzo, Puerto Rico. "We've been racing sport compacts forever. And the cars from here are always the faster ones. I'd guess that maybe 40% or even 80% of the people in the US who run sport compacts are Puerto Ricans," he added, laughing. "I go to an event over there and I know everybody."
Included among the sport compacts that compete in Puerto Rico are the usual array of Hondas, Toyotas, and Nissans. But there's also a strong following for rotary-powered cars, which appear in their native Mazda platforms or quite often swapped into an almost unlimited array of other makes and models. "Rotaries are a big focus in Puerto Rican drag racing," said Medina. "We have the world records in two and three rotors—all-motor, turbo, whatever."
Despite the popularity of drag racing in Puerto Rico, almost all of the action centers around just one track: Salinas Speedway, a quarter-mile drag strip just outside Salinas, a town of approximately 5,700 residents on the south side of the island. The track is NHRA sanctioned, with facilities comparable to a typical small local track in the mainland US.
Because of the island's pleasant, consistent climate, racing in Puerto Rico is interrupted only by a holiday break in December. "We go all year round," said Damaris Lopez of Salinas Speedway. "We do close for about a month around Christmas because it gets slow. Everybody is spending time with their family. Then we open again after we celebrate Three Kings Day, which is on January 6."
While Salinas is adequate enough to satisfy the basic needs of many Puerto Rican racers, there is a significant number of competitors on the island who crave a more major-league racing experience. These ambitious racers regularly migrate to the States, typically competing at large events in Florida and Maryland.
According to our sources, Orlando Speed World Dragway in Orlando, Florida, has become somewhat of a satellite track for Puerto Rican drag racers, with many of them routinely making pilgrimages to the States several times a year. Some have even gone so far as to have flipped that equation around, spending most of their time racing in Florida and then occasionally returning to their native island home.
"People in Puerto Rico love to send cars to the United States," said Medina. "The top engine builder for rotary cars, Jonathan Ortiz of Moncho Performance, is from Puerto Rico. Five years ago, he was going to the US every two or three months. Now he stays there and every few months he goes back to Puerto Rico."
Logistics are key for racers making the journey from Puerto Rico to the States. For this, they rely on a proven roster of experienced service providers who take care of all the details, leaving racers with little to attend to other than getting themselves and crew members to the event.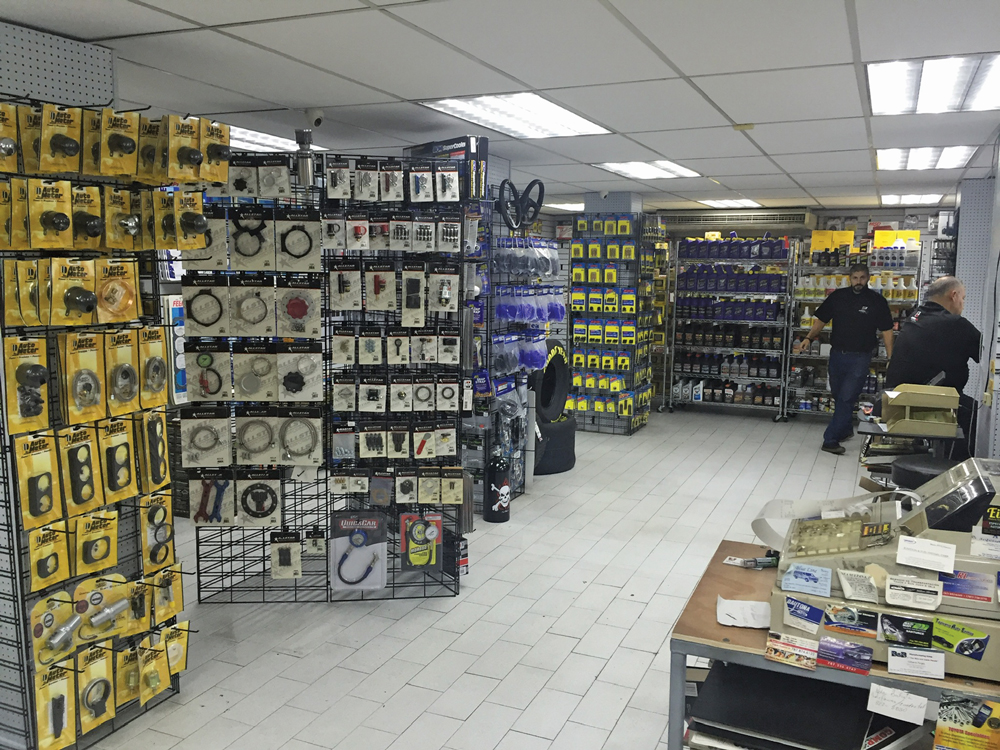 "Racers in Puerto Rico ship their cars through a number of American freight companies," said Medina. "They use 53-foot ship containers with three cars inside. These companies do all the paperwork, provide the container, and handle everything else. The car owner just brings the car to a specific place and puts it inside the container. Then they just fly over and pick their car up at the event—the companies bring the container right to the track."
Although Puerto Rican drag racers are frequent visitors to mainland US events, some in the Puerto Rican drag-racing scene would like to see more of that migration go the other way—US racers coming to the island to compete on Puerto Ricans' home turf.
"I think it would be interesting to bring more sport compacts from the US and have them spend a couple months here racing with us," said Maldonado. "That would make it more interesting and it would also bring more fans. They already do that at Festival Import de las Americas, with about 12 cars from the States. And it's a big deal."
Setting Records
Road racing has something of a following on the island, too. Although not as large as the crowd at the drag strip on any given week, there's enough interest in it to hold regular road-racing events throughout the year.
As with drag racing, Puerto Rico's road-racing scene also revolves around Salinas Speedway. The facility has a road course that can be configured in 1.3- or 1.8-mile lengths and hosts five practice sessions and five main events a year. In terms of dimensions and degree of challenge, the Salinas road course appears to be similar to a typical club track in the mainland US, which is more than ample for the Miatas, Minis, and Hondas that typically compete on it.
Yet the Salinas road course is also becoming the domain of well-to-do competitors on the island, who field more exotic machinery, Medina said. "Road racing is starting to bring people to the track with Porsches, Ferraris, and other fancy cars."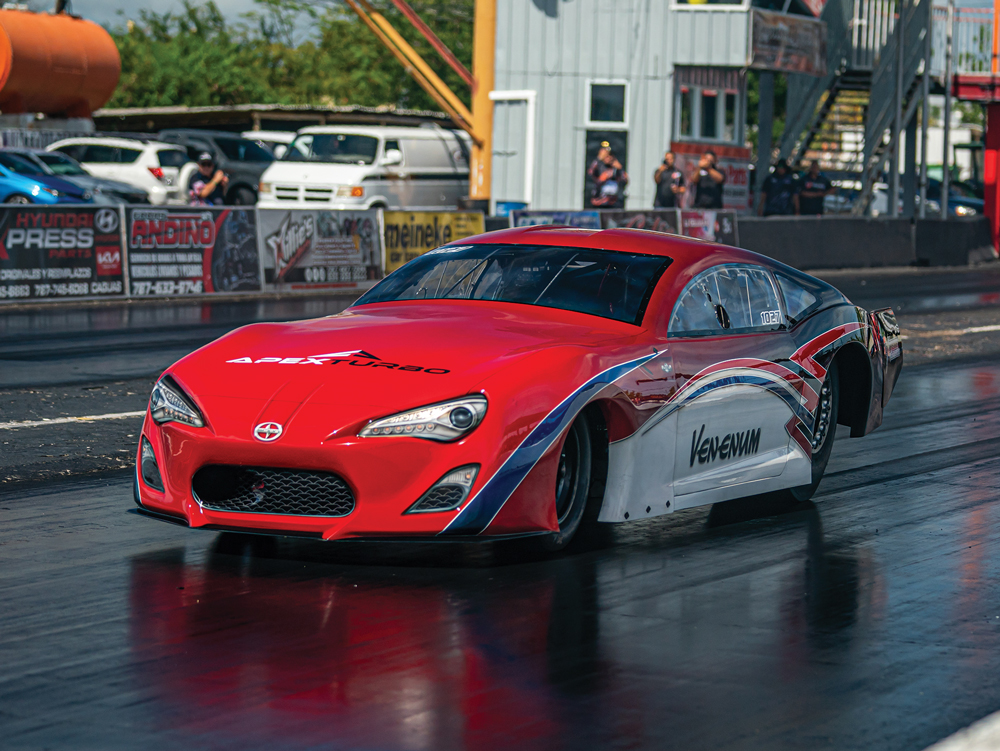 Much like competitors in the States, racers in Puerto Rico often pursue their sport with a passion that goes beyond rational thinking. "Puerto Rican racers will spend 90% of their money on their car and live in an apartment that they can barely sleep in," said Medina. While the intensity of these racers certainly compares with that of competitors in the States, our sources noted a key difference that sets them apart.
"Puerto Ricans only want to break world records," said Medina. "They sometimes don't even seem to care about winning. They want to have the bragging rights—'I'm the world's fastest.' This is the difference between them and Americans."
As a result, racers on the island hold records in numerous sport-compact classes, and they're consistently ranked among the quickest and fastest. Typifying this spirit is Jorge "Oso" Juarbe of San Juan, Puerto Rico. He's one of the most accomplished drivers on the island, with decades of drag-racing experience that runs the gamut of classes and cars. Throughout the season, Juarbe divides his time among at least a half-dozen cars for various owners.
"We've been racing for almost 30 years," said Juarbe. "As of today, we have the record for the quickest six-cylinder import, with a 5.55 quarter-mile. We've had some other records, too, and we've got the three-rotor rotary record right now, with a 6.0 E.T. Until recently, we also had the rotary record for two rotor, with a 6.16. We had that record for about six years."
This emphasis on record setting is, perhaps, due in part to what our sources said is a very limited attention span among race fans on the island. Besides pushing drivers to achieve ultimate levels of performance in their respective classes, the need to keep people excited has largely dictated the types of cars that are fielded.
"People in Puerto Rico just get bored of everything," said Medina. "A long time ago, back in the 1990s, the main focus was domestic cars—V8s. But over the years, import stuff started to catch people's eyes in Puerto Rico, because those were the cars that were always trying to break records. For example, a 9.90 Super Gas car runs 9.90 all the time. People here got bored with that. They saw that with imports, this guy will go 10.2 today, and then next weekend he'll run 10.10. And then in three months, he'll put in a new transmission and go 9.5—faster and faster and faster."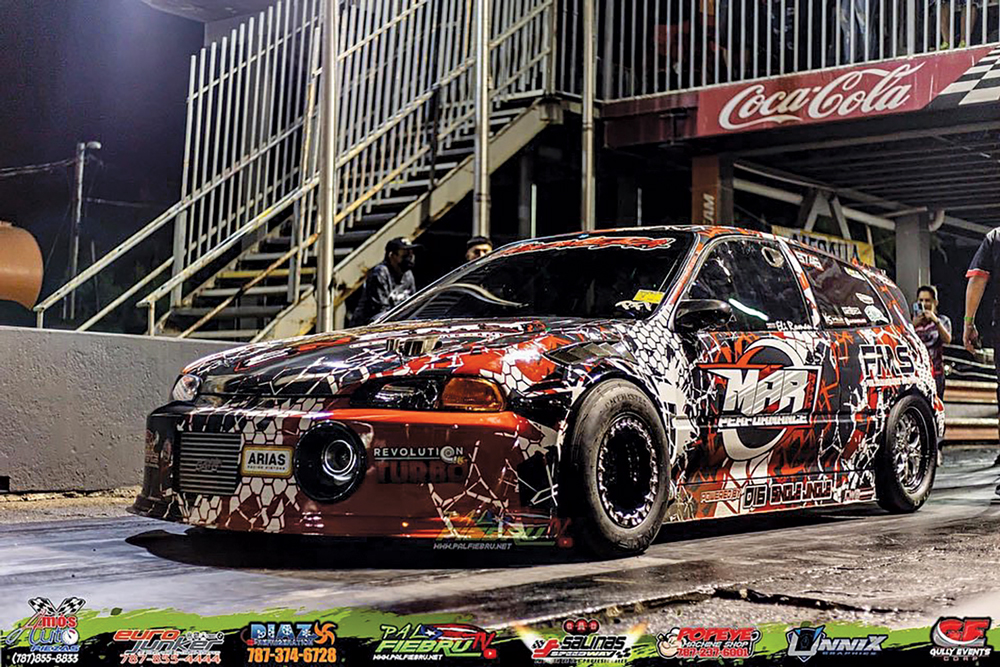 To build cars that can charge after records week after week, racers in Puerto Rico depend on many of the same parts sources mainland racers rely on: large catalog suppliers based in the US. At the same time, many Puerto Rican racers frequent one of the island's more prominent local sources of equipment, Jimmy Bou Distributors. The company also has a second facility in Orlando, Florida, to satisfy the many Puerto Rican racers competing in the Sunshine State.
Jimmy Bou Distributors is actively engaged in the Puerto Rican racing scene as the title sponsor of the Jimmy Bou Challenge road racing event at Salinas Speedway. Along with this, the company is also responsible for the Puerto Rico Racing Expo, hosted every two years at the Puerto Rico Convention Center, in San Juan, Puerto Rico. "It's like a small version of the PRI Show, for the island people," said Medina.
Come To The Island
Although the Puerto Rico racing scene has much to offer, it's largely unknown to most Americans, despite the strong presence island natives now frequently have at major events in the States. Through pride, pluck, and determination, Puerto Ricans have proven time and time again they can hold their own with the best racers anywhere. "We're proud that we built the fastest import in the world, which went 5.55," said Maldonado. "And then, last year, we went to Bradenton for the Snowbird Outlaw Nationals, and we got a runner-up with a Pro Mod."
What about his wish for US racers to compete in Puerto Rico? It's an idea well worth considering. The island's competition is intense, the scenery is stunning, and the people are friendly, warm, and welcoming. Further sweetening the idea is the relative convenience of such a journey. Puerto Rico is a territory of the United States, so citizens from the US don't need a passport to travel there. In addition, the national currency on the island is the US dollar, phones work just like they do on the mainland, and English is widely understood.
Hello paradise—you could be just what we need right now.
SOURCES
Jimmy Bou Distributors
facebook.com/jimmyboudistributors
Jorge Juarbe
PMS Race Cars
facebook.com/pmsracecarscorp
Salinas Speedway
facebook.com/salinasspeedway