Image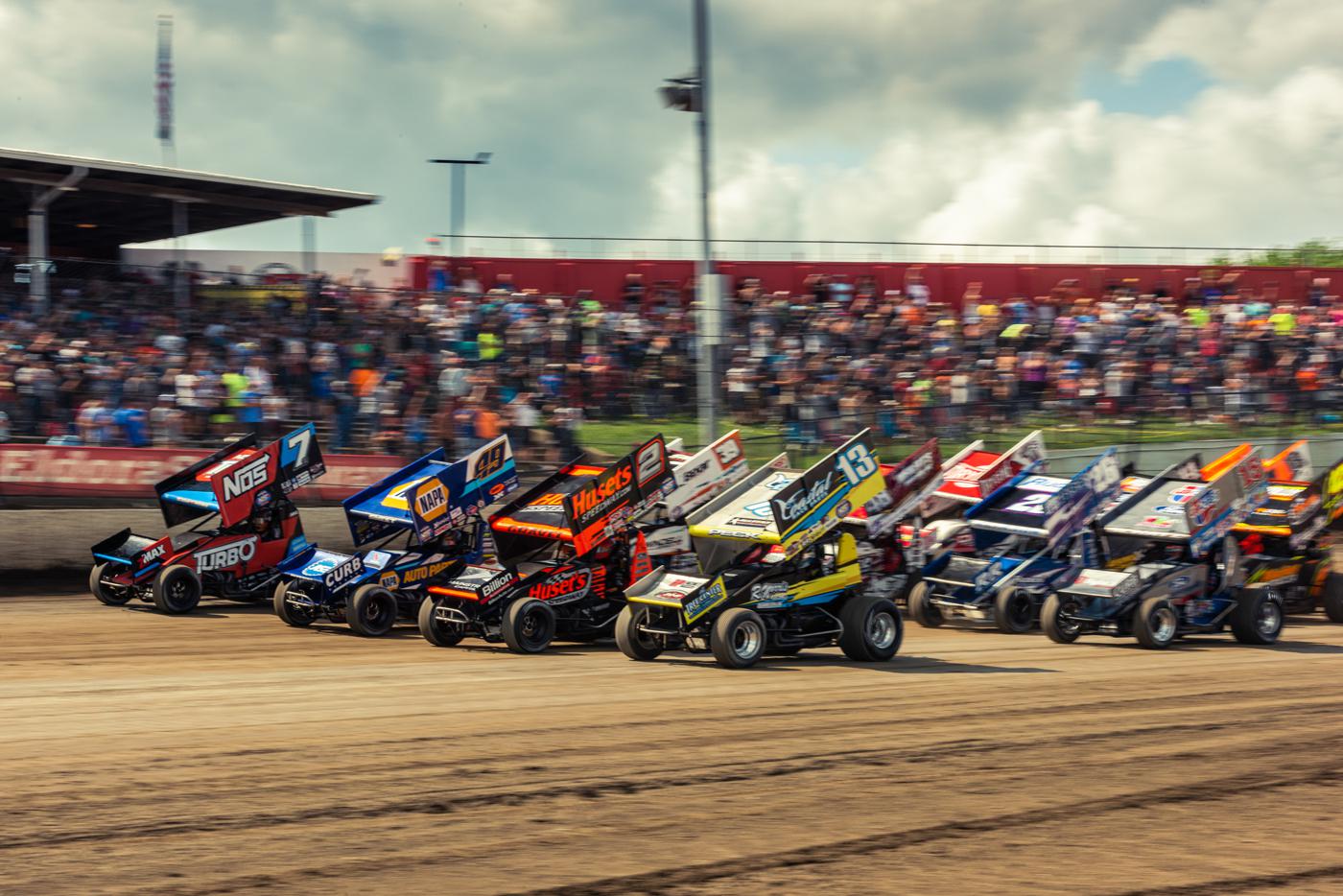 Entertaining racing is only one piece of the puzzle—IT TAKES A broad-based APPROACH, AS WE learned from the promoters behind five successful events.
Although exciting competition is a core pillar of any well-attended motorsports event, that alone doesn't guarantee lasting success. In an age where an array of media is constantly vying for our attention, it takes a broader consideration of the design, format, and promotional strategies to break through the noise of everyday life and connect with the right audience.
"I think the days of just opening the gates and expecting to pack the stands are long gone," said Kelley Carlton, the events manager for Screven Motor Speedway in Sylvania, Georgia. "You have to use everything that's available to you because you are competing with so many other things now. People have a thousand different options for entertainment now, so you have to really put in the effort to bring attention to your event. Once they are there, you have to make sure the event itself is memorable for the right reasons."
To get a better understanding of how successful efforts maintain their momentum, here's a behind-the-scenes look at five events that have enjoyed sustained interest year after year, with some insight from the folks who help make that happen.
Jim and Joanne Ford Classic
Over the years, this end-of-the-season bash has become an institution at Fremont Speedway in Fremont, Ohio. Held annually in early October since 2008 and named in honor of the folks who resurrected the track 22 years ago, the two-day event has become something of a going-away party for racers and fans alike.
"It's in the fall, so the campgrounds across the street are packed," explained promoter Brian Liskai. "There's plenty of tailgating going on, and we bring in bands after the races for the fans to enjoy. There's Halloween decorations, there's a queen's contest—a lot of different things are going on besides the racing itself."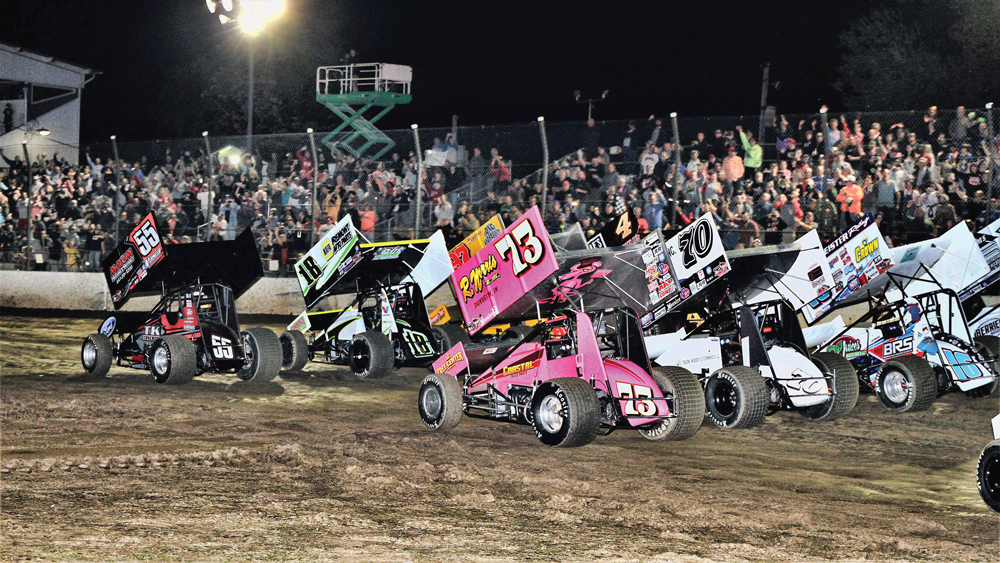 The event serves as the championship weekend for the All Star Circuit of Champions series and brings together 410 sprint cars, 305 sprint cars, and dirt truck division racing. "With winter on the way, it gives everyone in Northwest Ohio and Indiana one last opportunity to get out to the track and enjoy an outdoor race before the end of the year," Liskai said. "So we turn it into a big party."
While the format of the competition has stayed fairly consistent, the show itself has grown and evolved over time. "We've done cancer fundraisers, auctions, and kickball tournaments where fans and racers have put together teams. As the show has grown, we've expanded the campgrounds and upgraded the amenities to accommodate that. It's a really welcoming environment."
With an event of this scope, the logistics and promotion go well beyond regular facility maintenance and traditional marketing methods. "Getting the bands booked, putting together the parties on the campgrounds—all of that organization needs to be done properly for the show to go smoothly," Liskai explained. "You also have to make sure the concession stands have what is needed, but you also don't want to over-stock them, so it is kind of a challenge in that way. But every year we learn more about what we need to do to continue making the show bigger and better."
Liskai told us that while they still do ads on local TV and radio, social media has become a much bigger part of their larger promotional strategy. "Our Facebook page has gotten pretty big, and we use Instagram and Twitter regularly to get the word out as well. We do a lot of live videos on those platforms to further engage with the fans, and it helps."
He also noted that since it's the last event of the season for many teams, the show also attracts teams who might want to provide a driving opportunity to a crew member who doesn't normally have a chance to get behind the wheel. "Some teams will put an extra car together so they can give someone on the team or a family member a chance to compete," Liskai said. It doesn't hurt that there's a decent chunk of change up for grabs, too. "We pay $10,000 to win on Saturday, so you never know who might show up."
Winter Freeze
Also in its 14th year running, Winter Freeze at Screven Motor Speedway is a two-day show held every February that's timed to match up with the Georgia and Florida Speedweeks events. "Speedweeks is big in both the dirt and asphalt racing worlds, and there's an annual pilgrimage of racers and fans from the north that make their way south for the Florida show," Carlton explained. "That means they have to drive right through Georgia to get there. So [Screven Motor Speedway owner] Redd Griffin saw an opportunity to have a Speedweeks-related show that would give those folks coming down I-95 something to do for a couple of days before things start up in Florida."
While dirt super late model racing has always been a key component of Winter Freeze, Carlton said that the event has evolved over the years to incorporate other platforms as well. "Our big Sport Compact Dirt Racing Association (SCDRA) series event used to be in November, but we moved it over to this show and it has really taken off. We've grown the purse by a thousand dollars every year—when it started it was $5,000 to win, and this year it will be $19,000."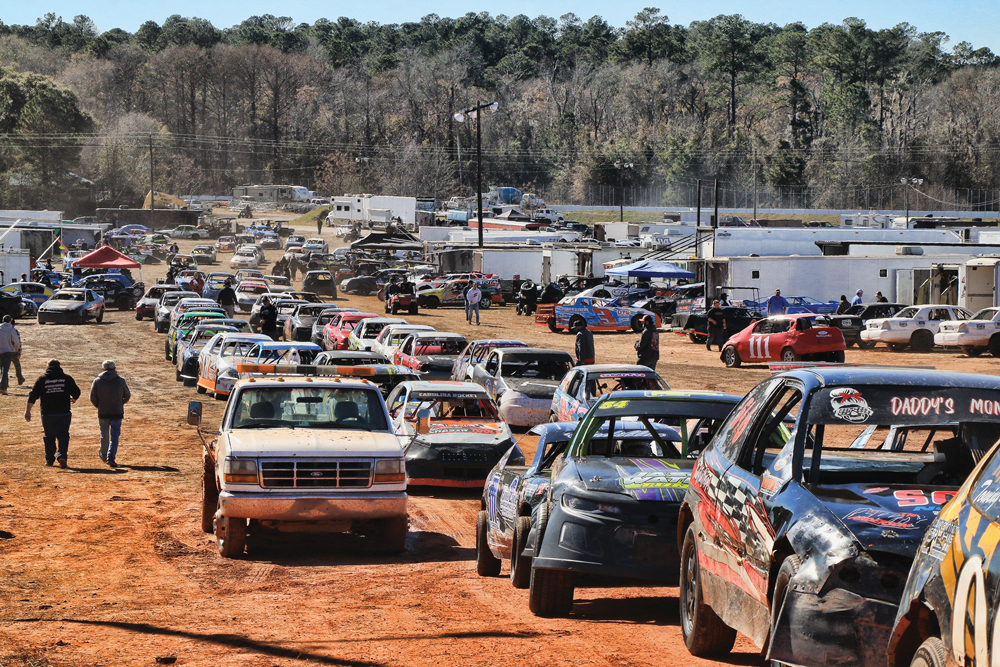 With stakes that are normally unheard of in this type of racing, the event attracts front-wheel-drive racers from all across the country. "There's just no other event out there that's paying this amount of money to this front-wheel-drive class. For the last six years or so, it's been in excess of a hundred cars every time, and this year we set a record with 123 cars signed up for the event."
Beyond the dirt late model and SCDRA races, the event also includes crate late model, street stock, Road Warrior, and Cop Stock racing, the latter of which pits racers against one another in decommissioned police cruisers. "That's a neat little class that's also growing," Carlton said. "Racers can just go to a police auction and buy an old Crown Vic, take out the glass, add some safety equipment, and go racing. The cars are otherwise stock, so the affordability and fun of it is a big draw." That emphasis on accessibility has helped to guide much of the evolution that Winter Freeze has seen over the years.
"The SCDRA stuff is kind of a working man's class," said Carlton. "These racers are usually spending between $4,000 and $12,000 to build a car to go racing, whereas classes like street stock are going to cost quite a bit more. At most places, these front-wheel-drive guys are racing for $250 or $300, if that. We wanted to help change the perception of this type of racing, and the racers are improving their programs in turn. To have this amount of money involved is unique, and I think that has helped attract competitors from all over to come out for this."
With live bands, on-site camping, and a rotating roster of attractions, the event takes on a carnival-like atmosphere for the fans. Logistics and planning for the event begin months ahead of time, as does the promotion of it. "We use billboards, print advertising, and we also do some stuff on news sites like Dirt on Dirt," he said. "We also do some radio and TV ads, but social media and email seem to get the biggest response. We have about 25,000 addresses of drivers and fans on our mailing list, and we get a lot of feedback from that. And, of course, social media is crucial because just about everyone is on there every day."
He added that Griffin's approach has factored into the show's success, along with the efforts of the facility's staff. "Redd is a very racer-oriented guy; he makes sure they're being heard and taken care of. It helps that we have great people working for us, too. Someone might not remember a particular race from an event, but they'll probably remember the people from the event and how they were treated."
Crash-A-Rama
After its inaugural event on Memorial Day in 2006, Crash-A-Rama at Lake Erie Speedway in North East, Pennsylvania, soon became so popular that they added a second annual date in May two years later. The Night of Destruction-style show includes skid plate racing in compact, front-wheel-drive cars, demolition derbies, and other high-impact entertainment that attracts fun-loving racers, motorsports fans, and families that are looking for something to do that is far more exciting than just watching the latest movie. "We do a lot of shows here that aren't traditional racing—drift events, monster truck shows, and that sort of thing," said Lake Erie Speedway General Manager AJ Moore. "We don't mind seeing some contact at this particular one."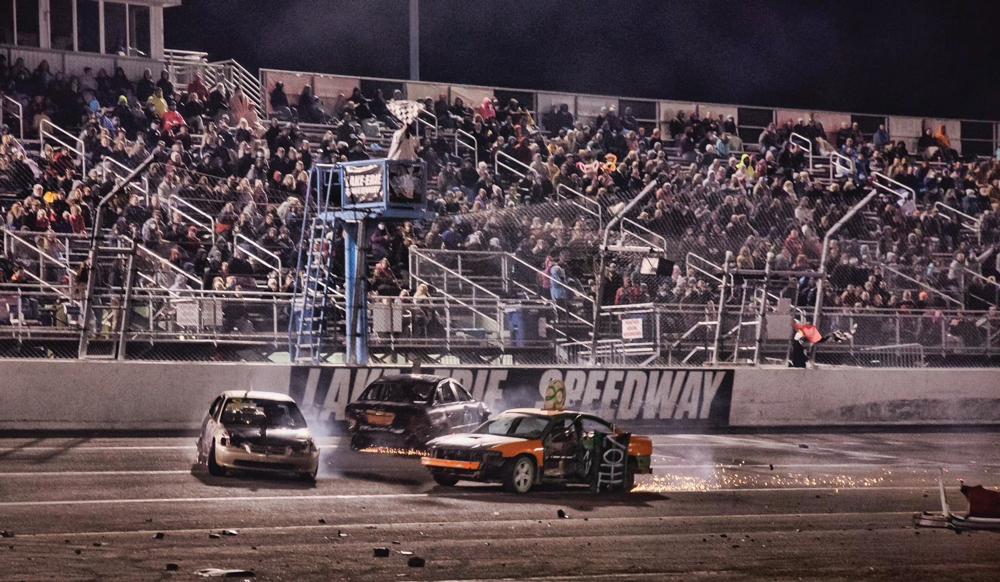 In recent years, the event has evolved to include side acts like freestyle motocross exhibitions as well as spectator drags. The latter allows race fans in street cars to compete against one another in a short wheel-to-wheel race on the oval track for a few bucks and no shortage of bragging rights. "The core events haven't really changed over the years, but we're always adding new things to keep it fresh," Moore said. "Last year we added a Hoods Up race as well." In that event, a large field of FWD compact cars have their hoods and trunk lids pinned up, and drivers only have a small hole to see through in order to navigate through the inevitable chaos. "Little additions like that bring back the people who have been to a Crash-A-Rama event before because it's something new for them to check out."
Moore noted that it takes quite a bit of detailed planning to ensure that a night with so many different events goes smoothly. "I feel like there are some people who think that you pull a string, and everything just happens," Moore quipped. "But there is a lot to it, and you need to have everything in place from the moment a fan reaches your parking lot. Beyond ticket scanning and security, there is a lot that goes into the food and beverage side as well as the tech inspection of the cars. Even though it is Crash-A-Rama, there are still some rules that need to be followed."
In terms of marketing, he said that the track has put less of an emphasis on radio and TV advertising in recent years, opting to shift those efforts toward social media platforms like Facebook, Instagram, and TikTok. "Getting new videos out on a consistent basis has really helped us get the message to different demographics," Moore said. "Once you have them there at the track, you can promote the other events."
Summer Showdown
"In the 1980s and early 1990s, the track used to host the Washington 500," explained Doug Hobbs of Evergreen Speedway, Monroe, Washington, and president of High Road Promotions. "That event brought in Cup drivers, and no one else in the Northwest had a winning purse of $25,000 or more at the time. So when we took the track over in 2011, I wanted to bring in a signature event that could recapture some of that notoriety."
Held on the third week of July since 2012, Summer Showdown was a success straight out of the gate, attracting racers and fans alike for Super Late Model, Pro Late Model, street stock, and mini stock racing. "I think for us it was really about sitting down and considering what motivates drivers and tying in a lot of different promotions around it," he said. The two-day event puts the Super Late Model and Pro Late Model races on an oversized 5/8-mile track, while the supporting classes compete on Evergreen's 3/8-mile oval.
With the racing divided between two tracks at the facility, Hobbs wanted to create a carnival atmosphere that would keep fans entertained regardless of where they were on the grounds. "Over the years we've set up go-karting tracks, brought in live music—things like that. And we always make sure that we have things for the kids to have fun with on the midway."
Each year, the organizers at Evergreen Speedway review the event's format to see where refinements can be made to maximize its value to fans and racers alike. "We try to get feedback from the drivers and look at what classes the fans are going to want to see," he said. "Some years we've gone with more touring and less of our weekly support NASCAR classes. But you also want to try to keep as many of your upper divisions at the marquee event as you can. We always want to make sure we're headed in the right direction with that balance." Evergreen Speedway also offers two-day VIP packages for the event, which include reserved seating, dinner, a swag bag, and a meet-and-greet with the top drivers at the event.
Hobbs noted that while targeted advertising on social media and mobile apps has been effective for Evergreen Speedway, they've also partnered with CBS to create Home Track Heroes, a two-hour weekly television special that puts the facility's events front-and-center. "It's a replay show that airs every Sunday night," he explained. "In the lead-up to marquee events, we try to use that show to get drivers who might want to come on for an interview or to talk about upcoming races. We do that for all of the classes, from the four-cylinder Hornets to the Super Late Models."
Evergreen Speedway also invests in traditional advertising on radio, television, and at sporting events, and last year Hobbs partnered with FloRacing to live-stream their races. "You have to have a strong presence out there to remind people," he added. "There's a lot of competition for the entertainment dollar now."
Sprint Car Smackdown
Held on the third week of August since 2012, Sprint Car Smackdown at Kokomo Speedway in Kokomo, Indiana, is the track's marquee event for 410 non-wing sprint cars. The three-day, USAC-sanctioned show offers drivers attractive payouts, with $5,000 going to the winners of the Thursday and Friday night races, while this year's A-main winner Kyle Cummins earned $15,000 plus a $20,000 bonus for leading all 40 laps of Saturday's feature race. Even though a premier USAC race brings with it a built-in fanbase, the organizers at Kokomo Speedway have sought to ensure that all attendees would be entertained throughout the duration of the event.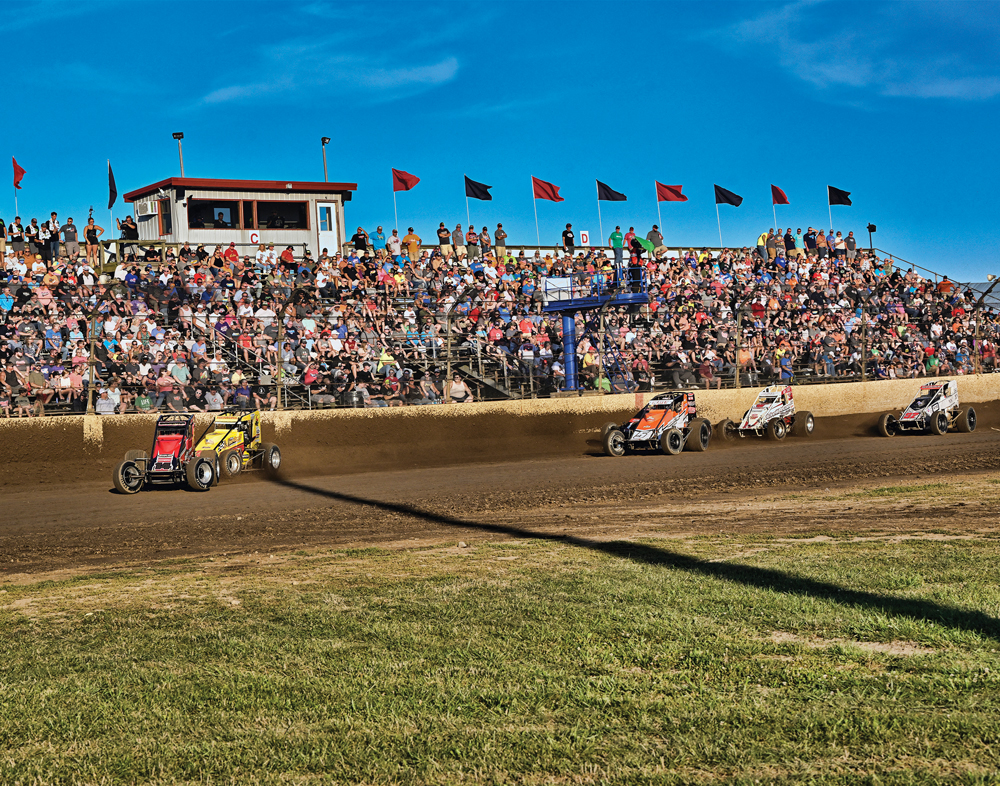 "We do karaoke the first night, a band on the second night, and we've got charity kickball games, cornhole tournaments, and other activities as well," said Kokomo Speedway co-owner Jill Demonbreun. "It's a big event for us, so we have a lot of stuff going on."
Over the years the show has continued to attract racers thanks to ever-increasing prize purses—the winner of next year's finale will receive a $20,000 payout—while auctions for racing memorabilia and drawings for prizes like golf carts have helped to attract so many new fans that campground parking has become a sought-after commodity. While the track has used radio and newspaper ads to get the word out about the event to local fans, Demonbreun said that social media platforms and streaming services have brought more attention to the show. "Racing fans pay more attention to content like that," she explained. "While we also use Instagram and Twitter, I feel like Facebook is where we get the most engagement. And anything that USAC does at our track is on FloRacing, so that helps as well."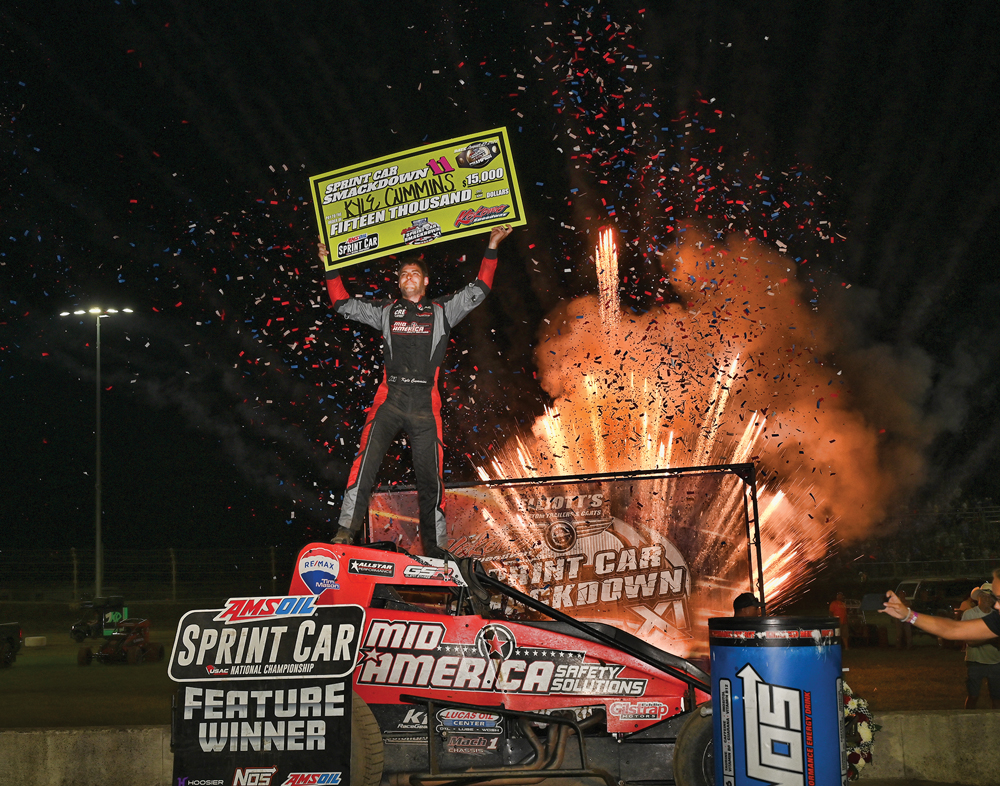 She noted that they've made a concerted effort to reinvest back into the track in recent years as well. "We put new Musco lighting in recently, and we put new bleachers on the back stretch that added seating for roughly 1,500 more people over there. And we're planning to re-do the front stretch next season, along with some other planned renovations. We want to keep improving the facility so we can continue to do bigger and bigger events here."
SOURCES
Evergreen Speedway
evergreenspeedway.com
Fremont Speedway
fremontohspeedway.com
Kokomo Speedway
kokomospeedway.net
Lake Erie Speedway
lakeeriespeedway.com
Screven Motor Speedway
screven-motorsports.com