Image

Ask any proud racer for photos of their race car and they'll eagerly pull out a smartphone and scroll through the hundreds of images stored in their gallery. Such is the pride of ownership in 21st century motorsports. Acknowledging the thousands of hours that have gone into building these cars and sourcing just the right parts, we recently asked PRI Magazine readers to send us photos of their race cars to feature in this year's Trade Show issue. The response was overwhelming—far more submissions came in than we had room for in these pages. And it wasn't easy narrowing down our selections, given that we only have so much space at our disposal. All that said, the 20 exceptional vehicles that follow, in our opinion, reflect some of the best our industry has to offer.

1981 Buick Regal
Kyle Roberts
Bay City, Michigan
Race Series/Class: SCCA Solo, C-Prepared car
Engine: 408-cubic-inch small block Chevrolet with a Saginaw three-speed transmission built by Kyle Roberts, custom tuned by Mad-Science Motorsports
Car: Fabrication work by Chris Vance of V-Fab in Midland, Michigan
Features: Holley Sniper EFI fuel system, Quick Performance, Wild Rides 12-point cage, five-point harness from TeamTech
Fact: Not only is the car built for summer autocross season, but Roberts also actively ice races the car in the winter months with a studded set of tires.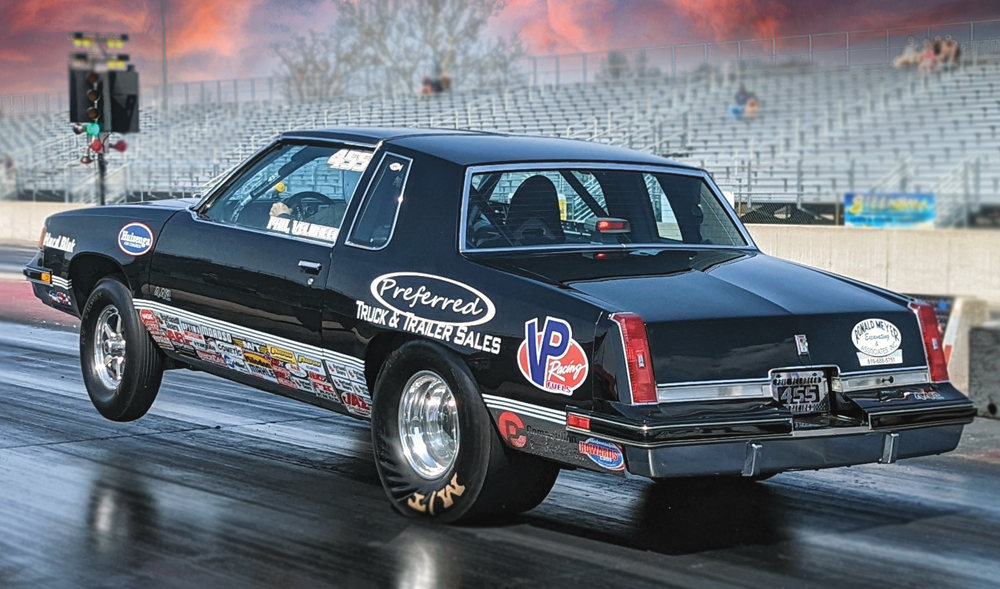 1987 Oldsmobile Cutlass 442
Phil Veldheer
Holland, Michigan
Race Series/Class: NHRA and IHRA, Top Eliminator
Engine: Hard Blok filled Oldsmobile 455 bored to 468 cubic inches, built by Dan Gorby Racing Engines
Features: Mickey Thompson tires, VP C12 race fuel and VP 10w40 full synthetic race oil, ARP fasteners, Moroso plug wires, PROFORM Parts water pump and fan, Cometic Gasket gaskets, Hedman Hedders, Optima Batteries battery, Fragola hoses and fittings
Fact: This is a genuine GM factory race car with nine original miles on the odometer. Veldheer has owned it for more than 23 years, and he's been behind the wheel of the car for the last eight years.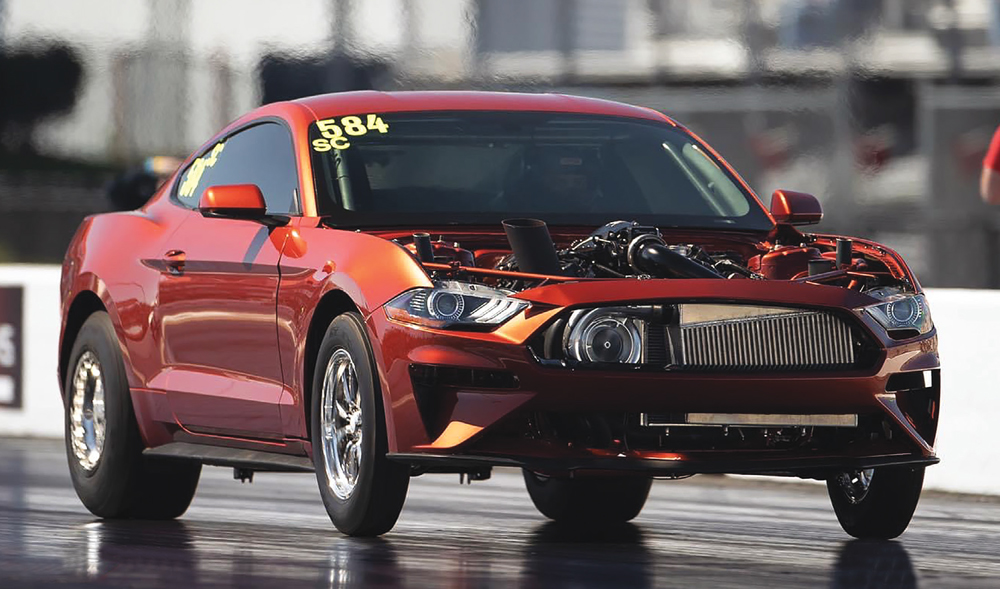 2018 Ford Mustang GT
David Van Voris
Amarillo, Texas
Race Series/Class: TX2K, FL2K, Street Car Takeover, Flashlight Shootout
Engine: Built by David Van Voris at Coyote Direct
Car: Fabricated by Joe Young of Street Car Joe Fabrication
Features: RPG 5.2, sleeved, Top Fuel hoops, aluminum rods, Manley pistons, Frankenstein heads, COMP Cams camshaft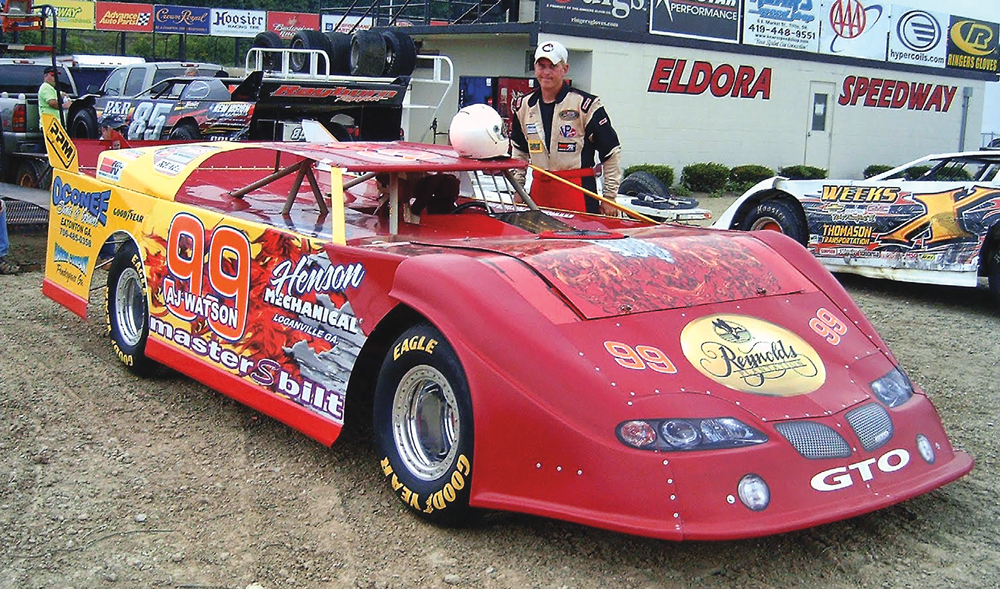 2020 Black Diamond
Mark & Jenny Watson
Loganville, Georgia
Race Series/Class: Late Model Series, 602 Thunder
Engine: GM crate small block built by Darrell Gabriel of Gabriel's Engines
Car: Built by Ronnie Stuckey of Stuckey Enterprises
Features: Safecraft safety equipment, Fast Shafts driveshaft, K&N filters, FSR Radiators radiator, Fox Shocks, VP Lubricants, Fuel Safe, Ultra Shield, PPM Racing Products, MSD
Fact: Watson Racing started 29 years ago for Mark and Jenny's son AJ ("Sideways") Watson when he was five years old.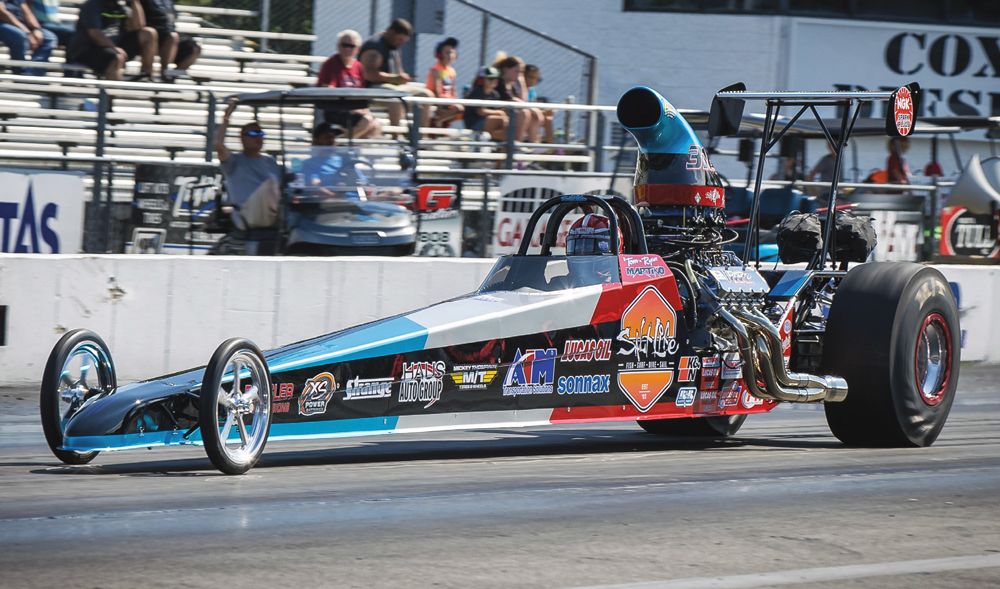 2013 Mac Sherrill Rear-Engine Dragster
Tom & Ryan Martino
Youngstown, Ohio
Race Series/Class: NHRA and PDRA, Top Dragster
Engine: Nitrous-assisted 665-cubic-inch big block Chevrolet built by PAR Racing
Engines Car: Built by Mac Sherrill Race Cars
Features: Lucas Oil Products, K&N Filters (dragster scoop, air filters, oil filters), NGK Spark Plugs, XS Power Batteries, Strange Engineering steering and rearend components, Fel-Pro gaskets, Brodix aluminum cylinder heads and blocks
Fact: Martino Motorsports is composed of a father-son tandem who have been featured on national television—from PBS to the Discovery Channel—with their race car.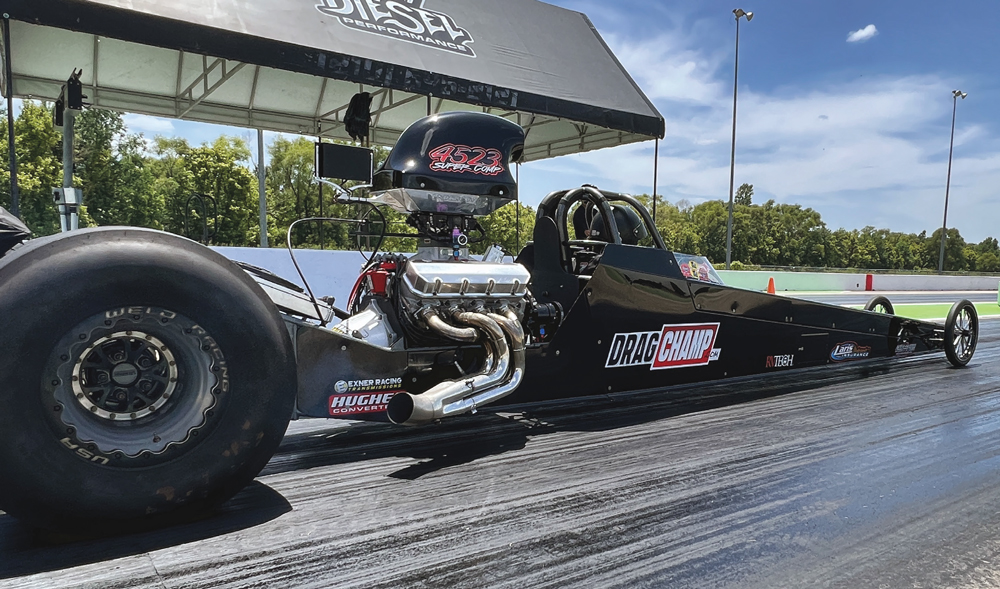 2002 Undercover Dragster
Gary Don Free
Katy, Texas
Driver: Austin Free
Race Series/Class: Bracket racing
Engine: 584 big block Chevrolet built by Steve Schmidt Racing Engines
Car: Built by Undercover Motorsports
Features: Hughes Performance torque converter, Exner Racing Transmissions transmission, APD Dominator carburetor, Altronics Red-Alert O2 monitor
Fact: Gary's 16-year-old son Austin is driving this dragster after two years of racing Juniors. He is a third-generation drag racer and has quickly adjusted to driving a 4.70 ET dragster at 145 mph.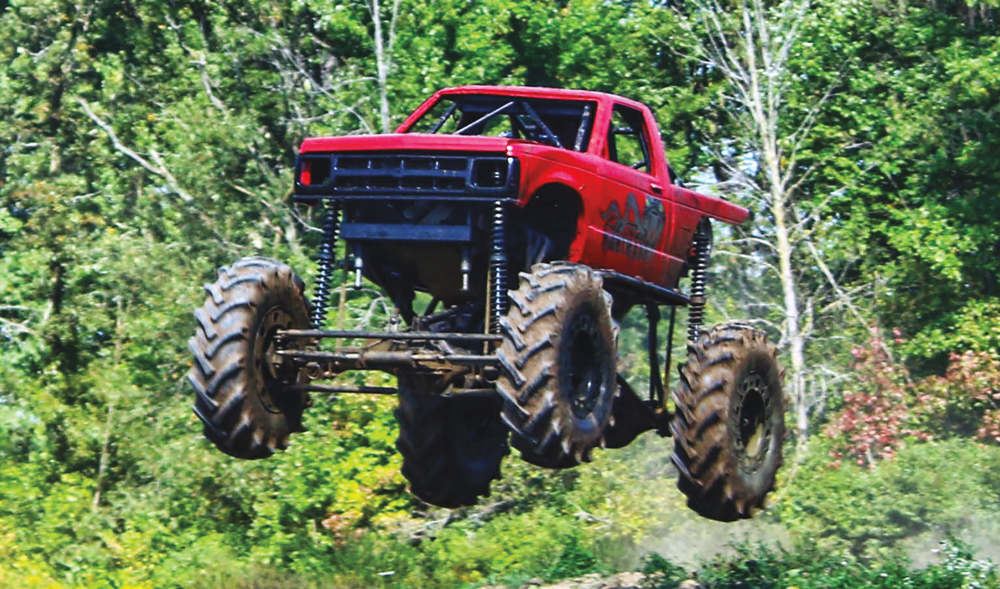 2005 Chevy Colorado Custom Mega Truck
Lindsey & Bennie Goodin
Emmett, Michigan
Race Series/Class: Racing, freestyle, bounty hole
Engine: 383 Stroker Motor
Features: 2.5 GM axles, Profab transfer case, 20-inch Big Shocks, NGK spark plugs
Facts: Recently, Lil Red Nightmare was completely made over after being dormant for three years. What's more, Lindsey has competed all over the country with several wins in freestyle and head-to-head competition. "Nothing beats the feeling when you go launching off a big jump and all you see is the beautiful sky," she said.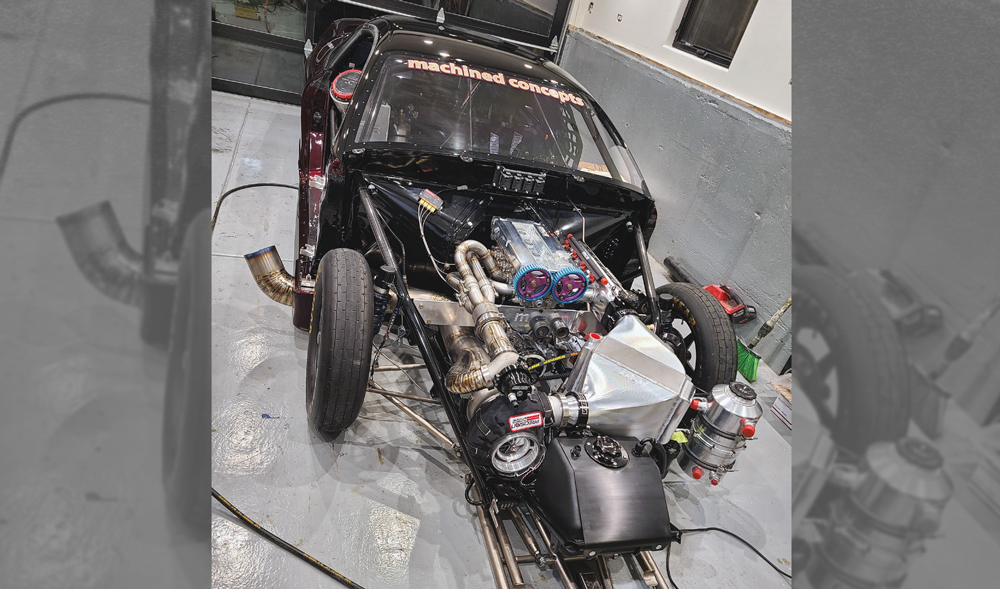 1995 Eagle Talon
Albert Raczynski
Algonquin, Illinois
Race Series/Class: Radial vs. Modified
Engine: Mitsubishi 4G63 built by Albert Raczynski
Car: Built by Albert Raczynski
Fact: Raczynski built this entire car from the ground up. He fabricated the entire chassis, wired the entire car, built the engine, and tuned the car all by himself.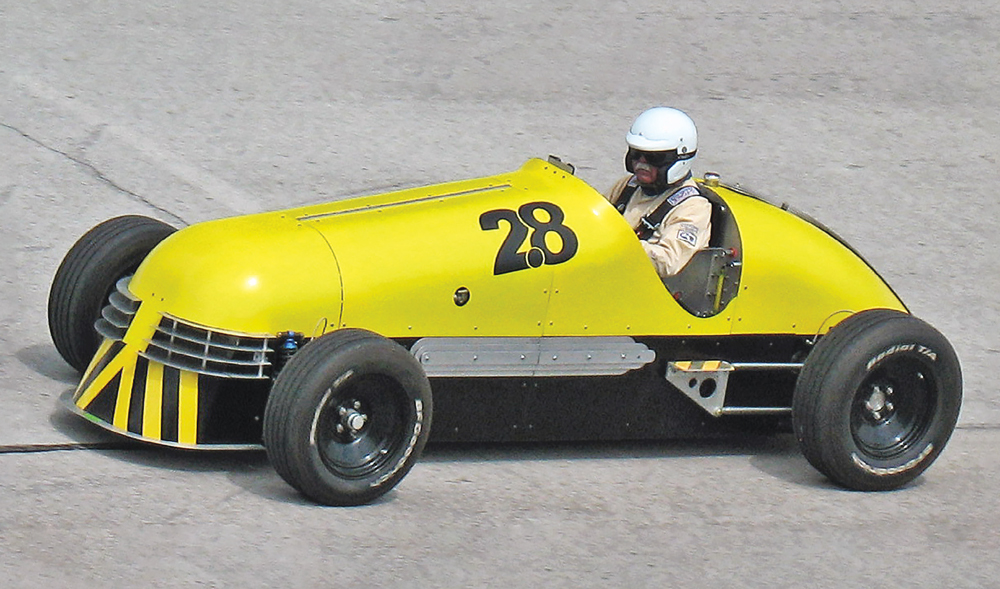 1930s TMD DieselX Special
Thomas McGriff
Indianapolis, Indiana
Race Series/Class: Vintage open wheel, oval and road course
Engine: Cummins 2.8L SOHC turbodiesel
Car: Built by Thomas McGriff
Features: Wilwood brakes, Bassett wheels, Goodrich Radial T/A tires, Hughes Performance transmission, Speedway Engineering rear axle, MPI steering wheel, Speedway Motors spindles and front hubs, Power Cool radiator, AFCO springs and shocks
Fact: This is a 1930s Euro Grand Prix concept race car.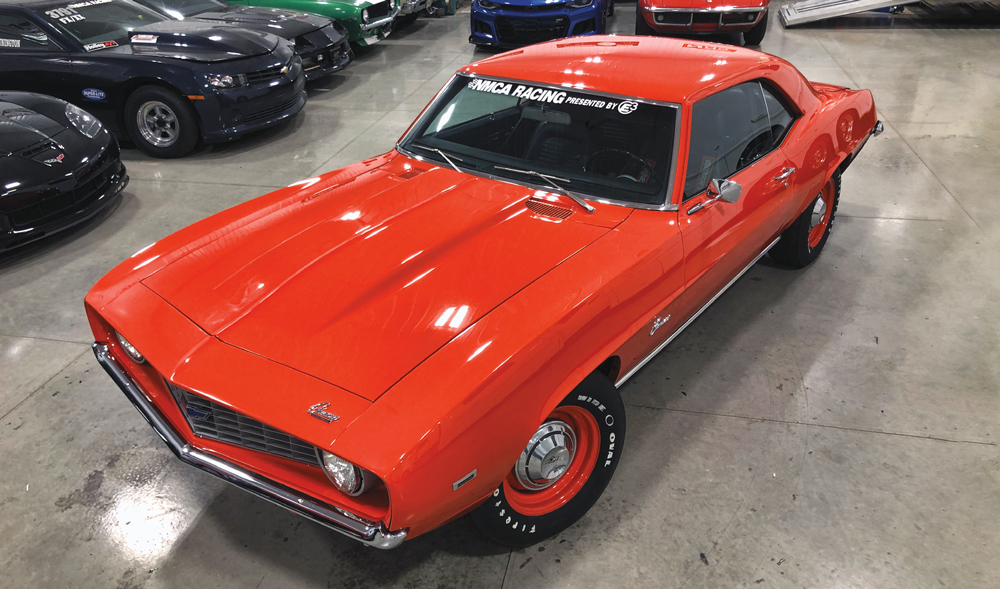 1969 Chevrolet Camaro ZL1
Jordan Pennington
Mishawaka, Indiana
Race Series/Class: FAST (Factory Appearing Stock Tire) racing series
Engine: 560-cubic-inch all-aluminum big block Chevrolet built by Tony Bischoff of BES Racing Engines
Car: Built and fabricated by Jordan Pennington
Features: Chevrolet Performance, TBM Brakes brake components, Holley EFI, Jesel valvetrain, Braille Battery, Aeromotive, RaceQuip, Dynomax
Facts: In the FAST racing series, all cars have to look 100% original like the day they rolled off of the showroom floor. This car makes 903 horsepower naturally aspirated through factory exhaust manifolds, and it has been 9.50 at 143 mph in the quarter-mile on stock bias ply Firestone Wide Oval tires.
1968 Pontiac LeMans
Kevin & Mook
Ames, Iowa
Race Series/Class: Burnout exhibitions
Engine: 455 Buick built by Kevin and Mook
Car: Built and fabricated by Kevin and Mook
Features: QA1 suspension, Quick Performance rear axle, lots of rust
Fact: This car was T boned in the 1970s and parked by the river where it was flooded numerous times. It was saved by YouTubers Junkyard Digs and Junkyard Mook in 2018.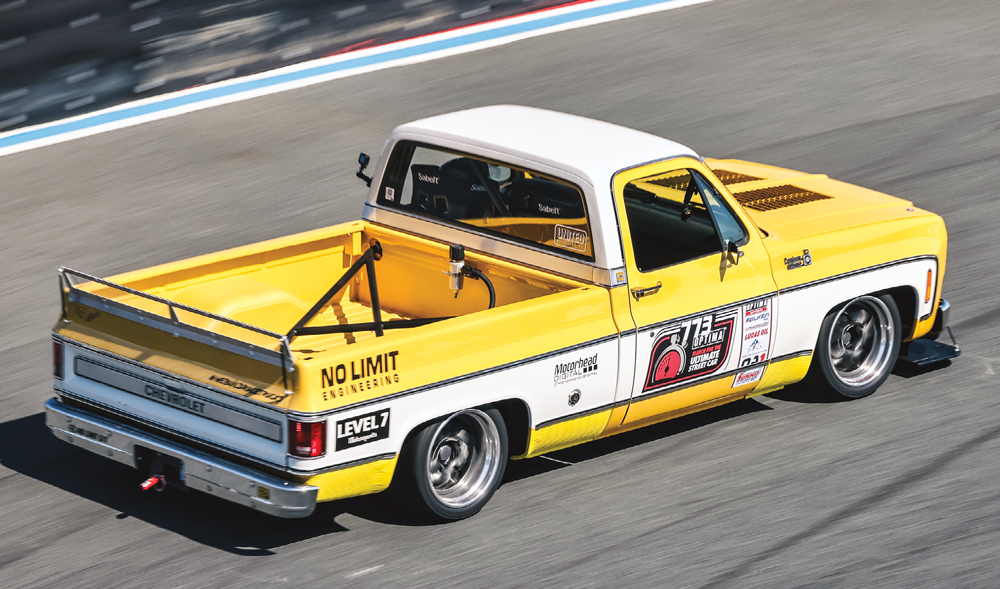 1978 Chevrolet C10
Paul Treadwell
Driftwood, Texas
Driver: Jesse Vaughn from Marion, Illinois
Race Series/Class: Optima Street Car Challenge (GTT Class), UMI King of the Mountain, C10 Nationals Autocross, LS Fest Grand Champion, Pro Touring Truck Shootout
Engine: LS engine built by Don Hardy
Car: Built by Level 7 Motorsports
Features: No Limit Engineering Pro Tech chassis, Winters Performance rearend, Forgeline wheels, Quarter Master clutch, Wilwood products, MoTeC ECU
Fact: This C10 is one of the most advanced trucks on the planet, according to Vaughn, as it's powered by a 730-horsepower 446-cubic-inch LS engine.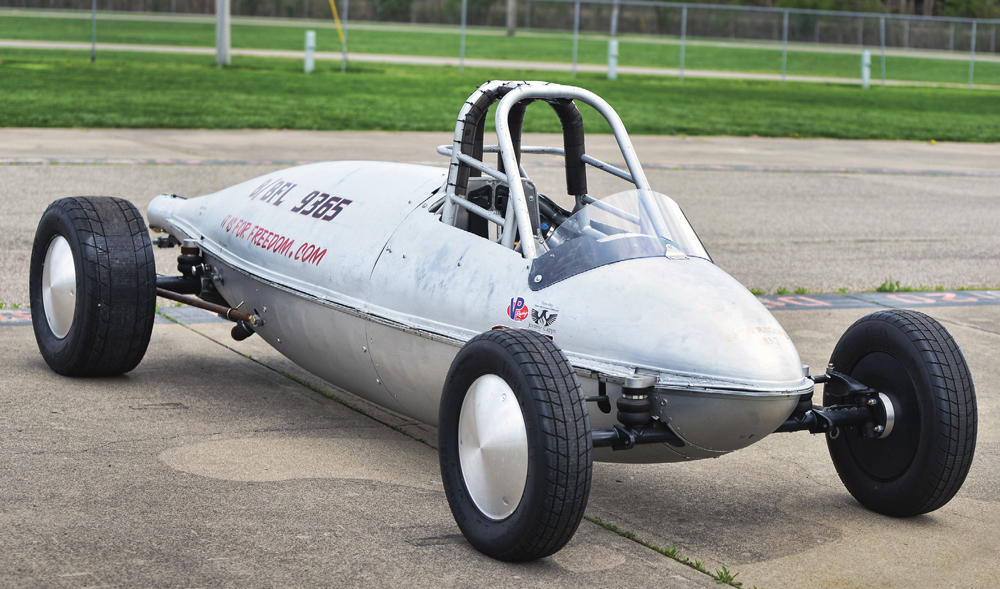 2016 Belly Tank Style Lakester
Mike & Diane Brown
Morrow, Ohio
Race Series/Class: Mile land speed racing
Engine: GM Performance LSA crate engine with a few modifications
Car: Designed and built by Mike and Diane Brown
Features: Winters Performance rearend, Jerico transmission, Hoosier tires, Stroud Safety equipment, Wilwood brakes, AEM data logger, FireFox suppression system
Fact: The car's namesake, "itisforfreedom.com," is a school in the Dominican Republic that the Browns support.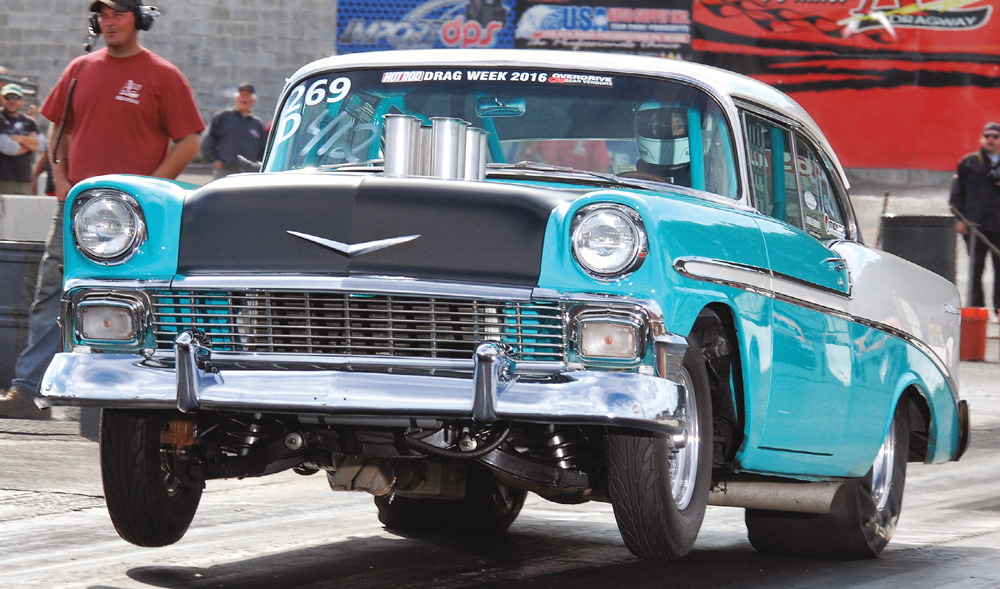 1956 Chevrolet Bel Air
Andrew Starr
Horsham, Pennsylvania
Race Series/Class: Drag Week
Engine: Hilborn EFI 582-cid big block Chevrolet built by Starr Performance and Consulting
Car: Built and fabricated by Starr Performance and Consulting
Features: Hilborn EFI, Holley EFI, G-Force Transmissions, Moser M9, Viking Shocks, Weldon, Crower, Bullet Cams, Injector Dynamics, Mark Williams driveshaft
Facts: Designed 13:1 compression to run on pump gas on the street; 935 RWHP on race gas, dual fuel systems. Runs 9.35 at 148 mph at 3,885 lbs.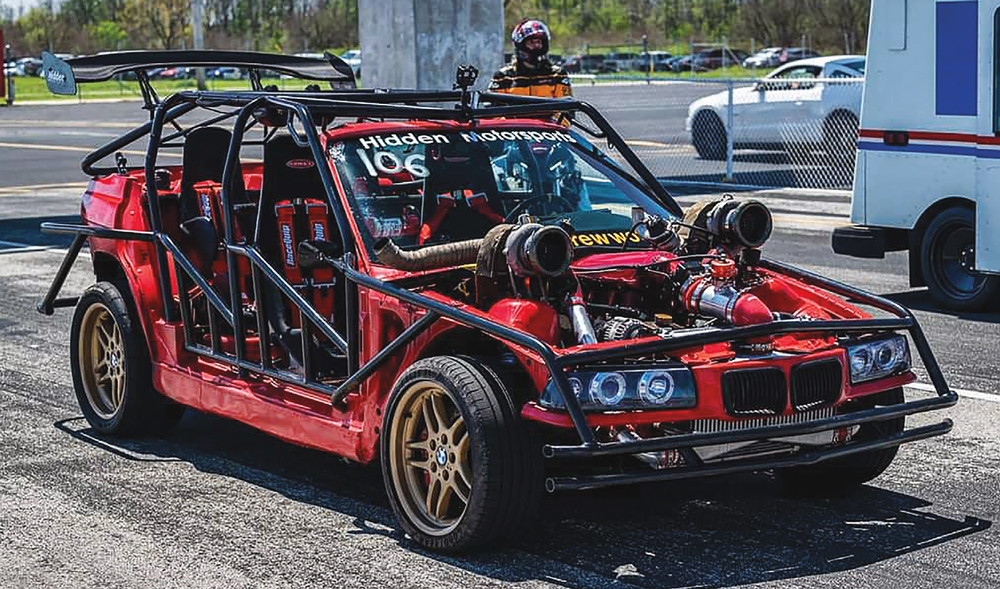 1995 BMW 325i
Carl Balzer
Toledo, Ohio
Race Series/Class: Cleetus and Cars, drift events, drag racing events
Engine: Twin-turbo 1,200-horsepower LS swap built by Accelerated Performance using Texas Speed internals
Car: Built by Andrew Starr with help from his team at Hidden Motorsports and NEXXGEN Fab
Features: Holley and Motion Raceworks parts throughout; suspension from Fortune Auto, BimmerWorld and FDF; drift components from Seems Legit Garage
Fact: This car can do it all, from drifting to drag racing to burnout contests to off-roading and is 100% street legal so it can be daily driven.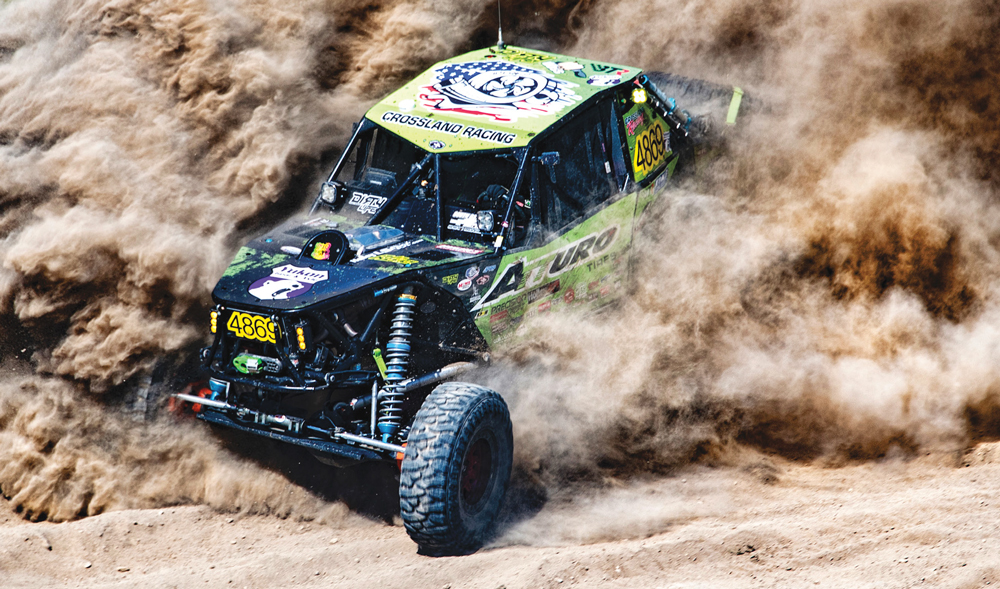 2020 Ultra 4
Chuck Crossland
Los Molinos, California
Race Series/Class: Ultra 4 4800 class, NorCal Rock Racing 4800 class, King of the Hammers Everyman Challenge
Engine: 6.2L twin-turbo LS built by Mike Nelson of Northstate Machine
Car: Chassis by Liberty Mountain Fabrication, car built by Chuck Crossland with help from Matt's Fab Shop
Features: Precision Turbo, Brian Tooley Racing, Hughes Performance transmission, Holley EFI, Tubeworks, King Shocks, Yukon Gear and Axle, Renegade Race Fuel
Fact: This is the only air-to-water intercooled twin-turbo car in the series, making it one of the most powerful cars at 1,150-plus horsepower on a low-boost tune up.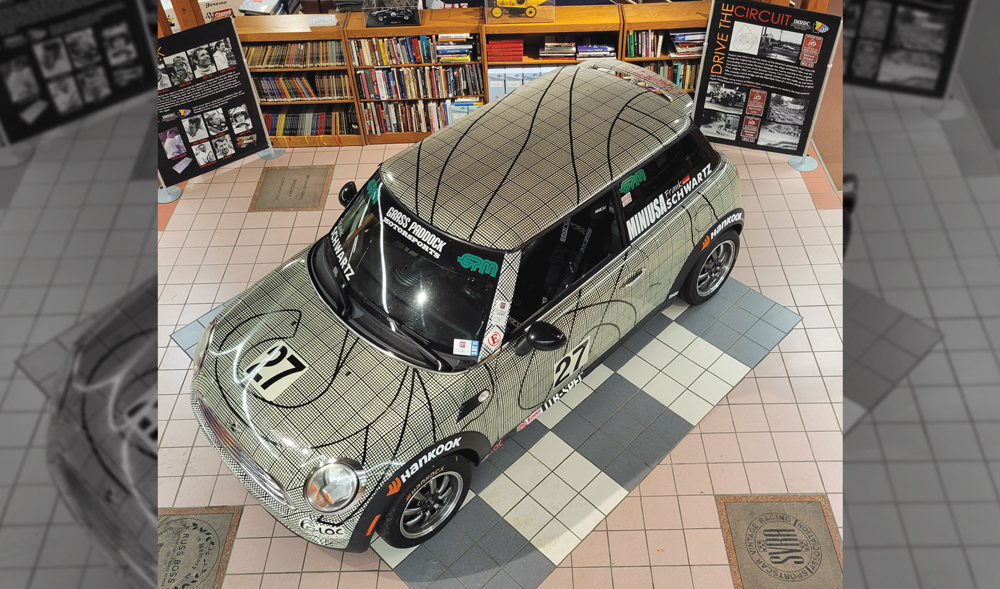 2010 Mini Cooper
Frank Schwartz
Davisburg, Michigan
Race Series/Class: SCCA B-Spec
Engine: Stock Prince N12 1,598cc (BMW/Peugeot)
Car: Built by Frank Schwartz and Babyface Fabrication (cage)
Features: G-LOC Brakes, Hankook tires, Summit Racing Equipment, AACS, Garmin Catalyst
Facts: The livery has half a mile of hand-applied pinstriping as an homage to the Frank Stella Art Car that ran at Le Mans in 1976. It finished fourth out of 61 cars at the 2021 National Championship SCCA Runoffs at Indianapolis Motor Speedway.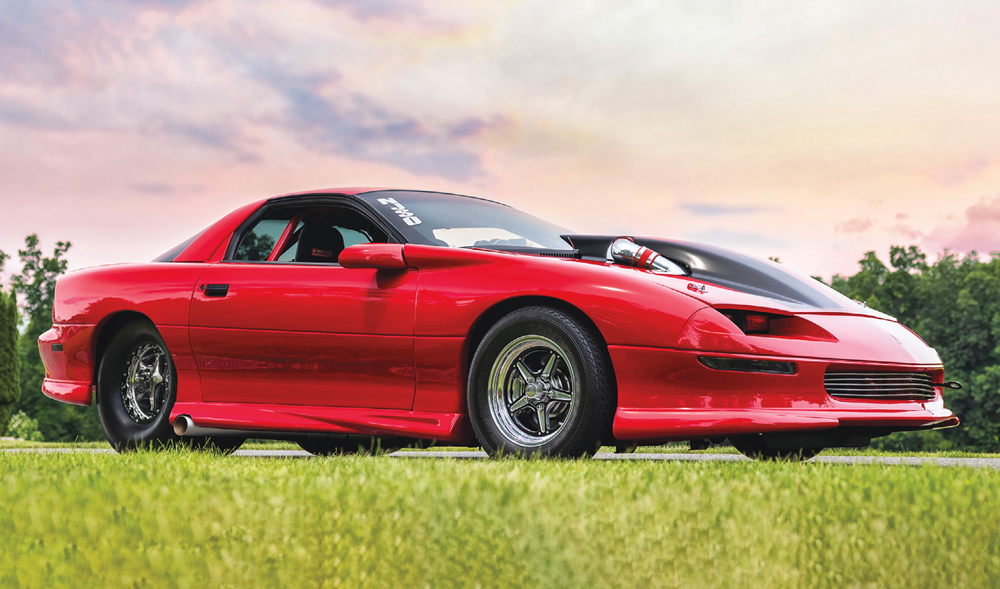 1994 Chevrolet Camaro SS
908 Motorsports Magazine
Race Series/Class: No Prep Outlaw
Engine: 572 Merlin
Car: Built by JT's Custom Shop
Features: Aeromotive, MSD, AutoMeter, Moroso, SCAT Enterprises, JE Pistons, COMP Cams, Strange Engineering, Billet Specialties, AFCO, Kirkey
Fact: CO2 chilled air and fuel via DEI and Spectre Performance.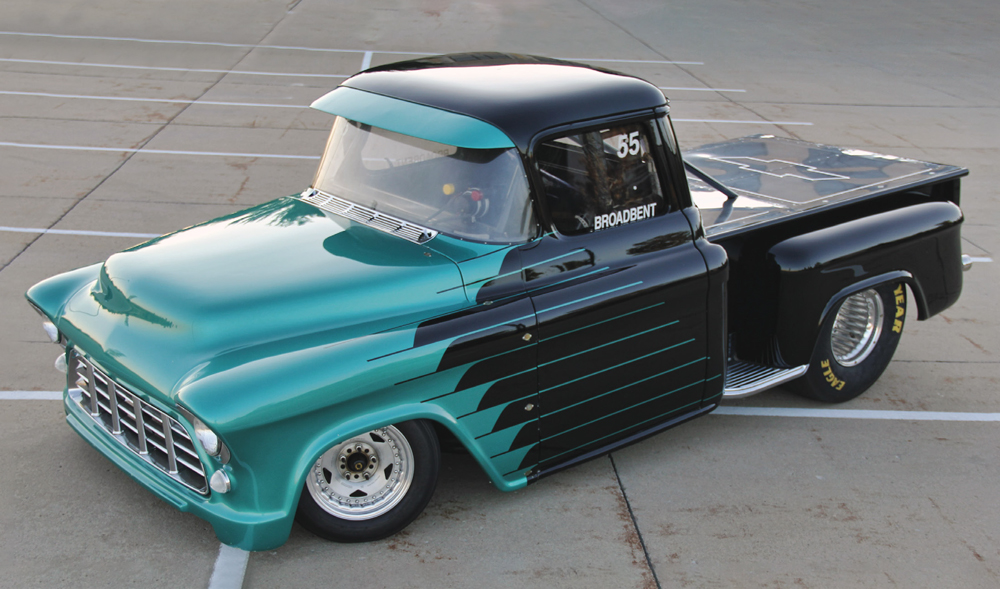 1955 Chevrolet 3100
Eric Broadbent
Williamsburg, Iowa
Race Series/Class: NHRA Super Street, Super Gas, Bracket Series Super Pro
Engine: Chevrolet big block Mark IV 496 cid built by Eric Broadbent
Car: Built by Tom Farnlof
Features: ATI transmission, converter and balancer; SCAT rotating assembly; Wilwood brakes; AFR heads and intake; MSD ignition; Goodyear slicks; Strange Engineering aluminum third member and axles
Facts: Broadbent has owned this vehicle since high school and has been racing it for more than 30 years. It runs 9.70s at 140 mph. It features full-scale original steel body and fiberglass front and rear fenders.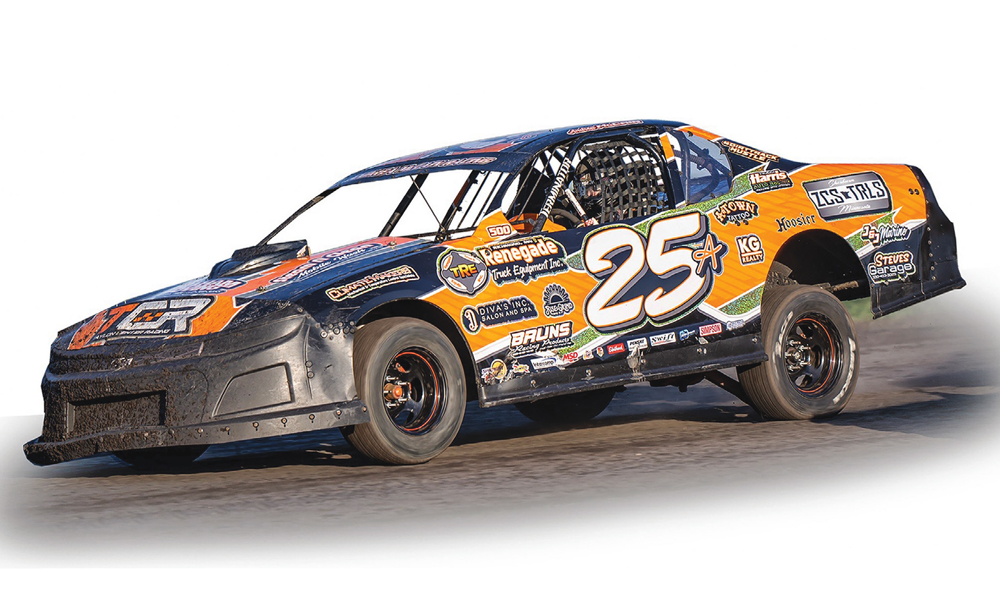 2019 Harris Auto Racing Terminator Stock Car
Andrea McCain
South Haven, Minnesota
Race Series/Class: IMCA and USRA Stock Car
Engine: Small block Chevrolet 350 built by Shaun Bruns at Bruns Racing Products
Car: Built and fabricated by Harris Auto Racing
Features: Dynamic Drivelines driveshaft, Holley carburetor, Wilwood disc brakes rotor and pedal assembly, Penske Racing Shocks, Jones Racing Products pulley system, QuickCar gauges, Bassett Racing Wheel, Speedway Motors three-piece spindles
Fact: McCain is the owner and driver of the race car, and she travels all around Minnesota and Iowa trying to run with the big boys in the class that is "Too Tough to Tame."