PRI Founding Members: It's All About Access
Image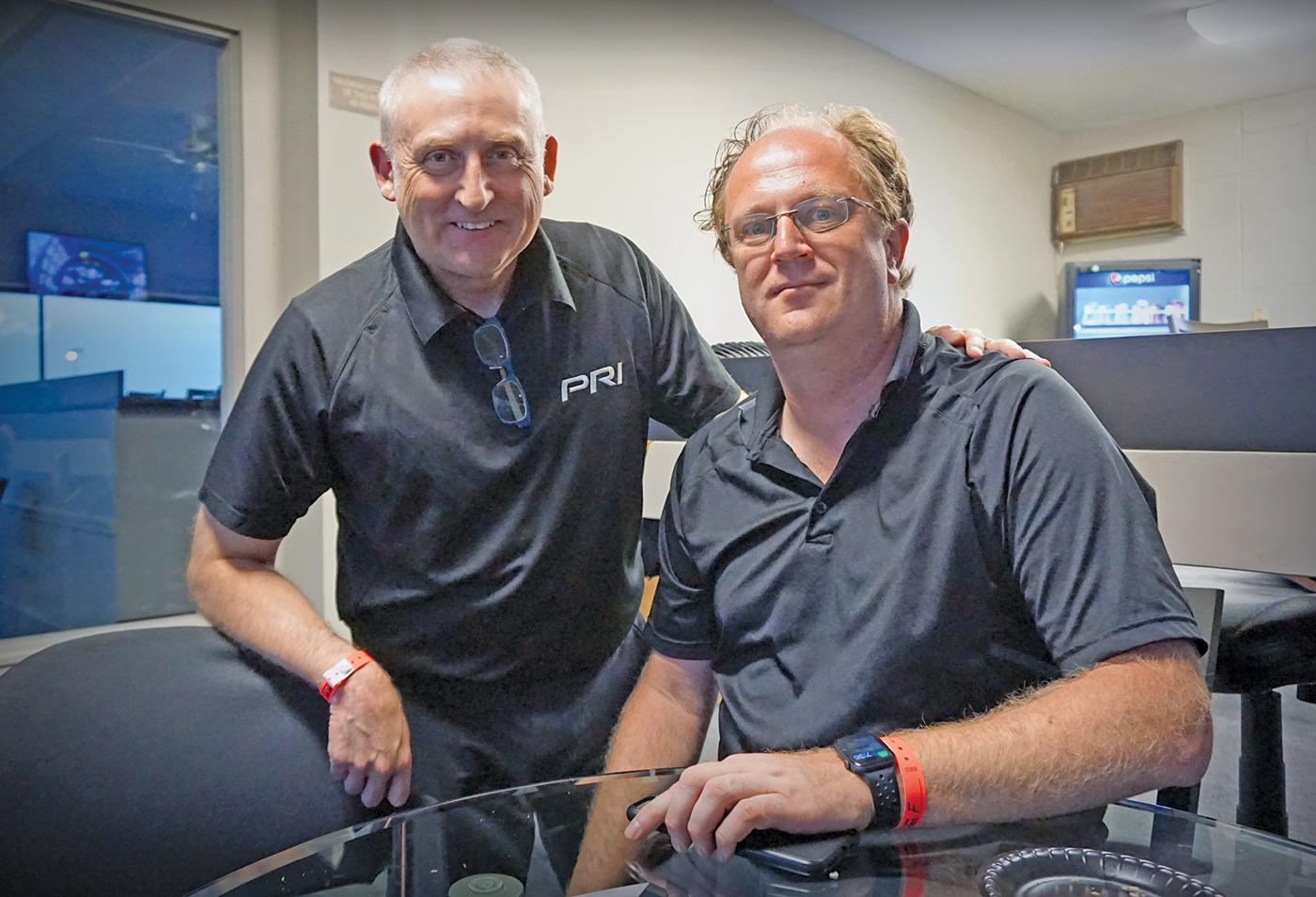 From left, PRI President Dr. Jamie Meyer and Brian Dunlap, World Racing Group's Director of Broadcast.
PRI Member benefits were on display at the NHRA US Nationals, and more announcements are on the horizon to allow even greater connections with motorsports leaders.
To get ahead in the 2020s, it's all about access. Access to people. Access to experiences. Access to information. "We created PRI's Founding Member status to provide anyone in the PRI network with unparalleled access to the leaders of our industry, as well as exclusive events and valuable business-related intelligence that's not otherwise available," said PRI President Dr. Jamie Meyer. 
Companies recognize this value. To date, dozens have signed on, from billion-dollar corporate giants to local dirt track owners and small PR consultancies. It's a range that, as a microcosm, represents our industry. "Each Founding Member—before they signed on—recognized that access is a key benefit of their membership, and one that's worth paying for," continued Meyer.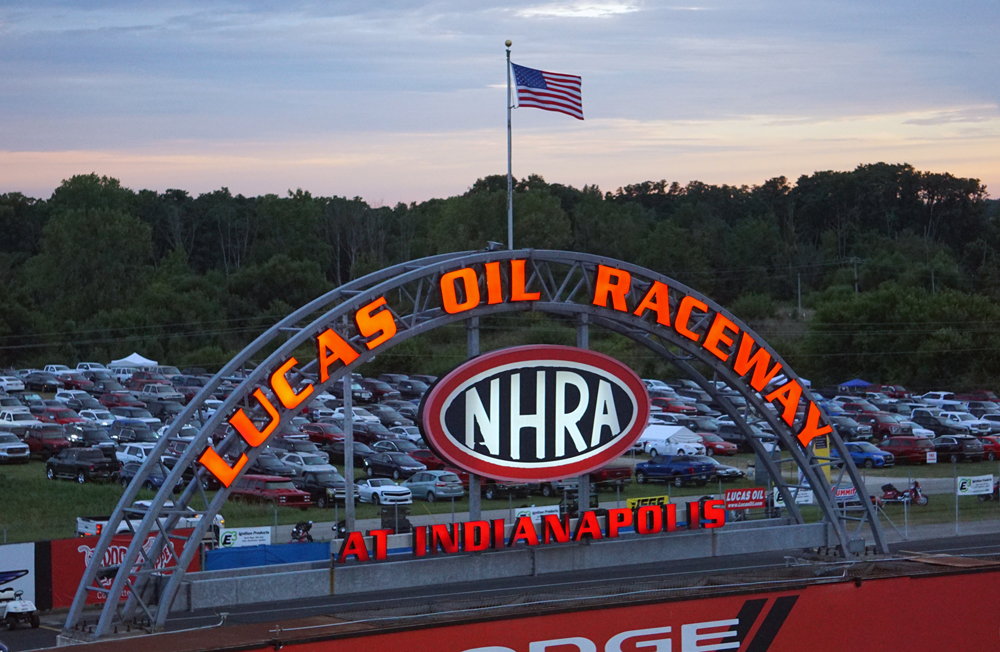 Here's one example of how Founding Members are already gaining a return on their investment: A significant number of Founding Members accepted PRI's invitation to attend September's NHRA US Nationals in Indianapolis at Lucas Oil Raceway. The track and PRI rolled out the red carpet to a premium suite. As the sun set, the nitro-burning Funny Cars and Top Fuel classes put on an exciting light show as they ripped off 3-second, 1,000-foot runs in the high 330s. 
Founding Members watched from a top-floor suite and rooftop observation deck. The PRI team literally had the best seats at the track. On the rooftop, the unfiltered NHRA thunder put smiles on everyone's faces. 
The on-track action was certainly exciting, but Founding Members came to do more than watch NHRA's most talented drivers. With access to PRI leadership, including Dr. Jamie Meyer, and top officials from SEMA, such as VP Sales Warren Kosikov, Founding Members got the inside line on current industry trends, market forecasts and news of important personnel shifts within the industry. Founding Members also connected with each other, exchanged ideas, and planned meetings for the upcoming PRI Trade Show.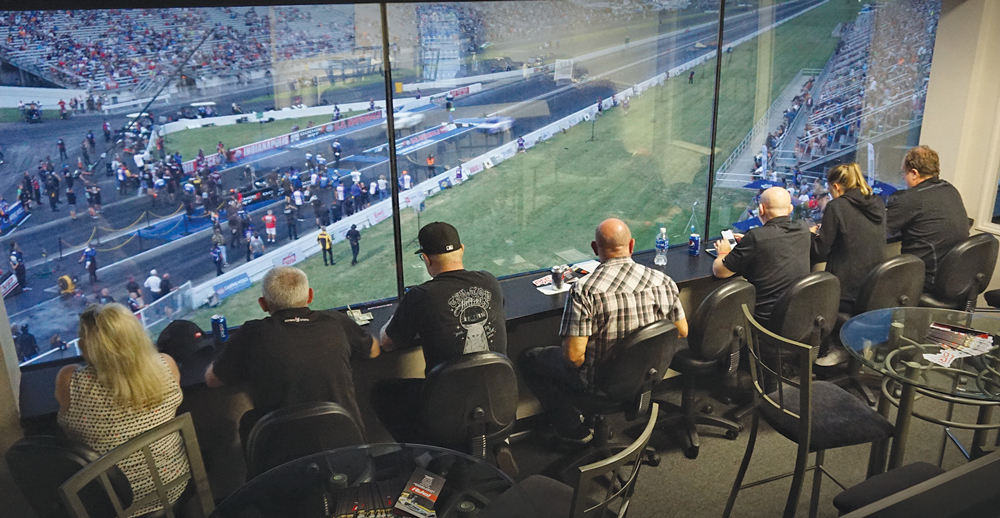 While some of the individuals who attended the US Nationals may have attended the race anyway, many would not have. The opportunity to network was a significant draw, and it was made possible by PRI. 
Access matters. 
PRI Membership: Pro, Champion, Business, Founding
Access begins with the first level of Membership, PRI Pro. Just $40 provides premium access to the PRI Trade Show (December 9–11) in Indianapolis (all attendees must still qualify for the Show), where these members also get free coffee each Show morning and have opportunities to meet racing celebrities. Pro Members will also have access to the posh PRI Members' Lounge. Plus, Pro Members will be on the distribution list for both the PRI eNewsletter and the digital edition of the award-winning PRI Magazine. Importantly, they will also be able to utilize the PRI Job Board all year. Access to events, people and information starts with the PRI Pro Membership. 
PRI Champion and Business Memberships receive even more (check out the story on PRI Membership beginning on page 24). In particular, Business Members get unique access to a legal support hotline, a key benefit in today's business/political environment. The performance and racing industry is under attack by the EPA, and PRI member businesses have a new tool to help them flourish despite what's happening in Washington, D.C. 
As useful as the Champion and Business Memberships are, the greatest benefits are provided to Founding Members. Unlike the other PRI Memberships that are renewed annually, Founding Members make a 10-year commitment to the community. The total outlay is $25,000, a sum that's absolutely reasonable when paid in yearly increments. Business leaders know that just one tip or piece of economic or legislative information can pay for the investment many times over. 
Regardless of level, PRI's Membership opens access to a like-minded community that will help build, promote and protect motorsports. Visit performanceracing.com/membership, where signing up is easy. 
Read on to learn why three companies have invested in Founding Member status.

Driveline Studios specializes in turnkey content creation, social media management and marketing strategy. Working with some of the world's largest OEMs, the greatest automotive trade shows in the world (including the PRI Show), and powerful brands of all sizes, the Michigan-based Driveline Studios team applies the same level of care, attention to detail and strategy to each and every project.
Even if the Driveline Studios name isn't familiar, fans of PRI have seen its work on PRI social channels including, among other things, the photos and videos that support the PRI Road Tour. While the 2021 tally is not yet complete, for the Road Tour 2020, Driveline Studios published some 100,000 supporting photos and 400 videos.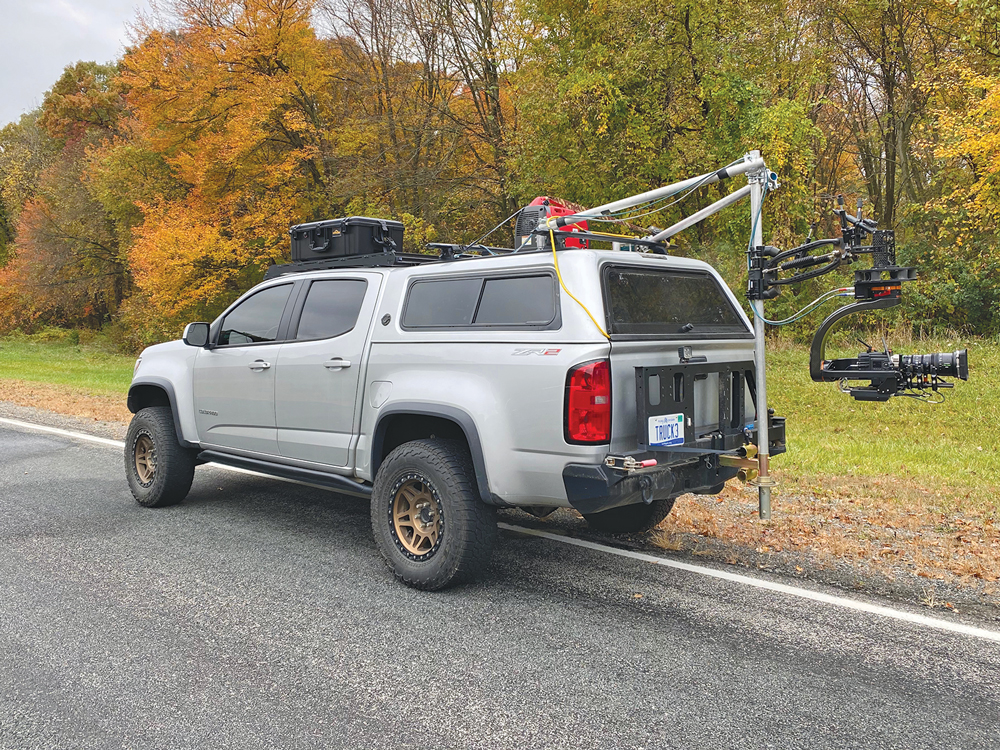 Driveline Studios content and strategy also support brands including supercar company McLaren North America, Chevrolet Performance, GM Defense, BLACKLAKE, Magnuson Superchargers, ADW and many more.
"Becoming a PRI Founding Member wasn't even a choice. It was a 100% 'sign-us-up-right-this-second decision,'" explained founder Justin Cesler. "The racing industry has given so much to Driveline Studios, there was no way we weren't going to give back and support the industry and PRI as soon as we could.
"PRI Founding Membership can mean a lot of different things to different Founding Members. For us, it's about building a community around the performance racing industry and growing that community to be stronger, larger and even more active. We know our membership will pay dividends over time." 

Most anyone who has built a race car has likely worked with components from MagnaFuel. This manufacturer of high-quality, American-made fuel systems and components is favored across series including NHRA, NASCAR, Formula Drift, desert truck and off-shore boat racing. "While our primary focus is car, truck and marine, even NASA counted on us during the Space Shuttle program," said Robbie Ward.
Now working from the company's 26,000-square-foot Colorado Springs, Colorado, headquarters, MagnaFuel originally launched in 1987 with the ProStar 500 fuel pump. The company now offers a diverse portfolio of related products that are distributed and sold across Europe, the Middle East, Australia and New Zealand.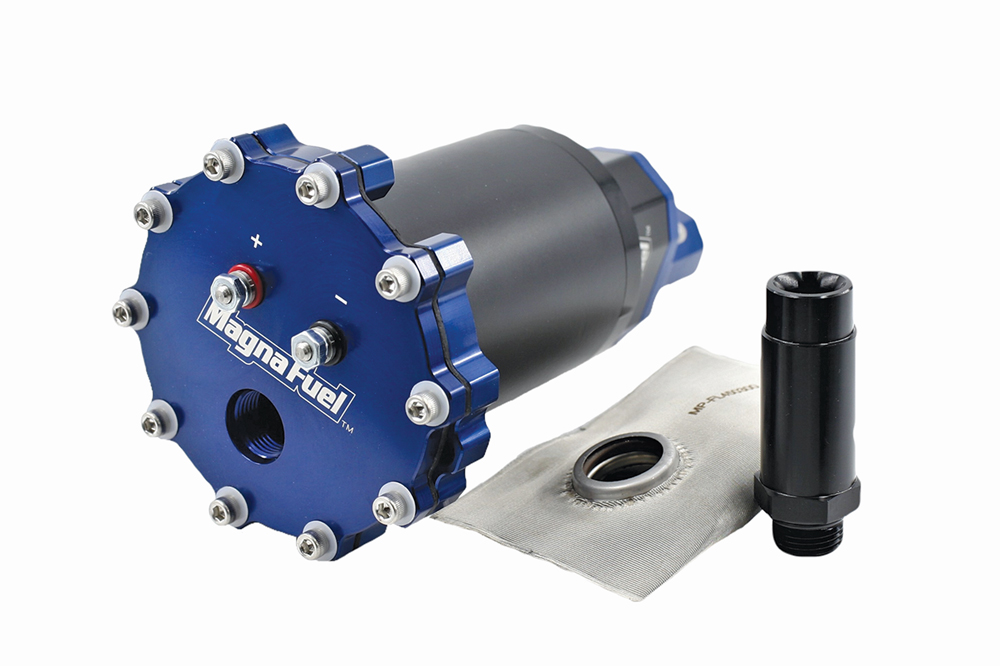 "Market growth has been fueled by innovation and technology," said Ward. The company's spur-gear electric fuel pumps helped enable NHRA Pro Stock competitors dip into 6-second ETs and surge past the traps at 200 mph. Many NHRA national championships and records have been set by drivers of cars using MagnaFuel products. 
"Our company has a 29-year affiliation with PRI, so deciding to become a Founding Member was easy," added Ward. 

Some people just know how to put on a show. When it comes to racing on the dirt, the undisputed experts are World Racing Group. 
World Racing Group is one of the premier sanctioning bodies for dirt track racing in the United States and Canada. Its business includes the World of Outlaws NOS Energy Drink Sprint Car Series, World of Outlaws Morton Buildings Late Model Series, Super DIRTcar Series Big Block Modifieds, and a vast DIRTcar Racing sanctioning program of more than 5,000 races annually at 120 tracks. In addition, World Racing Group promotes more than 100 events each season from conception through execution, and owns and operates DIRTVision, the leader in broadcasting dirt track racing.
World Racing Group was founded in 2003, yet its traditions and roots are nearly 50 years deep, dating back to the Northeast's DIRT Motorsports, the World of Outlaws and United Midwestern Promoters. All three organizations were brought together to form WRG's foundation.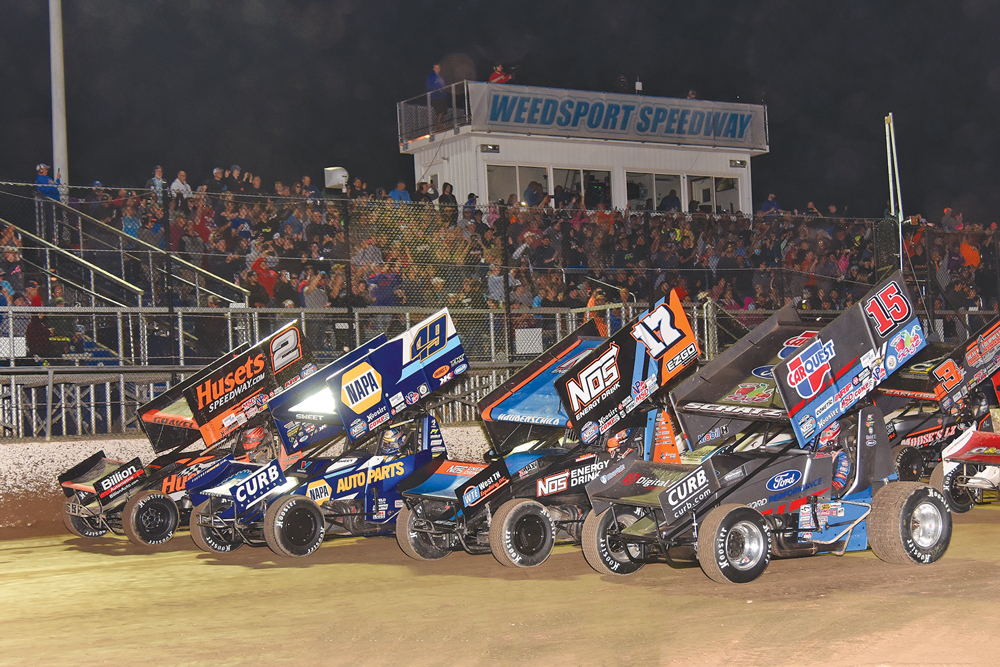 World Racing Group focuses on entertaining fans, whether that's in person at its events with new big screens and its fan engagement team, or entertaining those watching events at home on DIRTVision. The organization continues to add resources to grow the sport. "We want our fans to have such a good time they bring their friends with them next time, or tell their friends they need to watch," said Brian Carter. "The larger the audience, the more fun our fans are having at the events, the larger the sport will grow. It starts with the competition on the track and carries through to the fans in the stands and those watching at home."
Regarding becoming a Founding Member of PRI, Carter explained, "It shows we care about [our sport's] future. This includes protecting the tools needed to build the components that make up the cars, to those parts and pieces that come together to make these incredible race cars, to the competition, events and fans. Everything has to work together, and when it does, it's very rewarding."