Image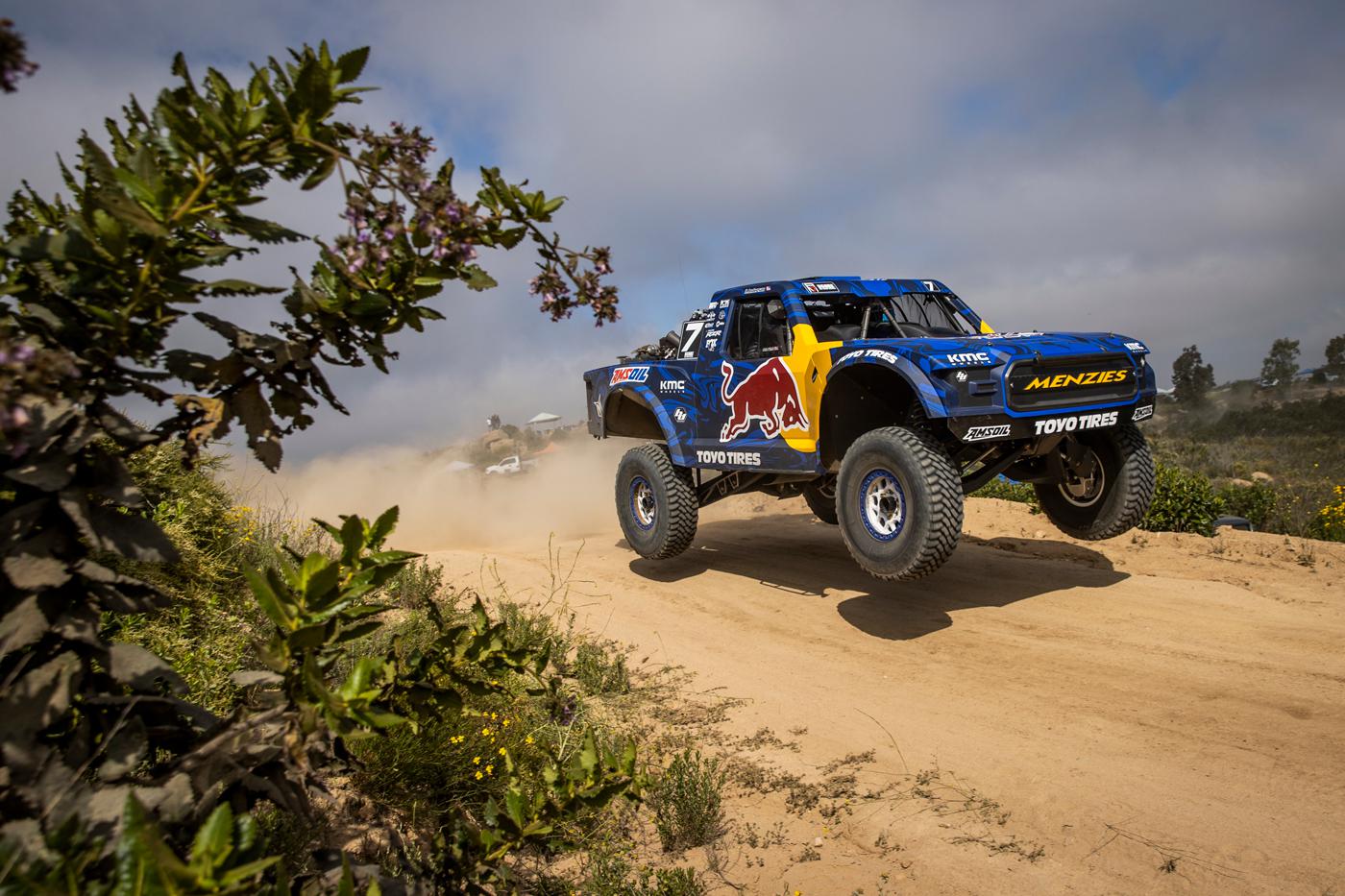 A new wave of cutting-edge technology in off-road racing is helping teams go faster with better control, improving their odds of making it to the finish line.
For anyone who hasn't been there in person, the rigors of off-road racing are difficult to comprehend. Thanks to advances in live streaming, and drone and in-car video technology, this motorsports segment is getting more media attention than ever. The excitement of off-road racing is coming through loud and clear, yet no video can fully capture the heat, choking dust, or the obstacles—natural and man-made—that off-road racers must endure just to make it to the finish line, let alone to the podium. The old saying, "To finish first you must first finish," probably wasn't written about desert racing, but it should have been.
Organized off-road racing has been around since the mid-1960s, and in that time the vehicles and their components have undergone tremendous evolution to help them survive those extreme conditions, while also making them faster and safer for drivers and co-drivers. As often happens in motorsports, technological changes can come in waves. Right now, off-road racing—especially at the upper tiers—is in something of a transition, with significant innovations that are taking speeds and car control to new levels. As Bryan Harrold of Fox Motorsports in El Cajon, California, put it, racers need to "try to rewire their brain completely" to adapt to what their trucks can do now.
All-Wheel Drive
When asked to identify the most significant technological advancement in off-road racing these days, many of our sources pointed to the rise of the all-wheel-drive (AWD) Trophy Truck.
"There's a big transition of the Trophy Trucks from two-wheel drive, which had long been the desired package because of reliability, to the all-wheel-drive trucks," said Greg Adler of Off Road Warehouse, San Diego, California. That's due, he said, to the "evolution of the parts and reliability of the transmission, transfer case, front differential, and the independent front suspension. Some of that came out of Ultra4 racing and the King of the Hammers race, where the guys were building this super-massive, super-strong stuff to survive the rock race. Now that's morphed into desert racing, where some of the best Trophy Trucks are now all-wheel drive. They're pretty close to dominating the desert races."
Several companies build AWD Trophy Trucks, including Brenthel Industries, Jimco Racing, and Racer Engineering, but the pioneer in the field is Mason Motorsports of Lake Elsinore, California, which has built 15 of them and has four more under construction. "Right now, we have about a two-year wait list to start a truck," Neal Mason said. "We're working on things to shorten that, like building a bigger facility, but I don't want to build them too quickly. I don't want to sell 12 Camaros a year. I want to sell four Ferraris."
The advantage to all-wheel drive is traction. Adler touched on the reliability issues inherent in driving the front wheels in an off-road racing environment. It has also been difficult to make front-drive parts work with a lot of suspension travel.
To solve those problems, Mason opted to design and build his own components, from the front differential and axles to the transmission and the rearend, rather than trying to adapt existing driveline parts. It has been a winning formula. Mason Motorsports trucks won all three Trophy Truck class championships in SCORE's 2022 season, and the trucks continue to win in 2023. Recently, Bryce Menzies won the Baja 500 overall in his Mason AWD truck.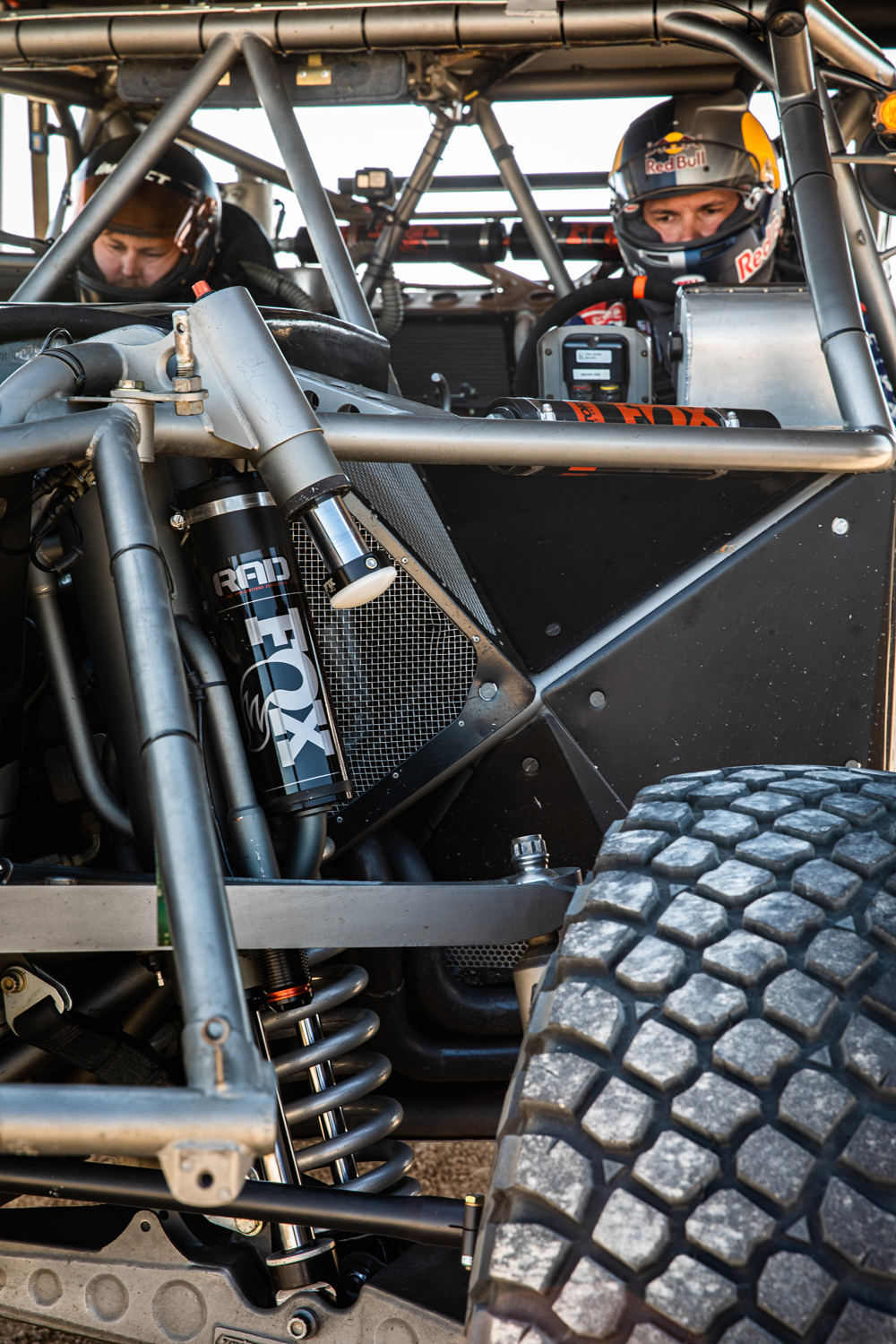 The growing number of AWD trucks has pushed Mason to evolve his products. "When there were only a couple of AWD trucks, they didn't have to push very hard to stay ahead of most all the two-wheel drives," he said. "But now most all the top teams have AWDs. They're all racing each other, and they're racing each other really hard. So we've made some advancements in figuring out ways to keep the drivetrain reliable while driving them harder and with more power." These include a "bigger and more robust" rear differential, updated one-way drives for the front differential, and the Masonmatic five-speed paddle-shifted transmission. It uses "a hydraulic clutch pack like an automatic and spur gears like a sequential," Mason said, which enables full-power shifts without cutting the ignition and eliminates the problem of a damaged gear restricting access to the others. "If there's ever a problem with a clutch pack or gear, you can skip it. It doesn't have to go sequentially through that order."
More Power
"Over the last few years, the all-wheel-drive technology has shown up big in our sport where it was traditionally two-wheel drive and typically a small block because you couldn't get a lot of traction," said Kevin Kroyer of Kroyer Racing Engines, Las Vegas, Nevada. "Now it's all-wheel drive and big block-based engine packages. Big blocks have been around for a long time, and even in some off-road stuff, but they haven't been the norm. They're more the norm now."
"Every single AWD we've ever built is either a big block or the Joe Gibbs motor, which makes more power than the other builders' big blocks," Mason said. "The trucks used to have 870 horsepower. Now a lot of them are 1,100-plus horsepower and a lot more torque."
When asked for output numbers of his engines, Kroyer laughed. "I don't make anywhere near the numbers that everybody in California makes. Everybody else is advertising 1,100, 1,200, 1,300, whatever. As long as we can pass you, we're okay."
Kroyer pointed out that "big blocks have been around for a long time, and people use them in hot rods, drag racing, boats, and all the rest of the stuff. I guess the closest comparison we have to anything that's out there on the market is endurance boat racing. There are some similarities there, but we're trying to push 7,000-pound trucks with all-wheel drive and 30-some-odd inches of wheel travel for up to 24 hours. So they gotta run pretty hard, but they also gotta be reliable."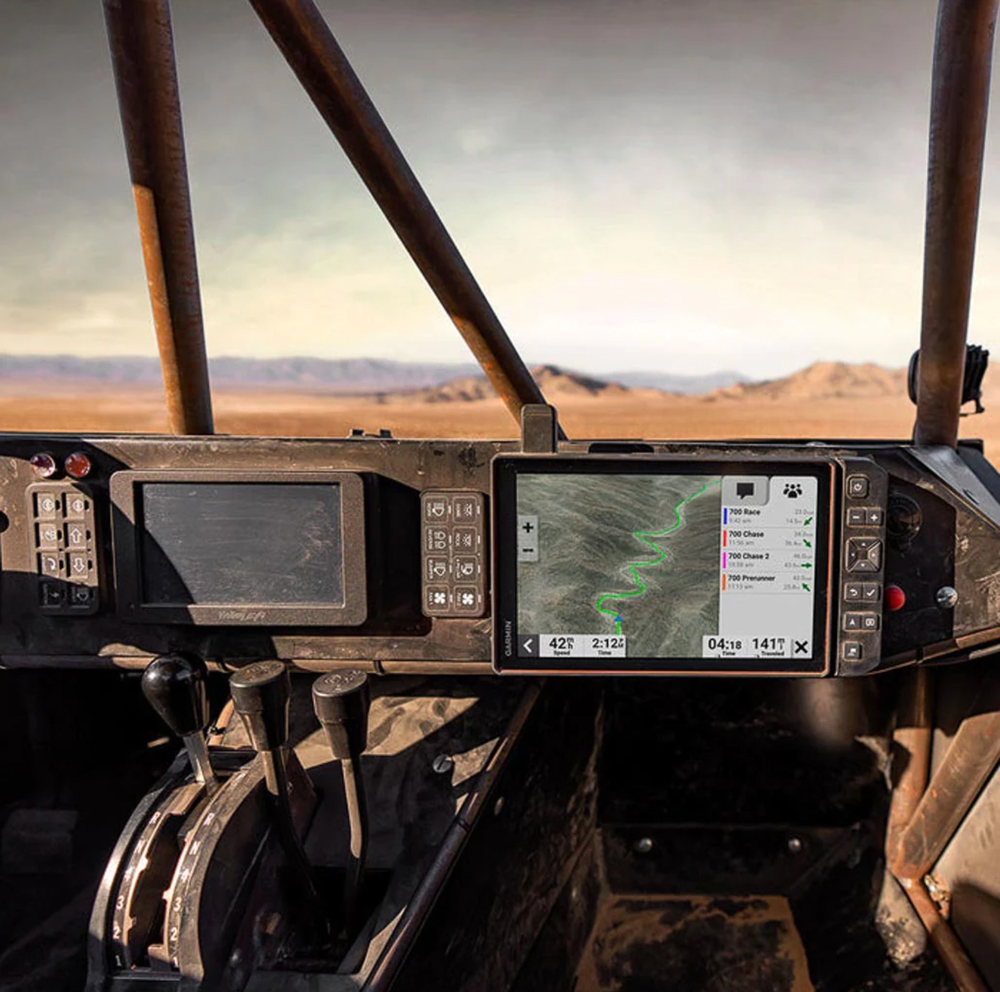 Kroyer said most of his big block builds start with a Chevrolet-based aftermarket aluminum block, "short deck, machined in-house. Dry sump with an integrated pan and pump. Right now we're doing some 20-degree cylinder head stuff, mechanical roller [cam] stuff, and we do our own cam drive design." Induction is typically "eight stacker ITB throttle-body stuff from Kinsler. It's drive-by-wire, a lot of electronics, all MoTeC-based."
Via Satellite
On the subject of electronics, we asked Kroyer about the possibility of tuning these engines remotely, using the Internet and satellite links. "Tune your truck in the States while you're in Mexico," as Randy Smith of Butch's Speed Shop in Las Vegas, Nevada, described it.
"People are starting to go that direction," Kroyer said, "but we're not doing any of the remote tuning yet. Not on the fly. We've done it with stuff down in Mexico when we've been up here testing, but it's more, make a run, look at data, make changes. We can monitor data in some of the vehicles remotely and call the radio if we need to. But typically, by the time you have that big of a problem, you're not having a great race anyway."
"In theory, that's been able to be done for some time," added Ray Field of Dougans Racing Engines, Riverside, California. "But it's complicated, because you need a router and service to send that information across the Internet. So either you have to have a helicopter close by, or you have to have an Internet provider on the race car, and that only works so well. So it's not perfect, but yes, that can be done." The Starlink satellite system, Field said, improves the chances of getting a signal in remote locations in the desert Southwest or Mexico.
"Can we be live with the trucks? Sure, we can," Field said. "Have we been live with trucks during races? You bet. Could we tune them? Sure. Do we need to tune them? No. They're tuned when they leave, but we do monitor a lot of things on the race car."
Starlink, and advancements in communication systems in general, are having an impact on other aspects of off-road racing, Adler said. "I have seen a shift in communication technology in terms of keeping the race trucks more connected to the chase teams. Starlink is playing a role for guys to be able to stay connected, whether you're racing or chasing. Some of the guys are even doing live feeds and in-car video using some of that technology. There are also systems, like Garmin inReach, that allow race vehicles and chase vehicles to be connected via satellite and communicate via text to each other and see their location. That's changing a lot of the challenges you had in the past of knowing what's going on or where your race car is if there's a problem. It's morphing from $5,000 MSAT systems that each vehicle had to have and were very expensive to buy and maintain to something that's a lot more reasonable, whether it's for a Trophy Truck or even a UTV."
Computer-Controlled Shocks
"Imagine a vehicle that could corner on fire roads like a rally car, float over 4-foot-deep whoops in excess of 100 mph, cruise across boulder fields like they aren't there, soak up the huge G-out you didn't see until it was too late, jump over 100 feet with a nice smooth landing even on flat, and be able to speed down a dry lakebed at 150-plus mph. Multiple times, for hundreds of miles, over countless consecutive hours."
That, said Harrold, is what Fox Motorsports is working toward with the development of its Live Valve semi-active, computer-controlled shock absorber system. "We're trying to optimize your suspension to adapt to a wide spectrum of driving conditions while delivering comfort and confidence-inspiring performance. We want to bring sportscar-like handling to a 7,000-plus-pound whoop-eating machine with up to 36 inches of suspension travel. For a driver, that translates to confidence and reduced fatigue, which is critical for the types of terrains and duration of races they face."
Fox's Live Valve racing suspension collects real-time data every few thousandths of a second from acceleration, braking, steering, and inertial sensors. Using that data, the system electronically adjusts compression and rebound damping through independent oil flow paths, so each compression and rebound adjustment does not affect the other. These are similar to the computer-controlled systems used in OE applications on the Ford F-150 Raptor pickup and Polaris RZR UTV, though "what we've been racing on is the first application on our external bypass shock architecture as well as the first application of Live Valve on both compression and rebound circuits," Harrold said.
"The base Live Valve algorithms are designed to improve typical handling characteristics that might be considered undesirable, especially some that are grossly exaggerated on a platform with significant wheel travel like an unlimited desert truck," Harrold continued. "We have a ton of parameters to play with that affect how those base algorithms behave and essentially limitless possibilities for more based on driver feedback and additional sensor development."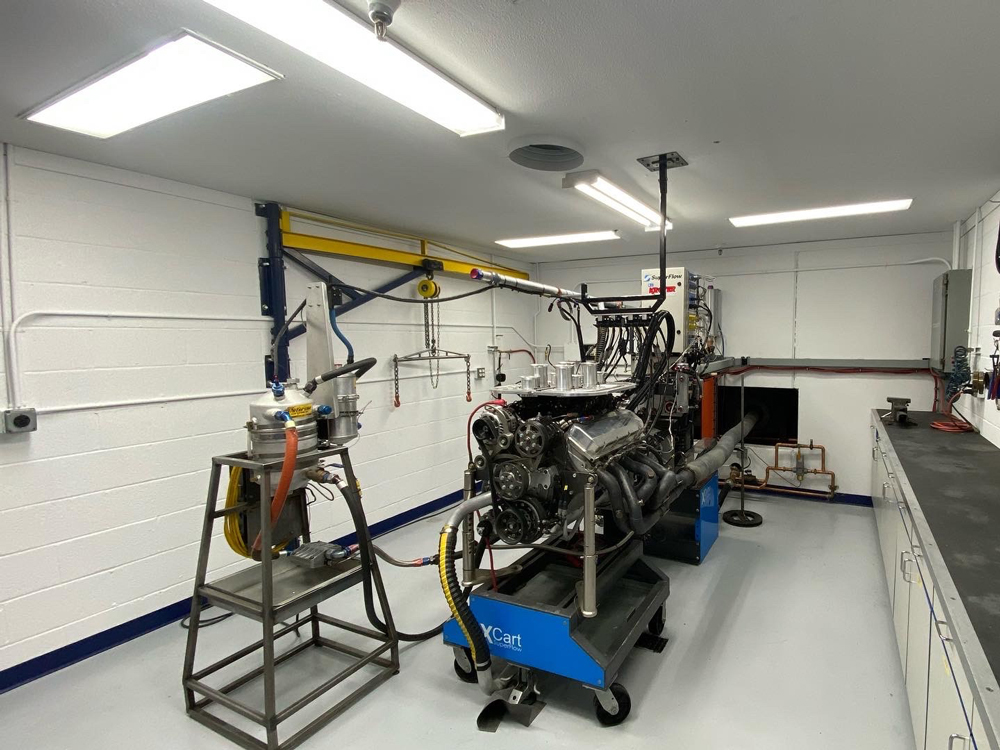 Harrold said the feedback from drivers racing with Live Valve shocks "has been extremely positive, and we've already garnered numerous podiums and wins with the technology to back it up." Justin Lofton and his two-wheel-drive Jimco Trick Truck took overall wins at two Best in the Desert races in 2020 and 2021; Cameron Steele and Ryan Arciero put their Live Valve-equipped Trophy Truck on the podium at the 2021 Baja 1000; and Arciero won the 2022 Vegas to Reno race after he put Live Valve on his truck.
Casey Currie of Currie Enterprises in Corona, California, has Live Valve suspension systems on his racing RZR UTVs, and he's having a system installed on his Trophy Jeep race truck. "It's pretty wild what it does, electronics-wise. If you turn the wheel left, it'll stiffen the right side. It's basically keeping the sway bar under control. You can add rebound on the fly. If you're hitting a jump, it'll add compression while you're in the air. If you're going down a graded road, it will keep it soft, so the car has a plusher ride and more forward bite."
Live Wire development is ongoing, Harrold said, based on data from races and Fox's in-house Racing Applications Development (RAD) truck. "We've made numerous algorithm changes as well as some mechanical improvements to the shocks and related components to optimize performance with everything we've learned thus far." Currently, Live Valve systems for racing "are only available to select race teams that are helping us test and develop it due to its complexity," he noted. "Once we're done developing, we definitely want to make it available for purchase on the racing side."
Live Valve isn't the only race shock under development at Fox. "The increased availability of data, including the ability to capture our own with vehicle instrumentation and data acquisition, are what really help us drive innovation and advancement," Harrold said. "We've even invested in the biggest shock dyno in the world, specifically designed for Fox with the ability to run our largest shock (Factory Race Series 4.4 External Bypass) to its full capacity. Combined with data acquisition, we can quickly iterate and test multiple designs or tunes before we even hit the dirt, getting 90% of the way there before the old 'butt dyno' comes into play. We can even record shock data from an entire race and replay it on the dyno."
Harrold said Fox is also trickling down some of its latest technology to the more limited classes of racing. "A good example of this is the prototype RAD shocks we built for Cisco Bio's Class 11 shocks, which was a super fun and challenging project we took on just to see how extreme we could get on the most limited off-road racing suspension platform possible, a stock VW Bug, both in terms of performance and rules. It may not be as technologically advanced as Live Valve, but we packaged external coolers, recirculating finned reservoirs, and DSC adjusters we developed for the bigger cars in an effort to get every last bit of performance out of a vehicle with only a handful of inches of travel and extremely strict suspension rules."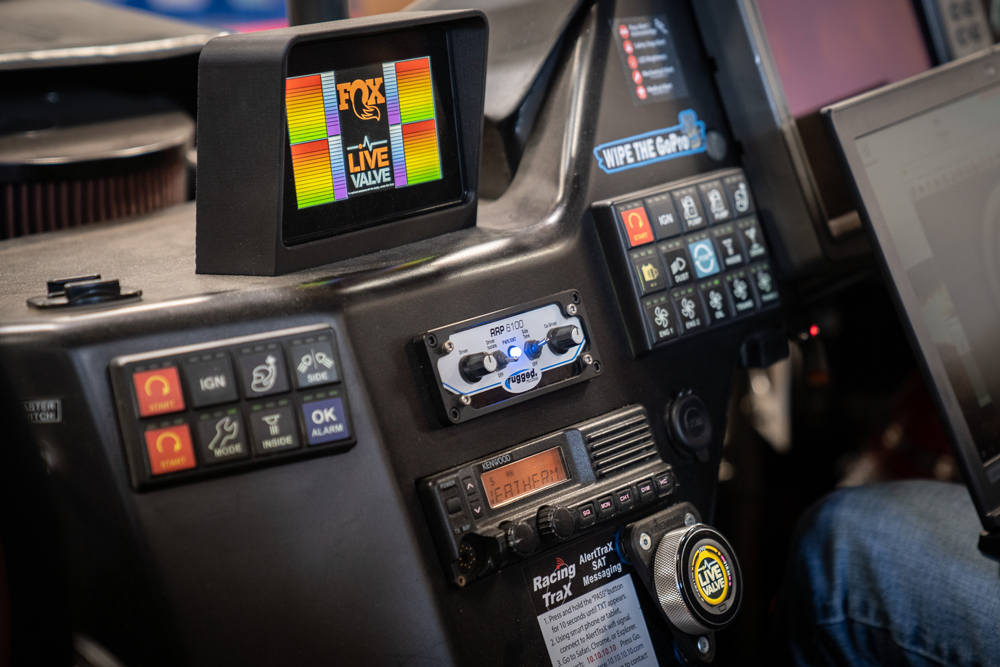 Predictability and Consistency
There is a cohort of racers who are skeptical not necessarily of Fox Racing's system but of the idea of computer-controlled shocks in general. "If a vehicle is tuned correctly, if it's dialed-in correctly and working correctly, whether it's a Trophy Truck or track car, the last thing you want is a computer changing or adjusting things on the fly," explained Ben Brazda of Filthy Motorsports, Boulder, Colorado.
"Absolutely it has its place in the industry," he added. "Polaris wouldn't put it on their rigs if it didn't sell. But for a racer, the most important things are predictability and consistency. Racers are pushing vehicles to the absolute limit, and the only way they're able to do that is by trusting the vehicle. They've spent weeks tuning that truck to handle the terrain. Weight balance, weight distribution, anti-squat, anti-dive, everything about the truck is dialed in, and it's working really, really well. Would you ever introduce the risk of a computer system changing things? No. You have to be able to trust the suspension system. It cannot change. It needs to be consistent. That's why you see all the traditional-style coilovers and bypass shocks on Trophy Trucks, and they're fixed."
For Brazda, technological gains in suspension systems "have to do with the fit, the finish, and the build quality. When it comes to Trophy Trucks, the reason you see King shocks on everything is because that technology is really on the manufacturing side of things—CNC machines, high-quality materials, super tight tolerances, quality control. But ultimately, you still have a very simple shock for that reason."
We asked Mason if Live Valve technology was being installed on his AWD trucks. He said a couple of teams are using it during races, but most who put it on his trucks are testing the system but not yet racing with it.
"It has great potential to be the must go-to in the future," Mason observed. "To get there, though, you have to have a person who not only understands how to tune suspension the analog way, but you also have to have somebody who understands what the truck needs to be looking for digitally to do that, and what changes you want to have it make. So it takes two different kinds of people, a very smart computer programmer and a very good shock engineer. Those two people have to communicate. The problem is, right now one of those people is an artist, and the other person's an engineer. One person does everything by feel, while the other person is numbers. It's going to take some time for them to work together, to communicate in the same language. Once that happens, then you'll really see that take off." 
SOURCES
Butch's Speed Shop
butchsspeedshop.com
Currie Enterprises
currieenterprises.com
Dougans Racing Engines
dougansracing.com
Filthy Motorsports
filthymotorsports.com
Fox Motorsports
ridefox.com
Kroyer Racing Engines
kroyerracingengines.com
Mason Motorsports
masonmotorsports.com
Off Road Warehouse
offroadwarehouse.com