Image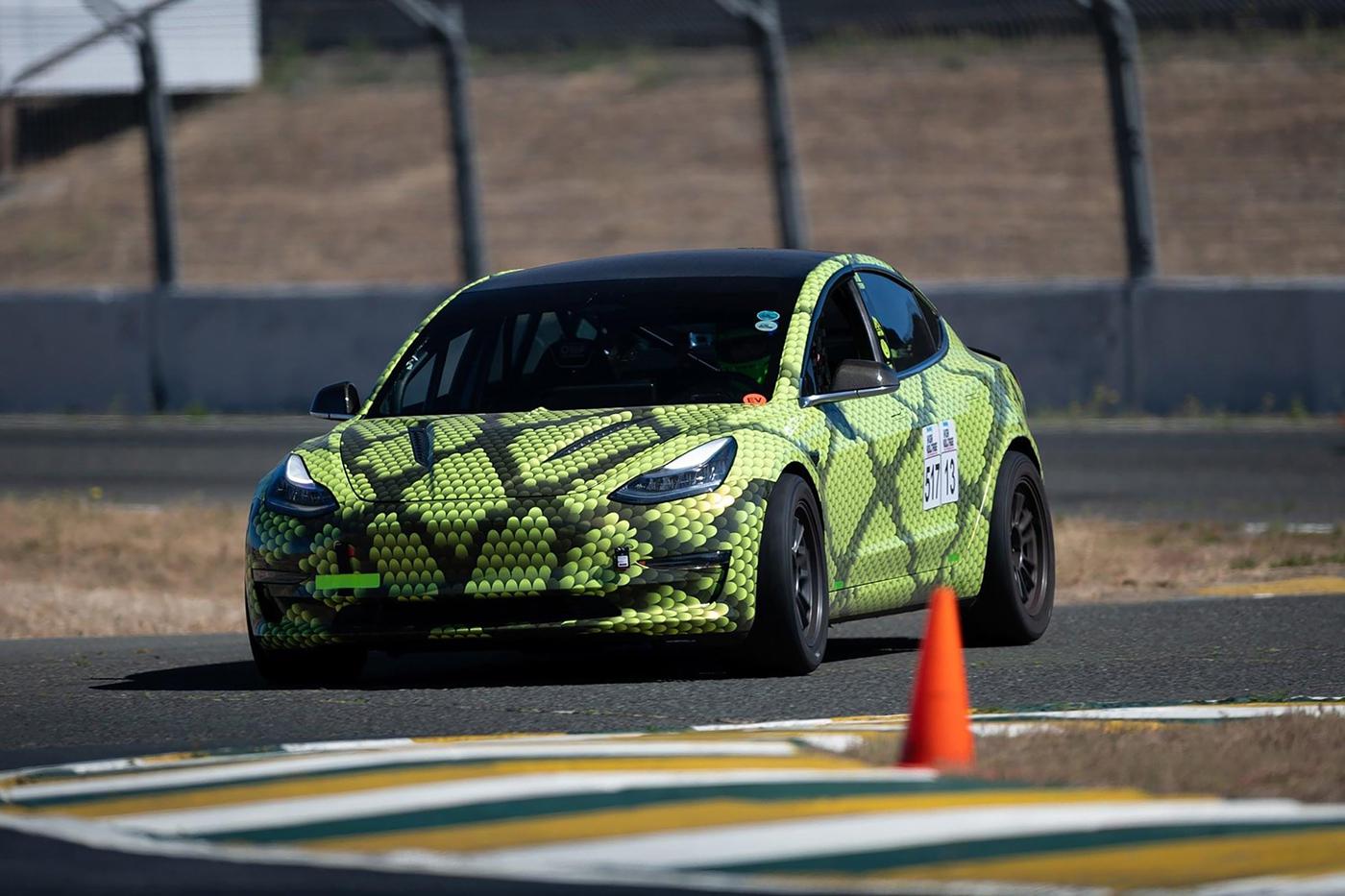 Electric vehicles could become the next big thing in racing, yet barriers to their success persist. So we asked racers, sanctioning bodies, track operators, and others about where EV racing is working, where it's not, and why.
There is no simple way to characterize the state of EV racing in the US.
On one hand, EV race vehicles have achieved some notable benchmarks. The overall record up the Pikes Peak International Hill Climb, 7:57.148, was set by an electric-powered Volkswagen I.D. R in 2018. Steve Huff, the first to break the 200-mph mark in an electric dragster, continues to go faster and quicker…and ran nearly 203 mph this summer. Holley's High Voltage Experience, a multi-discipline event with drag racing, autocross, and road-course hot lapping, had "incredible" turnout this year, said Lawson Mollica of AEM EV, Hawthorne, California, a Holley brand with a diverse array of products in the EV performance space.
Then there are areas where progress in the EV racing segment is anywhere from slow-moving to practically nonexistent. For example, drag strips that have opened their bracket programs to EVs have had few, if any, entrants.
"From what I see talking to other guys out here on the East Coast, it's not doing good at any tracks out this way, with little or no participation whatsoever," said Wayne Delmonte of Lebanon Valley Dragway, West Lebanon, New York.
John Bisci Jr. of World Wide Technology Raceway in Madison, Illinois, noted, "We do have some Tesla owners who come to our street-legal racing nights and make one or two 'fun' passes down the track, then park in the car show/display area. But the actual organized racing class has had no takers."
Todd Payne, a longtime bracket racer from Yadkinville, North Carolina, said his daily-driven 2014 Tesla Model S P85D has almost always been the only EV entered at the NHRA and IHRA Summit Series programs at his local tracks. What's more, he told us, his fortunes have swung wildly. He went to the 2021 IHRA Summit SuperSeries World Finals in Memphis and made it to the final four in eliminations thanks to his quick reaction times and the Tesla's remarkable consistency. Yet he was outright banned from an independent drag race because the organizers "didn't understand the car."
The Mint 400 opened to EV participants in 2021 but so far no one has entered, despite "really aggressive outreach," said Matt Martelli of the Terranaut Media Group, Vista, California, which puts on the desert race outside of Las Vegas, Nevada. He acknowledged that "there are a lot of challenges specific to off-road that are unique," from range-taxing race distances to lack of infrastructure in remote areas. But, he added, "we want to be very proactive in helping new technology. If it requires us to modify our race, our race course, whatever, we're open to that. We want to get the conversation going to all the different EV manufacturers and product manufacturers to let them know we are amenable and interested in working with them."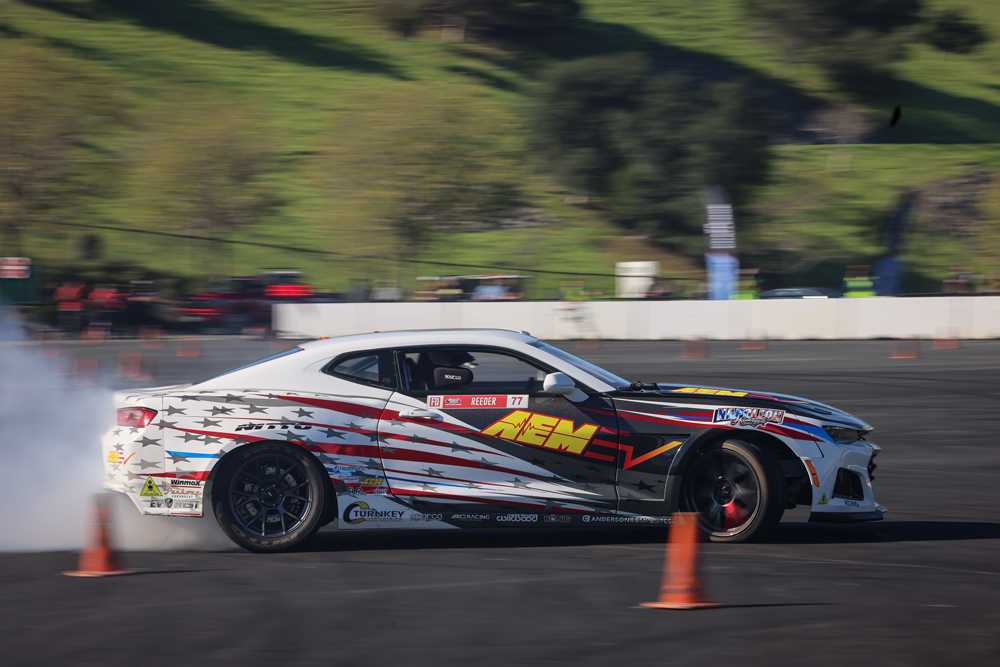 The reluctance to accept EVs as legitimate race vehicles seems to be a US-only phenomenon. When asked for examples of where EV racing is strong, Mollica mentioned several series, from Formula E to FIA Rallycross and the Dakar Rally, that take place in Europe and South America. "Here in the US, people are trying to figure out rules and safety. EV adoption abroad happened faster than it has here, and they have a head start on the racing. A lot can be learned by studying what they are doing right. But if you consider the hockey-stick trajectory of EV racing elsewhere in the world, combined with the mass adoption and rollout of EVs at the OE level, it is not going to be long before EV racing takes a foothold here."
To his point, in some respects the state of EV racing in the US can be attributed to it is still in its early days. But there are factors that need to be addressed before EVs can be fully accepted into the racing fold.
Safety Concerns
In its 2022 Summit Racing Series rules, the NHRA allows 2014–current EVs with unaltered frames, unibodies, and safety systems to run the quarter-mile no quicker than 9.00 seconds and no faster than 150 mph. "A normal race car," Delmonte pointed out, "can only go 9.99 at 135 before it has to get into chassis certifications and a license for the driver."
The rule makes it easier for street-driven EVs to race, and as Payne pointed out, "I've got 10 airbags and antilock brakes going for me. They say if you don't modify the car, you can run it because you're safer than half of them out there."
That's not what concerns Delmonte, however. "Most of the guys who are coming in with Teslas are not racers, they're just guys who can afford a Tesla and want to see how fast it can go. They have no experience on the race track. It doesn't matter if you're in a 15-second car or a 9-second car, you still need experience to know what you're doing and where you're at.
"I get that these cars have airbags in them, but it's not only that car you have to worry about, it's the car going down track with them," Delmonte added. "That could be an 11-second car that's not required to have all the fancy safety gear, and now a car just hit them doing 150 mph with electric batteries and stuff in it. I think it is a very unsafe racing atmosphere."
Delmonte said his Lebanon Valley safety crew "is trained in electric cars, but not every track has that luxury. An accident with an electric car is not like a normal accident. There are protocols that have to be taken. Where to cut the wires is different with every car, so you have to find out where to cut, what to touch, and what not to touch."
When asked if he would continue to participate in the EV racing program, Delmonte said, "As a track operator, I have the option of not competing in the EV class. We don't have to do it, but we want it to grow, to get more people to come to the race track. The younger community isn't going to buy a muscle car or a dragster and come racing. A lot of them are buying electric cars these days. It's just a change of times, and you need to keep people coming to the track, to try new racing opportunities. But as far as safety goes with these really fast cars right now, I don't feel we are there yet."
Mollica agreed that "educating track safety teams on how to respond to various scenarios when they occur in EV classes will further speed up adoption. It is not uncharted territory, which is great. There are lots of case studies and existing, proven protocol for these things. Further, if good rules are enforced, the cars are very safe, despite the high-voltage systems that are used to propel them."
In the road racing segment, Brett Becker of National Auto Sport Association (NASA) in Las Vegas, Nevada, said most of the EVs—largely Tesla Model 3s—at NASA events are in the HPDE or Time Trial run groups, which do not have the same safety equipment regulations as cars doing wheel-to-wheel racing. "One of the developments in our Time Trial classes over the years is that they're mostly full-cage race cars now in almost all the classes, whereas 10 years ago there were a lot of street cars in that class." Mounting a roll cage in a Tesla "presents a challenge," he said, "of welding in a car with all that juice in them. I don't know how it's done, but I know it's not easy."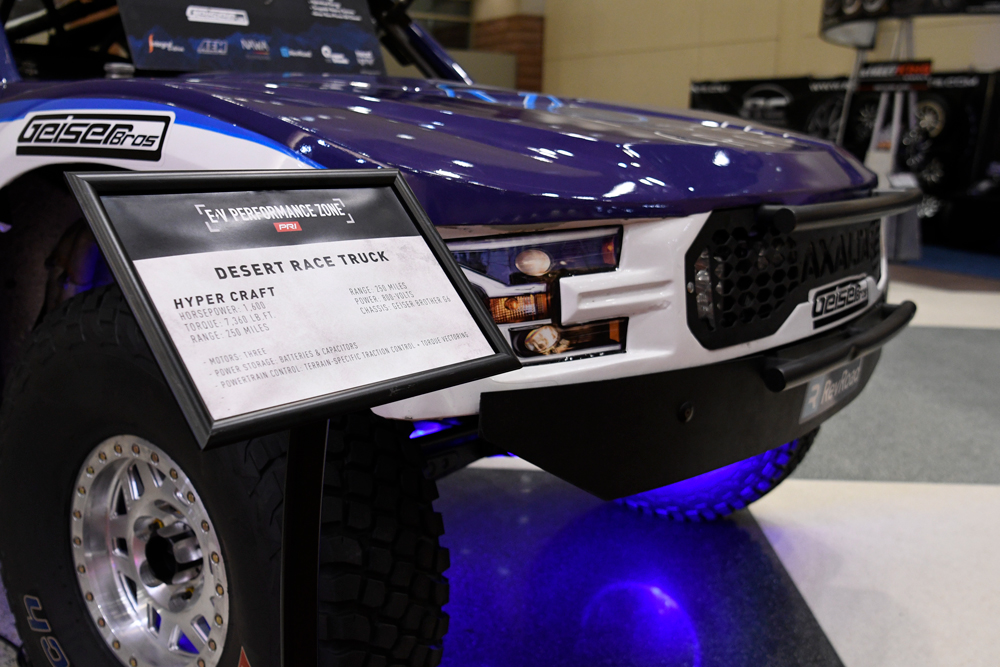 When asked if EVs were competing in NASA's sprint races, Becker said, "I know of none." There was a notable EV entry in the 2021 25 Hours of Thunderhill, an electric-powered Sports Racing car built by Entropy Racing of Sacramento, Pennsylvania. The EVSR could compete in a long-distance event because its lithium ferrous phosphate batteries were designed to be hot-swapped during a pit stop, a two-minute task that had to be repeated about every 30 minutes. Those batteries are "heavier and cheaper" than lithium ion, Becker said, and they're also "easier to extinguish in a fire, because they're still extinguishable with water." (The EVSR team finished the race in 29th place overall. Turn to page 104 for a profile of Entropy Racing.)
Acceptance
Cutting a new path is never easy for a pioneer, and some of the EV racers we spoke with have experienced their share of trials. Payne said he and his Tesla have been met with much distrust, from fellow racers and even race organizers who think the Tesla has electronic devices that allow him to cheat. The organizer who banned the car told Payne, "it's a different animal, and we don't understand it," he recalled. "They talked about the traction control and the launch mode, and how there's no way to police the computer in the car. My response was, 'do you really think I'm going to tamper with my car?' It's just like your smartphone. You can't go tampering with it or you're going to get blocked or bricked. Same thing with a Tesla. You can't go in and mess with stuff and mess up your warranty."
He also recalled one track owner "giving me the stink-eye" when he tried to plug in between rounds. "They think I'm robbing them of power, that their power bill is going to be $300 if I plug in for one race," he said. Payne now takes a generator for power top-ups, but he pointed out, "if we could get 50-amp chargers at the tracks, that would help us. And we need to tell the track owners that these things can only suck so much power. You might be talking $5 charging all day long."
Steve Huff's quest for 200 mph began when he debuted the dragster at the 2017 SEMA Show, "and the struggle started then. We were wondering, 'Is anybody going to care when we go 200? Is it going to be a unique thing that happens once? When is the industry going to catch up with us? When are the recognized names in the performance industry going to get involved?'"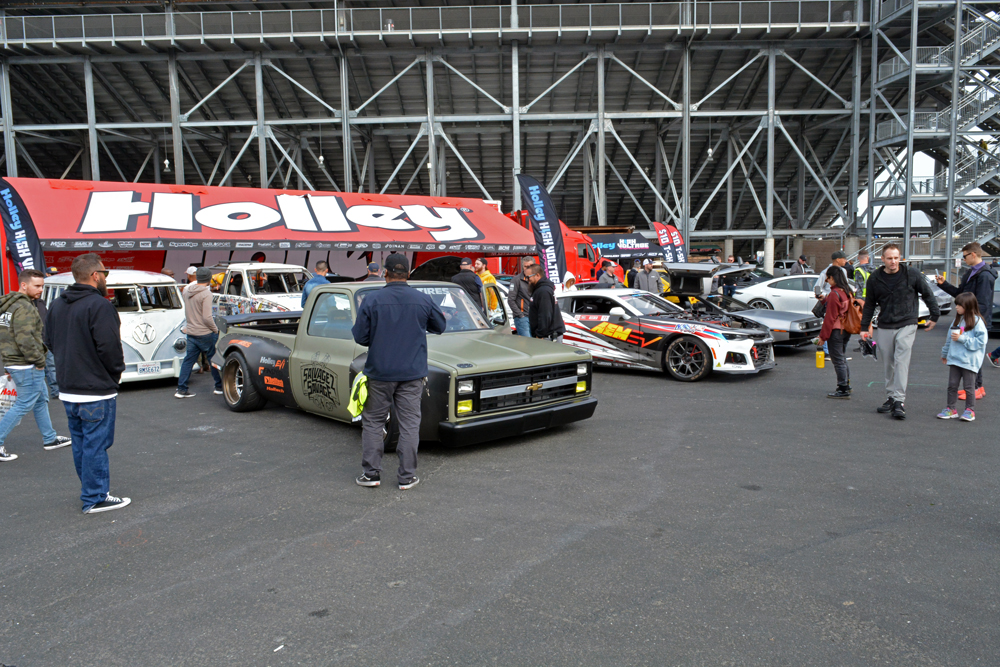 Some of those questions have been answered. Competing against Don Garlits to be the first EV dragster to 200 drew national attention, and AEM provided much-needed technical assistance starting in 2019. "With their products, we finally had the data acquisition that we needed," Huff said.
When he felt the car was ready, Huff purposely timed his record attempt for May 2020, since "there was no motorsports news going on" during those early months of the COVID-19 pandemic. Even so, hitting the number "made international news in Asia and Europe much more than it did in the US," he said. To this day, even when "Big Daddy" Don Garlits himself is lining him up for exhibition passes, reaction is mixed.
"Garlits and I were at the Gatornationals this year, and on the line we could hear the crowd boo. Yes, we also heard a lot of applause, but there's also that other factor. I don't know that the two are going to mix really well."
By "the two," Huff was referring to the pro- and anti-EV camps he encountered while shooting for 200 mph.
"Most of the interest in the electric car comes from people 30 years old and younger," he explained. "They have a lot of interest, but they've never been to a race before. They're new racing fans."
Huff has created educational programs about EVs, from K–8 STEM classes to hosting University of Wyoming engineering students who work on a Formula SAE team. "For the second time in three years they're flying 15 of their students up here (Huff Motorsports is based in SeaTac, Washington) for a four-hour lecture, Q&A, and a tour of my shop. That never happened with my Top Fuel Harleys, hydroplane, land speed bikes, or any car I've ever raced or owned."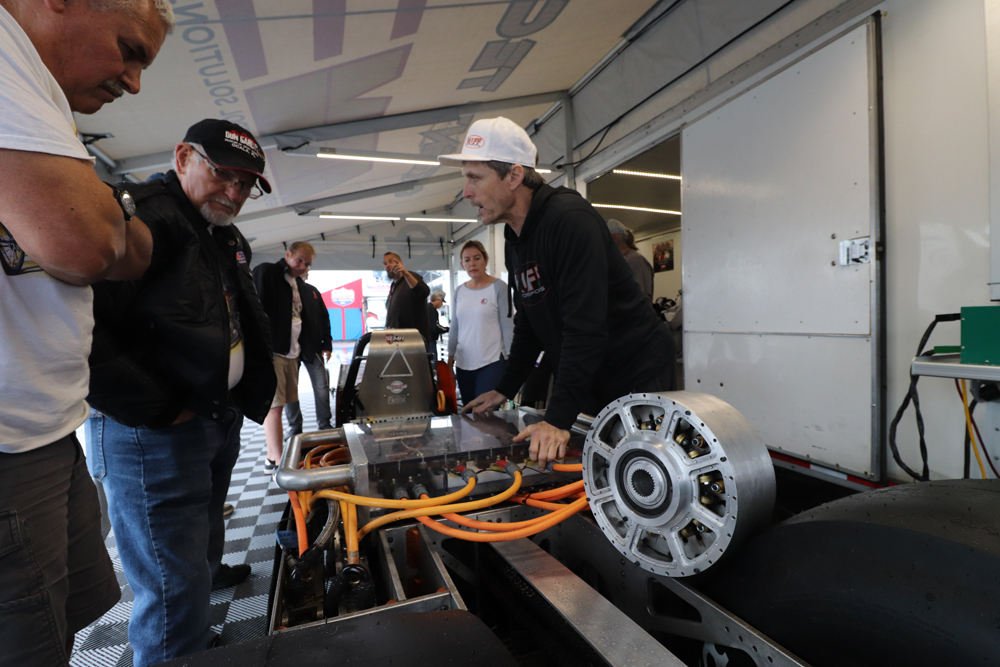 On the other side are race fans who are anti-EV for reasons that range from a lack of understanding of the technology, to a fear that EV racing will somehow replace traditional ICE-powered vehicles, to hating the fact that EVs "don't make noise."
"That's the challenge now, that we don't make noise," Huff admitted. "Crowds don't like that. I'm a little surprised that today's racing audience is less impressed with the technology and more impressed with the noise. I would have thought there would be more interest in the development story, in how to do this." To try to appease fans, "I give them huge burnouts since I can't give them noise.
"This is not a political thing for me," he added. "People want to turn it into something political, but it has nothing to do with that. I did not do this to save gas. This was done because there was a race, and I wanted to win that race. It was a quest to see who could put their name in the history books. If it was a noise contest, I would have done everything I could to win the noise contest."
Noise, in fact, is hurting race tracks, a fact that both Huff and Mollica emphasized.
"There's a reason there are only two races a year at Pomona right now, a reason tracks are being shut down all over the place, and that's noise," Mollica said. "Since these are quieter, it eliminates the argument of, 'You can't race here because it's too loud.' How much more opportunity does that open to legally race in an urban environment? We all know what happens if you can't race in a legal environment now. It all goes to the streets. Which is what we don't want. Now, the quieter part of EV racing is not a detriment, it's an advantage."
"The next generation doesn't care about noise, they care about the performance," Huff said. "I have a 200-mph car that I drive to the starting line, I drive back from the finish line, and drive it into the trailer. It's a hot rod, a 2,000-horsepower dragster. It won't shock you; it'll blow you up. It's dangerous, it's fast, it's expensive, it has everything we look for in a challenge and race car. It's super cool, and it's made racing fun again."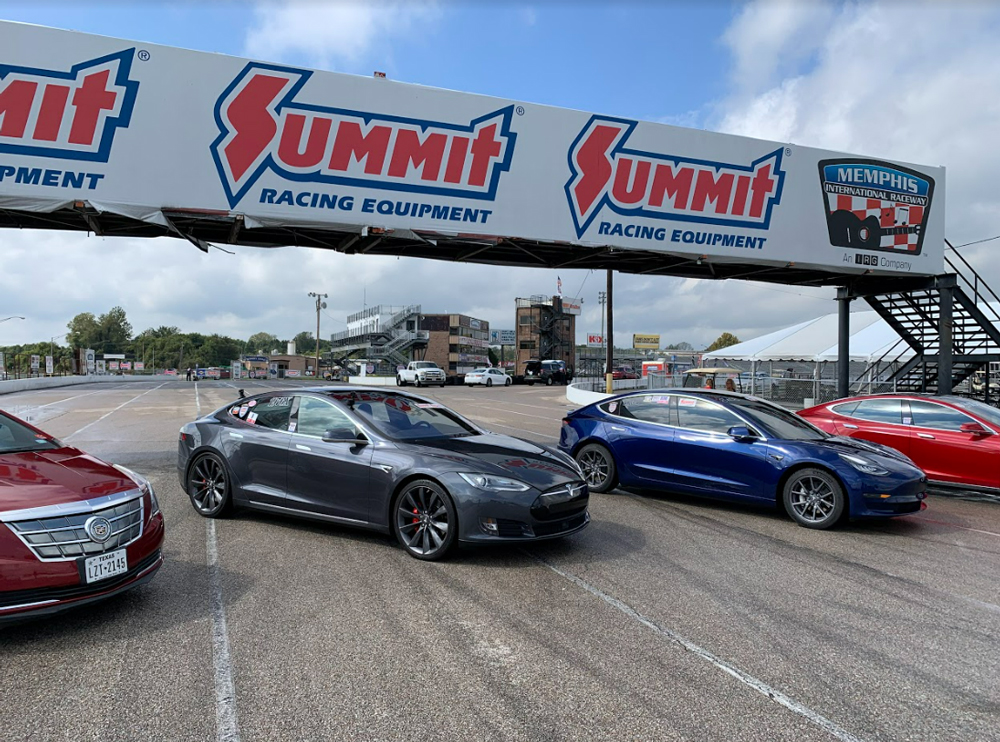 When asked if traditional race fans could ever embrace EV racing, Mollica was optimistic. "I've made the analogy that the flathead Ford guys shunned the small blocks, and carbureted guys shunned EFI, and small block and big block guys shunned the LS and Mod motors, and the domestic guys shunned the imports, and so on. That's part of car culture. What I do believe is that over time, a level of respect was attained regardless of the camp you are in. You have to remember that people who shout the loudest are usually most resistant to change, but that doesn't mean that they speak for an entire niche."
Mollica himself speaks from experience. His own roots were in traditional American V8s, and he was skeptical of the performance potential of import cars until he learned more about them. Likewise, "I didn't like EVs when they came out. Then I got a ride in a Tesla, and it changed my mind. Now, we make electronics so that enthusiasts can take a chassis they are passionate about, electrify it, and race it, drive it all the time, or both. That's really what this is all about. It's hot rodding, just a new type. If you don't believe me, rent a Tesla or Mach-E, mash the pedal, and then envision that performance in your passion project and tell me if I am wrong."
SOURCES
AEM EV
aemev.com
Holley High Voltage Experience
holleyhighvoltage.com
IHRA
ihra.com
Lebanon Valley Dragway
dragway.com
National Auto Sport Association (NASA)
drivenasa.com
Steve Huff Motorsports
stevehuffmotorsports.com
Todd Payne
facebook.com/todd.payne.583
Terranaut Media Group
terranautmediagroup.com
World Wide Technology Raceway
wwtraceway.com