Image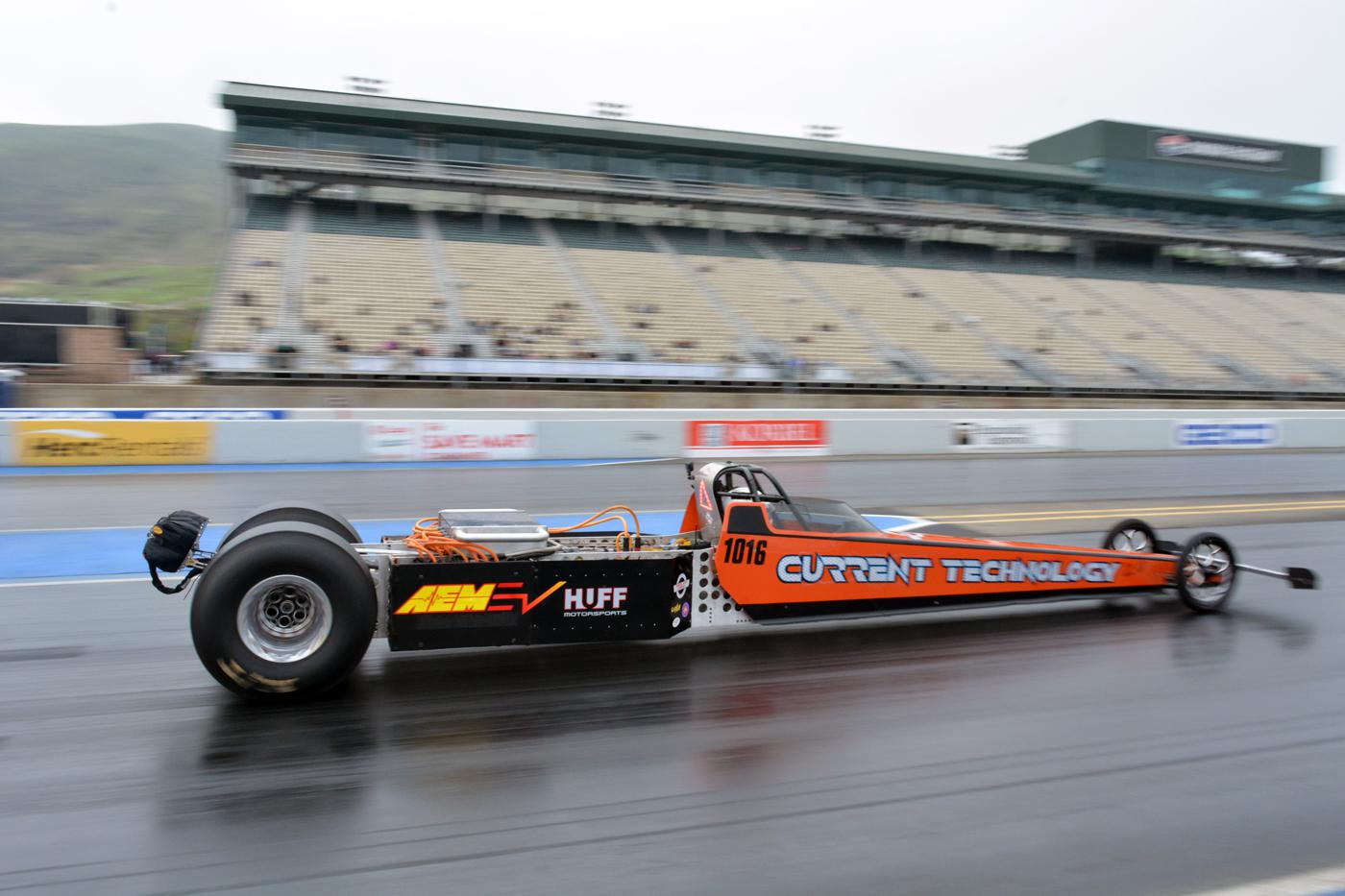 The components are different and so is the fuel, but EV performance companies share the spirit of innovation—and some of the same techniques—that their gas-engine predecessors pioneered.
They are practices rooted in automotive history: Want to make a car go faster? Swap in a more powerful motor from a heavier car. If that motor isn't making enough power, innovate. Build the parts needed to increase its performance, test those parts, and if that doesn't work, try again. That's how hot rodding began in the years before and after World War II, when men like Vic Edelbrock Sr., Ed Iskenderian, Stuart Hilborn, and many more used ingenuity and their own two hands to make speed parts, and in the process gave birth to the performance aftermarket.
"We get a lot of flak from the hardcore gasoline world for being electric," said Eddy Borysewicz of reVolt Systems, Oceanside, California, which offers electric conversion systems using refurbished Tesla motors. "But the real hot rod guys say, 'That's exactly what we did in the 1950s. There's no difference with what you're doing to what we were doing, ripping motors out of high-powered sedans and putting them in lighter cars.' So we coined the phrase, 'Hot Rodding 2.0,' as our shop motto. We're dedicated to the art of preserving hot rodding." That dedication includes testing at the Bonneville Salt Flats, where the Team Vesco streamliner, with a twin-motor reVolt system on board, set the EV speed record in 2021 at 353.870 mph.
We recently spoke with Borysewicz and several other performance EV pioneers to learn about what's new in this growing segment of motorsports and opportunities there may be for aftermarket businesses to participate.
Batteries Not Included
"Our system was designed to be as minimally invasive on the vehicle as possible," said Borysewicz about the reVolt conversion. "Four bolts hold the motor system in, two for the front and a TH400 standard mount for the tailshaft." The systems are based on 400kW Tesla S motors that produce approximately 533 horsepower and 800 lbs.-ft. of torque at the yoke. They are salvaged from wrecked cars and re-machined, as reVolt mounts the motor longitudinally rather than in the factory transverse orientation. The drive system mounts in the vehicle's transmission tunnel and connects to a driveshaft that powers the rear wheels.
"We do the whole batteries-not-included thing," Borysewicz said about the package. It comes with "the entire control system, the inverters, the motor, the reduction boxes, and the 1350-style output yoke. It comes pre-wired with a generic wiring harness. You can put your throttle pedal in, mount your controllers under the dash, and it's basically turnkey ready for batteries. Once you put a 400-volt system on top of it, you literally turn the key on and go."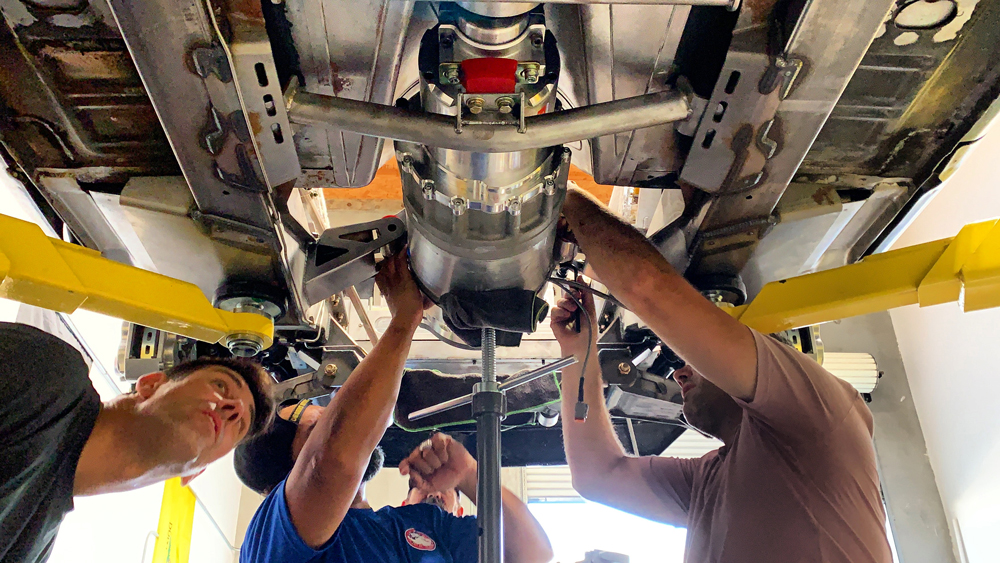 The weight of the system is a non-issue for most vehicles. Borysewicz said, "A typical old-school cast-iron block with the transmission weighs around 700 pounds. With the radiator, fuel, fuel tanks, and all the other stuff that goes in there you're at around 1,000 pounds. We just did a conversion on a 1980 GMC pickup for the Holley High Voltage Experience that we called the Hillbill-e Deluxe. The motor weighed 300 pounds, the battery 700, so it was a dead even swap. And the best part was, we could choose where to put the batteries and shift the weight backwards. That truck was extremely nose-heavy when stock, but after we put the batteries in, we were at a 49/51 split. It's nice to choose where to put the batteries, spread them out evenly between the axles, so you don't have all this weight in one spot."
As for sourcing the batteries, "no one on an aftermarket level is making a pre-built battery pack that's brand new," Borysewicz explained. "It's still a custom thing. People are going to junkyards, pulling Teslas apart, and using all these different types of lithium-based chemistry to get their EVs working, so it's still kind of the Wild West. We are starting to see new products that are designed just for aftermarket EVs, but the battery pack is the hardest part of this whole equation.
"For the PRI companies, there's such an untapped market here," Borysewicz continued. "EVs are not going away. As we evolve this, there are going to be more and more people interested in souping up their motors, and there's a huge void with batteries in the aftermarket. No one's cornered that yet. There's a whole, brand new market here, untouched, fresh, just ready to be taken."
Exciting Classes
One of the prominent companies involved in EV conversions is AEM EV in Hawthorne, California. AEM's specialty is making the componentry that enables and simplifies a conversion, from vehicle control units (VCUs) to digital dashboard displays. "Our system is fully integrated and uses the VCU as a central point of control for the battery management system, power distribution unit, combined charging unit, and more, to optimize a vehicle for exactly the type of racing you want to do," said Lawson Mollica. "While plenty of people will take their OE EVs to the track and be competitive [see below], we see conversions as taking over to create the most exciting classes of EV racing."
AEM was instrumental in Steve Huff's quest to be the first to run 200 mph in an electric dragster. When Huff started building the car in 2017, "we had motors, batteries, and controllers, but there really wasn't anything that would let those things talk to one another, no center piece where all the inputs and all the outputs go," Huff recalled. In 2019, AEM came aboard "with a great computer, a VCU that would allow us to control not just two motors, but four. Once we put four motors in the car, we went 200 mph in May 2020."
The custom-wound axial dual-stack motors from Phi-Power utilize Cascadia controllers and inverters and are powered by a custom-built lithium-cobalt-polymer battery from High Tech Systems. The 5P/192S battery produces 800 volts, 2,000 amps, and an estimated 2,400 horsepower and 2,000 lbs.-ft. of torque. Huff Motorsports' e-Spec Racecars built the custom, 240-inch-wheelbase chassis, which is NHRA certified to 6 seconds.
"When Steve realized he needed to double the motors, with the electronics he was using he would have needed two independent electronic systems to run the two sets of motors," Mollica explained. "Neither would talk to one another." The system AEM created "eliminated all that redundancy and removed a ton of potential weight that would have been added to the car just in wiring alone."
John Romero, AEM's director of product development, nicknamed that VCU "the adult in the room," Mollica said. "Not only is it doing the torque management and all the things needed to get down the track, but his batteries, which are not cheap, are integrated with the battery management system. If they aren't up to temperature or don't have the voltage he needs, it will de-rate to protect the batteries so they won't burn up. So in addition to not only helping him achieve his record—which he broke at the Holley High Voltage Experience and broke again at NHRA Seattle—the system is protecting his investment as well and keeping him safe."
Mollica sees potential at the sportsman levels as well. "Once you build an EV conversion, the cost of maintenance is a fraction of what it takes to maintain a high-performance ICE vehicle, which means more money for travel and events." As a proof-of-concept, AEM has a development vehicle it calls the Testang, an S197 Mustang GT powered by a Tesla motor. "It clicks off mid-11-second passes at around 120 mph on street tires, rips through a long autocross at a respectable clip, and has about 80 miles of range for commuting, more if we add more battery. It's also registered as an EV in California and is street legal. We couldn't do that with a blown S197 with all the trimmings it would require to achieve that same performance. With EV, the everyman and everywoman enthusiast can have their cake and eat it, too."
The Open Wheel Experience
"This is not just a hobby," Dave Evans said of the Formula Mazda that he and his son, Broch, both of Broch Evans Motorsport in Austin, Texas, have converted to electric power. "We wanted to build an entry-level, meaning crossover, car. If you're a good karter, or you're a good automobile racer and you want to move into open wheel, and electric is attractive to you, this would provide you with that open wheel experience." Since the car doesn't require shifting, "it simplifies things," he added. "Broch is a professional coach. He can teach a student how to right-foot throttle/left-foot brake and steer this car, and learn to drive the racing line, very quickly. That can be challenging when you're trying to shift and do everything else when first learning."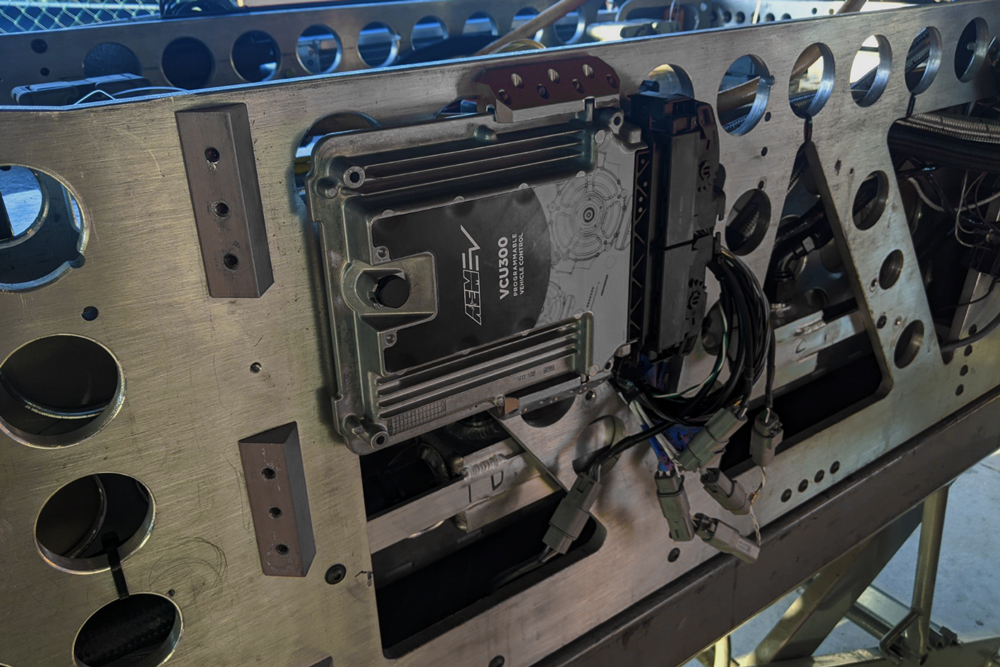 The Formula Mazda is powered by a Gen 2 Nissan Leaf motor, partly because "it's a very well understood motor," Evans said, and also because they're available from a wrecked Leaf for $1,000–$1,500. The motor, controllers, and batteries are tucked into the Formula Mazda chassis with the heavy-duty suspension.
The electric components add about 200 pounds to the car, Evans estimated. "I think we can get it down a little bit. In the prototyping we have steel battery trays that we'll replace with aluminum." But the weight is within the design spec of the chassis, he said, and also the brakes, which are made for the Miata.
The pair faced multiple challenges incorporating the electric powertrain into the Formula Mazda, not the least of which was packaging. "In an open wheel car, there's literally no room on the car for anything," Evans said. "Everything on the chassis has already been designed to go there." What helped was Broch Evans' skill in CAD and the availability of a 3D printer.
"3D printing of componentry turned out to be important for two reasons," Dave Evans explained. "It allowed us to prototype quickly, to see what fit and what didn't, and then build what fit, and to be able to do that in-house for a few bucks instead of sending things out."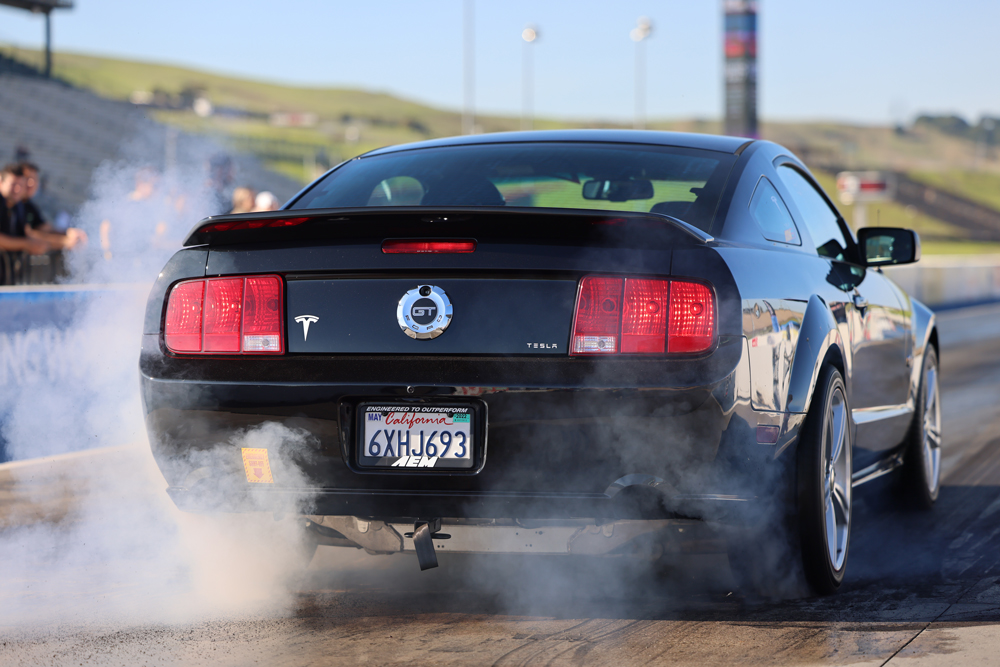 The only Nissan component in the car is the motor. The Leaf VCU is from Thunderstruck, while Electric GT supplied the battery management and high-voltage systems. (Many of the BMS components were made by the Australian manufacturer Zeva, which is now out of business; Evans said similar components are available from Thunderstruck and Orion.) Power comes from four 5.5-kWh lithium-ion Electric GT OX battery modules. EV West provided the maintenance switch for the main high-voltage circuit and the auxiliary contactors for battery safety, and Dave and Broch designed a proprietary pre-chilling system to control battery pack temperatures. All the CAN control systems—the heads-up display with GPS and data logger, the power distribution unit, and analog transducers—came from AEM EV.
Safety equipment onboard includes a fire suppression system from SPA Technique specific to the lithium-ion batteries, and LED indicators that alert the driver and course workers to problems with the electrical system. "Any faults that trigger engine shutdown or isolation shutdown result in those lights being illuminated," Dave Evans said. "There's also a specific exit protocol from the car. The driver literally hops out. You don't step out while holding things."
The electric Formula Mazda drives with "a different feeling altogether," Broch Evans said. "The throttle response is dead smooth, and you can go from 0 to above 100 mph with no clutch. When you put your foot down on the throttle, it keeps you pressed back the entire time, one constant feeling of acceleration." The extra weight isn't a detriment; in fact, because it sits low in the car it lowers its center of gravity, "so it holds itself in the corners."
Both Broch and Dave race with the SCCA through the US Majors series (Broch won the 2020 US Majors Tour Southern Conference championship in an ICE-powered Formula Mazda), and when they showed the sanctioning body the electric prototype, "they said, 'Wow, we didn't think anybody was going to build open wheel,'" Dave Evans recalled. "They were out writing rules for it as soon as they saw it. They now have a full rule set, and we will be participating in the Solo Nationals as a first exhibition and then we'll exhibit at the SCCA National Championship Runoffs at Virginia International Raceway."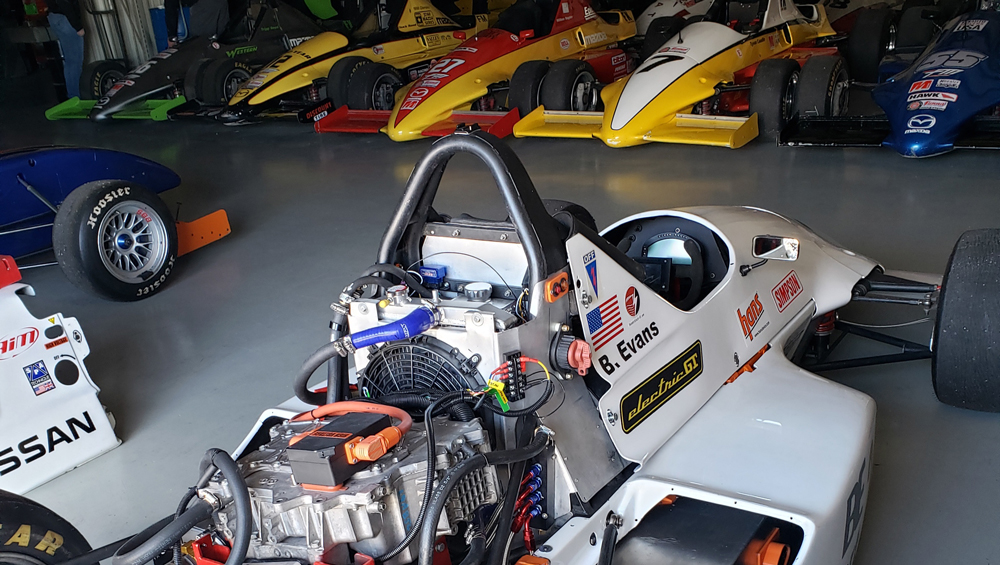 The goal, he said, "is to have this ready for next year and a set of cars on track." The battery packs should provide "a very intensive 15-minute open wheel experience followed by a 90-minute to 2.5-hour recharge, which fits really well within the SCCA's daily race schedule."
They estimate the price for a turnkey car at around $75,000. Overall operating costs will likely be lower than for an ICE Formula Mazda, not only because of the lack of fuel bills but also because a replacement motor will be a fraction of the cost of an engine rebuild, Dave Evans said.
"With battery technology always improving, one of the things we're going to see in the near future with EV technology is a huge increase in quality with a decrease in pricing," Broch Evans predicted. "We may start at $75,000, but it is something you could be able to do with much less with better technology."
"With the work that Nissan is doing with their solid-state batteries, the weight comes down, the temperature requirements start to go away, the charging times are faster, and cost comes down," Dave Evans added. "And while we can talk about how everything in the future is going to be amazing, we are building this car for EV fans who want to race today."
Racing OE EVs
Setting up an EV street car for racing is "fairly straightforward," Mollica said, largely because there's little that can be done to modify the factory powertrain. "The way the CAN bus networks are integrated, typically if you try to introduce something over that network and it doesn't readily identify it, it just bricks the car. I'm sure the code will get cracked one day, but when it gets cracked, how do you keep the over-the-air updates from undoing that?"
The powertrain may be off-limits, but "if you know how to set up a car, you can set up an EV," Mollica said. "Use corner weights, figure out where the weight is, figure out where your load points are. Get the right wheel and tire combination, the right suspension, so you make the right adjustments. Put the right aero on it. Take as much weight out of it as you can. Do all the stuff racers do and go have a good time."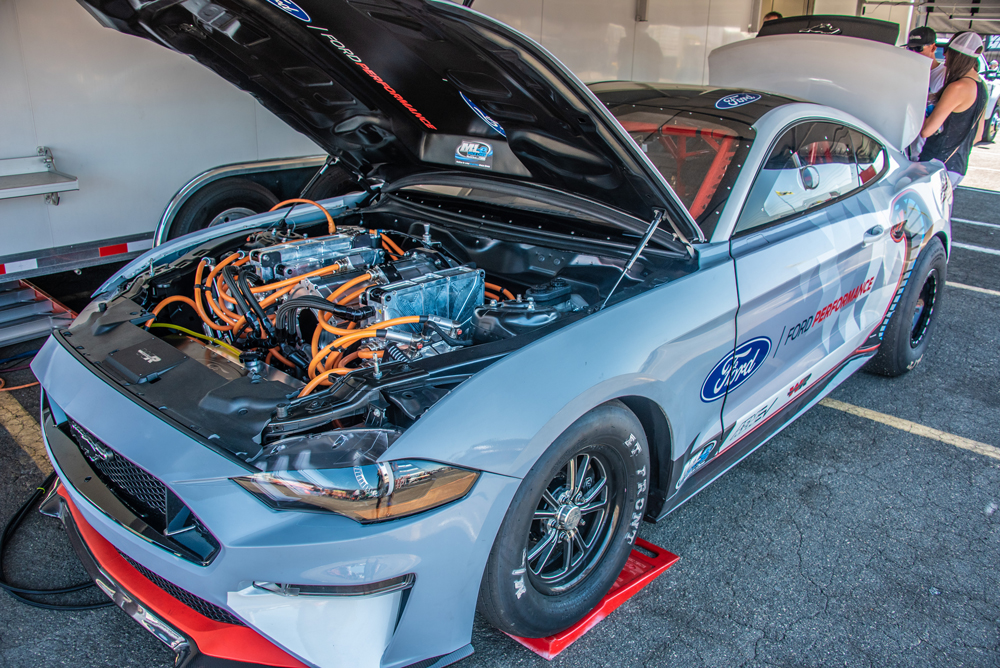 Bracket racer Todd Payne runs his daily-driven 2014 Tesla S P85D in the IHRA Summit SuperSeries at tracks near his Yadkinville, North Carolina, home, and went all the way to the World Finals in Memphis in 2021. Other than "taking any knick-knack stuff out of the car to lighten it up just a little," the only modification he has made is to match the size of the Tesla's tires front and rear. The AWD car came with staggered wheels and tires; Payne replaced the narrower, 245/20 front tires with 265/20s spec'd for the rear. That helped eliminate wheel spin, and he has experimented with tire pressure to slow down his launch to keep him from red-lighting.
"The tire pressures are really weird, almost backwards from what you would have to do for a rear-wheel-drive car," Payne said. "I add tire pressure to slow down my reaction. Now I'm running almost the stock pressure. That's strange, but it is four-wheel drive, and you have to think if you flatten the tires, you're adding grip, and it could make it launch faster because it hits so hard."
Payne considered running slicks on the Tesla, "but then I'd have to change all four tires every time I drove the car to work." As it is, he drives the Tesla fully stickered, with the dial-in still written on the window.
SOURCES
AEM EV
aemev.com
Broch Evans Motorsport
brochevansmotorsport.com
Todd Payne
facebook.com/todd.payne.583
reVolt Systems
revoltsystems.com
Steve Huff Motorsports
stevehuffmotorsports.com