Business Profile: ENTROPY RACING
Image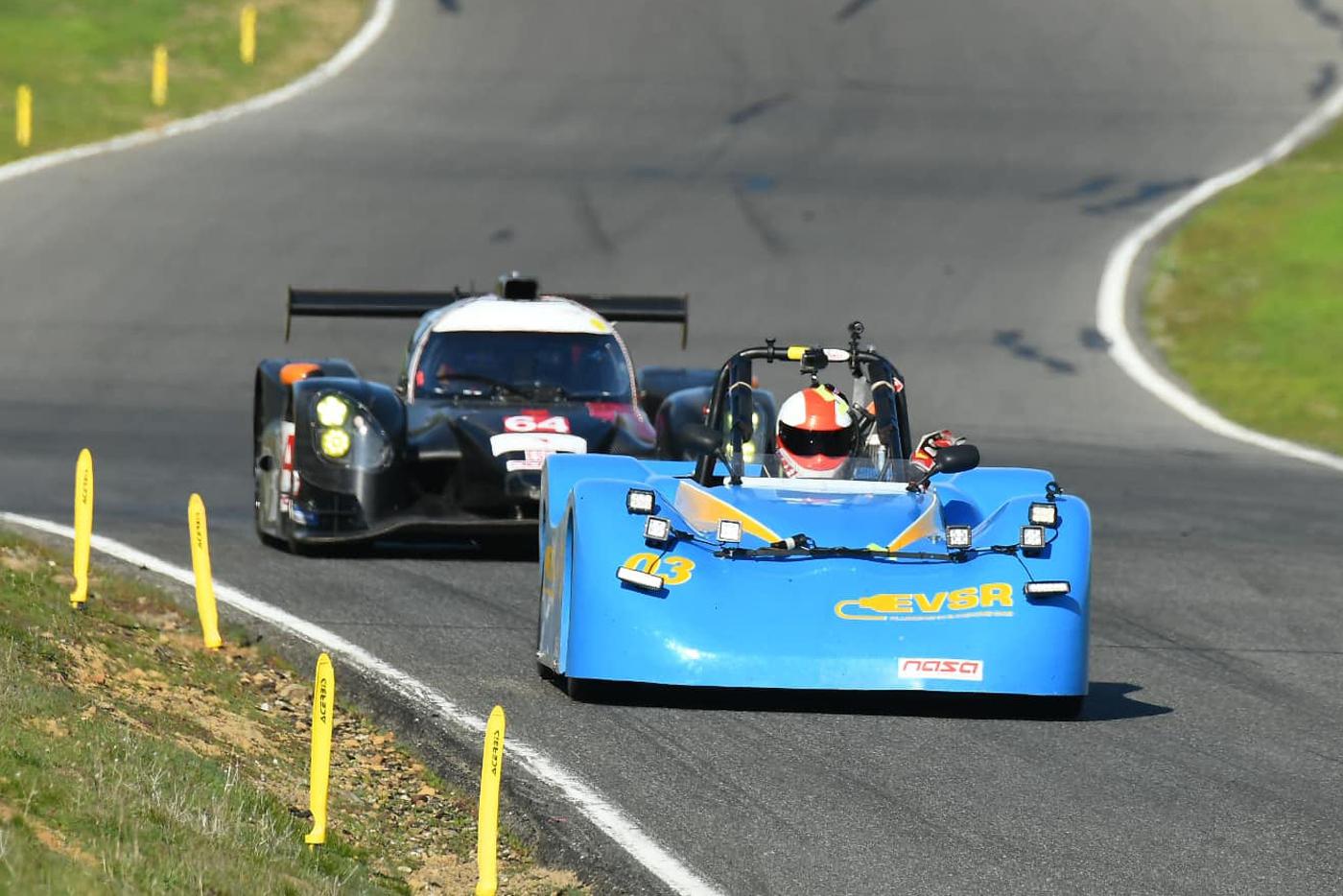 Using safer batteries and off-the-shelf parts—and defying nearly every assumption about electric vehicles—this team is "plugging in and kicking gas" on internal combustion's home turf while demonstrating a viable alternative for grassroots road racing.
About 40 minutes into the annual 25 Hours of Thunderhill, a sleek blue sports racer glides into pit lane, its unruffled silence signaling its electric power. As five crew members jack the chassis and lift the one-piece body, two others slide bright yellow dollies under the spent battery packs on either side of the cage. At 40 seconds, the old batteries have been disconnected and rolled away. New batteries are wheeled into place; the body is lowered and fastened, and at 1 minute 57 seconds the Entropy EVSR rejoins the race.
A full day and 35 pit-stop battery swaps later, Entropy Racing of Sacramento, Pennsylvania, has done what has never been done before: "Run a significant endurance race at pace," beamed owner Charlie Greenhaus, "with live stops in pit lane to change batteries." The team finished 29th out of 37 starters in last year's endurance race, despite a half-hour layover caused by motor-cooling issues, which the team has since resolved.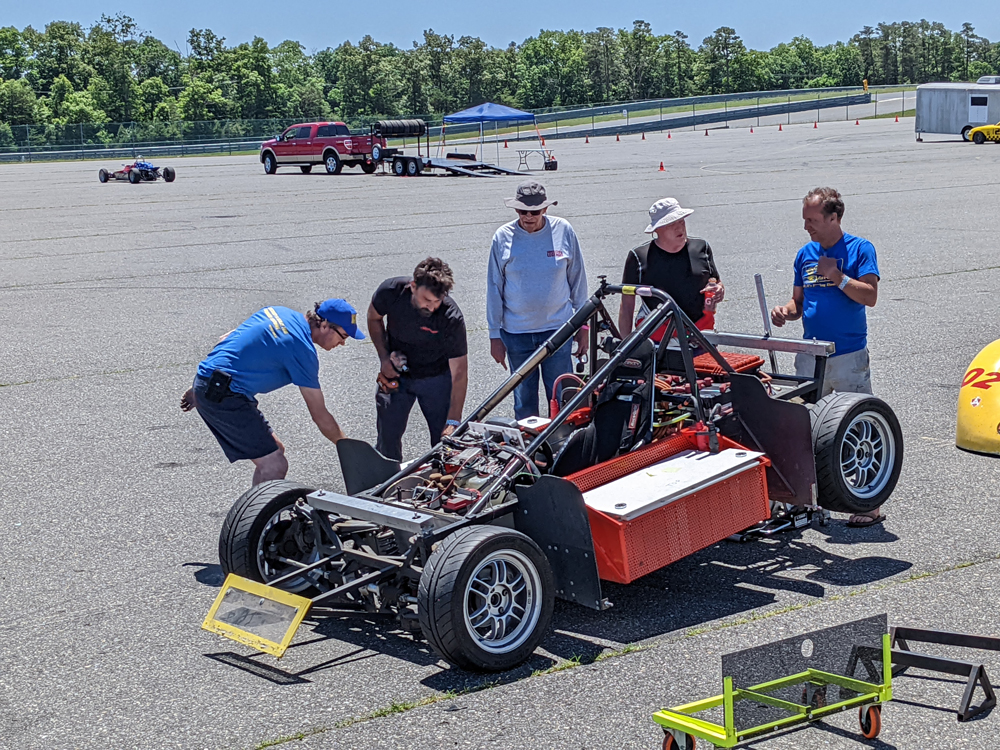 It was a big accomplishment for a little company, one that Greenhaus described as "the very small end of small business." Entropy Racing has never employed more than five people, and currently consists of Greenhaus, a mechanic, and a part-time marketing manager. Yet this tiny power pack has not only pioneered electric vehicles for endurance racing, but proven, absolutely, their viability in hill climbs, autocross, and shorter road-course events as well.
Keeping Things Together
A provider of racing services since 1989, Greenhaus chose the name Entropy because "it's how everything falls apart and stops moving—and my job was to counteract that." Road racing "was always our primary focus, with a large part of our business being racing rentals"—in the beginning mostly small imports—"transitioning into sports racers over the winter of 1996–1997." That's when SCCA discontinued the Sport Renault series, and Greenhaus "started buying them off the walls and out of the ditches." By 2000, Entropy owned 16 Sport Renaults and promoted its own race series while continuing to campaign its own team. 
All that changed in 2013 when a customer requested a high-performance electric road car. Greenhaus ultimately vetoed the idea, "due to weight-vs.-range limitations at the performance level desired." However, "upon further discussion, we decided to partner on an electric sports racer," based on the readily available Sport Renault chassis.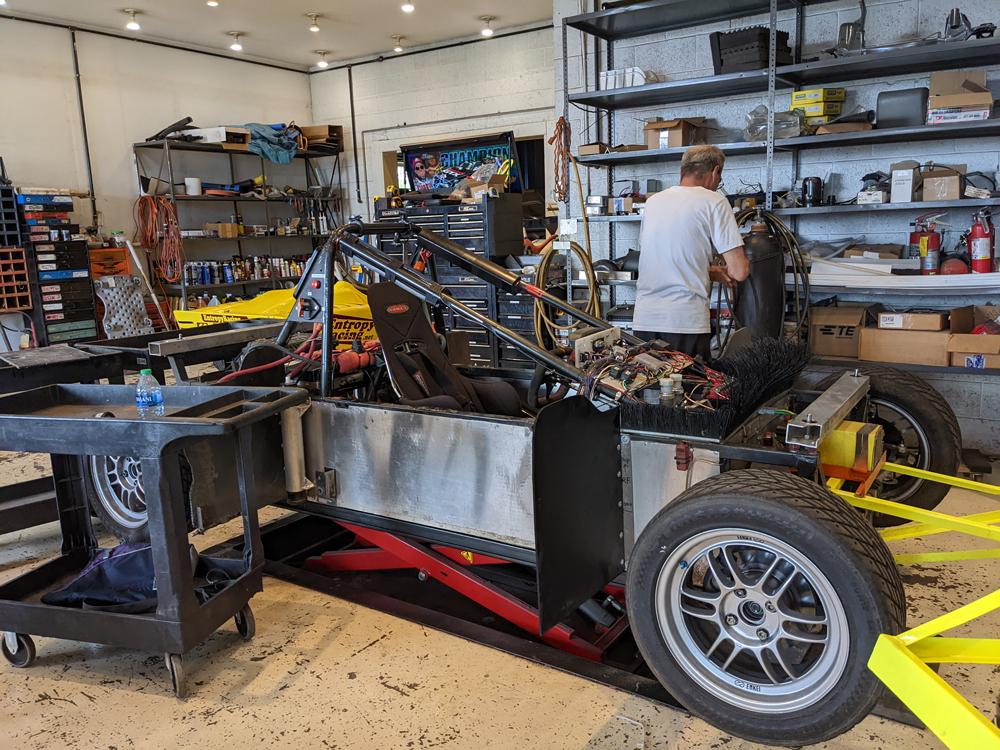 Off-the-shelf parts controlled costs, as did a very targeted approach to development. "We knew range and motor temperature were going to be our first big challenges," Greenhaus explained, and so the team didn't spend a lot on, say, the Renault's existing brakes. "Of course, those priorities changed constantly as we solved one problem, only to find another."
By mid-2015, Entropy had built three Electric Vehicle Sports Racers, or EVSRs. A second-generation model followed in 2020. Greenhaus described it as "evolutionary rather than revolutionary. It retains the same suspension as the Gen 1 car but has a redesigned safety cage that relocates the driver, as well as a completely redesigned body and"—most significantly—"a battery support structure that allows the rapid replacement of the battery packs." At 1,850 pounds, it's about 150 pounds lighter than the Gen 1 model. When we spoke in July, Entropy had built three examples, "and we have two more rollers in the shop.
"It would probably be a stretch to call us a manufacturer," Greenhaus continued. "We're more like a prototype developer. We have the platform and design to do a larger run, but we haven't expanded to that level of production."
Dissuading the Doubters
Beyond the small size of the Entropy enterprise, "the biggest challenge" to scaled-up production has been "hurdles with the sanctioning bodies: Who are you going to race with? Early in our development we ran into a lot of skeptics and some negative comments," Greenhaus explained. "We had a client out on the West Coast whose region flat-out said, 'No, we're not interested. We won't allow it. We don't want any part of it.'"
Todd Reid is Entropy's lead driver; he recalled a regional event in New Jersey where the other drivers were so convinced the EVSR would block traffic that, to appease them, he agreed to start at the back of the pack. "Out of 25 cars, I went from last to seventh," he said. Reid qualified for position in the next two races and won both of them. "Then there was no more, 'Boo-hoo, you're going to hold us up. You better stay out of the way.'"
Gradually, the closed minds started to open. "In the beginning," Greenhaus recalled, "we did a lot with the New Jersey Region of the SCCA, which was instrumental in obtaining national approval for safety and regional competition. In the last two years we've run a tremendous amount with the DC Region, which created the classes Electric Modified 1 and 2, depending on power output, and grouped the cars with Spec Racer Ford." 
EVSRs have also competed in the DC Region's Sprint Bracket Series, "which is structured somewhat like bracket drag racing: You hit your target time, or you get bumped to the next class." Greenhaus himself drove an EVSR to the series championship in 2021, defeating 68 other cars, and the Entropy team was solidly in third place for the 2022 series at print time.
"We've also run with NASA Mid-Atlantic and Northeast, and obviously with NorCal for the 25 Hours, and with the New Hampshire Sports Car Club for the Mt. Washington Hillclimb," Greenhaus continued. "We've run the Pikes Peak International Hill Climb twice. We've run hundreds of sprint races, and we have a 95%-plus finishing record. As we've finished more races—and won a good number against gas cars—we have become accepted as another car on the grid. That was always the mantra of our team: 'a good race car that happens to be electric.' These cars are not built for any specific surface, series, or venue. Unlike Formula E, we race against ICE cars on an even playing field, and we don't make any changes to the course or race to do so." 
Nuts and Volts
Greenhaus readily admits that Entropy did not invent the battery-swap concept. The idea dates back at least to 1968, when Battronic delivery vans (built in Boyertown, Pennsylvania) promised a battery exchange in five minutes. Greenhaus acknowledged a "24 Hours of Lemons" team that had modified a Nissan Leaf so that they could swap batteries in the paddock and be back on the track in 30 minutes. "I don't discredit that effort within context, but that isn't racing."
Entropy configured its dual 350-pound battery packs using off-the-shelf lithium ferrous phosphate (LFP) cells. "They are safer and more stable than lithium-ion cells," said Greenhaus, which can burn so hot on impact that most tracks "don't have the fire-suppression equipment for them." When overtaxed LFP cells did catch fire during testing, Greenhaus calmly extinguished the flames with less than three gallons of water.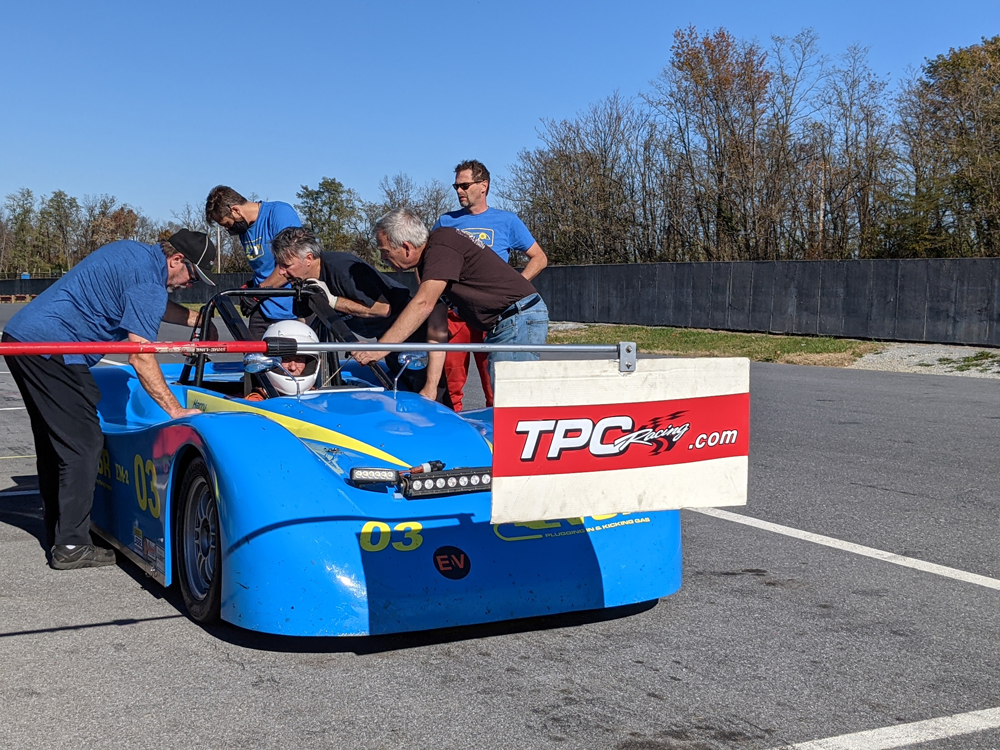 Furthermore, while LFP batteries weigh 30–40% more than equivalent lithium-ion units, they cost less, and do not require a battery management system. And their discharge characteristics are especially good for racing. "Your first lap will be your fastest, because they start at 3.2 to 3.3 volts and drop almost immediately to 3.0 volts; but then they stay at 3.0 volts until they are 80–85% discharged." 
Each of the two battery packs on an EVSR consists of 25 cells and can deliver a maximum of 29 kWh, "or 25 or 26 at full chat," Greenhaus added. Motors and controllers are cataloged items from EV West, albeit modified to improve cooling and "tweaked" in other ways Greenhaus would rather not share.
With batteries accounting for 700 of the EVSR's 1,850 pounds, the car is "exceedingly well balanced. We can put the weight wherever we want, and we usually run about 53% rear weight bias. Also, with the batteries on either side of the car and just 3 inches off the ground, the roll center is low, and we get a lot of grip with our inside wheels."
"The three heaviest components," Reid added, "the batteries, the driver, and the motor," are at or below hub level, with the batteries below the axles and outboard. "The first time I took an EVSR into a high-speed corner—turn 9–10 at Summit Point—I thought, 'Damn, I could have gone faster.' And the next time I went through, I thought, 'Damn, I could have gone faster.'" When racing against ICE cars, "you just have to believe that you can go 5 mph faster, or 7 mph faster, and it's going to stick."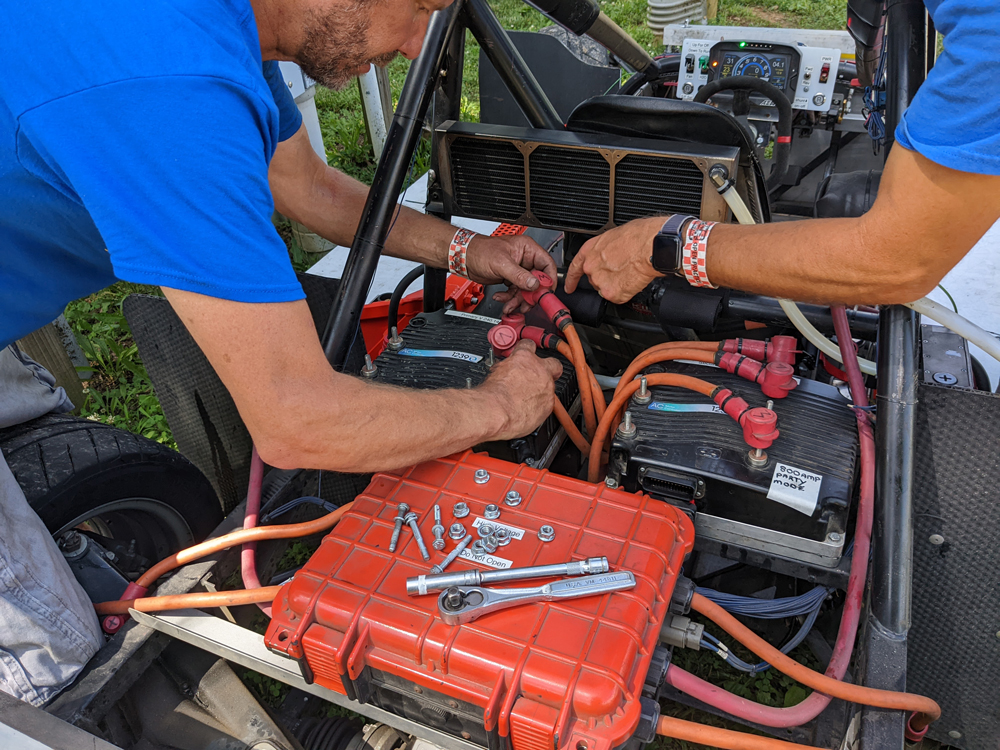 Reid met Greenhaus some 30 years ago, when Entropy was providing trackside service for NASA Northeast. In 2011, Reid's vintage Lotus 7 suffered a devastating rearend collision, so bad that Reid feared the car would need a new chassis. But Greenhaus cut and welded the damaged frame, and, afterward, Reid took the car to Summit Point and shaved half a second off of his best previous time.
Similarly, Steve Hanford met Greenhaus when his racing Miata needed mending: In the mid-1980s, Entropy sorted out a badly botched suspension installation, then rebuilt a blown engine, and has maintained Hanford's race cars ever since.
Hanford described the EVSR as "a momentum car. The chassis is terrific. If you pedal hard and don't hit the brakes a lot, you can keep up with much bigger, higher-horsepower cars."
Even on a wet track, the EVSR remains exceptionally stable. "The power delivery is linear," said Greenhaus. "There's no shifting, so you don't have those transitions and shock loads." Furthermore, "rain makes cooling a non-issue." 
Hanford sees another advantage in the EVSR's relatively quiet operation. "You can definitely hear it, but it's quieter than a gas car. You hear the tires more, you can hear them talk at the limit, in a way that you may or may not be able to hear in a gas-powered car. You are also more conscious of the cars around you: You can hear them accelerating and decelerating; you hear their tires reacting. So if you are trying to beat someone into a corner, you know if they are struggling or not."
Reid added that the EVSR's relative silence could be "a big deal" at tracks where the surrounding population has complained about noise.
Extending the Range
Since Thunderhill last year, Entropy has replaced its hydraulic jacks with faster-acting air jacks. The crew has gained experience, too, dropping battery change times down to 1:30, or 1:45 at most. "That's faster than most cars can refuel," noted Reid, reminding us that most amateur racing bans pressurized fuel feeds and NASCAR-style dump cans. "If you're doing a driver change, it's conceivable that the battery swap could be finished before you are done getting into the car, plugging in your helmet, closing all your belts, and putting on your arm restraints."
Despite this, the need for more frequent pit stops still adds up to a net disadvantage. "When we ran enduros in gas-powered cars," Hanford recalled, "our fuel window was about an hour to an hour and 15 minutes. In June, when we ran the EVSR in a 100-minute event at New Jersey Motorsports Park, we had three pit stops, so that's 35 minutes, give-or-take. I finished sixth or seventh, and the guy right in front of me ran slower average lap times, but had fewer pit stops—and that gave him a couple more laps. We need a jump in battery technology to where we can run an hour, the same as a gas-powered car. That would make all the difference."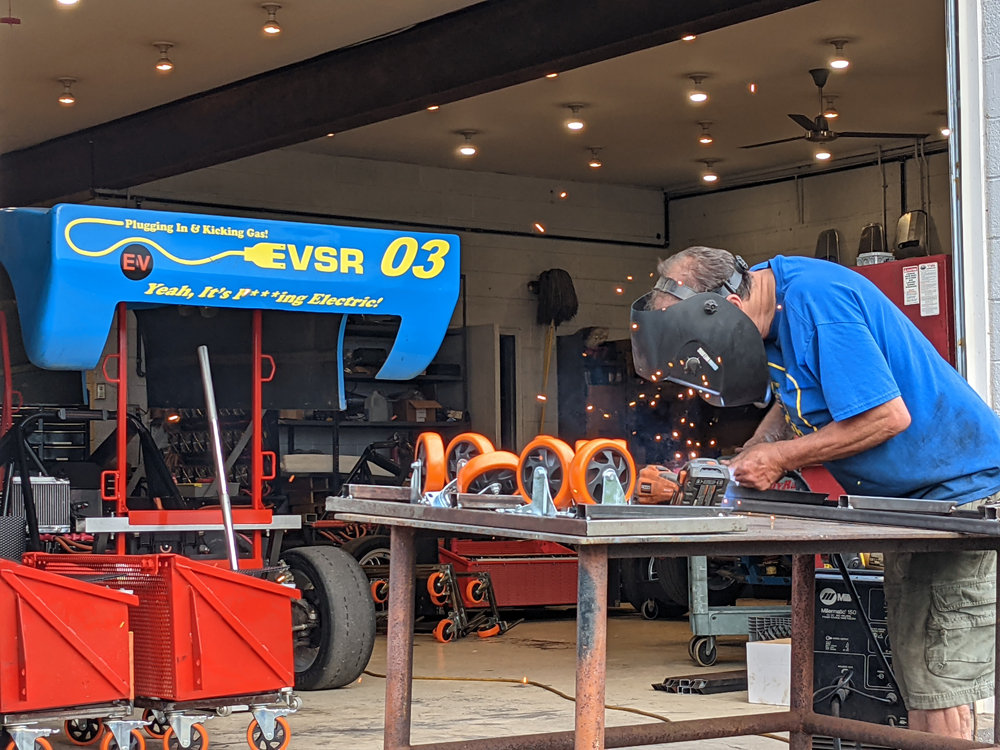 But Reid brought us right back to what Entropy has accomplished: "Nobody but nobody else is campaigning an electric endurance race car. No one else can run a 25-hour race without being given anything special—or without having two or three cars to cycle through. We are it."
"We have the only viable EV in the world that has been run continuously, at a competitive pace, in an endurance race," Greenhaus added. "There are some really good [electric] cars out there, and some really quick cars, but I haven't heard of any of them running more than one or two races a year. And no EV, beside ours, has ever run an endurance race in any meaningful way." 
Future Shock?
Still, Greenhaus believes that Entropy Racing has taken the EVSR project about as far as it can. "We've done everything we've set out to achieve," he claimed. "We don't have any more performance goals to meet. We're at the point where we we're hoping to partner with somebody, or to pass the program along to someone who has the marketing and promotional capability to take it to another level."
Greenhaus clearly believes that "the future of motorsport is going to be more electric. At hill climbs and drag races, EVs are already dominant. I'd be surprised if we ever see an IC engine beat the Volkswagen I.D. R's time at Pikes Peak. And the I.D. R's record on the Goodwood hill was just bested by the new electric racer from McMurtry Spéirling."
But Greenhaus does question how million-dollar, 700–1,000-hp exotics can bring electric power to grassroots road racing. "If a major manufacturer comes in and spends untold amounts of money, who is going to race against them? Look at Trans Am: The TA1 fields are tiny, while the TA2 fields are full. The reasons for that are finance and accessibility." 
Then again, there's the matter of range vs. weight. "We're running anywhere from 150–200 hp, and at 150 hp we can get a 25–30-minute run on a 29 kW battery pack," Greenhaus added. The first full field of electric road racers, he predicted, will consist of cars rated 250 hp or less.
Ultimately, however, the EVSR program has been less about converting motorsports to electric power than it is about building an electrically powered, relatively affordable race car that can run with—and win against—combustion-engined competitors with little or no special accommodation. "It's a race car that happens to be electric," Greenhaus said. "While it would be nice to see a full field of electric cars, I'm more proud of the fact that our cars don't have to be set aside. The proof of the EVSR as a viable race car is that we don't have to have our own private playground with our own little race track. We go to Summit Point or Lime Rock or Watkins Glen, and we line up and grid and we race like every other car, electric or diesel or whatever. It's just another race car. And we're going racing."