Image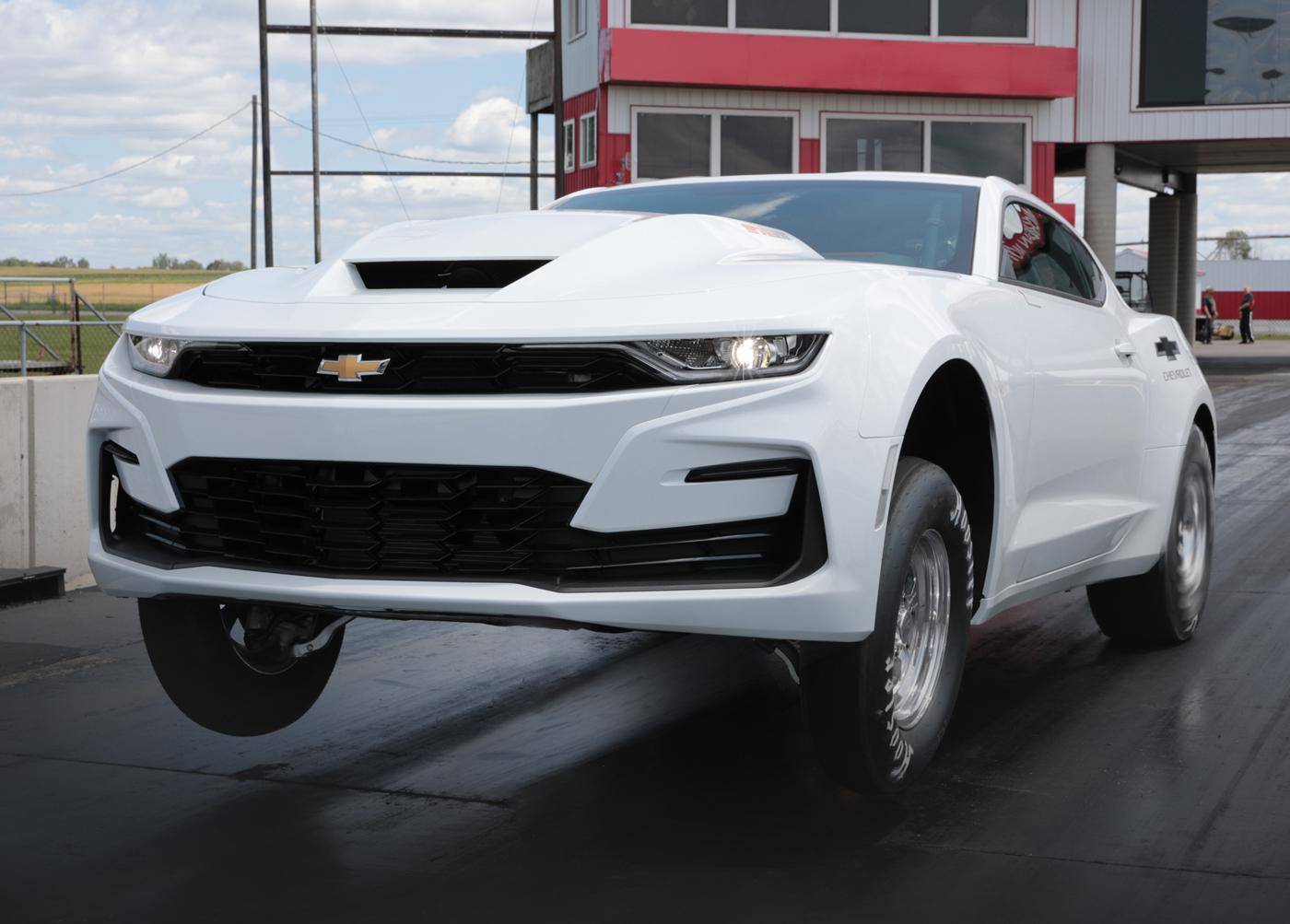 Photos courtesy of Chevrolet
Racers asked for it and Chevrolet delivered: a 572-cubic-inch big block option for the 2022 COPO Camaro.
After a decade of promoting only high-powered late-model LS and LT engines, GM's COPO Camaro program shocked the drag world by announcing the availability of a 572-cubic-inch V8 based on classic Chevy big block engine architecture.
"You're always trying to do something a little bit new," said Brent Schultz, NHRA program director at Chevrolet Motorsports. "There have always been talks internally about doing a big block, and there always have been racers asking about it."
The 572 COPO engine will be one of three engine options in the 2022 COPO Camaro, which is a custom-order car designed for NHRA Stock, Super Stock and Factory Showdown racing. 
"I can't give away numbers, but just a couple days after the announcement we had a surprising number of people putting down their money," added Schultz.
The big block COPO Camaro has a base price of $105,500 and is NHRA rated at 430 hp. Also available for 2022 is a 427-cubic-inch LS engine with a NHRA-rated 470 hp, starting at $117,500; and the 350-cubic-inch LS with a 2.65-liter supercharger, which is NHRA rated at 600 hp and carries a $130,000 base price. All engines are mated to a TH400 three-speed automatic built by ATI, and there are numerous paint, graphic and equipment options available to the customers.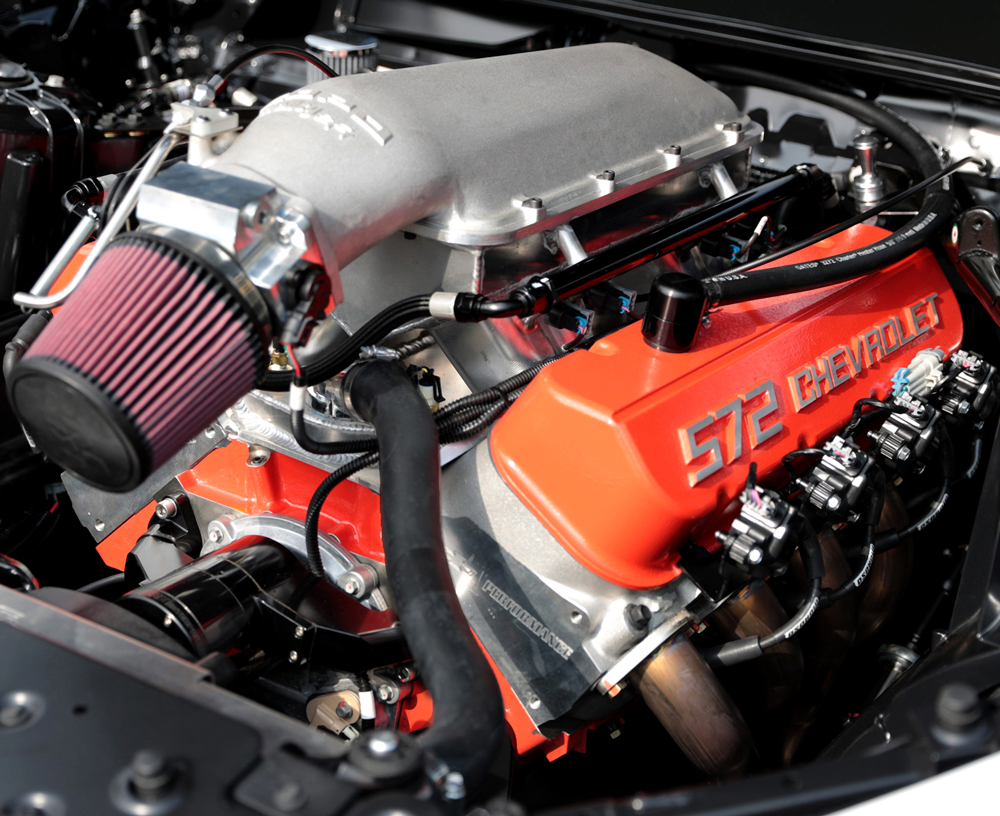 Given GM's very vocal position on developing a full line of production electric vehicles (EVs) and the introduction a couple years ago of the eCOPO concept, an 1,100-hp all-electric Camaro capable of nine-second runs at the drag strip, the 572 was a curious choice. 
"GM is committed to an all-electric future, and EVs will find a way into motorsports," explained Schultz. "We really listen to our customers, and there have been requests over the years for an old-school big block. At the end of the day, even though EV is the direction of the company, we're not going to lose sight of our customers along the way."
Based on the ZZ572/720R crate motor from Chevrolet Performance Parts, the 572 COPO engine has changes to the top and bottom ends. First, the oil pan is a Moroso 7-quart deep-sump style designed so the engine will sit in the Camaro chassis. The original four-barrel intake and Holley Dominator carb are replaced with an EFI port-injection system that includes a Holley Hi-Ram style top lid from the LS7 COPO engine. GM engineers had to redesign the intake manifold base to accept the lid and also fit under the COPO hood and custom carbon-fiber air box.
"They had to develop something that not only mates the upper lid to the ports but doesn't choke the engine or put the torque curve way off into the weeds," said Schultz, noting that NHRA officials were pleased that a new hood didn't have to be approved.
The fuel system also includes a 90-mm billet aluminum throttle body and 58 lb./hr. high-impedance fuel injectors. Finally, a modern coil-per-cylinder ignition system was developed for the engine.
"One thing we've done with all the COPO cars is run a vigorous validation cycle. A lot was done with the [engine management] calibration," explained Schultz, noting the test engine ran more than 200 simulated track passes on the dyno before it was disassembled and inspected. "It wasn't like it had its tongue hanging out—it was running fine. But we still tear it down to see if anything is on the edge."
The modern COPO cars have never seen a big block—especially a tall-deck—so engineers had some challenges in fitting exhaust headers and plumbing. The COPO 572 features an iron Bowtie cylinder block (4.560-inch bore), Callies forged 4340 crankshaft (4.375-inch stroke), Manley H-beam rods, Clevite bearings, JE pistons (12:1 compression ratio), billet-steel mechanical roller camshaft and Edelbrock aluminum rectangular-port cylinder heads fitted with Ferrea valves (2.250/1.880).
GM has submitted the final paperwork with a proposed horsepower rating to NHRA so the 572 COPO can be classified for Stock and Super Stock racing. Unlike most previous COPO Camaro offerings, orders will be delivered on a first-come, first-served priority. When the program started in 2012, only 69 COPO Camaros were sold through a lottery in a given year, but the COVID-19 disruption prompted officials to do away with the limit. More than 700 modern COPO Camaros have been delivered since the program's inception.
The iconic 69 figure dates back to the 1960s when performance Chevy dealers discovered a loophole around GM's ban on engines over 400 cubic inches in certain production vehicles. They were able to order big block engines in different cars through the Central Office Production Order (COPO) system, which carried options not listed on regular dealer order sheets. In 1969, a few dealers ordered a total of 69 Camaros using the ZL1 engine code, which was an exotic all-aluminum 427-cubic-inch V8 that Chevy developed for Can-Am racing. Thus, the COPO Camaro legend was born.
SOURCES
–