Kickin' Up Dirt with the 2022 Polaris RZR Pro XP
Image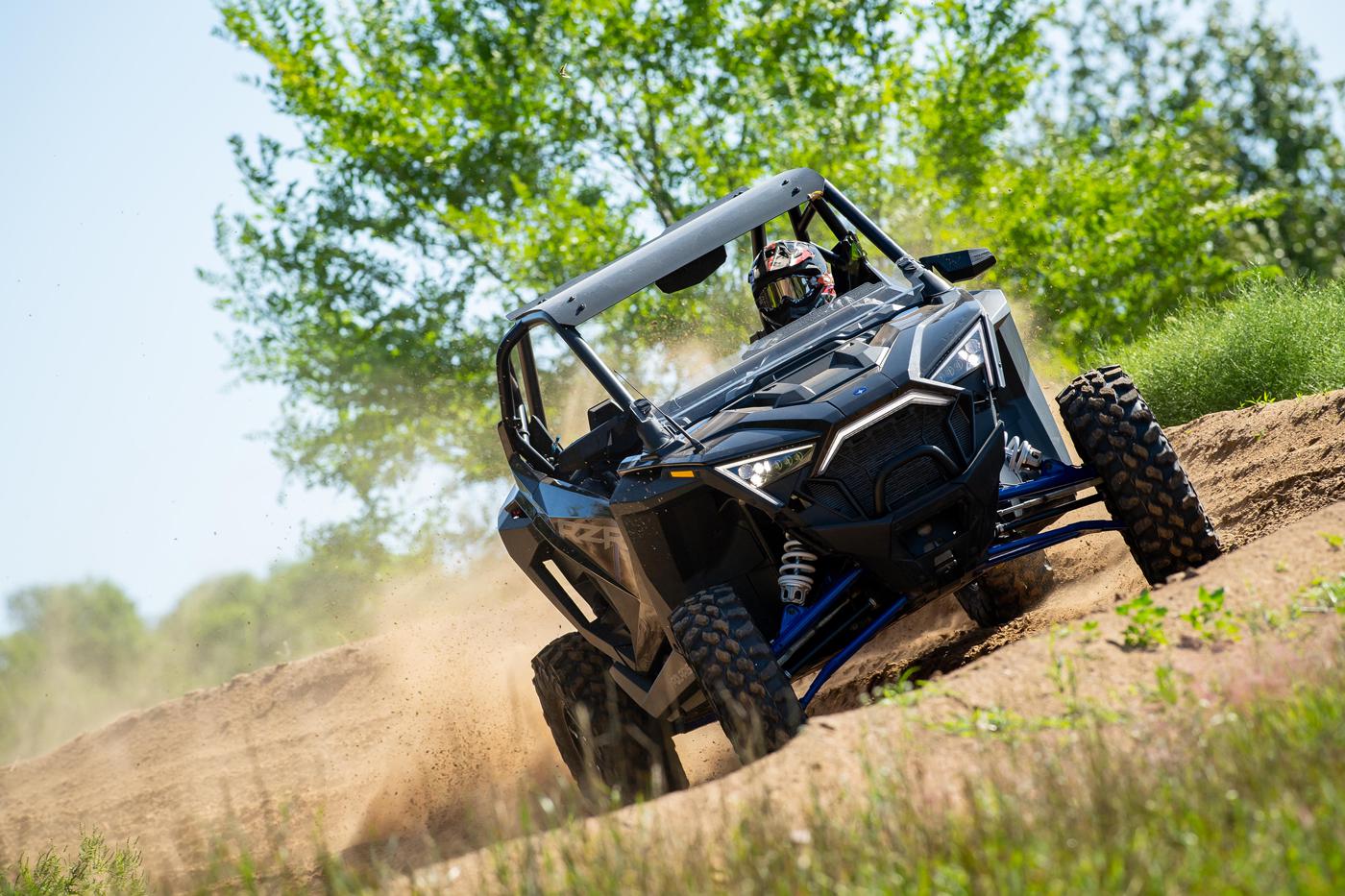 Photo courtesy of Polaris
New trim levels and options continue to expand the appeal for this segment-defining UTV, but it's still core capability that makes the RZR such a compelling option for side-by-side racing.
When Polaris launched the original RZR 800 in 2007, the Medina, Minnesota-based manufacturer didn't realize that its new UTV would be instrumental in kick-starting a burgeoning segment of motorsports. But it had a hunch that a large contingent of enthusiasts was underserved by the side-by-side market at the time. 
Rather than upfitting one of its existing models, Polaris instead took a more comprehensive approach, creating a UTV that was intended for performance from the get-go. 
"At the time, the only side-by-sides we were building were Rangers, and the approach there was, 'work first, play second,'" said RZR Product Planning Director Pat McArdle. "That meant large utility boxes on the back, upright bench seating, things like that. With RZR, we wanted to make something where the priorities were more like designing a motorcycle or a sports car: The operation of the vehicle is activity." Accordingly, Polaris developed an entirely new platform with a new driveline configuration, a sport-oriented seating position, and a new long-travel suspension system to deliver a combination that would truly resonate with enthusiasts. 
Fourteen years later, the RZR Pro XP—Polaris' current top-spec performance offering—has evolved into a stunningly capable machine that's probably more closely related to Trophy Trucks than it is to its forebears. Dishing out 181 horsepower from a turbocharged 925cc four-stroke, dual-overhead-cam, two-cylinder engine, this 2,000-pound UTV boasts 14.5 inches of ground clearance and a trailing arm rear suspension that delivers up to 22 inches of travel. Yet it can also be optioned with creature comforts that include a 7-inch touchscreen display and a Rockford Fosgate audio system with a 400-watt subwoofer, an indication that the appeal of recreational UTVs extends well beyond the hardcore set. 
Still, it's capability that put the RZR on the map in the first place, and to showcase what the company's latest model can do, Polaris invited us out to Elk River, Minnesota, to put the machine through its paces at ERX Motor Park, a facility that's purpose-built for the task. 
After settling into a bolstered bucket seat and tightening down the factory six-point harnesses, it didn't take long to identify where the appeal lies. The RZR Pro XP's turbo mill was eager to please, effortlessly dispatching both hill climbs and lengthy straights. The 20 inches of suspension travel at the front end shrugged off all matter of rough terrain and airborne shenanigans with minimal drama, encouraging us to increase the pace with each successive lap. 
Pro XP models outfitted in Ultimate trim also feature Fox 2.5 Podium shocks at all four corners. These are active dampers that adjust to steering angle and other inputs in real time to improve stability, much like the adaptive suspension setups found in today's performance cars. Its baseline stiffness can be adjusted to Comfort, Sport or Firm settings via the touchscreen system. Models equipped with these active dampers also get a big red button on the steering wheel that allows the driver to instantly set the dampers to their firmest setting, essentially a failsafe against bottoming out if the Pro XP has carried a little too much speed off that last jump. 
The charm here, though, comes from the simplicity. With the CVT dutifully keeping the engine in the powerband, there's hardly any learning curve to speak of—just point and shoot. It allows nearly anyone with basic performance driving experience to quickly turn the focus to their line and how much speed can be carried through a given section, and that equates to a compelling foundation for a competitive machine. 
While sanctioning body rules require basic safety equipment to compete, which generally include an aftermarket cage, seat and harnesses, McArdle noted that would-be UTV racers tend to approach overall race prep from two different schools of thought in terms of trim levels. "The Pro XP is at the top of the heap and would probably be the best option for most racers right now. That's going to deliver the most power in the RZR lineup, the most capable chassis from a durability standpoint, and on the Ultimate trim you get the most advanced suspension we offer. So there isn't as much of a need to upgrade, even in a harsh racing environment."
That said, racers who tend to gravitate toward specific formats and already have a plan in mind to make their vehicle more competitive might be better off starting with a RZR Pro XP Sport—ostensibly the base trim in the Pro XP lineup—to avoid paying for upgraded components that they're just going to replace anyway. 
"Typically, we'll see guys who race in the desert using beadlock wheels, for instance, to make the tire stay connected if they get a flat," McArdle said. "There's also a ton of different variables that go into tire choice. Desert racers will be looking for something that's more like a light truck type of tread, while the mud guys are going for a tractor-style tread. Short-course guys often run smaller wheels and tires to effectively change the gear ratio in order to get better acceleration, and they're dropping their suspensions down. They don't need the same kind of ground clearance as those other formats, so bringing the center of gravity down can improve cornering."
When it comes to maintenance, the conversation naturally turns to the CVT belt. "There are actually some really simple things a driver can do to get much better belt longevity," McArdle noted. 
"First, instead of gradually easing into the throttle like in a passenger car, get the vehicle moving with the throttle right away. Cars and trucks have torque converters, but with these UTVs, the clutch is trying to clamp on the belt to get things moving, so you're basically slipping the clutch. So the faster you can do that, the less slip you're creating. Doing belt break-in properly is hugely important too because that is matching the belt angle to your specific vehicle. And the third thing is that if you're riding hard and come to a stop, that's putting a ton of heat into that belt in specific places, and heat is the enemy here. What I usually tell folks is that when they get to a point where they're going to stop, throw the transmission in 'park' or 'neutral,' rest a foot on the throttle and bring the revs up to 3,000 rpm or so for about 30 seconds. That will engage the belt and transfer the heat out of it. Do that while you're taking off your helmet and harnesses, and it makes a world of difference." 
As for what's next from Polaris in the realm of RZR, McArdle wasn't willing to divulge any specific product planning secrets, but it's clear that the company isn't resting on its laurels. "We're always looking at where innovations are happening in this space. All I can say is that we're definitely not bored right now."
SOURCES
–
Polaris
rzr.polaris.com