Charging to the Front: EV Racing
Image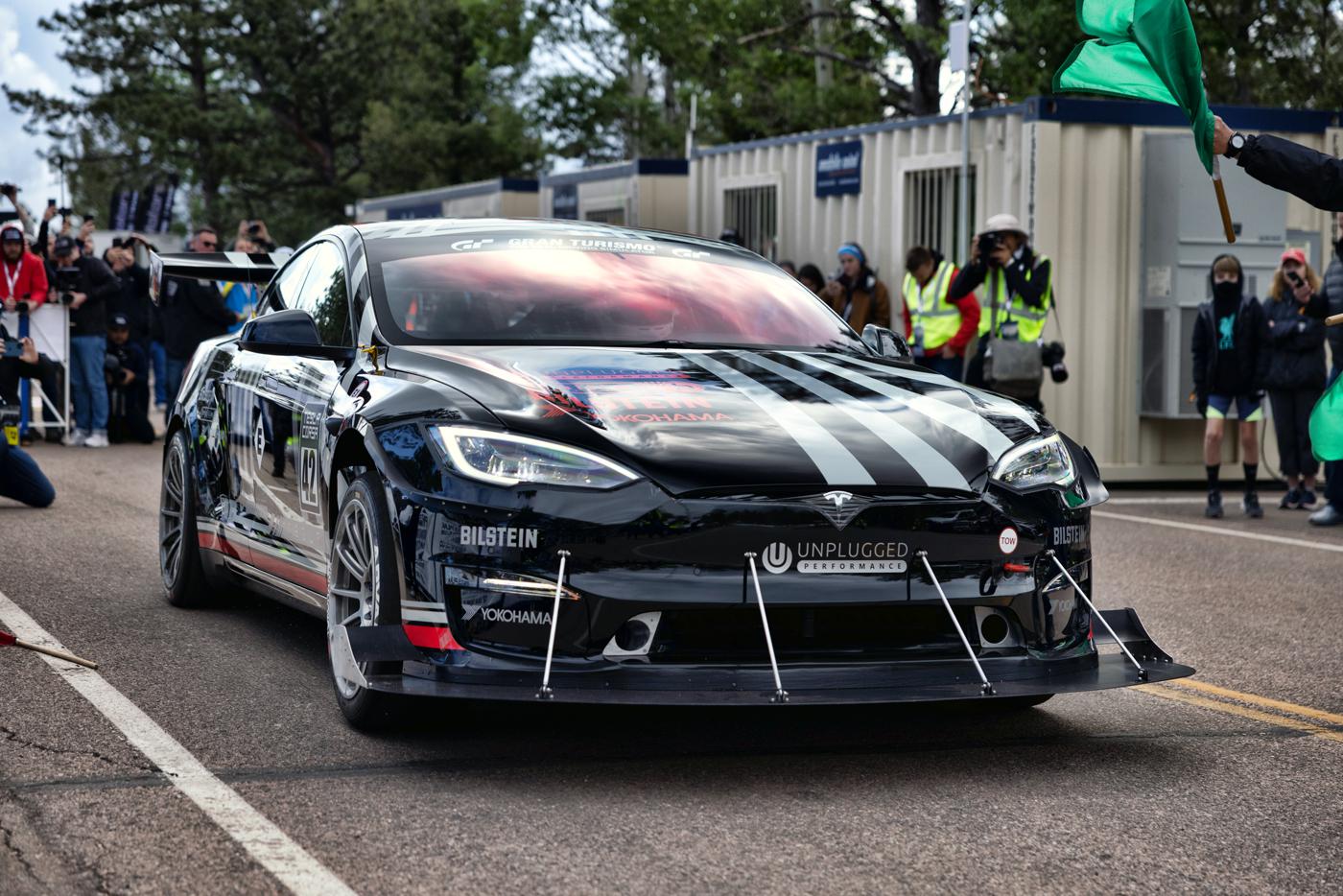 With the auto industry on the road to EV transition, the racing community prepares for change.
At the 2021 Summit Racing Equipment NHRA Nationals on June 26, the Ford Mustang Cobra Jet 1400 did a crowd-pleasing burnout, staged, and then carried its front wheels well past the tree on the way to an 8.12-second run at 171.97 mph. The only roar, though, came from the crowd. Driven by Top Fuel Funny Car pilot Bob Tasca III, the Mustang had broken its own quarter-mile record for full-bodied electric cars set earlier in the day. 
The electric Mustang's record exhibition pass came just two months after the NHRA announced a new electric vehicle (EV) racing category for the 2022 NHRA Summit Racing Series. The sanctioning body's embrace of EVs and the Mustang's record were just two of a steady stream of EV developments to come from the performance and racing arena this year. 
The day after the Cobra Jet 1400's record run, professional road racer and Motor Trend journalist Randy Pobst piloted the newly built Unplugged Performance Tesla Model S Plaid to 10th overall in the 99th Pikes Peak International Hill Climb, also winning the Exhibition class. The car, which used a totally stock triple-motor drivetrain making 1,020 horsepower, had track-modified suspension and aero pieces available for Teslas from Unplugged Performance. With the same Tesla, Pobst also ran a 1:28.21 lap at WeatherTech Raceway Laguna Seca, just 0.6-second behind the lap record for a production car that he had previously set in a $1 million internal-combustion-engine-powered McLaren Senna.
In off-road racing, the grueling Mint 400 in Nevada opened an EV class for this year's event in December, and Audi announced it would campaign an EV in the Dakar Rally in Saudi Arabia the following month. Since much of motorsports stems largely from connections to production vehicles—even if just visually—none of this should come as a surprise. Global carmakers, from mainstream to high-end luxury, had already announced goals and multi-billion-dollar investments to transition to EV-only production within about 15 years. Some have set even more ambitious goals than the White House announced in August.
While excitement for EVs is building in pockets of the racing community, at this point, nobody is calling for replacement of internal combustion engines (ICE) in motorsports. Instead, EV builders and racers, along with aftermarket suppliers and sanctioning bodies, are asking: How do EVs fit into our industry and sport? Where are the business opportunities? Who are the pioneers and innovators, and what challenges are they working to solve?
Here's a start on some answers.
NHRA PREPPING for EV DragS
The NHRA sees EVs as a growth opportunity. By working with OEMs, the organization plans to "remain on the forefront of all things performance," said Brad Gerber of the Glendora, California-based drag racing sanctioning organization.
Gerber confirmed that the NHRA has held individual and group calls with automakers, including Chevrolet, Ford, Kia, Toyota, and Dodge. An in-person meeting held at the Gainesville race in March gathered information from racers and other stakeholders, and more such meetings were scheduled.
"We want to get everybody going in the same direction," Gerber told PRI.
While EVs are currently legal to race in the NHRA, the new EV category announced for the 2022 Summit Series solidifies their place in the sport. Electric cars will compete in all seven NHRA Divisions, with a national champion crowned at the Dodge//SRT NHRA Nationals Presented by Pennzoil in Las Vegas, Nevada, before the 2022 SEMA Show. 
Final rules for the new EV category are expected by late 2021, giving teams a chance to build cars. To help make that a little easier, modifications will be limited to suspension, wheels, and tires for their first year in the series. Gerber said the NHRA also wants to develop a specific EV class but had no details yet.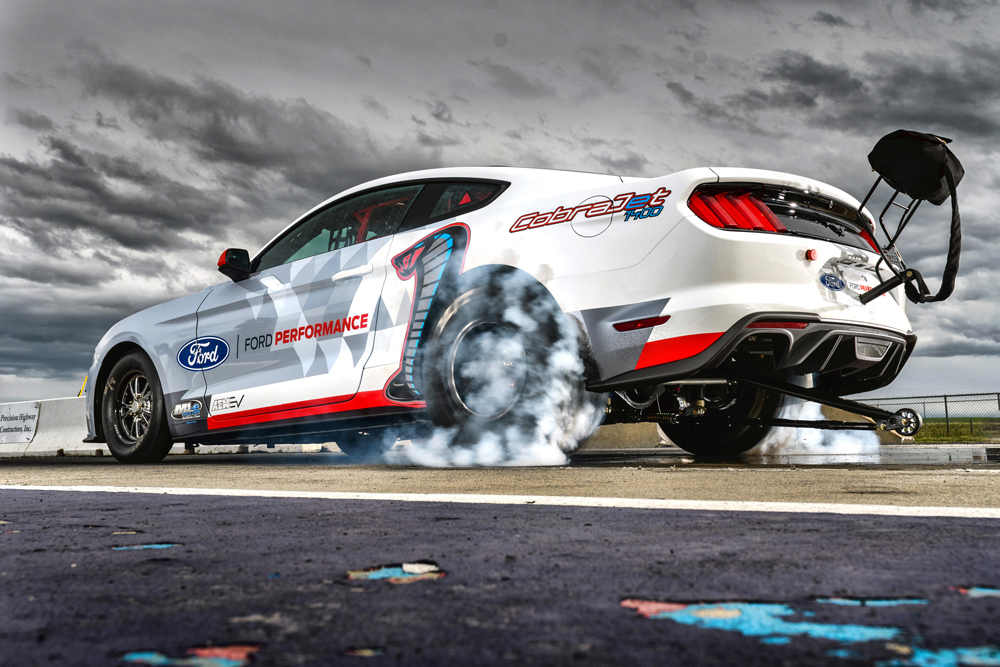 "EV is not replacing anything," he said. "It's an addition. The new EV category in the Summit Series is the easiest way to get this going at the grassroots level."
Each carmaker is at a different stage in its EV program, which is one of the challenges going forward, Gerber acknowledged. "For example, Ford wants to go in as fast as possible, while Toyota won't have an EV until 2024 or 2025."
Gerber said the NHRA wants the EV entries "to look like manufacturers' cars, but we also have to be concerned about their weight, speed and safety. For example, we need to know what the battery compartment looks like. How safe is it in a high-speed accident? We have to have plans in place for extricating the driver and dealing with fire if necessary."
Gerber suggested as one possibility a spec tube-frame chassis with a compartmentalized battery and using an OEM's EV system and body. "It could look like a Camaro, Mustang, Challenger, Supra, whatever it may be," he said. "This opens opportunities for manufacturers to do R&D in a safe environment." 
Performance companies have expressed interest in contingency and sponsorship opportunities for the new class, Gerber confirmed. 
"It's a relatively new industry with a lot of innovation going on, and people want to be on the forefront of that," he said. "We can put them on the forefront on a national level. We own our own production; we control the content."
Mint 400 Opens to EVs
Some of the most important new EVs coming down the pike are pickup trucks and SUVs, the heart of the US auto market. They'll now have a new venue to prove their mettle in off-road racing: The Mint 400 in Nevada launched a new EV class starting with this year's race in December. 
Matt Martelli of Terranaut Media Group in Vista, California, which owns and manages the Mint 400, said the new class was created in response to requests from EV makers. It is open to all manufacturers and models, though there was no estimate of potential entries as of early August.
The annual race, which runs in some of the harshest conditions in the Mojave Desert, welcomes more than 400 race teams competing in everything from Class 11 stock VW Beetles to Trophy Trucks. Martelli believes EV trucks could fit right in, and that a brutal off-road race could be both an ideal proving ground and promotional opportunity for manufacturers.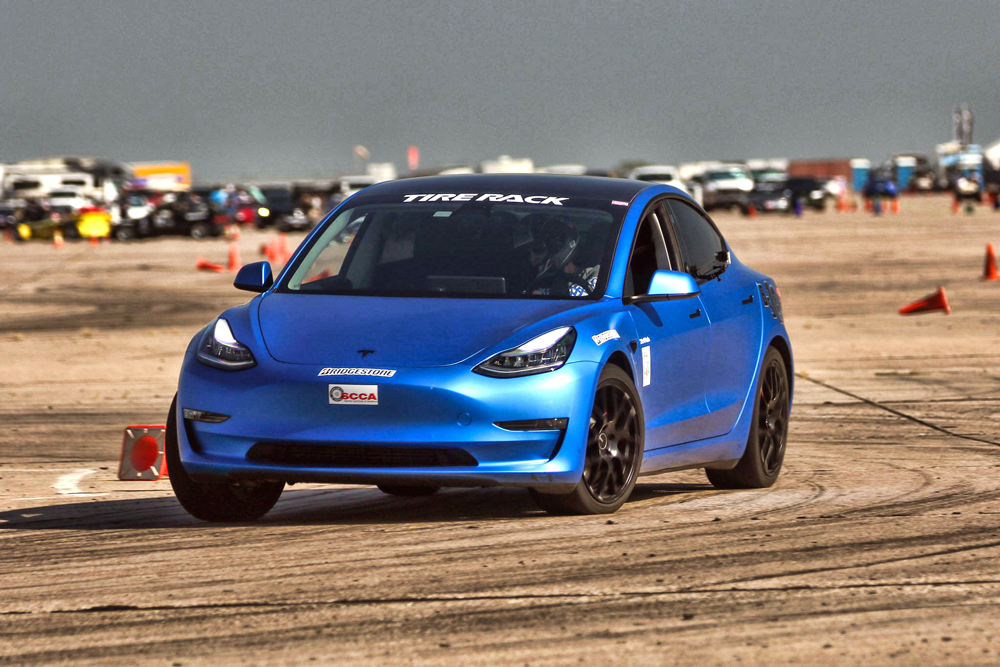 "Off-road racing has a long history of embracing new technology," Martelli said. "It's a culture and sport, but it's also a business. We want OEMs, the aftermarket and suppliers and builders to come and be part of this. We want to make it a successful promotional platform for them and help new technology develop."
Martelli said more than a dozen companies expressed interest in the new EV class, but the new class was announced in the spring, leaving only about eight months to prepare an entry for this year's race. Importantly, he explained that the Mint 400 would require no changes to accommodate EVs.
"Our race is ideal for this," he said. "It has four 100-mile loops with a pit every 30 miles. So, whether EV teams need to recharge or swap batteries, we can allow for that. We've discussed with different companies having different time stops."
Martelli expressed confidence that the race could handle EV-related safety issues. "We're already using high-speed, high-density fuel towers, which probably require more for safety than lithium-ion," he said. "It's just a different protocol."
Consumer exposure will be critical for any EV racer's success as a promotional tool. Martelli said the Mint 400 fits the bill with more than 65,000 spectators over four days of racing. This includes a start/finish in Stateline, Nevada, plus remote spectating areas and the Mint 400 Off-Road Festival in Las Vegas.
Given the popularity of off-road racing, this will be a space for EV builders and aftermarket suppliers to follow closely.
SCCA Makes Way for Electric Sports Cars
The Sports Car Club of America in Topeka, Kansas, which in the past sanctioned such legendary series as the Trans Am and Can-Am, is preparing to integrate EVs into the club's various programs. The club's recently formed Electrified Vehicle Advisory Committee (EVAC), which includes board liaison Dayle Frame and representatives from the different SCCA programs, is tasked with gathering information from tracks, racers and other stakeholders.
Only the club's Time Trials/Track Events section had been working with EVs to this point, according to Jon Krolewicz, who manages that program. Notably, it had already classed individual EVs, including Tesla, for Solo, in which drivers race individually against the clock. His section wrote a displacement-equivalency formula based on horsepower for an EV to compete with ICE cars and integrate them into ICE classes.
The thrust of the EVAC's work, Krolewicz explained, is unifying EV safety information and procedures across the club. "Once we have that, it becomes the platform from which a racing class can be started," he said.
Among the safety concerns tracks must address are driver extraction and fire suppression in a crash, according to Krolewicz. Lithium-ion is the most common battery chemistry for production cars, which is why the SCCA is focused on it. 
"The basic safety of a production car like a Tesla is vastly different than, for example, someone converting a Formula Ford to EV," Krolewicz said. "We need to create rules that allow both production and specially built EVs to run."
Because many SCCA drivers build their racers from well-used cars, the club is taking a long view when forming EV classes and rules. "There will be many more production EVs in the next few years, and we know that in five years, and most certainly 10 years, these will be very accessible to turn into club race cars," Krolewicz said. 
Charging infrastructure is another challenge the SCCA is studying, and it could be an opportunity for the charging industry. Right now, a race team might need its own diesel generator to charge an EV, but Krolewicz anticipates that as EVs proliferate, tracks will be inquiring about greater charging needs. Battery swaps may become an option for specially built race cars, he said. 
"That's more of a track issue, but it is a consideration for SCCA, because we can't put together a 30-car EV field and then find there isn't enough charging infrastructure for them," he said. 
Finally, Krolewicz said the SCCA is encouraged by the interest expressed in EV racing from outside the club. "What has our attention is that aftermarket companies want to get onboard," he said. 
Turn 14 Distribution Gears Up for EV Parts
The total number of EVs on the road right now is relatively small, and most are Teslas. That situation is evolving rapidly, however, opening business opportunities. Turn 14 Distribution in Horsham, Pennsylvania, has indicated its commitment to this growing market, including sponsorship of a Tesla Model 3 in last June's Pikes Peak International Hill Climb.
Dai Yoshihara, who won the Unlimited Division in the 2020 race in a Toyota 86, piloted the car to 51st place out of 54 finishers. (The course had been shortened from the normal 12.42 miles to 9 miles due to ice on the road near the top.) Other partners on the project included CSF Radiators, KW Suspension, Sparco, and Titan 7 Wheels.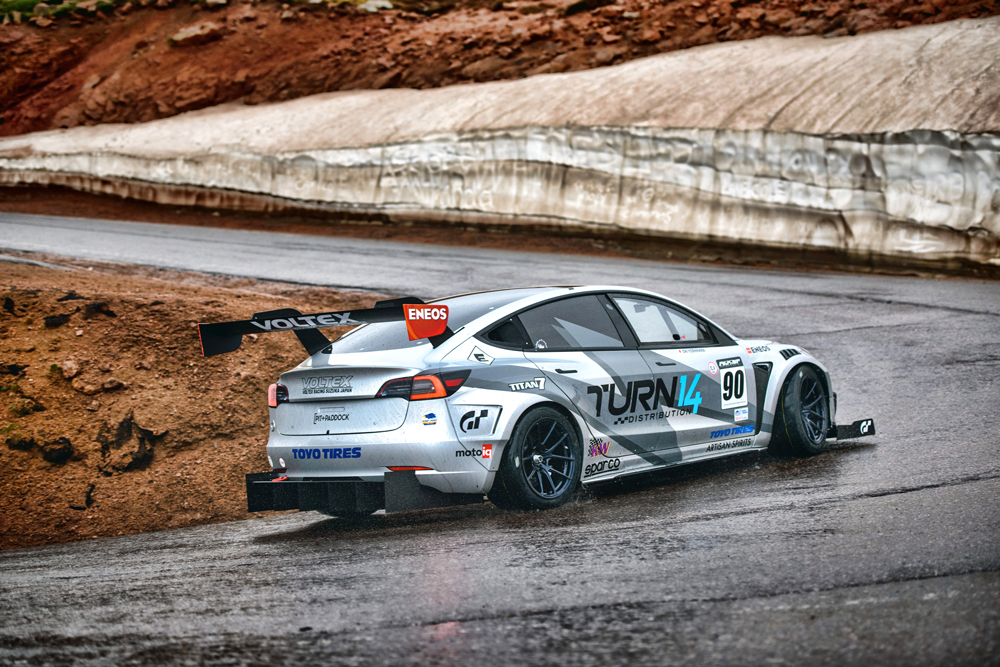 "As a performance parts distributor, the connection to EVs is an important one for the future of the aftermarket industry and our business," Daryl Sampson of Turn 14 Distribution told PRI. "The long-term strategy is to bring attention to the EV market, announce our support for the market and our partners who are willing to be pioneers, and embrace it by producing parts for a segment that will only grow in coming years."
An EV already holds the overall record on the mountain: Romain Dumas covered the full course in the Volkswagen I.D. R Pikes Peak in a remarkable 7:57.148 in the 2018 event, more than 16 seconds faster than Sébastien Loeb achieved driving a Peugeot in 2013.
What kind of parts will sell for a car like the Tesla Model S, which offers up to 1,020 horsepower from the factory? There are already numerous aftermarket opportunities for EVs with chassis and body upgrades. Turn 14 Distribution last year provided a Tesla Model 3 to a carbon fiber manufacturer to develop parts for it, and the distributor is now exclusively offering the products, Sampson revealed.
"As a leader in the performance wholesale aftermarket distribution arena, we are certain that this is the future of the automotive landscape and have made the decision to embrace it," he said. "We've been in contact with our existing business partners to let them know that we are willing and ready to support, buy, and inventory products as they are developed for the market."
The Turn 14 Distribution-sponsored Tesla will be on display at the SEMA and PRI shows and various track events throughout Southern California.
Entropy Racing EVSR Racing Program Gets A Running Start in SCCA
One SCCA competitor, Entropy Racing in Sacramento, Pennsylvania, has already been winning road-course bracket races against ICE cars in the club's Washington, DC and South Jersey Regions with its electric sports-racer, the EVSR. 
"We are the only EV racing on real race tracks against gas cars," said Charlie Greenhaus. 
Entropy's efforts with the EVSR demonstrate the viability and challenges of independently built EV race cars. The company has built four cars and currently has three more awaiting completion. Customers are renting and campaigning two cars, and EVSR plans to run the NASA 25 Hours of Thunderhill race in December using battery swaps.
To help spread its message, Entropy/EVSR became the title sponsor for the EVSR Bracket Racing Championship Series running at Summit Point Motorsports Park in West Virginia. The series is open to cars from virtually any series, but as of early August, EVSR was the only electric entrant.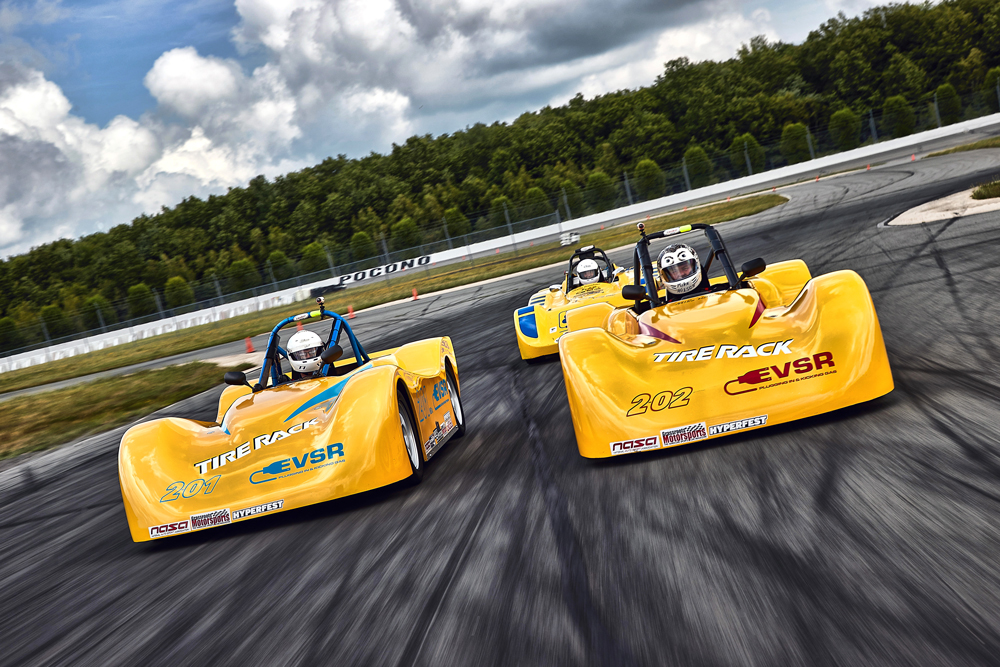 The first EVSR raced in 2014 and began winning against ICE cars immediately, according to Greenhaus, including beating a field of 18 Spec Racer Fords at New Jersey Motorsports Park. The EVSR team has since earned about 20 victories and numerous top-10 finishes.
Greenhaus described the EVSR setup as "simple," as "there's forklift equipment in our cars. These motors have been around for 15–20 years." The EVSR typically makes 170–180 hp. It can be pushed as high as 220 hp, or, if more range is needed, dialed back to 150 hp. "Tuning" is done by plugging the car into a laptop and adjusting EV system parameters, just as one might adjust mapping for an ICE. Typical top speed is 125 mph, though the car has reached 140 mph.
The EVSR's lithium-ferrous phosphate (LFP/LiFePO4) battery has been specified for any EV entrants coming into the series. It is less energy-dense than lithium-ion, but its 50 miles of range is more than enough for the 22–30 mile races in the series. Greenhaus describes its chemistry as "very stable" and able to handle impacts well and with easy and quick fire suppression. 
He pointed out advantages over ICE race cars, including 40% less prep time. "We get the cars cleaned up, prepped, charged and ready for the next race and put them on the trucks. In the morning, it's just turn on and go racing," he said. 
With no shifting for the direct-drive transmission and no driveline lash, the EVSR is said to perform very well in rain and go easier on its suspension than ICE cars. Also, there is very little powertrain maintenance. 
Buying an EVSR outright would cost about $100,000, including charging equipment, according to Greenhaus. That's much higher than the $60,000 or so for a new race-prepped Spec Miata but can be a bit less than a BMW E46 M3. Getting a sponsor, Greenhaus said, could push the EVSR program to the next level. 
Electric GT Converting ICE Into EV
Like every period in hot rodding and racing, the EV era has pioneers and innovators who push technology forward. Electric GT in Huntington Beach, California, is one example. The company started about five years ago with the conversion of a damaged 1978 Ferrari 308 GTS. The car raised eyebrows for both its audacity and its blazing performance compared to the original V8 model. Today, Electric GT offers conversion packages for a growing number of applications.
When PRI caught up with Electric GT partner Brock Winberg, the shop was converting a client's Porsche 911/934 RSR clone that had been vintage-raced and already had racing suspension. The owner, who also has two Teslas and cars built by Electric GT, plans to autocross the electrified Porsche.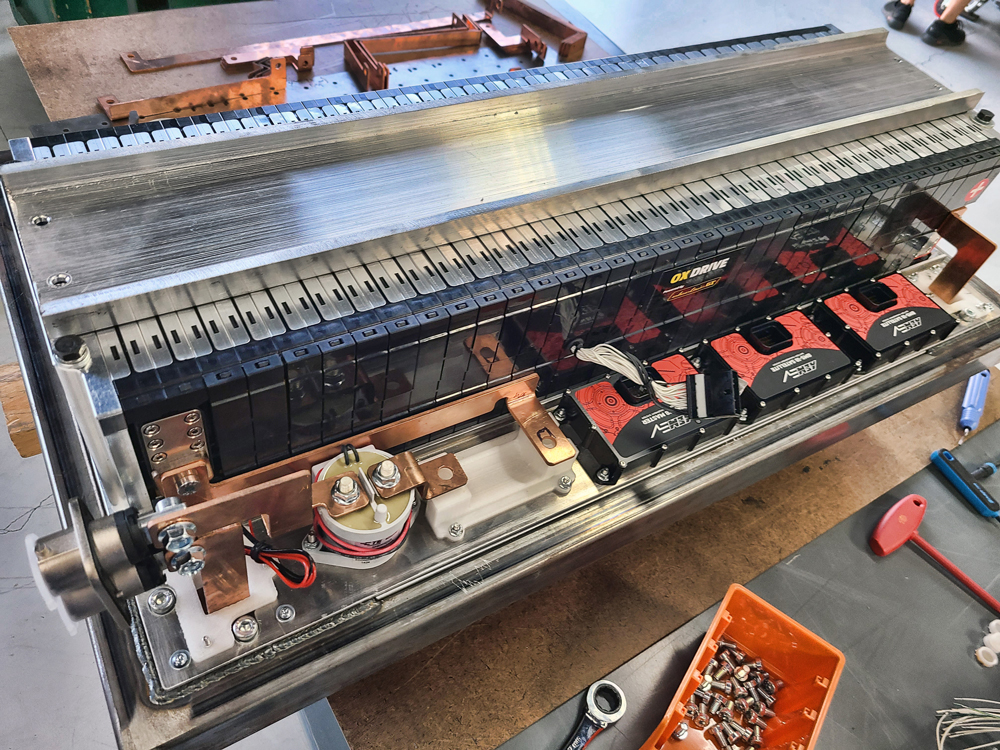 A big driver in the conversion business is the availability of Tesla Large Drive Units from salvage cars. The "LDU" has essentially become the Chevy LS of the EV conversion world. This compact, sub-300-pound package integrates the motor, single-speed transmission, differential and inverter.
Winberg expects this trend to continue until other brands' EV motor units are available in significant numbers. "It always boils down to what is the most widely available and most supported by the aftermarket," he said. "Right now, that's Tesla. It's quite a lot of power for the money."
As with the Chevy LS, an ecosystem is growing around the Tesla technology. Electric GT uses controller units (VCUs) from AEM, which replace the Tesla logic board. The AEM system, co-developed with Cascadia Motion, can "recharacterize" the motor to boost output and other parameters. (The Mustang Cobra Jet 1400 uses the AEM technology.)
"AEM is really the first one to be doing this on an aftermarket level," Winberg said. "Its AEMcal software gets in there like HP Tuners do for a gas engine, and racers can play with the torque tables. It really opens up the tech-savvy tuning aspect. We're going to see a lot more of that in the industry."
Winberg explained that the Tesla LDU works most easily in cars that have independent rear suspension. "It's not undoable with a solid-axle rear, but it takes a whole lot more fabrication," he said. (Aftermarket IRS setups are available for some classic muscle cars.) 
The Tesla Model 3 and Model Y use different technology than the Model S, and there are some challenges to using it, according to Winberg. "We're starting to experiment," he said. His bottom-line message to builders and aftermarket suppliers, though, is simple: "Don't miss out on this trend."