8 Trends To Track In Off-Road Racing
Image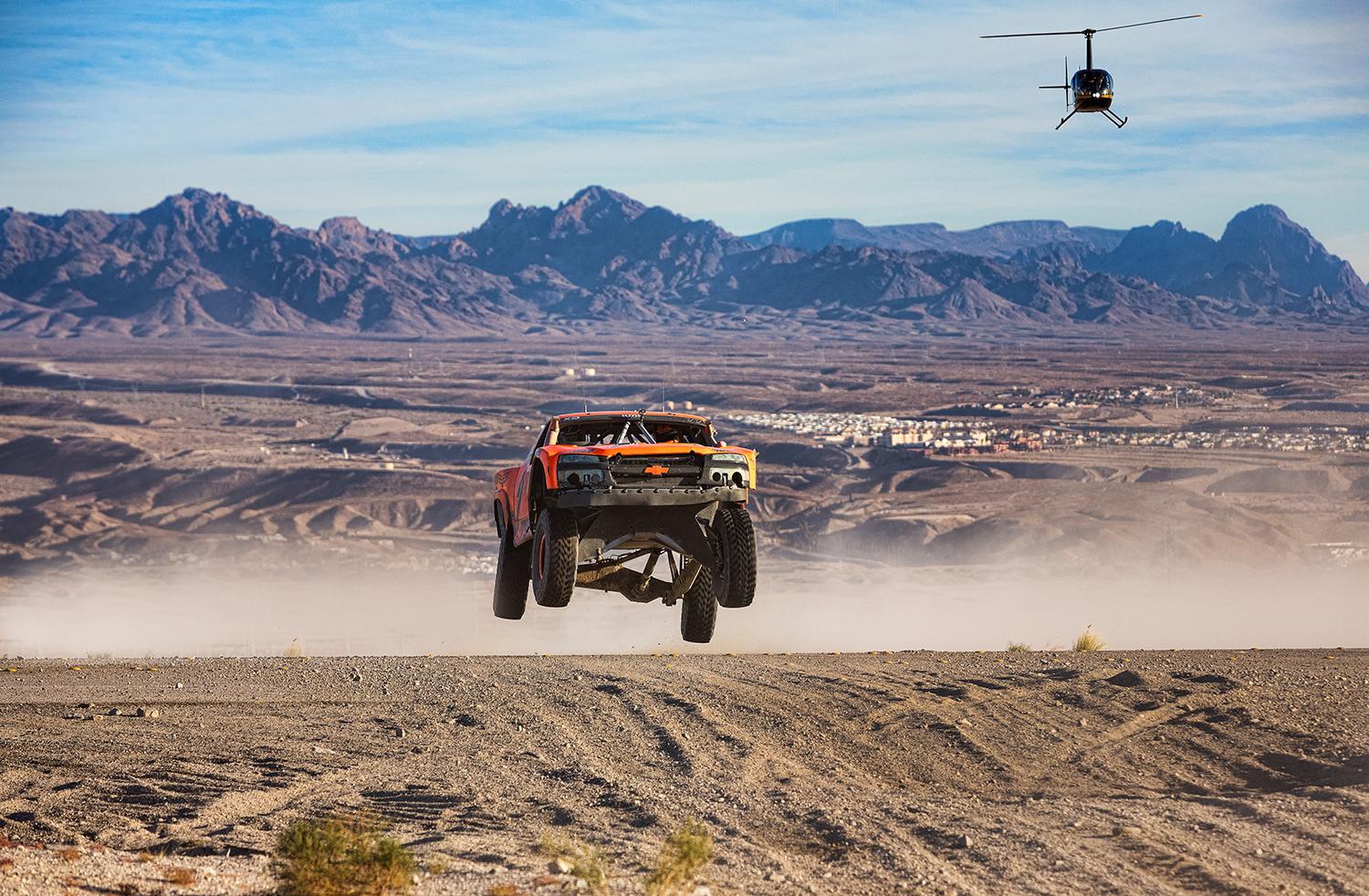 Aftermarket suppliers are pushing the tech envelope under the most extreme racing conditions.
Is there a more punishing environment for racing than off-road? All the enemies of performance come out where the pavement ends, including brutal heat (or numbing cold), brain-rattling vibration, and every kind of dirt imaginable, from talcum-fine silt to gooey muck. 
And yet, the lure of off-road racing and the drive to conquer those obstacles has done nothing but grow. As in every form of motorsports, the challenges spur innovation, as teams seek to improve speed, reliability, and safety. The difference is that their solutions must be far more robust than anything used on smooth ribbons of asphalt. In that vein, following are eight tech innovations that are driving the sport's evolution ever faster.
1. All-Wheel Drive
"People always assume we're racing four-wheel-drive vehicles," noted Matt Martelli, whose marketing company, Mad Media of Oceanside, California, represents a number of clients in the off-road racing community, including the Mint 400 desert race in Las Vegas, Nevada. "But we've never been able to get four-wheel drive to live with the same amount of suspension travel as two-wheel-drive trucks have."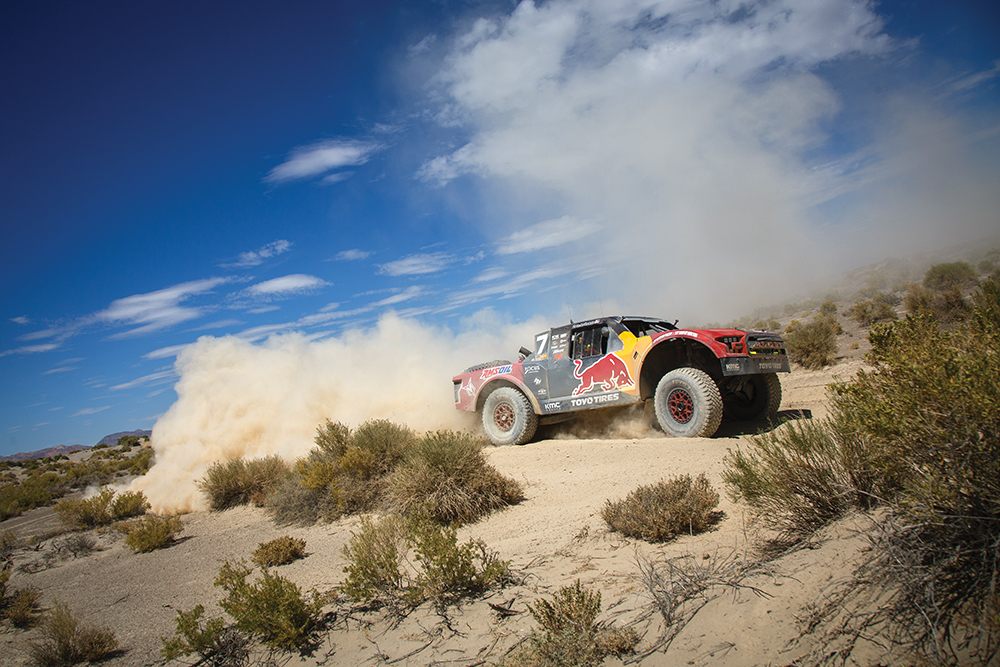 That is, until now. One of the pioneers in adapting all-wheel-drive to long-travel suspensions is Neal Mason of Mason Motorsports in Lake Elsinore, California. "His truck is a total game-changer," Martelli said. "Its acceleration is totally bonkers."
Mason's approach was straightforward, if difficult. Instead of trying to adapt existing components from other forms of racing (which often weren't up to the abuse), his shop designed and fabricated whatever parts were needed. 
Nearly the entire driveline is built from scratch, including a front differential/transfer case, a five-speed automatic transmission with adjustable ratios, custom 300M-style driveshafts, and portals for the front wheels that "offset the CV joint vertically as compared to the wheel centerline and do gear reduction out at the wheel," Mason said. 
Using the portals accomplished two things: First, they "make our front CVs and axles live longer," Mason noted. "Since we're doing some of the gear reduction out at the wheel, the CVs and axles see about 40% less torque than in a standard configuration." 
Those portals also enable the truck's front suspension to have 24.5 inches of wheel travel, "only about an inch less than our two-wheel-drive trucks," Mason said. "By offsetting the CV vertically, we can get it close to the bind number in bump and droop."
The AWD system does not engage all four wheels all the time. In fact, Mason said, "It's got 100% drive to the rear." A one-way sprag between the transfer case and front differential engages the front tires "once the rear tires slip. Under acceleration it locks. When your foot's out of the gas, it unlocks." 
The advantage of putting AWD in a Trophy Truck "is the same concept as in rally, really in all racing," Martelli said. "It's the mini race-within-a race: How fast are you corner-to-corner? Because you get better traction with all-wheel drive, you have better acceleration, better control of the vehicle. And now they're able to put down more horsepower because it's spread over four wheels versus two. Once you hit that 800-horsepower mark with a 5,000-pound vehicle, you're just spinning tires. Now you can run about 200 to 300 more horsepower and use it, because you can get all four wheels to stay on the ground." 
Mason's trucks weigh between 6,800 and 6,900 pounds "and top speeds are right around 150 mph," he said. The most popular engines going into his AWD trucks are 555-inch, 1,050-horsepower big blocks from Dougans Racing Engines and 468-inch V8s from Joe Gibbs that "make about 1,100 horsepower." 
To date, Mason Motorsports has finished seven AWD Trophy Trucks. Among Mason's customers is Bryce Menzies, who won the King of the Hammers race and drove it to second-place finishes in both the Mint 400 and Best in the Desert's Silver State 300. Jesse Jones, with co-drivers (and Dakar rally champions) Nasser Al-Attiyah and Toby Price, came in second in last year's Baja 1000 in a Mason AWD Trophy Truck "that was delivered two days before the race," Mason said.
Weddle Industries of Goleta, California, is also building AWD systems for Trophy Trucks and open-class buggies. "We're sort of buggy dorks at heart, so we're pretty stoked to see the all-wheel-drive buggy thing come along," said Ron Weddle.
Weddle Industries is working with Australian transmission manufacturer Albins to build AWD packages for off-road racing, Weddle said. Five trucks currently use the system—two desert racers and three Pro 4 trucks in the Lucas Oil Off Road Racing Series as well as the newly formed Championship Off-Road series. 
The Albins AWD transmission has a pneumatically controlled wet clutch assembly to control the output to the front drive. "You can shift it on the fly, turn it on and off depending on what's going on with the truck at any given time," Weddle said. "If you come flying into a corner really hard and you need to jam on the brakes to rotate the truck, you can set it up so as soon as you hit the brakes it disconnects the front drive so the front end floats. You don't have those braking bump loads going backward and forward in the driveline. It lets the truck rotate, and as soon as you get off the brakes and back on the gas, it locks up the all-wheel drive so you start pulling all four wheels back out of the corner."
Weddle recently had the opportunity to ride in an AWD Trophy Truck with a driver "who's one of the best in off-road. Even he didn't realize how fast he was going corner-to-corner and was missing corners. He couldn't slow down enough. Through the bumps you can literally feel those front tires grabbing the tops of the bumps and trying to pull that truck along, even from the passenger seat."
2. Godzilla
Blue Oval fans were understandably excited when Ford Performance released a crate-engine version of the 7.3-liter, cam-in-block V8 originally designed for the 2020 Super Duty pickup. With 430 horsepower and 475 lb-ft of torque, and an MSRP of $8,150, the engine Ford called Godzilla looked to be a viable swap alternative to the ubiquitous LS. 
Jason Youd of Mast Motorsports in Nacogdoches, Texas, agreed. "Just like 'LS swap the world,' this is going to be 'Godzilla swap the world.'"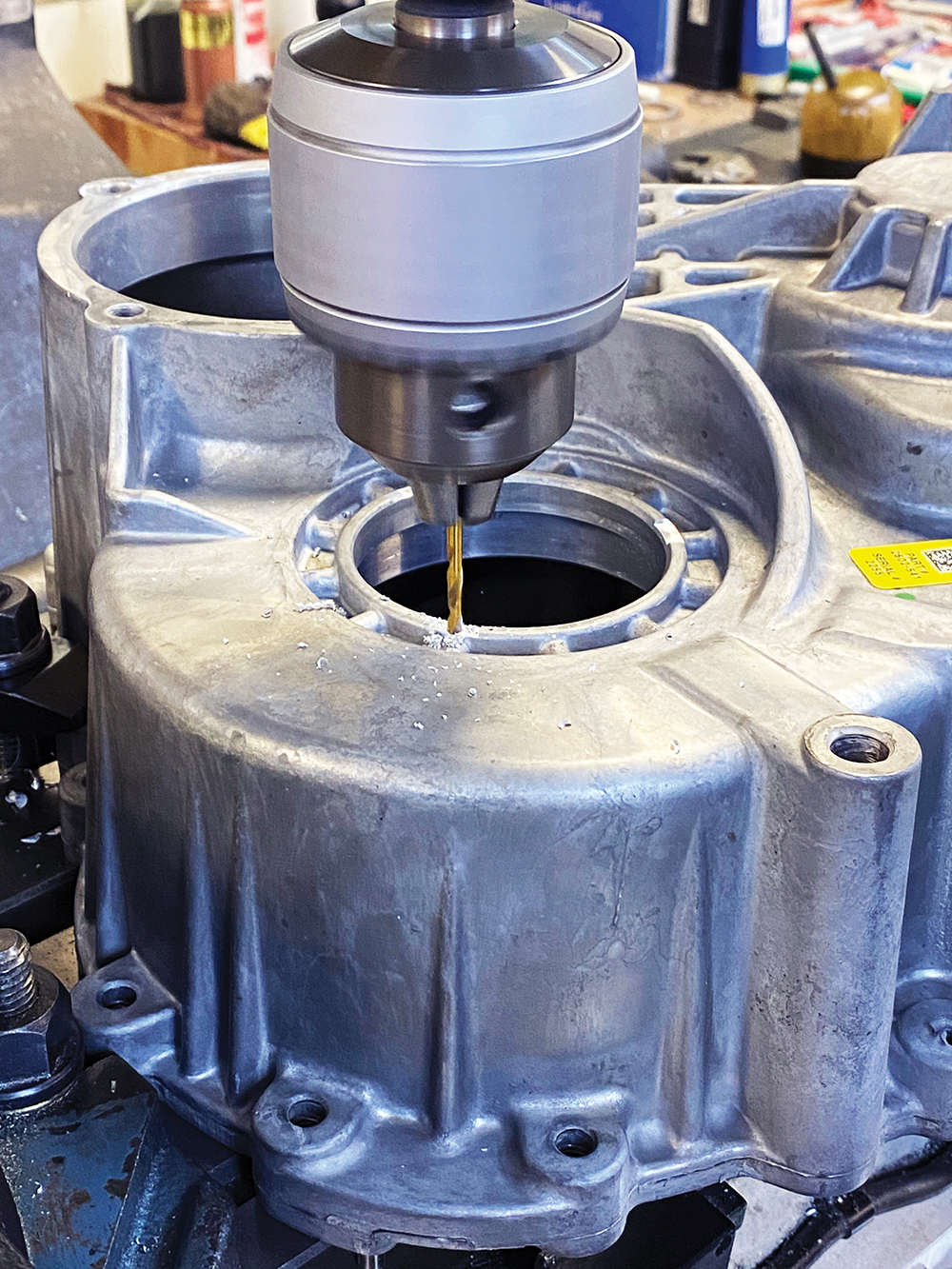 Well-known for its potent LS engine packages, Mast Motorsports is hard at work on a tuned-up Godzilla that should make "roughly 550 horsepower and 480 lb-ft of torque," noted Youd. A second, stroker version will be good for even more. 
Mast will upfit the engine with "a camshaft, ported cylinder heads, valvetrain, valve spring kits, and integration of the computer controls," Youd said. "But the biggest thing we're going to have is a commonly available controls package that anybody can tune." 
Ford is particularly interested in having Godzilla available for off-road racers. "Because Ford is trying to align the new Bronco release with the Ultra 4 community, they've announced that they're supporting the people who want to make the transition from the LS engine to a Ford engine," Youd said. 
Mast's Godzilla was still in development at the time of this writing, but Youd planned to have it ready by press time. "This engine will retail for about $12,000 with all the controls, a drop-in, turnkey engine ready to run." 
3. Electronic Shift Assist
In addition to Albins AWD systems, Weddle Industries is developing electronic shift-assist systems. "In Class 5 [SCORE's class for open wheel Baja Bugs] and Class 10 [single- or two-seat buggies with a stock, sealed engine of 2.2 to 2.4 liters], most of the front-running cars have transmissions with some sort of electronic assist for shifting, like a no-lift shift setup or throttle blipping," said Weddle. "We are working on our transmissions to make them capable of that." 
When we spoke, Weddle had just returned from a weekend of testing a buggy equipped with a "strain-gauge shift knob that sends a signal to the ECU, whether you're upshifting or downshifting, that actuates either a shift-cut system for upshifts or a throttle-blipping system for downshifts. It relies on a time delay and a really accurate potentiometer to measure drum rotation, so the computer knows when the transmission is in the next gear. Then it can reactivate everything and put on full power."
4. Fuel 
For years, C12 race gas from VP Racing Fuels in San Antonio, Texas, was "extremely popular in the off-road truck category," said VP's Bruce Hendel. But that, he said, was in the days when top-tier truck engines were making 500 to 600 horsepower. 
"As things advanced, and trucks were powered by engines with 800 to 1,000 horsepower, C12 was no longer the preferred fuel for those trucks." Instead, he said, Trophy Truck racers migrated to VP's Late Model Plus. As its name implies, it was formulated for high-compression Late Model dirt track engines, those squeezing to 14:1 or 15:1 and putting out 800 to 900 horsepower. Late Model Plus has more octane than C12, a 117 R+M/2 rating compared to C12's 112.
It also has a lower RVP than C12. RVP, or Reid Vapor Pressure, is a measure of a fuel's volatility and, therefore, its tendency to vapor lock. That's an important factor in a race fuel, especially in the desert, where high temperatures and the thin air at altitude can create "the perfect storm for vapor lock," Hendel said. 
5. Lubricants
The cutting edge of engine oil these days is its diversity. Beyond the basics of synthetic versus synthetic blend versus mineral-based stock, additive packages can be customized to achieve some very specific results. 
"We communicate a lot with engine builders to find out what they need," said VP Racing Fuels' Richard Glady. Engine clearances help determine viscosity, but beyond that, parameters like engine temperatures, the length of time an engine will be under extreme loads, engine speeds, and other race-specific conditions are examined to arrive at the right oil formula.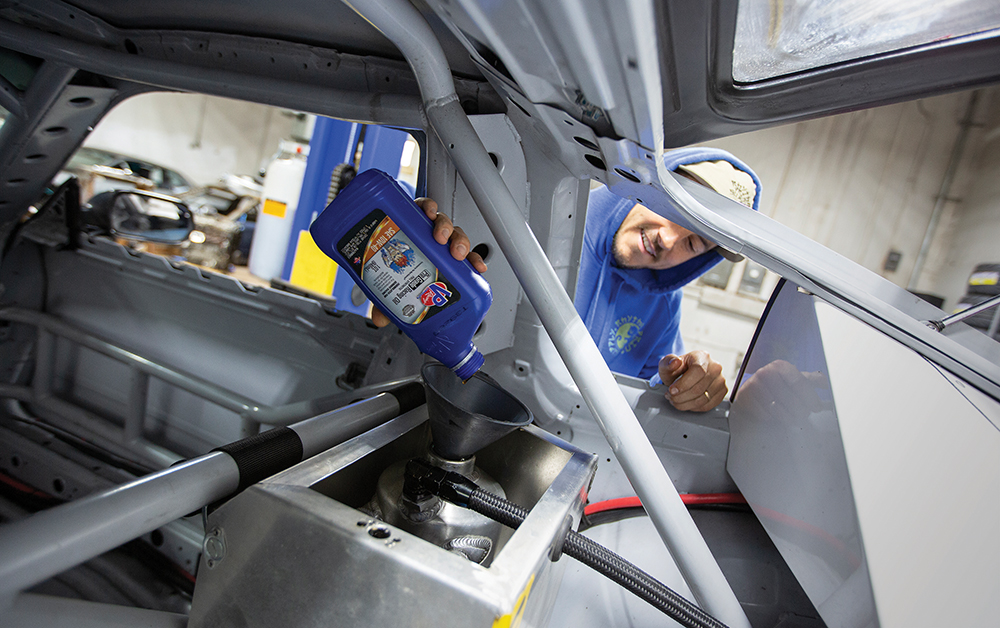 "For instance, somebody who's doing rock climbing, where the engine is moving back and forth and oil sloshes back and forth, may select a mineral-based oil with better clingability than a full synthetic oil to protect the engine parts," Glady said. "Other engine builders will want high temperature protection, good low temperature protection, and want engine oil life using a full synthetic versus a mineral-based product."
Glady recalled one engine builder who "was concerned about the higher temperatures he was experiencing with a particular LS engine. We have a Pro Grade full-synthetic racing oil that is formulated with some unique friction modifiers that help reduce temperatures within the engine, reduce the fluid-to-fluid friction and metal-to-fluid friction." The engine builder switched to the VP Pro Grade oil "because he saw a significant drop in engine temperature." 
When formulating an oil, "you have to have a balance of additive systems," Glady said. "Not only anti-wear additives but detergent dispersants and anti-foam additives. It comes down to balance, and years of experience in tweaking formulations to give you the optimum performance to protect the engine."
Shane Terry of Maverick Performance Products in Chandler, Arizona, one of VP's formulating partners, said the "most pertinent" new technology the companies developed for off-road racers "has actually been a gear oil."
A race like SCORE's Baja 1000 "is a difficult application for a rearend differential. Not only do you have the heat, they're running nine or 10 straight hours at full throttle, plus they're hitting jumps. When those off-road trucks hit jumps, it creates an enormous amount of shock load on the rearend differential." The new gear oil "really focused on those key areas." 
Its effectiveness, Terry said, is due, "in layman's terms, to the fact that it is a thicker oil than what your average passenger car or even a heavy-duty truck would use. A thick oil doesn't do any good if it's thermally broken down. You can start really thick and end up with some burned gear oil if it can't handle the temperatures. This was a unique challenge—to handle high temperatures on a constant basis, handle the shock from jumps, and handle the ongoing torque and horsepower the motor is creating. The resulting oil is a culmination of a proprietary mixture of multiple base oils, and then a custom additive package to really target those three critical performance attributes."
6. Spring Metallurgy & Design
Suspension travel that can be measured in yards does have its outer limits according to Youd, who runs Magnitude Performance in addition to Mast Motorsports. "For the most part you're maxed out on the tensile strength of the spring material." 
Most performance springs are made from a chrome-silicon-vanadium material. A super-high-strength alloy could potentially be used to make a longer-travel spring, but at significant cost. "You're at $1.40 per pound for standard chrome-silicon-vanadium, compared to around $40 per pound for a very super-high-strength alloy," he said. "That would drive the cost of the spring to over $1,000 apiece, and you'd really only gain an inch of travel for that price difference."
Changing the wire shape could present an alternative to expensive wire material. "Traditional suspension springs are made from round wire, where a valve spring is made from shaped wire, which allows you to distribute the stress over a different shape and still increase travel. Imagine an oval wire or elliptical wire section, where your wire section is shorter but fatter. You still have the same stress management ability of the wire, but you can increase travel."
Youd said Magnitude has been "exploring" shaped-wire alternatives, but "it's extremely complicated to manufacture, which is why it's not traditionally done. It would probably double or quadruple the price of the spring. If you're looking at the scale, super-high-strength spring steel would be, in round numbers, $1,000, this shaped wire would be $500, and the traditional spring might be $100. In off-road racing there aren't many teams who would even care. They would all be Baja 1000 Trophy Trucks. It's such a limited market that there's not much need for it." 
Where that need could grow is in Ultra 4 racing, Youd said. "Because of the IFS suspension, they need a lot more travel in a smaller space. They may get there at some point. It depends on if they really keep going with the Unlimited package, or if they put rules on travel or something like that." 
7. Air-Controlled Shock Absorbers
Longtime desert racer Rob MacCachren is as successful as he is because "he tries new stuff more than most," said John Marking of Fox Factory, Braselton, Georgia. "He is really continually trying to make his vehicles better."
Among the "new stuff" is an air-pressure system on his Fox bypass shocks. Marking pioneered the idea back in 2003, when he was looking for a way to firm up the suspension on his Unlimited buggy for those portions of the Baja race courses that ran on the highway. 
"Bypass shocks can be quite a bit to handle on a fast road because they're so loose at ride height," he explained. "In those days, when you got on the Mexican highway there was no speed limit, and my car would go close to 140 on those highways."
Via a switch on his dash, Marking could pressurize the bypass tubes in the shocks up to 300 psi. "Basically, it's closing all those bypass tubes. It would make the car like an Indy car. You could roll down the road much more safely. And if you did hit something big, the system was designed so it would blow off, and you'd still have a bypass shock. It was basically adding tons of low-speed compression."
Not long after, speed limits were imposed on the highways, "so there was no huge advantage in having it," Marking continued. But MacCachren recently "started playing with it more," varying the air pressure depending on conditions. 
"Normally with a system like this, you adjust your bypass valve manually when you're stopped, or doing the initial tuning on the car, but that doesn't really help you when the course gets extremely bad. Like the Mint 400 just gets atrocious on the last lap."
With the air-pressure system, "you can start the race in one setting, and as you're going along you can lower the pressures, let the valve open more, so it's flowing more fluid toward the end of the race. It makes the ride better, especially as the course gets beat up. You also have the advantage of being able to bump the pressures up if you're on a smooth, graded road, so you have a much more stable vehicle on faster sections," he concluded.
8. Quick-Change Gears
SCS Gearbox of Bellevue, Ohio, cut its teeth (pun intended) building bulletproof gearboxes and transfer cases for mud-bog, tractor-pull, and monster-truck racers. These boxes feature quick-change gears that enable racers to tailor gear ratios to track length and conditions. Recently, SCS has applied the same technology to build transfer cases for Ultra 4, rock-bouncing, and other smaller, off-road race vehicles. 
"You can order a 1,000-horsepower motor for an Ultra 4 car out of the Summit catalog without breaking a sweat," said SCS's Craig Sage. Other transfer cases used in these cars "can start giving up the ghost" when an engine gets past the 600–700-horsepower range, "but we can foot that bill as the guys go to more power."
SCS's contacts with Ultra 4 builders have helped the company refine its product specifically for those cars, Sage said. "We're doing a redesign on our case right now to give them a better way to hold the case in the chassis, so it's simpler for them when they're taking it in and out to do gear changes. We're putting some bosses on there more like a urethane-style mount rather than the traditional hard mount we're used to."
Sage admitted that, despite their size, the monster trucks "are easier on the boxes than the little off-road vehicles are because they have the wheel planetaries. The stress in the driveline is mostly out there at the wheel. There's not a lot of torque involved in the driveline itself." So SCS finds itself in a state of "constant evolution of trying to build a better mousetrap that's obviously lighter, but still can withstand more horsepower." 
SOURCES
–
Evolution Powersports
evopowersports.com
Figspeed
figspeed.com
Fox Factory
ridefox.com
Kawasaki Motors Corp., USA
kawasaki.com
Mad Media
madmedia.com
Magnitude Performance
magnitudeperformance.com
Mason Motorsports
masonmotorsports.com
Mast Motorsports
mastmotorsports.com
Maverick Performance Products
maverickoil.com
PJ's Performance
pjsperformance.com
SCS Gearbox
scsgearbox.com
VP Racing Fuels
vpracingfuels.com
Weddle Industries
weddleindustries.com
8 GROWTH AREAS IN UTV RACING
–
Arguably the fastest growing segment in off-road racing is the UTV/side-by-side market. "It's crazy," said Ron Weddle of Weddle Industries, Goleta, California. "At most of the bigger off-road races, like SCORE and Best in the Desert events, they are among the biggest, if not the biggest classes in terms of car counts."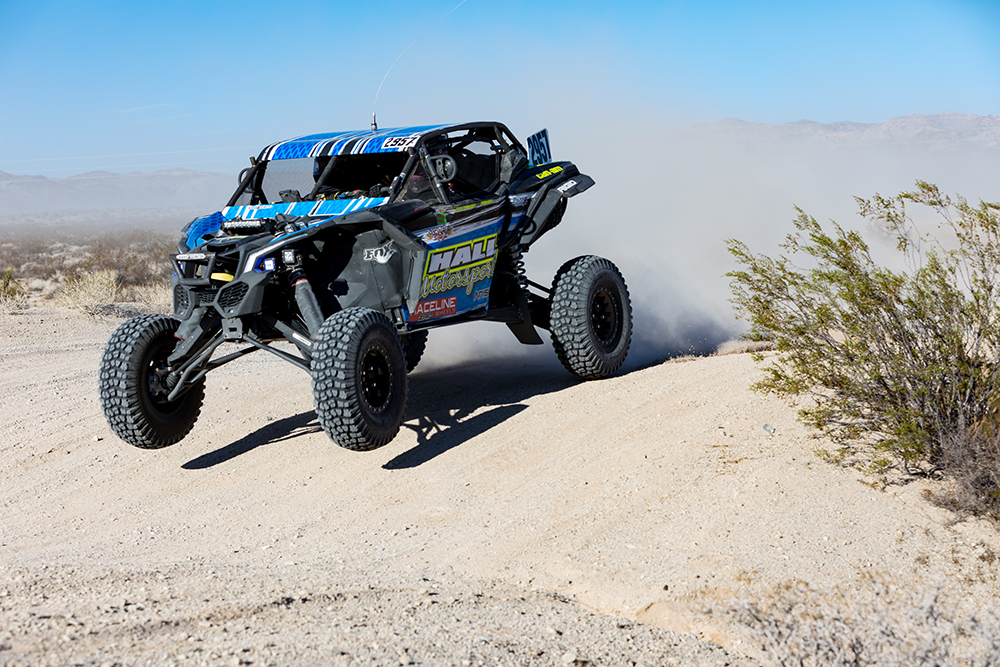 "As you can imagine, the modifications are limitless," added Les Figueroa of Figspeed, Henderson, Nevada. "Suspension, wheels, tires, gauges, seats, safety equipment—all are very popular and, in many cases, mandatory for racing." And that doesn't even touch on the performance upgrades, which run the gamut from an ECU flash to turbo kits and complete engine swaps. 
Following are a handful of the component areas that stand out for their popularity and sales potential. 
1. Engine Upgrades
Customers at Evolution Powersports in Somerset, Wisconsin, are looking primarily for power, "from a simple ECU tune all the way to the guy who's building a drag car for the Sand Outlaw Series," said Todd Zuccone. ECU tuning "is where a lot of the power is gained for these vehicles," but the company goes deeper with clutching components, exhaust components, fuel systems, intercoolers, and turbochargers, all built in-house. "We like it when they buy everything together as a complete, tuned kit because we've tested everything together, so everything works in conjunction with all the other parts." 
The shop also has an engine building program "where we make these engines capable of up to 700 horsepower," Zuccone said. 
2. Tires & Wheels
PJ Jones said tire and wheel upgrades are a big part of what they do at PJ's Performance in Scottsdale, Arizona. "We work a lot with Method [wheels] and Tensor [tires]. If you mount a 33-inch tire, you'll improve the ride right off the bat. And looks-wise, it's the biggest bang for the buck."
3. Electronics
Jones considered this "the biggest area for growth" in UTV accessories. "We do a lot of radios, navigation, and sound, even lead-follow-type things where you can see the other cars out with you." 
PCI Race Radios makes kits that easily adapt to UTV installation, he said, and the systems include both a radio for car-to-car communication and an intercom for in-car conversations.
4. Cooling Systems
Factories mount UTV radiators right up front for airflow, but that makes them vulnerable to rocks and other on-course hazards. One of the most popular upgrades at Figspeed is the swap to a larger, aluminum radiator mounted "where the rear window would be in a pickup," said Figueroa. The radiator is better protected there, and it's up high for direct airflow. Figueroa said his bestselling radiator models are those made by Ron Davis and C&R.
Radiator relocation also removes the water lines from their factory location under the driver's compartment, "where they can really heat up the inside of the vehicle," Figueroa said. "In a long desert race that can get very uncomfortable."
5. Fuel Systems
Figspeed covers fuel system upgrades as well. They range from Aeromotive or Holley in-tank fuel pumps with external regulators to a complete system relocation or replacement, including the addition of a fuel cell. Replacing a stock nine- or 10-gallon tank with a 22-gallon fuel cell "really helps," Figueroa said. "These cars typically get eight to 10 miles per gallon, depending on if they're boosted or not. With the engines making more horsepower, the fuel demands are much different, so the fuel cell is a big advantage."
6. Fuel
Just because a UTV can run on pump gas doesn't mean it necessarily should, said Bruce Hendel of VP Racing Fuels in San Antonio, Texas. "Pump gas is not a very good performing product, and it can run into vapor lock issues in the heat of the desert." 
VP's UTV-specific race fuel, UTV96, is formulated to make more power than pump gas, has a higher-octane rating, and has a low RVP to resist vapor lock. 
"Racing is a big investment," Hendel pointed out, "and your fuel bill is a small part of that. If you ran $3-a-gallon pump gas or $8-a-gallon good fuel, the difference is $5 per gallon. For a drum of fuel that's $250. So, for 250 bucks you basically have an insurance policy that you won't be sitting on the side of the course vapor locked on pump gas."
7. Transmission Rebuild
"The stock equipment that comes in these transmissions is not put together very well, at least in the Polaris and Arctic Cat models," said Weddle. "They need a lot of work to make them what we call 'race ready.'" 
Weddle Industries' transmission rebuild includes a fresh set of quality bearings and a hand-polish of the "critical gears," Weddle said. "We give them a nice chamfer to eliminate as many stress risers as possible on the corners of the gears." The gears are shot-peened and then REM polished "to give them a good surface and finish off stress risers we may have missed." 
When the transmission case goes back together, "we found there's no preload on those bearings and shafts, so even at room temperature they have movement back and forth," Weddle said. "Those shafts act like jackhammers going back and forth when you're going over bumps or getting on and off the gas." 
Shims fix the issue by preloading the shafts, "so that even when the transmission is warmed up to temperature and the housing has expanded, they're not letting everything move around and get out of alignment."
Weddle called the rebuild process "labor intensive, but it seems to really work. Racers are getting probably three or four times the mileage out of them than what they were getting beforehand."
8. New Factory Equipment
Zuccone has heard that Polaris and Can-Am "may be coming out with some different transmission technology. They pretty much all use the CVT, so it will be interesting to see what comes out in six months and see where these vehicles go."'
Jones has heard similar rumors. "They may be going to a sequential transmission, maybe a combination of a CVT and an automatic you can shift. And power may be changing. These engines are making about 200 horsepower now. We will probably see cars being pushed to the 300-horsepower mark, with more reliable belt systems."
Jones sees a new player entering the field, too. "Robby Gordon is developing his own brand of UTV, called Speed. He will be a force to be reckoned with. Next year may be a big year for UTVs."           —Drew Hardin
BEHIND THE WHEEL: AT SPEED WITH THE 2021 KAWASAKI TERYX KRX 1000
–
It's no secret that the UTV market is among the fastest growing segments of the off-road world right now. But even when you take that into consideration, the figures are still remarkable.
"In the powersports industry, UTV sales are starting to surpass motorcycle sales," said Ken Essex of Kawasaki Motors Corp., USA, Foothill Ranch, California. "Across all segments in the US, we're talking about a market of roughly 500,000 units annually."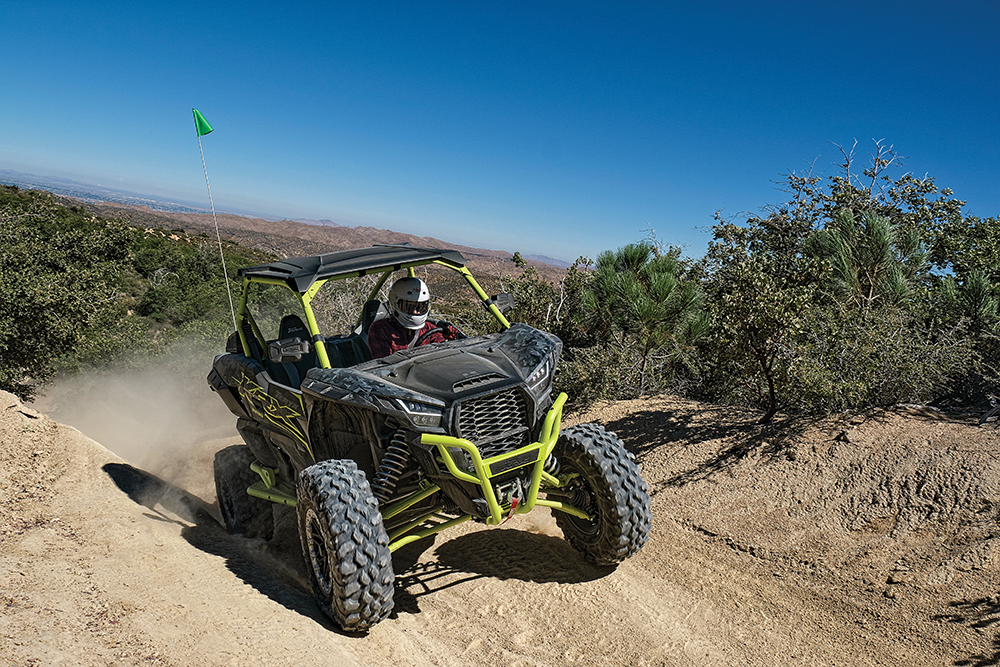 Some of the core factors contributing to the trend's momentum are obvious: performance, modularity, and financial accessibility. But to get a better understanding of what's really driving the popularity of side-by-sides, we spent a day tearing around the OHV trails of California's San Bernardino National Forest with Kawasaki's latest offerings, the Teryx KRX 1000 Trail Edition and Teryx KRX 1000 Special Edition. 
Although we were anxious to start kicking up dust as soon as possible, we wanted to take stock of what we'd need in order to hit the trail and get a closer look at the hardware we'd be piloting before setting off from the Pinnacles OHV Staging Area.
The Gear
While standard dirt biking equipment is ideal—think a moto-style helmet and gloves, goggles, and a breathable long-sleeve shirt—we ended up using a closed-faced auto racing helmet with a visor, along with a simple button-down and a pair of basic gloves. Head protection is, of course, the top priority here, followed by visibility and comfort; keeping dust out of your eyes and line of vision are important considerations out on the trail, too—especially during the drier months.
As with any off-roading excursion, it's also a good idea to bring along some spares just in case. A full-sized wheel and 31-inch tire can be mounted to the bed of the Teryx KRX 1000, and because many UTVs are equipped with a CVT (continuously variable transmission) automatic gearbox (including these Kawasaki models), it's wise to bring along a spare drive belt as well. The service guide for the Teryx KRX 1000 recommends inspecting the belt for wear every 1,200 miles or 100 hours of operation, though driving style (and the resulting heat generated) can have a significant impact on belt life. Fortunately, these Kawasaki UTVs feature a CVT temperature gauge and warning lamp that are designed to warn the operator if conditions are reached that may impact the belt's longevity. 
The Machines
Although the Teryx KRX 1000 Trail Edition and Teryx KRX 1000 Special Edition are mechanically identical, each is targeted at a slightly different subset of enthusiasts. As you'd expect, the Trail Edition ($22,999 MSRP) includes a selection of Kawasaki accessories aimed at enhancing the machine's off-road prowess, sporting add-ons like tubular steel bumpers and nerf bars. The Special Edition ($22,599 MSRP) takes a more lifestyle-oriented approach, adding creature comforts like a 600-watt audio system with Bluetooth connectivity so the tunes can come along for the ride. Both are outfitted with a 4,500 lbs.-capable Warn winch as well as a quick-release roof section. 
A 999cc liquid cooled four-stroke engine provides the grunt, delivering 76 pound-feet of torque (Kawasaki doesn't provide horsepower figures, but estimates peg it at around 110), which is enough to get the 2,000-pound machine to a top speed of about 70 mph. The CVT can send the power to either the rear wheels or all four with the flip of a switch on the dashboard, while the gearbox offers Hi/Lo, and reverse modes as well as a crawler setting. 
The chassis and suspension are where the real magic happens, though. On that front the Teryx KRX 1000 is a seriously capable machine right out of the box, boasting 13.6 inches of ground clearance (or more, depending on configuration), and more than a foot and a half of suspension travel at either end, as well as 15-inch beadlock wheels wrapped in 31-inch Maxxis extreme-terrain tires as-standard. Joslyn Petty said the company looked at the most common modifications that UTV customers make early on and sought to anticipate those needs.
Fox Podium 2.5 internal bypass shocks are on hand as well, and feature 24 different compression settings to allow drivers to fine-tune the suspension as experience and pace increase over time, or to dial it in for the demands of specific terrain. 
On The Trail
After settling at the helm, it's clear that ease-of-use is another big factor that UTVs have going for them. If you've ever driven a car with an automatic transmission, everything is exactly where you'd expect it to be—a digital dash displays engine vitals, speed, and settings information, a floor-mounted shifter provides access to the CVT's various modes, and the traditional combination of steering wheel, throttle, and brake inputs tell the Teryx KRX 1000 what to do. Engine braking slows the vehicle whenever you're not on the throttle, and when that's not enough stopping power, the Teryx KRX 1000 is outfitted with 10-inch disc brakes at all four corners. 
Whether in Hi or Lo range, the engine feels torquey at low speeds and acceleration is brisk—we were never wanting for more power. After getting acclimated to the vehicle and the trail, we started to pick up the pace and soon discovered that the faster we went, the more settled and balanced the KRX became. We were simply stunned by the capability that these machines offer—low-speed rock crawls, deep sand washes, steep hill climbs, and high-speed riverbed blasts were repeatedly dispatched without missing a beat. At one point, when a boulder required a second attempt to climb, we simply put the transmission in Lo and bounded over it without incident—only to later discover that we'd been in 2WD mode at the time. 
The KRX is happy to quickly pile on speed when asked to do so and scrub it off with equal aplomb, while the seemingly endless suspension travel and tenacious tire grip encourage driver confidence, all of which contribute to the high overall fun-factor. 
By the end of the trek we wanted one of our own, lending credence to the notion that the popularity of UTVs isn't some sort of fad that's soon to pass.  —Bradley Iger