Image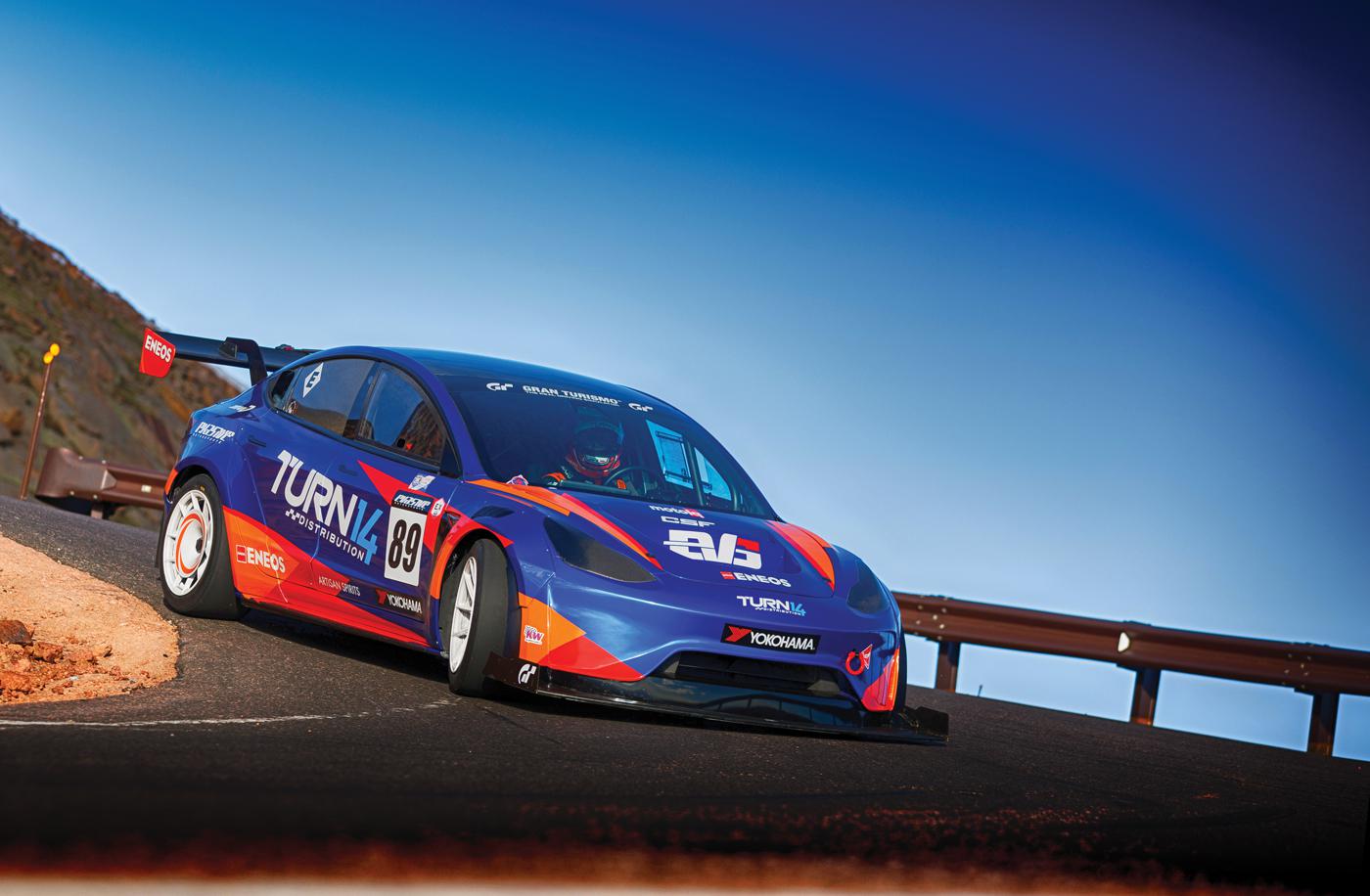 Thinking of adding EV components to your performance racing business? Three real-world examples illustrate the benefits—and pitfalls—of expanding into the growing market segment.
Whether they're perceived as the wave of the future or as soulless automatons, there's no denying that electric vehicles are becoming a bigger part of the transportation segment in general as well as the racing community. Proponents point to the electric motor's inherent ability to produce instantaneous and prodigious torque, while, especially at the high end of the market, EVs are setting new performance benchmarks that often eclipse their internal combustion-powered competitors. And that's straight off the showroom floor. Aftermarket modifications will only make these EVs quicker, faster, and stickier, traits racers have been noticing for some time now.
This growth is causing some racing and performance businesses to consider a move into the EV space. In many ways, the EV modification industry is still in its infancy, which can be a good time to join the party, particularly for a company that relishes taking part in the creative thinking necessary to further expand the category. On the other hand, a lack of product—and experience—may deter some companies from participating at all, or at least cause them to postpone entry until the market is more mature.
To help any company weighing this decision, we spoke with three aftermarket businesses that have expanded into the EV marketplace, each to varying degrees. Their real-world experiences and insights should provide important guidelines for those considering EV expansion.
The Convert
"I had no interest in the EV market at all," said Bisi Ezerioha of Bisimoto Engineering, Ontario, California. "We were quite happy with the petrol stuff."
Now, performance EV conversions make up 90% of his business. "We have pivoted tremendously."
The root of that pivot was a fundamental shift in Ezerioha's business. For years, Bisimoto Engineering specialized in building exhibition vehicles for OEMs to display at trade and auto shows. "They would come to us if they had a new model that they wanted to appeal to the youth market and have us put our spin on it, make it exciting, hip, to appeal to a certain marketplace," Ezerioha explained.
Yet over time, budgets for his OEM contracts were shrinking, and Ezerioha wasn't sure why until Harmon Kardon approached him to build a Hyundai Tucson for the Consumer Electronics Show (CES). When he delivered the tricked-up CUV to the convention center, he saw that "the very same companies that were cutting my budgets were there in Vegas with splendor. The booths were out of control. The budgets for the cars being built for CES looked like they were multiple times what we were accustomed to. And guess what? All the cars were electric prototypes."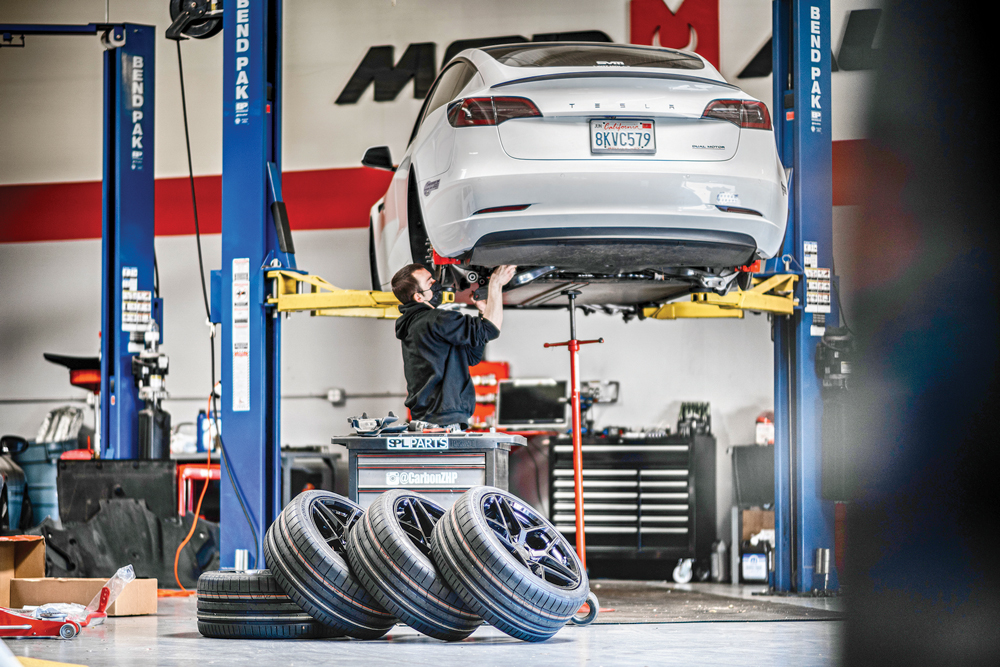 Ezerioha realized that "even though I was very vocal with my discontent with the EV marketplace, I couldn't help but notice what my partners were doing. They weren't even considering me as a go-to for these projects. If I wanted to remain relevant in the business, I needed to explore this technology."
After his CES epiphany, Ezerioha "reluctantly decided to build my own EV. Since I'm a performance guy, it was my goal to build a performance-based EV." The result was an electric Porsche 935 tribute called the K3V. It's powered by a 475 kW (636 hp) single-drive custom AC 3 phase induction motor fed by LG 60-volt lithium-ion batteries. Some of the car's componentry is off-the-shelf, while others Ezerioha and his team designed for the car.
When the K3V was finished, "the first time I drove the car, I almost urinated on myself," he recalled, laughing. "It was the most amazing experience. The torque, the acceleration, the sound. It had this supercharger-like whine to it. There was no lag. I've built high-horsepower naturally aspirated cars. I've built high-horsepower supercharged cars, and those were lousy compared to what I experienced in the K3V. As an enthusiast, it checked all my boxes. Overnight, I was a convert."
That was in 2018. The media attention he received from the K3V resulted in prospective clients bringing cars for him to convert. The pandemic slowed his OEM business, and now he works solely on cars for private clients. Most of the EV conversions are being done on "cars of historical significance," he said. The nine cars currently in his shop include several Porsches and a Caterham. They are "all classic vehicles that we're upcycling with modern technology."
The cars he's building now "are quite different than what I built in 2018. They are more advanced with more safety features and more fail-safes. They're faster, and they're more exciting." Conversion costs can range from $70,000–$100,000.
That's pricey, but a far cry from the $240,000 Ezerioha spent converting the K3V. "Not because it cost that much at all, but because I made so many mistakes trying to figure things out," he admitted. "Many times I'd go to some of the 'gurus' in the industry to learn from them, and many of them like to keep their cards close to the chest. My biggest education came from my OEM peers at Hyundai, Karma, Canoo. They ended up being the best educators for me. Not the other conversion shops. They were not very helpful."
Learning from that experience, Ezerioha willingly shares what he knows. "I help anyone. I have this show every Tuesday on Instagram ["Bisimoto Tech2sdays," 12 p.m. Pacific], where anyone can ask me questions about anything, and I feel free and share all my knowledge and insight. I have no objection to helping others because it makes the entire industry get better and stronger."
Among his insights: "The chassis presents its own interesting set of problems as we build these cars. A standard 930, even the 911, tends to be quite tail-heavy. Many companies—KW, Eibach, Öhlins—designed suspension systems that can work very well with these rear-heavy chassis. Well, with our electric components and batteries, we tend to distribute weight more evenly instead of being tail heavy. When you use those suspension components in such cars, they don't handle very well. They tend to oscillate. So we had to redesign the suspension to cope with our improved weight distribution. That sounds very elementary, but it was a problem we had to solve. We can't send cars out into the field with factory style or factory upgraded suspensions that are rocking as they drive up and down the street."
When asked about advice he'd have for companies looking to enter the EV space, Ezerioha said, "Do your due diligence. This is dangerous stuff. A lot of petrol heads may be used to throwing on carburetors, intake manifolds, fuel injectors, engine management solutions, but this is a whole different animal. Most of the conversions out there are recycling Tesla drive units, and they have 400-plus volts. The newer technologies are shooting toward 800, maybe 1,200 volts. This can kill you. Educate yourself. Seek the knowledge and experience, and partner with someone who's done it successfully. Learn as much as you can and have an open mind. It can be quite an enjoyable experience. You can create amazing projects for your customer base."
Need to Adapt
When it first started selling aftermarket parts in 2002, Evasive Motorsports of Cerritos, California, specialized in Japanese performance vehicles. It still does. "We are best known for Honda S2000 and Civic Type R; Toyota Supra, FR-S, and GR86; Subaru BRZ; Nissan GT-R; and Mitsubishi Evo," said Tony Kwan. "We have competed in Time Attack since it started in the US, and this [2023] will be our ninth year at the Pikes Peak International Hill Climb."
The company has also expanded into selling parts for some domestic and European brands, "and we recently added EVs to our specialty, specifically Tesla," added Kwan.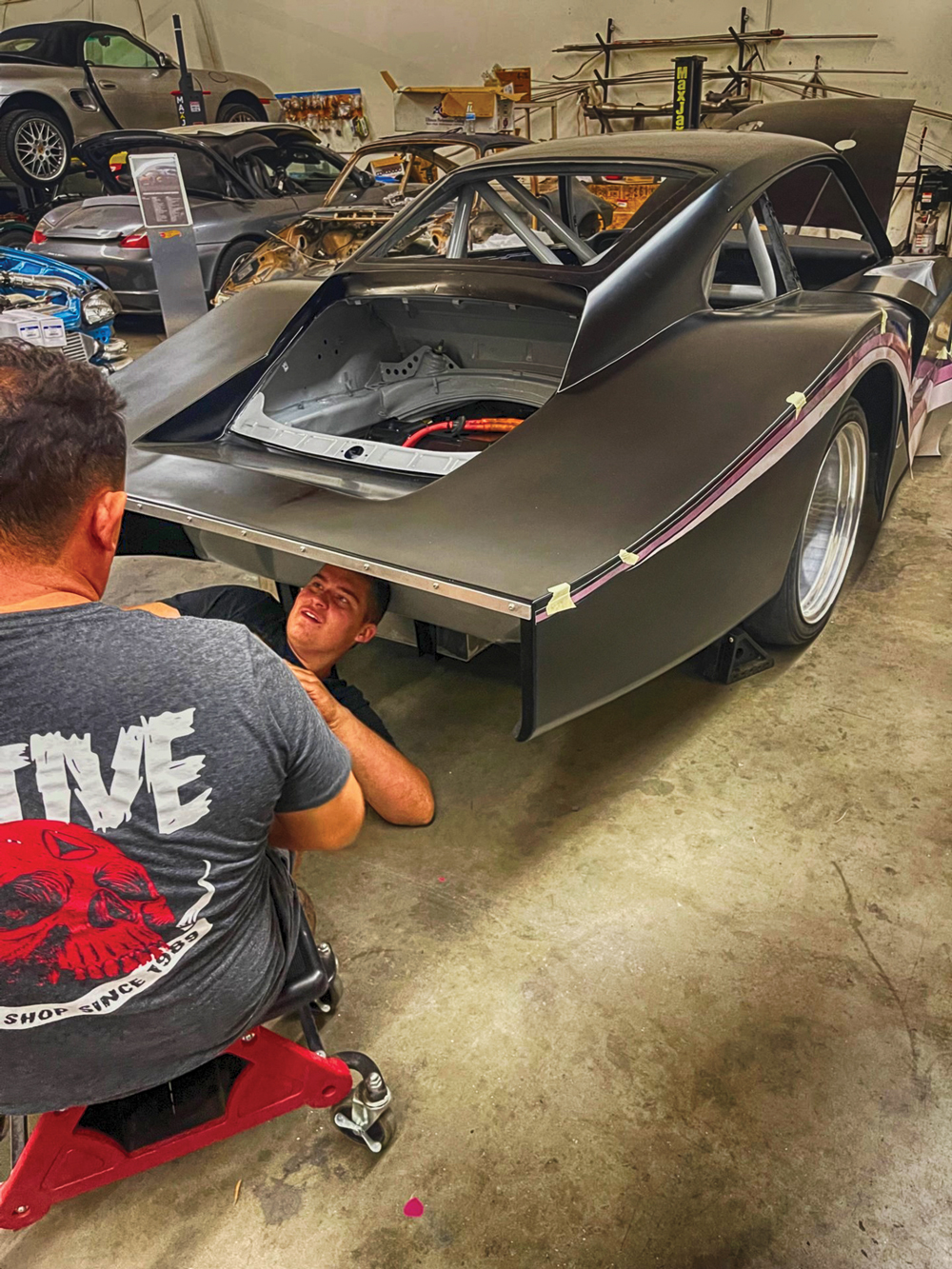 "We saw the popularity of the EV market increasing, especially with the introduction of the Tesla Model 3," he explained. "Many customers were starting to modify this platform and even take it to the track. It's safe to say that the EV market is only getting larger, so we decided we needed to adapt and see what we could provide for it. All car manufacturers are entering the EV market, and there are many electric racing series as well. EV may very well dominate the automotive industry within the next couple of decades.
"Most of our business is still ICE," Kwan continued. "EV is only a small part of our business."
Kwan acknowledged that, "for the most part, EVs such as the Model 3 aren't easy to modify in terms of power. There's no engine to modify, and you're maxed out to what the electric motors that come with the car can produce." The company did "learn a lot" from the Model 3 it raced at Pikes Peak in 2021 and 2022. "The modifications we focused on were to reduce weight, increase cooling, and on the aerodynamics, suspension, wheels, and tires. We have worked with a lot of the best companies in the industry to develop parts for our builds."
To take weight off the Tesla, Evasive duplicated the factory doors, roof glass, rear trunk, and rear door windows in carbon fiber. "The carbon race splitter, diffuser, and wheel aero discs were custom designed by us under the EVS Tuning brand," Kwan said. "The dry carbon GT Wing was provided by our good friends at Voltex, and we designed the wing mounts in-house." Artisan Spirits made the widebody aero kit; and a set of TP-5 wheels, custom made by Titan 7 to fit within the kit's wheel openings, mounted Yokohama racing slicks. KW Suspension provided custom motorsports coilovers, and Brembo custom made brakes for the car as well. "Sparco provided the steering wheel and racing seat to help our driver, Dai Yoshihara, navigate through the corners and withstand all the G forces."
Cooling is essential on the Peak, and CSF provided additional coolers for the batteries and oil coolers for the front and rear powertrains, Kwan said. ENEOS provided specialized gear lubricants for the EV.
"Our major sponsor, Turn 14 Distribution, deserves praise as we've worked together throughout the years," Kwan added. "With their help, we were able to establish the Model 3 race program for 2021 and 2022." In 2022, Yoshihara finished with an 11:06 time, "taking second in the Exhibition Class, ninth overall, and was the fastest EV for the 2022 PPIHC. It was a great accomplishment for us."
Beyond the successful Pikes Peak program, expanding into the EV market has enabled Evasive to "service new customers and continue servicing past customers who may have purchased an EV," Kwan said. When asked if there had been any downsides, he was candid. "There's some backlash in the automotive community. Many enthusiasts aren't attracted to EVs and believe they're boring or even soulless. We understand where the argument comes from, but it's more of a different experience. Some people questioned why we were getting into the EV market, but we only want to learn as much as we can and continuously expand our knowledge of its application in a motorsports environment.
"Sometimes change is difficult but necessary in order to keep going," he continued. "That's the only way to continuously evolve your business model, no matter what industry you're in."
Cater to Customers
ModBargains, headquartered in La Habra, California, has been an online performance parts retailer "even before iPhones," said Ron Hay. Initially the company specialized in BMW performance, "but as our customers gravitated to other vehicles—maybe they had an Audi or a Porsche—then we slowly fell into it because our customers were pulling us in that direction."
That kind of evolution is how ModBargains began outfitting EVs as well. "We started seeing trends with consumers, especially here in Southern California," Hay explained. "It really is kind of the hub of it. Our customers were there, and we started getting pulled into it, so we decided, okay, let's cater to our customers." Six years later, "we're still growing, still learning from it. It's another horizon for us."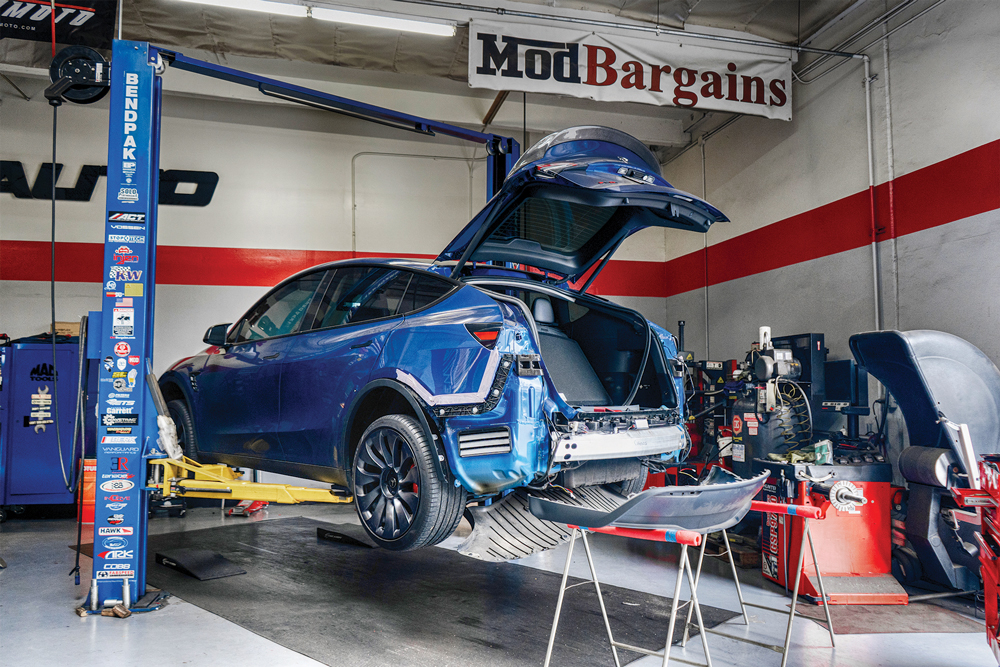 Plus, Hay pointed out, "regulations are changing. With the EPA and CARB doing their enforcement, doing high-performance type products is not going to happen. And a lot of new vehicles have a great amount of power anyway. So that was a dying area for us. We could see sales dropping." Parts sales for traditional ICE vehicles "still dominate," he said, but EV parts sales "are up to about 40% of our business. It's climbed tremendously. It's a major focus for us."
Parts for Tesla models make up the biggest share of his EV business, "but you're going to specialize in what's available to you. In the shop we have a Model S and a Model 3, so we have the experience of working on those." Other EVs are "coming on," he added. "I've been doing a lot of Mustang Mach-Es. They're coming on to the scene and they're doing really well."
Hay said that the most popular parts ModBargains sells for EVs are aerodynamic pieces, suspension components, and wheels. One of the biggest benefits of expanding into the EV market has been "discovering and working with new companies and discovering new products. It took us out of our comfort zone, working with new companies that are willing to go with cutting-edge stuff."
But that can be a downside, too, he acknowledged. "Because there's all that opportunity for new products, there are a lot of companies out there that are making products that, in my opinion, are not the best. That hurts consumers, and that can hurt consumer confidence.
"I want this industry to grow," Hay continued. "I want our customers to modify their cars a lot longer into the future, to make it a positive experience. So when products come out that are not as good, not of the quality that is needed, that leaves a sour taste in the consumer's mouth. It hurts us as a retailer, hurts the manufacturer of that product, and it hurts the long-term effect for this industry because those people will not recommend it."
One way Hay is trying to keep the experience positive is through a vigorous education program. "I want to educate people, to make them confident in this industry," he explained. To that end, he posts numerous technically oriented blogs on the company's website and also created a YouTube channel, Talking Mods, "to help this industry out with all the different issues that come up."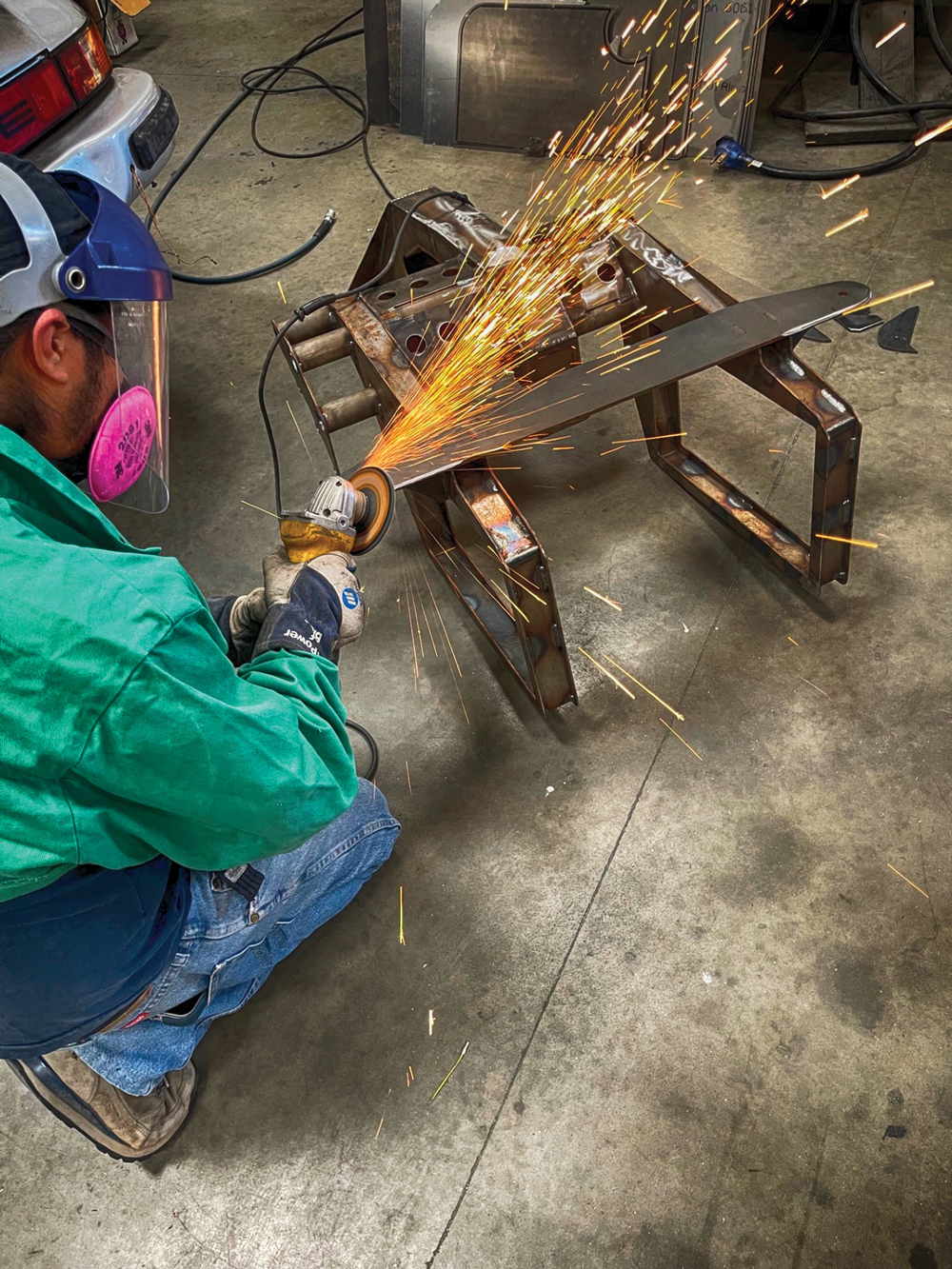 He also encourages other performance aftermarket companies to "reach out to companies like ours, companies already working with these products, to get the right products that you want to have. The parts can be hit-and-miss, and trials and tribulations can happen."
The EV market in general, and EV mods in particular, are new, Hay pointed out. "You have to be patient with it, spend time with it, learn it." Ultimately, though, Hay feels "it's nothing too far off from what we've done. It's still a vehicle. It's just a little different to diagnose. There are opportunities for us all in this industry to work together. Our doors are always open for people who want help with anything that they're working on. If we can help each other, it only makes it that much easier for all of us to get into that marketplace and have an easier time with that marketplace."
Hay did make a point to say that, when a traditional performance parts company moves into the EV space, "you may have people who don't want to be part of that. It may not be the image you want. That's going to be a problem that a lot of people will face. It has to be a collective thought process to move toward the EV market."
But, he added, "you can always do it the way we did it. You don't have to be 100% EV. You can still cater to both. In my opinion, it hasn't hurt us in any way. It has allowed us to cater to people across various markets. A lot of our customers who had BMWs or a Porsche, they own EVs now, and we moved along with them."
SOURCES
Bisimoto Engineering
bisimoto.com
Evasive Motorsports
evasivemotorsports.com
ModBargains
modbargains.com