Business Profile: Oddball Motorsports
Image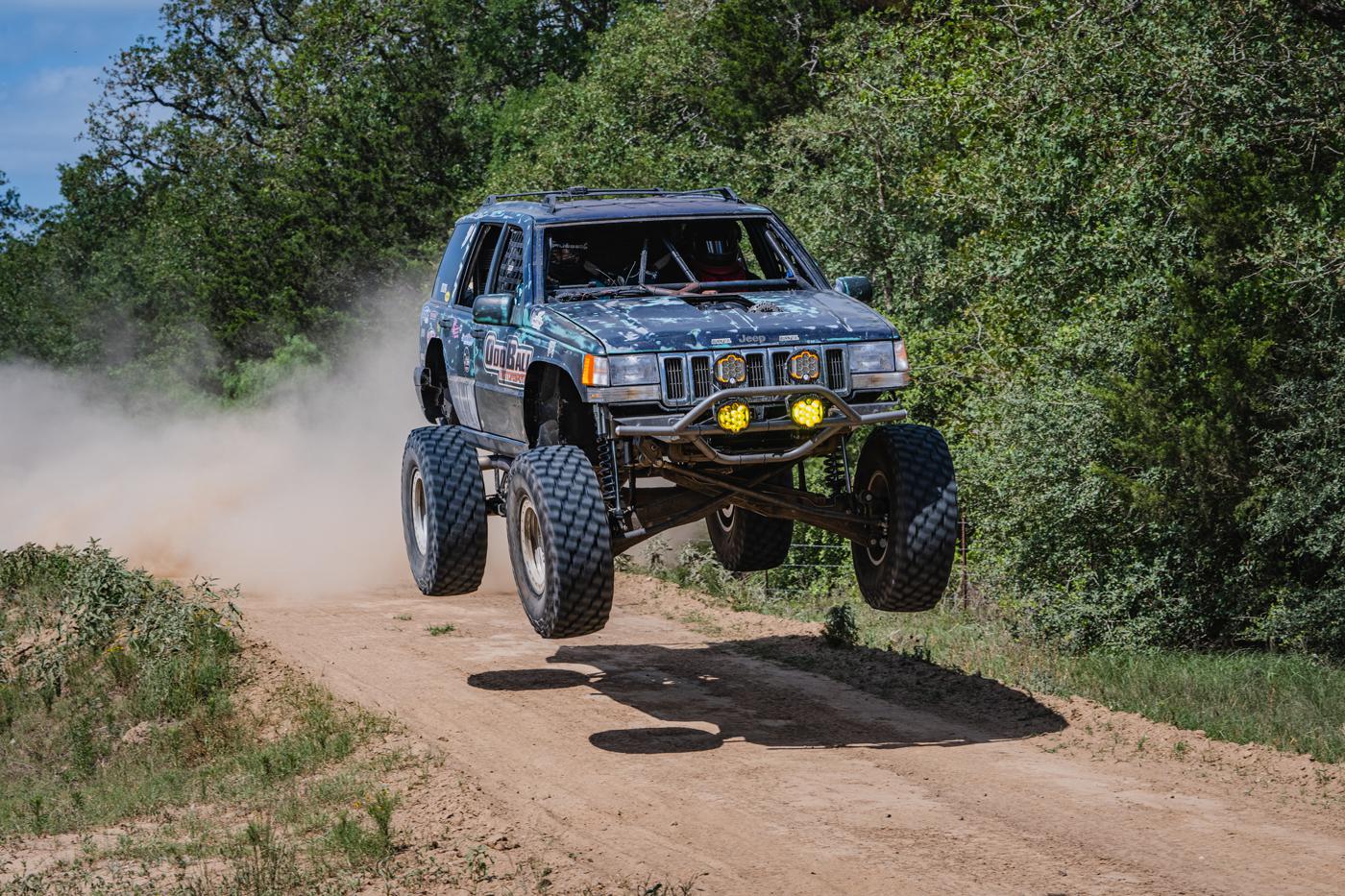 When they switched Oddball Motorsports' focus from drag racing to off-road racing, Garrett and Monica Stanley learned all they could about the sport by building trucks themselves and racing them all over Texas.
Garrett Stanley and his company, Oddball Motorsports, were not always major players in the off-road racing scene. Stanley started out more than 20 years ago building trucks for drag racing from his home garage shop in the Houston, Texas, metropolitan area. The business was called Oddball Turbo and Fabrication. 
As a pioneer in turbo technology in the Houston area, he built a large number of drag trucks for customers, some holding world records. He achieved local fame for having the fastest street-driven truck in Houston. That fame, however, came with a cost. Being at the top, he found some people didn't want to race him anymore, and some tracks even changed the rules to "level the playing field," allowing competitors to catch up to him. This eventually led him to believe it was time for a change and shift his energy into another of his passions: off-road racing.
Just as he did in drag racing, Stanley threw all his energy into off-road racing and began to learn all he could about building and racing the trucks. His passion for the sport was soon shared by his wife, Monica. She learned to co-drive and navigate in their race truck, which was built in their shop on evenings and weekends. The duo raced all over Texas in the Texas Desert Racing Association (TDRA) circuit as well as the Southwest Texas Off Road Racing (STORR) circuit in El Paso, allowing them to learn what desert racing was all about. As their experience grew, Stanley stopped working on his own truck to build a Jeep for Monica, starting with a $400 auction vehicle and ending up with a competitive desert racer with the only I-beam front suspension out there they know of.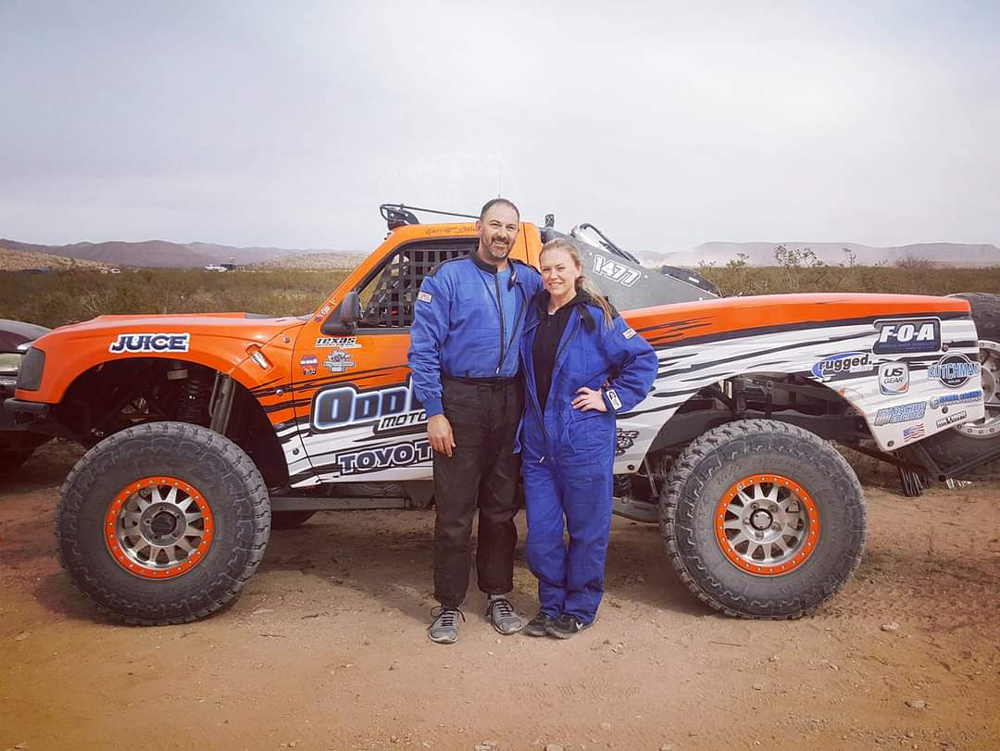 Stanley explained that when he switched to off-road racing, most of the market was based along the West Coast. However, he admitted, "the thing's getting bigger and bigger in Texas. We've raced in Texas for a long time, and there was nobody in the middle of the US who was dealing with any of the parts or doing any of the service. There wasn't anybody who was making a statement or who was trying to supply people everywhere else with parts and knowledge. We chose to kind of shut down the business as it was—we were doing turbo stuff and fabrication and all that for the race car industry—and switched over to the off-road industry and started manufacturing our own parts and doing our own stuff. When we switched businesses, it was like you closed a business and opened another one. It was that drastic. We survived it, made things happen, and did what we needed to do."
The demand for his skills and parts meant growth in the business, which required a purpose-built racing/fabrication shop. "My shop's about 3,500 square feet, in two different sections," he described. "We have a build side and a manufacturing side, and we have a CNC table and all that stuff. That is basically how it's laid out. I have a 4- x 8-foot Arclight Dynamics CNC Plasma table and Miller and Lincoln welders."
Monica offered additional details about the CNC table. "We made the decision, even though we were in the hard times, to purchase the CNC table, and that was the best thing that could have ever happened," she said. "He taught himself CAD and how to use the machine and never looked back. He can look at something, eyeball it, take a guess, and get it right in CAD on the first or second try. And he is still using the free software that came with the table."
This equipment allows Oddball Motorsports to design, build, and supply the off-road racing community with plenty of competitive parts. Some of the components built by Stanley and his team include rear trailing arm upper shock mounts, universal equal-length beam frame brackets, universal radius arms with tabs, double-shear axle tabs with box plate, headers, plus various DIY kits as well as components specifically for Ford Ranger LS swaps.
"The good thing about what we do is, we sell a lot of weld-it-yourself stuff and parts that customers can assemble and build," Stanley said. "When COVID-19 first hit, we were covered up with shipping parts everywhere just because somebody wanted something to do. It worked out to our benefit. I sell a lot of the LS block mounts for the Ford Rangers and the header kits for it. The LS block Ford Ranger has become my specialty. It was something I thought was cool. Since we were racing a Ranger with an LS in it, I saw a market that nobody was a part of, really, and I put it out there. It's been a really good thing."
Building the volume of well-engineered and well-made parts along with the diverse services the company offers requires more than just Stanley's efforts. Part of the success of Oddball Motorsports comes from having a dedicated staff of four employees, including Monica, "who does the office stuff. We don't just manufacture parts, we do a lot of Holley EFI tuning, a lot of wiring of cars, we do a little bit of everything. If I'm not selling parts, I'm building cars, and if I'm not building cars, I'm selling parts. I really need to hire two more guys just to work off some of these big builds. That's what the struggle is right now. The economy's just not at a point where I'm able to afford a couple other guys to be able to take it to the next step to allow me to move products and more stuff."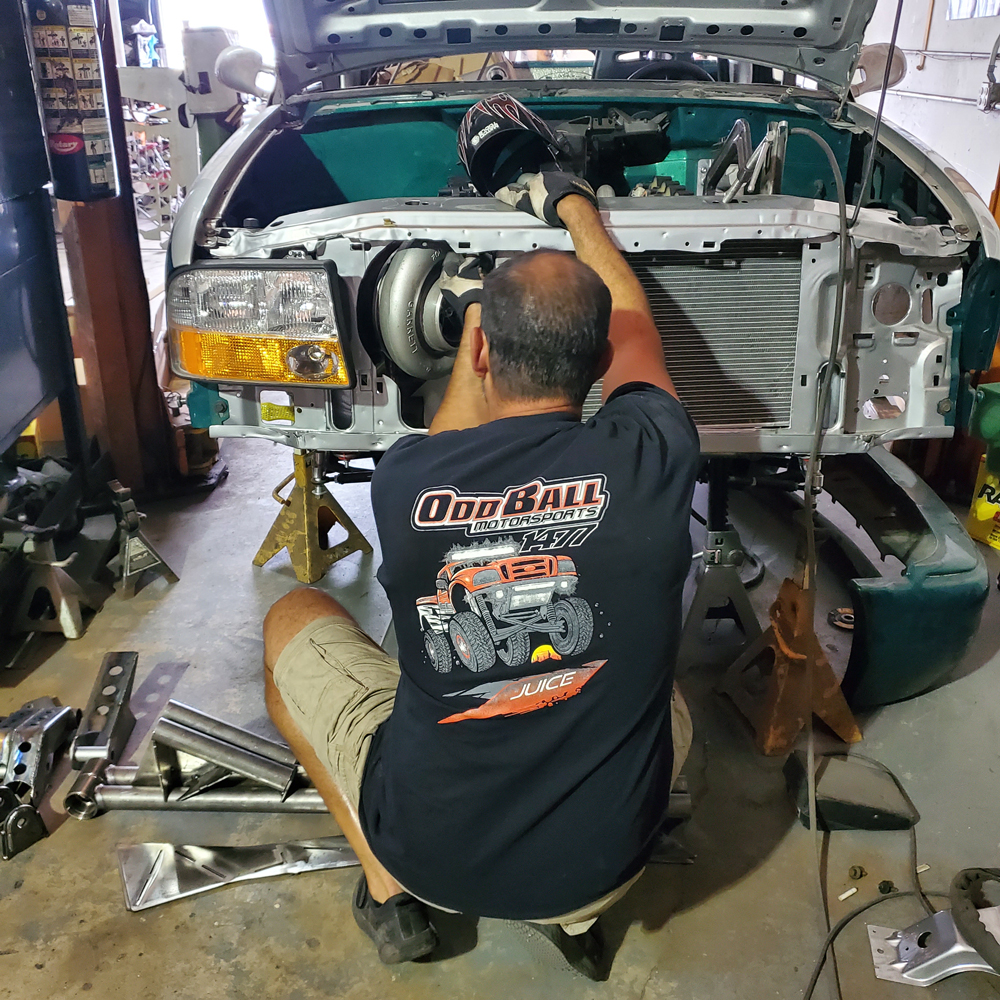 Manufacturing and fabricating custom parts and working on custom cars is not a common skill that can be found just anywhere. When Stanley hires an employee, he makes sure to train that person to be the quality worker he expects and then follows that up to keep the employee happy and with the company. "The guys who are with me have been with me for a little while," he said. "I really prefer younger guys so I can train and mold them and show them the quality of work we try to produce. I like to get them in young and teach them the way it needs to be done. It's worked out pretty good. The track days, the test days, I put them in there, kind of put them through the experience, teach them the ins and outs of what we do and how we do it. A big thing at the shop is just a respect deal. Give me the respect, and I'll go the extra mile for you. We have cookouts at the shop and different things like that." 
"We try to foster a family environment here," Monica added. "We like to have BBQ and crawfish boils and take trips out on the boat to celebrate working hard and accomplishments."
Addressing Challenges
Many businesses find there are challenges to keeping a steady flow of work going in the current economic climate. Oddball Motorsports is no different. "We've had struggles here and there just being able to keep material," Stanley admitted. "If I don't have the steel and I don't have the material, I can't sell parts. That's been a little bit of a chore itself, keeping supplies to be able to do that. We've had to invest in different things at different points to make sure we still were able to keep our products out there and make money at it." 
To stay aware of industry trends and potential customer needs, Stanley routinely has conversations with customers throughout the country and closely watches social media. "My wife's really good at social media," he said. "Facebook has been good for us as far as marketing goes and being able to post pictures and interact with the customers. If you look up the analytics for all of our sales and all our products, Facebook has been better than Instagram as far as marketing. We are number one on Google for our LS Swap Ranger mounts, headers, and those things."
Perhaps the most impressive component of Oddball Motorsports is Stanley's commitment to maintaining a relationship with the customer before, during, and after the sale. Where some other companies will only sell parts without providing instructions on what to do with them, Stanley makes sure his customers know how to install and properly use the parts as they were intended. He explained, "I deal with people all over the world—Canada, Norway, and all kinds of different places—and we are able to supply people with the parts, and have, I think, customer service that is a million times better than what you can get elsewhere."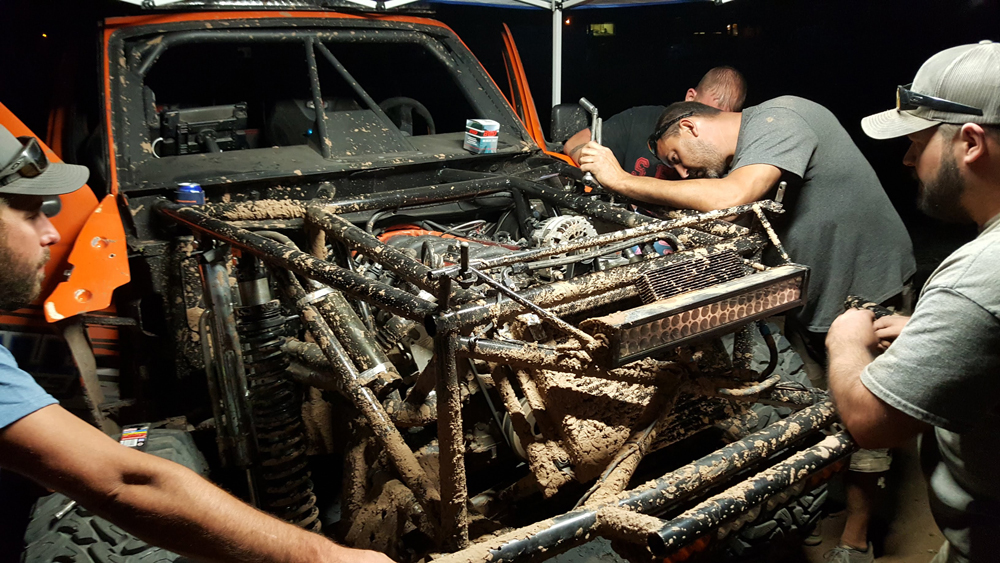 His focus on customer service begins with being personable and following up as a knowledgeable resource with customers and potential customers. "Half of this stuff we do is for the garage-built guy, and the guys do have questions," he said. 
"My whole goal is to be able to help educate these people and say, 'Hey, my parts will work if you do it this way.' Most of the time the other guys aren't going to tell them any of those tips or tricks. I don't mind spending 10 minutes or 20 minutes or whatever it is with the customers to educate them and tell them they can make this work if they do this and that. It's really paid off to be a good thing," Stanley added.
Beyond the Customer Relationship
Building this kind of bridge of trust between a company and the customer is not the norm for many businesses, but Oddball Motorsports is not your average business. Its commitment to the customer definitely goes above and beyond just selling parts and more often than not creates loyal customers who view the relationship more as a friendship than a vendor/customer situation. 
Evan Graham, a longtime customer, is quick to testify to this. "He's given me a lot of very good insight," Graham explained. "He knows a lot more than I can imagine. He basically can build anything he can possibly imagine; you ask him to do something, he's going to find a way to do it. He always wants to work with you. 
"I trust him with everything," Graham continued. "If I'm set on a certain way I want to build it, and he says, 'Dude, I know another way to do it,' I trust him completely with everything. I don't question it at all. We'll talk and he'll tell me why it's a better way. 
"There was a time I went with him to El Paso for an off-road race to do some testing for him. He let me drive the truck. We had only met five months beforehand, and he let me get into his race truck that he had just finished building. He trusted me to hop in there so he could video it. I wasn't taking it easy on it. I ended up bending one of the I-beams on the truck before the race.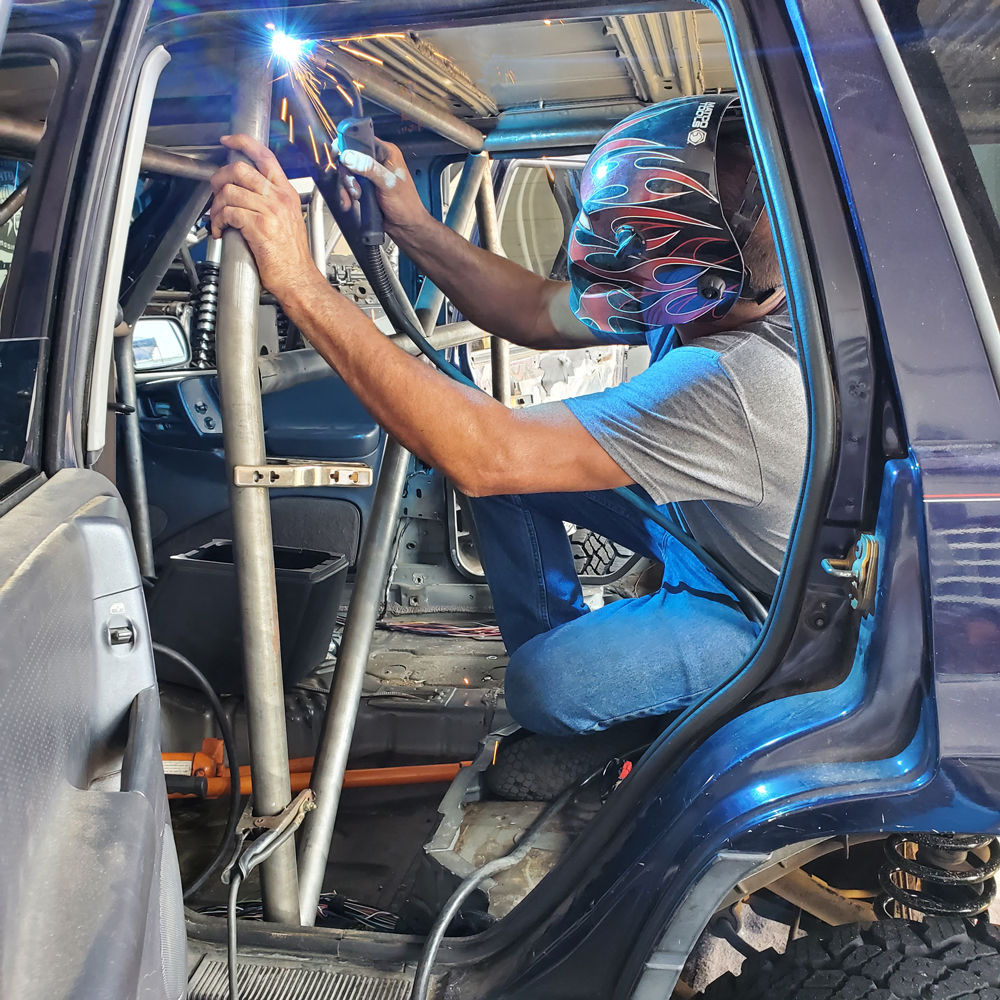 "He'd always been humble and super-cool to me, and to do something like that to him really got to me," Graham admitted. "To get respect you've got to earn it. He had earned every bit of my respect, 100%. So when I did that, I had to find every sort of way to fix it so that I could get him back in the seat to race. And I did. We got him back in the seat and raced the entire race, and he was humble enough to let me get into the last lap of the race. After I had already broken his truck, he's letting me finish the race in his race truck," Graham concluded.
Longtime customer Brian Pajor agreed, and he shared how Stanley's personalized service was why he became a loyal customer. "I'd been looking into building a Ford Ranger and was looking into a long-travel suspension with an LS block," Pajor said. "I was looking over the Internet for the engine swap and motor mounts and Oddball Motorsports popped up. It was between him and another company. I called the other company, and they didn't give me the time of day. 
"I was starting from scratch, square-one for long-travel, four-link suspension and all that stuff not really knowing a whole lot," Pajor continued. "So I thought, 'Okay, let me try this company,' and off the bat I was on the phone with him for about two hours just going in-depth. He just talked me through everything, and from that first interaction on the phone, I knew this was someone I wanted to do business with. I could tell he wasn't BS'ing me, he wasn't trying to sell me stuff just to sell me stuff. He was selling me the stuff that I would actually need.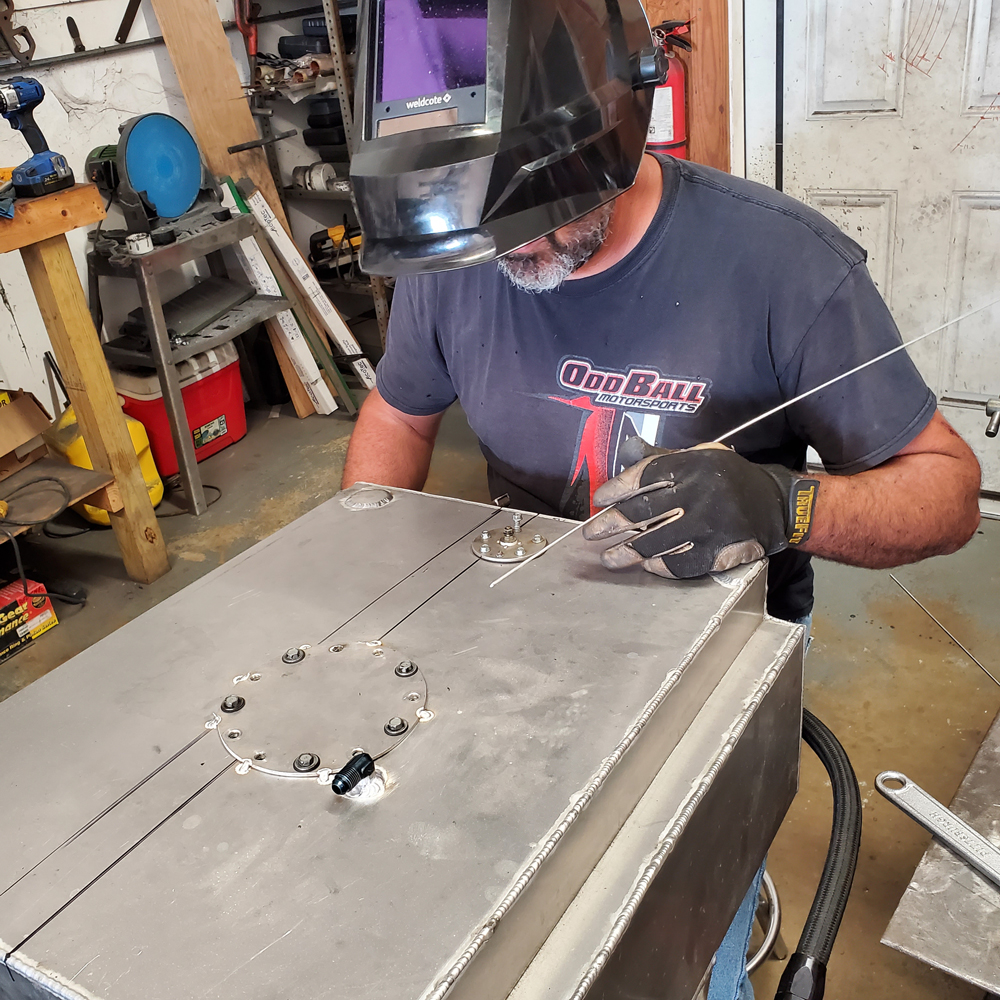 "Any question I had, I could call him any time and he would give me answers. When I bought the kit, he flew down from Texas to Florida to custom fit everything to my truck. He came down and made sure it all fit, just to make sure it was done right. The customer service, to me, goes a long way. He'll go above and beyond, finding me the best deal and not selling me something I don't need. Just slowly, piece by piece, building my project and him taking the time to talk to me. He explains the purpose of it and why I need to do it this way and not that way. Making sure whatever product he sells me is the right product for what I need. 
"I can't say enough about how much I appreciate him taking the time and not taking advantage of anybody," continued Pajor. "His work speaks volumes, too. The welds, the fabrication parts, are just amazing. I never got the vibe from him that he was just trying to make a buck. It's a dream come true doing what I'm doing, and without his help I'd be completely lost. There's no way I'd be where I'm at without Garrett. He's awesome! I can't do more than a five-star review."