PRI Founding Members: Connections Are Everything
Image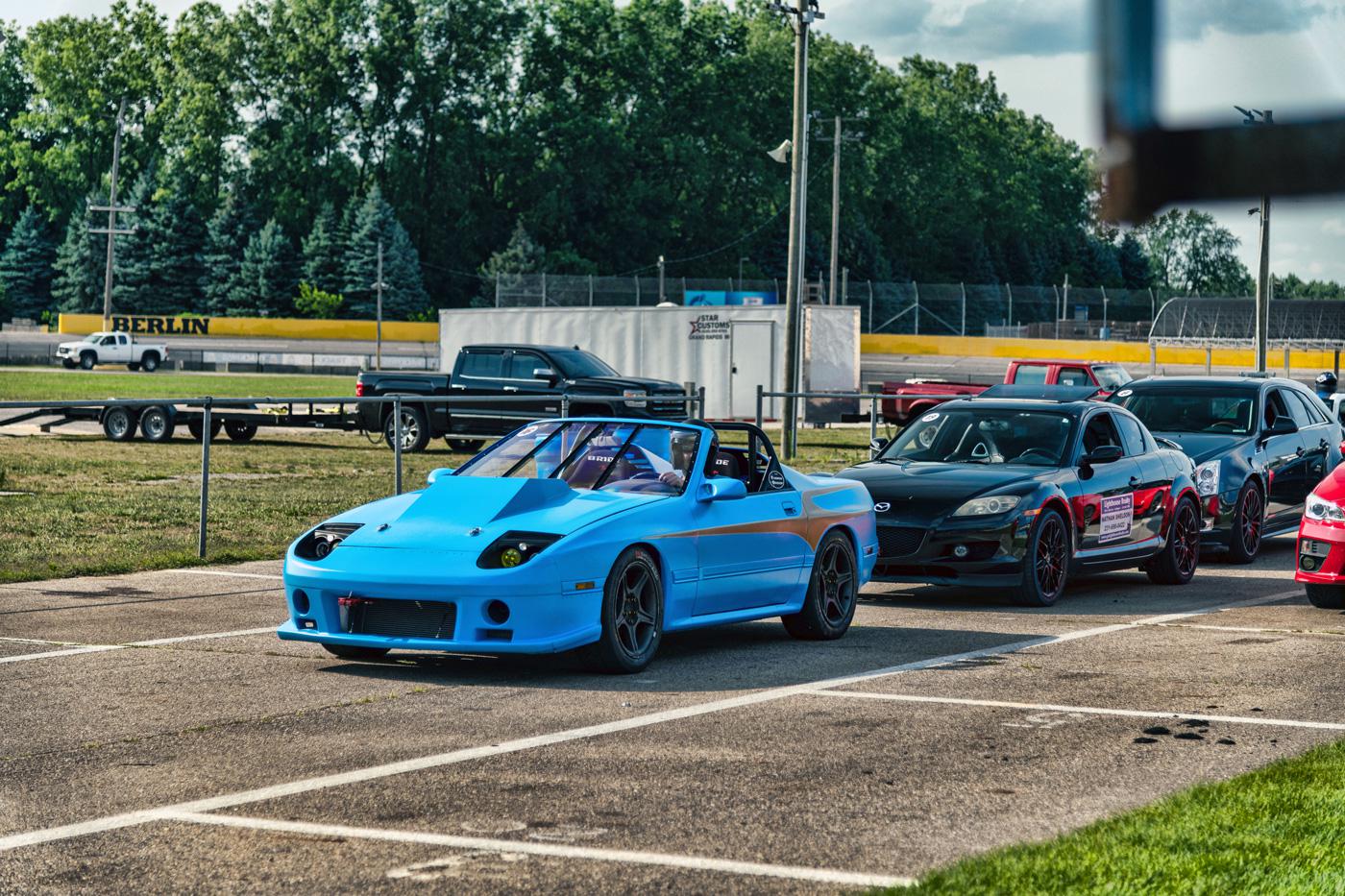 As an industry we're strongest when we stand united, both against legislative hurdles as well as in the pursuit of business goals.
The fourth installment of our series reveals why industry leaders have signed on to become PRI Founding Members. Their reasons might surprise you, but in their own words the rationale boils down to connections. You've heard the saying, "It's not what you know, but who you know." At PRI, we don't really believe the first part. Brains matter. But in some situations, connections matter more.
Connections are so valuable, in fact, that nearly two dozen companies have committed $25,000 to PRI Membership over a 10-year period. Why would they do that? 
The first reason involves influencing business regulations. Especially when you're dealing with the federal government, who you know is exponentially more important than what you know. While the PRI family respects that you might be an expert with a cylinder hone, can pull a perfect 0.000 out of the hole, or have turned a profit each year you've been in business, nobody in government cares. Sorry, that's just reality.
With this understanding, nearly every PRI Founding Member has put their faith in PRI's Government Affairs group to lobby the right legislators with the right messages that benefit our industry. The Founding Members trust PRI to communicate their support of PRI's Save Our Racecars campaign and the RPM Act of 2021. 
A unified, professional voice in Washington, DC, and in state capitols, matters for businesses that are presently burdened by government legislation or legally threatened by the same. PRI Founding Members know that when our entire industry wins battles against unwarranted regulation, our entire industry benefits—a rising tide lifts all boats. 
The second key reason Founding Members made their commitment is because they wanted to connect with other leaders. Business owners benefit from networking. Face-to-face meetings provide great opportunities for new relationships, which in turn lead to business growth.
While the window to become a Founding Member only opened this spring, PRI has already invited this elite group to take part in exclusive video conferences to discuss PRI business and legislative updates. Additionally, many Founding Members attended the annual SEMA Installation Gala, where they helped celebrate the yearly transition of SEMA leadership. The Las Vegas event, held in July, was the first opportunity for PRI Founding Members to meet in person, and to meet SEMA's 2022 leadership (and additional potential business connections). 
The second Founder's face-to-face event took place earlier this month. All Founding Members were invited to the NHRA US Nationals in Indianapolis. Their VIP treatment included four-day all-access passes and PRI Suite access. While the on-track action was exciting, there were business opportunities to be found in the PRI Suite as well. 
The experience at the US Nationals helped prove (again) that we—together—are strongest when we stand united. This matters when facing legislative struggles, and it also matters when we pursue new business goals. By stepping up to Founding Member status, the companies you'll read about are sending a clear message that they support our entire industry while pursuing individual business goals. And, as Founding Members these companies support the reality that our industry's collective political voice and economic power carries more impact than any single company's attempt to navigate today's complex legislative and economic challenges.
PRI Founding Member status remains available for a limited time for $25,000 (with a payment option of $2,500 per year over 10 years). In other words, for the cost of a business trip for you and a co-worker, your company could position itself at the forefront of the racing industry. 
At the close of the SEMA Installation Gala, one Founding Member was overheard talking about who he hoped to connect with at the upcoming Founding Members events at the PRI Trade Show. There are certainly more exclusive opportunities to come in Indianapolis this December. 
Like the impact of the Founding Members, your involvement with PRI allows our team to continue to build, promote, and protect your livelihood, as well as the prosperity of the entire racing and aftermarket community. Consider joining as an individual or business.

Public relations and marketing used to be simple activities. With hard work, some creative ideas, and the right connections, you'd get print media coverage that would grow your business. TV exposure was a huge bonus.
Things couldn't be more different today. The media landscape is fractured yet heavily matrixed, and getting exposure requires a sophisticated multi-channel and data-driven approach. Kahn Media, formed in 2008, is a recognized and awarded PR and marketing agency with deep roots in the automotive aftermarket, motorsports, technology, and outdoor lifestyle markets. 
Operating worldwide from their Southern California headquarters, Kahn Media's talented team of public relations experts, in-house creatives, and digital marketers help clients derive the most ROI from their budgets. Their client roster includes names you know: MotoAmerica (American Superbike), Driven Racing Oil, Roush Performance, Aeromotive, Centerforce Clutches, Lotus Cars, McLaren, Aprilia, Rolex, Motul, Nitto Tire, and many others. The team's work has been recognized three times by Inc. Magazine in the Inc. 5000 list of fastest-growing private companies in America, as one of AdWeek's Fastest Growing Agencies, and as the top PR firm by a Southern California business journal for the past four years.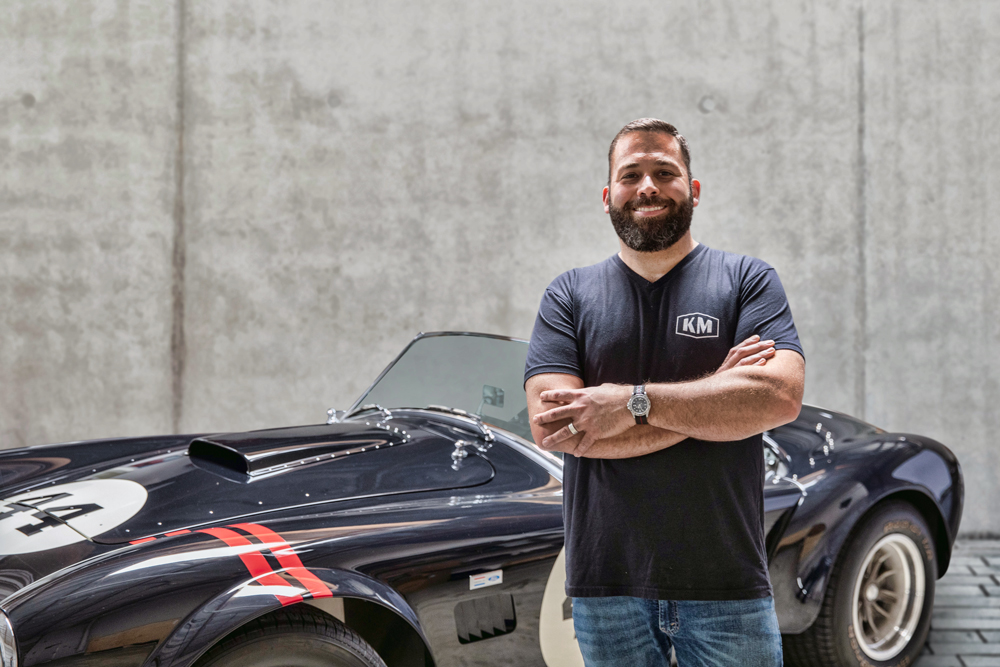 Importantly, because enthusiasts know how to connect with other enthusiasts, the Kahn Media team is comprised of performance and racing insiders—people who came from, or are engaged in our industry. This helps the Kahn Media team connect their clients to targeted audiences in meaningful ways. 
Dan Kahn takes a long view on our industry. "The future and growth of motorsports relies heavily on igniting the passion in the next generation of enthusiasts," he said. "We like to think that with our background in social media, influencer marketing, digital, and content creation, we are uniquely positioned to help other PRI members connect with younger audiences to build brand loyalties that will last a lifetime. Becoming a PRI Founding Member was the best way for us to strengthen our connection to PRI, and to support the organization as it powers forward."

With a healthy sense of humor, Rex Roy incorporated Regis Communications on April Fool's Day in 1991. Since then, Roy and his Detroit, Michigan-based company have supported over 30 automotive brands including multiple imports and every division of General Motors, Ford, and the original Chrysler Corporation. Roy's stints at major marketing agencies provided him with deep insights about strategic and tactical best practices while serving clients including Motorcraft, GM Restoration Parts, GM Service Parts, and Team Chevy. Roy has helped launch more than 120 vehicles, including the 2020 C8 Corvette, and creative directed permanent large-scale public display areas at Daytona International Speedway and in Detroit's Renaissance Center.
Roy is no stranger to the performance and racing industry, having completed projects for Championship Auto Shows, Kalitta Motorsports, and Borla. As two side-hustles in the late 1990s, Roy opened PowerCurve Chassis Dyno & Tuning Center and was a partner in a national high-performance driving school.
A sharp eye will recognize that the Regis Communications' logo is a 1934 Chrysler Airflow. The revolutionary car was a sales flop even though its engineering led the industry into the modern era of aerodynamic testing and steel unibody construction. However, Chrysler didn't take control of the car's story, and the unenlightened critics won the media battle and killed the Airflow's chance to succeed. To Roy, the Airflow is a reminder that storytelling matters in marketing. 
"One of the things I've realized is that every company has a story to tell, whether it's using a press release, promotional video, TV ad, website, or sponsorship ask. But many companies, even those with smart marketing teams, could use some outside help to tell their stories better. This leads to more awareness that drives growth. Story development and effective comms are what I can offer PRI, whether a company needs just a press release or a complete marketing overhaul," Roy said. Adding rather glibly, Roy noted, "But if we don't band together through PRI membership, we might not have an industry anymore. Given the way government agencies naturally trend toward regulatory overreach, I don't think this is an overly dramatic point of view."
Daren Poole-Adams
Daren Poole-Adams of Shelby, North Carolina, is an exceptional drag racer, engineer, and businessman. Regarding these characteristics, he's not that different from many in the performance and racing industry—he found a way to make a business out of his passion for racing, and has been doing so since the late 1990s. 
Poole-Adams' current pair of COPO Camaros are a common site around the country as he competes in various NHRA and NMCA events. Partnering with PRI heavyweights like MAHLE, Goodyear, Holley, and Chevrolet Performance, the COPOs are development platforms that advance racing tech. The championship-winning Poole-Adams is a front-runner, for example, in bringing direct fuel injection to the Stock Eliminator field.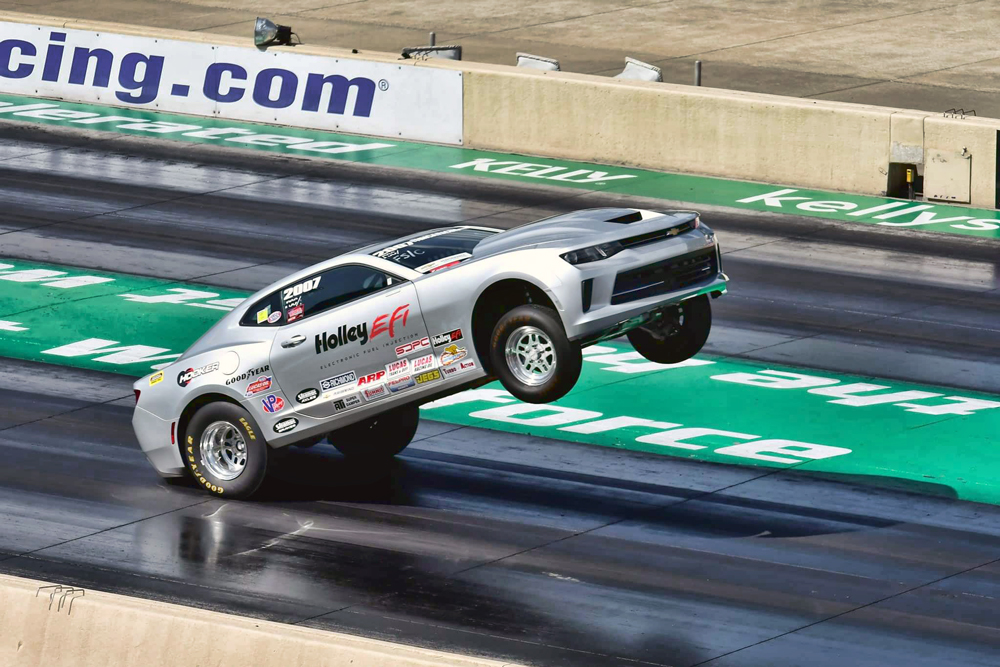 The work Poole-Adams is doing benefits the entire sport, especially at the grassroots level. He told PRI, "We have a passion for production drag racing. It is a study in efficiency that is very relevant to various manufacturers in their quest to bring better, more efficient products to market. As an example, we are currently getting more than 100 drag strip passes out of a pair of Goodyear slicks. Something you never would have dreamed of years ago."
About becoming a PRI Founding Member, Poole-Adams stated succinctly, "It shows that my business is committed to supporting the racing community." While there was certainly no doubt about his commitment before, Founding Member status makes this company's pledge visible and even more influential. "More than anything, we (the people in our industry) need to do some joint educating. They (the EPA) need to understand that converting a street car to a race car actually has a decreased impact on the environment when compared to that same car being run for 100,000 miles on the public roads. Why can't we partner with the EPA and industry leaders to promote ways that our racing businesses can reduce our carbon footprint in a way that would really have an impact? I spend a whole lot more time in my tow rig or my shop than I do in a COPO!"

What would today's drag racing scene be without engine blocks from Keith Black? This man's contribution to professional drag racing is unparalleled. While Keith passed 30 years ago, his legacy of innovation and performance lives on. 
For those who are not familiar with Black's legacy, as an engine builder he started in the late 1950s building marine engines that set multiple world records. The transition to the 1320 proved natural. Black-engineered engines propelled the legendary Don Prudhomme Top Fuel dragster to more than 250 round wins in 1962 and 1963. Black's affiliation with Chrysler began in 1965. His company started producing aluminum engine blocks based on the Chrysler Hemi designs in 1971, and his engines would dominate drag racing by the end of the decade, winning every national record in Top Fuel between 1975 and 1984.
Darren Beale, owner of Keith Black Racing Engines (KBRE) in Buena Park, California, told PRI that its status as a Founding Member is another step in making known the company's role in helping create the very DNA of the American performance aftermarket. Looking ahead, Beale explained, "When KBRE was started in 1959 it involved a collection of passionate people that weren't afraid of risk-taking and innovation in the pursuit of power. The decision to become a Founding Member was immediate. And for the future, we're focusing on engine block products that massively increase the strength and power-handling capabilities of the everyday modern V8, that perform equally as well on the street as they do at the strip."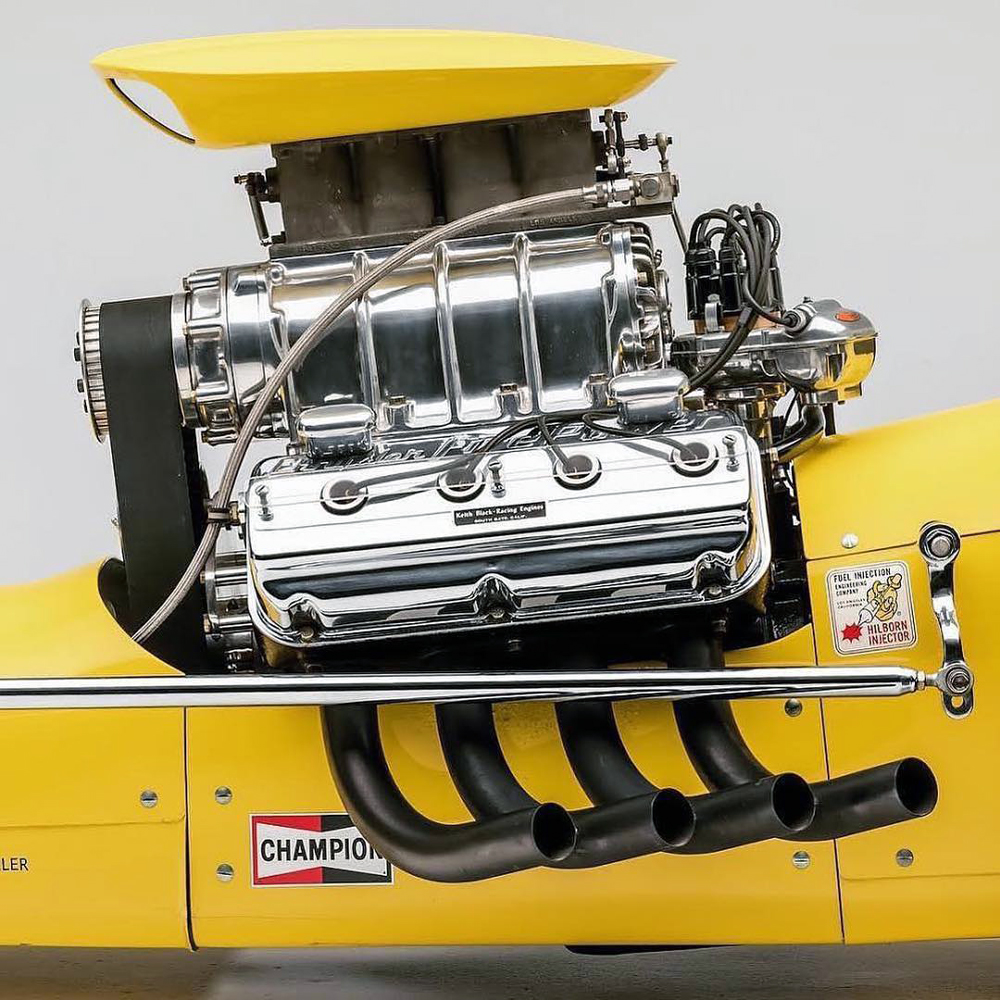 Black-block engines—still based on the Chrysler Gen II Hemi and RB Wedge V8s—have powered many brands over the years, not just MOPARs. As a matter of fact, one of the company's latest partnerships (with Herrod Performance, a leading performance company that focuses on the Ford brand) resulted in the APOLLO package, a reliable 4,000-hp powertrain for Mustangs. 
Beale said, "We are not only committed to ensuring that Keith's story and legacy lives on, but that Keith Black also earns renewed respect in a more complex, developing, and modernizing market. We feel one of the larger challenges facing everyone will be keeping racing relevant, and that this can only be accomplished by making sure racing remains enticing to younger people and in embracing modern powertrain platforms that can be dramatically improved upon." As a PRI Founding Member, Beale is in good company that shares his passion.