Image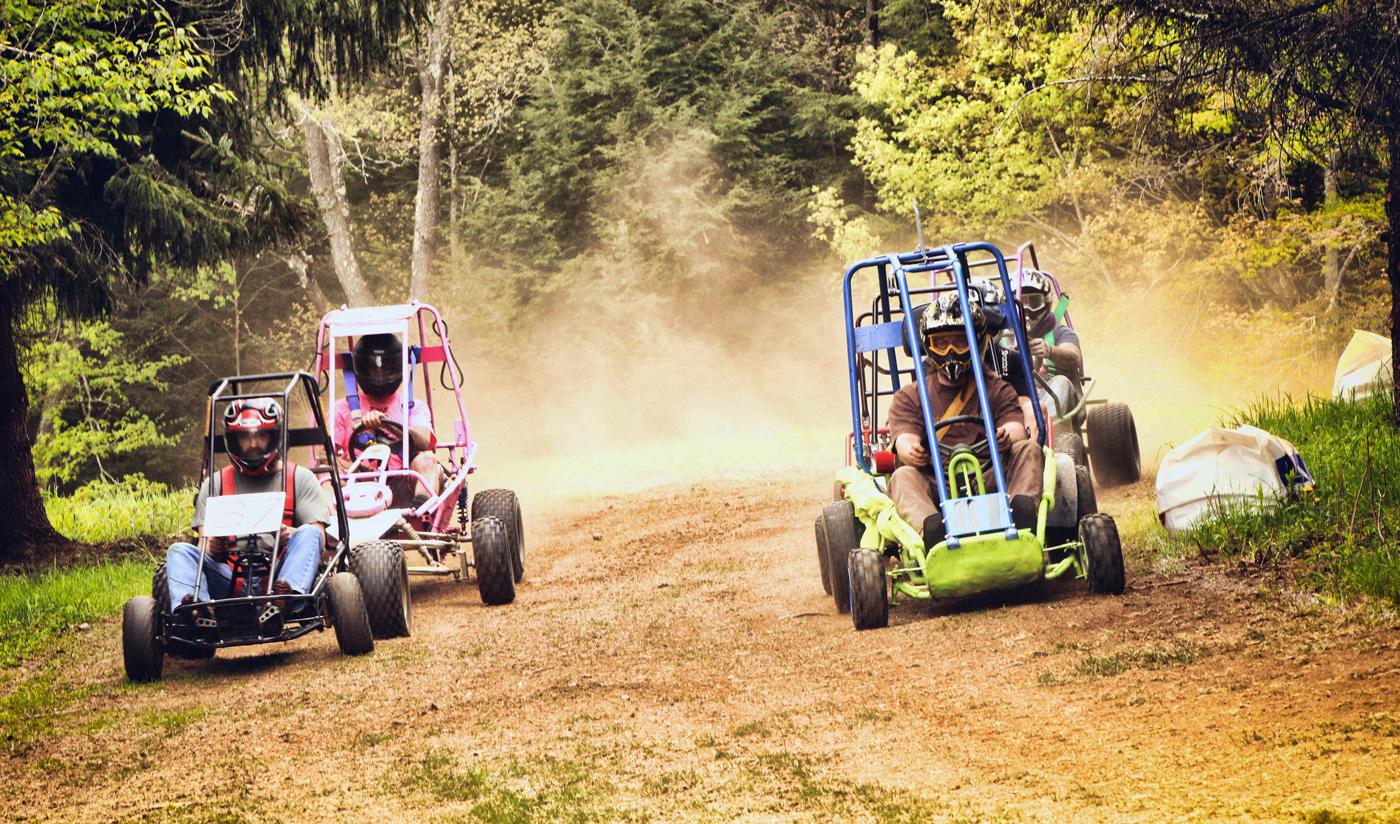 Eastern Pennsylvania's Dirt Squirts Kart Club balances laid-back fun with organized competition.
There's a tiny revolution going on in Eastern Pennsylvania. It isn't a multi-million-dollar racing series. There aren't any superstar drivers, clamoring autograph seekers, or worldwide sponsorship deals. It's just some average guys having the time of their lives, in a racing series they crafted themselves from scratch, using the best cars they can hammer together on a working-man's budget.
These are the Dirt Squirts. And they can teach all of us something about racing. 
There's an innocent charm about the Dirt Squirts Kart Club. For the most part, its members aren't experienced racers. Few of them had ever even driven on a race track before they joined the club. Yet they've quickly built a small but truly exceptional racing organization that masterfully balances laid-back fun with healthy, organized competition. 
In fact, their relatively limited prior experience is probably the source of this organization's magic. Its members aren't locked into one particular type of car or one style of racing. And they don't know what can't be done. They just go out and do it. 
The Birth of a Racing Series
Dirt Squirts began in 2018, the way so many racing endeavors are launched—somebody gets a taste of on-track excitement, starts dreaming, and things take on a life of their own. 
"It started when I did one of those Rusty Wallace driving experiences," said club co-founder Peter Austin. "When I got back, I thought, 'Man, I gotta do something like that because it was so much fun.'" 
Austin originally planned to prepare a car for organized dirt-track competition, but some co-worker friends threw a cold wet rug on the idea with talk of how expensive that can be. "So we decided to just buy go-karts, hop them up a little bit, and race them by ourselves," recounted Austin. "We just kind of raced around my buddy's yard. And then the next thing you know, we got four or five other guys who were like, 'Hey, that looks fun. Can we come out with you?'"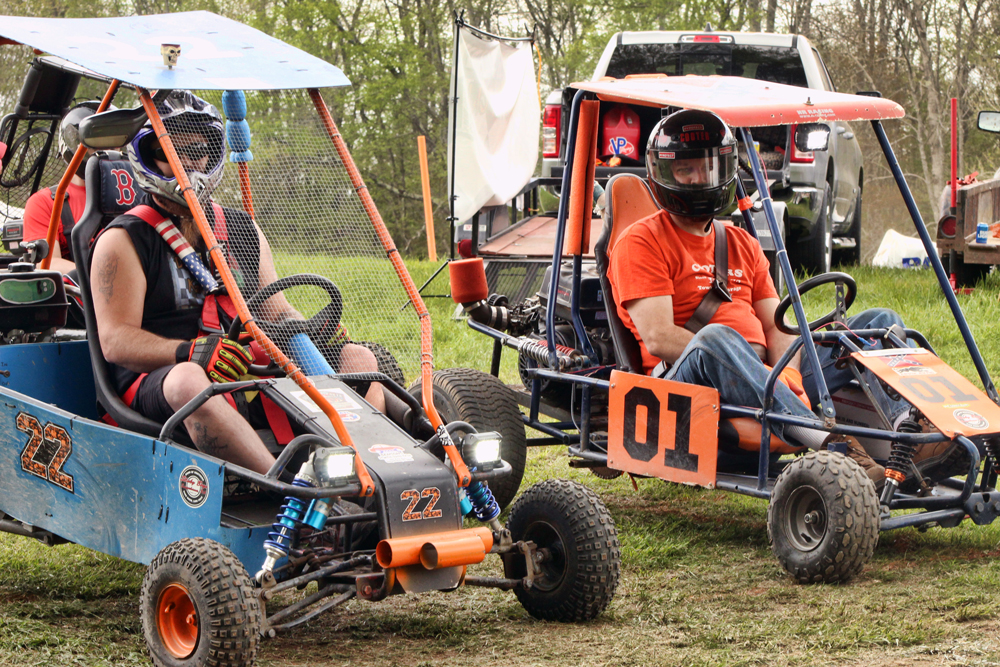 It proved to be contagious. They gained 10 more members the second year. Around that time, the club got its scrappy-clever Dirt Squirts name. "It just kind of rolled off our tongue," said club co-founder Jeff Conklin.
At that point, the initial group of racers became the club's official leadership, and they took on the name Founding Five. A few of those five leaders dropped out of the club fairly quickly, but elections were held to replace them, and the Founding Five leadership structure continues today. 
The group also began developing rules, with care taken to balance necessary regulation with the casual spirit of the club. "We ended up with about an eight-page rulebook," said Austin. "I wasn't intending to do that, but I just kept getting asked question after question: 'What about this? What about that? How do we handle this?'"
Easy Speed
Equipment isn't much of a big deal for the Dirt Squirts. It's all about maximum fun for minimum cost. Their machines are relatively inexpensive recreational-grade karts bought used on Craigslist or Facebook Marketplace. Austin races a Yerf-Dog, while Conklin and many other club members drive Manco karts. 
The feisty performance and reckless fun of racing these single-speed karts comes in large part from the classic hot-rodding formula of engine swapping. Originally equipped with engines putting out around 6 or 7 horsepower, Dirt Squirts karts are fortified with engines putting out roughly three times that. "These are little karts, and they're not really meant to do what we're doing with them," said Austin. 
Dirt Squirt rules specify a maximum of 20 horsepower. A lot of the racers reach that by going to the local Harbor Freight store and plunking down $400 for a 13-horsepower 420cc Predator engine, the kind of general-use four-cycle units you see powering generators, water pumps, and garden tractors. To that foundation, they add a few aftermarket parts and do a few tuning tricks, which brings power up to the 18–19-horsepower range, according to Austin. To enforce the horsepower rule, a competitor has to file a complaint with the Founding Five, who review it and pass judgment based on what modifications the racer has done to the engine.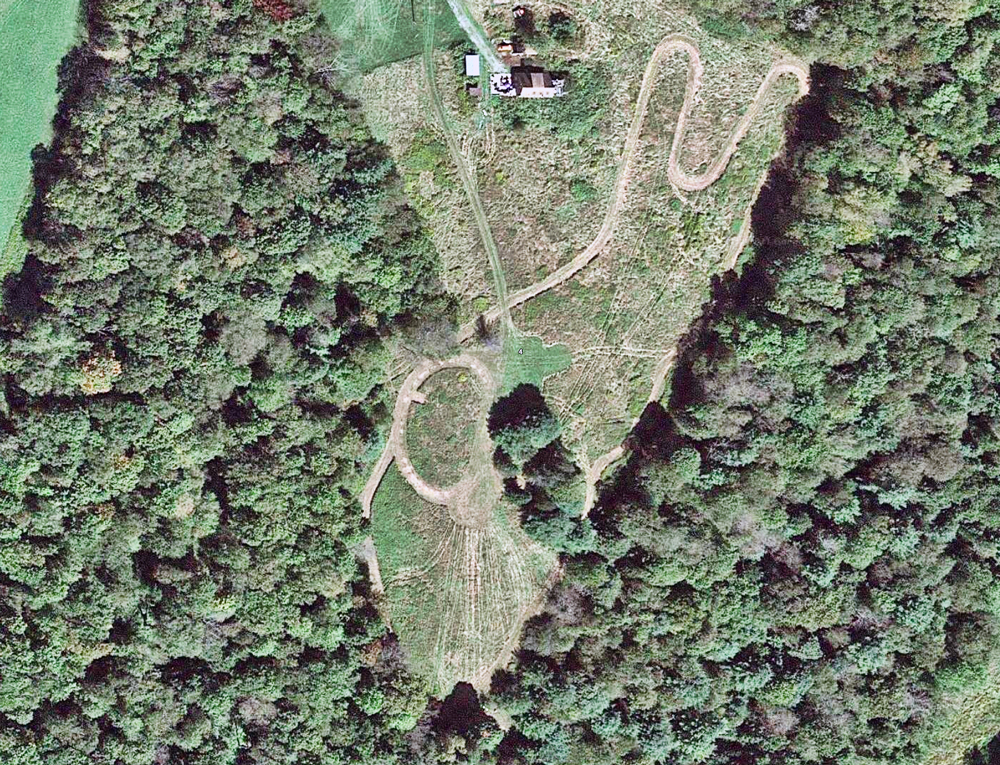 Other rules for Dirt Squirts karts are similarly loose. Suspension isn't required, but it's recommended. "We've got a couple of guys who race without it, but it's rough," said Conklin. "You'll see their back end get over two feet off the ground sometimes."
That said, the rear suspension has to be live axle. "You can't have independent rear suspension, which is what really kind of defines a go-kart from something else," noted Austin.
Austin said he has about $2,500 in his kart but pointed out that many club members do just about as well for much less money. Repair parts and consumables are said to be available inexpensively online. "A tire on a rim will show up at your front door in a week for 30 bucks," he said.
Places to Play
The club races on a series of small tracks built on members' property. The courses typically start out as short-mowed grass, then wear down to mostly dirt as cars lap them. With members having no prior allegiance to any particular form of motorsports, the tracks are designed in whatever shape the racers collectively feel like. There are ovals, a semi-rectangular track, and a road course that winds between trees. One oval track is run clockwise, just because the drivers like it better that way. 
Equally colorful are the names given to the tracks, including BlueStone Oval, Ridge Run, and Endless Mountains Speedway. The club's Conklin Glen road course is the longest Dirt Squirts track; it's estimated to be about 1/4 mile. The others are roughly 1/8 mile or less. The tracks are spread out among members' homes in northeastern Pennsylvania and New York state. Most of the action centers around Susquehanna, Pennsylvania, but the longest distance between tracks is said to be only about an hour's drive. 
The club even experimented with a night race last year, by fitting lights on the karts and illuminating the track with a 10-pack of shop lights. "It was interesting, to say the least," recounted Austin. 
Eight races are scheduled for 2021, from late April through mid-October. Together they make up the series championship, which awards trophies to the top-three points finishers. "Most everybody runs for the championship," said Austin. "To try to entice people into making every race, we have something called the Wash Rule, where you get to wash your worst race. And then, to counter people just picking a race and taking it off, we give a Perfect Attendance Bonus. You get bonus points if you're at every event, even if you can't race."
To ensure necessary manpower for running races smoothly, the club has come up with a simple but effective solution. "When you draw your starting position, you're also drawing your duty for when you're not racing," explained Austin. "So if you draw the pole for the first heat, you're going to be running flags for the second heat. Second and third do scorekeeping, and then fourth is the backup flagman."
Although the general vibe is pretty mellow, this is still racing. Tempers flare and personalities boil over. Dirt Squirts' rules are pretty lenient in that regard, but they nonetheless have a zero-tolerance policy ready for extreme situations. "If you throw a punch, you're out of this club. No ifs, ands, or buts," explained Austin. Fortunately, they haven't had to invoke this rule yet, with most incidents limited to shouting and various hand gestures between drivers. 
Small Club, Big Accomplishments
Despite the club's homespun flavor, it's already making some pretty sophisticated moves. As of May 2021, Dirt Squirts Kart Club is legally registered as a Limited Liability Company (LLC). And the club has signed a number of local sponsors, including an electronics store, a beer distributor, and a chainsaw business. "I put together a promo pack, so it looks like we're legit," said Austin. Sponsorship packages typically include a trackside banner, T-shirts, stickers on karts, and a website link. 
Most of the sponsorship money right now goes toward the club's next big goal of getting a transponder system for scoring. "Up until now we've done all paper scoring," said Austin. "And it sucks." 
Although the club's races don't cost a lot to put on, there are inevitably expenses. These are paid mostly through voluntary donations from club members. The donations are put into a drawing in which members can win $100. Some winners immediately donate the cash prize back to the club. There aren't any dues required from members.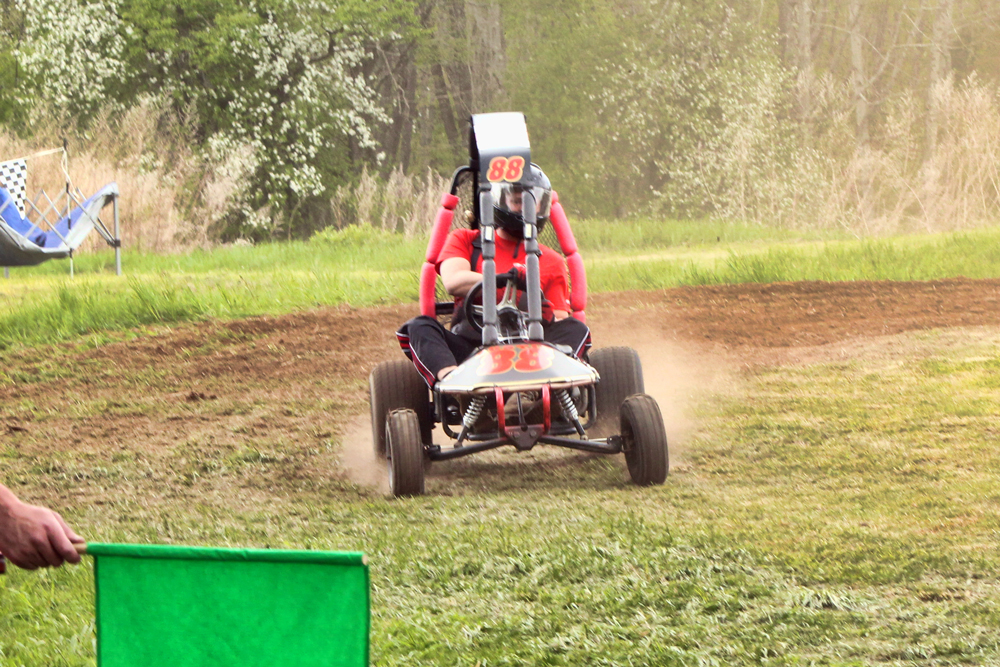 Although racers are obviously excited to be part of the club, enthusiasm surrounding Dirt Squirts is also starting to extend into the spectator area, too. "We have 30 spectators at some races," said Austin. "At the night race last year, there was easily 100 people. It may have been closer to 200. One of the guys knows a local fireworks distributor, so we had about $600 worth of fireworks to finish off the night. He's a professional, and he put on a whole show."
Next on the club's agenda is a move to established race tracks for at least part of the season. It's not that they've lost interest in their own tracks. They just want to spend more time racing and less time getting tracks ready. "Setup and teardown are a real bear," said Austin. "So one of our biggest goals is to split the season up between half homegrown tracks and half tracks like Action Park East and Champion Speedway." 
The club is already scheduled to run an event at one such track this season, at Action Park East Speedway in Greene, New York. "It'll be great," said Austin. "We don't have to have a flagman, we don't have to have a scorekeeper, we don't have to put hay bales out. We don't have to do anything."
Room to Grow
With its combination of rowdy trackside merriment, keen competition, and just enough structure to keep things running smoothly, Dirt Squirts has achieved a somewhat rare balance: organized racing that feels serious and satisfying, yet deeply casual.  
And while Dirt Squirts has the potential to grow much larger, they're cautiously trying not to get too big too quickly. The club currently has 14 members, and they've set a maximum of 18 for now. "We don't want it to grow so fast that we can't keep things under control," said Conklin.
In the meantime, the club will continue to evolve with much of the same inspiring sense of wonder it began with. "Last year at the night race, Peter and I were in the pits," recalled Conklin. "We looked up at the crowd of spectators, and the feeling was like, 'Wow, how did this happen?'"
SOURCES
–
Dirt Squirts Kart Club
dirtsquirtskartclub.com