PRI 2022: Machinery Row Preview: Case In Point
Image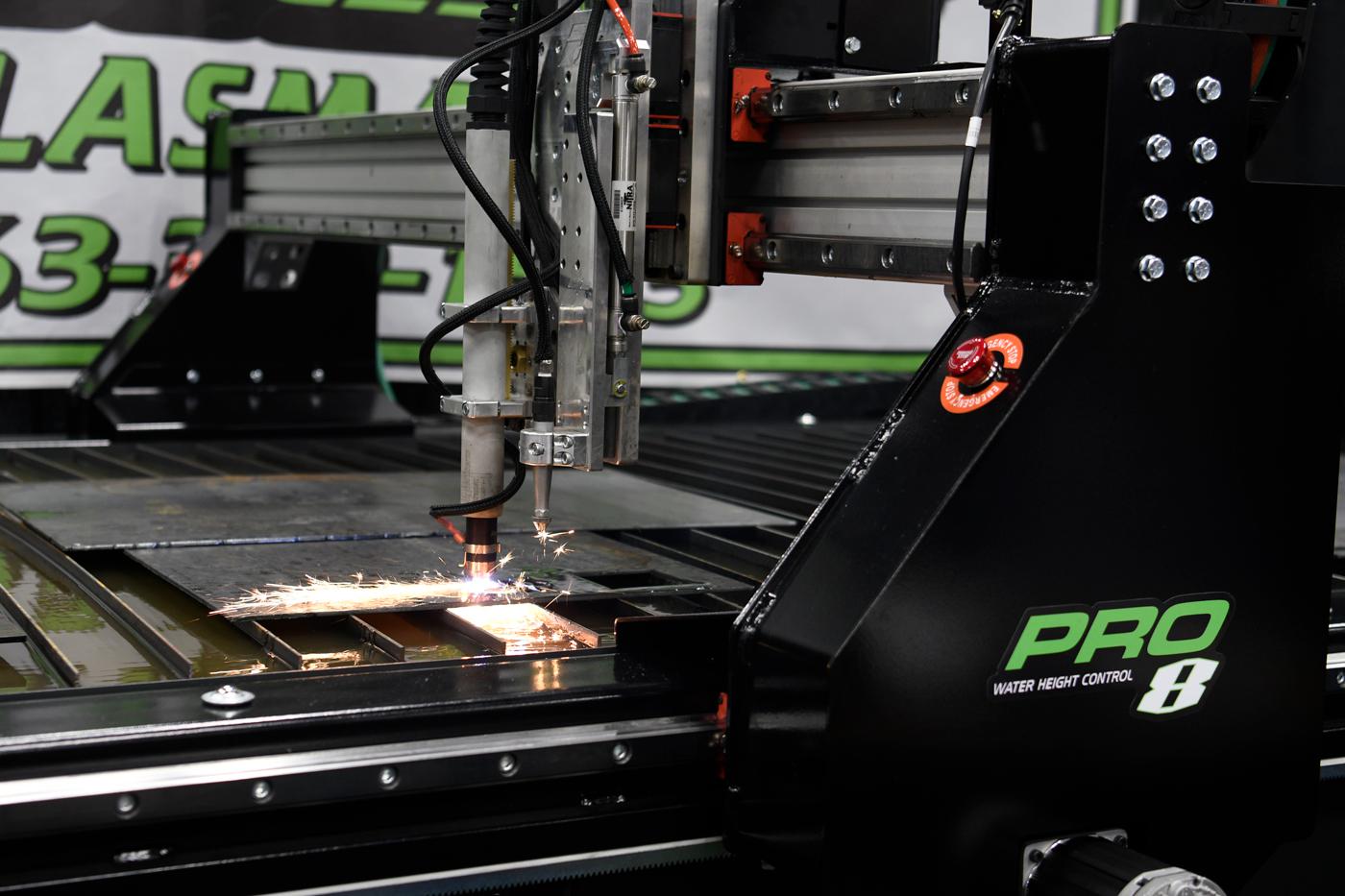 Ever wonder how the equipment on Machinery Row can enhance your company's bottom line? Here, a half-dozen entrepreneurs reveal how machines that were featured in this popular PRI Trade Show destination boosted their shops' quality and productivity.
There's probably more drooling in and around the annual PRI Trade Show's Machinery Row than any other area of the Indiana Convention Center and Lucas Oil Stadium. High-end manufacturing equipment worth millions of dollars is on display, along with countless time-saving tools and replacement items like abrasives and cleaning supplies. 
Machinery Row is also where solutions are found.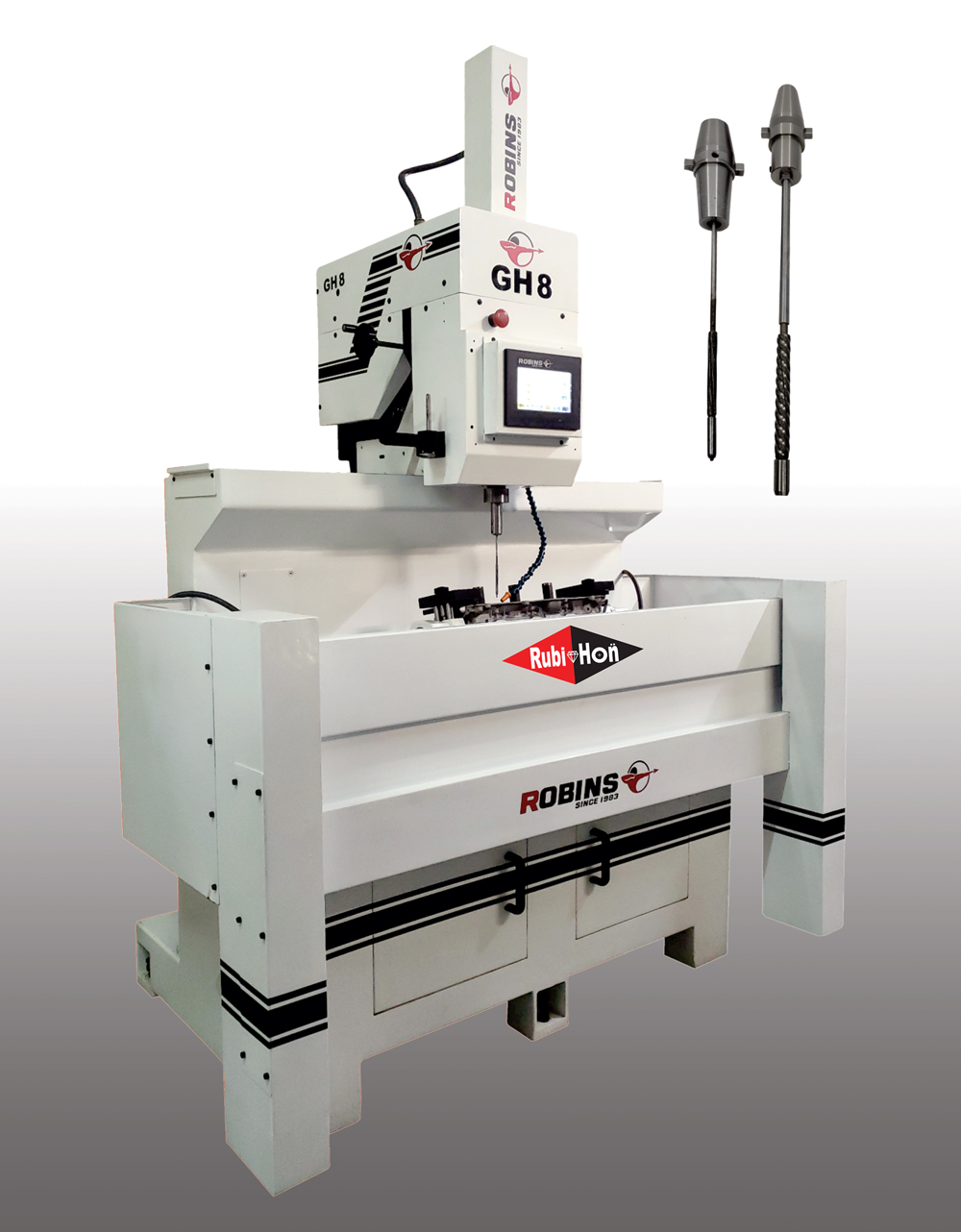 "One of the things that's really cool about PRI is if you have some problems in your business that you're trying to sort out, or you're trying to improve the throughput, you got all these guys there, showing you all the latest technology," said Dan Fitzmaurice of Zipper's Performance Products, Elkridge, Maryland. "We really like that part about the Show. I've been going to that Show for a long time, and I always bought a lot of tooling and things from it because it's always improved our business."
Dozens of companies fill the hallowed Machinery Row section of the Indiana Convention Center to showcase the newest machinery and update racers on new software, training opportunities, and support products for that equipment. The latest trends involving traditional metal fabrication and high-tech billet machining are also demonstrated.
In fact, the manufacturers enjoy the PRI Show for having access to customers with needs outside of racing. That is, the customer is a racer and is at the Show to improve vehicle performance; yet those same racers may need machinery, welding equipment, and supplies for their construction business or other trade. One exhibitor on Machinery Row at last year's Show hinted that 80% of his sales at that point in the Show were to operations outside of actual racing.
With a promise of that type of problem solving, Machinery Row at the 2022 PRI Trade Show should be more popular than ever. Following are several examples of how Machinery Row exhibitors worked with race shops in the past to solve their problems. Some of these stories came from direct sales at the Show, and others were from follow-up conversations and visits.
These stories reflect many of the current trends in the industry that racers are experiencing, especially on the labor front and sourcing either parts or services. Manufacturers are offering products that are more automated, allowing shop employees to concentrate on other areas of need. Also, these machines are easier to learn, and manufacturers are setting up comprehensive training programs to help bring newcomers to the industry. There are also exhibitors showcasing the latest in 3D printing, new measuring and scanning tools, updated CAD/CAM design software, and other high-tech solutions dedicated to racers.
Bottom line: There's a wealth of knowledge, experience, and skills available at Machinery Row to help solve just about any production and fabrication problems that a race shop might present.
Smooth Operator
A noteworthy part of the work at Don's Auto Parts and Machine Shop in Kenosha, Wisconsin, is prepping GM 604 crate engines for competition at area dirt tracks. The recent addition of a Serdi 4.5 seat-and-guide machine that was purchased through RT Sales in Highland, Michigan, has provided two significant benefits for the shop.
"One is that business is very well off right now. We did not get rid of our old Serdi, so the idea was to expand and have two machines so we could have more employees," said Tony Pontilla. "The second benefit was, obviously, stepping up to a more automated product and a product that turned out much better work. We do about 40 604 crate engines a year that run in the non-winged IRA sprint cars. The ticket was just getting the valve jobs we wanted compared to the old machine. It gives us the ability to put in oversized valves and do custom multi-angle work."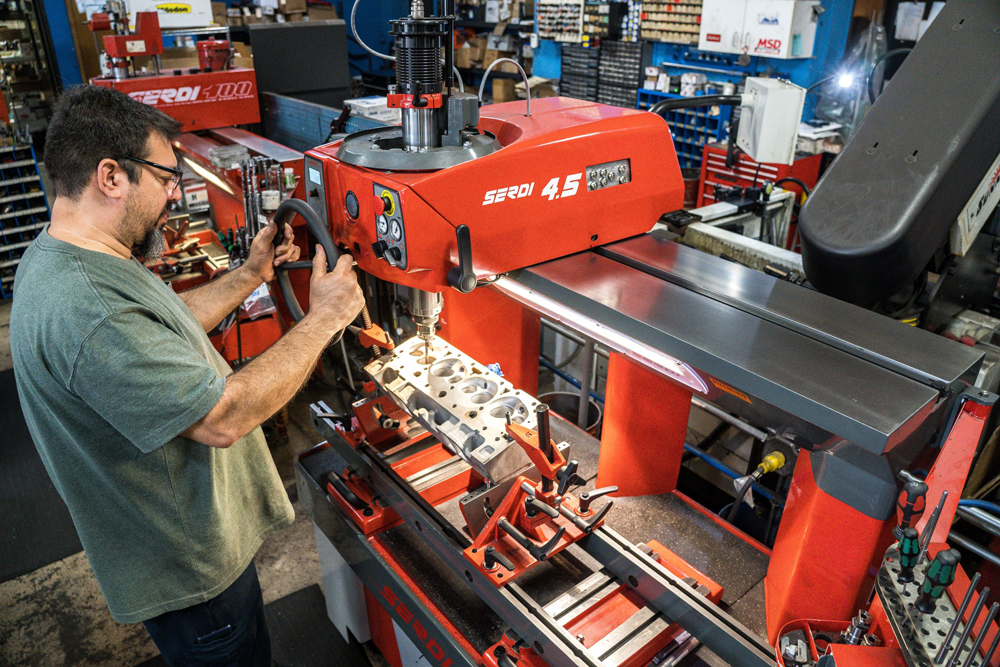 Working with Russ Tierney at RT Sales provided an incentive for the sale. "With Russ, whenever there's a problem, he's even driven here to work it out," said Pontilla. "He's somebody who cares about what he does and goes out of his way to help you out. That's why we deal with him and RT Sales."
Working with younger employees is another reason Pontilla likes the Serdi 4.5. He has a large shop with 20 fulltime employees and is eager to introduce machine work to the new workers.
"Training is something we had to do. With the automation on the 4.5, it makes it difficult for a new employee to make a large mistake," noted Pontilla. "All the dial indicators and electronics make it a lot easier for a new person to understand what they're doing."
Finally, it's all about productivity when investing in new equipment. "Production-wise, a job that took us maybe two hours before, we can turn out with this machine in probably an hour or hour and 15 minutes. It's probably trimmed close to 50% off our times," said Pontilla. 
No One Else
"Long story short, I bought the machine because I can't get anybody else to do it for me." 
That's Steve Morris talking about the arrival in January of a Centroid A560XL to his Muskegon, Michigan, shop, Steve Morris Engines.
"I can't get outside companies to do anything," continued Morris. "So I bought the machine to do it myself. Right now, we're making our own billet cylinder heads and, potentially, making our own billet blocks if we have to."
Morris has designed two V8 race engines, the SMX and SML, for high-powered drag and endurance racing. Both are constructed from billet aluminum. For example, a cylinder head will start out as a 105-pound chunk of aluminum, and after the Centroid is finished, there will be a 30-pound cylinder head.
The XL is the larger of the two A560 systems available from Centroid.
"It's suited for customers with the intention of getting into a five-axis machining system to satisfy the need for CNC porting, engine-block machining, and for making other parts," said John Cowher of Centroid, Howard, Pennsylvania. "The system has been upgraded with high-torque 40-horsepower spindle, and 1,000 psi coolant through the spindle."
"Right now, it's staying busy on a continuous basis. We've taken on a little bit of fill work and doing a couple of programs for others," said Morris. "It's a mesmerizing machine, just standing there watching it."
Cowher said the turnkey elements available with the A560 series include necessary hardware, Mastercam software, digitizing software, probe, tooling, fixture plates, and a comprehensive training program.
"Centroid does a great job of training, and I ended up hiring a guy who was already trained in using the machines," said Morris.
"I can probably keep it running 24/7," Morris added.
Breaking Through A Roadblock
As business was booming at Zipper's Performance Products, cylinder honing was a priority service that was falling behind.
"Honing is like an art because it's a difficult process to do right," explained Fitzmaurice. "We have a double handicap in the motorcycle industry because we don't have blocks. We have air-cooled cylinders, and there is less structure to them than a conventional engine block provides."
Those cylinders can have odd shapes to fit in the crankcase, and they are known to flex during the honing process. Basically, it was taking too long to perform the honing operation on a 20-year-old machine and still meet the shop's quality standards. Fitzmaurice attended the PRI Show and discussed his problem with Bob Davis at Sunnen Products Company. Zipper's sent some samples and fixtures to Sunnen, which then put together a demonstration of the SV-30 at its St. Louis, Missouri, plant in March.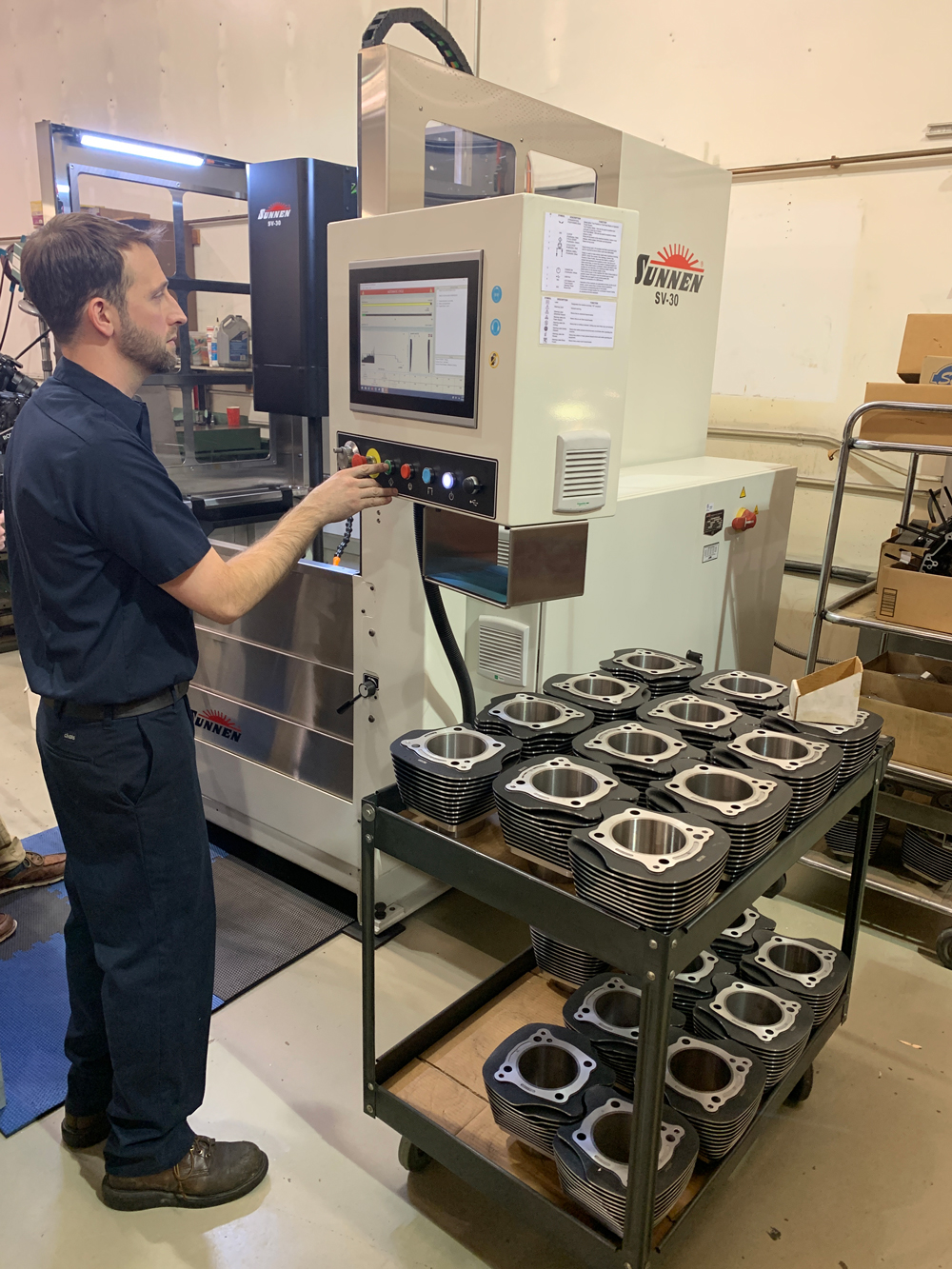 "The SV-30 is automated, so it moves from cylinder to cylinder by itself," said Fitzmaurice, noting that the shop-made fixtures hold four cylinders at a time. "The other thing, it has the ability to hold even more parts with a different fixture."
Cylinder production almost doubled when the SV-30 was brought up to speed, and the shop is looking to the future when experienced technicians will be retiring.
"Remember what I said about honing being an art? I look back at all the years of honing on a conventional machine, even with diamond stones, and say that it's very art-like. This Sunnen machine takes a lot of that out," noted Fitzmaurice. "Now it's a task, and you just line up to do the work. It does what you ask it to do, very quickly and very precisely. 
"My partner, we've been doing this stuff together since the beginning," continued Fitzmaurice. "I was wondering what we would do when he retires. I don't want him to be sitting in front of that machine for 10 years past retirement, just to precision hone liners. The SV-30 just does it!"
Tighten Up the Seal
Baldwin Racing Engines in Friedheim, Missouri, offers a wide variety of performance engines, including those specially built for demolition derbies. Jeff Baldwin's previous cylinder honing machine provided the basics, yet he was looking for greater precision because cylinder seal was becoming more of a priority in competitive racing.
"The Rottler H85AX is probably the best piece we've bought to date, as far as a game-changer in the shop," said Baldwin. "It is so accurate. It produces such a round, straight hole with little to no influence on our end."
Baldwin noted that he can set up a block for honing while he trains a new employee on other equipment. "It runs all day long, and I don't have to worry about what it's doing," he said. "As long as you feed it the right information, it's so dead-on accurate."
Cylinder honing has become more critical in today's racing environment because sealing the cylinder is vital to building horsepower. Baldwin relies on diamond honing stones and uses a profilometer to verify the results.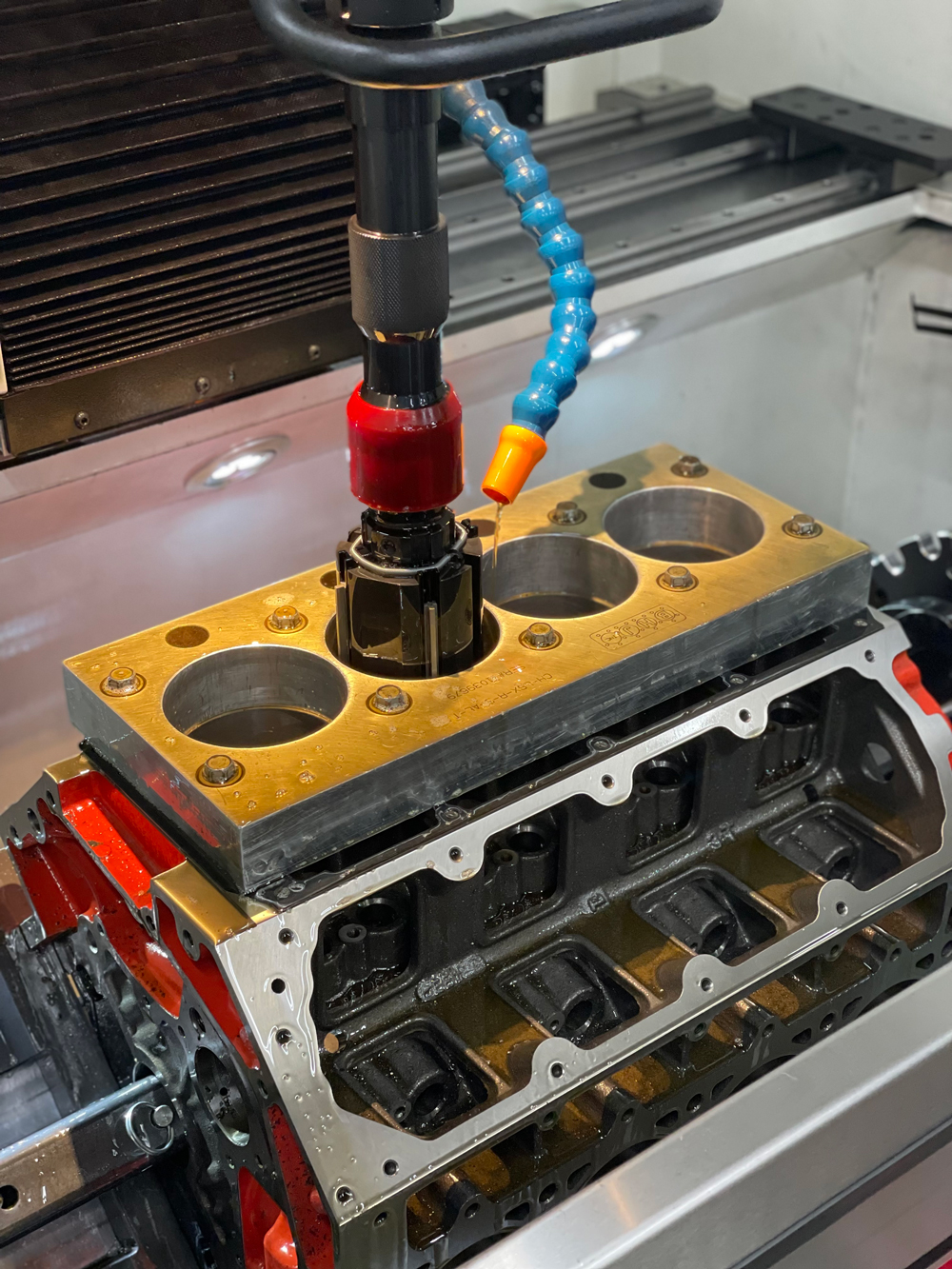 "The surface finishes that we can produce now versus what we were doing before are just so much better," said Baldwin. "Our valley depths and the Rpk, the Rvk, and all the measurements that the top shops are using now, we can produce and repeat it every time. We want to put more valley depth, and not that you couldn't do it before on other machines. But with that diamond being so rigid, it produces the same thing every time."
The consistency from cylinder to cylinder has impressed Baldwin, especially when file-fitting rings. He said the little difference in cylinder size can show up in the ring gap.
"I'm within a half-tenth to no more than a tenth variance from hole to hole, it's just so much better," he added. "It took 45 minutes of time savings just in file fitting the rings."
Finally, the speed and flexibility of the Rottler H85AX allows Baldwin to specialize in a wider range of engine applications. "Well, we're still heavily into the UMP modifieds, Late Models, and demolition derby—those are still our most popular builds," he said. "But we do everything for street cars: a lot of Coyotes, LS, and Hemis."
Balance Sheet
Purchasing a crankshaft balancer from CWT Industries of Norcross, Georgia, allowed Jody Gunter Racing in Valley Mills, Texas, to expand the shop's services.
"Basically, this is a new venture," said Jody Gunter. "I was at the point of doing something new in my business. So, that's how it came about."
Gunter focuses on domestic engines with a slight preference toward Ford because he offers a performance cylinder head for big block Fords. He used to outsource the crankshaft balancing before purchasing the CWT 5500.
"I drove to Randy Neal's place in Atlanta to pick it up and take a crash course with him," explained Gunter. "I was very pleased with the training experience. I was very impressed with his facility. You know, you make a purchase, and then you wonder maybe later if you did the right thing. I feel really good about the fact that they are going to be there to help me, since this is new for me."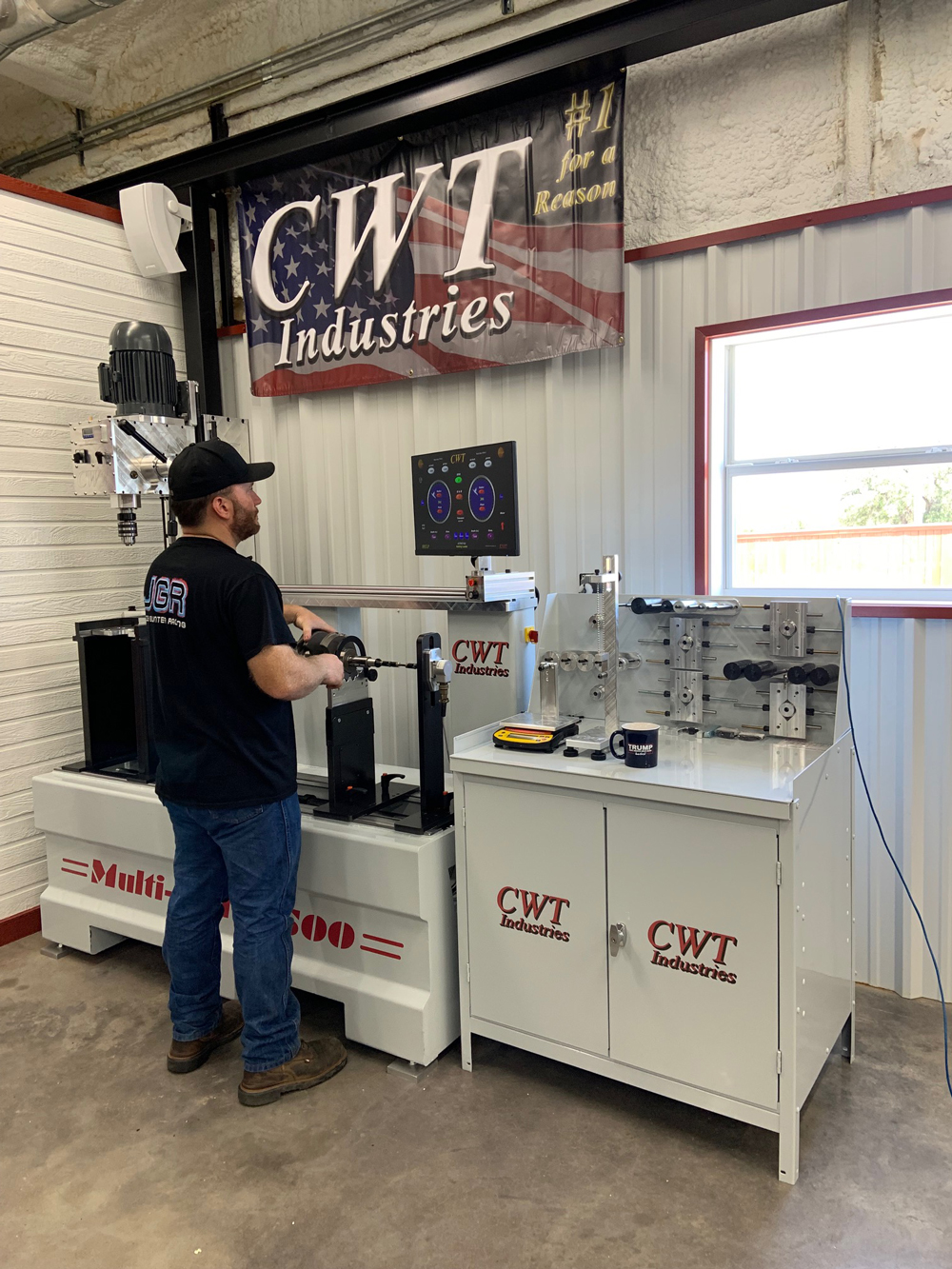 Balancing the engine's rotating assembly is somewhat of a black art. Engine builders have theories on overbalancing and underbalancing. Gunter had long observed a local engineering legend named Ted who balanced assemblies on an old Stewart Warner machine. When Gunter went for his training, Ted came along.
"I quizzed Ted on the way up there about overbalance, underbalance. We got to Randy's, and once we got to that discussion, it was pretty interesting," recalled Gunter. "He has some very interesting theories. One thing that I did notice about Randy is, if he's got a theory, he's got a calculation behind it, and I like that."
Gunter's work with the CWT balancer won't just be for engines built in his shop. He plans to take in outside work and grow that part of the business.
"The issue that I'm running into here, is that we're losing all of our local machine shops," said Gunter. "The good ones are retiring, and nobody's stepping up to do it. What we have left, the quality just isn't great. So, it's forced me to step in and do it."
Setting the Table
The Garage Shop in Catawba, North Carolina, used to have a 5x10-foot roll-around wooden table that was the community workbench.
"It looked like a dumpster pretty much all the time," recalled Aaron Brown. "So I bought everyone in the shop a 3x4-foot welding table from Quantum."
Quantum Machinery of Charlotte, North Carolina, is a distributor for Siegmund welding tables and fixtures, which are manufactured in Germany. They are available in different sizes and styles. The Garage Shop has purchased a total of 10 Series 16 Imperial tables that are constructed from hardened steel and treated to a plasma nitride finish. The tables can easily be connected to provide a large flat surface for special projects.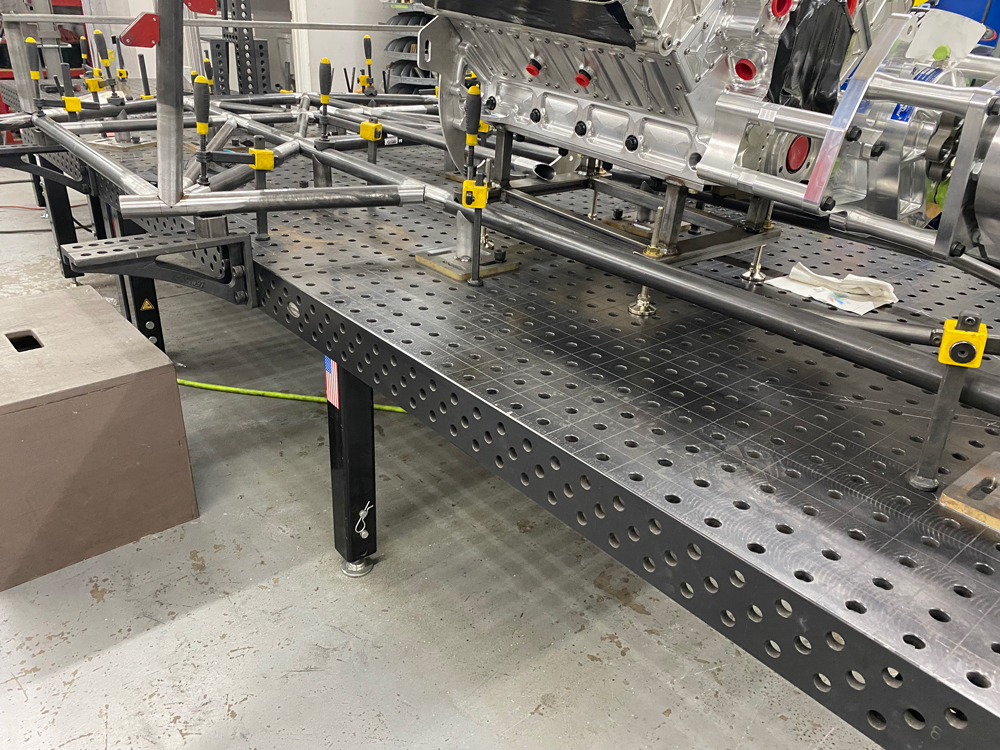 "Right now, we're building a Bonneville streamliner with a 280-inch wheelbase," said Brown. "The whole car is on tables now. They always give you a zero plane to work from. With them being gridded, you can do sideline measurements to make sure your chassis is center of the table. We actually made a body grid over the chassis. So while they're building the chassis, they know where the body sits."
The shop designed and built its own fixtures for the tables. "You can get as creative with those tables as you want," added Brown.
Other chassis projects at the shop include a pair of 1934 Ford roadsters that will run Bonneville and a new Pro Mod car that, ironically, will be used to test the engines designed for the streamliner.
"Our engine program for the streamliner runs supercharged Noonan Hemis. Steve Morris is doing all our engines for the streamliner," explained Brown. "So, we wanted a vehicle to go test our engines after the dyno and before we put them in the streamliner. We decided to build a Pro Mod car that we're going to run a mile and a half and basically test our streamliner engines in the Pro Mod car."
Sources
Baldwin Racing Engines
baldwinengines.com
Centroid
centroidcnc.com
CWT Industries
cwtindustries.com
Don's Auto Parts and Machine Shop
dons-auto.com
Jody Gunter Racing/Gunter Specialty
gunterspecialty.com
Quantum Machinery
quantummachinery.com
Robins Machines
robinsmachines.com 
Rottler
rottlermfg.com
RT Sales
rtsalesinc.com
Steve Morris Engines
stevemorrisengines.com
Sunnen Products Company
sunnen.com
The Garage Shop
thegarageshop200.com
Zipper's Performance Products
zippersperformance.com