Business Profile: Neil & Parks Racing Enterprises
Image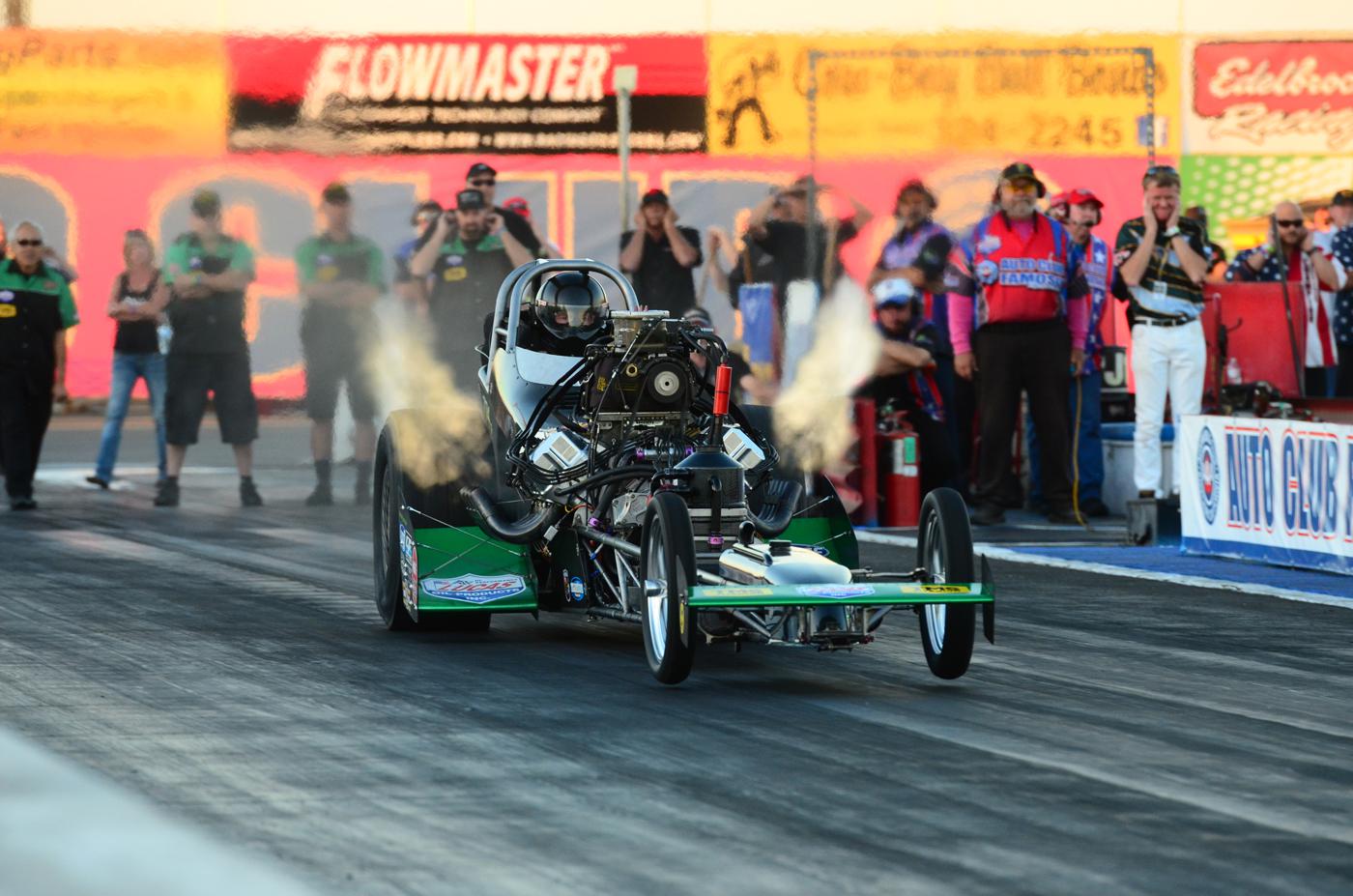 Photo courtesy of Chris Graves / Jim Murphy's WW2 Front Engine Dragster team
Over the past 42 years, Neil & Parks has evolved from a humble chassis shop to a manufacturer of nearly every component one would need in order to put a Nostalgia Top Fuel or Jr. Fuel dragster on track. Owned and operated by the father-and-son team of Frank and Scott Parks, the shop's ability to design and produce a wide variety of high-quality one-off parts has made it the go-to option for both domestic and international racers. 
Growing up during the golden era of hot rodding, Frank Parks was interested in going fast from an early age. When he couldn't afford to pay shops to hop up his projects, he learned to do the work himself, and that approach would eventually lead to a career in fabrication. 
"I think the shop kind of started as more of a tax dodge for my dad," quipped Scott Parks. "Norman Neil—the 'Neil' part of the shop's name—was a customer of his back in 1975 when they partnered up on a race car. The business didn't get started in an official capacity until 1980."
He explained that his father was frustrated with the arrangement he had with the fabrication shop that he was working for at the time, so he decided to strike out on his own. "My mom was working at that point, and she was making enough to feed us and put a roof over our heads. My dad basically said, 'Give me six months—if it doesn't make money, I'll go get another job.'" 
The gamble paid off. Originally located in Salt Lake City, Utah, the shop moved to its current Burlingame, Kansas-based facility in 1993, and the relocation brought with it more than just a change of address. "Norm didn't want to move," Scott said. "He had a day job and was doing the tin work on the dragsters at night, but he'd recently gotten married and was kind of losing interest in the race cars. So we parted ways amicably."
Although the elder Parks' focus was initially on chassis work, over time he began to see a need to expand the company's products and services. "During the 1980s and 1990s, basically the only people who made anything for these types of dragsters were the original guys from way back when," Scott said. "The racing supply companies hadn't changed hands yet. But they got older and started to retire, and eventually we reached a point where it started to become really hard to get the parts we needed to build the cars. Fortunately, it didn't all happen at once, and that allowed us to slowly step into the manufacturing side of things." 
They started with air bottle clamps, but it wasn't long before Frank Parks began to explore what other racing products could be produced in-house. "I suppose it wasn't that we couldn't get them, it was that we couldn't get what we wanted," Scott recalled. "The ones that were available were poorly made, or they were the wrong size—they just didn't meet our standard. And it seemed like every time we turned around, something that we normally sourced from someone else just wasn't available anymore."
The company began adding products to the catalog little by little, and a few years ago it reached a point where manufacturing had taken top priority. "We don't really have time to build cars anymore," Scott said. "We are so busy making parts; there just aren't enough hours in the day." 
Specialized Parts For Specialized Racing
Although Scott noted that Neil & Parks Racing Enterprises generally does whatever work comes in the door, the vast majority of his customers are looking for something that they can't get anywhere else. "I don't want to build 600 Super Comp cars, where the only difference between one car and the next is the paint scheme. That's not what we do. If you need a one-off part made, that's where we come in." 
He also pointed out that the company's focus on the Nostalgia market came out of necessity more than anything else. "Some of that comes down to the fact that we've been around forever, so we tend to know what we're doing. We raced in this segment for many years and won a number of championships, so that kept us close to that community of racers and ensured that we stayed on top of what was going on in the series. Because we've built a lot of the Nostalgia cars, we ended up designing and producing a lot of products that are specific to those cars that you just can't get from other places." 
He noted that Heartland Motorsports Park in Topeka, Kansas, is the closest race track to the shop, but since Heartland doesn't host a Nostalgia series, Tulsa Raceway Park—about 250 miles south of Burlingame—would actually be more appropriate to consider their "home" track. 
"Since we're working with customers all over the world, we don't really need to be 'local' to any particular track. With products like these, I don't think our location relative to the tracks that are supporting this kind of racing is a huge factor. It's not like you can just go to your local shop and get this kind of work done." 
Tools Of The Trade
The Neil & Parks facility consists of a main, 6,800-square-foot shop and a second, 1,500-square-foot building that originally housed the team's race cars but was eventually converted to allow for additional manufacturing capability. 
"It was a situation where we'd retired from racing, and at the same time, there were just more and more products that were getting hard to find," Scott said. "We started putting machinery out in that secondary shop because our gun drilling guy wanted to retire, and that's where we had the space. We make some titanium driveshafts, and you can't find titanium tubing that big and at the required thickness, so we went out and bought a huge lathe to build a gun drill. The other one that takes up a lot of space in that building is the horizontal boring mill. If you use your imagination, there's almost no limit to what you can do with one of those. Just last week someone sent me a rearend housing with an older version of Mark Williams' floaters on it. It had broken a spindle, and Mark won't make parts for his old floaters, so we decided to put that rearend up on the mill, cut the old spindles out of it, and then put our floater assembly in it, something that he can still buy parts for."
The only work that Neil & Parks regularly farms out is painting and anodizing, and that makes it a one-stop shop for just about anything a Nostalgia racer might need. The company designs and manufactures everything from cylinder heads and billet pistons to wheelie bars and aero parts entirely in-house, and that's led to Parks amassing a roster of manufacturing and machining equipment that includes three manual engine lathes, a Bridgeport mill, a CNC lathe, a CNC mill, a tracer mill, a water jet cutter, and a modified keyseater that Scott uses to make internal splines for spools and couplers. 
"We also offer a chassis builder training class," he pointed out. "For $500 a day someone can come here and use all of our equipment and knowledge to build a car. Right now, that's about as close as we come to chassis building. I'm not going to say I would never build another one, but it's not work that we're actively looking for at the moment." 
Keeping It Simple 
Although Neil & Parks has had an employee or two over the years, the company has largely been operated solely by Frank and Scott. "It's tough to find people to do this kind of custom work," he said. "Even now with all the parts we're manufacturing, yeah, it's production, but these are small batches. A couple hundred fuel tank caps and butterfly steering wheels will last us a year or two. There's just a finite number of dragsters in the world." 
While the operation remains relatively small, it's not for lack of demand. "We do basically no marketing and we're buried," Scott said. "I think the closest we get to that is our posts on Facebook. Usually, I'll post something when we complete a project that's kind of unusual—something that people haven't seen before."
Neil & Parks customer Mike Botai told us that when he started asking friends for recommendations for shops that could help out with a build for the NHRA Hot Rod Heritage Racing Series, the company's reputation preceded them. "I think what really caught my attention about the shop is that they really do just about everything in-house, and the quality is just incredible," Botai said. "Initially, Frank helped me purchase an Alan Johnson motor, and I was just going to have them go through it and get it ready for the 7.0 Pro class. But I realized along the way that A/Fuel was really where I wanted to end up, and Frank happened to have a chassis available that was partially completed. I purchased that chassis from him, and we ended up building an entire car. The build really evolved as we went—it became a really custom, one-off project. They have this desire to do something that's above and beyond what everyone else is doing, and they have the ability to actually deliver on that." 
Through the shop's racing efforts and word of mouth, Neil & Parks has built a reputation in the Nostalgia community that keeps customers coming back. "We try to do what the customer needs, and that's not always what they might want when they come in the door," Scott said. "We're not going to do something for them that we know isn't going to work. We'll take on experimental projects from time to time, but we make it clear up front that there are no guarantees with stuff like that. Ultimately, we just try to treat our customers right. We don't mess with them on price, we do the work right, and we try to get the work done in a reasonable amount of time."