Image

Manufacturers, tracks, and sanctioning bodies are working through a tire shortage resulting from a scarcity of labor and supply chain disruptions. 
Motorsports parts suppliers are scrambling to fill orders after pandemic-related shutdowns led to uncertainty, followed soon after by unexpected demand across nearly all sectors of the industry (see "Still Spiking," PRI Magazine, June 2021). Among the consequences of this scenario is an emerging tire shortage, particularly in short track racing.
"We certainly don't have the tire inventory that we would like at this time of the year, and there are many reasons for that," said Paul Menting of Hoosier Racing Tire, Lakeville, Indiana. "But as many people are aware, we're not the only parts manufacturer in this position. It's really a burden on the overall racing industry." 
Here's how tire manufacturers are sorting through the situation, and how some tracks and sanctioning bodies have adjusted to mitigate the effect on events and competitors.
BACK TO THE BEGINNING 
To understand the "why" behind the shortage, it's vital to go back to the beginning of the pandemic, which brought forced shutdowns to race tracks, race teams, manufacturers, parts sellers, and the like, prompting all to adapt.
"[This shortage began] 14 months ago when things started shutting down in the US and worldwide," Menting said. "We are a global company, and we sell tires in 80 different countries. As things started shuttering, we had to make adjustments. We saw our sales fall off around 80% immediately in March, but we did not fully stop production as many passenger car and light truck plants did.
"Then, as things started to change and promoters, being the savvy business people they are, found ways to get races in, we started to ramp our production back up," Menting added. 
LACK OF LABOR
When manufacturers were ready to resume production, they found themselves faced with a lack of suitable workers. 
"I'd say 95% of our issues is the scarcity of labor. We can't hire enough people to staff our factories, ramp up production, and meet demand," said Scott Junod of American Racer, the tire manufacturer based out of Indiana, Pennsylvania. "There are record job vacancies across the country. As a result, we told our distributors that we anticipated a very tight supply chain back in January. We encouraged them at that time not to enter any new agreements."
That same month, American Racer increased manufacturing of its biggest selling tires, bringing an overall production increase of around 20% year-to-date, which still fell short of demand.
"This is by far our highest production rate in at least a decade," Junod said, even though the company is dozens of employees short throughout its tire factories, including facilities in Unicoi, Tennessee, and the city of Indiana, Pennsylvania.  
The same sentiment was echoed by Menting, who said Hoosier Racing Tire was down by around 50 employees as of late June.
"We hire people daily, then lose people daily, and it's hard to make any headway against that," Menting said. "I'll give you an example: We'll hire 10 employees in a week, and nine of our people, for various reasons, leave. And they're not the same 10 and nine. They're in a very competitive labor market here, so we have employees shopping around. But at the same time, we're very cognizant of not overworking our employees." 
ADDITIONAL FACTORS
Although labor is the primary reason for the tire shortage, there has also been disruption in the tire materials supply chain, specifically with nylon and other components. 
"From my discussions with our tire distributors, aside from employee shortages, there is a nylon shortage," said Jack McNelly of the CARS Tour, Mooresville, North Carolina. "I was told a lot of the nylon comes out of Texas, and that state had a very tough situation a few months ago with the freezing and the flooding. So that messed up the production of materials."
"Labor is our main issue," Junod agreed, "but there is tightness in the market, especially following the deep freeze in Texas. It took time for refineries to reopen, which caused a ripple in the industry."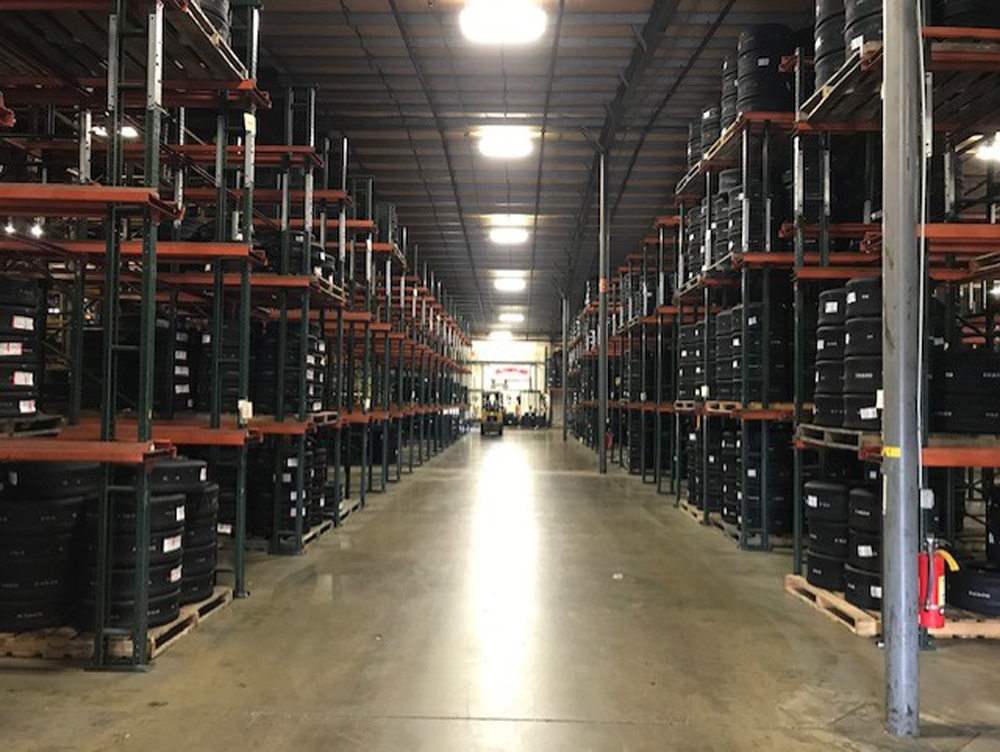 Another factor is related to logistics, Menting pointed out. "Container shipments are costly and very difficult to get. Our suppliers are having difficulty in securing those containers, as are we, so that's led us into this perfect storm of supply and demand." 
Additionally, the uncertainty of the 2020 season may have spurred increased demand going into 2021.
"Something unforeseen was this whole 'toilet paper' effect of buying race tires," Junod pointed out. "First, we've had the biggest spike in demand we've ever seen with people flooding the market. Second, racers can move, but tracks cannot. If one of our tracks [in Pennsylvania] is short of tires, teams can cross the state to race, accelerating the use of available inventory."
WHAT'S BEING DONE
In response to the tire shortage, several tracks and sanctioning bodies had to adjust procedures. One North Carolina track, Tri-County Speedway, canceled its June 19 race to guarantee tire supply for its Pepsi Firecracker 250 special on July 3. "This news is not what we wanted, but it will ensure us that we can take care of our racers and fans [during our special event]," a track official said.
Similar scenarios have played out at Viking Speedway in Minnesota, where officials pulled the plug on a July 3 program, and Thompson Speedway Motorsports Park in Connecticut, which scrubbed a Sunoco Modified feature from its July 7 lineup.   
Fortunately, not all changes have been as drastic. South Boston Speedway, for example, is only revising its practice procedures. "We're limiting the number of practice tires to two tires for our weekly Late Model races, and one set (four tires) for our July 4th special," Incoming General Manager Chase Brashears told us. "We already had a two-tire rule except for a few events. Our standard procedure is two impounded tires plus two new tires per race. This helped us mitigate inventory during this shortage."
Tires are also limited for the CARS Tour, with each competitor allotted one set of practice tires and one set of racing tires per event. "I feel very fortunate that we are still able to put on shows amid the tire shortage," McNelly said. "Hoosier has done a pretty good job given the circumstances. Although I must say, we are a developmental series, so we have several younger drivers, 14 through 16 years old, who need all the track time they can get. And they're not able to do that right now. But we could be on a hiatus with no tires and no racing, so I feel fortunate."
For manufacturers, not much can be done until worker availability increases. "It really depends on how quickly we can bridge that deficit of labor that we have," Menting said. "And then, what is the market demand going to look like? We're all wondering how long the demand is going to last. But I can assure you, we're doing all we can to produce as many tires as we can, and that will continue."  
"I've strongly suggested to our customers to control tire consumption. We must do all that we can to maximize this racing schedule," Junod said.  
Although none could pinpoint when the shortage would end, all sources were optimistic the industry would return to normal. "Racers will bounce back like they always do," said Junod. "This will eventually slow down and resettle itself." 
"Right now, and this goes for all stakeholders in the industry, we've got to work together to get through this and make things flow in a better direction," Brashears added.
SOURCES
–
American Racer
americanraceronline.com
CARS Tour
carsracingtour.com
Hoosier Racing Tire
hoosiertire.com
South Boston Speedway
southbostonspeedway.com