Image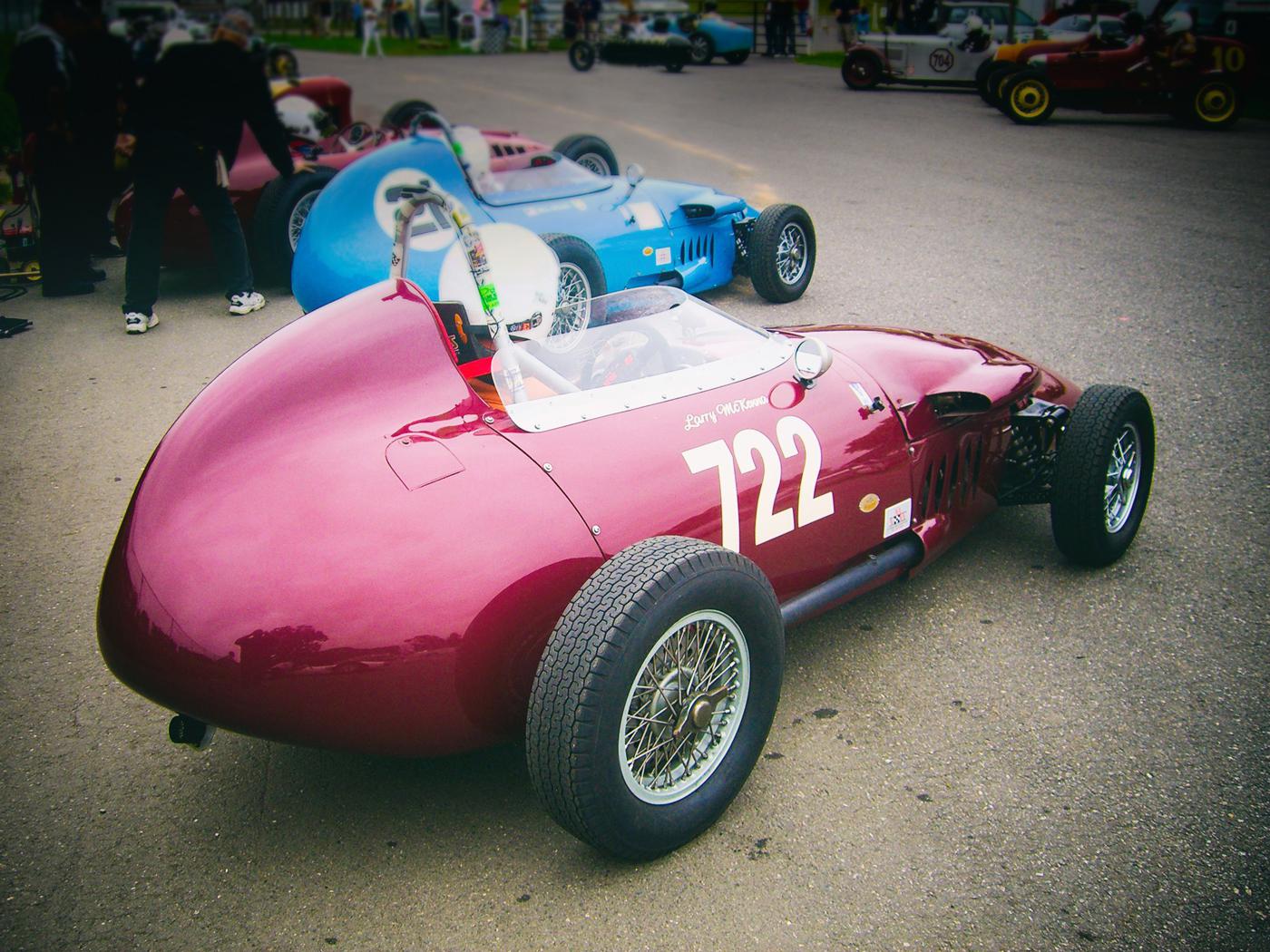 Photo courtesy of Vintage Machine Works
A pair of leading specialty shops have converted their passion for vintage race cars into lucrative businesses rooted in first-class customer support and service. 
Examples of business done right abound in the PRI community, and Vintage Machine Works and Dernoshek Racing & Restoration are among the best for period and historic race cars. Both companies have tapped into a multi-generational love of racing while practically executing sound business practices. And both are succeeding by making customers the center of their attention. Here's how…
Vintage Machine Works 
Headed by brothers Mark and Scot Lefferts, Vintage Machine Works was established by way of legacy; it was preceded by their father's shop, Vintage Auto Restorations Inc., which had served a small community of classic Bugatti racers starting in the late 1960s.
Mark took a job at his dad's shop right out of high school in 1977, and caught the vintage racing bug soon after. Opportunities eventually arose for Mark to drive former Bugatti Grand Prix cars and other notable classics. "I stopped counting the number of special interest cars I'd driven after about 300," he told us. "I could acclimate (to new cars) quickly, and it didn't matter whether they were right- or left-hand drive or had a center gas pedal."
Many of these drives happened at Lime Rock Park, Mark recalled. "We used to test at Lime Rock's Tuesday Testing days," he said. "Things we do on the dyno now, we used to do at the race track. We'd go with a Webber jet box (to tune carburetors), bed in new brakes, dial in suspensions so we could get the cars as close to race-ready as possible for our customers."
In 2000, their parents closed the business for personal reasons, which prompted Mark and Scot to start Vintage Machine Works. This allowed Mark to get back in the shop and behind the wheel.
The brothers continue to work out of their original 3,300-square-foot garage in downtown Bethel, Connecticut. "We usually have anywhere from 10 to 12 cars in the shop at a time," Mark noted. "Since we're a machine shop, we can manufacture parts like a Bugatti water pump housing, for instance. And for what we can't do in the shop, we have a huge network built over 43 years in the business. There's nothing that moves on a vintage race car that we can't get an answer on.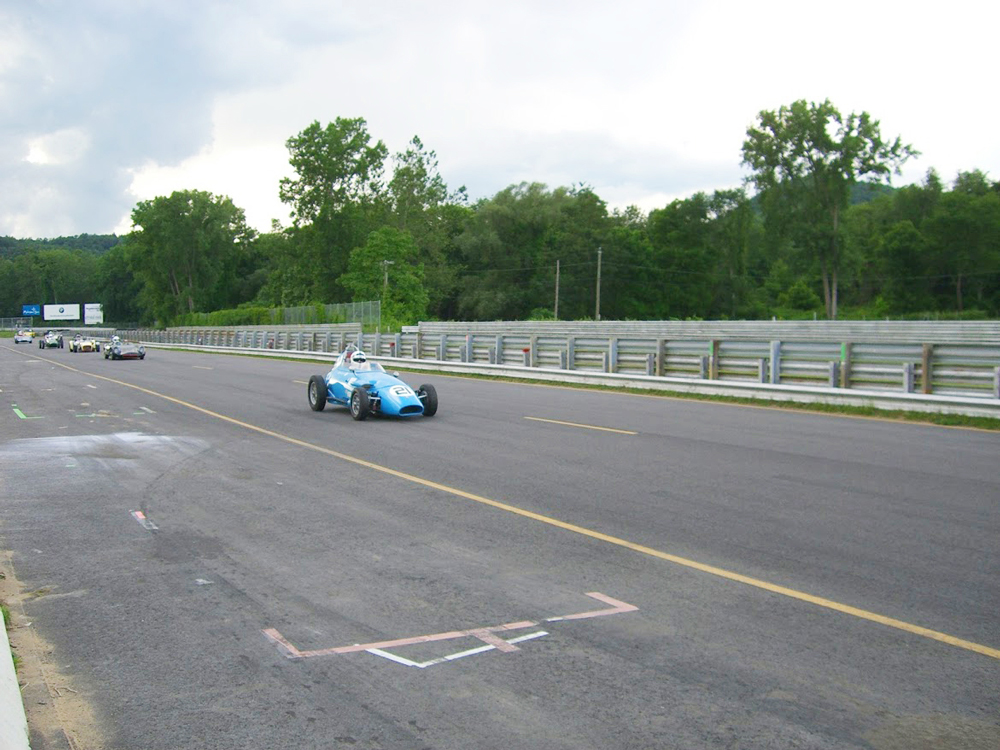 "The business has grown," Mark said of their current workload. "We're at every VSCCA event and campaign other cars in SVRA events at tracks across the US including Laguna Seca, COTA, and Daytona. While there's usually one Bugatti in the shop at any one time, we're normally out there with Sports Racers and Formula Juniors."
Mark and Scot take a very hands-on approach to customer service. Beyond the brothers, just two or three others help as needed. This enables the small team to keep a close eye on their customers' cars, down to the tiniest detail. "I do the post-race cleanup," Mark said. "Rather than handing the car off to an apprentice, when I'm washing the car I have the chance to see if anything's changed, like maybe a wheel spoke lost its head. I do all the cleaning because I notice things others would miss."
Typically, Mark's small group manages every aspect of their client car's life. Restoration for a race series is followed up by pre-race preparation, transportation to the track, at-track prep and maintenance, support for the weekend (practice, qualifying, race), and post-race inspection. 
The Experience
"This spring, we transported and supported one of our customer's cars, a 1959 Stanguellini Formula Junior," Mark told us. "We never had to open our toolbox. Having a 60-something-year-old $150,000 Italian race car run perfectly every lap throughout an entire weekend makes for a happy client."
The story of this particular car illustrates Mark's approach with his clientele. "The car is owned by Bill Gelles, one of my father's former customers. I first worked on the car as an apprentice in 1978." Gelles transitioned from vintage racing to full-on sports car racing and vintage grand prix motorcycle racing for many years, but after a serious motorcycle racing accident he returned to automotive vintage events with his Stanguellini.
Mark recalled when Gelles dropped off the car in 2002 after it had been laid up for the better part of 15 years: "It was in extremely poor condition, but we knew what needed to be done." Mark and his team took the Italian down to the frame and rebuilt everything. The frame and suspension were media blasted and magnafluxed. The cracks in the frame were repaired, and the suspension was restored to the car with major improvements. Then, after attending the PRI Trade Show, Mark sourced dampers through AFCO, had anti-roll bars made for the car, and received help on tuning from GMT Racing (see profile on page 82) and Angelo Zarra from ANZE Suspension.
After so many years in the business, Mark has developed key long-term subcontractor relationships. A local shop handled the Stanguellini's body and paint work. "During the disassembly we discovered the original color of the car, French Racing Blue," Mark explained. Their clue was uncovered when they removed a piece of the windshield surround that revealed blue, which had been missed during a repaint to red.
The engine—a long-stroke Stanguellini-built Fiat 1100-cc four-cylinder—was originally rebuilt by S. Jennings Racing in Tooele, Utah, but more recent rebuilds are handled locally by Kiwi Engineering in Old Saybrook, Connecticut.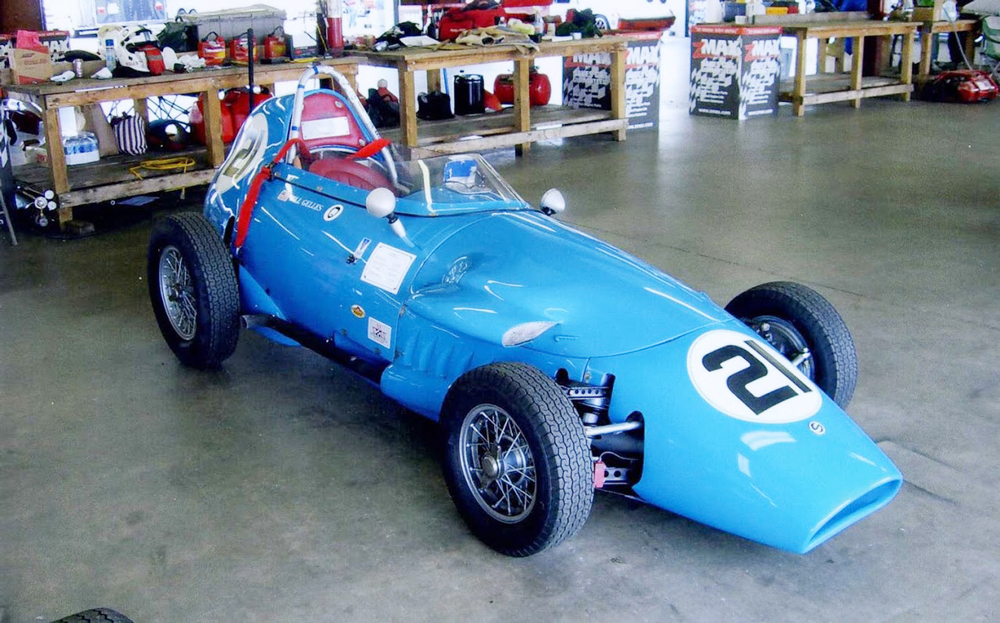 The wheels were originally rebuilt by Cork Adams of Precision Wire Wheels (which has since been purchased by Brightworks), but Buchanan Spoke and Rim Shop out of Azusa, California, has been Vintage Machine Works' only wheel supplier for the last five years. "We've had troubles with other wheel suppliers before, and when we used a certain shop, once we had 17 spoke heads fall off during a practice session! So now after every wheel rebuild, we check the wheels after their first outing. And we've never had a problem with Buchanan."
The balance of the driveline also needed a complete overhaul. In addition to new rear axles, Mark's team discovered that Fiat gearbox parts were non-existent. "Over the past few years, we've developed and machined our own gearbox internals," Mark noted. "We can now use off-the-shelf Hewland Mk gears for first, second, and third. We still make the fourth gear in-house. And everything fits in the original case."
Finishing details on the open wheel Italian included XRP lines, an Odyssey battery, MSD Ignition components, and a variety of pieces from Pegasus Auto Racing Supplies. 
"To this day we're running the same car," Mark told us. "Our relationship (with the Stanguellini's owner Gelles) has been long and very good. We travel together, we eat together—all of those good things that don't have to do with the car itself but are great."
Dernoshek Racing & Restoration
While highly accomplished in his own right, Logan Dernoshek enjoyed the benefits of growing up under the guidance of his father—Warren Dernoshek wrenched professionally for the famous Chevrolet dealer and race car driver Don Yenko.
Logan Dernoshek started racing karts in the early 1990s, progressed up to modifieds, then NASCAR Late Models, followed by a move into the Hooters Pro Cup regional series. "In the mid-2000s, a lot of the NASCAR (Cup) drivers and teams started forming second-tier development teams to compete in these series, and it made it unaffordable for regular people (like me) to stay in the game. It was around then that I discovered vintage racing, and I liked it a lot more," recalled Logan, now in his early 40s. "The people enjoy themselves (at vintage events). It's not just business. But the competition is still there because you're usually racing against former SCCA national or regional champions in really well-prepared cars."
From its new 6,000-square-foot shop in Kannapolis, North Carolina, Dernoshek Racing & Restoration is situated among some of the top racing operations in NASCAR, IndyCar and IMSA. Think Hendrick, Penske, and others. The access to expert racing talent, technology, and fabrication services are all within a stone's throw.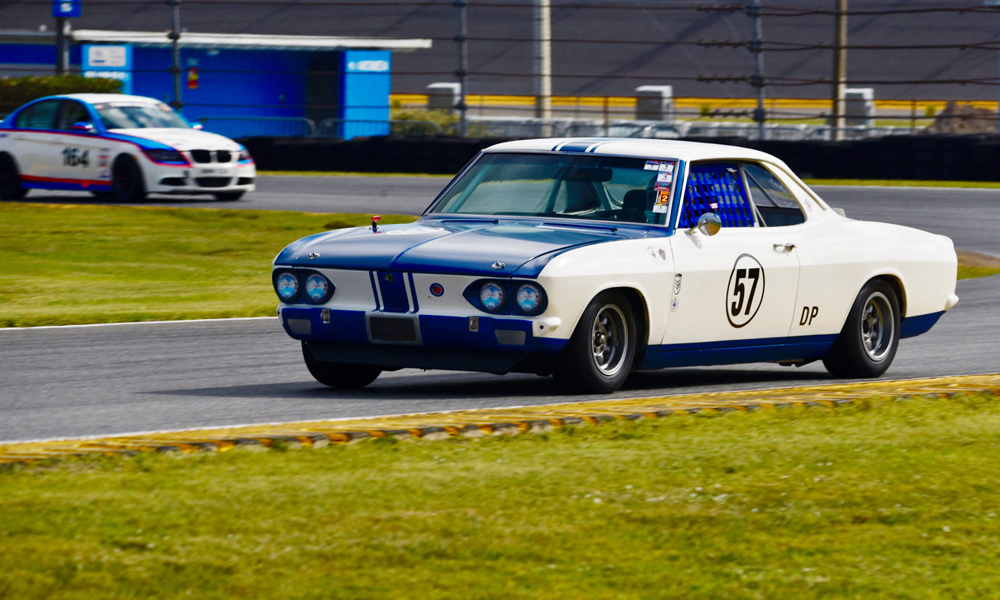 Bucking convention, the garage opened last summer. "Yes, it was crazy to open during a pandemic," Logan said with a smile, "but I saw that there was a huge market for vintage racing support."
As for the business, Dernoshek Racing & Restoration's shop is outfitted with a drive-on Mustang Dynamometer chassis dyno that's good for 1,000 horsepower. To facilitate chassis and suspension setups, the shop also features a full-size surface plate.
When asked what the customer experience is like for a full-on restoration and race-support program, Logan cited the importance of answering key questions before the project begins: "Where does the owner want to race it? We need to know the series' rules. How period correct does the owner want it to be? What is the car's history? Any provenance needs to be respected as you decide to restore the car and choose at what point in history you want to restore to."
This final point recognizes that race cars tend to evolve over their lifetime as rule changes, crashes, and other factors influence modifications made to the car along the way. Customers need to pick a time to anchor the restoration, then the process can begin.
While Logan's father Warren still participates in engine builds, Logan taps into the highly skilled local resources available to him in the area. For example, Rahmoc Racing Engines performs major engine work, and a local chassis builder handles roll cage fabrication. Logan does some body work in the shop, too, but depending on the level of finish the customer wants, he has partners in the paint and body shop business that will do the job more efficiently than he can. 
Currently, Logan transports customers' cars in an enclosed trailer, but as business grows the acquisition of a dedicated hauler is expected. An accomplished racer himself, Logan can coach drivers trackside while dialing in the car mechanically. The project manager in him constantly pushing the business toward customer-optimized solutions.
The Experience
While he didn't have a major customer restoration in the shop when we spoke in mid-June, Logan told us he manages projects like his current personal undertaking: a recently acquired GT3-spec Corvair that was campaigned for years by SCCA National Champion Jon Brakke.
The process focuses on safety, performance, and reliability. Logan performs the complete teardown and then goes through each of the car's sub-assemblies and systems; engine, driveline, suspension, brakes, body, roll cage, fuel cell, and more.
Just as he would with a customer's vehicle, Logan first researched and considered his car's provenance, including when it last raced. He then defined the type of event he was going to attend (vintage events rather than highly competitive SCCA races) and took an accounting of current rule sets.
His GT3 Corvair was last run in the year 2000, and given the race car's condition, it made sense to complete a mechanical restoration to that point in time. With the car at his shop, Logan did a major disassembly, pressure washed everything, and finished a detailed cleaning. The car proved sound and needed only basics like rewiring and safety updates (fuel cell bladder and battery box). Logan then rebuilt the brake calipers, repacked the wheel bearings, checked the frame and suspension components for cracks, and freshened the engine and transaxle.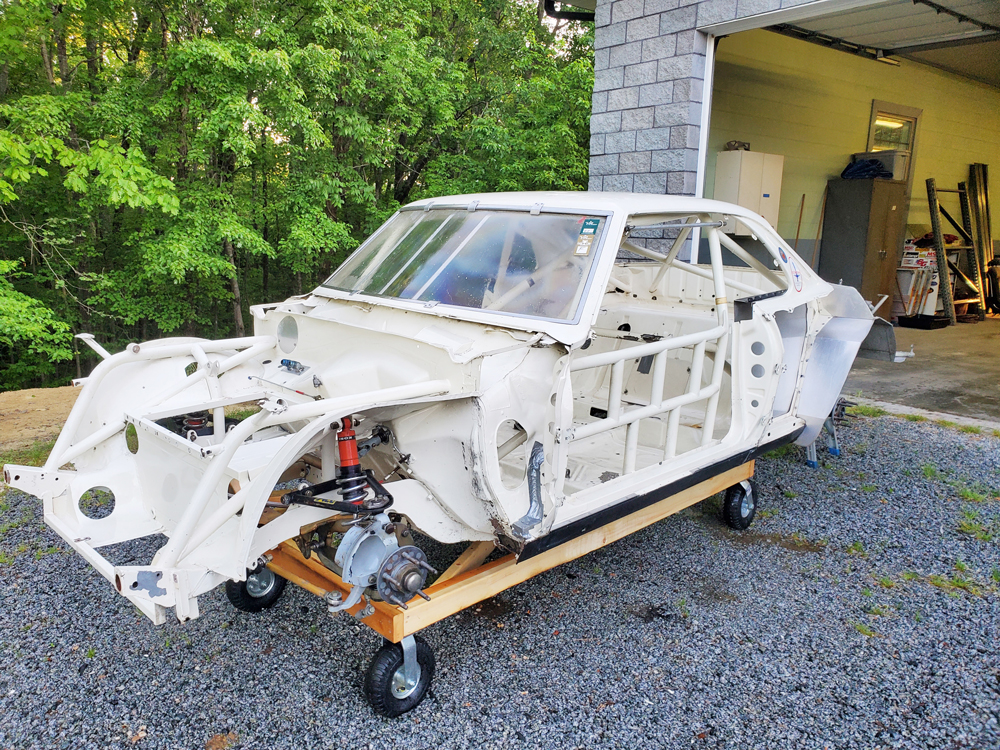 "While I want this car to be quick and fun to drive, mostly I want it to be reliable," he explained. "I don't want to spend my time at an event in the garage working on the car. I want to maximize my track time, and I know that's what customers will be looking for, too."
Making the car mechanically sound and track-ready was Logan's first stage of work for the GT3 Corvair, and the car's maiden event was the (recently completed) Pittsburgh Vintage Grand Prix. As this issue was going to press, Logan was contemplating a cosmetic restoration. "I'll see about sandblasting the tub and a repaint, but at this point I really just wanted to get it back running and on the track."
Logan noted that he'd be fine with hands-off customers who just want him to "make it so," but he prefers customers who like to take an active interest in their cars. "Realistically, I can't have customers turning wrenches with me because of shop liability issues," he added, "but I like having owners involved so I can help make the car right for them."