Special Report: Staying Productive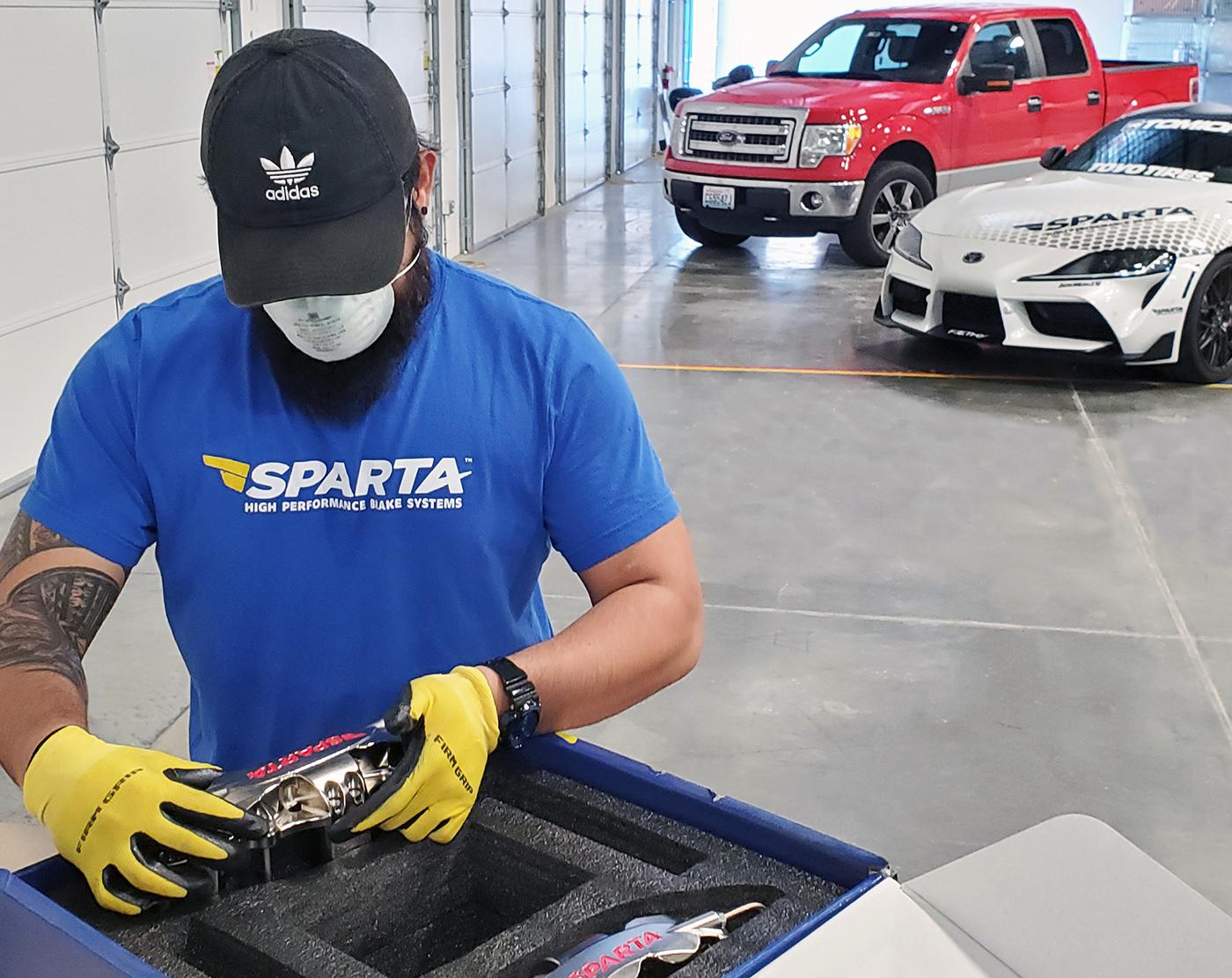 Amid efforts to restart a stalled economy in the face of a still-active pandemic, racing suppliers share their lessons learned and the strategies they've implemented to survive this two-pronged crisis. 
The novel coronavirus that causes COVID-19 is only about 1/1000 the size of a human hair, yet its impact has been immense. 
When racing stopped in early spring, seemingly everyone paid the price, with revenue lost across the motorsports spectrum. 
And as the months dragged on, a handful of tracks—prominent ones included—had little choice but to scrap their seasons entirely; some motorsports businesses followed suit, while others continue to struggle as states, cities, and counties implement phased reopening protocols.
However, for another group the pandemic has not been an all-encompassing, apocalyptic event. This "pause button," in fact, has presented these racing operations with new opportunities, fresh revenue streams, or maybe just the time to perform much-needed updates of business essentials, from shop equipment to websites and social media. 
Shops Diversify
"Racers improvise," said legendary engine builder Keith Dorton of Automotive Specialists, Concord, North Carolina. "We had to improvise the same way back when the gas crisis hit in the 1970s and racing stopped. I've been through similar things before, being in business for 55 years." 
Dorton had already made some adjustments to his business a few years ago, when NASCAR rule changes and the effects of the last economic downturn "took away" a lot of his professional race customers. 
"Our racing business hasn't stopped, but we had to look at being more diversified," he explained. "We got into doing more muscle car and vintage engines, hot rods, and a lot of land speed engines.
"When this thing hit back in March, we thought we were going to have to shut down," he added. "But being so diversified now gave us a loophole to stay operable legally. We haven't missed a day."
In the shop are engines, including a flathead Ford and a 1955 Pontiac, from project cars getting fresh attention from owners with more time on their hands. "We've been doing a lot more outside machine work for general shops, even some diesel work," Dorton said, referring to 6.0 Fords and a Duramax being prepped for high-performance builds.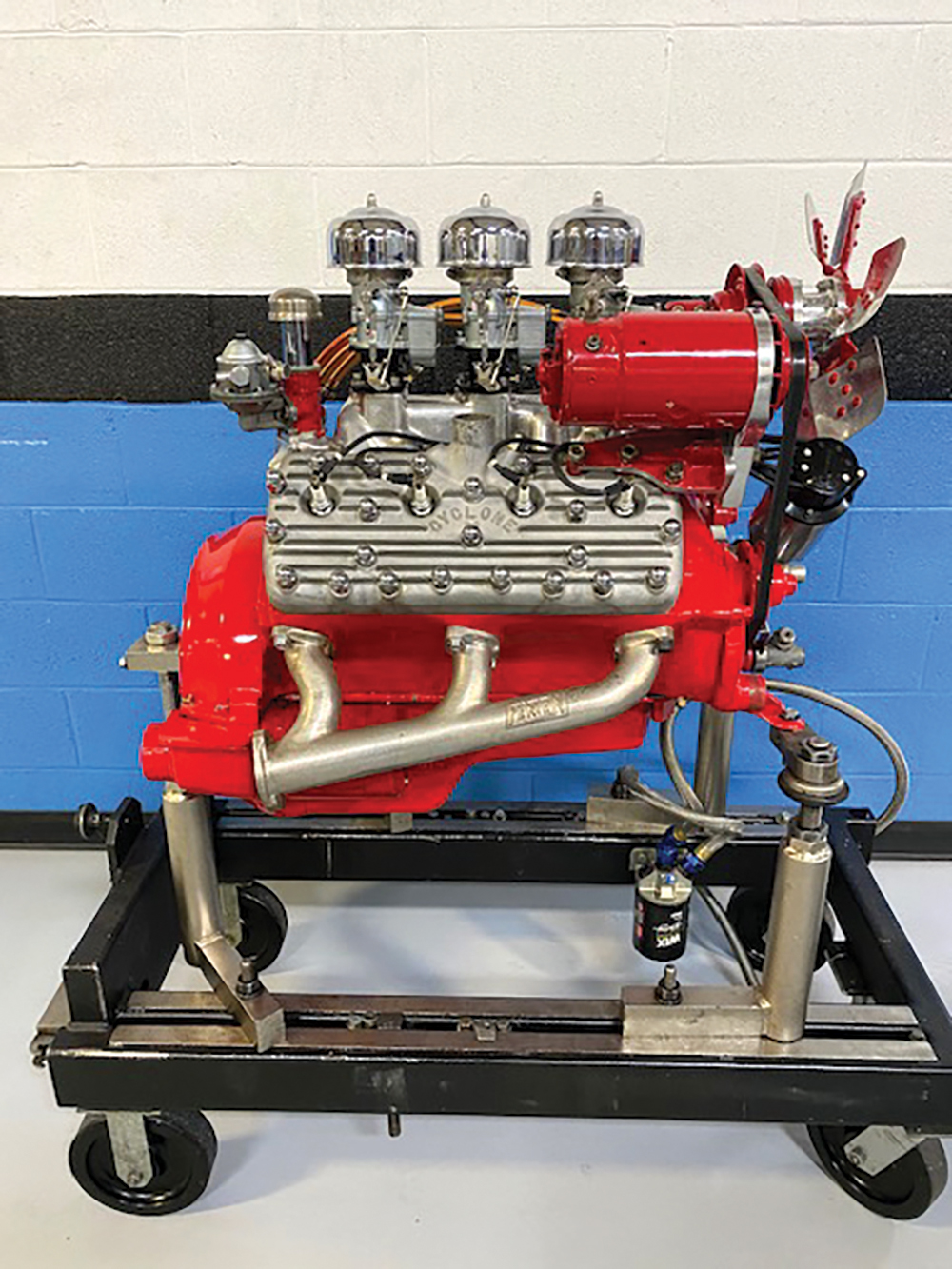 Dorton has kept all his employees, with machinists—four full-time and one part-time—still at the shop and the front-office staff working from home. "We are very fortunate, very blessed that we were in a position that we could utilize more resources and keep going," he said.
Barry Wright of Barry Wright Race Cars in Cowpens, South Carolina, said his crew of eight is working on dirt track cars that were already in his shop when the pandemic hit. "If we didn't have this backlog, we'd have had nothing to do," he explained. "I feel fortunate to be in the position we are in because it has hurt, no doubt about it. It's devastating. This is my 44th year in the business, and I've never seen anything like this."
Most of his business is building cars and doing repair work. "But with them not racing," Wright said, "our repair work's been put aside. All we've been doing is the complete cars, or partials, and we probably have another month of work left."
Wright said at the start of the year he felt like "this was going to be a super year for all of us. It felt like dirt racing was really coming back, getting a lot of exposure, and then this happened. It's hurt us all."
Wright, too, has diversified with powder-coating, water-jet, and laser-cutting operations that he can offer to businesses outside of racing. "But everybody I talk to in the fabrication business other than race cars, they're suffering, too. We haven't had to lay anyone off yet, but if they don't hurry up and get racing and knocking some wheels off, I might have to."
Like Wright, "We're chewing down a backlog of work," said Ken McCaul of Borowski Race Engines, Joliet, Illinois. "Our most popular couple of engines are $30,000 to $40,000, pump-gas, 1,000-plus-horsepower engines that are going into cars that take a long time to build. We're not as tied to a racing schedule as other companies might be."
McCaul has noticed "some people are a little more hesitant to pull the trigger on a new build, but they seem to believe this is a short-term issue, and they tell me they'll call back. We're diversified well enough to maintain full employment, doing everything we can to keep our people safe." That includes splitting its workforce into two shifts "so they're not on top of each other at the machines," and fitting all employees with cartridge-style respirators. 
Having "several months' lead time on engine orders" has also helped Butler Performance in Lawrenceburg, Tennessee, avoid a slowdown. "We have that cushion kind of built into our business, up to a year lead time sometimes," said David Butler. 
The shop specializes in Pontiac and LS engine builds, "higher-end street engines," as Butler described them. Butler also offers engine parts and parts kits, business that has turned out to be "actually larger than the engine shop, and that's kind of by design. Many years ago, we were racers, and our primary customers were racers." But the company made the "conscious decision" to diversify into "higher horsepower pump-gas packages and custom builds on street engines, so that even during the recession through 2009 our business didn't fall off. If the race side trailed off, it was just a part of our business. Not all the racers quit. There are always guys, like we're seeing now, who are financially secure enough that they don't stop doing what they're doing."
Furloughs
Even though companies with a mix of racing and street car customers seemed to fare better during the slowdown, not all were spared pain. Despite having "about 60% race, 40% street" customers, Casey Wegner said Wegner Automotive in Markesan, Wisconsin, initially laid off the entire shop staff "until we could see where this thing went."
Business has been affected "across the board—asphalt, dirt, drag race, doesn't matter what it is," Wegner said. "Everybody's in a holding period. In the Northeast, closer to New York, Canada, the Quebec area, they've canceled the whole season. Any engine sales we would have had there definitely came to a halt."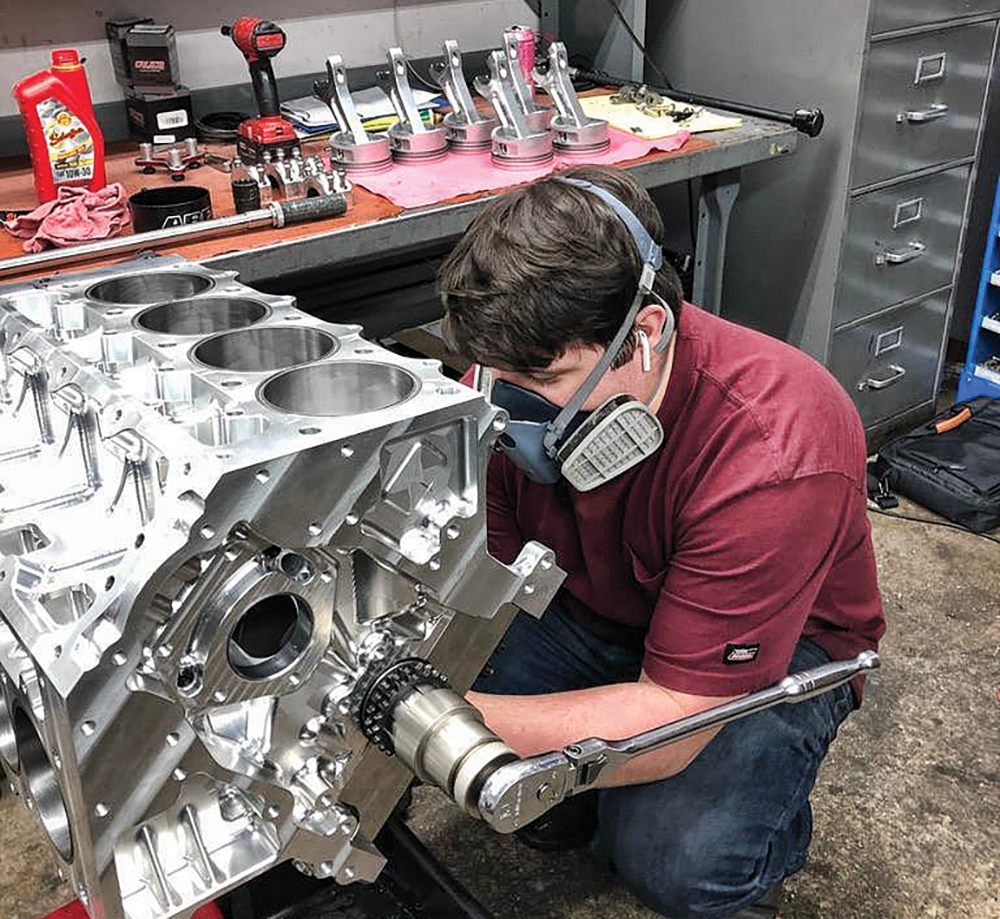 The street car side of the business "is different," he said. "Guys want to tinker on stuff in their garages." But even there, the "big-ticket items, like a full engine build, have been pushed onto the back burner. It's the lower-cost items that we're still busy with."
There's enough work in the shop to bring back 10 of the 20 furloughed employees. "We're just trying to watch our numbers so that we don't go under trying to make it through this," Wegner said. 
S&W Race Cars in Spring City, Pennsylvania, was forced to go through an additional level of heartache on top of pandemic-related layoffs when its founder, Walt Weney Jr., passed away in May. The company had celebrated its 60th anniversary in 2019; and Terri Gdowik, Weney's daughter, had just taken over the company's presidency before the pandemic "brought everything to a screeching halt," said Jill Fazekas. 
"To do the right thing and for everybody's safety, we laid off all our shop personnel, which was very scary," Fazekas said. During the closure, Gdowik and her brother, Gary Weney, have been implementing the second phase of a multi-year makeover of the S&W facility, "going through the whole shop, cleaning it up, making sure every piece of equipment is tuned up while the guys are gone," said Fazekas. "When our fabricators do return, they'll be better organized and have the tools to get the job done."
Internet to the Rescue
"Thank God for our customers. They keep ordering parts," Fazekas said. "Our sales team is working from home to keep things going. Our customers never missed a beat, and we're thankful that they're okay with the long wait for parts, because our fabricators are not in the building." 
Once they can return, Fazekas foresees them working overtime and even double shifts to get through the backlog of orders. "Everybody is on board for digging in and doing what they need to do to get the parts to our customers."
Fortunately, S&W launched a new website last summer "that's much easier to use and more user friendly," Fazekas said. "And we now receive so many questions through social media. Between Instagram and Facebook, we receive dozens of questions a day. That's been a huge help through this pandemic."
Tom Sandal of Carolina Racing Supply in Mooresville, North Carolina, also credits a new eCommerce-enabled website with "making this not as painful as it could have been." As a retailer and distributor of race car parts, Sandal's business "has dropped off. But there's still work being done on cars. Even though they couldn't race, it was a time for them to further analyze their program, see if there were areas of their race car that they needed to refresh or update."
Sandal likened the function of his website to that of a home improvement store. "There are all kinds of eCommerce websites that consist of what someone can order for you. But people aren't interested in that. They want to know what they can get today. If I'm going to drive to a home improvement store, nine times out of 10 I've already been on their website and determined that what I want was in stock. It was imperative that our customers knew what we had in stock. That's made this for us."
Sandal was also surprised by how much the site helped his local business. Prior to the pandemic, when his store was open to foot traffic, "I couldn't believe how many people would come in and say, 'I was looking at this on your website.' Of course, we're also doing more mail order, but it's amazing how much it's helped our local business."
Even with the store closed, customers can use the curbside pickup service Sandal started. "You miss the opportunity for add-on sales, but it works great for the guy who knows exactly what he wants," he noted. "We should always offer that."
Manufacturers Repurpose
Much as Detroit automakers have retooled certain manufacturing facilities to aid in the pandemic response, the automotive aftermarket has done its part as well. 
"I was watching the news about shortages of PPE and it made me think, 'What can we do?'" said Ben O'Connor of Impact Racing, Indianapolis, Indiana. The company's core business of making helmets, driving suits, and other safety equipment "was still there, but greatly reduced. That was a scary prospect for all of us."
Unwilling to "sit on the sidelines waiting for the market to come back to us," O'Connor took the idea of making PPE to the rest of his team. "And everybody said, 'Let's do it.' Within about four days we were shipping masks." It helped that Impact had relationships with suppliers who could advise the company on fabric selection for the masks and protective gowns it is also producing. 
"It's been successful," he said. "Our doors are open, everyone's employed, and we're providing a service to the community, providing goods that are in great demand and short supply."
Performance brake manufacturer Sparta Evolution in Kent, Washington, has also repurposed some of its in-house CNC machines "for medical device manufacturing and other related components," said John Lee. "We have a lot of talented machinists and engineers, and one of them had experience, before joining our company, as a medical device manufacturer. We discussed [retooling] with him, and he said it was a great idea, we could do this." 
For the company it's a win-win-win, Lee added. "It gives back to the community, it really helps with the current situation of the pandemic, and though it is a shift in our manufacturing processes, it does help our business," he explained.
Meantime, hand sanitizer is now being produced by Hot Shot's Secret in Mt. Gilead, Ohio, along with the company's fuel and oil additives and other engine problem-solvers. "Internally we had discussions about ways we could help not only our local community, but truckers and healthcare professionals," said Eric Trimble. "We made the decision to bring in the raw materials, switch over some lines, and produce a couple thousand bottles of sanitizer. At first, we gave them out within our community—to fire stations, sheriff's stations, nursing homes—and we also put a four-ounce bottle in every order that came through our website."
Once word of the sanitizer got out, "We got quite the response, with people looking to purchase it," Trimble said. "We realized we could really help a lot more people than we were, so we ramped up and started producing this on a large scale." The sanitizer is now available in quantities from 16-ounce bottles to 55-gallon drums. 
The sanitizer is also part of a Trucker Appreciation Care Package the company developed to benefit those over-the-road freight haulers that make up a large segment of its customer base. The Care Package includes a bottle of sanitizer, a bottle of Hot Shot's Secret Everyday Diesel Treatment, a product guide, and promotional discounts on future purchases.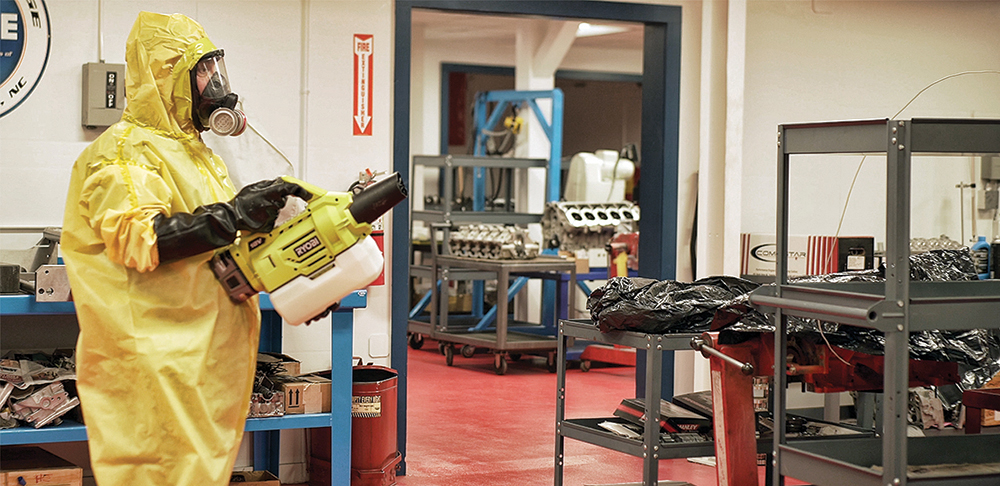 "Not only can we try to help them be safe with the hand sanitizer, let's try to keep some money in their pocket as well by helping with their fuel economy," Trimble said. 
Many in the racing community know Safety-Kleen in Port Orange, Florida, for its oil collection, parts washers, and other cleaning services. But Safety-Kleen is also part of a 40-year-old, $3.5 billion company called Clean Harbors that takes on clean-ups on a massive scale, mopping up after oil spills, hurricanes, and other disasters, explained Drew Patey. "When we have a problem like COVID-19 shutting down businesses, and those businesses want to reopen in a safe manner, customers are turning to us for direction and clean-up," he said.
Those customers include race shops, tracks, and sanctioning bodies. Prior to The Real Heroes 400 at Darlington in mid-May, Safety-Kleen dispatched a six-man crew to "decontaminate the whole track," Patey said. Over the race weekend, two crew members remained on-site to clean after each day's events, and then the crew returned to do it all over again for the Toyota 500 a few days later. 
"This is what we do, day in and day out," Patey said. "We are always available to give direction. Anybody can call the Clean Harbors 800 number to find out what they should do, and what they don't have to do. You need to do something. You can't think it's just going to go away. You need to be ready for employees to come back to work, and your fans and competitors to come back to a safe environment. This stuff was pretty wicked."
Patey wasn't the only one looking forward to racing reopening, which was just beginning at this writing. Early spring was grim, but most were looking into the tunnel and seeing light by mid- to late summer.
"We believe when things get back to full speed ahead, it's going to be the best year ever," said Fazekas. "We're staying positive and just thrilled to be part of this industry, and we can't wait to see everybody back at the race track." 
SOURCES
–
Automotive Specialists
Barry Wright Race Cars
Borowski Race Engines
Butler Performance
Carolina Racing Supply
Hot Shot's Secret
Impact Racing
S&W Race Cars
Safety-Kleen
Sparta Evolution
Wegner Automotive