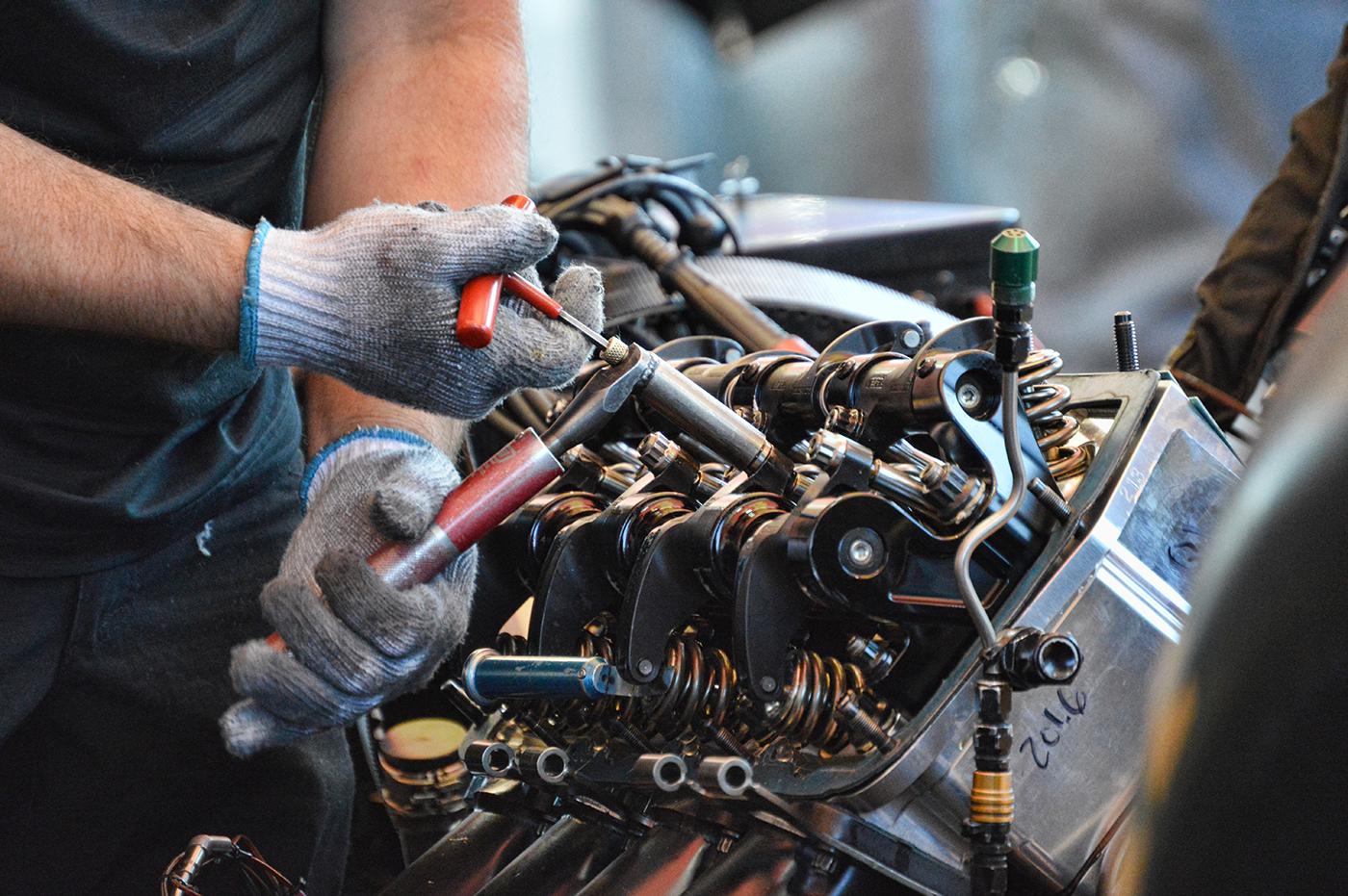 From hidden gems to behind-the-scenes services, today's suppliers stress value in their dedicated performance products.
Talking about shop tools can sometimes feel like walking through a field that's been seeded with land mines.
People get passionate about their favorite tools and develop brand loyalties as strong as any developed by Ford, Chevy, or Mopar in the engine arena. Go into any race shop or talk to an engine builder, and they'll likely have strong opinions about which tools earn their keep and which don't.
At the same time, numerous useful tools get overlooked. There are plenty of reasons for that. Sometimes, it's simply inertia at work—it's easy for a shop to keep doing things the way they've always been done. Other times, a tool may just be new and having trouble getting traction in a crowded market.
It's also easy for buyers to get overwhelmed by choices. Throw in the extra dimension of cost versus perceived value, along with the merits or downsides of country of origin, and tool buying decisions can get complicated in a hurry.
To try to uncover a few overlooked tools, including some that can make a big impact for a race shop, we spoke to several tool manufacturers and suppliers. Even during a time when it would seem like tool availability would hold few surprises, we stumbled upon a few.
One aspect of tool selection that several of our sources mentioned was the importance of simply being able to get it into a technician's hands and demonstrate what the tool can do.
G & G Technics in Richlands, Queensland, Australia, has a deep tool catalog in its home market. It also sells a handful of its specialty tools in the United States, such as its GGT-850 hydraulic ball joint separator. "People need to see them," said Phil Jankura. "If you show a tech any of those tools, it takes him about five seconds to understand the value of it. Especially on the ball joint separator."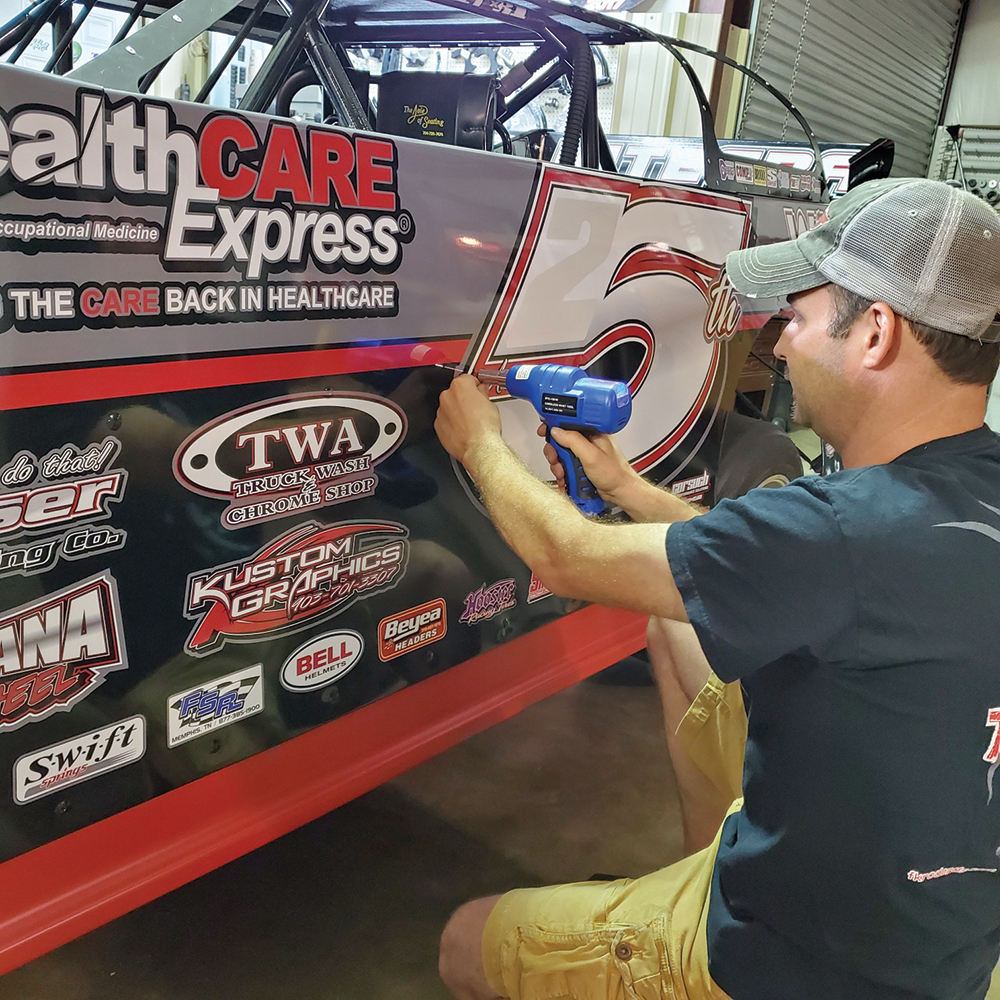 Hidden Treasures
One factor that can keep a product under the radar is that motorsports-oriented tools are sometimes quite specialized, beyond what's found in the average repair shop. But sometimes a tool will make that leap in refinement in the other direction, from mainstream to race team.
"Goodson offers a lot of tools that can be labeled as hidden gems," said Janet Tapp of Goodson Tools and Supplies for Engine Builders, Winona, Minnesota. "The first one that comes to mind is the Lifter Bore Burnishing Tools. Sometimes during a high-performance engine build you'll find that the lifter bores are a little tight toward the bottom of the bore. This low-tech tool can fix that problem quickly without causing other problems in the process. You simply drive the correct size burnishing ball through the bore with a slide hammer and the bore is accurately resized. You can even do this without removing the cam. Plus, no debris is created that needs to be removed before assembly can continue. We've had this tool for years for the daily driver, but in the past couple of years we've worked with some NHRA teams to develop burnishing balls for Top Fuel and Nitro Funny Car engines as well.
"Another hidden gem that Goodson offers is our Air Powered Valve Lapping Tool," Tapp said. "This tool is popular with several drag racing teams since it operates without electricity. It is 100% air actuated and operates on just 90 psi. It's perfect for use at the shop or at the track."
The adaptability of a tool is always a factor in a motorsports environment. "Our HDII, it's an abrasive wheel, so you can cut, sand, grind, and sharpen," said Ann Strong of Bad Dog Tools, Bristol, Rhode Island. "You can cut muffler pipe, you can cut quarter panels. We have them in sizes ranging from 1 1/4-inch all the way up to 7. The most popular within the motorsports industry are the smaller ones, up to 4 1/2 inches. And we have just come out with a flanged version of the 4 1/2 and the 6 inch, which is great for grinding down body filler," she said.
"Our Biter, which is drill mounted, is an awesome tool for cutting any sort of sheet material. It's patented; we have two patents on it. It mounts right on your drill. It's not air driven," Strong continued. "We call it 'the sports car of nibblers.' It's small, lightweight, really maneuverable. It's steerable as well—that's one of the patented features. So you can make circular holes, if you wanted to, down to 1/2-inch radius, which is pretty darn cool. You can't do that with an air-driven nibbling tool.
"When we're at PRI, when we're at SEMA, when we're at the different race car or collector car shows, those are the two tools that people really sort of gravitate to," Strong said. "They say, 'Wow, I've never seen that before. That would be great for this project.'"
Of course, sometimes tools don't get noticed because they are new and word hasn't spread yet—especially during a global pandemic, which was the situation Strong Hand Tools in Santa Fe Springs, California, found itself in this past March when it released its new GCC200 gas cylinder cart.
"Our newest line we're focusing on is gas cylinders, and we're trying to make it easier for people to move them around safely, comfortably, especially if they're one person," said Strong Hand Tools' Danny Ulloa. The GCC200 allows the user to easily move a bulky gas cylinder around the shop without having to rely on chains or straps to secure it.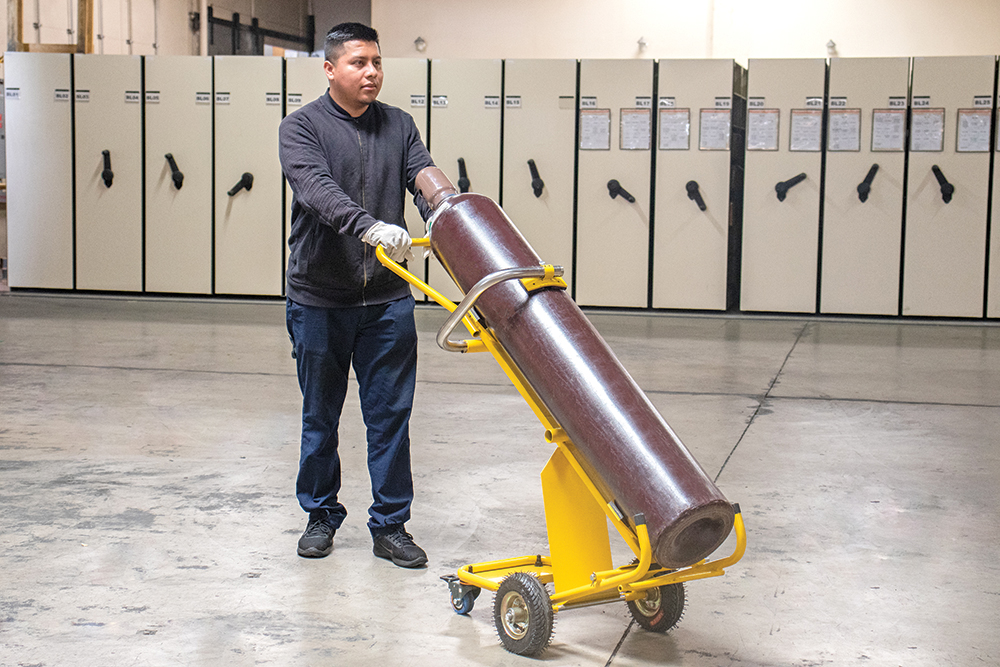 Although the gas cylinder cart is new, Strong Hand Tools is already working on additional variations to offer. "We're currently working on ways to have one individual be able to roll it out to a truck and load it on by themselves, without messing up their back or straining a muscle, making it so their cart does most of the work and reduces a lot of the amount of weight you'd be picking up," Ulloa said. "We're trying to design it with a lot more safety features for individuals."
Even common types of tools that have been around for generations can be improved and adapted to specialized applications. And the continuing introduction of new engines ensures a steady need for tool development. G & G Technics has developed a harmonic balancer remover (GGT-180) for GM LS engines, late-model Chrysler Hemis, and pre-2018 Mustang engines. "The balancer remover, one of the main things about it is you don't have to remove the radiator, because it's a compact tool," said Jankura. "It's one of those things where you sell it to a tech, they immediately see the value in it. While it is expensive, you probably recover the cost in a couple of jobs. We do have a new one out that will accommodate the 2018–2020 (Ford) Coyote 5.0s, that we make specifically for that," Jankura said.
Sometimes, to keep a tool in front of people means spreading the word on the variety of jobs that can be done with it. At Shaviv USA, a maker of hand-deburring tools in Bolingbrook, Illinois, a point of focus is industrial shop spaces and many customer-facing retailers installing more plexiglass barriers between workers and customers. "Plexiglass is a hot commodity right now," said Ron Prohl. "So technically, plexiglass, especially the areas where they make plexiglass, they have to cut it, either laser cut it, cut it out, drill it, all sorts of things. And Shaviv deburring tools that are handheld tools do a nice job of finishing the product."
Behind the Tool
There are times when a tool itself might not be overlooked, but the service behind it may be. "We offer a Trusted Advisor Program," said Andy Mandell at Dynabrade, a manufacturer of power tools, abrasives, grinding and finishing tools, and more, in Clarence, New York. "We have Dynabrade salesmen throughout the United States and the world. We will stop by a business, take a look at their work stations. We can make recommendations regarding doing tasks safer and more efficient. We can review all tools, air lines, abrasives, and accessories, and make sure everything is working in tip-top shape. No-obligation demonstrations are available on every product in our line."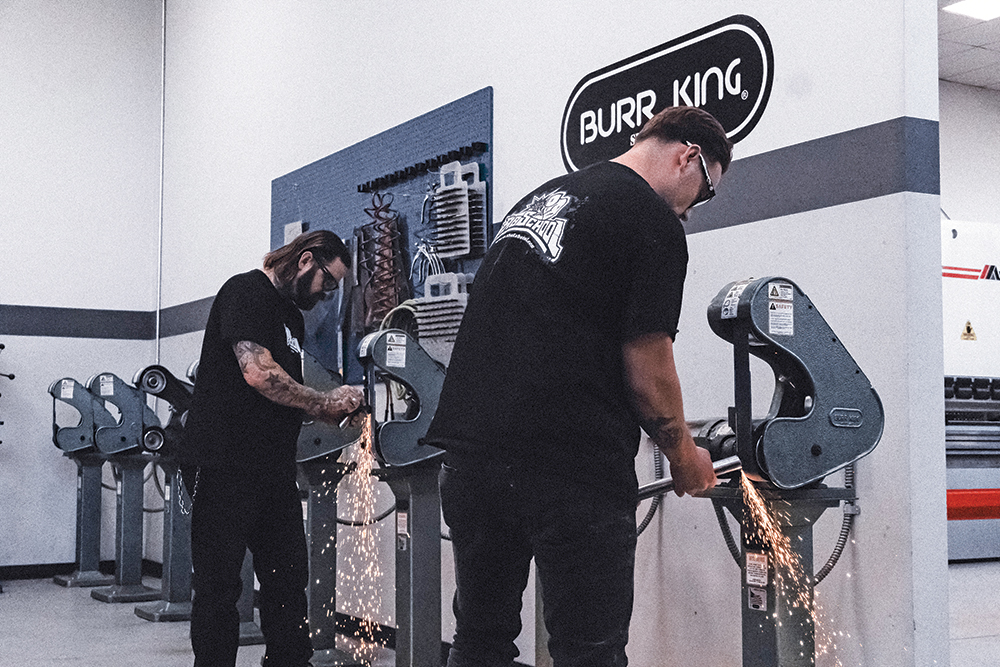 Value is always a part of the tool-buying calculation, but it's not always one that's easy to quantify up front. A company's track record can help. "When you have a company as old as Burr King—we've been in business since 1951—if they've worked in a shop at all they've probably already seen a Burr King sitting around," said James Krier with Burr King Manufacturing Company, a maker of belt grinders, polishing equipment, and vibratory deburring tools located in Warsaw, Missouri.
That very longevity, however, can be a blessing and a curse—a curse in the sense that a product doesn't enjoy the same spotlight that newer, flashier rivals may get. But a blessing, too, in that it's easier to win the trust of technicians who recognize an established brand name.
"There's no planned obsolescence in anything that we build," Krier said. "We've had a machine called the Model 760—it's been through a couple changes, but everything always retro-fitted to the older style machine. There was never any designed obsolescence where we said, 'Oh, in five years we're not going to make this part anymore.' If you had a machine that was 30 years old, we still support that machine. That's a very unique thing that it's a one-time purchase at a shop. You buy a shop tool for $3,000, and it's something that could be in there for decades. That's like something your grandpa used to have, those kinds of quality tools, and that's still the way we do it here.
"That's really the hidden treasure in this whole thing, that it's a one-time buy," Krier said.
In the Race Shop
Race shops often have several special requirements for their tool arsenal. They need to be able to use a tool in the shop or in the pits; the tool may have to be used while a crew member is wearing protective gear; and crew members and technicians may have to improvise on the fly when making race repairs.
For those reasons, Strong said Bad Dog Tools' Biter is the type of tool that can make an impact for race teams. "If they have to make some sort of modification or repair in the pit, it's just a real easy tool to have on hand," she explained. "It's right there, it's going to work, you have it on a battery-operated drill, you're not messing with hoses or electrical cords. It can be a make-or-break tool depending on what's going on at any given time."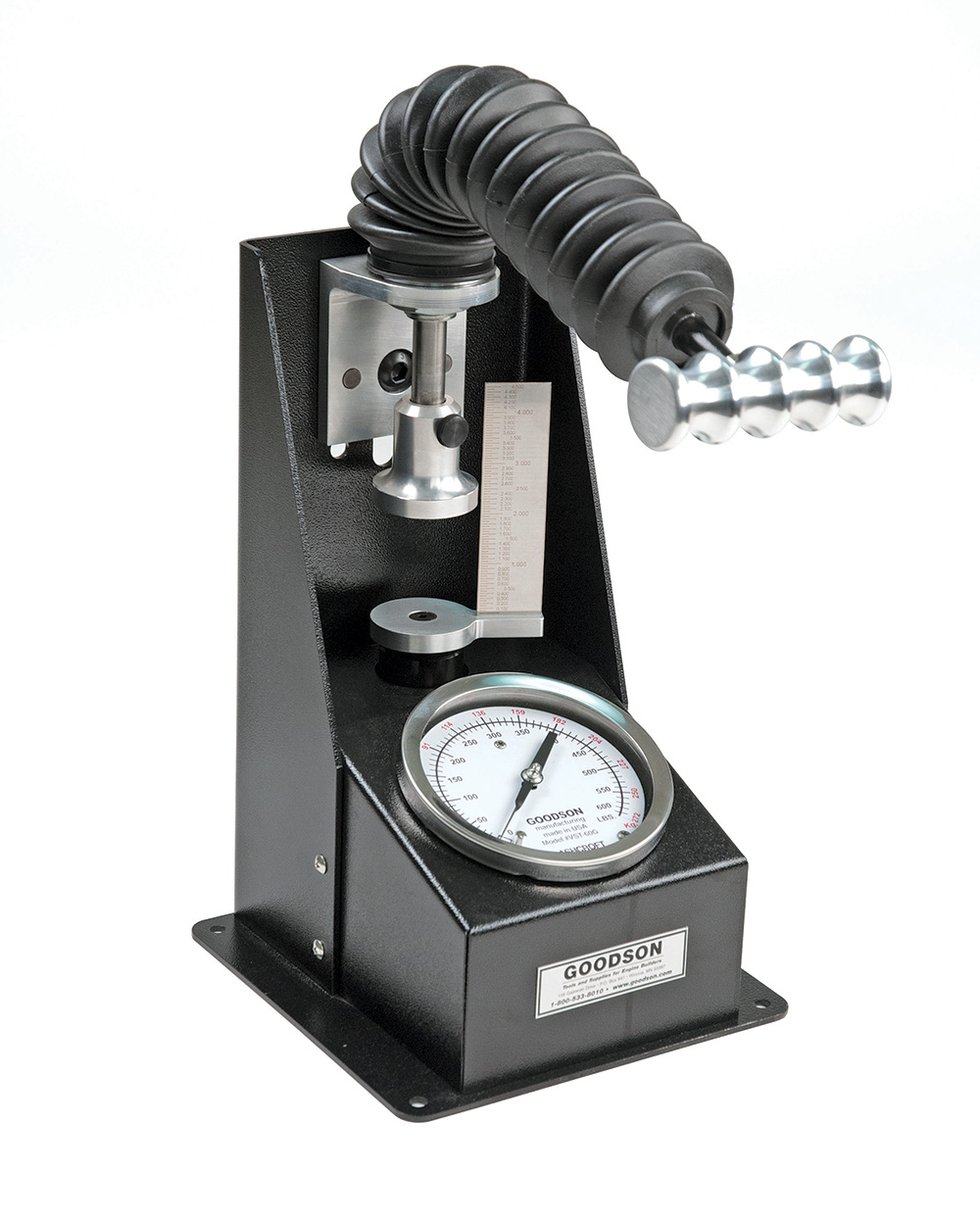 Although it's easy to forget when watching race cars going into drift mode at a dirt track, a clean environment is a must for engine building and race car construction. Mandell at Dynabrade sees evidence that teams are paying more attention to this aspect of the business. He said current trends show increasing interest in "vacuum air tools and vacuum downdraft tables, to eliminate dust in the workplace. Very important for safety."
Tools and toolmakers that can respond to the motorsports industry's need for customization are also poised to succeed. "Goodson now has a division called Abrasive Industrial Supplies (AIS) that manufactures all of the abrasive belts in our catalog. But AIS isn't limited to those products," said Tapp. "If a race shop needs a specific abrasive belt that's not in the Goodson catalog, odds are Abrasive Industrial Supplies can make it."
There are many tools that, while simple, can make a big difference for a race shop. "In terms of efficiency, every race shop should have a valve spring tester, whether it's a digital or an analog model. Valve spring testers are essential for proper engine setup. A single spring that's off will drain performance and could cause engine failure," Tapp said. "Quality measuring tools are always in demand in the racing business. We like to say that if you're not measuring you're only guessing, and that's no way to win a race."
Buying Mistakes
Experts also point to some common mistakes to avoid when shopping for shop tools that will pay off in the long run. "People look at a tool, and they imagine what it can do," said Strong with Bad Dog Tools. "Every tool has a parameter, every tool has a way it's supposed to be used, and what it can do. And a lot of people, they imagine what it can do, and they're disappointed when it can't do that. I think people have to keep sight of that, to make sure that they're doing with that particular tool what is within the parameters of what that tool can do."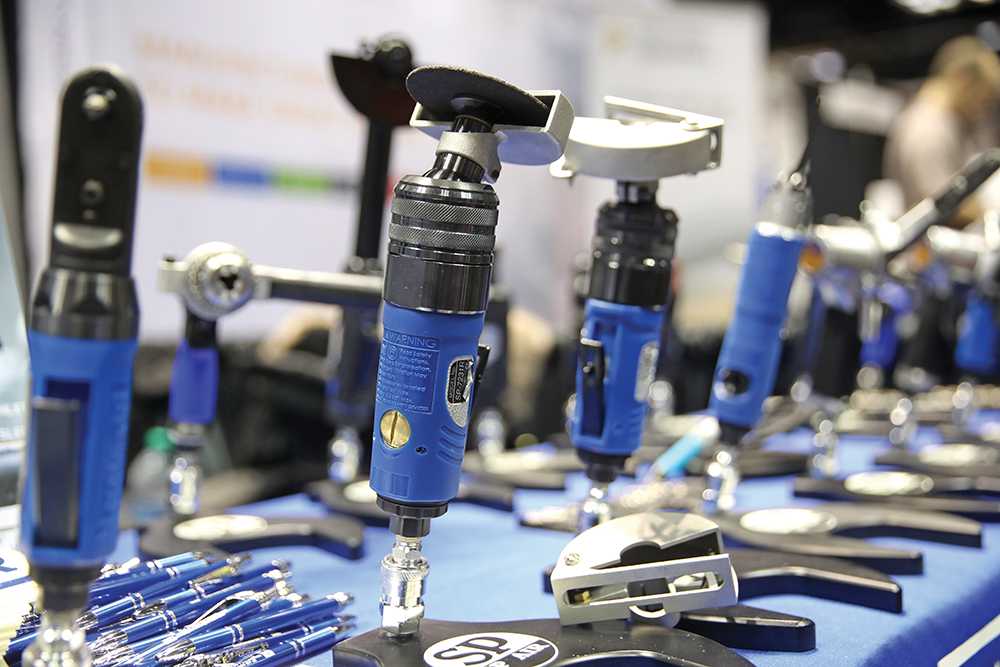 Every shop in the market for tools has a budget, but it's important to make sure all costs are being considered. "The biggest mistake we see when it comes to purchasing shop tools is putting cost before value—and no, they're not the same thing," said Goodson's Tapp. "When buying shop tools, you have to ask yourself if the tool is the right one to do the job. Yes, it might be adequate, but are you going to have to do another process to get the finish you need? Will another tool that may cost slightly more do the whole job? How long will the tool last? Is it a one-use tool or will it last for years?
"Here's a real-world example," she continued. "The Goodson Hyper-Finish Diamond Valve Guide Sizing System Master Kit includes everything needed to hone valve guides between .271-inch and .389-inch diameters. In order to size valve guides with reamers, you'd need 37 different reamers, which would cost more than the Master Kit just for the tooling. This doesn't even take into account your labor and storage for all of the tools. This is what we mean when we say you have to weigh cost and value."
"A lot of these new shops are just trying to get by with the minimum," said Burr King's Krier. "If they look for the long term, yeah, you're going to spend a little bit more money on a Burr King. But if it's a tool that you're going to have there for the next 20 years or 30 years, what's your cost on a tool like that? It gets down to the cheapest tool in the shop really quick when you have something for that long. I see that as a huge mistake, when people look to purchase anything when they under-buy for what they may need for tomorrow."
It can be all too tempting for shops to save a few bucks by purchasing knock-off tools found in low-end hardware stores and many big-box retailers. But resisting that temptation will deliver a bigger payoff. "You're going to find the least expensive material, the handle and blade. The handle looks the same, but the blade, the material in the blade, it's not heat-treated right, it's not hardened. It's not made professionally," said Shaviv's Prohl. "And, of course, the biggest problem people will have, in all industries, including the automotive industry, if you buy an inexpensive tool that has an inexpensive blade on it, you're subject to breaking the blade and maybe cut yourself."
To that end, once the effects of 2020's pandemic have subsided and industry trade shows throw open their doors again, the tool manufacturers we spoke with were eager to show off their wares to the motorsports community. 
"It's one thing to see something on a YouTube video or a commercial on TV," said Strong. "It's another thing to see it in person. That's where that whole 'shock and awe' factor comes into play."  
SOURCES
–
Bad Dog Tools
Burr King Manufacturing Co.
Dynabrade
G & G Technics
Goodson Tools and Supplies for Engine Builders
Great Plains Fastening Systems
Shaviv USA
Strong Hand Tools