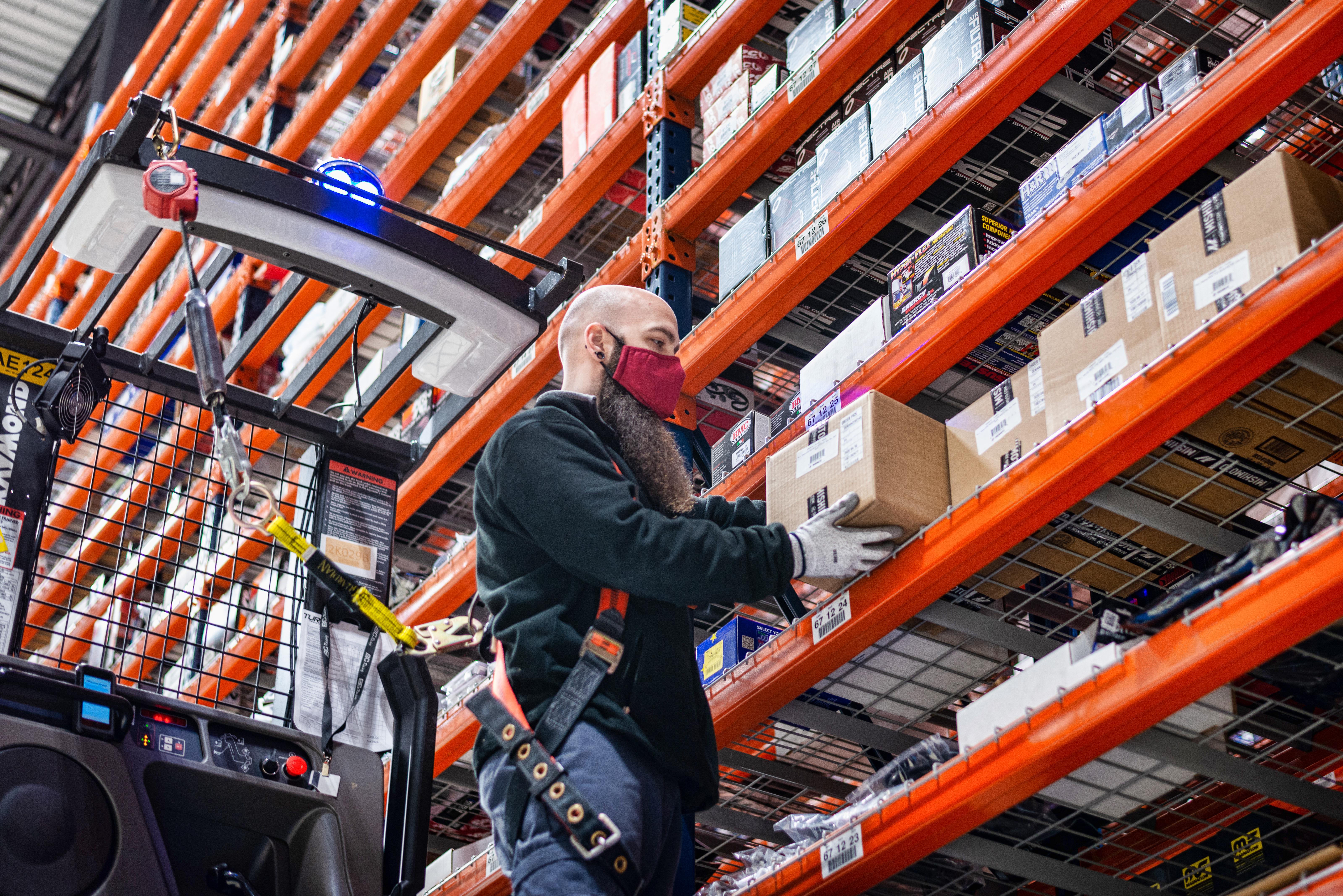 Industry insiders share actionable strategies to help retailers and racers lower delivery costs without sacrificing efficiency, security, or service.
Ask different players in the motorsports arena about shipping concerns, and you'll hear different takes on what's most important for each. However, the common thread, not surprisingly, is cost.
"Just two years ago, you wanted to be competitive with customer service, inventory, and price. You didn't really think about shipping," said Pancho Lawler of Pancho's Racing Products, Hanover, Pennsylvania. "Over the past year, the cost of shipping has become just as important as the price and availability of the parts. It's just another part of the puzzle that you have to watch."
Indeed, both UPS and FedEx raised package rates by nearly 5% for 2020, and increased special handling fees for certain packaging as well. While numerous discount programs still apply, including a UPS program included with membership in SEMA, it's still a hefty additional cost to either absorb or mitigate.
Speaking with retail and wholesale operations, as well as racers and shippers, reveals numerous actionable strategies for markedly reducing shipping costs while ensuring customer satisfaction and loyalty.
Buying Direct: Not Necessarily the Best Deal
For retailers, the actual location of where their inventory is ordered from can have a dramatic effect on shipping costs, according to Daryl Sampson of Turn 14 Distribution, Horsham, Pennsylvania, with additional warehouse operations in Nevada and Texas. "Among the best ways to reduce shipping costs is to buy through a wholesale distributor rather than directly through a manufacturer," he explained. "Distributors ship in much higher volumes. Freight rates that we negotiate with carriers will definitely be cheaper than for most manufacturers."
Sampson explained that some smaller shops are instead ordering direct in the belief that it automatically means lower cost. "We call that 'direct-itis' in our industry," he said. "The shop owner feels that going direct gives the best possible price and service, but that is not always true. We show them that we can offer the items for less. They can buy more and save on shipping."
For customers who need something quickly that is not in stock, Turn 14 offers the option to drop-ship, but then the customer pays for shipping. "Some manufacturers will allow us to ship on our account numbers, which would be typically cheaper than drop-shipping to a customer," he added.
CHANGE TIME, LOCATION TO SAVE
Some of the easiest ways to reduce shipping costs are also everyday strategies for making shipping more reliable, explained Gordon Steffens of Performance Plus Global Logistics in St. Charles, Missouri. The company ships engines for numerous major builders through its Enginesovernight.com division.
"We deal with all size accounts and customers," Steffens said. "We work with Cup and NHRA teams, road racers, spec Miata racers, weekend racers—the entire gamut."
His first piece of advice is to choose a carrier carefully. A carrier suited for bulk items like roofing shingles is not the best choice to handle high-value engines or other items.
"We've developed a network of carriers that support our performance customers and have created a best-practices program for that," he said.
Not surprisingly, one of the easiest ways to reduce shipping costs is to avoid expedited shipments whenever possible. "We always ask customers if they need an item right away," said Steffens, explaining that two-day shipping added 40% to the cost, while overnight service doubles it. "We can put it on a palette with an A carrier and get it there in four days, or maybe three days with an LTL (less-than-load) carrier."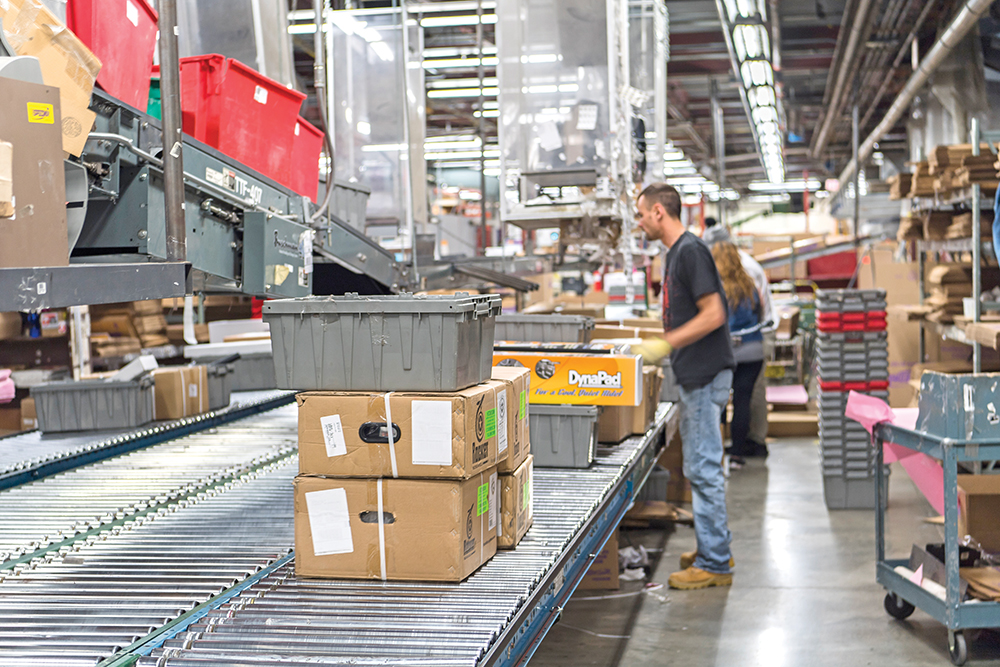 Location matters—a lot. Steffens pointed out that race team operations are often headquartered on the same property as the team owner's home. The US Postal Service and other carriers and freight companies consider such a location residential, and shipping to it (or from it) can raise rates by some 25%.
As an alternative, Steffens suggested instead shipping to a verified business address, or a terminal. In the latter case, you will have to retrieve the cargo. When shipping an engine, having a forklift or a truck with a lift gate available can also eliminate an extra lift gate service charge from freight carriers.
Thinking Inside, Outside the Box
Distributors and shippers have long been adapting to packaging challenges to minimize their own costs and maximize customer value. Kansas City, Missouri-based Sterling Bearing, a member of the Engine Parts Group, applies a number of packaging measures that are common among the group's members. The parent company distributes brand-name internal engine parts and markets its own parts under the Engine Pro name, selling exclusively to engine builders, machine shops and jobbers.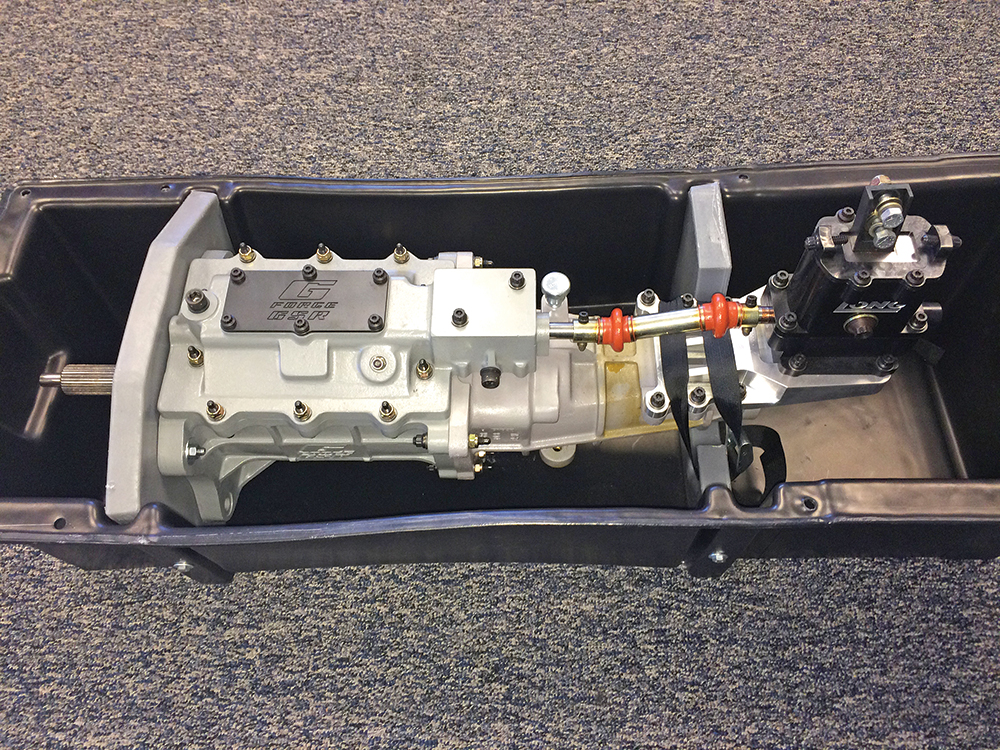 "Careful packaging techniques, prepaid master engine kits, a freight policy, core returns via UPS or via outside salesmen, and double-checking shipments to ensure accuracy are applicable to all of our Engine Pro distributors," said Steve Rich of Sterling Bearing.
Rich shared the following processes that he believed could help others: "We have a custom box made to ship small bulk promotional orders of paint or oil. One custom box holds two cases of oil or five cases of paint. We offer a special shipping discount on these combo orders."
To address the fees added by UPS and FedEx for non-corrugated cardboard packaging (and "cylindrical" items), Sterling created a custom box to ship its five-gallon pail of EPG honing oil and sell it to customers for $5.99. "It protects the oil and saves our customers $9," said Rich.
Consolidating packages for customers who order throughout the day, Rich explained, "Our regular customers' orders are held until late in the afternoon in an effort to combine orders into one package. When we finalize an order at the UPS station, we check for open orders. Our employees will occasionally find two boxes on the conveyor belt for the same customer, break them down, and re-box into a single package to save the customer money."
Sterling's Master Kit boxes are designed with a cut-down crease. When packaging parts, the company packs the box tightly, using as little packing as possible, and then cuts the box down to size. "This is time consuming, but it saves the customer money on dimensional weight, and it protects the parts better than adding extra packing," said Rich. "When we have to add packing, we use Kraft paper. It takes a little longer than using peanuts but saves a big mess at the customer's business."
MOVING THE HEAVY STUFF FOR LESS
Shipping high-value engines or engine parts requires appropriate packaging. Steffens cited Performance Plus Global Logistics' work with a composite expert to make custom, reusable crates for Steve Dinan, who is well-known for high-performance Audi, BMW and Mercedes-Benz vehicles, most recently through his CARBAHN Autoworks.
Steffens also suggested using specialty reusable engine crates from Scribner Plastics. Molded from durable polyethylene, they can be more cost-effective versus building wood crates.
"Our containers see money savings through re-usage," said Chris Scribner of Scribner Plastics, Rancho Cordova, California. "Customers have seen dozens of shipping cycles with them."
Scribner said the company draws on 40 years of development experience and evolution influenced by its own in-house racing team. And so, the company knows the value of avoiding shipping damage. Their engine containers, for example, feature forklift and pallet jack slots for easier handling, and the secure nut-and-bolt enclosure ensures safe handling.
Critically, proper packaging for high-value items is essential for insurance purposes. "We won't insure it if it's not crated," said Steffens. He explained that Performance Plus offers an affordable All-Risk Insurance program for expensive racing items, such as a $40,000 race engine. He advised against relying on standard carrier insurance, which might reimburse just 10 cents per pound of a damaged item.
WATCH YOUR WEIGHT
When shipping an engine or other heavy item, a quick cost savings can come from simply stating its weight accurately, Steffens explained. "A lot of businesses don't have scales, and so they'll put down an approximate weight for an engine. That's a bad idea. Carriers have scales at all terminals and will charge an extra $50–$100 for a re-weigh."
Significantly understating weight is a red flag for a re-weigh that he has seen often, such as indicating 300 pounds for a 450- to 500-pound iron small block Chevy.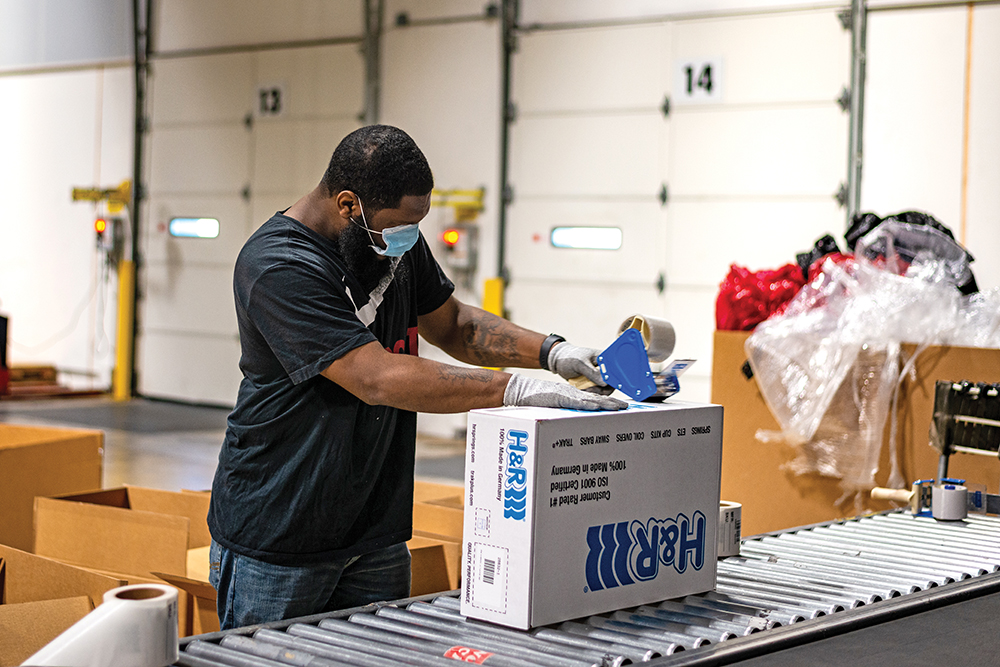 "We have matrixes showing weights for common engines—Ford, Chevy, Mopar, small and big block, iron and aluminum," he said. "When we see it come through, we'll often suggest a different weight."
Another red flag is a "00" number that states an engine weight as an even 400 or 500 pounds, for example. That will trigger a re-weigh, because it suggests the customer did not know the true weight. Steffens noted using a number like 418 or 516 cuts re-weighs by 70%.
BUY MORE THINGS, TRY NEW THINGS
More cost savings can be found in expanding your list of suppliers, Sampson of Turn 14 told us. "Some businesses are ordering a particular part from only one manufacturer," he said. "From a distributor, you could buy the same kinds of parts from, say, five different manufacturers. You consolidate to one shipping charge instead of five different charges, and you can negotiate a shipping rate with your sales rep, because you're buying in bulk."
Another savings on shipping comes from ordering high-use items for stock, thereby paying for shipping less often.
Sampson cautioned that trying to negotiate lower rates with shippers does not always bear fruit. "Negotiation with a carrier is a protracted experience," he explained. "You can't just call FedEx and ask them to reduce cost by 5%. When we do negotiations, that's a long-term thing we take on with a carrier."
Look for Pre-Paid Shipping
Sterling Bearing (and other Engine Parts Group members) uses pre-paid shipping to soften the impact of cost on customers. For example, Master Kits are available with prepaid shipping (allowing for a couple of deletions), including drop ships, transfers, and whatever it takes to fill the kit (within reason). Freight policy is effective for volume customers, where the company offers prepaid shipping on volume orders by customer with a range between $100–$300.
The company includes a prepaid shipping tag with remanufactured cylinder heads and crankshafts, which require a core return. "Even if the part is drop-shipped from the supplier directly to the customer, we email a pre-paid return tag," said Rich.
Finally, Rich advised not sacrificing quality control in the quest for shipping savings. "Shipping mistakes are costly," he said. "At least two people are involved in every order we pull and pack. Another person checks every packing slip prior to packing. The employee who packs the box is ultimately responsible and includes his name on the 'packed by' sticker placed in every shipment. We have a separate phone number and email address for customers to record or email comments about their shipments."
Free Shipping: Is It A Must?
A consumer mindset accustomed to getting "free shipping" from Amazon and other online B2C retailers has helped bring similar expectations to the B2B realm. This is, of course, not a cost-reduction measure so much as a customer attraction and loyalty strategy.
On the inbound distributor's side, Turn 14 Distribution does what it can to reduce or eliminate shipping costs, which in turn keeps prices down. "If we're dealing with a partner with free freight for a certain volume of orders, we will place orders for that number to get the free freight," Sampson said.
He added that Turn 14 customers can take advantage of free shipping in numerous instances. "For a lot of brands we distribute, we offer free shipping all year," Sampson said. "That's built in to the cost of doing business with those particular lines. Look at items that offer free shipping. Try something that you haven't used before."
From a retailer's perspective, "free" is definitely the buzzword for shipping. Lawler said customers now expect this perk. "We saw a spike when we offered free shipping with $99-and-over orders," he said. "We did some 20% off promos that worked, but free shipping worked better. It is more easily perceived and understood by customers. It is one of those competitive things that you have to do right now."
Lawler acknowledged that "free" can come at a cost to the retailer. "Whether or not it hurts the bottom line depends on how you look at it," he said. "If you make the sale, there's more chance of having contact with that customer in the future."
He approaches shipping cost reduction from several angles, including using drop-shipping from the manufacturer or warehouse when it makes the most sense for the customer. "Even though I'm a brick-and-mortar store, if I am shipping it from a manufacturer or a warehouse to my own business, I might as well ship it to the customer so I don't charge myself," he said.
When shipping from the store, he uses the US Postal Service for its $5.95 box rate whenever possible. "If you go to FedEx or UPS, it might be $12–$15. Charging that difference might mean the customer doesn't return."
Pancho's added a personal touch for local customers. "Pretty much within an hour of here, we'll deliver for free," Lawler said. "That also gives me a chance to meet and talk to the customer to find out what their needs are."
Meanwhile, Lawler is also seeking ways to lower shipping costs that he pays to manufacturers. "If I'm buying $30,000 a year from a manufacturer, I would ask, 'Why aren't you shipping for free?' There are plenty of manufacturers out there. You'll see retailers shopping around just like consumers do."                           
SOURCES
–
Engine Pro
Pancho's Racing Products
Performance Plus Global Logistics
Scribner Plastics
Sterling Bearing
Turn 14 Distribution
A BIG DISCOUNT YOU MIGHT NOT BE USING
A useful benefit to SEMA membership is a UPS discount shipping program. The savings can be substantial, including at least 75% for heavyweight freight shipments (over 150 pounds) with UPS LTL Freight; 50% off Domestic Next Day/Deferred; 30% off UPS Ground (commercial or residential); and 10% off UPS Next Day Air Early.
When you call to enroll (800-636-2377) or self-enroll online (sema.org/ups), UPS will look at what discounts you might already have applied to your account so you can see which offers the better deal.
In addition, exports get a 50% discount, and imports receive a 40% cost reduction. SEMA members using the program can also earn free UPS Smart Pickup service for a year, as well as a 17% discount on insurance for small package shipments through UPS Capital Protection. —Jim Koscs
PACKAGING MAKES ALL THE DIFFERENCE
From small parts to engines, a big bang-for-the buck in shipping cost reduction may be found in the packaging. Of course, proper packaging is also critical for protecting cargo and preventing unhappy customers.
Both UPS and FedEx raised their additional handling charges for weight, size, and packaging this year, so keep these figures in mind:
Domestic packages with an actual  

weight greater than 50 pounds will

have $24 added to the cost. (The

 threshold was 70 pounds last year.)

A $15 charge is applied if the package's

longest side exceeds 48 inches, or

second longest side is over 30 inches.

You'll pay more to ship packages

that are not contained by corrugated

cardboard: $13 for FedEx and

$14.25 for UPS.

Both will also charge extra for

"cylindrical-like" items, which includes

buckets, cans, and barrels, among

others.

You'll also be charged extra for

packages routed through a carrier's

irregular sorting process to avoid

 getting tangled in the company's

machinery.
See the UPS and FedEx websites or talk to your reps for more details.