RACE BUSINESS PROFILE: GEDDES RACING ENGINES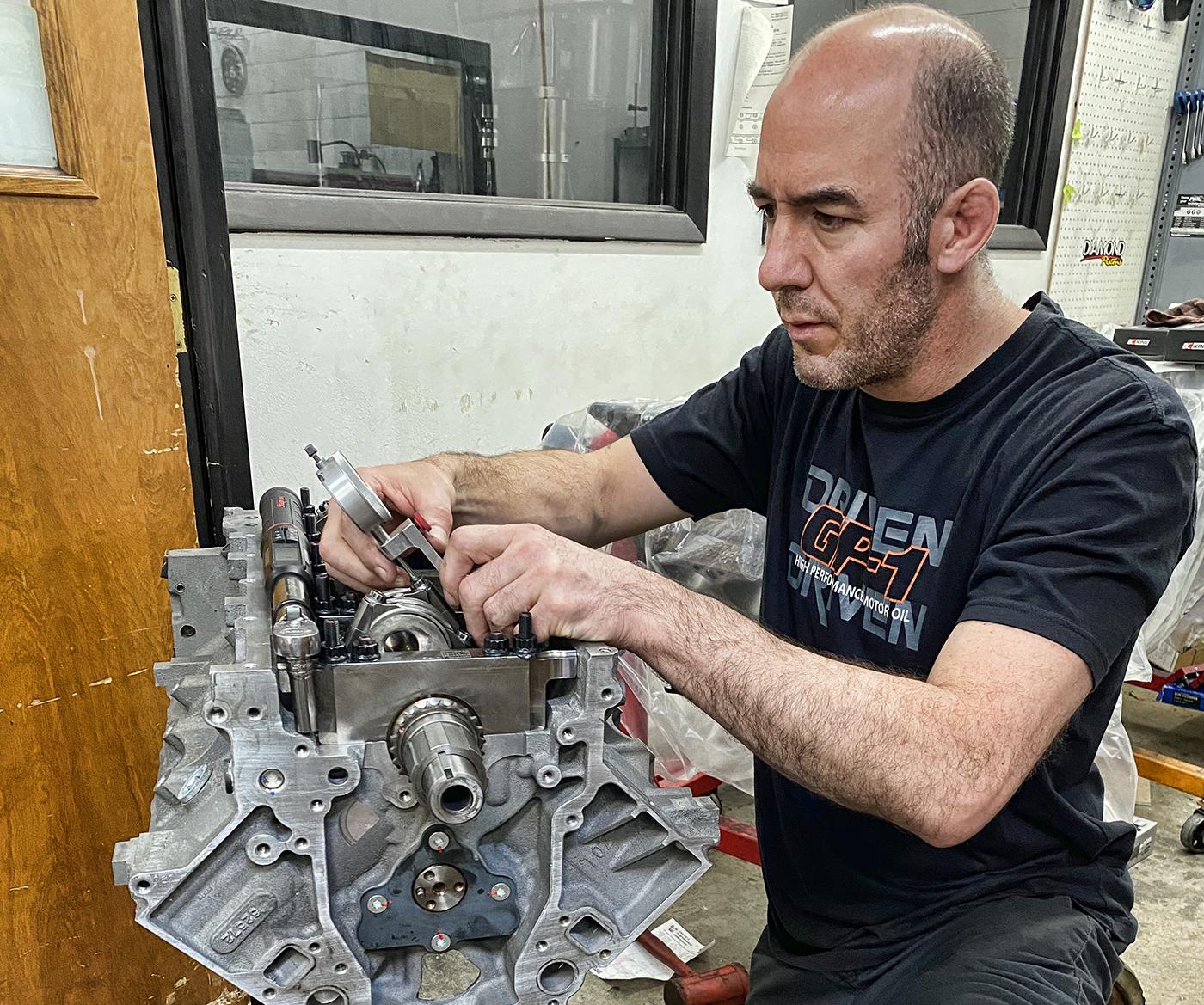 Customer education is high on the list of priorities for Angelo Vigil and Geddes Racing Engines, where a tight-knit crew works closely with clients to set expectations and goals, and keep them posted on builds through social media updates.
On a recent Saturday morning when he'd come into the shop to handle some paperwork, Angelo Vigil found himself dealing with non-functioning Internet. A service provider's tech was working on it, and it seemed as if the problem would be resolved fairly quickly. That was a relief to Vigil, owner of Geddes Racing Engines in Colorado Springs, Colorado, because he wanted to post engine photos to Facebook and Instagram.
This was no frivolous pursuit, but rather a key business strategy. Social media has not only become essential for the shop's marketing—it's also a critical tool for managing workflow.
"We love our customers, but as a small business, we don't have time for them to be constantly stopping by to check on their projects," Vigil explained. "We ask them to follow us on Facebook or Instagram, or both. We'll post photos and tag customers so they can follow the progress as their engines go through the shop. That reduces distraction by cutting down on phone calls and drop-ins."
Leveraging social media for marketing and shop management is one way Vigil melds creativity and business savvy to serve customers from coast to coast and beyond, all from a 3,000-square-foot shop with a crew of three.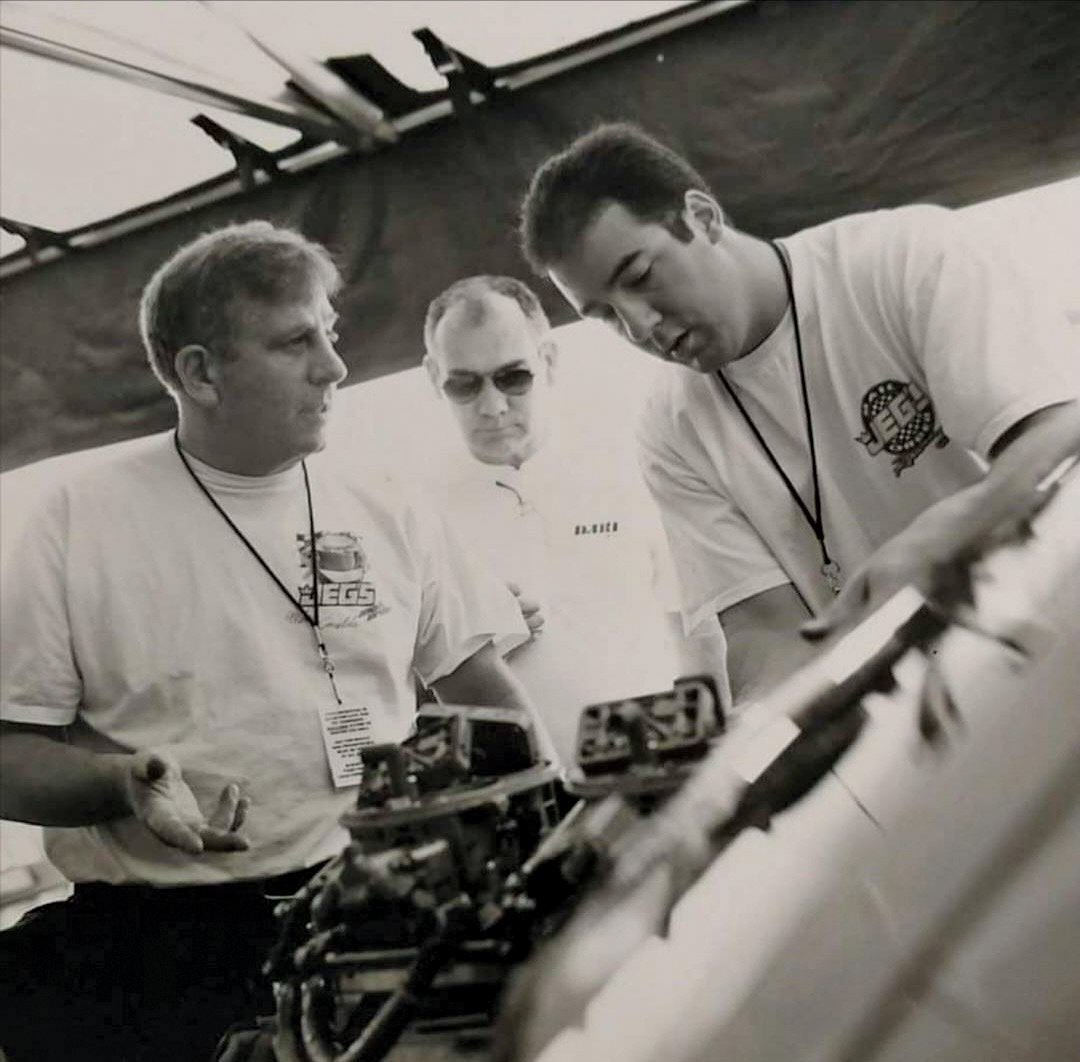 A NEW START
Vigil purchased Geddes Racing Engines in 2002, keeping its established name but steering the business to a 50/50 mix of race and street. Customers are indeed spread out, with engines and parts being shipped as far as Hawaii and Dubai.
On the racing side, Vigil took Geddes into United States Modified Touring Series (USMTS) dirt tracks for a few years, establishing a reputation for building durable, race-winning engines.
"At first, it was about getting our name out there and looking at rules packages outside the box," Vigil said. "We looked at what was available to racers, and what we could do better. Our goal was to build a high-quality engine in a competitive price range that has serviceable parts in it. It was about learning how far to push something, and then making it last several thousand laps before it has to come back for freshening."
Often, that meant convincing customers to spend more for higher quality parts. "For example, a better set of lifters might cost $200 more but could be rebuilt after a season," Vigil said. "A $1,600 crankshaft might be serviceable for the lifetime of the engine, versus a $600 crank that might last one season."
Vigil's approach paid off. Geddes Racing Engines won USMTS championships in 2013 and 2014. Then, in 2015, when Geddes-built engines won 19 races, the organization named the shop "Engine Builder of the Year." The reputation for durable racing engines became foundational for Geddes, generating word-of-mouth and customer loyalty for both race and street business.
HOT ROD HEART
As it does for many, Vigil's love of working on engines began at an early age. "Growing up, I was always a tinkerer, taking things apart and putting them back together," he said.
Vigil found more than inspiration in the pages of Hot Rod magazine. "I spotted an ad for SAM Tech in the back of Hot Rod," he said. "I went down to Houston to check out the school and liked what I saw."
After graduating from the School of Automotive Machinists & Technology (SAM Tech) in 1995, Vigil moved from his Colorado home to Michigan to take a job at Dart Machinery. Notably, Dart was supplying heads to top NHRA Pro Stock teams.
"My time at Dart was formative," he said. "I not only learned a lot about engines, but also how these businesses work. I still draw upon those lessons on a daily basis."
Returning home to Colorado after the 9/11 terrorist attacks, Vigil found Geddes Racing Engines listed for sale. He set out to combine his experience from Dart with the spirit of Hot Rod in order to truly build something new.
In addition to race engines, current street engine work focuses on LS and Gen III Hemis, including 1,000-plus horsepower twin-turbo and supercharged builds. Significantly, nearly a third of the shop's street work is now import engines, which Vigil said has been growing of late. Geddes also does machine work for other shops handling such projects.
Vigil has two employees, both of whom are technicians. "Justin Smith is my cylinder head guy who's been here for four years," he said, adding that Sheldon Baron represents his most recent hire.
Finding the right employees is a challenge regardless of the economic climate. "It's easy to find people who want to do this work, but it's not easy to find the skilled people who can do this," he added. "I've had probably half a dozen SAM Tech grads here over the years. If in need of an employee, that's the first place I call. Some reach out to me, and I keep resumes on file if we don't have an open spot."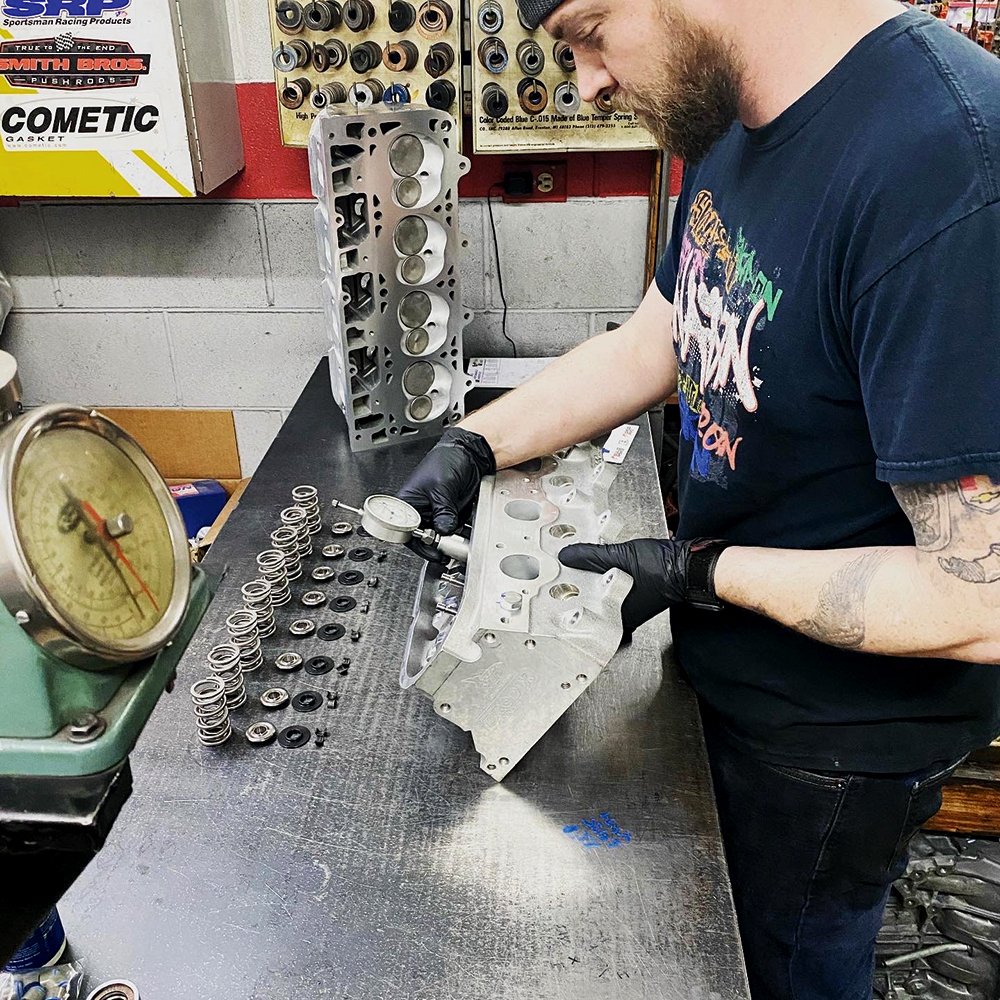 KEY TO GROWTH: CNC
Vigil said the shop has always invested in modern tools and equipment. One pivotal and expensive asset Vigil acquired seven years ago put Geddes Racing Engines on the map for stellar block machining: a Rottler F68A programmable automatic CNC machining center.
The investment was huge for a small shop, coming to about $100,000 once tooled and set up for work.
"Being a smaller shop, there were some things that we could do but that were very labor intensive," Vigil explained. "Having to farm some things out, we were not getting the quality we really wanted. Getting the CNC machine solved those problems."
He calls the CNC machine the shop's bread and butter. "It drove people to the shop and opened other markets for us," he said. "The biggest was sleeving. We do a ton of Darton sleeve kits for LS, Ford Coyote, and imports and more. There was a time when we didn't want to do that for import engines. Now we do. It sets us apart."
Darton, Vigil said, took notice of his work. "If you're in the western half of the US and call Darton for sleeves, and ask where they can be installed, they refer a lot of business to us," he said, adding that Geddes uses the CNC machine for more than sleeving.
"It's such a good multi-purpose machine," he continued. "We can do things that we had been sending out and giving up control on the quality. We can do the work more accurately and more quickly."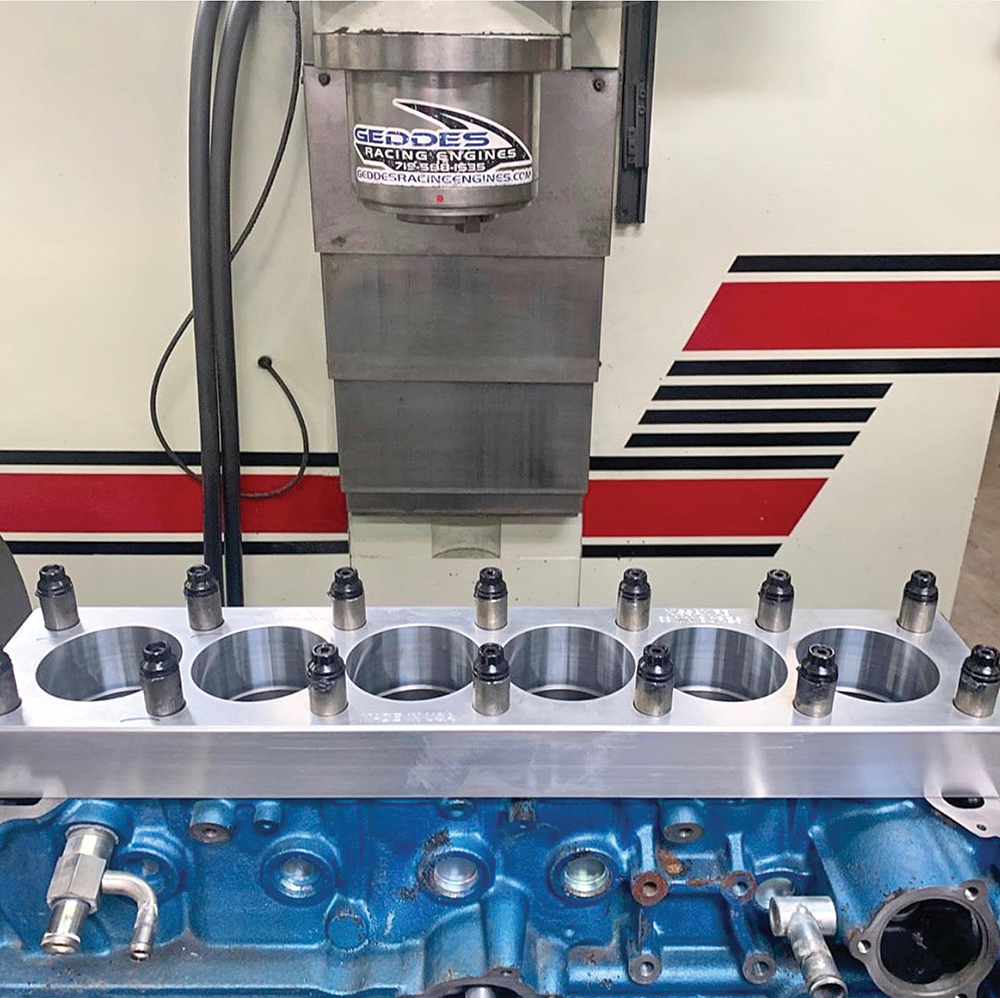 He also explained that the CNC helps to streamline work by allowing him to more easily group similar projects. "If I've got the CNC set up for smaller import blocks, we'll do three or four of those," he said. "And then next time, we'll do a handful of Gen III Hemi blocks. It helps the work get through the shop much faster."
Vigil said the CNC machine can help build trust with a customer, too. "We can take block measurements from the machine and send that to the customer to show why we might have to do a particular job," he said. "It educates them—for example, showing why we might have to oversize the block or sleeve it."
Geddes is known for more than its CNC work. The shop also does valve work, employing a Serdi machine. "It uses a live pilot and, for us, it's very accurate, which is especially beneficial on the small import engines," Vigil said.
FROM GOATS TO "GODZILLA"
Geddes is also a go-to shop for classic muscle car engine rebuilds, but with a modern twist that Vigil encourages customers to embrace: electronic fuel injection.
"We do a lot of EFI conversions on older muscle cars, a lot of Holley Sniper systems," Vigil said. "For another $500–$600 over a carburetor, the customer gets a much better driving experience and reliability. Holley's done a great job. Once the air cleaner is on, it looks like a carburetor. Some guys are a tough sell, but once they see that, it changes their minds."
Geddes keeps busy with numerous projects of various sizes. "At any given time, we're working on 20–30 engines," said Vigil. "For some it's the whole engine, others it's just the machine work. We do a wide variety of projects."
On a Saturday two weeks after PRI spoke with Vigil, the Geddes Facebook page displayed work in progress for multiple LS engines, a few Nissan RB26 blocks for Skylines, a Ford Coyote, and even a Pontiac 400 and Chrysler 383. In other words, it was a typical work roster for a shop that deftly caters to multiple generations of performance cars and customers.
Among those customers are other performance shops that send some of their most challenging machine work to Geddes. One of those, 50 miles away in Littleton, Colorado, is Rains Performance Motorsports.
"I've probably used 25 different machine shops over the years but am now exclusively loyal to Angelo," said Glen Rains. "To give you some perspective, there are probably 15 machine shops within five minutes of me."
Rains began sending work to Geddes about two years ago, mainly for CNC block machining. Most of what Rains sends is for LS engines and Gen III Hemis, though it also includes a mix of other modern and classic muscle cars similar to what Geddes handles for its own customers.
"I'll get involved in just about anything, and Angelo has the flexibility with his equipment to work with me on any of that," Rains said.
Before working with Geddes, Rains had been using machine shops out of state, but found the shipping costs and added downtime to be a drag on business. "Finding someone local to do the CNC work was a game changer," Rains said. "Getting the quality I want has helped my business tremendously. The quality of Angelo's work and attention to detail has been second to none in the state of Colorado that I've ever dealt with."
THE CUSTOMER EXPERIENCE
Vigil remains focused on earning and keeping customers' trust. And, if the customer is not always right, he helps get them there.
"We take the same approach to street cars as race engines," said Vigil. "We talk with customers about their goals, lay out a budget, and use the best parts we can for what the customer can afford. Our ultimate goal is to give the customer the best experience."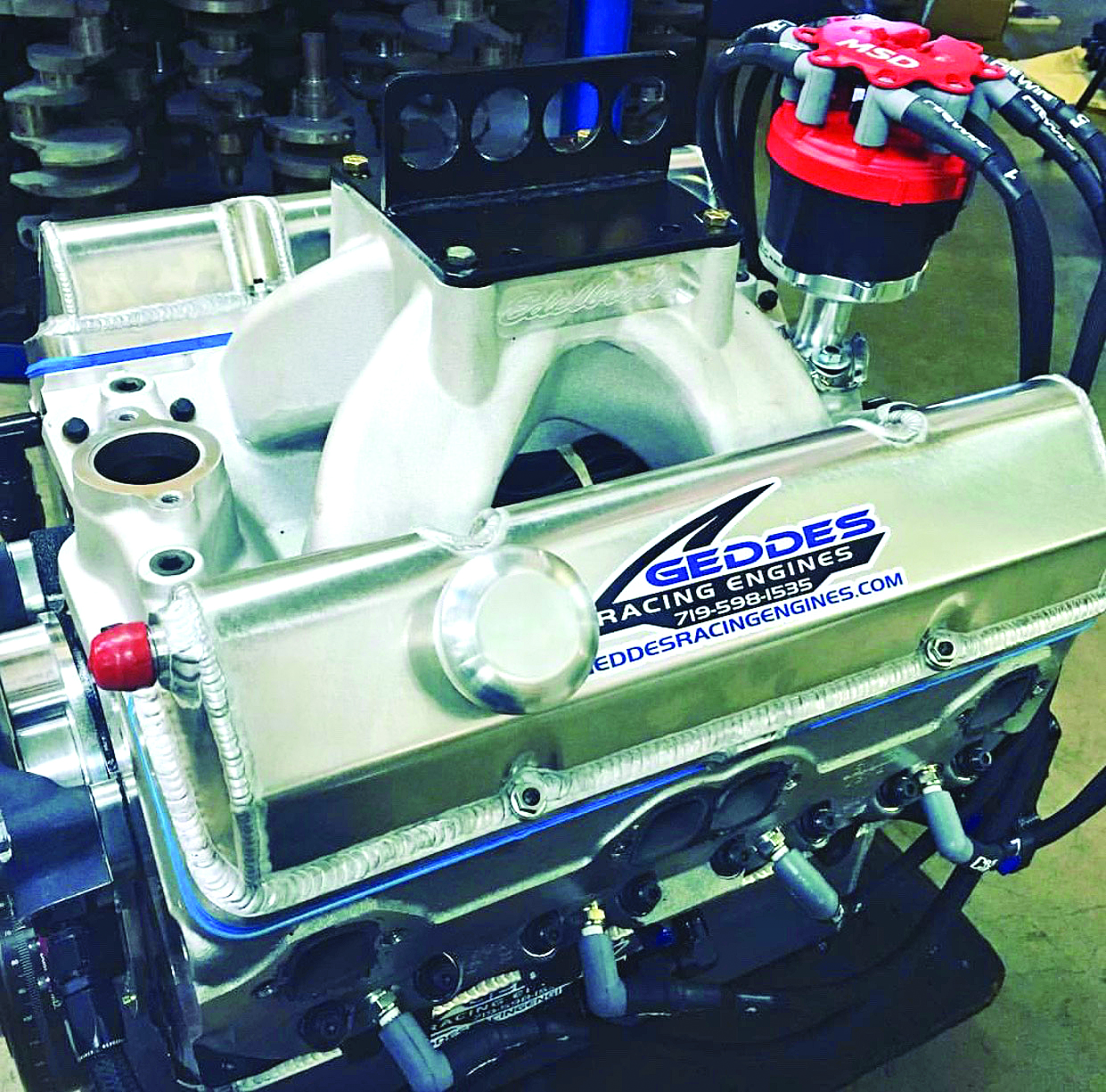 Often, that means providing some extra counseling and education. Among the challenges Vigil has faced, particularly with his street-engine customers, is dealing with those who want to supply their own parts. "Some don't understand what they're buying," he said. "They might bring in good parts that don't necessarily work well together for the project."
Vigil has boosted the shop's parts sales not only as a profit center, but as a way to ensure that he satisfies or exceeds customers' expectations. "We offer competitive prices, and often we can supply a part better suited to their application," he said. "But we don't dictate to customers. We like to educate them. The more they learn, the more they feel part of the process and get more attachment to it."
Vigil is not only Geddes' shop owner—he's also a customer: His daily driver is a 2010 Chevy Camaro SS with a naturally aspirated 440 cubic-inch LS7 that puts 600 hp to the rear wheels. And, he's planning to add a ProCharger supercharger. The car is a calling card for the shop.
SOCIAL MEDIA MAVEN
Geddes Racing Engines does not currently sponsor any cars or drivers as a marketing tool, although Vigil said he would not rule it out for the right opportunity. In the meantime, he has become something of a social media maven, getting the most from the reach and influence of Facebook and Instagram. He allots time each day to post on the popular platforms.
"I'm 47, and many of my customers are of a younger generation," Vigil said. "You have to understand how they use these platforms to make buying decisions."
In addition to helping cut down on customer drop-ins and phone calls that could interrupt work, the posts yield several other benefits. Vigil described his use of social media as an educational tool, helping to show customers the results of his recommendations for parts or machining work, thereby helping to build trust.
"Customers can see inside of the engine as we're working on it," said Vigil. "That's of course not possible once the job is complete."
The posts also serve as a running log of the project that customers can show to others, either in-person or through their own social media channels. "They will inevitably share that with friends, who might then also become customers down the road," said Vigil.
Best of all, Vigil said, social media and its benefits don't cost him anything but his time.
Social media helps Vigil keep an eye on customer trends, but he also takes a more proactive approach to that aspect of the business. "I've got good contacts at all my vendors, and they do a good job of keeping us aware of things coming down the pipe," he said. "I also get to the big PRI Show to look for ways to improve workflow through the shop and to find new things for customers."
Vigil ultimately pins the success of Geddes Racing Engines on confidence and vision. "Don't impose limitations on yourself," he advised. "Don't assume that because someone else can't do it, that you can't, either. You have to have that fire. Big risks can bring big rewards."