PRI 2020: Machinery Row Preview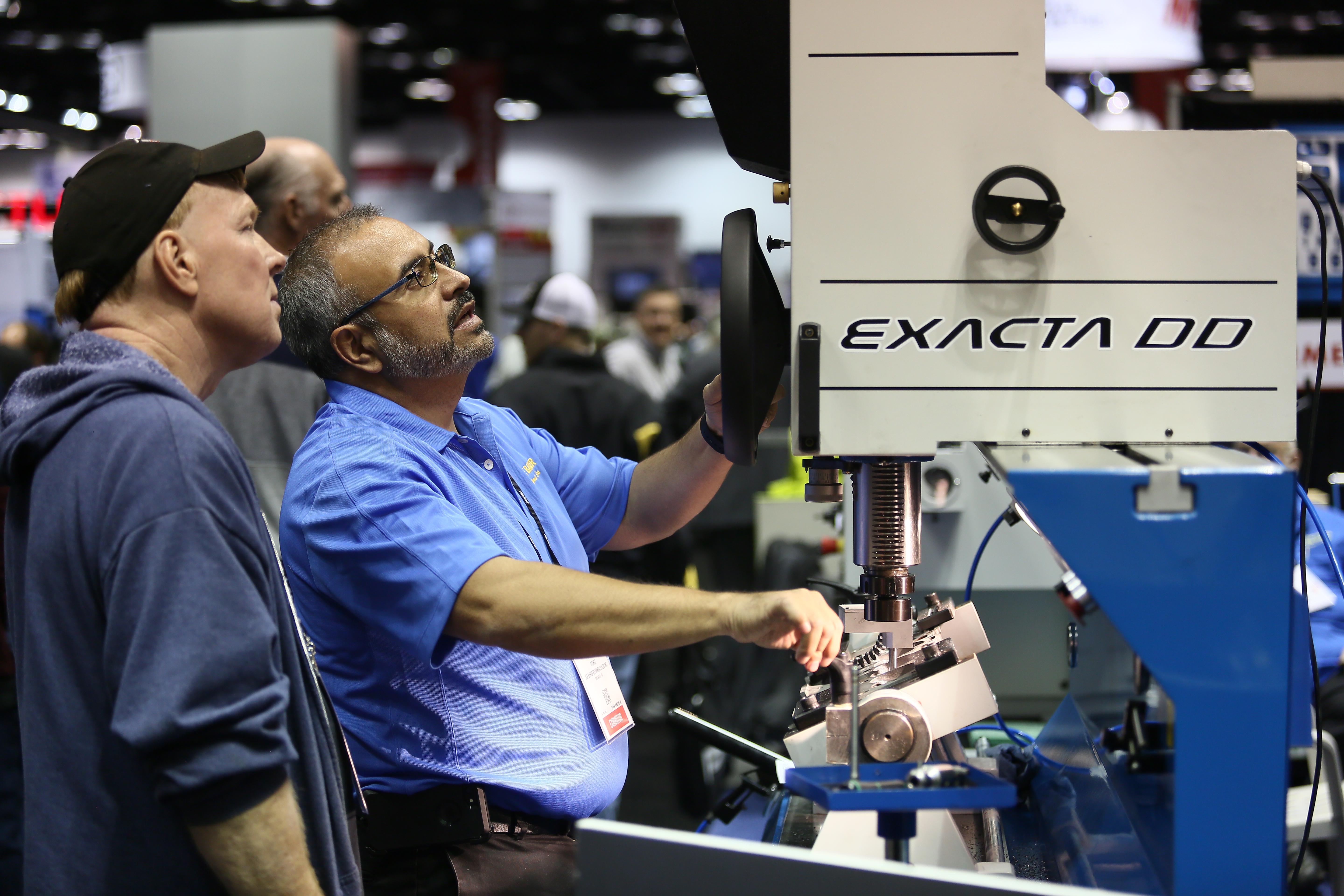 Looking for the latest in shop equipment? The annual PRI Trade Show features hundreds of new products that are designed to improve performance and streamline race operations.
A new CNC machine or a state-of-the-art chassis dyno represents a significant investment for any race shop, and the first step in researching and inspecting possible choices often starts on Machinery Row at the annual PRI Trade Show.
In addition to the high-end equipment set for display inside the Indiana Convention Center from December 10–12, Show attendees will discover tools, cleaning systems, fabrication equipment, welders, abrasives and many other race-related gear.
Innovation will be a leading theme at the 2020 Show as companies take advantage of advanced computer programming, updated materials, and improved manufacturing methods. 
"As racing moves toward lighter and durable materials, how does that change the tools in your shop?" asked Joshua Swainston of OMAX Corporation, Kent, Washington, which will display a water-abrasive cutting table at PRI 2020. "Shops want rapid part production and no heat-affected zones when cutting out materials."
Today, more race shop personnel appear to be shopping versatile CNC machines with an eye toward developing their own engines. "There is a noticeable trend in shops either interested in or actually manufacturing engine blocks, cylinder heads and many other parts from billet materials," said John Cowher of Centroid, Howard, Pennsylvania, which will showcase its latest CNC machines at PRI. "The shops want to get the most bang for the buck in their investment from this machinery, so why not use the machinery to its fullest potential—not just use it for port and chamber digitizing. Take control over product development, turn-around time, and dependencies, and manufacture superior and more robust engine parts to take advantage of all the performance gains billet parts can bring."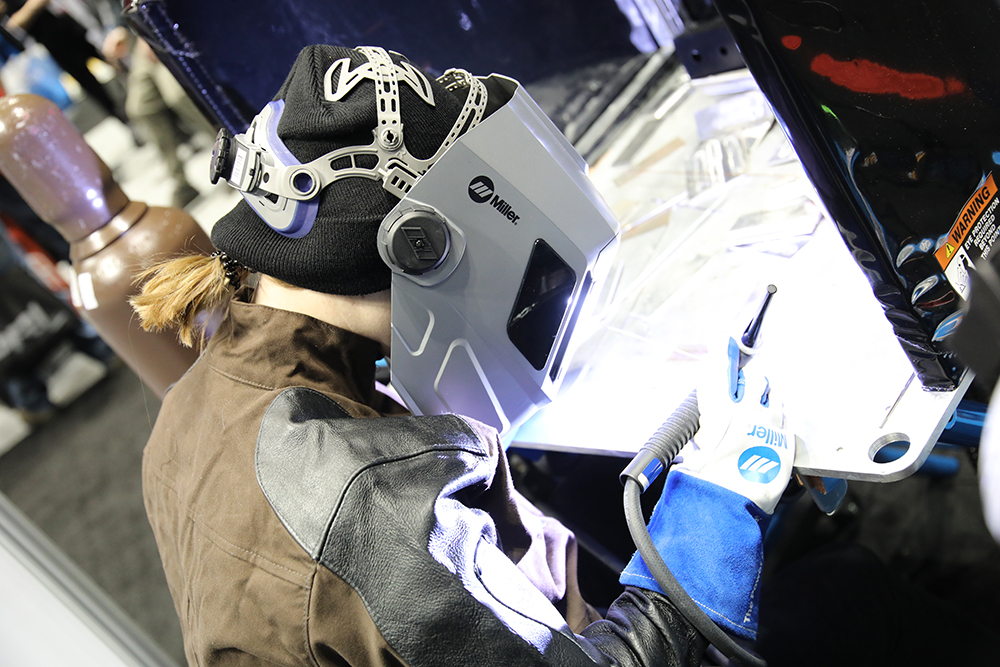 Taking advantage of today's new, sophisticated machines can also mean stepping outside the automotive arena.
"High-performance engine shops continue to be busy, and it is exciting to see customers continue to invest in equipment and find creative ways to add shop work," said David Bianchi of Rottler Manufacturing, Kent, Washington, which will bring a combination block/head machining center to PRI. "In some cases, with our EM69 CNC, customers are manufacturing new parts that are not designed for engines and taking orders for sales via the Internet."
Even amid continuous innovation and advancements, engine builders and race shop managers continue asking manufacturers for more features. "Consistently, engine builders are looking to automate while keeping machine operation simple," added Bianchi. "This is a key feature that we build into our equipment—versatile and simple conversational programming. Surface finishes and bore profiles are always critical, and we have an ongoing commitment to making this process simple with total control so that engine builders can offer something unique and better to their customers."
"I believe shops are looking for features that make job processing easier, features that decrease cycle time," agreed Cowher. "These include more automated processes that are easy to use. An example of that would be the constant upgrading of our CNC Control and the ease of use of the software, and how it plays with our hardware. Autonomous digitizing continues to be enhanced."
OMAX works with a variety of shops, including those building experimental vehicles and classic race cars, where ease of use is even more important so that a wide range of skill sets can take advantage of the machinery.
"Often it's the shops that are doing small runs or one-offs of very specific parts," said Swainston. "For this, OMAX is always looking to make its machines more accessible. We do this by making our software easy to use and by offering a wide range of machines to meet everyone's price point."
With such a diverse assortment of products and services available in Machinery Row, it's a good idea to prepare a basic shopping list and familiarize yourself with the floor plan. Even if you're not shopping for new equipment, manufacturers' knowledgeable sales and tech reps will be on hand to answer all of your questions and offer tips to improve workflow in your shop.
Following are snapshots of 11 new pieces of equipment we're especially excited to see up-close and in-person at this year's PRI Trade Show.
ABS PRODUCTS
–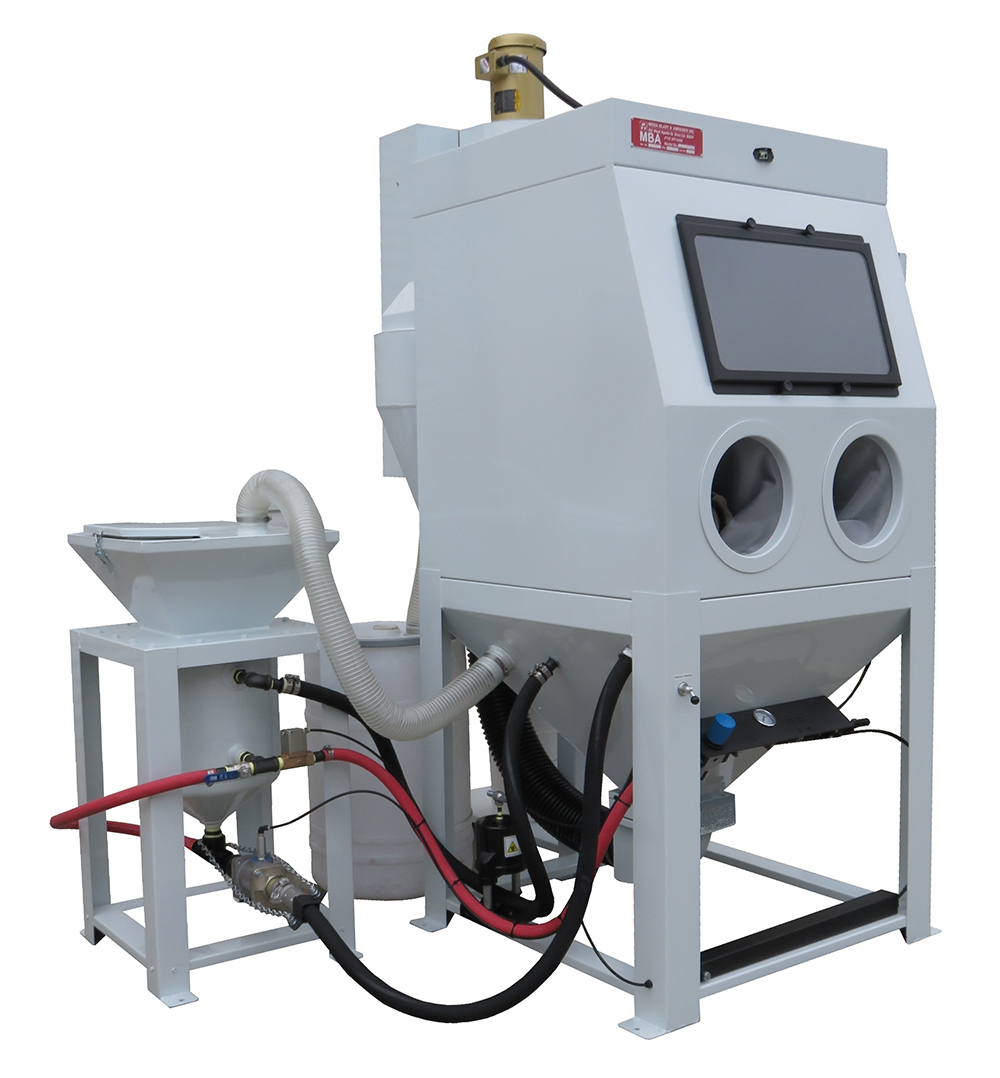 The Blizzard Stage III Blaster from ABS Products in Brea, California, uses GhostFlow technology to deliver soda abrasive, which is soluble in all automotive fluids. It can be used to blast clean delicate parts without fear of the abrasive embedding in the part surface or remaining in critical locations. The Blizzard Stage III is designed to handle all types of production applications, including those with multiple shifts. And, the GhostFlow technology requires low compressed air usage and a minimal amount of soda to complete the task.

ABS-PRODUCTS.COM
CENTROID
–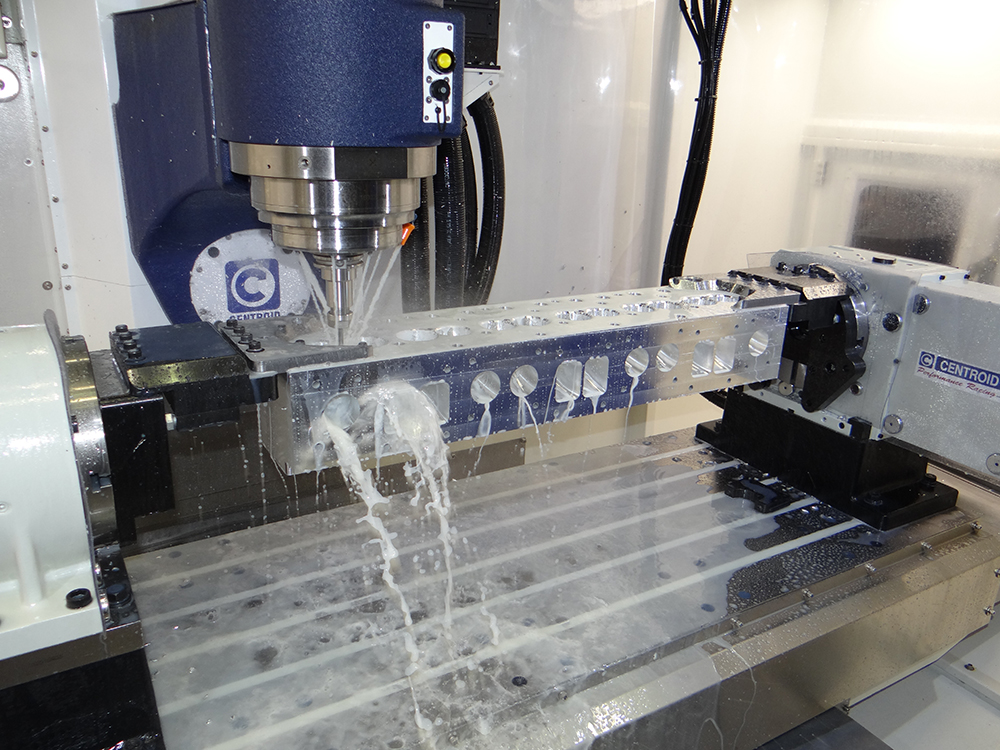 Shops with tight floorspace should make a point to see the A560 Port/Block 5-axis CNC machining center in Centroid's booth. The A560 is now available with a smaller footprint in addition to its standard features like enhanced roller-cam technology in the rotational axis. The A560 also sports higher resolution scales in the rotational axis. This combination of features makes the A560 more rigid and highly accurate. The new system maintains +/- 60 degrees of motion in the B axis and 360 degrees in the A axis. Additional upgrades were made to the autonomous digitizing for faster and more accurate data acquisition, which will help reduce cycle time while reverse engineering ports and chambers.
DYNAPACK
–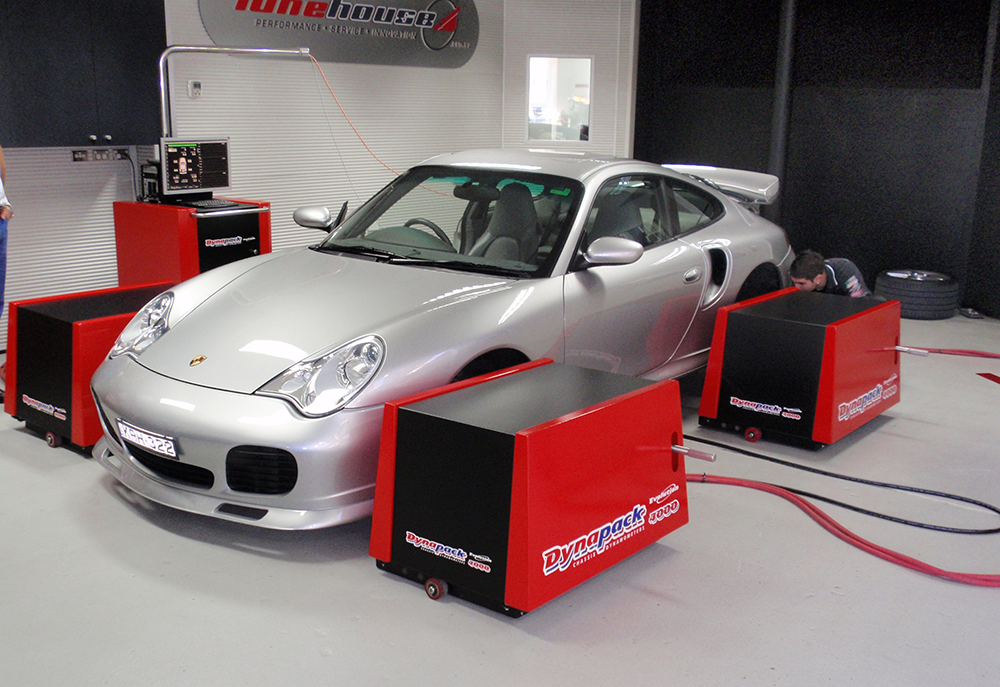 Dynapack USA of Clovis, California, will showcase its most popular 4WD chassis dynamometer, the DAQ42, at PRI 2020, in addition to the 2WD systems that can later be expanded to 4WD. The unique modular design couples directly to the vehicle's wheel hubs and applies a precise hydraulic load. Benefits include a compact footprint and improved safety—since there are no tires to blow or slip off a roller. A 2WD system can be equipped to handle around 1,500 horsepower, while the top AWD system is rated over 3,000 horsepower. The systems are designed to start testing as soon as two hours after arriving at the shop, and standard power outlets are used. All systems include computer, controller, dual Lambda meters, dual EGT inputs, and OBDII data logging.
GIANT FINISHING
–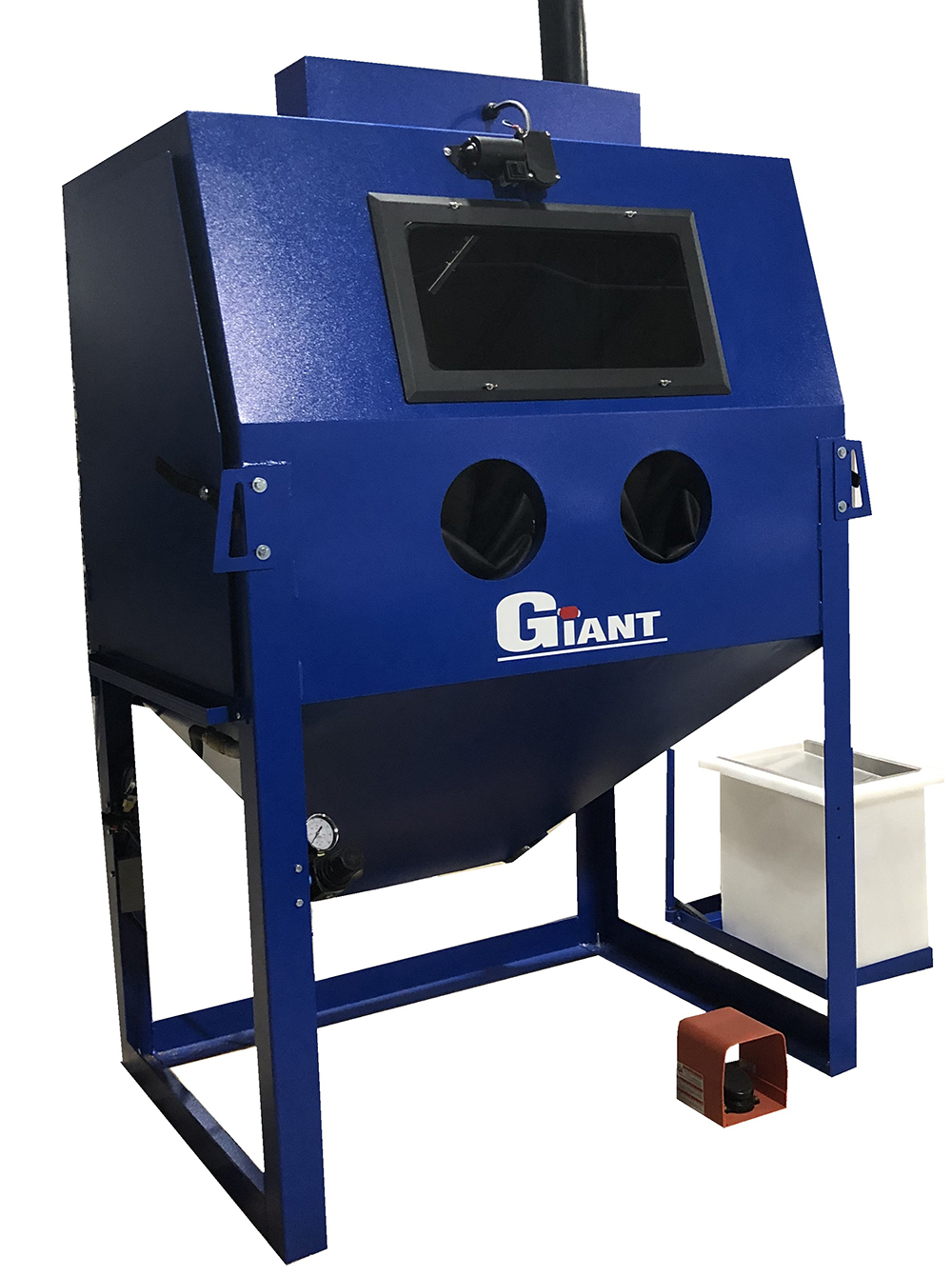 The Slurry Blaster from Giant Finishing in Addison, Illinois, is available in two options: GSB3630 and GSB4836. The numbers represent the size of the cabinet (36x30 and 48x36, respectively). Slurry-blasted finishes are known for consistency and saving time, in addition to their smooth and attractive surface texture. Additional work such as painting or plating are typically made much easier, too. A slurry blaster allows for finer media, so it can reach smaller, critical areas. Also, slurry doesn't generate dust like other media, so it's much more environmentally friendly. One of the more unique features of the GSB series is the electric wiper blade on the inside of the window to provide the operator a clearer view of the work.
MILLER ELECTRIC
–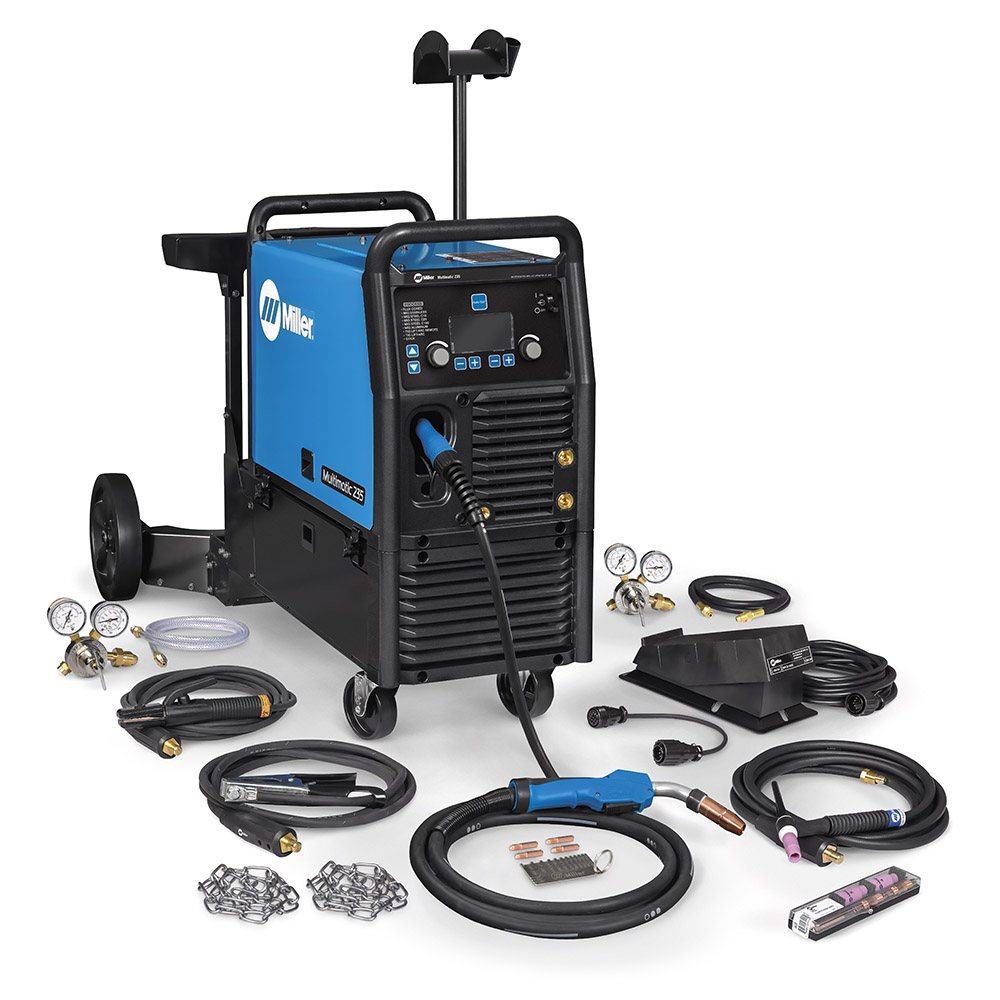 The Multimatic 235 from Miller Electric in Appleton, Wisconsin, epitomizes the trend toward multi-process welding. It is a MIG, stick and DC TIG welder that will be available by the end of the year, and can be ordered in multiple configurations. The Multimatic 235 is well suited for the motorsports market—for people who do not need to TIG weld aluminum but want a robust welding machine that can handle material needs all the way up to the ground-pounding off-road industry. It is versatile, mobile, and easy for beginners to use with the Auto-Set Elite feature, and it boasts an improved welding arc with an inverter engine. The portability of the machine is enhanced with the ability to remove the machine from its running gear for placement under a weld bench; or throw it in the race trailer for use at the track.
OMAX
–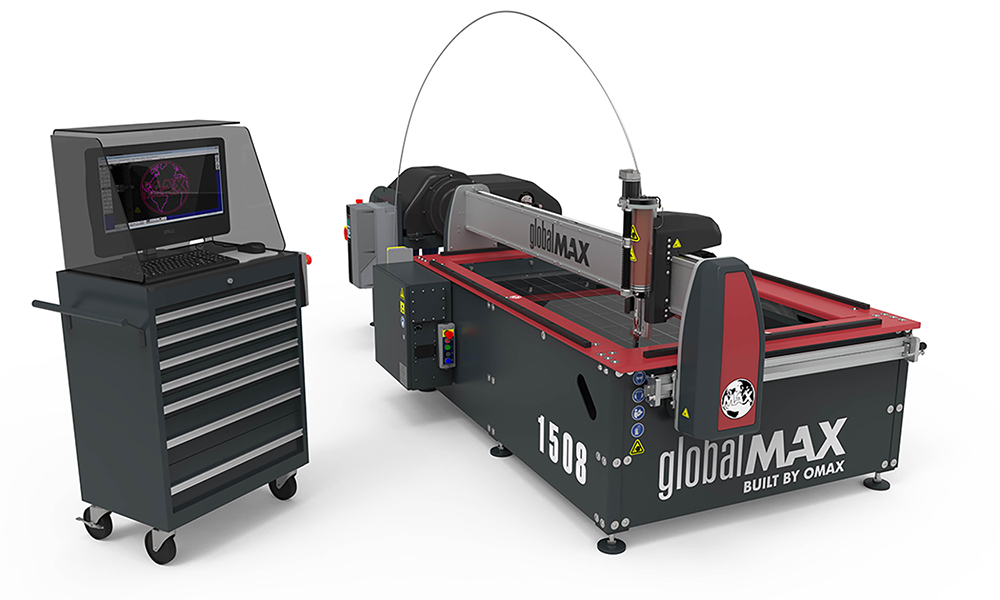 Prototype engineers often find that the GlobalMAX abrasive waterjet from OMAX eliminates the need for secondary machining. This certainly helps speed up production. The unit can cut almost any material from composites to aluminum, along with plastics and foam. Like all waterjets, the GlobalMAX allows for weld-ready parts right off the machine—as there are no zones affected by heat. 
ROTTLER
–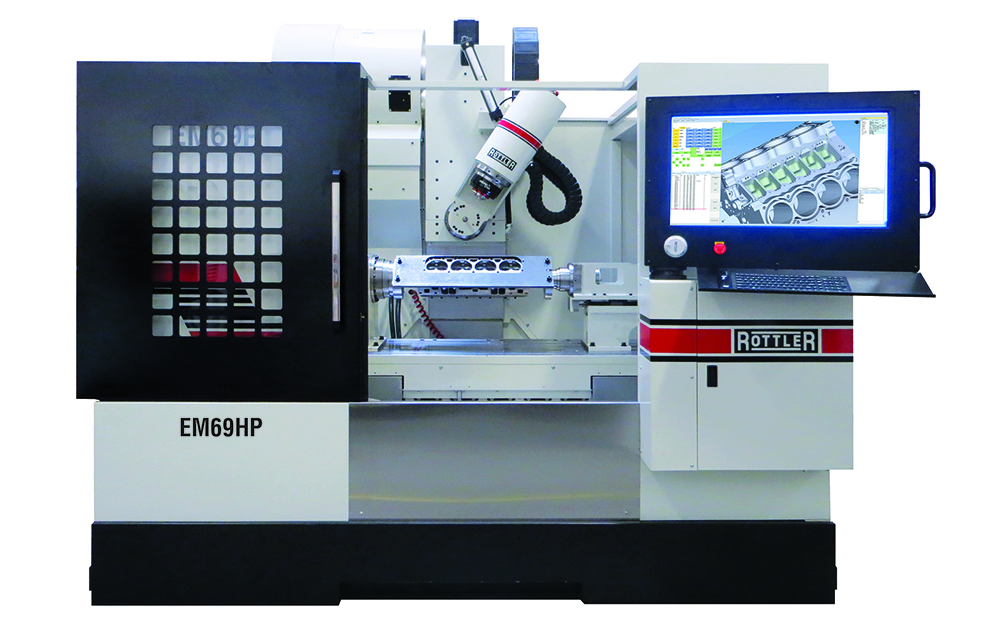 The Rottler EM69HP is a clear demonstration that as the performance industry evolves, there's an increasing demand for more versatile machines. It provides engine builders and fabricators the most capability in one turn-key solution. It easily handles engine block remanufacturing, performance cylinder head porting, or custom part manufacturing. The Rottler EM69HP's 4C control provides a cutting-edge platform that can modify, improve, create, or reverse engineer a product. Bottom line: It saves time and was engineered to improve production.

ROTTLERMFG.COM
SUNNEN
–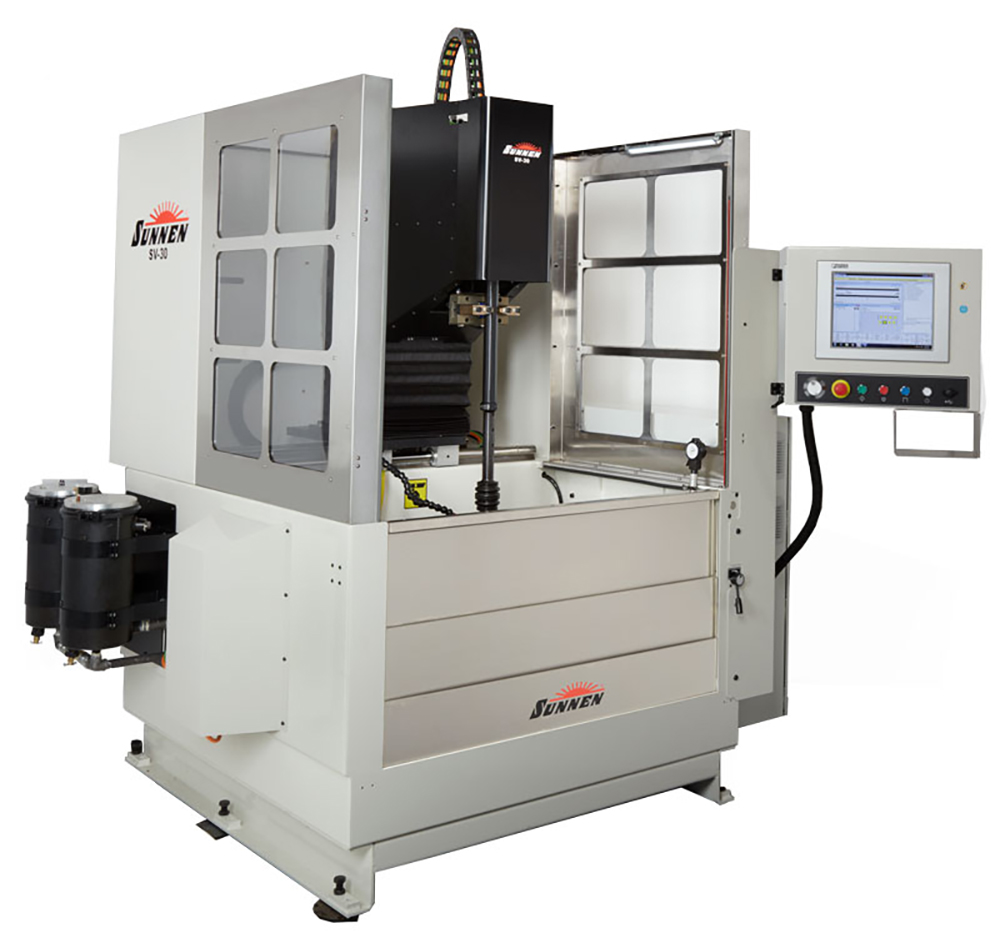 The SV-30 vertical honing machine from Sunnen in St. Louis, Missouri, is the latest generation from the Cylinder King line of machines. Shops can choose between models with a manual x-axis, or versions with step-and-repeat capability. This function allows automatic bore-to-bore processing, reduced setup time, and optimal bore quality. The SV-30 includes a new Phoenix industrial PC control with simplified menus and storage for 1000-plus setups to facilitate quick changeovers. The easy-to-use PC control ensures automatic, consistent bore-to-bore geometry and finish, without constant adjustment by the operator, so lesser-skilled operators can easily be trained to obtain excellent results. A wide range of Sunnen-made abrasives, tooling, and coolants are also available.
TRUMPF
–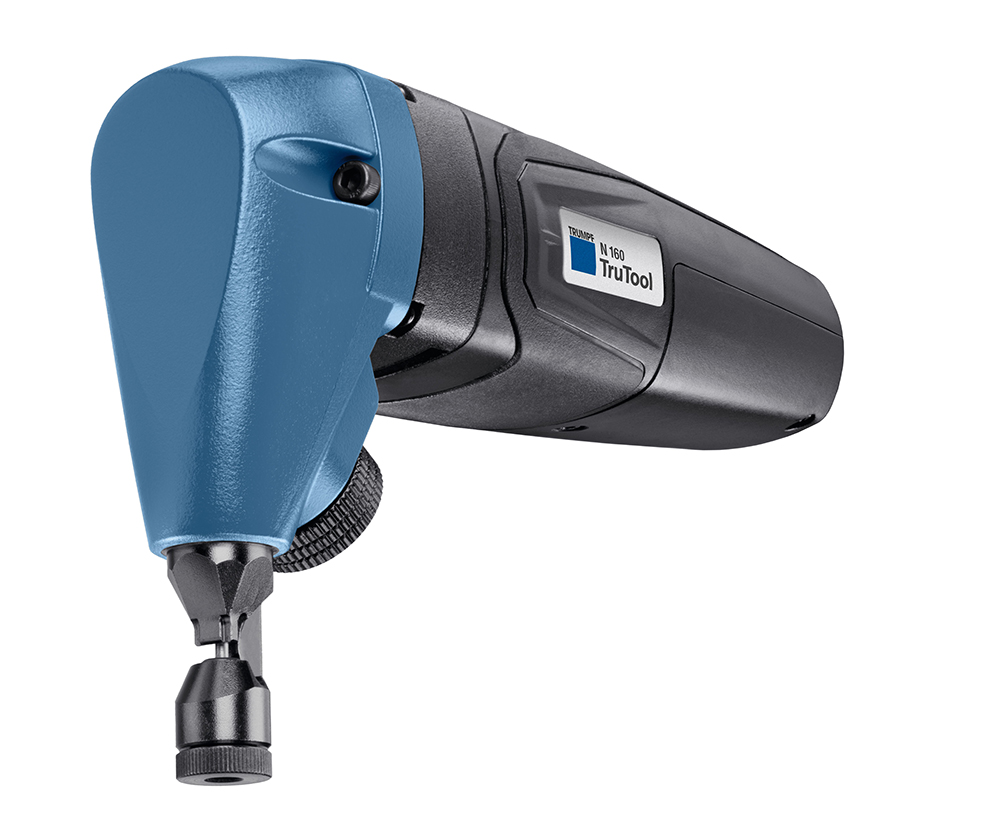 The TruTool N160 nibbler from Trumpf in Farmington, Connecticut, cuts contours and notches effortlessly on flat sheets of metal, helping race teams fabricate interior panels or other detailed components. The design allows for a clear view of the user's cutting line while allowing fast and accurate working speed without sparks and corrosion to the material. The tool can cut flat, corrugated, and trapezoidal sheets with a depth of approximately 40 mm, and with an easy-to-retrofit extension it can cut even deeper profiles up to 60 mm. Users can choose between an electric or 10.8 V Li-Ion version of this tool.

TRUMPF.COM
Van Norman Machine India
–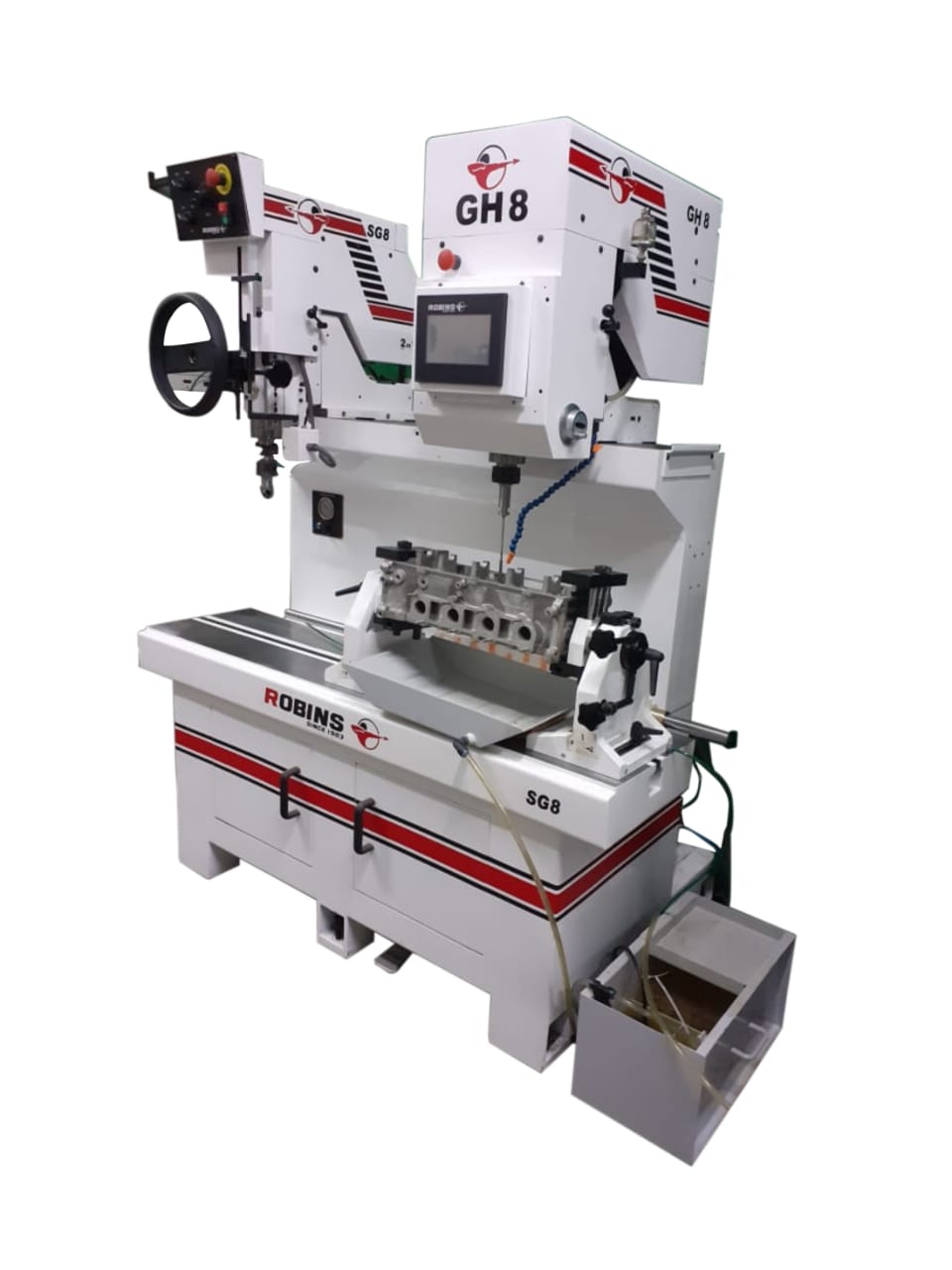 The racing industry will get its first-ever look at the Robins SGH8 seat-cutting and guide-honing combo in the booth of Van Norman Machine India of Chandigarh, India. Operators can finish all guides of a cylinder head to within .0001-inch without the need for a skilled operator. It's fully automated for hole-to-hole honing and features patented quick-change, spherical, spring-free tooling. It can handle cylinder heads up to 44 inches long. Numerous fixtures are available to ensure accurate and equal seat depth—even on canted-valve heads.

VANNORMANINDIA.COM
WELDING MATERIAL SALES
–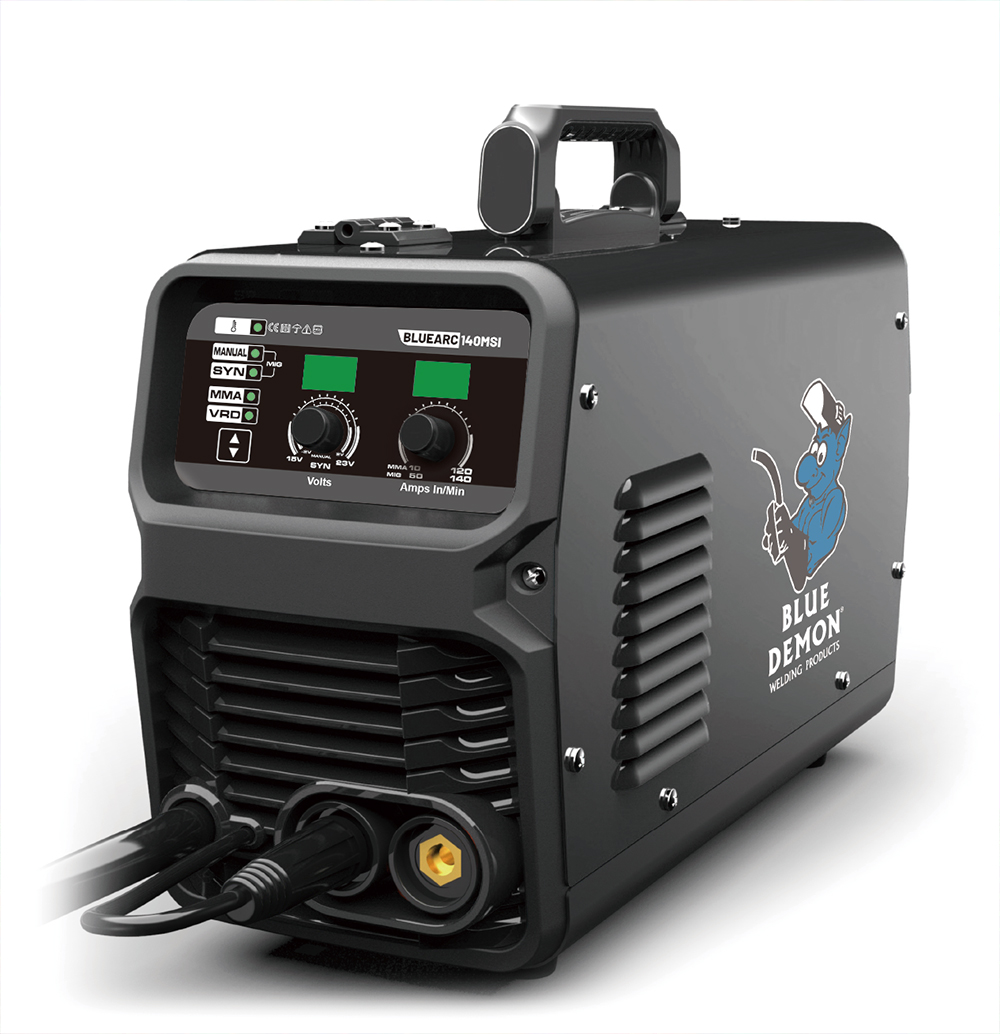 The all-new Blue Diamond BlueArc 140 MSI from Welding Material Sales in Geneva, Illinois, features LCD readouts for improved user visibility and control. Last year the machine was introduced at PRI, but with analog dials. This 22-pound unit requires 120 volts—making it an option for small repairs in the shop or trackside. It also features gas and gasless MIG welding capability, fits standard two- and 11-pound spools, and comes with a one-year warranty. An integrated MIG torch, ground clamp, and stinger are included as well.