Image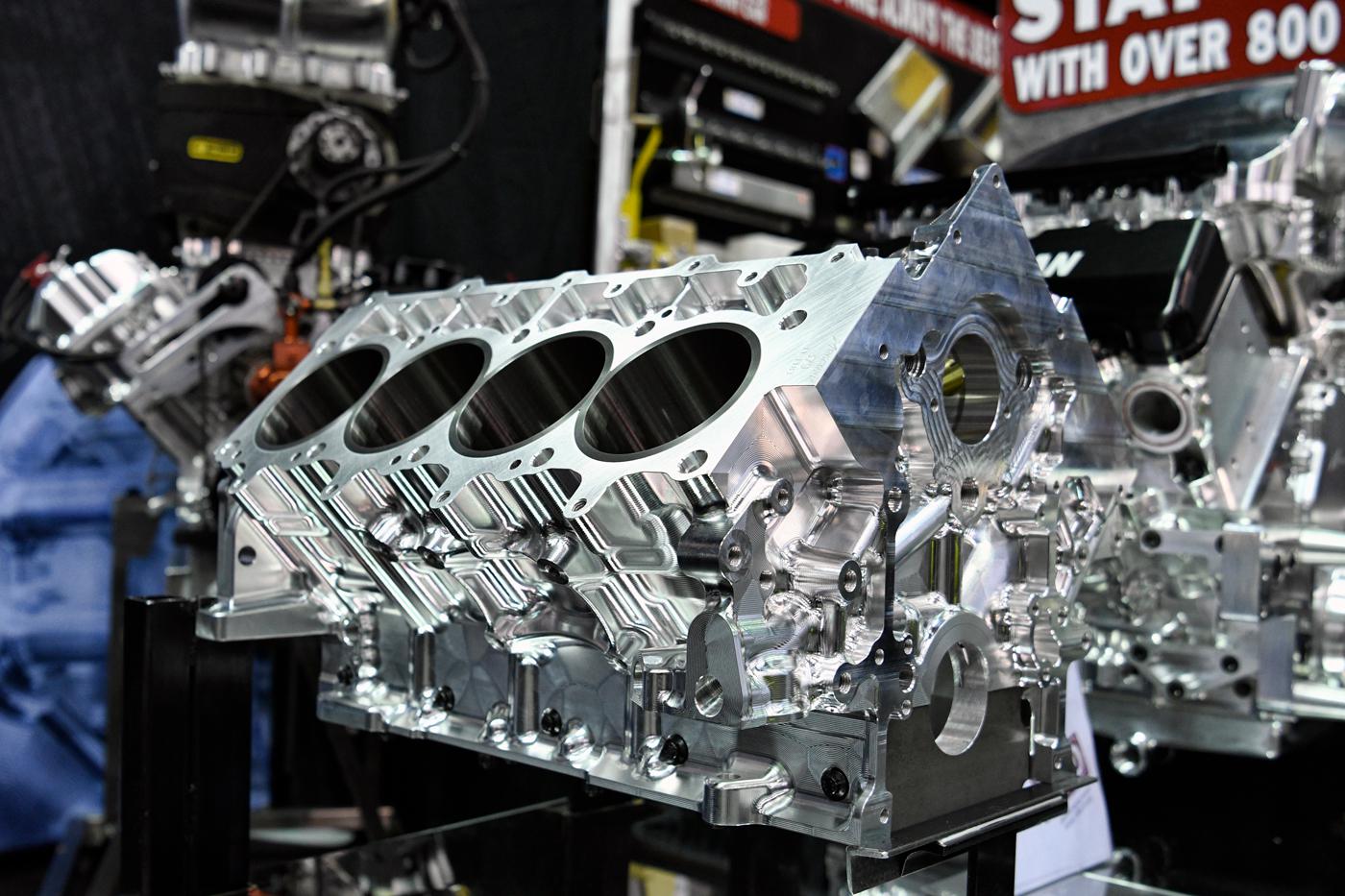 From custom one-offs to next-gen makeovers, today's suppliers are stepping in with innovative solutions for demanding applications.
Using today's accessible design and manufacturing technologies, racers can build just about any engine they want if they have the creative vision and money to do so. Many cylinder-block manufacturers are giving them the starting point they need to fulfill unique ideas.
"Every block is custom built," said Mark Fretz of Brodix, Mena, Arkansas. "We give the customer a menu of things we can do, and they just go down that list. We deal with so many different types of racing. We deal with every different type of racer who wants anything different done."
Brodix specializes in cast aluminum cylinder blocks and doesn't offer any billet products. The company does source a raw iron big block Chevrolet block casting and then machines it in-house; however, supply issues are a challenge these days because its foundry also has contract commitments with OEMs that often take priority.
"We build a block geared for sprint cars. We build a block geared for dirt late models. We build a block geared for drag racing," said Fretz. "And then there's the big block stuff that can be geared from street cars to Top Dragsters and Top Sportsman."
Brodix also offers development work. One current project, for an OEM client, could not be discussed, but Fretz could tell us about another finished project for a large airboat. "They have four 632-cubic-inch, big block Chevy engines with props on an airboat to move heavy equipment," said Fretz. "It was an interesting project, doing blocks and heads for them."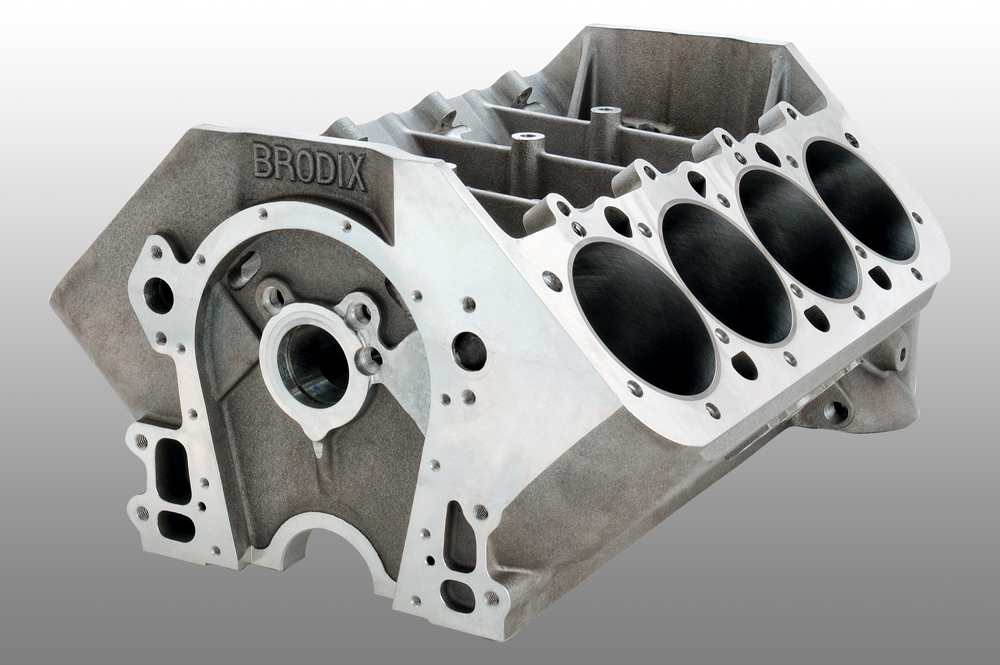 Rules are often the driving force for new cylinder block development. World Products in Louisville, Kentucky, recently released a BBC iron block with a 9.500-inch deck height, which is shorter than the traditional 9.800-inch measurement. It also features billet-steel main caps and is machined for a 55-mm camshaft.
"It was really designed for truck pulling and Northeast modified singles, where they run big blocks but have 500-cubic-inch max displacement in the rules," said Jack McInnis. "The shorter deck allows racers to keep the rotating assembly lighter and the center of gravity lower."
Demand for iron blocks remains steady, according to McInnis, who added that keeping up with the orders is the biggest challenge. "You know, a lot of that is due to foundry issues, but there's definitely a very strong demand for iron blocks," he said, noting that the company still doesn't have a true LS block but offers a hybrid small block Chevy that accepts LS cylinder heads and induction gear.
"We've had teams, both drag racers and circle track racers, using them along with street-car people. The fact that you can run a LS top-end and still drop it into like a 1969 Camaro chassis without having to change the crossmember, motor mounts, and cooling simplifies everything," said McInnis.
Finally, McInnis said adjustments have been made on the manufacturing side to help racers with extreme cylinder pressure applications. "Whether it's boost or nitrous, we did make quite a few revisions. Actually, we've bumped the alloy for all of our blocks up to a Schedule 40 iron, which is considerably stronger than some aftermarket products that are Schedule 30 or some OEM stuff that is 20, or in that range," he said. "We started with the Ford block, and now they're all poured with that alloy. We thickened the main webs in the Ford block in addition to using the stronger material. We've also added material in the cam tunnel. We have a guy in Australia running 57 pounds of boost on that block."
Advancements in cylinder heads has prompted block manufacturers to offer more options in the way of bore spacing, the number of fasteners, and lifter locations.
"Our R&D and product teams are always researching new applications to build engine-block solutions," said Mike Panetta of Dart Machinery, Warren, Michigan. "We currently have two blocks in development that we can't divulge the platforms due to confidential nature. But we can assure you that these will be game-changers for the performance market."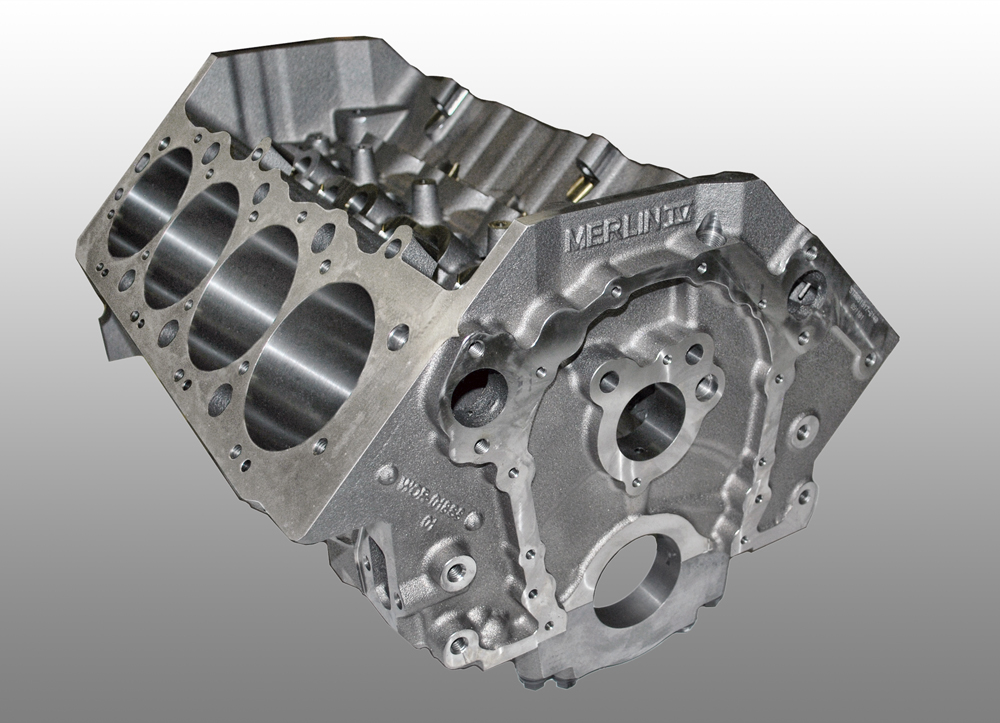 One recent partnership had Dart develop a block-and-head combination to be used by Pro Line Racing in Ball Ground, Georgia, for a new race package. "The block and cylinder heads utilize the Dart X lifter layout," explained Panetta. "This was done to make large improvements in valvetrain stability with the conventional big block Chevy head layout. By using the X lifter pattern, it allowed us to design a one-piece rocker bar assembly. This design has shown incredible performance over the past year during our testing."
By offering a wide variety of options that have been developed through years of working with race teams, Dart can turn a conventional block into a special-order block. These options include oversized lifter bores, custom lifter locations, different cam tunnel diameters, main and head stud upgrades along with full prep machining services. When power demands even more strength, Dart offers billet programs.
"In extreme boost applications, many customers move up into a solid or water billet block design," said Panetta. "The billet block design is a much stronger option over an iron or cast aluminum engine block. With a billet block, we can improve crucial areas of stress caused by high boost levels, allowing us to build a stronger block for those applications."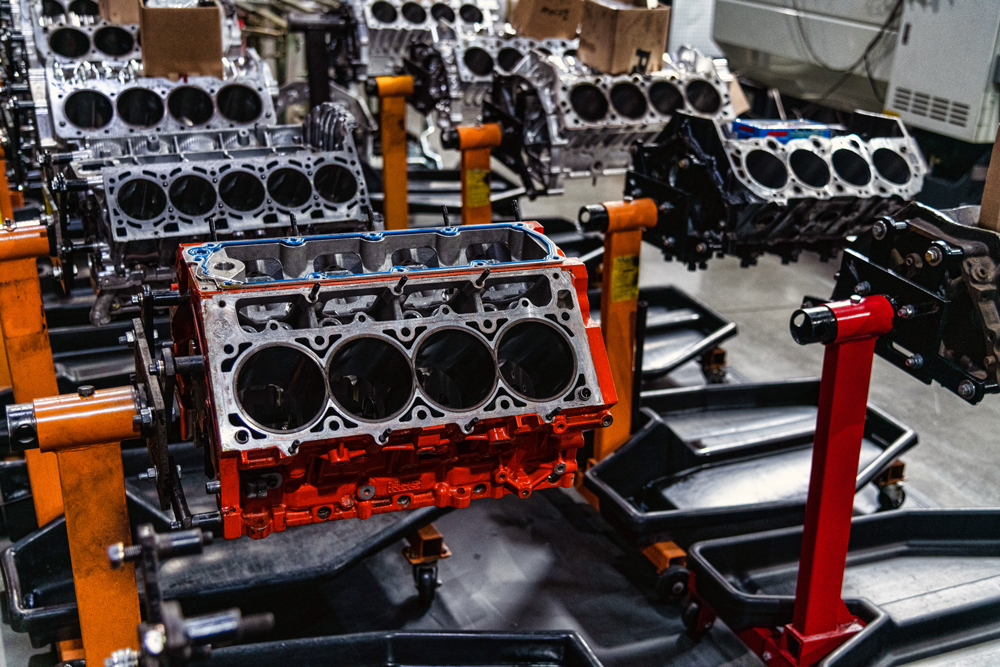 On the topic of rules, Panetta said that sanctioning body officials are kept apprised of Dart's development work that may test any boundaries. "Our primary markets are drag racing and circle track, and we offer a large list of different blocks that fit many of the rules in either segment of racing," he explained. "As we develop new blocks, we involve the sanctioning bodies to make sure we design these blocks around the rules that will allow them to be legal."
Over at Edelbrock, based in Olive Branch, Mississippi, its Racing Head Service (RHS) brand manufactures an aluminum LS block. Edelbrock currently has no plans to introduce any new blocks in 2022, but it will continue serving the street, race, and marine markets where the block is popular—even in high-boost engines.
"The RHS LS engine block was designed to withstand today's extreme boost applications by utilizing premium A357-T6 aluminum with six-bolt steel main caps designed for maximized mating surface area for increased clamping strength," said Mike Sanders. "In addition, our block will accommodate 60-mm roller cam bearings and 1.060-inch bushings to increase valvetrain stability during high-rpm operation. Combine these features with our high efficiency, priority main oiling system, and you have a block that will withstand extreme cylinder pressures on the street and on the strip."
Countering Challenges
From a manufacturing viewpoint, block manufacturers have been challenged by supply issues as well as soaring prices.
"It's just the nature of the industry right now," said Heath Norton of Energy Manufacturing, Fremont, Ohio. "Everybody thinks we're not doing our job, but it's the job that changes every day. We just had a 21.5% increase in the cost of the forged aluminum blocks we use."
Norton added that sister company Callies was seeing a 56% increase in the cost of Timken steel that is used for crankshafts. "It's painful, but it is what it is. People are getting mad at the price. It's harder to run a business when every time you turn around your cost goes up 56%," he said.
Energy Manufacturing specializes in solid billet blocks for drag racing. One of its most popular products is the LS block, which is getting a makeover that includes larger main caps to support the Cleveland-sized 2.750-inch crankshaft journals. "The bigger crank will have more rigidity for higher horsepower," said Norton.
"It's basically our third generation of that block," added Ben Mens of Energy Manufacturing. "It will be available in a 9.240 deck, a 9.750 deck, and a 10.200 deck height. It will also be available with a .388-inch raised cam location. And with the Cleveland mains, the whole bottom end will be more robust."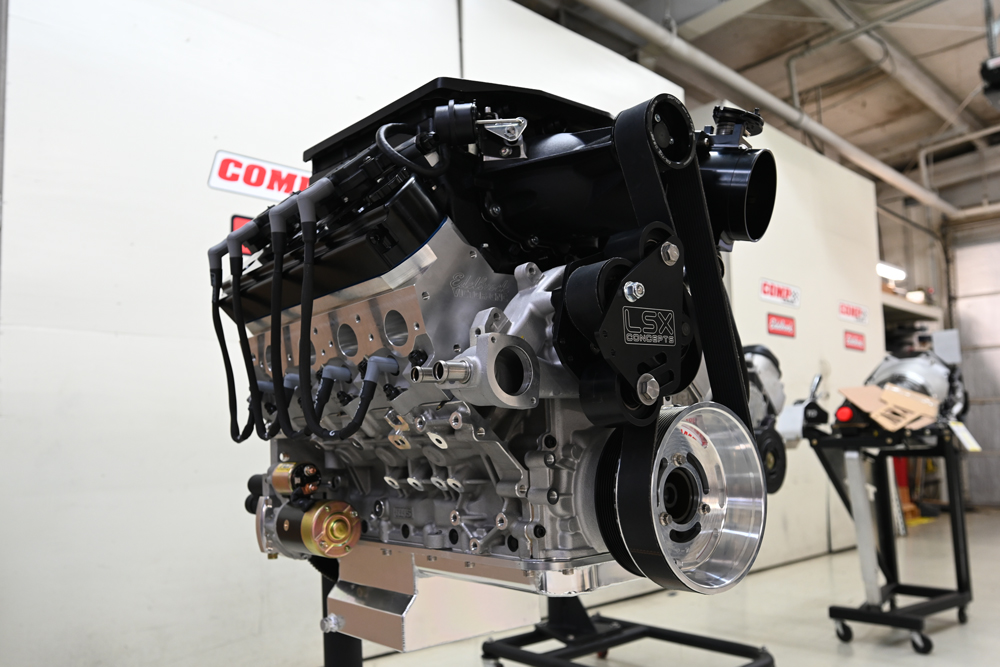 Some rulebooks limit the deck height to 11.700 inches and stock bore spacing on a BBC platform. Energy offers BBC blocks with 9.800- and 10.200-inch deck heights. These blocks start as 485-pound chunks of forged 6061 aluminum and are whittled down to around 115 pounds in the CNC machine.
To manufacture a block with an 11.700-inch deck height, however, would require a much larger starting block of aluminum and result in considerably more leftover metal shavings. Instead, Energy designed deck extenders that are sandwiched between a 10.200-inch block and the cylinder head using extra-long head studs. These extenders can be surfaced and O-ringed just as other blocks. Longer-than-normal cylinder liners are installed through the extenders into the parent block, so the piston and rings don't know there's a seam in the block structure.
"We use the deck extensions for a couple reasons," said Mens. "You don't have to get a large, ultra-expensive billet block and figure out how to get it into the CNC machine. Also, if a customer is running a massive dose of nitrous and has a failure in the tune-up, it could be catastrophic in a one-piece block—maybe unrepairable. With our block, you could literally replace that one section."
Should the customer choose to race in a class with a lower displacement, the extenders can be taken off, and with a new set of liners the block would be suitable for the correct rotating assembly.
"We build these blocks up for grudge racing," said Taylor Lastor of TRE Race Engines, Cleveland, Texas. "They're 747 cubic inches with a 4.600 bore and 5.500 stroke."
In the Top Fuel arena, Energy Manufacturing is working directly with teams to deliver legal blocks for nitro and alcohol racing. The company is also eyeing the endurance market with an early design phase for water-cooled versions of its race blocks.
"But that comes with a whole other set of issues," noted Mens. "You want to make sure that you don't create problems as you're creating solutions."
With power levels of Pro Street, Nostalgia Super Stock, and blown classes going through the roof, Keith Black of Clearwater, Florida, has revisited its famed A356 T6 alloy Hemi and Wedge blocks. With Top Fuel roots, this Mopar water jacketed block has been recognized for its strength. Further refinements have now been made. Adding 4340 steel main caps, to accompany the 5/8-inch threaded studs and double 1/2-inch side bolts, was the first step taken, proving reliable and stress free at virtually any power level, according to Tim Banning. 
"Listening to our dealer and customer base, many other changes were also made," Banning stated. "KB only uses premium quality Darton cylinder sleeves. Maximum cylinder head clamping force is now attained by adding deep threaded 1/2-inch head studs, eliminating the need for O-rings in most applications. A front valley web has been added for improved lifter support and oil retention. The cam tunnel has been strengthened/enlarged allowing cores up to 65 mm. All blocks are machined for full-time top-end oiling, including lifter galleys and valvetrain. Additional ports have been added for dry sump and/or oil accumulators. The new block design also allows for fine tuning the oiling system in three locations. These changes take the Keith Black water block to another level, ensuring further success in the most demanding of racing environments."
Ace Up Your Sleeve
There is no "chicken or the egg" dilemma when discussing cylinder blocks and sleeves. The blocks definitely came first.
"The only time we come out with something new is when the manufacturers come out with something new," said John Catapang of Darton International, Carlsbad, California. "And there hasn't been anything new from the factories. Coming up next for us is the VR30 in the new Nissan 400Z."
The VR30 platform has been around, so cylinder liners may need only a few tweaks to fit the latest iteration in the Z. That leaves Darton time to expand its horizons.
"In order for us to try to stay current, we decided to jump into other markets instead of sticking with pure automotive," said Catapang. "We're looking to work with side-by-side vehicles. The current one that's been just blowing up the market is the Can Am."
Darton, along with Race Engine Development (RED) located just down the road in Oceanside, California, has introduced modular integrated deck (MID) conversion kits for the three-cylinder turbo engine in Can Am vehicles. A MID conversion involves turning a dry-liner engine into a wet-liner configuration.
"The MID is perfect for that block because it's square and thick in a lot of good places," said Catapang. "Putting the MID kit in there is a big difference because it makes that block a lot stronger. I mean these guys are usually trying to push 700-plus horsepower out of a little three-cylinder engine."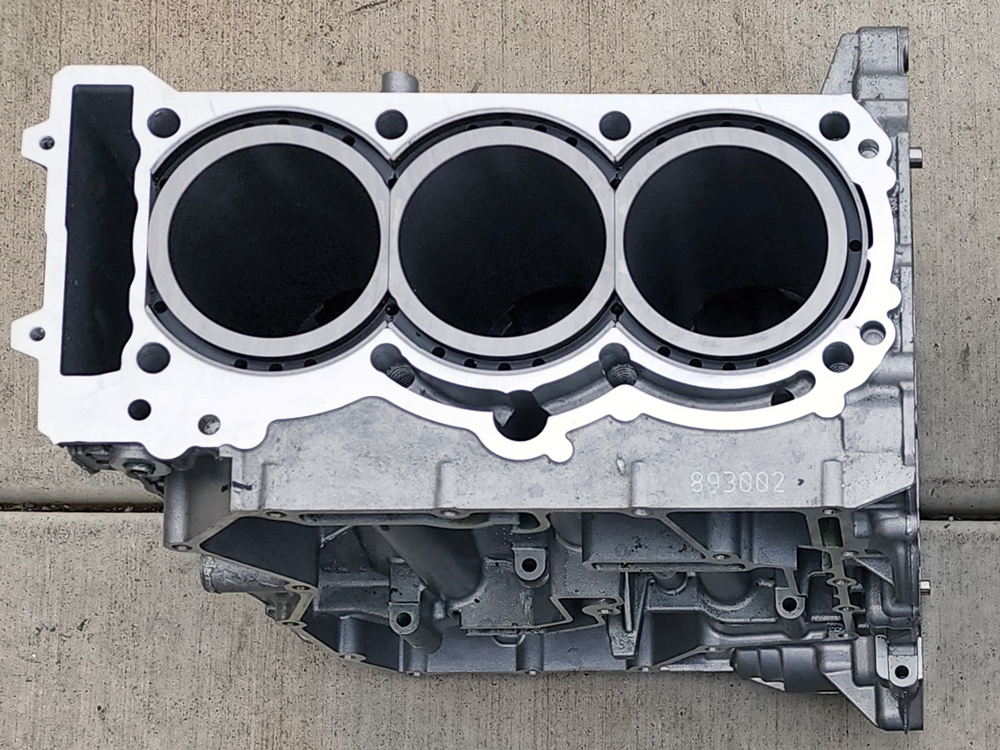 "Yeah, we have gotten into the ATVs, UTVs, and watersports," confirmed Steve Demirjian of RED. "It's crazy. You can get 500 to 700 horsepower out of these little motors."
Demirjian said he gets both repair and fresh race builds coming through his shop. "I get some with cracked cylinder walls, and we can get most of them back in service with a MID wet liner," he said, adding that some European car brands are also becoming popular conversions. "I'm getting into more BMW and Mercedes blocks, especially custom work with Darton liners."
Sleeve replacement continues to provide steady work to the manufacturers as the hot market trends that started with COVID-19 carry on.
"Honestly, we're just busy," said Jeff Zaugg of Advanced Sleeve, Mentor, Ohio. "We're busy with a lot of ductile-iron product. We just seem to be really busy. But we are also tinkering with heat-treating now."
Supply issues are also forcing the company to machine sleeves out of solid bar stock. "It's just too hard to get ductile tubing. The foundries aren't catering to our needs. We have the machines to do that machining, but it ties them up dramatically. That's why we've fallen behind on some deliveries," said Zaugg, adding that the machined sleeves then have to be heat-treated.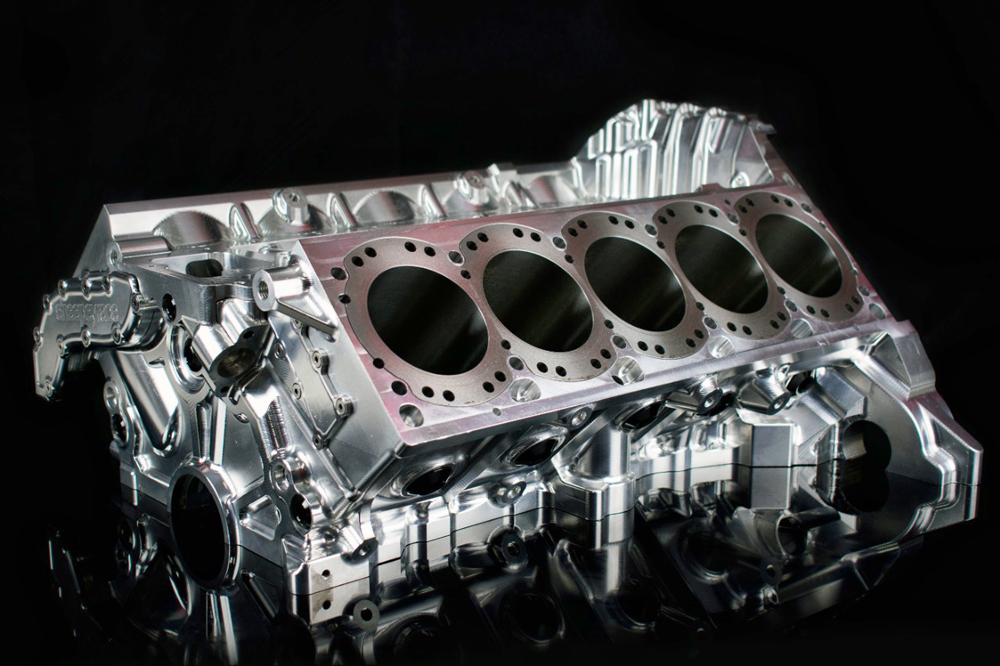 Over at L.A.Sleeve in Santa Fe Springs, California, product is being developed for both domestic and overseas markets. The company has teamed with Bullet Race Engineering in Australia to provide sleeves for its billet blocks.
"The majority of blocks they're making are being shipped to the US, especially the Toyota 2JZ and Honda K24," said Dave Metchkoff. "They've become very popular here for both drag racing and drifting."
There were some early failures with the blocks that Metchkoff said were traced to tolerance and clearance issues. "But by putting our two minds together, they've really created a nice product," he added.
Another current collaboration is with Fast Forward in Richey, Florida, a company that has found a tight niche in race-prepping factory Ford Coyote blocks. "Yeah, it's not an aftermarket or billet block," explained Metchkoff. "But he's taken that motor and perfected it with our sleeves. I've been there, and he showed me his processes. They are so meticulous about perfecting little things. He's producing a block that from the crank up is straighter and rounder than from the factory. Also, Lingenfelter is sleeving their LS7 blocks with our sleeves and doing much the same thing as Fast Forward."
Finally, in a sign of the times, L.A.Sleeve is expanding its installation services. "The majority of our business is producing sleeves. But we install sleeves here for a number of guys because machine shops are shrinking throughout the US," concluded Metchkoff. —Mike Magda
SOURCES
Advanced Sleeve
advancedsleeve.com
Brodix
brodix.com
Dart Machinery
dartheads.com
Darton International
dartonsleeves.com
Energy Manufacturing
energymanufacturing.com
Keith Black
keithblackhemi.com
L.A.Sleeve
lasleeve.com
Race Engine Development
raceenginedevelopment.com
Racing Head Service (RHS)
racingheadservice.com
TRE Race Engines
treraceengines.com
World Products
pbm-erson.com