Image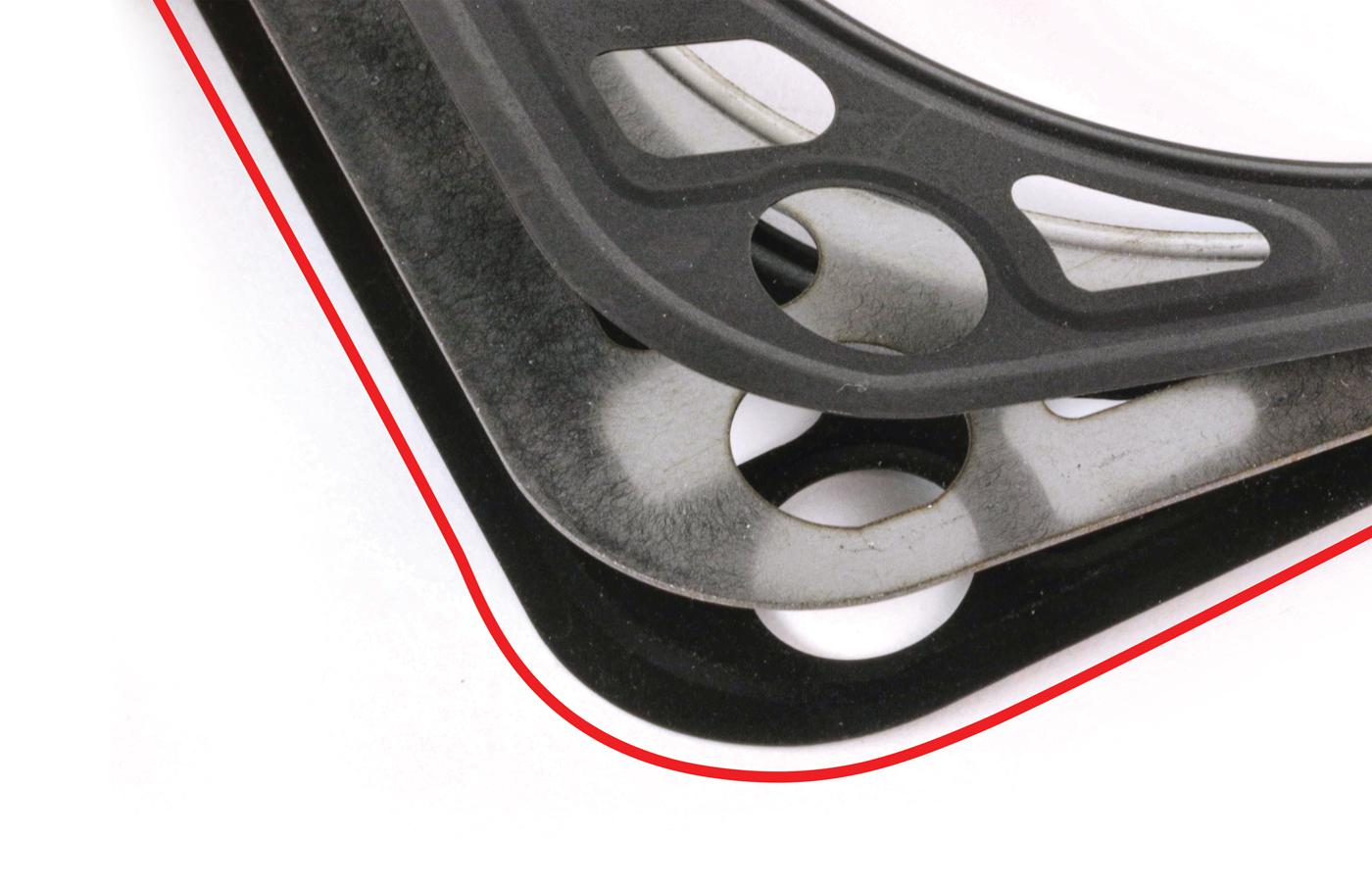 ProSeal MLS gasket from JE Pistons
Manufacturers of gaskets and sealants caution users against "old habits" as products and technologies have evolved to meet the demands of both modern and vintage power plants.
The science behind gaskets and sealants has evolved greatly over the past three decades, their evolution driven by vastly increased performance from OEMs, staggeringly powerful street cars and, of course, racing. 
But while product development has largely kept pace with changing demands, some builders have not, according to the manufacturers we spoke with for this report. In fact, too many still rely on older methods that can actually work against the latest gasket, seal, and sealant technology, our sources noted. Among the key problem areas cited: choosing the wrong products for the job; incomplete or incorrect surface preparation; not following the manufacturer's installation instructions; applying coatings and sealants where none are required; misunderstanding manufacturers' torquing specifications; and using uncalibrated torque wrenches.
"Trying to get past old habits is the biggest issue," observed Micky Hale of Cometic Gasket, Concord, Ohio. "Many builders have their go-to thing that they used to do 20 years ago and think it still applies today."
"The power that engines make today is so much higher than the same application 10 years ago, so you can't do things the same as back then," added Nick DiBlasi of JE Pistons, Cypress, California, which manufactures the Pro Seal line of gaskets. "Look at 360 and 410 sprint car engines making hundreds more horsepower than 10 years ago with essentially similar combinations. Cylinder head and piston design and tuning are pulling out so much more power. The difference between a 600 and 850 horsepower V8 is a great difference in cylinder pressure."
Fortunately, all of the aforementioned problems are preventable. For starters, gasket manufacturers cover the performance gamut with multiple tiers of products, including composite, various types of MLS, and cut-ring gaskets that use composite and steel bodies. Meantime, better materials and products for older applications are coming to market on a pretty regular basis. 
The Limits of MLS? It Depends
According to DiBlasi, one common mistake builders make is sticking with the OEM-style multi-layer steel (MLS) gasket with too much power; or, conversely, jumping from MLS to copper or O-ring in builds where those products aren't needed. 
"OEM gaskets are great for stock performance and long life," he said. "It is optimized for factory power plus maybe up to 20% more."
Higher-performing aftermarket MLS gaskets represent the next step. NHRA Pro Stock and NASCAR teams use MLS gaskets, for example. For some import engines, DiBlasi said MLS is preferred, too, regardless of power due to cylinder head bolt design and configuration. 
"The Honda B-series is a great example," he told us, citing the four-cylinder naturally aspirated engine used in the automaker's 1980s and early 1990s models. "The engine was designed for 175 to 200 horsepower, but builders can make 1,600 hp using MLS gaskets."
Beyond MLS
And that leads us to our next point: There are other products to consider before going to copper or O-ring. Cometic's MLX gasket has an extra "stopper" fold-over layer that provides a torque-limiting surface, which prevents yielding of the combustion seals, according to the company. A high-temperature polymer coating along with embossments provide a micro seal for fluids against the head and block surface.
But even that solution has its limits. For high-performance street and race applications, Cometic offers spring-energized gaskets (SEG) for LS and third-gen Hemi builds.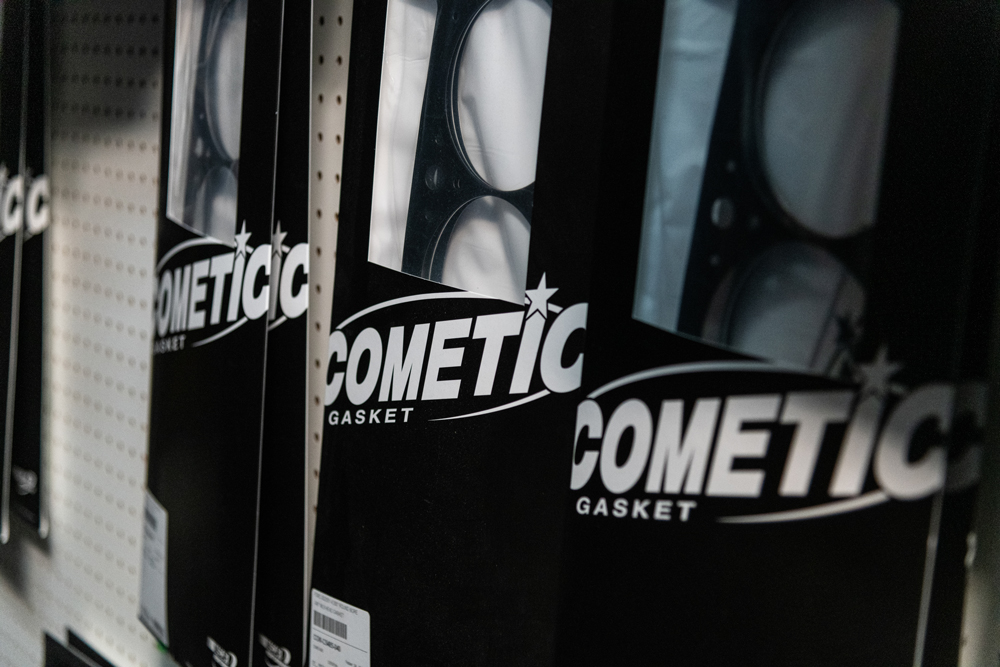 "It's got a drop-in stainless spring-energized ring that pops into our MLS carrier, like a built-in O-ring in the gasket," Hale noted. "Unlike a solid ring, you don't get the deep groove in the block and head. With this ring, it ends up being just one or two thousandths. It's been out a year and a half, and we have some heavy hitters running with success." The company plans to expand availability to additional engines, too.
Pro Seal also offers a cut ring gasket that uses a stainless-steel ring surrounded by a composite gasket. DiBlasi stressed that this is intended for very high cylinder pressures for racing, i.e., not for long life.
Athena-SCE of Mount Pleasant, Tennessee, owner of the SCE Gaskets brand, offers its Vulcan Cut-Ring gasket that does not require machining of the block or head. The gasket uses a composite body with steel core reinforcement and bead seals on top and bottom that seal in fluids. A solid stainless ring is flat on the bottom to go against the block or sleeve, and features three micro-ridges that bite onto the cylinder head. 
"On a rebuild, you'll have to deck the head three- to four-thousandths to clear those out, but most builders are taking a 10-thousandths pass on heads to true them up anyway," explained Aaron Hunter of SCE Gaskets. "You could use our Cut-Ring head gaskets to levels high enough where you're worried about the crank dropping out the bottom. In terms of boost, we're seeing guys get well into what used to be copper gasket and O-ring territory."
Beyond those levels, Hunter directs builders to the company's line of copper gaskets, including Titan, Pro, and ICS Titan. The latter features Integral Combustion Seals that Hunter said perform the function of O-ringed blocks and heads without the added machining.
Athena-SCE is working with its partner Athena SpA to launch the new Accu Seal Pro composite head gaskets for OE replacement and performance, which is currently in development and expected to be released by early 2022. 
Pay Attention to the Basics
Tim Golema at MAHLE Aftermarket in Farmington Hills, Michigan, told us he sees a number of blunders in the field that could be prevented by better understanding the basics of bolt load.
"There's confusion over torque-to-yield, fasteners, tension, the angle part of torque, and what exactly torque is," Golema said. "Some will over-torque head bolts. That actually extrudes the gasket material and causes problems. I'm not sure everybody understands this."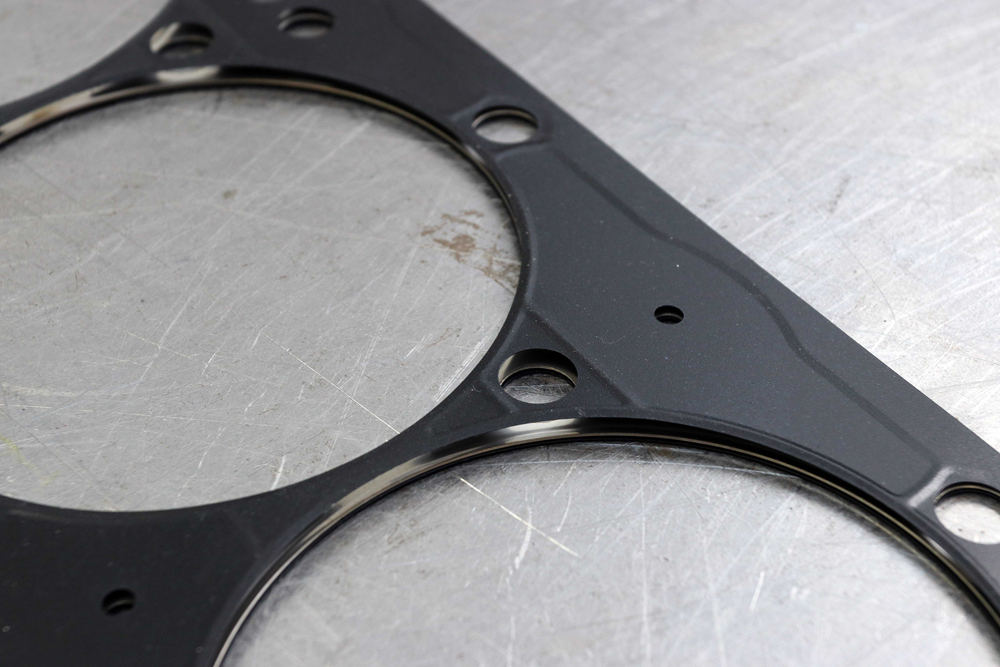 Golema also said buying the wrong gasket for the job is common, especially with DIY-ers. "They buy thicker gaskets thinking that improves sealing," he explained. "They don't understand compressibility and why different materials are used for different applications. It's not all their fault. It's the myth that has been handed down over generations."
Hale touted the importance of using a high-quality torque wrench, but said he still talks to customers who don't know or remember to get it calibrated every couple of years.
With the proliferation of LS and Chrysler third-gen Hemi architectures, DiBlasi said builders could benefit from a better understanding of the differences between engines in the same family, especially between forced-induction and naturally aspirated versions.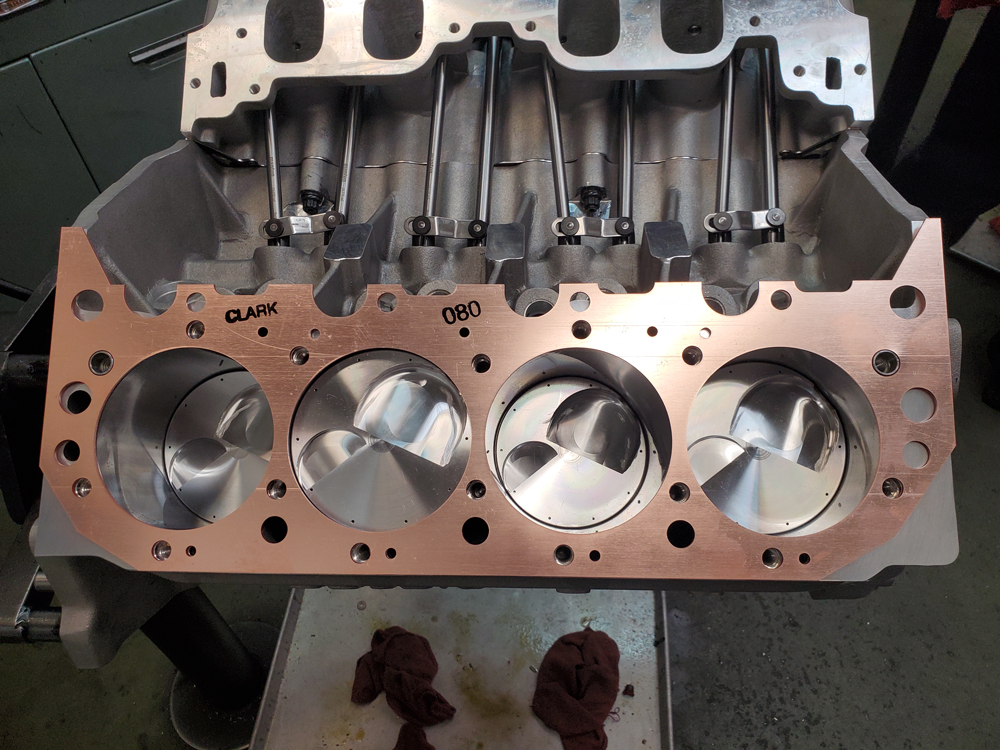 "Builders that do a wide variety but don't go case-by-case are more likely to run into problems," he said. "For example, on the six-bolt LSX you can go higher on power still using an MLS gasket versus a stock LS block with four head bolts," he said. "It all comes down to clamping force. The less there is, the more reason to step away from MLS and move to a sealing-ring type gasket, like our Cut Ring, or an O-ring, for full pressure sealing around the cylinder."
Put Down the Spray Can
Atop their list of user missteps, gasket makers overwhelmingly cited customers following the outdated practice of using additional coatings or sealants when none are required. Spraying copper coat was a primary example.
"Almost no MLS-type gasket needs any further coating," explained DiBlasi of Pro Seal. "Our gaskets have a base coating for adhesion, another layer that's a heat blocker, and a top layer designed to fill in the voids between mating surfaces. When you put copper coating on top of that, you're inhibiting the gasket's ability to seal."
He emphasized that MLS has evolved over decades, though builders may not be aware of its development. "An MLS gasket designed in 1985 is very different than a new MLS gasket," DiBlasi added. "So all they're doing is spraying an inferior coating over the one that's already there and doing the job. We'll get a damaged gasket back and see copper sprayed all over it."
Hale of Cometic Gasket had similar observations. "Our gaskets, especially head gaskets, need no additional sealers as long as both surfaces are done with the correct Ra finish," he confirmed. "Additional sealers like copper coat work against MLS. All it's really doing is putting a layer of liquid under the gasket and not letting the embossment do what it's meant to do. It basically hydraulics the gasket."
Hunter, too, spoke out against using additional coatings on SCE's MLS head gaskets. "We have a proprietary polymer coating on our MLS Spartan that doesn't require anything else. You need a 50 Ra surface or better. The builder should have a profilometer to measure deck surface."
Golema, while also citing copper coat as an ongoing concern, did report some positive news elsewhere. "On the performance side, we don't see as much of the over-use of RTV to the point where it was plugging up oil pumps," he said. "Use those products sparingly. Once you smear oil or RTV, you risk extrusion. Don't use it unless we put it in the kit."
When to Use Copper
When a power adder makes enough cylinder pressure that is beyond what MLS can handle, that's usually where copper comes into play, according to JR Clark of Clark Copper Head Gaskets in Blaine, Minnesota. Because many customers are less familiar with copper, however, Clark takes orders solely by phone to assess each individual's application.
"We get a lot of guys who call who think they need copper for a street car, but I spend a lot of time trying to talk people out of it," he said. 
"All of our gaskets go through a heat-treating process, so it anneals them dead soft; it's pliable, so it goes around the O-ring," he explained. Clark agreed, too, that MLS is suitable for most performance applications and naturally aspirated race builds. For the amount of boost used by turbo or ProCharger racers, though, MLS won't hold.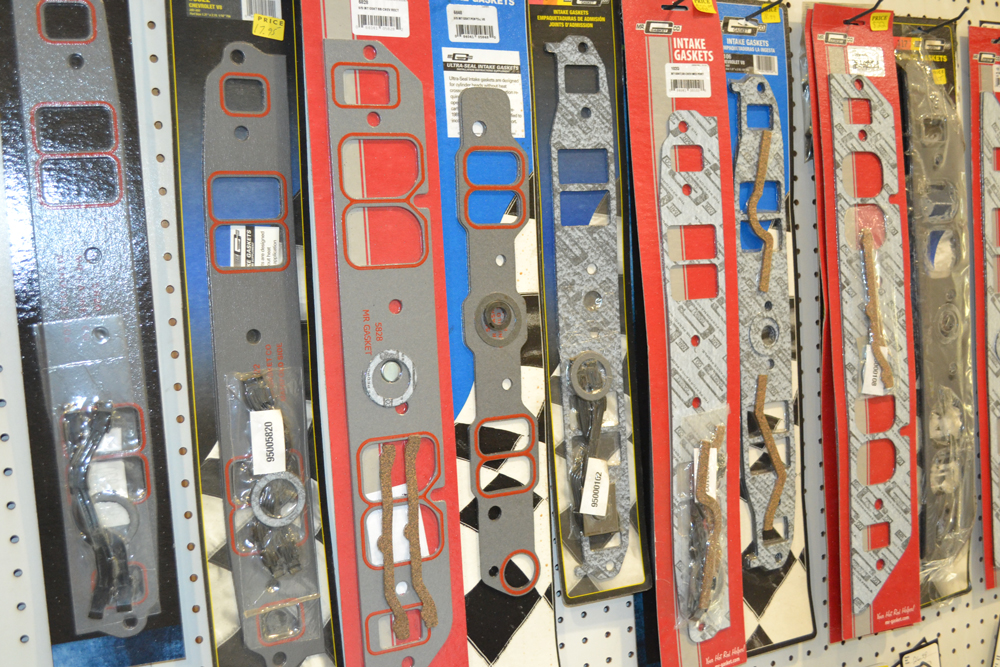 Clark also advises each customer on the prep work required for copper. "You need a fresh head and block surface, because copper won't fill up imperfections," he said. "And copper is temperamental with water with more than eight pounds of pressure. It won't get into the combustion chamber, because you're also running an O-ring or fire ring. So, if you have water in a cylinder with copper and an O-ring, you have a different problem. The head is coming up. Look to head and block prep. Or there may be a bad intake gasket, or water getting into the intake port."
Clark cited copper head gaskets as a tuning tool of sorts, too—the company offers custom gaskets in six thicknesses, which allows drag racers to change gaskets at the strip to raise or lower compression in between passes. 
Over the last year or two, Clark has noticed an influx of business from Porsche and Lamborghini owners competing in standing-mile events. "They're throwing so much boost at them," he said about the custom turbo builds. Among other hot segments is desert racing, where builders are using turbocharging to push the two-cylinder, 70-horsepower engines in side-by-sides to 300 horsepower.
Graphite for Exhaust Gaskets
Especially with older engine architectures, getting perfect surfaces can be difficult. A specialty product like Remflex Exhaust Gaskets might be needed. Inventor and founder Remington Moore created his graphite gaskets 15 years ago, having worked with the materials for industrial applications, including aeronautics.
The Remflex gasket sandwiches wire mesh between two layers of graphite. The end product is 1/8-inch thick and, following the manufacturer's torque specs, compresses to half that to seal imperfections. The product has, however, also found favor among customers without surface problems, according to Rebecca Clifford of Mineral, Washington-based Remflex.
The company catalog includes about 500 parts, from 1920s Ford Model Ts to late model 2010s. Most are for American cars, the most popular application being the small block Chevy. Numerous imports are also covered.
Remflex's product is proven in racing—the company has partnered with John Card Racing on its Top Alcohol dragster and Veney Vega Funny Car tribute. Stacy McGlory drives the Remflex Funny Car in the East Coast Pro Comp Series.
Clifford told us that customers most often struggle with understanding torque specs. Some, she said, question whether the company's stated specs are enough.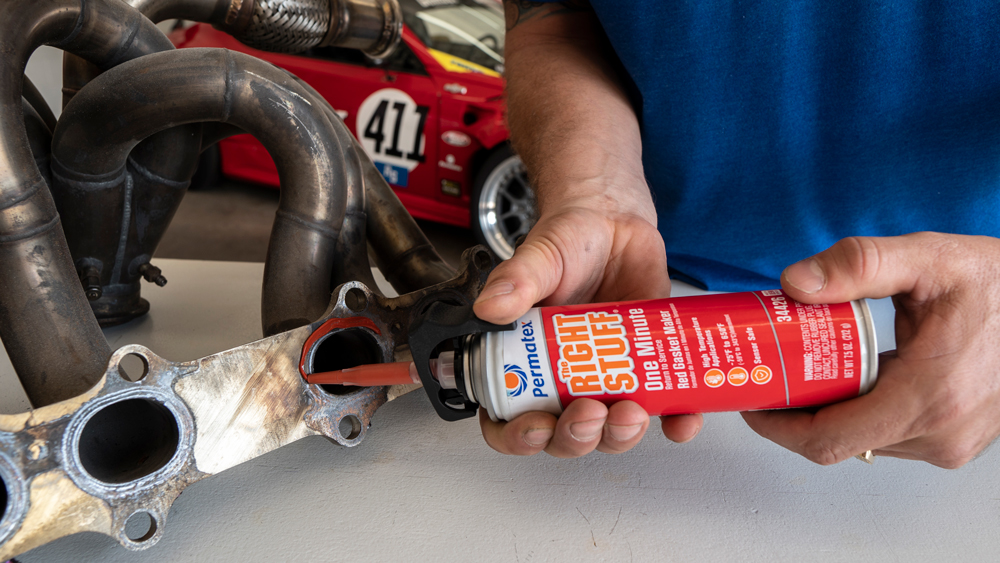 "They typically have not worked with our product before and are accustomed to using conventional exhaust gaskets," she said. "We want them to follow our guidelines exactly. The product is soft and takes [the] form of the surface. They should not try to compress to less than that 1/16-inch thickness." 
Clifford also cautioned against using any sealants with Remflex gaskets. "There's absolutely no reason to," she said.
New Life for Old Engines
Even to the level of street and track performance available via modern LS, Hemi, and Ford Coyote applications, the hot-rodding world remains a vast melting pot. There are loyal followings for everything from Ford flatheads and small block Chevys to oddball combinations like Buick 350s and AMCs.
Composite gaskets can work for most of these applications, and more products are hitting the market all the time. Golema said MAHLE Aftermarket is building up a new line of composite gaskets for a wide range of older engines. "There is an opportunity to use better materials with the older applications," said Golema. "Each application is engineered based on configuration, material, compressibility, and coating. We can change the material density based on bolt load." 
Here, too, Golema cautioned builders to avoid old habits, even when working on classic engines. "Materials have changed. The aluminum head used on the small block Chevy 30 years ago is much different than today's aluminum heads," he said. "We make a handful of composite products with and without wire ring for cast iron or aluminum hardware. Also, for the small block, if you're using a traditional stamped valve cover, you need to use a more compressible material than with a cast cover and machined surface. For non-stamped applications, we have a line of aluminum-cored gaskets." 
Silicone Issues (and Solutions)
Just as gasket manufacturers caution builders to avoid using RTV sealers with their products, so too did our source at Permatex in Solon, Ohio, but from the other side. 
"People used to want to use the silicone on a traditional cut gasket," said Eric Seibold. "Our chemical gaskets are designed to be used as standalone products. If you're using our gasket maker on a traditional gasket, you are probably creating leak pathways."
Gasket-maker products have also changed over the years to accommodate the evolution in fluid chemistry, so choosing the right product for the job is critical. Common applications for Permatex products include valve covers, oil pans, transmission pans, water pumps, thermostats, exhaust manifolds, and intake manifolds. A specific gear oil silicone is recommended for differentials and axles seals, and a water pump and thermostat housing-specific formula is designed for resistance to today's coolants.
"Additive packages in oils are significantly different than 30 years ago," said Seibold. "The friction modifiers in gear oils in particular are extremely aggressive. If you use the wrong silicone, you could end up with a leak."
Seibold said Permatex has simplified its product line and is highlighting its latest oxime silicones. These are quite different from its older (but still available) acetoxy-based silicones, which contained acetic acid and could damage sensors with off-gassing. The oxime silicones, by contrast, are sensor-safe.
Essentially, the company groups its latest products into black, gray, and red. The black silicones are flexible and highly fluid-resistant, specifically for different types of oils, Seibold explained. "These can be used anywhere you might have different metals coming into contact with each other and having different expansion characteristics."
Gray cures into a more solid, harder rubber and is generally best suited for high-vibration applications and high torque loads. Red is in between flexible and hard, and is meant for use in high-heat areas, up to 750 degrees F. From there, Seibold recommended racers use the top-line Optimum product if they're working on their car during the week, when the longer cure time is not an issue. At the track, however, the company's Right Stuff products cure immediately for repairs between passes.
SOURCES
–
Athena-SCE
scegaskets.com
BLP Products
blp.com
Braswell
braswell.com
Clark Copper Head Gaskets
clarkcoppergaskets.com
Cometic Gasket
cometic.com
Flatout Gaskets
flatoutgroup.com
JE Pistons
jepistons.com
MAHLE Aftermarket
mahle-aftermarket.com 
Permatex
permatex.com
Remflex
remflex.com
Top Street Performance
topstreetperformance.com