Business Profile: Freedom Racing Engines
Image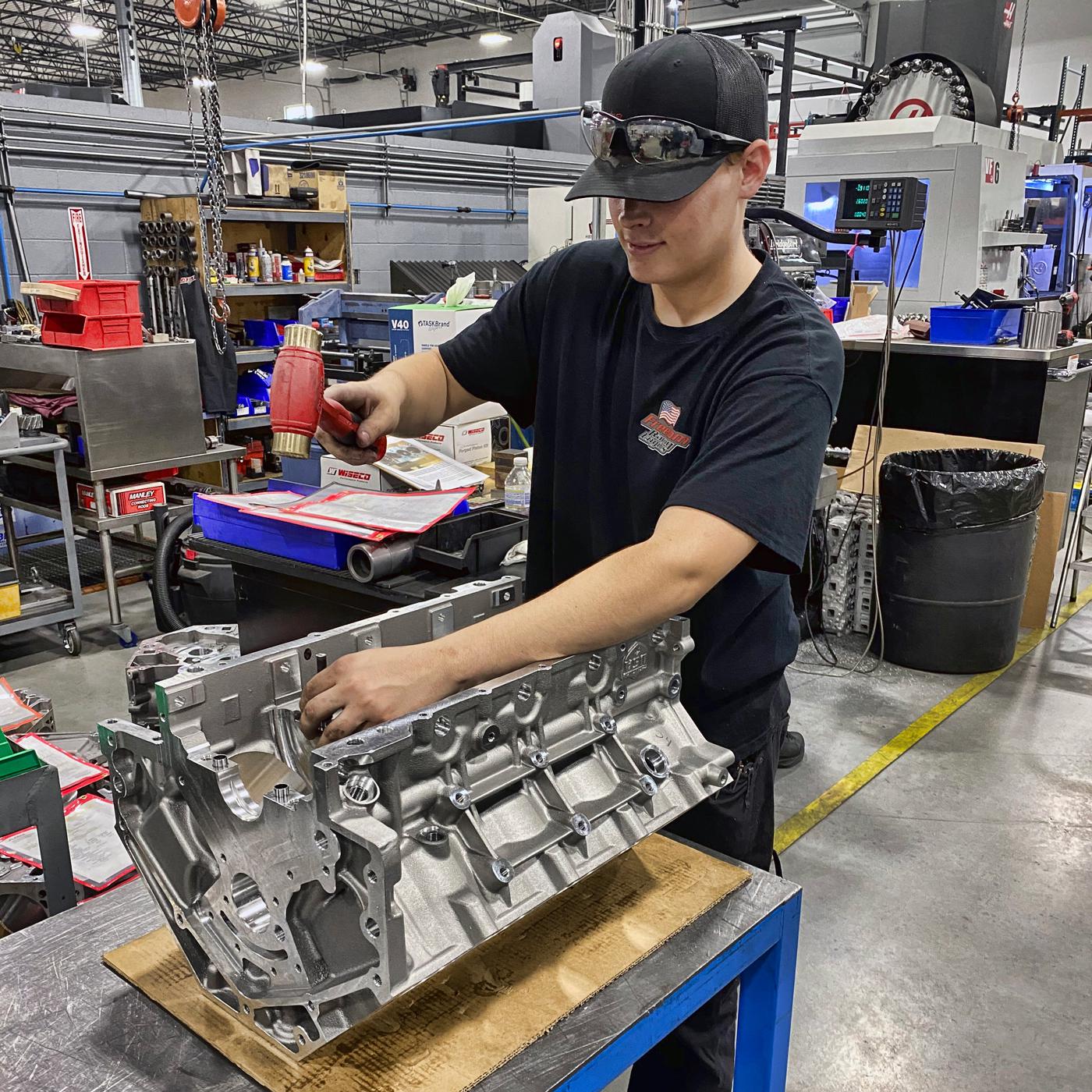 This Indiana-based diesel shop's focus on perfecting its recipe has given rise to a brand that's become "synonymous with racing and winning."
Among an impressive list of accomplishments, Freedom Racing Engines provided the 6.7-liter, twin-turbo Cummins that powered Scott Birdsall's 1949 Ford pickup to a new diesel record of 11:24.065 in the 2020 Pikes Peak International Hill Climb. Freedom also built the 5.9-liter Cummins for X275 racer Ryan Milliken's 1969 Nova, which debuted at Lights Out 12 in South Georgia just this past February. 
Freedom is owned by brothers Chase and Brayden Fleece, who established Fleece Performance Engineering in North Salem, Indiana, in 2008 to manufacture high-performance diesel components. (The PowerFlo lift pump is just one of their signature products.) The brothers moved their operation to Brownsburg in 2012, where they began outsourcing machine work to Freedom—located literally across the street—and then purchased Freedom outright in 2014. In 2019, both companies relocated to a brand-new, purpose-built, 75,000-square-foot facility in Pittsboro, about 16 miles northwest of Indianapolis. Today Fleece and Freedom together employ just under 70 people, all full-time.
Freedom's operations manager, John Benshoof, had been a dealer mechanic in Minnesota before signing on as the "tire guy" for Antron Brown's Top Fuel Dragster team in 2008. He soon moved up to cylinder head specialist, the position he held when Brown won the 2012 NHRA Top Fuel drivers' championship. By then, however, Benshoof had met his wife-to-be, and wanted to spend less time on the road. "So I transitioned to working in the machine shop (in Brownsburg) for Don Schumacher Racing, where I gained all kinds of experience in machining, CNC, and shop operations." He started his present position at Freedom in spring 2015.
Perfecting the Recipe
Freedom specializes in Cummins and Duramax diesels. "Cummins has always been our bread-and-butter," Benshoof explained, "and Brayden and Chase have been involved with Duramax since the get-go. But the Cummins engine is the one to have, especially in a pulling application."
And while Benshoof is naturally reluctant to share specifics, he did note how Freedom has "spent a lot of time perfecting our recipe—and a lot of that is data acquisition. Over the years we've done a really good job of stacking up run files on our dyno, and then constantly picking our recipe apart, and making small adjustments." This has allowed Freedom to "adjust quickly, and to continually improve what already works. In any kind of racing, you always have to look for The Next Thing."
Even more than that, however, Benshoof attributes Freedom's success to its people. "The number-one thing in business—it doesn't matter what you are making—is to have the right people. In business you have the who, the what, and the how—but as long as you have the who, the rest gets taken care of."
Furthermore, "We're small enough that communication isn't hard," he continued. "We still use email to communicate, but for the most part we're all right there, so it's easy to pass information along." Still, Benshoof likes to start every Monday morning with a meeting. "That's my time to talk to the crew, get a game plan together for the week, and to find out who has questions or concerns."
People and Promotion
Product promotion is equally people-powered; when Benshoof insists that "our customers are our best advertisement," he really means it. "We've never spent a lot of time trying to market through magazines, or even social media." Promotion "is completely organic. It comes from winning at the track. When our pullers are successful, people call our shop. They want quotes. They want us to build engines."
And while winning brings new customers in the door, customer service brings them back. "We are in the business of building relationships more than building engines. When you work with somebody—when you are working with thousands of their hard-earned dollars—it's the service after the sale that's key. And that's how we've always done things. You treat people good, you take care of them, and you make customers for life."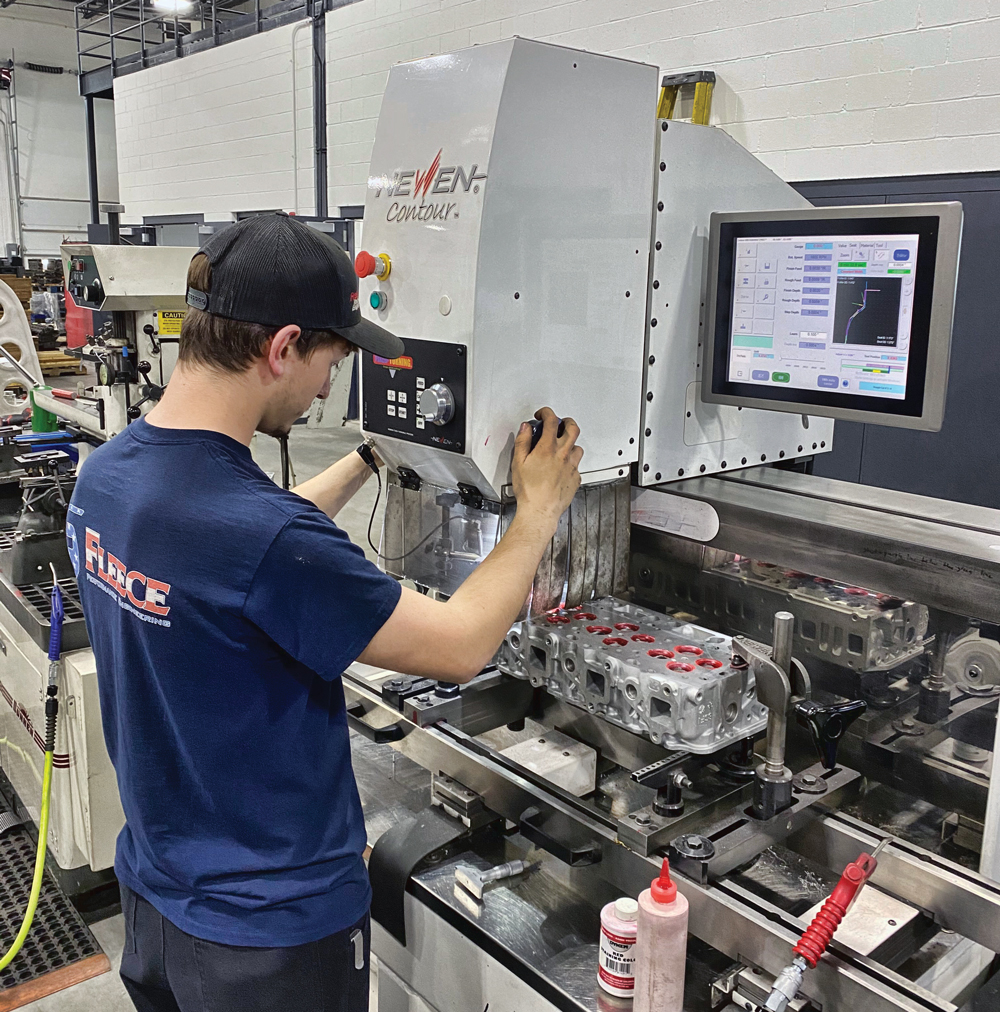 One of those customers is Ryan Milliken, who, when he's not racing his oil-burning Novas, partners with wife Leslie in Hardway Performance Solutions, a diesel specialty shop in Mary Esther, Florida. Ryan met Chase Fleece 14 years ago at a dyno event sponsored by transmission-builder SunCoast. "I was the guy at the Fleece booth firing questions, probably until they wished I'd walk away," Milliken chuckled. "I've been buying Freedom engines from Fleece before the brothers took possession of it."
Milliken built his first Cummins-powered Nova, a bright green 1966 hardtop, with a waterless block and a Wagler head assembled and machined by Freedom. He sold that car in 2019; the Cummins in his new (and strikingly blue) 1969 Nova is a pure Freedom product. "Their combinations are tried and true," Milliken confirmed, "with data to back them up. Every move is calculated. If we make a change, we know what to expect—and then we go back to see if it did exactly what we were expecting."
Milliken's own shop also builds performance diesels, "but just basic stuff—600 to 700 horsepower, nothing too wild. When someone comes in with bigger dreams and aspirations, I sell them a Freedom engine," he said. Or, if a customer sees something on Milliken's car that they want for themselves—for example, "the custom front cover with the integrated dry-sump oil system that Freedom sells, I just call up Freedom and get an estimate, and if the customer says, 'Yeah, I'll have that,' then I order it, and it's on its way. It's great to sell something that you absolutely know for a fact is going to work perfectly when it shows up at the customer's door."
Similarly, Derek Rose has been a Freedom customer "since they started moving heavily into the diesel world in 2014." Rose is the owner of DNR Customs, a diesel shop in Casco, Michigan, where "we do everything from basic repair to servicing full-blown competition vehicles." He recently opened a second shop just to handle his growing race business. Rose also campaigns his own 2,000-hp 2006 Dodge Ram 2500 in the Outlaw Diesel Super Series.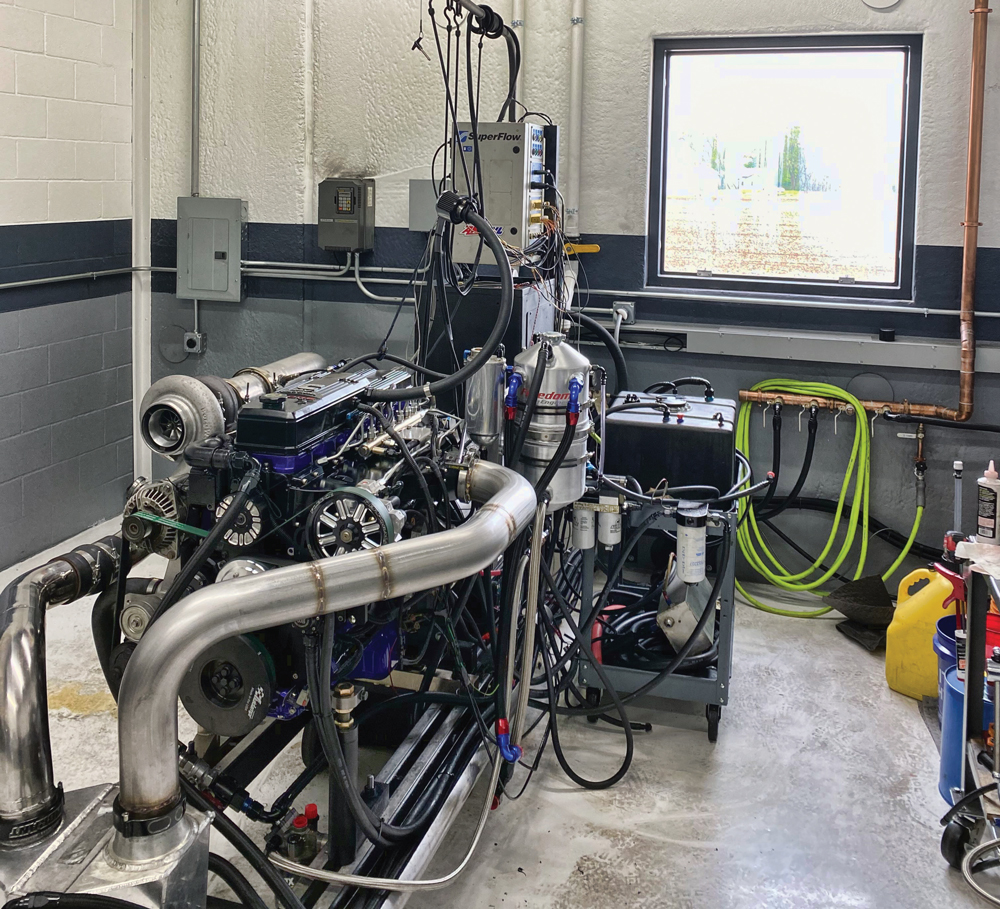 Much like Milliken, Rose appreciates the Fleece/Freedom scientific approach to performance. "Back in 2014–2015, the diesel industry was evolving faster than the speed of light; but if you were in the industry, you knew the Fleece name," he explained. "John and Chase were willing to take the time to work through the setups, to try endless different combinations, to learn what worked and what didn't, and to put together an awesome recipe for their Stage 2 6.7-liter motor. And I was involved in everything they were doing. So we built a relationship, and a rapport, on racing."
Fleece Performance sponsors and participates in a wide range of diesel events across the country each year. "A spectator at an event may not buy an $80,000 race engine," Benshoof allowed, "but they might buy a Fleece Cheetah turbocharger for their pickup truck."
Advantages of Automation
Having the right equipment has also helped Freedom succeed. "When we purchased Freedom it was a nice shop, Benshoof recalled, "with all good machines"—but not the kind of machines the company needed if it was going to grow. That situation changed "the day we bought our Haas VF-6, and we automated our machine work for our Cummins and Duramax engine blocks. On some projects, we went from machining and handling an engine block for two weeks before it was assembled, to half a day." Other parts that might require operations on five different machines over a period of 12 hours could now be finished on one machine, in about an hour. Benshoof pointed not only to the huge gain in efficiency, but in "repeatable quality" as well. "It opened up the opportunity to sell a project, get it done in a timely fashion, and to get it done the same way every time. It changed our business drastically. And it opened our eyes to what we could do."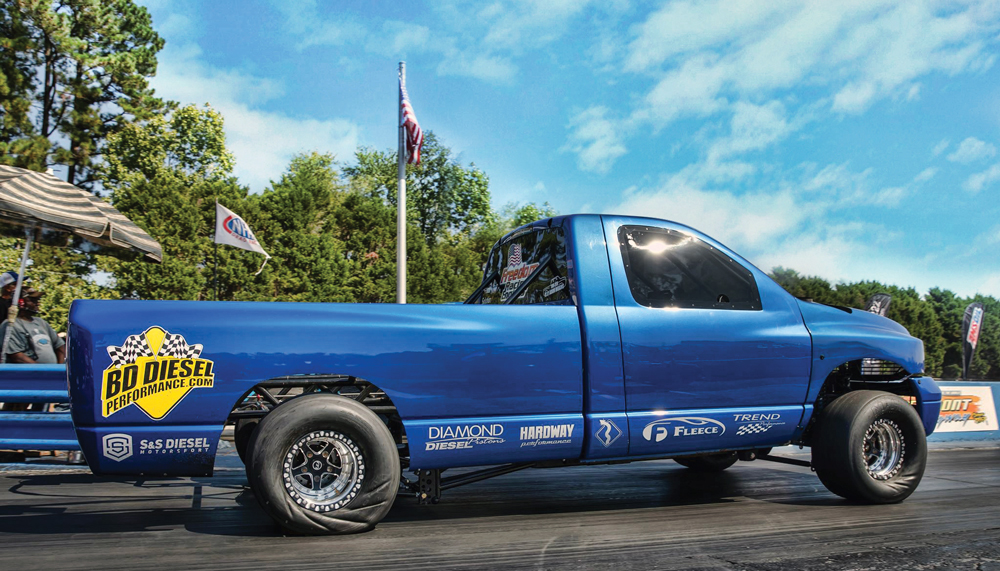 When Freedom buys the components it doesn't manufacture, Benshoof chooses them "mostly by the reputation of the supplier. I see our vendors as partners. I am fortunate to have made a lot of good contacts during my career in drag racing, and that's how I was able to bring in Trend, Diamond, Manley," and other top names in the industry.
So loyalty plays a part, but so does a preference for the tried and proven. "At this point we've very much established a recipe for each application," Benshoof said. So even when a supplier is hawking something new, "we don't change stuff just to change stuff." That said, "stuff" changes fast when performance or reliability demand it. In fact, "most of our development has come out of necessity, when a part has failed because we've surpassed or exceeded its capabilities. At that point we go to the vendor and say, 'Hey, look, this needs to change, because it isn't working.' And if the vendor is not willing to improve their product, then we move on. We find another source, one who understands what we are dealing with, and who can help us get over that hump."
Expanding the Brand
For the most part, the respective roles of Fleece Performance and Freedom Racing Engines are clearly defined: The former manufactures high-performance diesel components, the latter builds complete competition engines. Freedom, said Benshoof, still has "a few customers who just want machine work, and then they assemble the engine themselves. But most people, once they start getting into it," soon see the advantage of "having us assemble it and dyno it. That's where you get the support."
And so "the two companies complement each other really well," Benshoof commented. "Freedom does a good job of marketing for the entire organization. We've been able to get engines into cars like Ryan Milliken's Nova, and some of our pulling truck customers have enjoyed really good success, so the Freedom brand has become synonymous with racing and winning."
Nonetheless, "back in 2019, we decided that Freedom needed its own product, so we kicked off our Freedom Series cylinder heads for Cummins and Duramax diesels, which we offer in various versions from remanufactured to high-performance. We set up a production environment within Freedom to build the heads, although we still use the Fleece distribution network to bring them to market—because the Fleece brand is so large, with truck shops and dealers around the world."
Milliken noted how Hardway has "sold a bunch" of Freedom cylinder heads, and often has them drop-shipped to customers. "And you don't have to wonder about the quality." Milliken even runs the Stage 2 version on his 1969 Nova, "with a custom billet shorty intake that they made specifically for my car."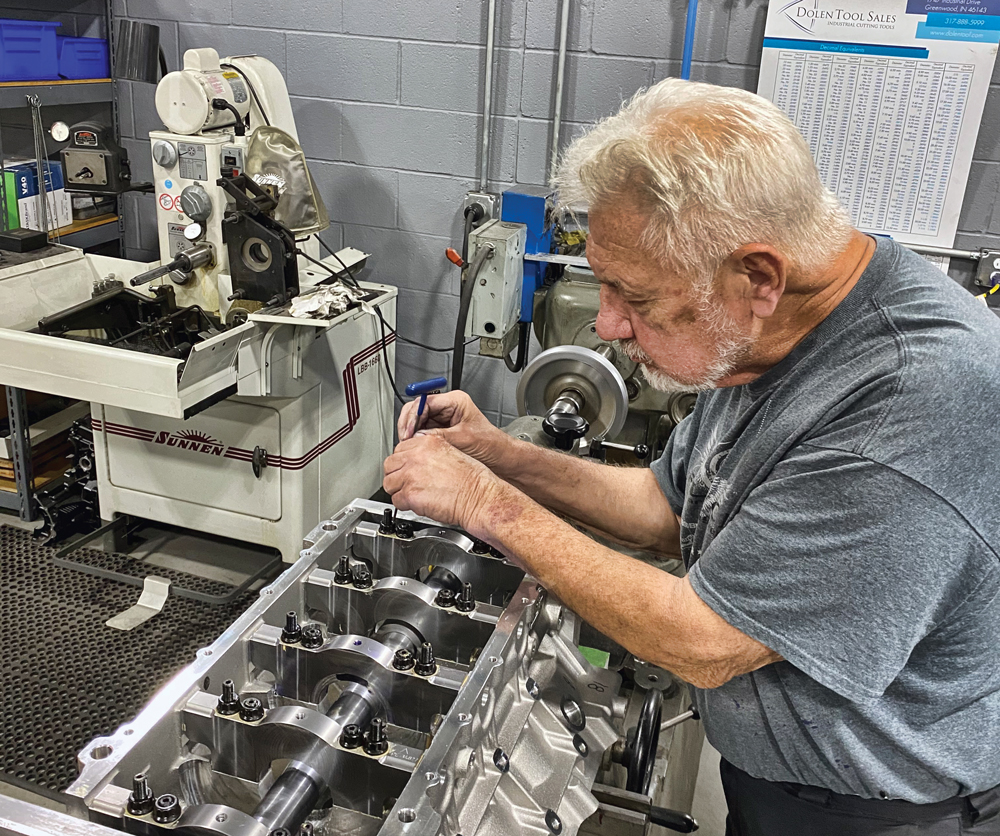 A more esoteric project, which is documented on Freedom's website, is a solid-billet-aluminum Cummins engine block. "That's been in development for a long time," Benshoof said. "We're not trying to sell it yet. We've manufactured a couple of them, but the timing isn't right, for us as a business, to get it out there and support it. In business, there are times for development, and times for making money. But for a small business they rarely come at the same time."
Benshoof reminded us that, for all of Freedom's success, running an engine shop is still a tough business. "There used to be machine shops on every street corner. It's competitive, and you have a lot of overhead. To do things on the scale that we are doing them now—a lot goes into that. So we have to be mindful of what the next market looks like, where we are going relative to the industry, what's going to make money—and what's not going to make money but will still do well for us."
The billet block seems to fit into this last category. "We're trying to get one into one of our customer's Pro Mods," he added. "It's going to have a 'Wow!' factor: 'I can't buy that, but I can buy this.'" 
Meanwhile, Benshoof honestly sees more profit potential in "more street and more re-mans," bolstered, of course, by Freedom's race and pulling reputation. "And we're going to expand our cylinder-head lineup into Power Strokes, to continue to grow that portion of the business—as well as the engine-building side."
Of course, Freedom has plans for its racing engines as well. "I can't tell you a whole lot about what we are doing there," Benshoof said, "other than that we are always looking to develop more and different ways to make power."