Drag Racing's Time Machine
Image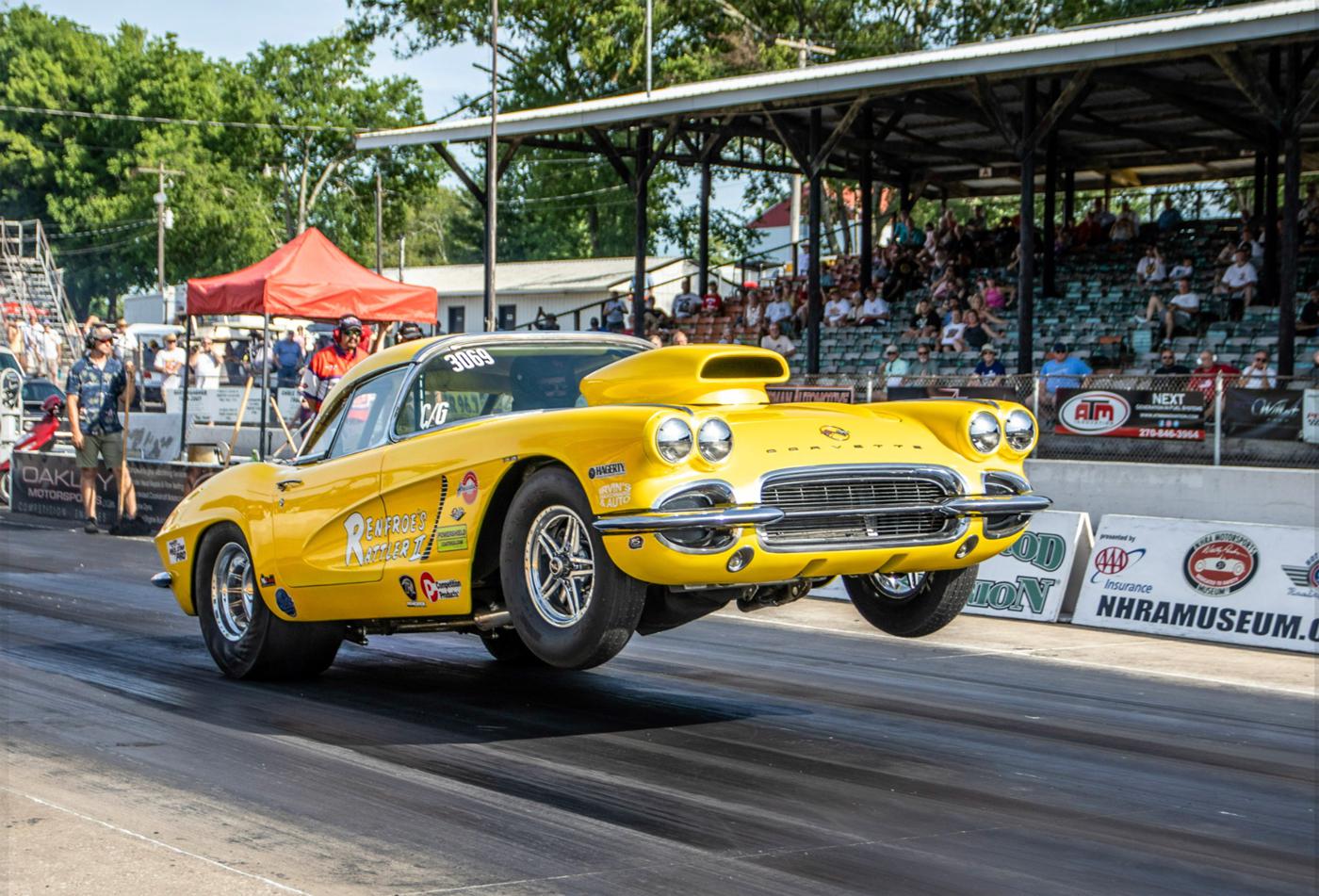 The appeal of front-engine dragsters, gassers, and other vintage quarter-milers is stronger than ever. Surprisingly, nostalgia isn't the only reason.
"'Preserving the past. Building the future.' That's what the Nostalgia Drag Racing League is all about."
Butch Hill, president of the Mooresville, Indiana-based NDRL, used that phrase to describe his diverse group of drag racers, but that same kind of looking back/looking ahead philosophy applies to many of the nostalgia drag racing associations currently in action across the US.
There's no question that the emotions associated with the "good old days" motivate some of these racers to bring out or re-create the cars they ran when they were younger. Or to keep the memory of drag racing heroes alive by building and racing tribute cars. But these men and women aren't merely reliving the past. They are doing what they can to encourage current and future generations to appreciate an earlier, simpler time in drag racing history. Fostering that appreciation will bring newcomers into the fold, they believe, and keep this drag racing niche alive and thriving. So far, it's working, and there are no signs that nostalgia drag racing is going to slow down, so to speak, anytime soon. Following is a look at some of today's premier nostalgia drag race associations and what's keeping them on track.
Mid-Atlantic Nostalgia Drag Racing Association
MANDRA was formed in the late 1990s "when about 12 guys" started their own nostalgia racing group, explained MANDRA president Merritt Snyder. "They did it for racing fun, as a family activity, and for the camaraderie among members. And it has gone very well."
Recent end-of-the-season banquets have drawn 75–100 racers, even more for the 20th anniversary party. The cars they race are an eclectic mix, ranging from Snyder's 1965 Mercury Comet to altereds, gassers, and vintage Funny Cars. The appropriately named English brothers race a Jaguar and an MGA, both 8-second cars.
That mix is "purely by accident," Snyder said. "Nostalgia is the thing that is common among them, but it's not like we're looking for any specific kind of car." Member cars have to be at least 40 years old. Electronic fuel injection is not allowed, nor are import tuner-type cars. "The only rules we have are, no delay boxes, and no electronics that affect the performance of the car."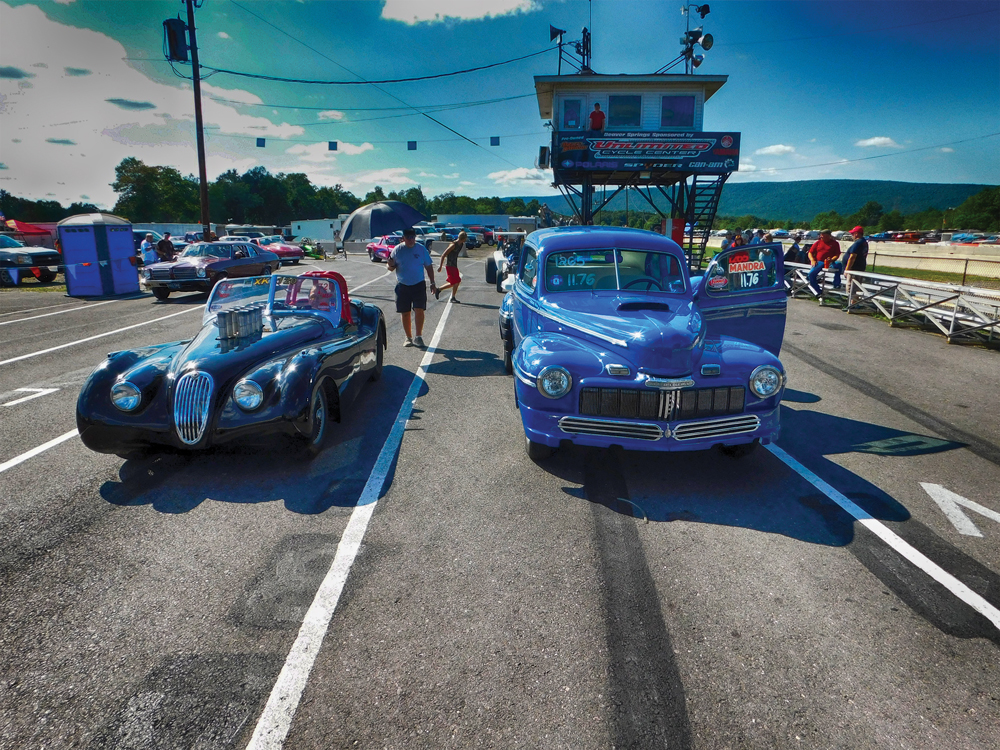 The racing is done bracket-style, and "everybody races together," Snyder said. They participate in 16–17 events a year at eight tracks in the Pennsylvania/Maryland/New Jersey area. "The Reading area, Maple Grove or South Mountain, are the two tracks that are central to where all our people live."
Snyder said MANDRA adds an average of "a half-dozen new members per year. A lot of people are unhappy with NHRA tracks, because if you get involved in their points system, you're a slave to their points system. You have to keep going there every week, because you can't afford to skip races and miss points. Ours is a much more relaxed way of doing it. We only count points for 70% of the races." That allows someone who can't make it to all the events to still be competitive for the championship.
While Snyder acknowledged that MANDRA hasn't tried "as hard as we should to look for younger members," it did put a new Family Race Car category in place last year in which members of a family can race the same car "and get points for it regardless of who's driving. The car gets the points, not the driver. We have a guy and his daughter racing a car, a guy and his grandson, and two father-and-son teams racing.
"It's difficult to get younger people involved because it's pretty expensive to come up with a 40-year-old car and build it into a race car," Snyder added. "I remember a time when I said I wanted to build a $2,500 car. You can't even buy the body for $2,500 anymore." Plus, because all MANDRA cars run in one class, "we have an elapsed time restriction. The slowest ET we're going to allow is 14 seconds in the quarter-mile, so it takes a little bit more money to get something together. It's hard for young people to do that, and we do recognize that."
Midwest Nostalgia Pro Stock Association
"Our motto is 'Paying tribute to the legends,'" said Mike Ruth. "We're trying to keep alive the memories of the guys from the heyday of Pro Stock—Bill Jenkins, Bob Glidden, Don Carlton, Butch Leal, Sox & Martin, that's our deal. It's not so much about us; it's more about keeping those names alive and their accomplishments."
For the most part, participants drive accurate reproductions of 1990 and earlier Pro Stocks. Ruth drives a Bob Glidden tribute made from a Pro Stock car built in 1979 (but not raced by Glidden). His brother, Jim, campaigns an original 1985 Pontiac that Don Ness built for Butch Leal, though it's now finished in the "Party Time" livery raced by the Jim Ruth who once owned the IHRA.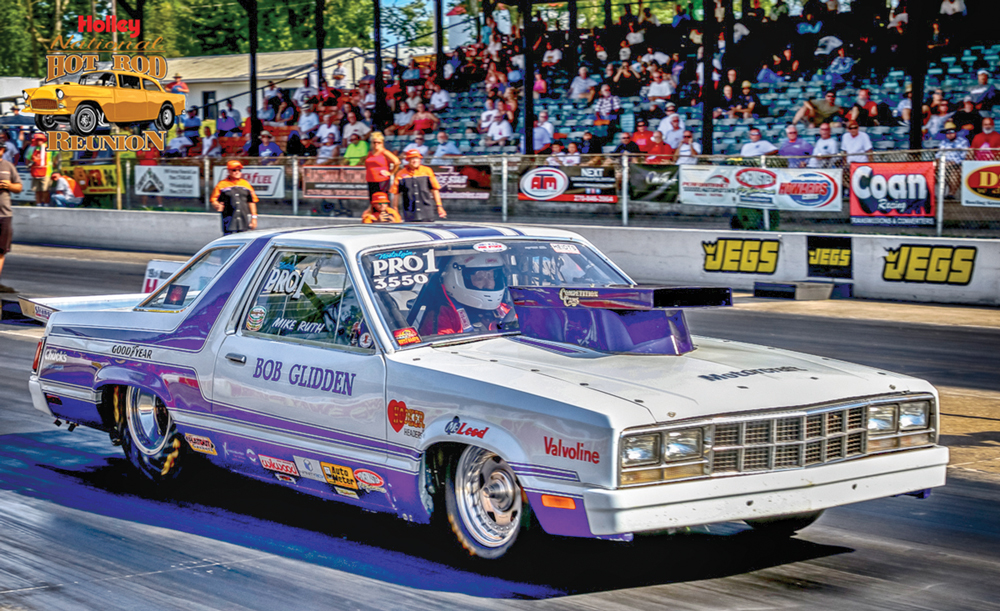 The Nostalgia Pro Stocks take part in about 15 races a year, plus a half-dozen static displays. At the races, "we pair the cars up evenly, 1970s cars together and 1980s cars together," Ruth said. "It's all about the show. We're entertainers. We're there to make people feel good and have a good time. We want to put on the best show we can, so people don't forget guys like Bob Glidden, Lee Shepherd, and Bill Jenkins." Ruth is proud of the fact that in November, there will be a large gathering of Nostalgia Pro Stocks at the Muscle Car and Corvette Nationals in Chicago, which is the most prestigious muscle car show in the country, he noted.
Ruth has seen racing industry support grow for these cars. "Some of the companies are starting to realize there's something to this and they need to get on board." Major supporters of their racing efforts to date include Powermaster, ARP, McLeod, and Hairy Glass, "a supplier back in the day," Ruth explained. He suggested that the fiberglass manufacturer should reach out to the Nostalgia Pro Stock racers, "and the response was overwhelming. Now if you're a Nostalgia Pro Stock guy, they'll give you a discount on parts going on a Nostalgia Pro Stocker."
Ruth sees his corner of nostalgia drag racing "growing in leaps and bounds. There are more cars, and more groups. A new group started this year in the Chicago area, though they're going more into the newer cars, into the 1990s, so they're going faster.
"I don't think it's ever going to be a giant thing, but it'll be around forever," he added. "Nostalgia has a lot to do with it. It brings you back to an era where you can actually have rivalries. 'Hey, I got a Mustang, your Camaro sucks.' 'Well, my Demon can beat both of them.' It's especially hard to get rivalries going in Pro Stock now because they're all Camaros. Plus, we're super fan friendly. In the pits, we don't have any ropes up, so if people want to sit in the car, we take pictures of them, and do the hero cards and all that."
He said the appeal of a vintage Pro Stock race car isn't limited to those who grew up with them. "A lot of the younger guys like it. They love the hood scoops since Pro Stocks don't have them anymore. They love the dual four barrels, the Lencos. We have a fan base of younger guys, but as far as them racing, it's still fairly expensive for a guy in his 20s to be able to do. But every year we bring newer cars in, so that's one good thing."
Nostalgia Drag Racing League
Unlike some of the nostalgia drag racing groups that make what are essentially exhibition passes, in the NDRL championship points series "we really are racing," said Hill. NDRL classes are intended for vehicles with a nostalgia appearance, 1979 and older body types, and no modern rear engine dragsters. "In keeping with the nostalgic drag race era, there is no traction control, no delay or crossover boxes, no optional throttle stop controllers, no bump boxes, no nitrous."
All NDRL races are quarter-mile, and cars are grouped in five classes—Pro-7.0, Pro-7.5, Pro-Comp, Pro-Gas, and Modified Production. "Most of the cars in the Pro 7.0 and Pro 7.5 classes are front engine dragsters, altereds, Funny Cars and some door slammers," Hill explained. "Pro-Comp also has front engine dragsters, altereds and roadsters, with an index range from 8.0 to 11.0 seconds on half-second indexes. Pro-Gas is made up of door slammers with two working doors, a roof or convertible top, and no center steer." Indexes are the same as Pro-Comp.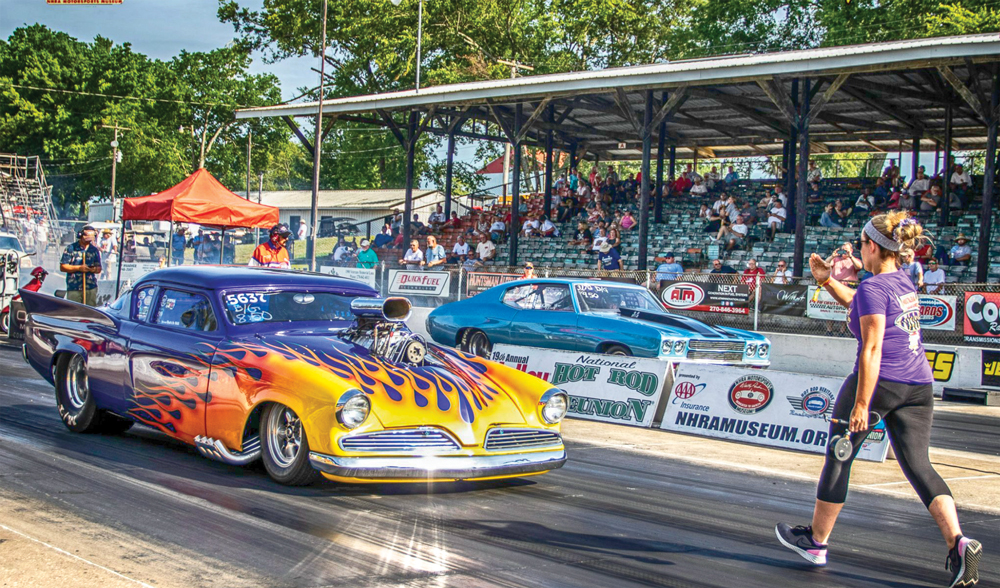 "For years, people have been asking us for more indexes, and this year we added 10.5 and 11.0 to both Comp and Gas. We did it to drive income. Not for us; we are a 501 (C) non-profit, but we saw an income stream that needed to be put in place for the tracks. It's the tracks we work with that provide most of the NDRL's payouts, so we needed to make this financially sound for our championship series to show up."
The Modified Production class was another recent addition. "We did two races with this class last year, and this will be the first year with a full points schedule," Hill said. "These are shifter cars only. I call them the Pro Stocks of the past. Back in the '70s, this was the class to watch. They're high-winding, gear-shifting, and they come out of the hole with a lot of rpm. No delay boxes, pedal magnets, air shifters, or electric shifters. The index range is from 8.75 to 12.0 seconds on quarter-second indexes. They have to do it the way it used to be."
At any given event there will be around 125 NDRL cars, Hill said, with Pro-Gas the biggest class. "We haven't run 10.50 and 11 until this year, and we haven't had our first race yet, so we'll see, but I think we'll get even more cars. We're just here to have fun and race. Half of what we're about is the camaraderie after the race, hanging and talking and barbequing and just having a good time. But when it comes to elimination time, the place gets serious. Everybody's out to win."
Hill believes one reason for the sport's growth is the fact that "after so many guys sat around due to COVID-19 restrictions for two years, they were more than ready to dust off those race cars and get out to the tracks. Also, with so much you see on TV about drag racing, the sport is bigger than ever before."
Racers "are seeing what NDRL is doing and are getting into the game more and more," Hill continued. "And I don't see it slowing down. Not any time soon. We have several engine builders who are NDRL sponsors. I know several more engine builders, and every one of them is slammed building engines, getting them ready to compete in NDRL."
Nostalgia Gassers Racing Association
The name of the association "kinda hits it on the head," said Bryan Huffman, president of the Nostalgia Gassers Racing Association, Kewanee, Illinois. Car bodies have to be from 1965 or older, and straight axles are not mandated to achieve the iconic nose-high gasser look, "but a nose-high appearance is required." Engine rules "are pretty open," he said, though no EFI or turbos are allowed. "We want Roots blowers, that type of engine, as long as it's not too modern looking. We want vintage wheels, a vintage-correct paint job—none of the swirls and squiggles and fancy stuff they have out now. We want plain-looking cars with decals on them, tinted windows, stuff that gives it a nostalgic look."
Huffman described the Nostalgia Gassers as "an entertainment group. We're expected to be available to the fans and put on a show for them. We talk to people, put kids in cars, hand out hero cards, and sign them for the kids. We race heads-up and nobody loses. Ten to 12 cars go up every round. We match each other up, run somebody different each round, and try to keep it fair looking. Since nobody loses, that gives the crowd an opportunity to see the cars in several rounds rather than having the field cut in half after the first round. We can put on a full show for the crowd, and they even give us a little gas money when we leave. That's the cat's meow as far as I'm concerned."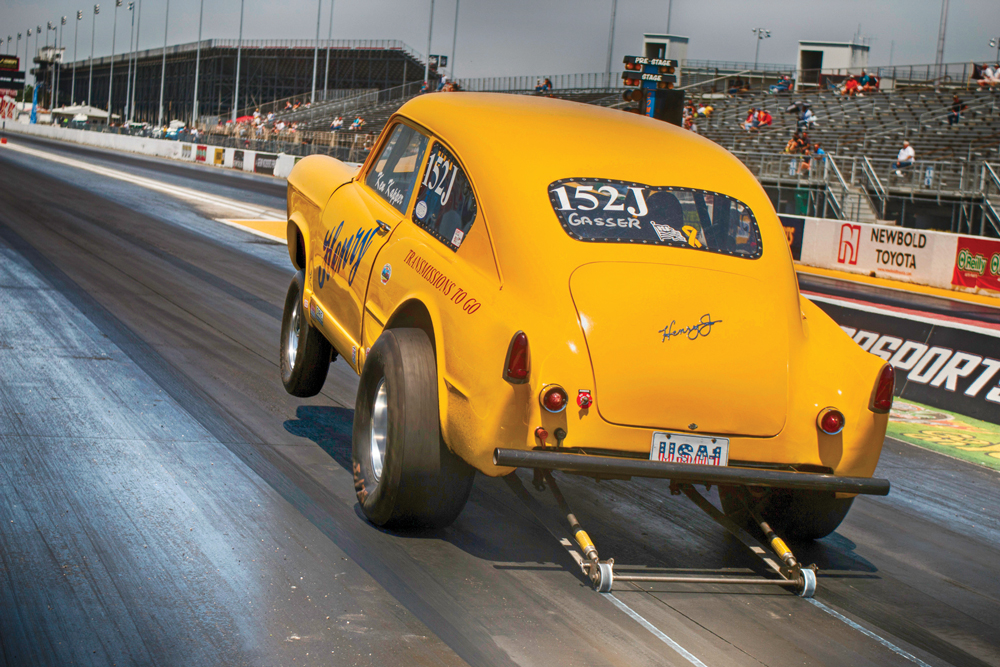 Growth within the group has been steady. "We started with 12 cars 12 years ago, and now we're up to 42," he explained. "Typically, we'll lose a couple each year, but pick up two or three. Most of the guys have run in competition before, but now they're a little bit older. They don't want to hunt for that hundredth or thousandth. They just want to come out and present their car. Most of our group grew up with gassers, like myself. When I started going to the drag strip, the primary thing I watched were the gassers, and I was in love with them from that day on. Most of our guys are that way."
But not all of them. "We have younger guys, they just like the gassers. They don't want to seriously compete. They just want to race once in a while, go to the track, and put on a show."
Huffman recalled one particular 9-year-old who was fascinated by his car at an event (he races a fiberglass 1941 Willys coupe and a steel 1941 Willys pickup). "I sat him in my car, talked to him, signed autographs. You could tell his eyes were lit up like silver dollars. And he said, 'I want to do this one day.' Ten years later, he came up and said, 'Bryan, I made it. I got my car here.' We planted that in him many years ago, and he worked his tail off for 10 years to be able to have his own car and be at the track."
Nostalgia Super Stock Inc.
"We do drag racing the way it was: heads-up match racing, run whatcha brung," said Rich Berlisk, president of Nostalgia Super Stock Inc. (NSS), Springfield, Illinois. An earlier version of this racing group, formed in the late 1980s, competed in a bracket-race format, "but in 1990 it picked up more steam with heads-up match racing. The reason we continue to do it is because we seem to put on a better show than index bracket racing does."
The cars competing in NSS are the "factory muscle cars of the late 1950s through the 1960s, up to the time when Pro Stock began," Berlisk said. "Our oldest car is from 1958; primarily everything is mid-'60s Fords, Mercury Comets, Dodges, Plymouths, full-size Pontiacs like the Catalina, the smaller Pontiacs like the LeMans, and Chevrolets." Several years ago, NSS added a class of altered-wheelbase cars, "and we have four AWB cars right now, all early 1960s GM and Mopar cars. They run along with our Super Stocks and may run against a Super Stock if the times are comparable."
The ETs the cars run range from 8 to 12 seconds, Berlisk said. "We pair up the cars. If the track that brings us in wants three runs, you'll run three times, even if you lose. If the track asks for a winner and a runner-up, I have a formula for that. I pair the two cars with the closest ET. It could be two 12.20 cars or two 8.50 cars, or anything in between, usually within a couple hundredths. That will put on a good show. We're there to put on a show and educate the general public about the way drag racing was invented back in the '40s and '50s."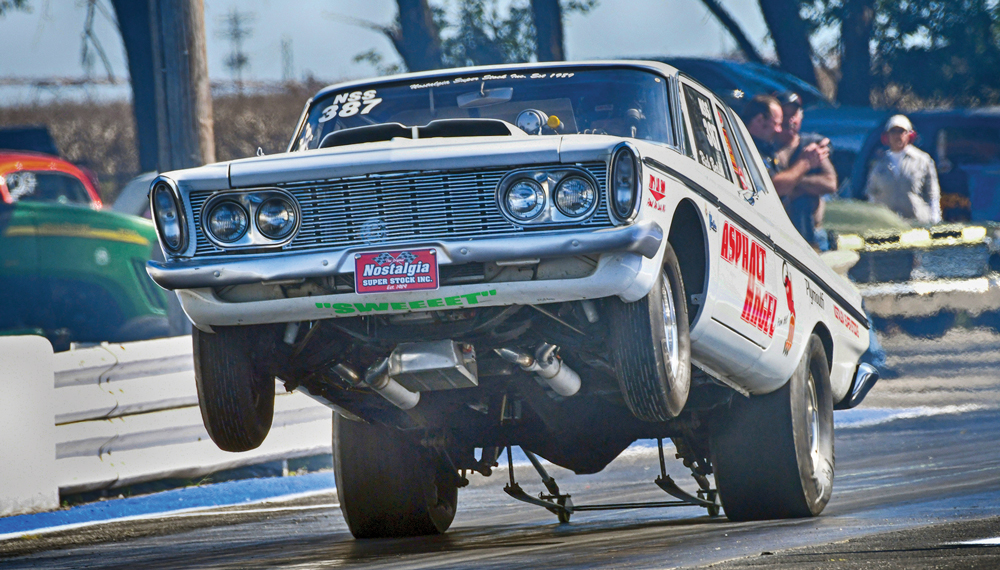 To that end, engines must look like they did in period, with carburetors and era-correct intake manifolds. The AWB cars can run mechanical fuel injection, though one racer was allowed to operate his Kinsler injection system with electronic controls, "and you really can't tell it's there. It looks the part," Berlisk said.
Last year, the group's roster included 42 cars, up from the handful that started racing back in the 1980s. "In the last five to six years we've seen growth," Berlisk said. "It seems like we lose one through attrition but then pick up two." Often people will approach him to join; sometimes he'll recruit a vintage car he spots at a race. A few years ago, at Union Grove he and a prior president saw "a 1963-1/2 Ford running in a bracket race, and we wondered, what's he doing that for? We went over and asked him, 'Would you like to run with us?' Afterward he said he enjoyed it so much he wanted to know how to hook up with us."
The demographic of the NSS members skews older; the youngest are in their early 40s, except for a 16-year-old son of a member who wants to race.
"I would like to see younger people get into it, but there may be a cost factor for the stuff that we're building compared to putting a tuner car together," Berlisk noted. "Some of my members have spent 50 grand on a motor. So their pocketbooks might not be able to take it, but I know a lot of them would like it."
SOURCES
Mid-Atlantic Nostalgia Drag Racing Association
mandraracing.com
Midwest Nostalgia Pro Stock Association
mwnpsa.com
Nostalgia Drag Racing League
nostalgiadragleague.com
Nostalgia Gassers Racing Association
nostalgiagassers.com
Nostalgia Super Stock Inc.
nostalgiasuperstock.com