Special Report: Inside the PRI Road Tour
Image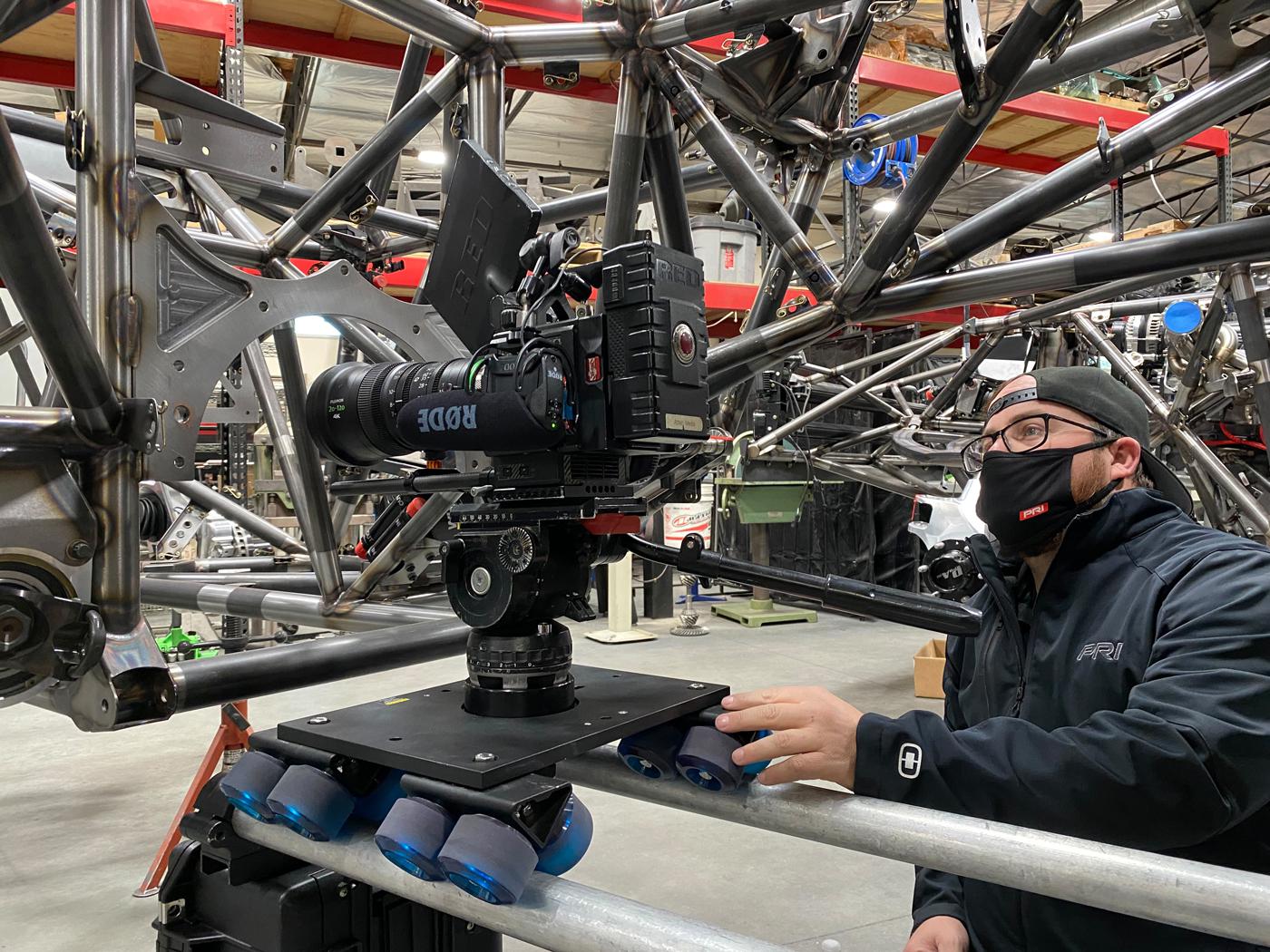 It's the story behind the stories from those who helped develop, execute, and participate in one of the motorsports industry's boldest—and most successful—content creation and outreach programs ever.
If ever there was a time when we needed something positive to look forward to, it was 2020.
The harsh memories of last year are still fresh for most people. Between the pandemic lockdowns, supply chain disruptions, election drama, rolling furloughs, and empty grandstands at the nation's race tracks, last year was short on hopeful signs for the racing industry. But from such disruptions come opportunities, and great things can be launched.
And thus, the PRI Road Tour was born.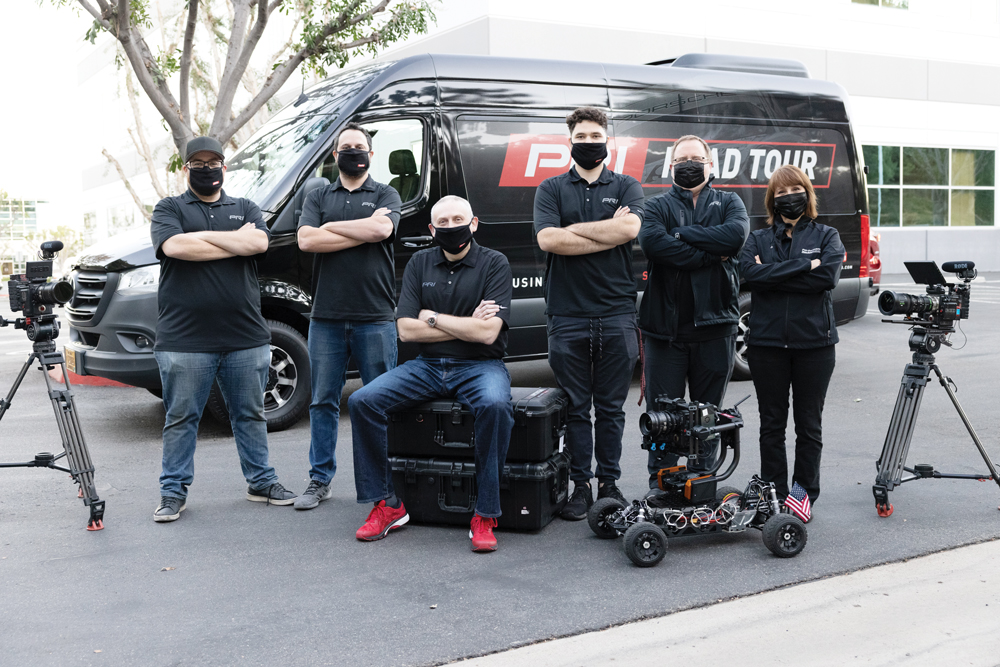 As the embodiment of optimism, hopefulness, a sense of adventure, and service to the industry, the PRI Road Tour came into being as a response to the upended trade show landscape. As large public events of every sort were curtailed by local governments and by event organizers themselves out of an abundance of caution, adaptation was the order of the day. 
"We'd been hanging tough with the racing industry. We really thought the PRI Show was going to be possible," said Dr. Jamie Meyer, president of Aliso Viejo, California-based PRI. "The folks at Indianapolis have been great partners and continue to be great partners. But as things started to get more clear with the pandemic impacting trade shows everywhere, [and] the SEMA Show was canceled, we learned a lot from our teammates at SEMA about how this was going to happen and what were the best decisions to make. In the end, just to make sure people were safe, to make sure we weren't hurting our industry or hurting the individuals that would go to PRI, we decided to cancel the Show." 
From that difficult decision, though, came the opportunity to try new things. "We went to the SEMA and PRI Board of Directors within a week or two after that decision was voted on and we were asked to come up with an alternative," Meyer recalled. "SEMA had gone with SEMA 360, which was a very forward-looking online community experience. It made a lot of sense for SEMA, which is a much bigger event, a much bigger organization. But the PRI team got together, and we were discussing several alternatives. Everybody was going online, but we felt the community of racers was much more face-to-face, much more individualized. We took cues from a few other advocacy groups and social media influencers and decided the best thing to do would be to take the PRI Show on the road. So within 10 days the trade show team turned into a road tour production team. We had our creative agency already picked out. Driveline Studios works on our social media accounts and a lot of our strategies."
The plan came together quickly. "Knowing our group, our industry, our people—we call it our tribe, a bunch of racers—we just didn't know if the virtual route was the best route, to put something together that quick, something that they would use," said Karin Davidson, PRI Trade Show director. "And Jamie had this idea, 'Hey, let's get a van, let's get some creatives, put them in the van with an operational person.'"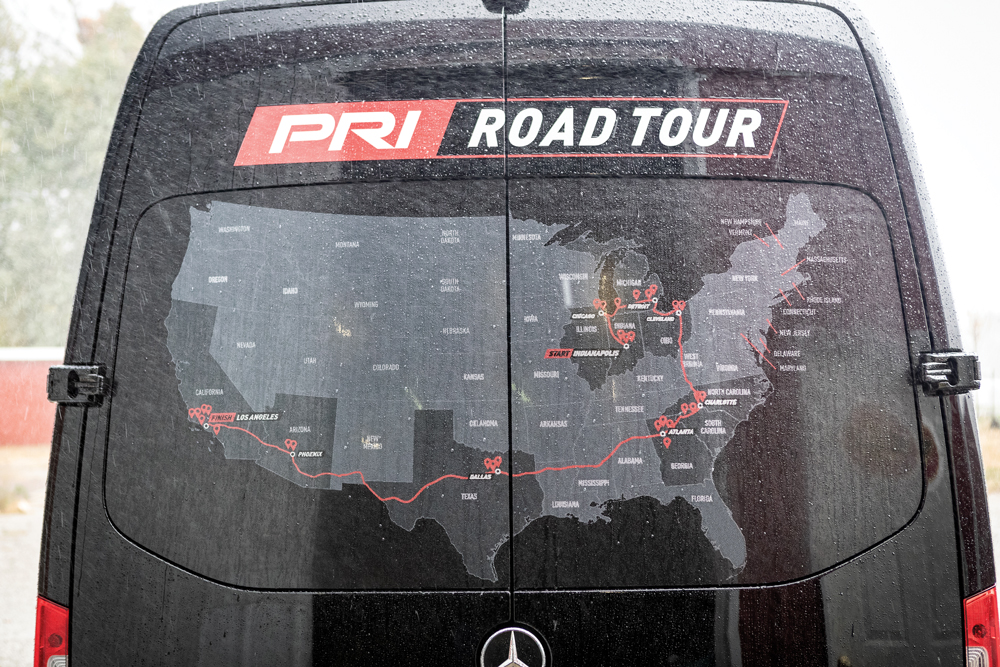 Besides delivering hope and raising morale, a Road Tour could deliver definite benefits to the motorsports community. "The idea was getting them additional exposure that they wouldn't have otherwise, free, courtesy of PRI, and to have these creative guys come in and do videos, and product shots, and telling stories about how their businesses started and things like that, and just tell the world what their company is all about," Davidson said.
Kim Pendergast sits on the SEMA Board of Directors, as well as being CEO and owner of supercharger manufacturer Magnuson Products in Ventura, California, which was one of the stops on the tour. "I first heard about it on the Board. There was a proposal that hit my mailbox," she told us. "The minute I read it, I said, 'This is amazing. This is a good thing for our members. I didn't have to think about it for a minute. It was so intuitive, it was so prescient, it was so on the money for what people needed. And having said that, when they arrived it was so much more than I even understood."
With the concept in place, the next step was to figure out just where to go. In the racing and performance world, there was no shortage of candidates. "The trade show team had these deep connections with the industry and our exhibitors because the Show's gone on since the mid-1980s, and [they] reached out to key people in key locations and very quickly put the route together, starting in Indianapolis, working through the Midwest, Chicago and Detroit, heading toward the Carolinas, going through Atlanta, going through Texas, going through Phoenix, and then spending a week and a half in California," Meyer said. "This was a 77-day straight assignment. It was 100 stops. I think in retrospect it was the chance of a lifetime for the creative people who were in that van."
There was excitement in the Road Tour's future, but the kick-off included a stark reminder of what the industry was up against. The first video was filmed in the Indiana Convention Center in Indianapolis, and posted online on October 12. The Convention Center is normally a beehive of activity, especially in early December when 65,000 racers and 1,200 exhibitors descend on the facility for the PRI Show. But here Dr. Jamie Meyer sat alone in front of the Road Tour van in an empty Convention Center. There, he quietly explained, "Because you can't come to PRI, PRI is going to come to you." But from such a subdued beginning, things were about to get loud.
Talent Pool
Justin Cesler's Driveline Studios in Detroit, Michigan, had been chosen to record those stops and tell those stories. Driveline Studios specializes in turnkey content creation, marketing, and social media. For the Tour, his team would handle everything from taking photos and videos, editing that material, turning it into digestible content for any channel needed, and monitoring the response. Driveline Studios had a photographer and two or three video specialists on hand for every stop, with Cesler serving as creative director.
"They're the heroes of the whole Tour, to be able to get that content and tell those stories so eloquently," said PRI's Davidson. "Everybody just loved it, and the numbers on social media just went skyrocketing. Hats off to all those guys."
For the Road Tour, of course, content-creating talent had to work hand-in-hand with logistics talent. "The setup is the crazy part," Cesler said. "One thing to know about the Road Tour is that it really took an amazing logistics effort, obviously. It was 70 days on the road, it was almost 100 stops, which included everything from the smallest shops to the biggest shops, race tracks, and everything in between. We had an amazing logistics team with PRI. They're the people who put on the Trade Show, and they were able to pivot and instead of doing the Trade Show last year, they just turned to the Road Tour and set that up."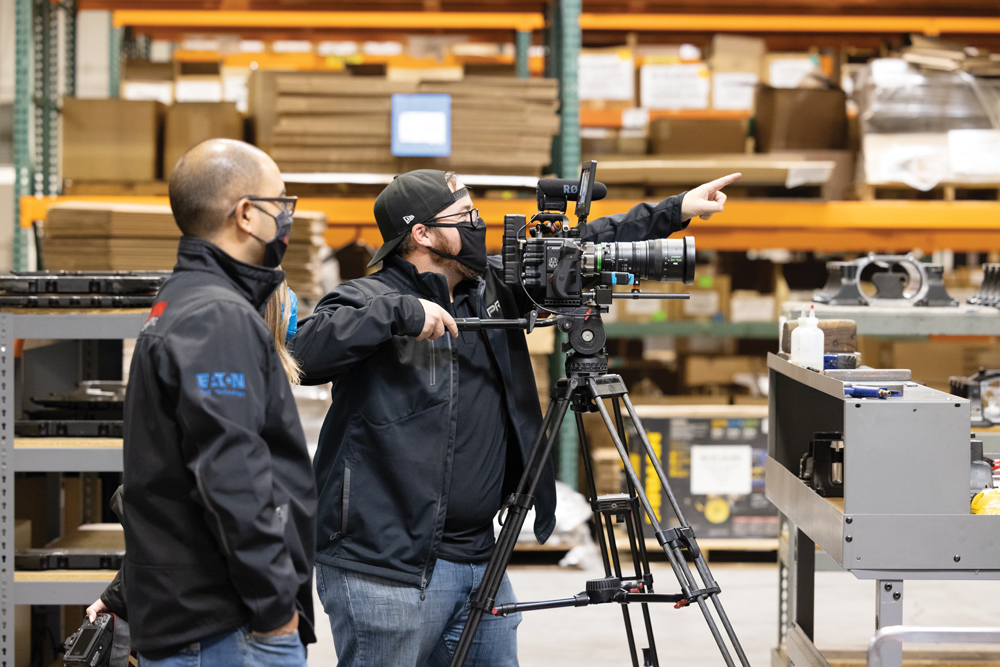 Part of that logistics talent was Michelle Gallegos, PRI housing and travel manager. She served as "van captain," making sure water, food, and snack supplies were well-stocked, secured hotel rooms, and coordinated with the businesses where the van would be stopping, among other logistics challenges.
Complicating the planning was the need to keep masking and social distancing requirements front and center. "You know, it's the height of the pandemic, people aren't trusting of each other, some don't want to wear a mask, some want to wear a mask, a face shield, and a Tyvek suit," said Meyer. "We were very adaptive to how our team would approach each stop. And I'm incredibly proud of the team and the effort and the industry, to say that we didn't get anybody sick, we didn't transfer a virus. We made it through safely."
"Michelle, of course, was amazing. She's a very special human being," said Magnuson's Pendergast. "She's very professional, she's very wise, she's smart, and she just has a sense of things—how to make you comfortable, and how to keep everybody moving and in the right place at the right time. It was very interesting, for me being a businessperson, to watch how the whole team was managed and the integrity behind that."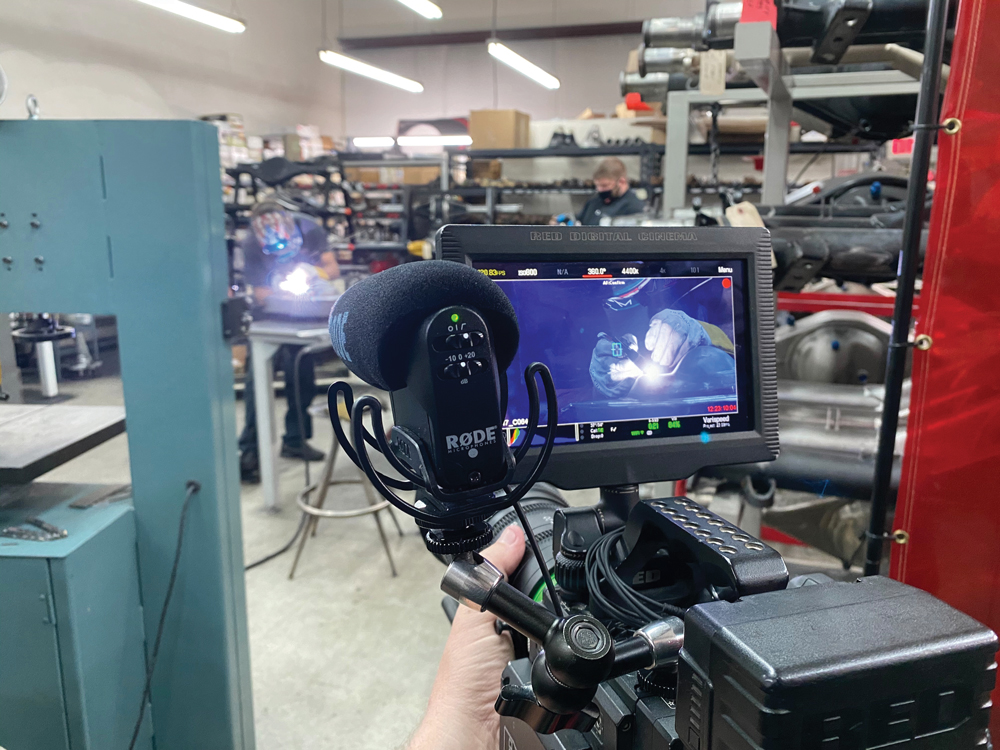 The van—a Mercedes-Benz Sprinter—turned out to be a key member of the Road Tour team itself. It was secured from Bandago Van Rental, a company that specializes in vehicles for bands, businesses, and large groups. So it was fairly well equipped for hauling all the gear necessary for the Tour.
"People were kind of amazed by the van," Cesler said. "I think at first people thought, 'Okay, is this going to be a person and a camera, or a person and a Go Pro?' But our crew really stepped up for this one. All of the video footage was shot on RED cameras. It's all 6k, 8k, super hi-res. We had four RED cameras, all of the lenses, all of the batteries, all of the monitors, all of the gear that you would need for a production like that. And really for us, it wasn't about having a lot of gear, it was just being able to switch depending on whatever situation we were in. You're walking into a lot of these shops blind—or all of them blind. You don't know what the lighting is, you don't know how big they are, you don't know if you're going to be doing an interview with one person or two people, or three people. You don't know if you're going to be trying to get inside a CNC machine, or if you're going to be outside shooting someone doing a burnout. So we had to have a huge variety of equipment, so that on the fly we could just hot-swap equipment."
If there was a breakout star of the show, it was "Wall-E," a radio-controlled car with a camera mounted on it. Wall-E earned its keep catching dramatic ground-level shots of burnouts, or skittering into otherwise hard-to-reach places for difficult shots.
With so much work involved in doing the shoots and editing it all into digestible formats, the team needed someone who could just focus on the van and driving safely from spot to spot. And so Wade Mathieson signed on to pilot the Sprinter on its months-long journey.
On the Road
As mentioned earlier, the first official "stop" on the tour was the empty Convention Center in downtown Indianapolis. "The very first shot we took was in the Indiana Convention Center. Normally that's where the PRI Show is. And we were standing in it, and there was nothing in there. It was just an open convention center. And it really put the weight of it on us," Cesler said.
"This is serious, because people look forward to coming to the PRI Show every year," he continued. "For us, that moment was kind of like, 'Okay, we're doing this, we're here, the van's here, we're ready to go.' It was pretty sobering—you could definitely feel the weight of the project starting to come on. And then literally our first stop was Don Schumacher Racing. And it was just exactly what you'd imagine. It was just an unbelievable stop. We got great time with Tommy Johnson Jr. and other members of the DSR team, and just to see the scale of the facility…. We went from, 'Okay, we're a little bit nervous about this,' to 'This is going to be the most fun road trip of all time.'"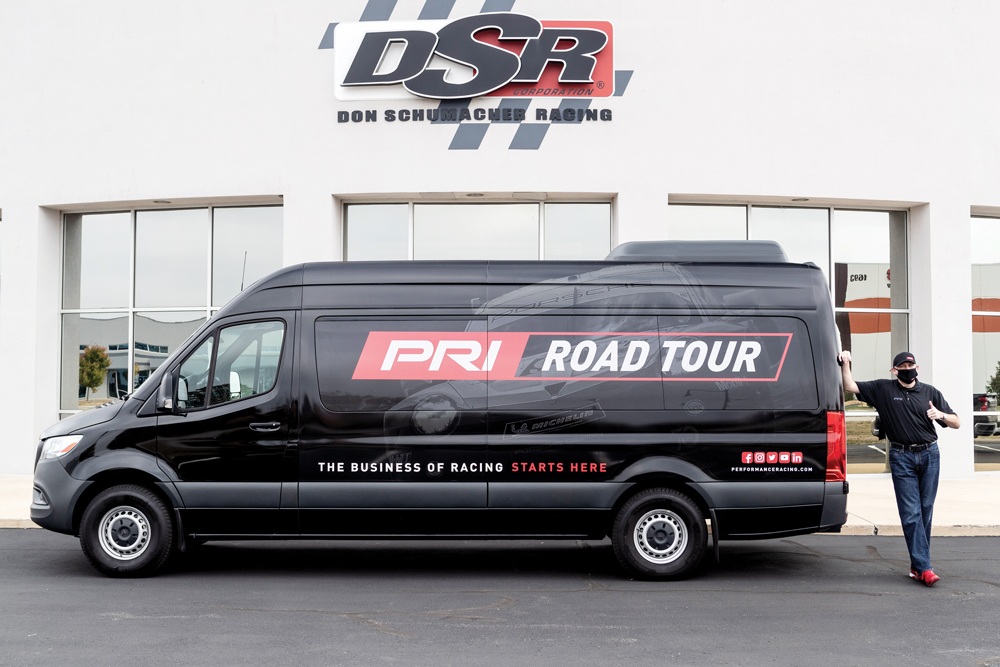 The stops were indeed fun, but the workload to turn those visits into interesting content was considerable. "A typical day on the road, we'd wake up early, prep all the gear, and have everyone in the van by 7. We would get to our first stop at around 8:30 or 9:00, depending, and it would be four to five hours at least at each stop," Cesler said. "Every video that you see, every photo that you see from a tour stop, was done in about half a day."
The routine quickly settled into a pattern of shoot all day, edit videos and photos overnight. The teams worked into the wee hours of the morning getting the day's material ready to publish and then getting everything ready for the next day.
For the Road Tour team, meeting new people and hearing their stories was a daily occurrence, but there was also plenty of news to break at many of the stops. At Paul's High Performance in Jackson, Michigan, Paul Svinicki had managed to get his hands on one of Ford Performance's new 7.3-liter Godzilla crate engines, and had installed it in a 2010 Cobra Jet Mustang.
Paul's High Performance was the first to get one of these engines into a car, the first to take one to the track for testing, and the first to put one into the 10s, Svinicki said. There was a lot of interest across the performance world around this pushrod, big-port, 446-cubic-inch engine.
The Road Tour segment at Paul's delivered the goods, culminating in an epic burnout that left two flaming piles of rubber. "I just melted the tires until there was nothing left," Svinicki said. Wall-E was sent in for a close-up worm's-eye view of the two burning piles for one of the more memorable shots of the Tour. At press time, the Paul's High Performance stop has received more than 91,000 views on YouTube.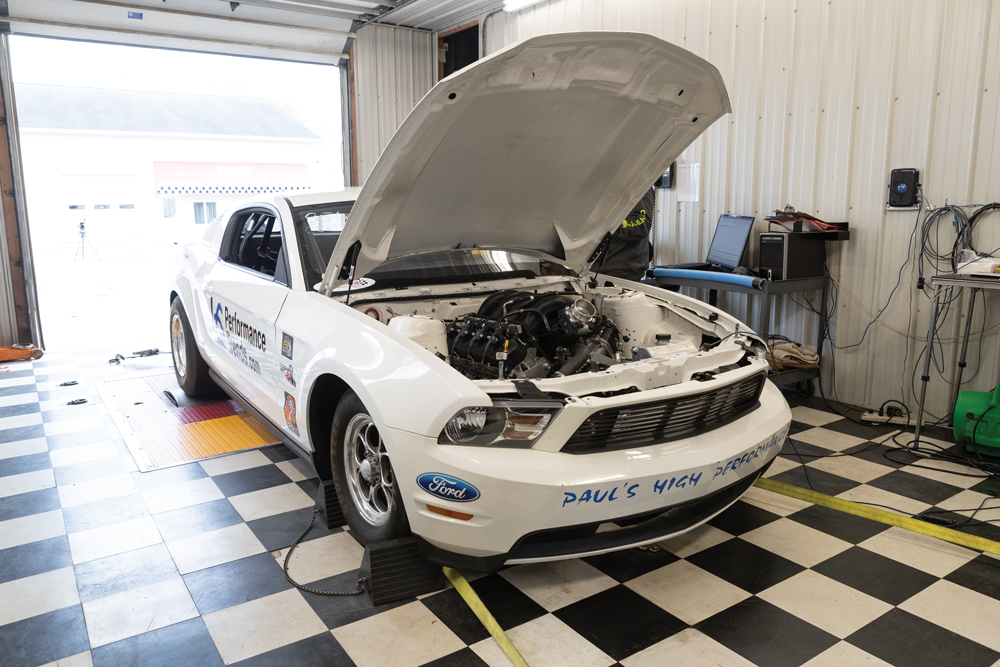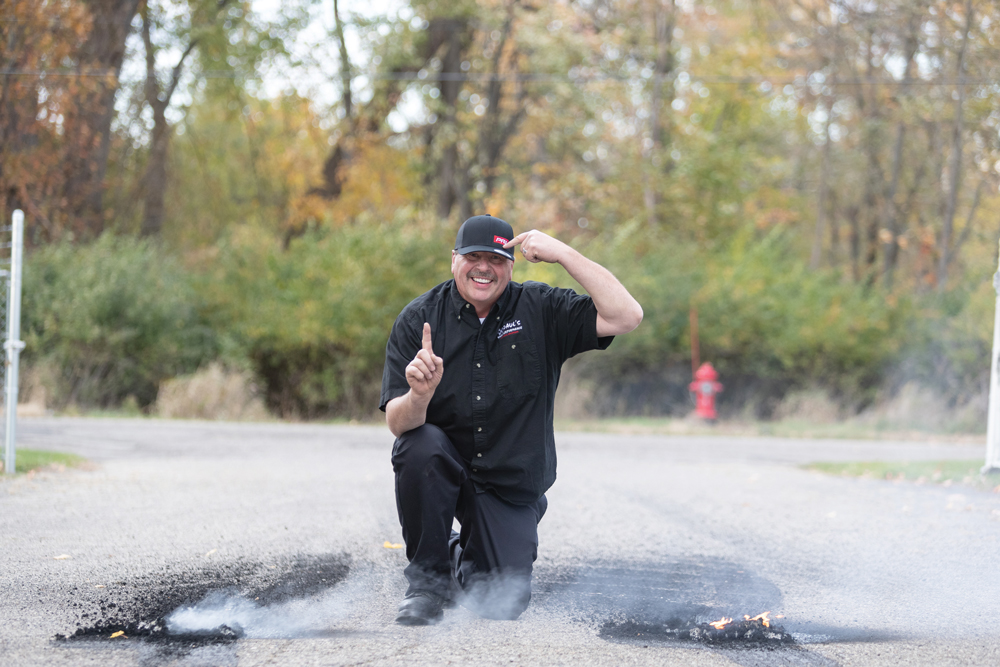 "I was very excited with what I thought was an absolutely great idea, to actually put a face to a name, having someone show up at your shop," Svinicki said. "To have someone show a little love to a small shop, it just does stuff. Yes, we work with Ford, we've set records, we've got a lot of Mustangs, we've done a lot of things the last 25 years. So we've been in the industry for a bit, we know a lot of people, we've done a lot of stuff, but it felt really, really good after all these years."
The PRI Road Tour team had, from the beginning, made it a point to not interfere with the day-to-day running of the shops, and to make it as easy on the shop owners as possible. "It was pretty seamless. For me, it was answering questions, getting hot tea or water or something to munch on, and then just answer some questions," Svinicki said. "They're enthusiasts, right? So they know stuff, and they know how to approach it from an enthusiast's view."
As the Tour went on, the arrival of the PRI Road Tour van came to represent more than just a nuts-and-bolts shop visit. "We spent a lot of time preparing, because I felt like this was such a generous gift, for PRI to come to our facility and have these experts give us content. So I wanted to make the best use of the time," Pendergast said.
"I missed one big thing, which was that the preparing for it was important to our employees, because we hadn't gone to any shows. We'd been working, we'd been getting things out the door, it had been very, very stressful, but we really hadn't been having fun," she continued. "And we're all enthusiasts. And so, to have the fun of getting all these vehicles organized to be here and prepare for them to come was part of the fun that we have, it's part of why you belong to this organization. That was a little bit of a revelation.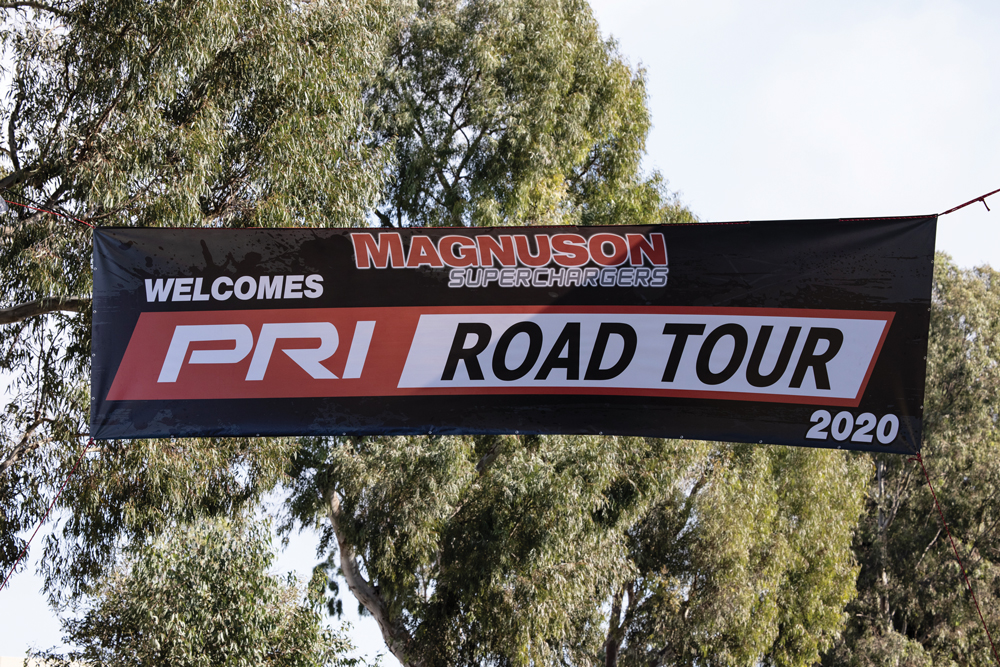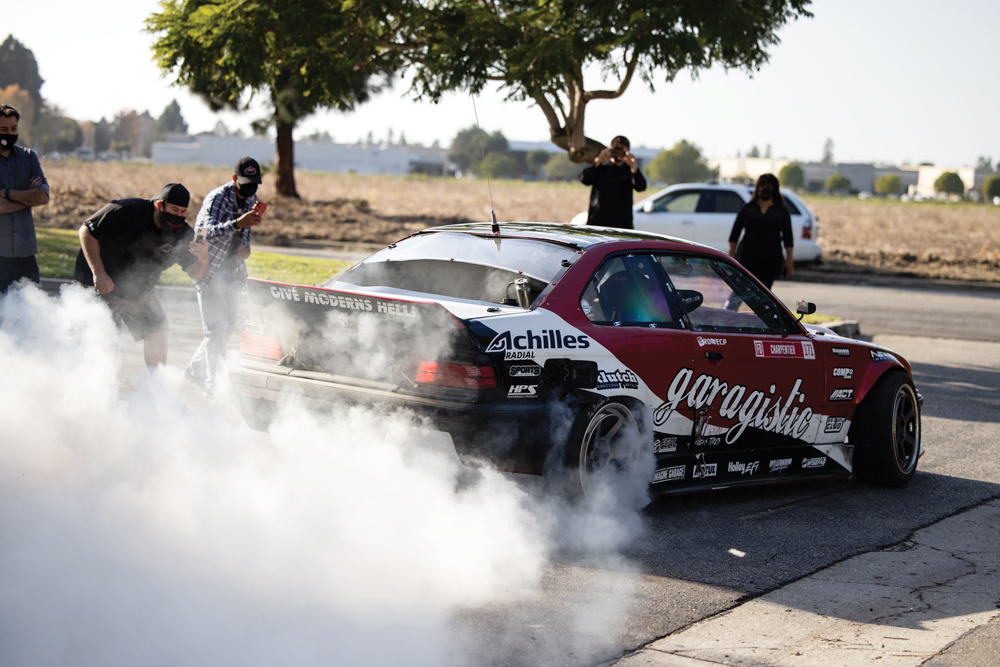 "But the biggest thing was, when they got here, how having PRI here just touched everyone. It sounds corny I guess, but that emotional touch at a point in time when we'd been so isolated and working so hard, and went from January and February when we were just blowing product out the door, to a couple of months where we had good revenues but all kinds of supply chain issues hit because of COVID, and then suddenly it just came roaring back the rest of the year, and we were working so hard but yet we were frightened because we still didn't know what was going to happen. We still didn't know whether things were going to continue in a positive vein. And these people came to our door and just reinvigorated us. They were so kind and so caring and so welcoming. It was the most amazing thing," she concluded.
For everyone in the van, each day brought new surprises. "In North Carolina we met Bill Rhine," Cesler said. "He said, 'Yeah, I restore old NASCARs, vintage race cars, I have this old barn, if you guys think that would be cool.' What we learned on the trip was that anytime someone says, 'I have this old XYZ,' we were in. It was going to be way cooler than they were giving it credit for. They would say things like, 'Well, we're small shop guys, I don't know,' and they would open the door to 50 CNC machines running at full speed just cranking out parts. They would open doors to what they would claim are 'humble car collections' and there were hundreds of cars in them. It was super cool to see."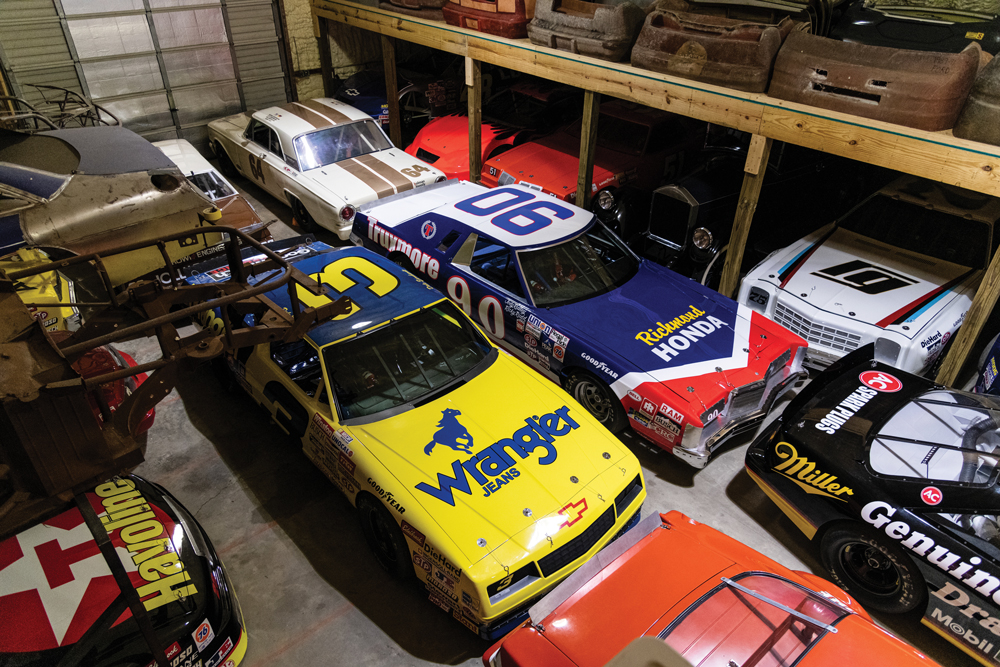 The racing community agreed—the segment on Bill Rhine's vintage race car collection has more than 210,000 views on YouTube as this was written.
Capturing all those surprises required plenty of camera store stops along the way. "We started the trip with one drone, I think we ended the trip with four drones," Cesler said. "We just needed bigger ones or smaller ones, or low-light ones, that could do different things. We had a ton of photography equipment, of course. I don't know how many cameras were in the van at one time, probably five or six still cameras at any moment, and then all of the lenses, all of the lights, that go along with that."
The Results
Still, the PRI Road Tour was about more than exposure and pretty pictures. Behind it all was a push to showcase new product development, direct new business toward the racing industry, and reach new people across various distribution channels. "Everybody I've spoken to that did it, loved it," said Tom Buzze of Buzze Racing, Mooresville, North Carolina, one of the shops visited in the Tour's first 30 days. "The amount of people that it reached, there are so many customers that called and said, 'Man, we saw your video,' or they sent a message that they'd seen the video and thought it was amazing. They did a great job putting it together and showing what our shop was. There are so many people that know us, and I've reached a lot of new people. People reached out because of the video. Even where I was at quarter midget racing this past weekend, there were people even there who said they'd seen the video. The amount of people that it reached was unbelievable."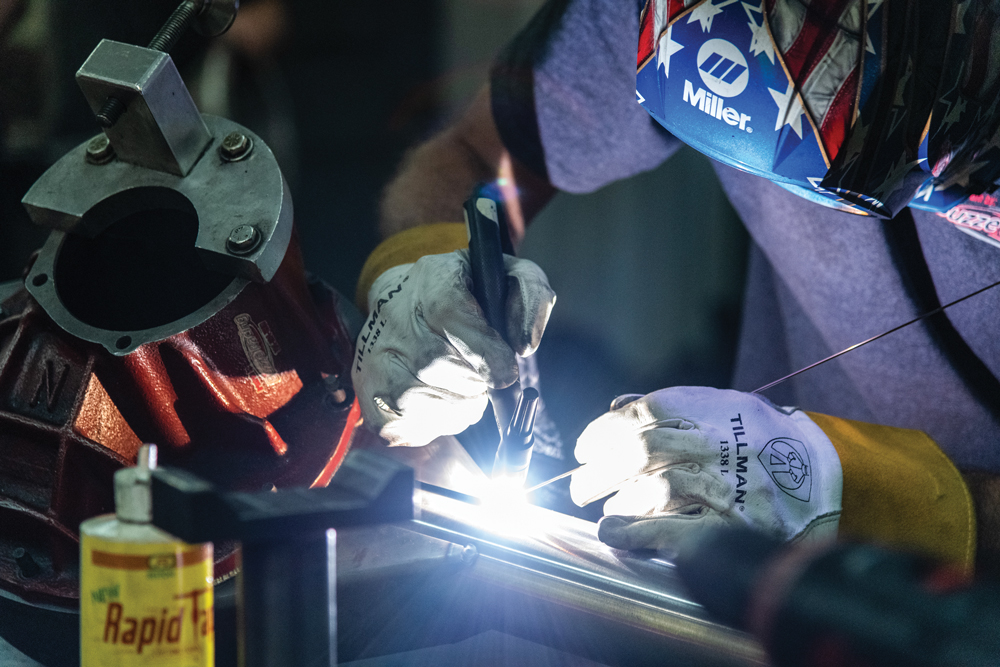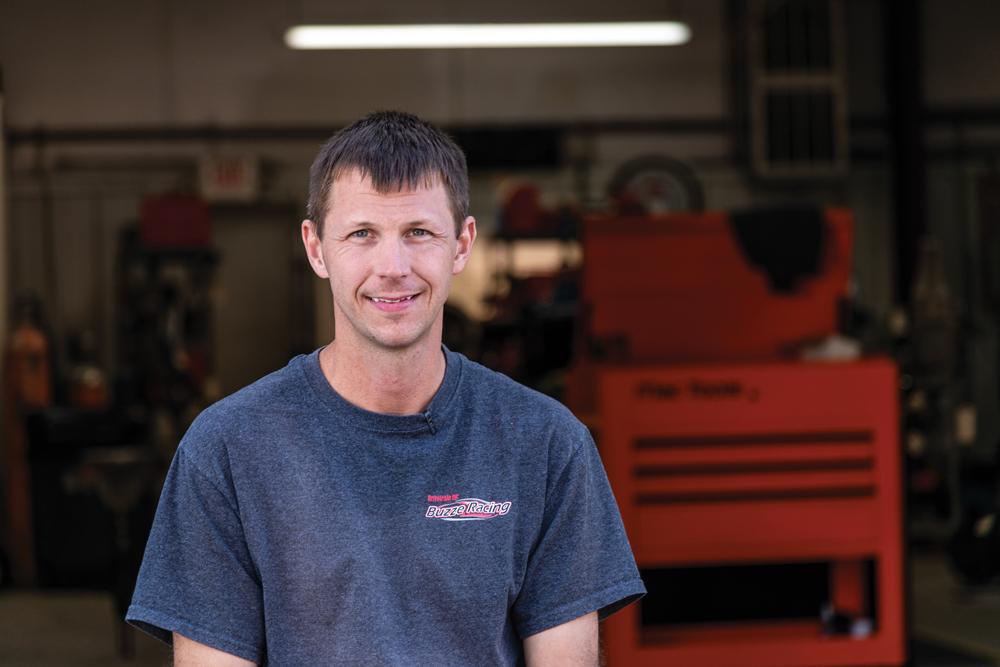 Being able to put names with faces, and not just be a listing on a ledger, was another plus from the PRI Road Tour. "It showed that, one, someone cares, and they're able to get out and show people different things—what does this shop do, and who are these people in the industry? One thing I noticed is that it showed everybody has a personality. There's an actual face and a person that's tied to these products and this business," Svinicki said. "Who does that? Nobody. I don't remember anybody doing something like that for a company." Svinicki reported his email queries alone are up by at least 30% since the video was posted. 
"All told, we reached over 25 million unique people over the course of the Road Tour and still, every two weeks, we're reaching five million people," PRI's Meyer said.
Road Tour 2.0
The PRI Road Tour was a response to a challenging year, but the concept proved so sound for the racing community, with such positive results, that the Tour will hit the road for a sequel this summer!
"This was an entire give-back. It's really important for people to understand, we didn't charge anybody anything," said Meyer. "This was a Board-approved expense. This was not a cheap project, to make sure we're helping the racing industry in the worst of times. It's been such a success that we want to continue it, and the Board has approved me to get these guys back in a van and back out on the road."
Although there will be plenty more shop visits on tap, for 2021 the Tour will be focused on visiting as many race tracks as possible. "For 2020, the Road Tour came together as we were making the very tough decision to cancel the PRI Show," Meyer said. "So it was late in the season—we did get to a few race tracks, but for the most part we went to manufacturers. For 2021, the PRI Road Tour is going racing. The team is putting together a list of some of the best races, some of the most interesting races, some races that I've never heard of, and we're going to take the world's best content creators and we're going to turn them loose at the races this year. I can't wait to see what they come back with."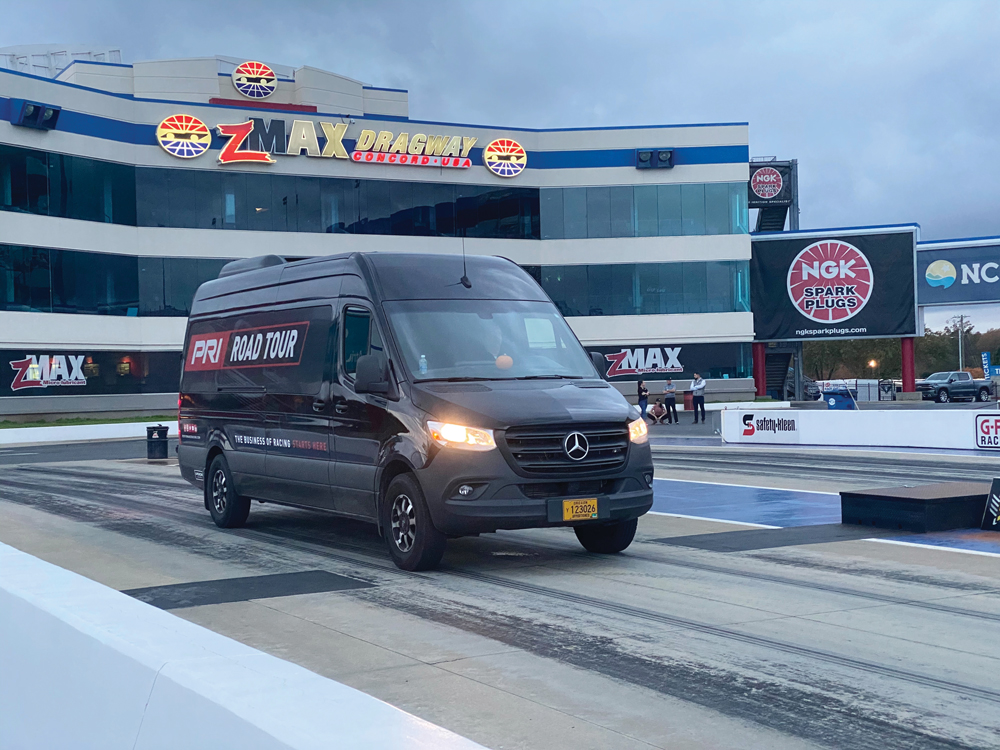 Capturing the whole gamut of the motorsports industry will be a priority for 2021. "In 2.0 that we're starting up this month, it's going to be more racing related, going to the race track to see how the whole racing industry comes together, whether you're a race team, a racing manufacturer, a machine shop, everybody that races in those cars and everybody driving to the track, we want to show how the whole racing community comes together and goes racing," PRI's Davidson said.
"I'm really interested to see what the new eyes, the different reporters, will find at these races," Meyer said. "We're certainly looking for the different communities of racers to appreciate each other more—maybe seeing a circle track the way you've never seen that type of race before. Maybe going to a tractor pull and getting a whole new understanding about horsepower control. Going to Pikes Peak and learning what we can find at that incredible venue."
There are few things more exciting than hot laps in a race car, and few gatherings more all-American than a weekend night at a dirt track. But the 2021 PRI Road Tour will also be aimed at people who haven't yet experienced the thrill of racing.
"How do we get people that don't even consider racing to look at it and be fascinated by what goes on in this industry?" Meyer said. "That 8-second news cycle that we talk about nowadays—how do I have an 8-second Instagram video or an 8-second TikTok video? Or a longer-form LinkedIn story where we relay business advice from the motorsports industry that applies to other people? Maybe they like stick-and-ball sports, maybe they're just movie fans, maybe they never even imagined going to a dirt track race. But they see something, and it's a spark."
Get ready, because the sparks will fly when the PRI Road Tour van hits the road again this summer.
SOURCES
–
Buzze Racing
buzzeracing.com
Driveline Studios
drivelinestudios.com
Magnuson Products
magnusonsuperchargers.com
Paul's High Performance
paulshp.com