Image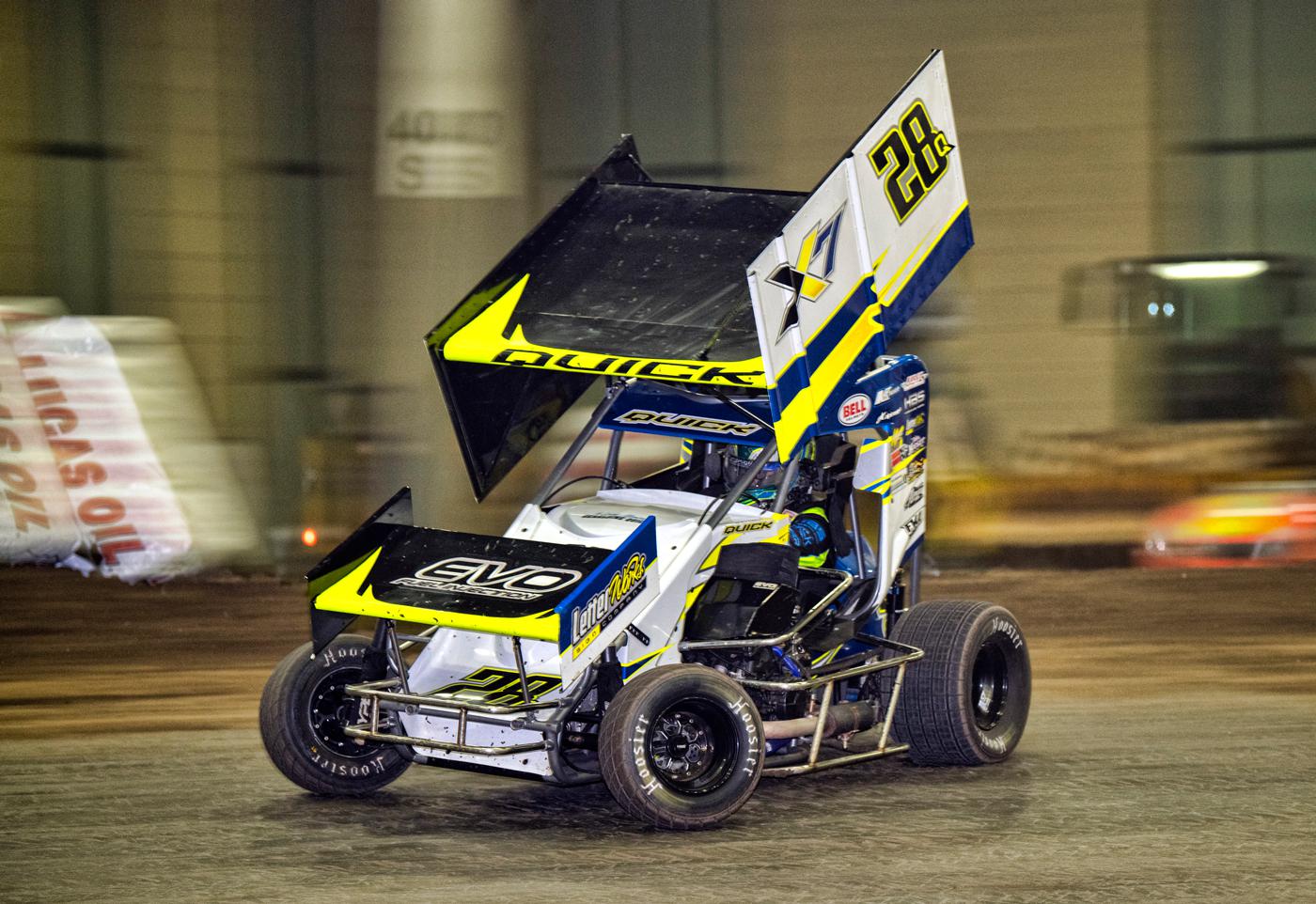 Photo courtesy of Hyper Racing
Micro, mini, and Lightning sprints offer big fun and competitive racing at budget prices. And with steadily escalating purses, are they finally getting the respect they deserve?
What would heaven look like for a dirt-track racer? It would surely be filled with tight, anyone-can-win racing. It would be easily attainable, too. And although it might not be a grandstand-filling epic, it should feel at least somewhat professional. At the same time, it would be accessible to guys and gals who want their last hurrah before fading to the sidelines and raising their mugs to the glory days. 
When you put it that way, it might just look a lot like the world of micro, mini, and Lightning sprints. These feisty machines offer much of the thrill of bigger, more expensive cars, but in a format that puts them within reach of pretty much anybody who has an itch to go racing and a truck to pull their trailer.
Micro, mini, and Lightning sprints are basically downsized sprint cars powered by motorcycle engines. But the specific terminology isn't always precise. Mini sprints and Lightning sprints are fairly interchangeable names used to describe sprint cars that are essentially midgets powered by a 1000cc chain-drive motorcycle engine. Micro sprints are roughly half the size of a Lightning or mini, and use a 600cc chain-drive motorcycle engine. 
Within these broad categories are a number of different classes, including stock and modified, winged and non-wing. Outlaw classes allow extensive modifications to engines. But at the moment, the most active class appears to be the A-class 600cc micros, which run an engine that's essentially stock. "A-class non-wing is the most popular, because a lot of people can afford it," explained Austin Quick of Hyper Racing, Lewisberry, Pennsylvania. "Your backyard guy can literally just go buy a motor off the bike for 1,500 bucks, go find a car, and be racing for anywhere from five to 10 grand."
Most tracks offer wing and non-wing classes, and there are perceived pros and cons to each. Many of these center on the very young racers these cars are attracting. "Some guys won't race non-wings for the safety factor," said Kevin Bayer of the Midwest Mini Sprint Association, Greenfield, Indiana. "I myself like wings on cars because I think the kids are more stable. But, of course, non-wing is going to give them more experience feeling the car in the seat of their pants—how to make the car rotate through corners and stuff."
Micro-Size Budgets
Arguably the biggest draw of micro, mini, and Lightning sprints is their affordability. Few popular race series offer racing that's as economical as these machines over the long haul. And that advantage is across the board, encompassing almost every aspect of a mini- or micro-sprint operation. "You've got a smaller trailer, with less inventory as far as tires and wheels," said Quick. "And the tires are half the cost. The other thing is the motor. On the Outlaw stuff you can get 20 races out of an engine. And then those A-class engines, you can go at least 40. I've seen some guys go 60 races before they even get a rebuild. Now, as far as you being competitive that whole 60 races, that's another thing. I'm sure they start to fall off a little bit toward the end of the rebuild. But it's nothing that puts you out of the ballpark."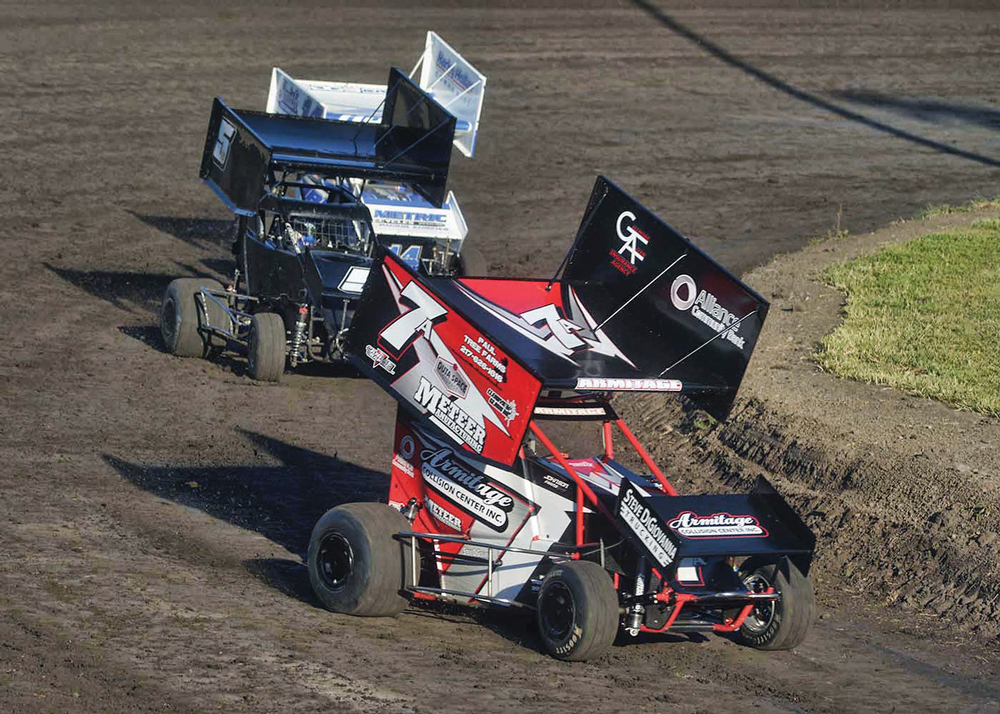 Of course, like any type of racing, there are big spenders that are willing to devote a seemingly unlimited amount of money to their pursuit of small advantages. But with tight rules and the limited grip of these cars' relatively small tires, wild budgets typically don't translate into massive advantages on the track, according to our sources. 
"There's the money guy that will buy all brand-new stuff every year and have the latest, greatest of everything," said Mike Dicely of Hyper Racing. "And then there's the budget guy who's buying the rich guy's used stuff, or even a third-hand car. But the cool thing is in 600, you can be competitive if you're knowledgeable and know what you're doing. You can buy a $10,000 used car and go out and win races with it, no problem. There isn't a huge division between the haves and the have-nots when you're actually out on the track."
The economy of these cars is helped by the fact that their designs, rules, and setup haven't changed dramatically. This makes it common for racers to have considerable success with far-from-new equipment. "Our last major redesign was in 2007," said Quick. "There are still quite a few old cars out there. People will just update the axles and wearable components. They'll use the frame and be good to go. Nothing's really changed too much as far as pickup points or design of geometry. So a 2000 car isn't really that much out of competition compared to a 2021."
Another big cost savings with micros, minis, and Lightnings is the fact that they don't require a large crew—or any crew at all for that matter. This not only cuts costs but adds tremendous flexibility to the logistics of getting to and from the race track. "The majority of guys will show up by themselves, or maybe with one guy," explained Alex Grigoreas of California Lightning Sprints, Upland, California. "There isn't the need for a crew like you would have with a sprint car or midget. These cars are self-starting, and they've got clutches, so you don't have to worry about being pushed off like you do a sprint car or midget. You literally get in the car, fire it up, and drive it to staging. You can show up by yourself and do just fine."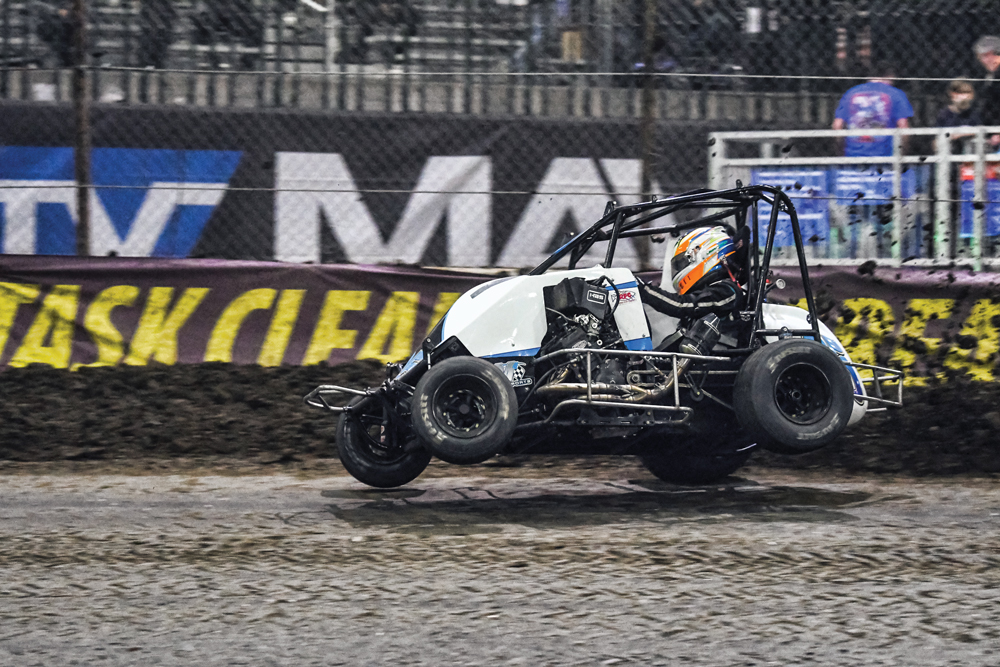 Adding further appeal to this type of racing is the emergence of big-money events, with payouts rivaling those of far costlier cars. This is prompting more racers to travel farther for a shot at these higher purses. "In the last three to four years big-money shows have really taken off," observed Quick. "There's a lot of $5000- and $10,000-to-win races. With those you can travel around and do kind of a tour schedule just with 600s."
These high-paying races, combined with the inherent low cost of running a micro, mini, or Lightning sprint, make it quite possible to achieve one of the rarest feats in the entire motorsports world—a race team that's financially self-sustaining. "With these cars, if you're not blowing up motors, or tearing up equipment, you're literally racing on what you're winning," said Grigoreas. "Your right rear tire will last two, three races. The left rear, I mean, jeez, we can go five, six races on the left. And fuel, I think we use five gallons a night.
"If you are running toward the front of the pack, you can literally run on what you earn," he added.
In spite of their bargain prices, micros, minis, and Lightnings offer strong performance and excellent racing. In some situations, their lap times are on par with V8-powered sprint cars headlining races. "We ran our cars at the USAC national at Bakersfield just before Thanksgiving," recalled Grigoreas. "If we were actually competing against midgets, we would have had Lightning sprints second, fourth, fifth, and sixth in qualifying."
Young Guns and Old Hands
Micro, mini, and Lightning sprints are increasingly popular as a career development step for young drivers. "It's becoming a great feeder series," said Kenny Brown of POWRi, Belleville, Illinois. "A lot of midget drivers and a lot of the guys jumping up to sprints come out of micros. It gives you that same feel of running a midget or sprint car. They learn to understand a midget or sprint because of the similar dynamics and technology of those cars."
Helping fuel the move toward these cars becoming a major development class is the emergence of rent-a-ride setups. This allows competitors to easily and quickly race a strongly competitive car that's set up well. "Pay-to-ride type driver development platforms have really taken off in the 600s," said Dicely. "They're good for parents who don't have a lot of mechanical experience or racing experience, but their kids love to race. If they have the money to be able to rent a ride, their kids will have good guys behind them who can teach them how to drive and give them good equipment."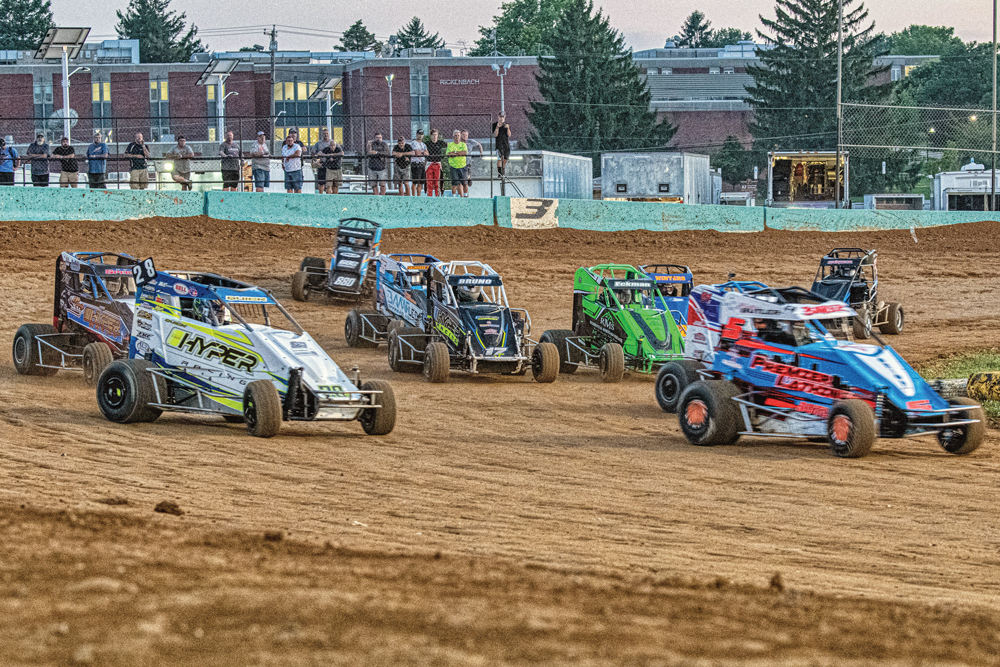 Another plus for these cars serving as development classes is the strong presence of veteran drivers that populate race fields. These cars have always been popular with experienced drivers looking for a simple, relatively inexpensive way to compete. And those fields benefit up-and-coming young drivers, too. 
"We're seeing a lot of kids coming up from quarter midgets," explained Grigoreas. "And half of the guys racing 600s here have run midgets and sprint cars competitively over the years. This gives those younger guys an opportunity at 13 years old to run competitively against really experienced guys.
"We welcome those new kids," he added. "There's not too many guys here that don't like racing with them, because a lot them have already got 10 years of experience. And once they get ahold of these cars and figure out how to drive them, they get kind of hard to beat!"
With tight competition, strong performing cars, and the lessons of veteran drivers, the young guns that use micros, minis, and Lightnings as a steppingstone often graduate to other series relatively quickly. While this isn't particularly surprising, some in the sport feel this progression perhaps moves a little too quickly. 
"Top drivers come in and race two, three, four years—they get to the top of our class and they just move on because they want something bigger and better," noted Bayer. "I'd like the young guys to stick around longer. But I understand why they don't. And that's not what the series is built around. So I don't think we'll get there."
Motor Matters
Although micro, mini, and Lightning sprints haven't seen any radical technical upheavals in recent years, there is nonetheless evolution in their mechanical systems, most of which centers around the engine.
In particular, much attention is being paid to auto tuners, and their potential to be used for traction control. "We can run either gas or methanol in these cars," said Grigoreas. "And a lot of the guys that run methanol have to have tuners and things to make these production-based engines run a little bit different with alcohol. But some of the systems have the capability of auto tuning the car. It's kind of a gray area—trying to cheat a little bit, by being able to restrict timing on stuff that has no traction control."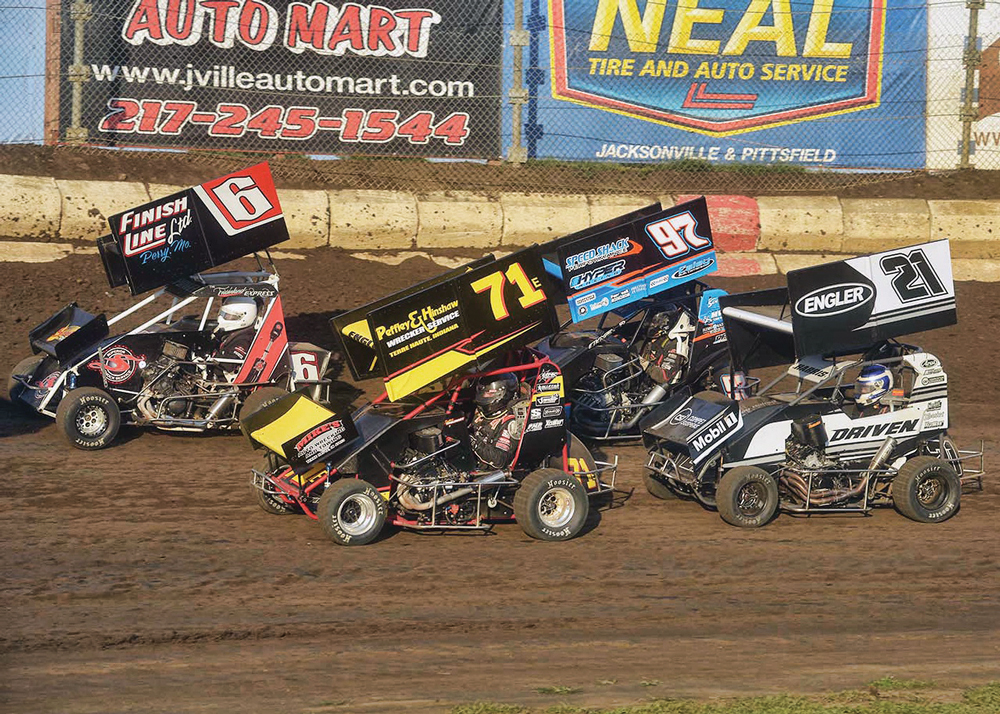 Although much of the action in this segment is in the stock class, there are still opportunities to gain additional power through careful prep by engine builders. "Eighty percent of the engines we do are A-class engines, which are essentially stock," said Don Sakakura of Yoshimura R&D, Chino, California. "But there's a lot to be gained with the minor modifications within the rules that are legal. A lot of it is in reprofiling the valve seats. And that's within the rules. You're not touching any aluminum. There's a lot there in intake and exhaust flow. And you can adjust compression ratios very slightly. We get an average of about 12% to 15% more power doing these things to an A-class engine."
Yoshimura's A-class 600cc engines begin life as brand-new crate engines from Suzuki. But most of the engines powering micro, mini, and Lightning sprint cars start their racing career in a far less favorable manner—they come from wrecked motorcycles. Some in the sport feel this is one of its biggest vulnerabilities. 
"I think the biggest challenge for micros is that they use motorcycle motors," said Brown. "We're depending a lot on crashed bikes. They go to the junkyard, then people purchase them and dump a bunch of money into them. A lot of guys are running 2007, 2008, maybe 2010 motors. It takes a lot of money to upgrade them so they can be competitive."
Some say that brand-new crate engines are the solution. That can be a tough sell in these budget-oriented racing classes. But in the long run, it may ultimately prove more cost-effective. 
"From what I'm hearing now it's getting more and more difficult to find a good, low mileage used engine," said Sakakura. "They're just not available like they were a few years ago. A lot of these guys will buy a used engine, and down the road for them it turns very expensive, because they don't really know what they're getting into. We see engines come through that have only a handful of races on them and connecting rods are hanging out the front of them. It can end up much more costly than it would be to buy a new engine at the beginning."
R.E.S.P.E.C.T.
With so many positive elements going for them, micro, mini, and Lightning sprint cars are enjoying strong growth and solid popularity among participants. This is evidenced by the healthy car counts reported by all of our sources—typically averaging in the neighborhood of 25 to 35 cars. 
But this raises a frustrating question echoed by almost every one of the sources we talked to: Why don't these cars get more respect and publicity? 
"I'd like to see fans giving us the recognition that we deserve for the awesome racing we put on," said Dicely. "I think if they gave it a chance, if they came out to see a 600 race, they'd see it's really good stuff. And if we get that, then I think the class could really take off."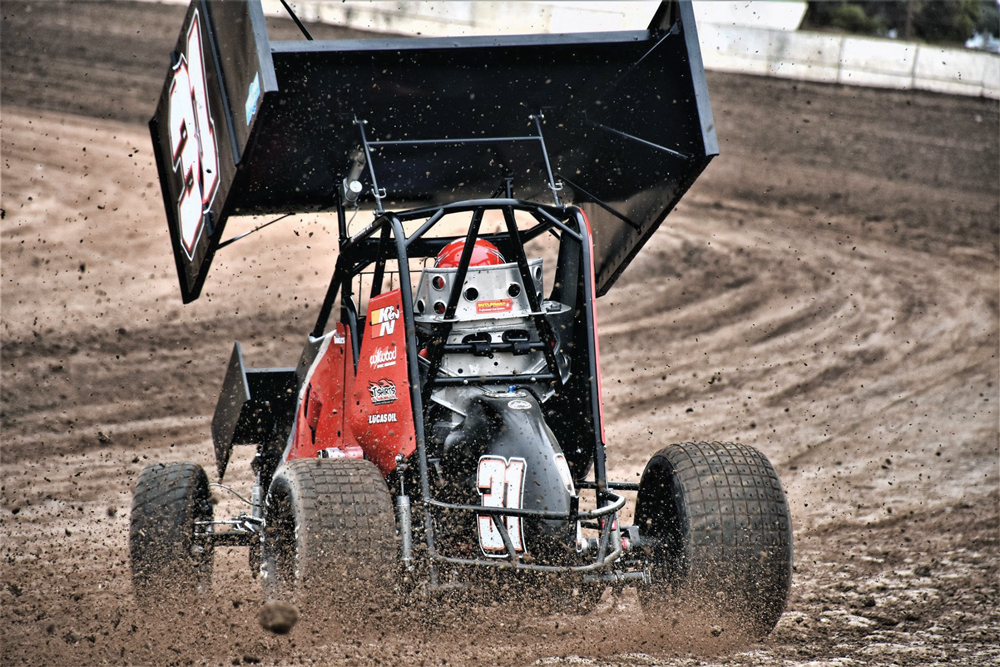 Some feel this apparent lack of respect stems in part from the motorcycle DNA of these cars. "If nobody knew these are chain-drive cars, they'd probably get a lot more attention," said Grigoreas. "I know that sounds kind of funny, but old sprint car guys and hardcore midget guys look at these cars and go, 'It's got a chain on it, it's not a real race car.' But if they were ever to get in one and actually race it, they'd be absolutely amazed at the performance of these cars. And it's kind of the stigma that we've always dealt with. 
"But I can argue that point all day," continued Grigoreas. "When a chain-drive, motorcycle-engine car is running just two thousandths of a second slower than quick time against national midgets, that's pretty good."
SOURCES
–
California Lightning Sprints
racecls.com
Hyper Racing
hyperracing.com
Midwest Mini Sprint Association
midwestminisprints.com
POWRi
powri.com
Yoshimura R&D
yoshimura-rd.com