Special Report: Eyes on the Prize
Image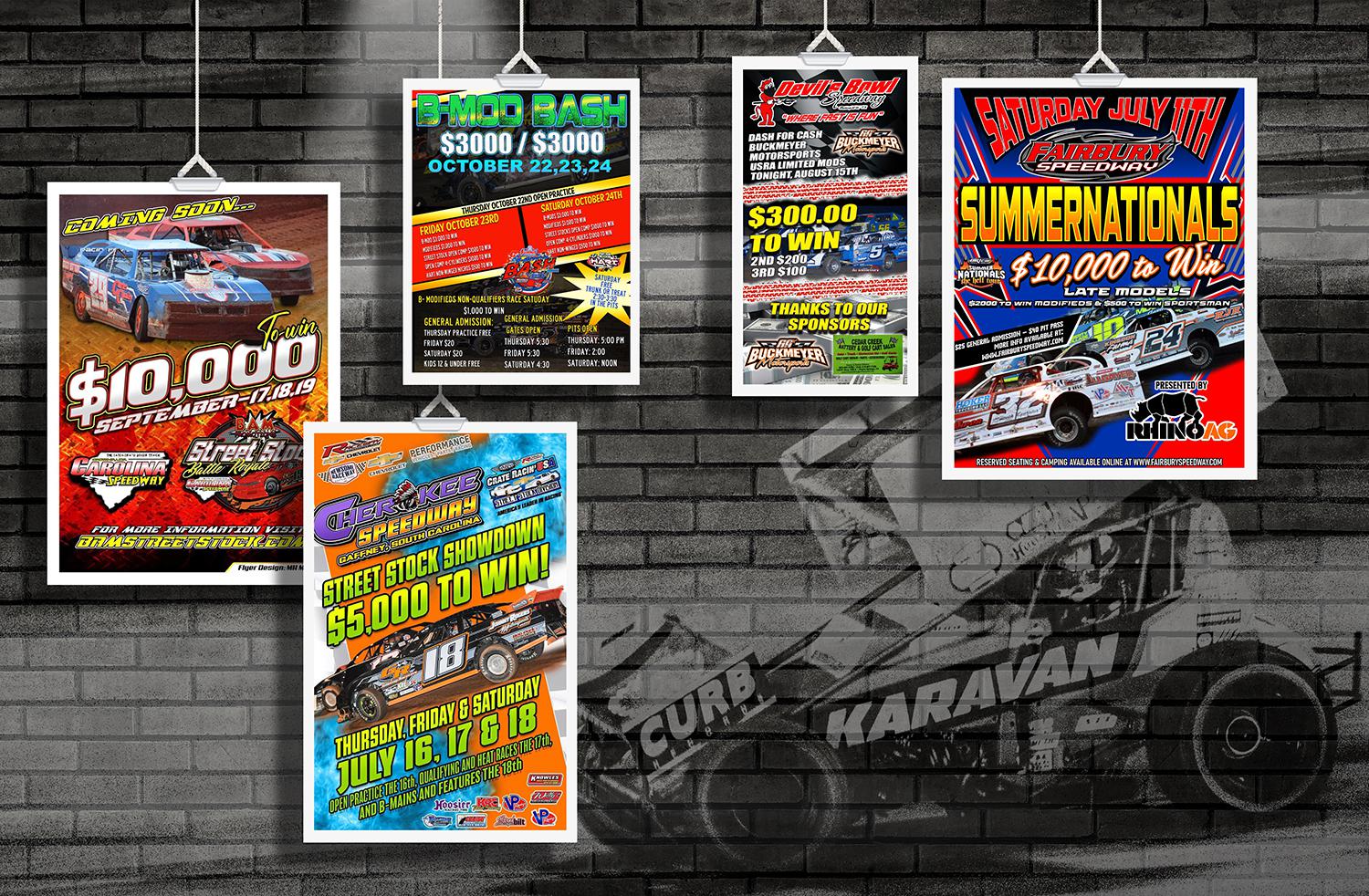 Purse structure is really not all that complicated, but that doesn't mean there is a one-size-fits-all solution to how payouts are determined, or their impact on front and back gates.
No matter the activity, it's impossible to get away from the subject of money. And for a sport like racing, money can be the make-or-break factor for whether a team can hit the road in search of victories, or throw in the towel and be content to watch others race on TV. The size of the purse—or the lack of—is never far from a racer's mind. Grumbling in the pits about prize money is as age-old a tradition in racing as raising a trophy in victory lane.
For such an important subject, however, much of what people think they know about racing purses often comes from rumors, assumptions, and guesses, with a lot of relevant information filtered out. That's only natural, given that how prize money is calculated is rarely discussed openly.
At a fundamental level, the amount of prize money available comes from just a handful of sources: Front gate revenue (paying fans), back gate (racer entry fees), and sponsor money. Add in a few unique elements for larger series like TV or streaming revenue, maybe some concessions sales, and that's the pie to be divided.
Nonetheless, with such seemingly simple and obvious sources of revenue, racers often encounter wildly varying purses. Some tracks and series offer huge money to win, and not so much for finishing mid-pack. Others pay well deep into the field, and less to win. The best offer guaranteed-start money. 
How does all that get decided?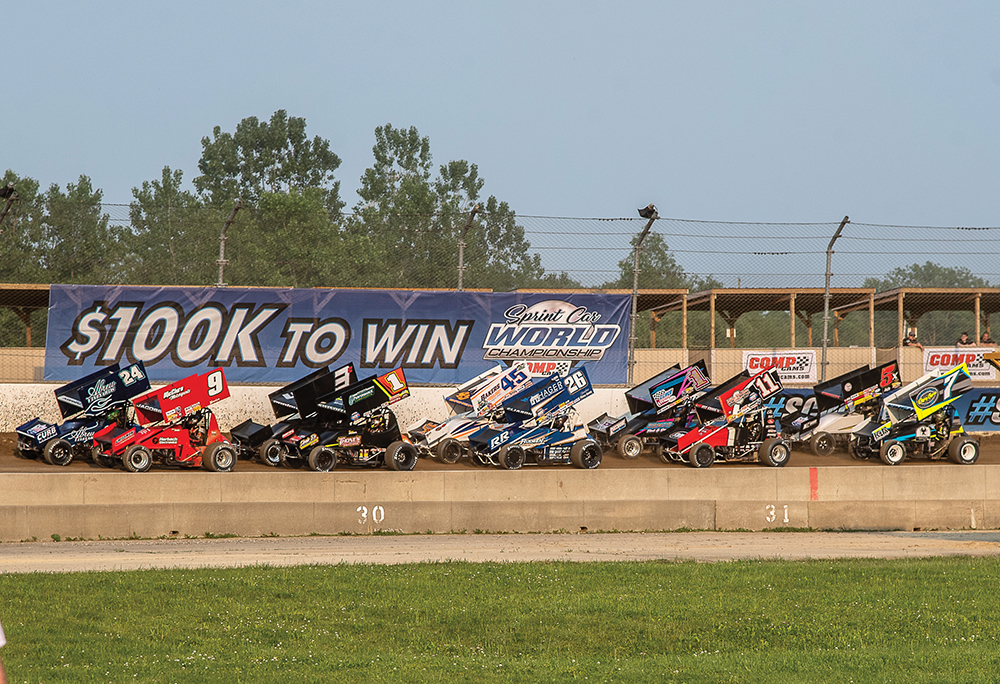 Numerous calculations go into how much prize money to offer, and it can differ from track to track depending on local conditions and management philosophy. 
"There's a lot of different theories about how to balance that money back out," said Brian Carter, CEO of World Racing Group, which encompasses the World of Outlaws, based in Concord, North Carolina. "A lot of places like to run for huge money to win, and then it doesn't pay a whole lot through the field. That may be good for promoting or for encouraging some of the top cars, but it doesn't create a cycle with the racer that is sustainable if the guys who are running 10th aren't getting paid a lot of money. At some point you start discouraging the guys from coming and trying to run for 10th. You pay great 'to win' money, but if you're not paying through the field it may not be the right spread of the prize money.
"Some places only pay if you make the feature," he added. "That's the place where there's a lot of inconsistencies across the country, with what does the start money look like, what does the tow money look like, and how is the breakdown of the prize money."
For a number of tracks, giving special attention to the grassroots ranks is a fundamental building block, even if the immediate payoff is not always obvious. "I think you step back and you first identify that your Sportsman program, at your host facility, is the absolute bedrock, the foundation, the core that you build your business around," said Bill Bader Jr. of Summit Motorsports Park, Norwalk, Ohio. 
"It's certainly our core at Summit Motorsports Park," he continued. "So, to have a strong and healthy bracket program on a weekly basis is the cornerstone, and that then feeds all of the specialty races that you have not only in your calendar year, but in neighboring tracks' calendar year. This year we have a 15-race series, the Edelbrock Super Series, and it's really designed to attract and reward your weekly bracket racer. Those core racers then support everything else you do, whether it's a brand event, like Ford or Chevy, or an event like the Halloween Classic, or the $40 Grand Nationals or No Box Bonanza. That is the pool upon which you draw that really feeds your entire year. And people don't always consider that. They look at their bracket program as a standalone rather than the base upon which your entire year is built."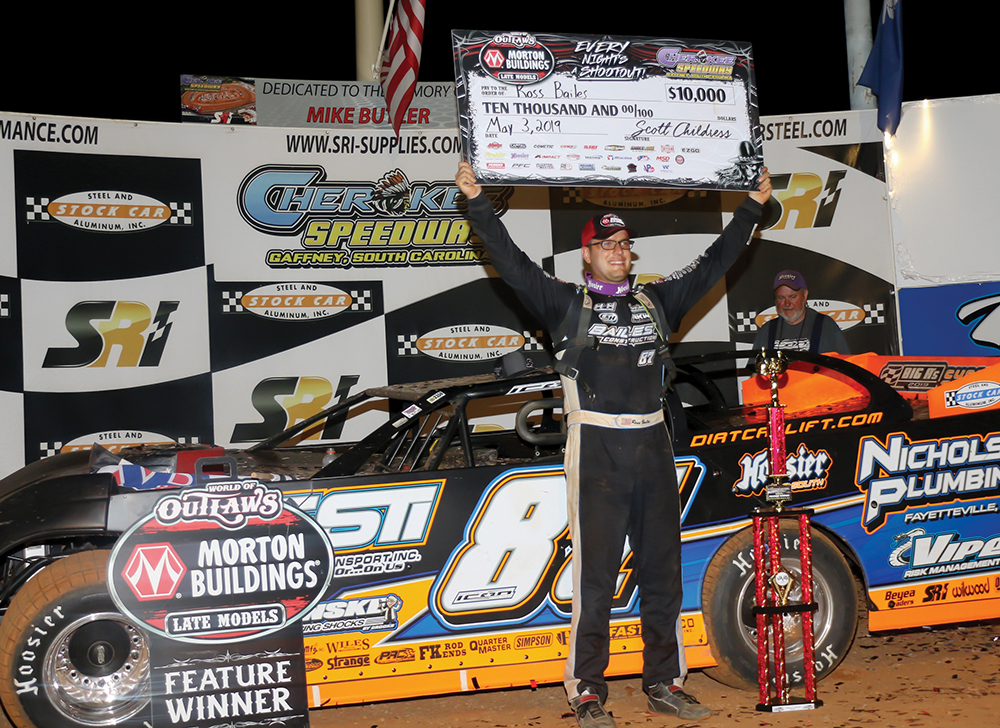 Building a healthy weekly Sportsman program can pay big dividends, but it's not an easy process, especially when it comes to purse payouts. "If you look at it on a standalone basis, those weekly bracket programs don't make a lot of money," Bader said. "So while they are vitally important to why we get 1,200 cars at the Halloween Classic, or why we get almost 900 cars at the Night Under Fire, or why our $40 Grand Nationals and No Box Bonanza sell out, there's kind of a macro view and a micro view. On a macro level those programs are essential, and critical, and vital. But on a micro view, they, as a standalone 15-race series, make very little money. So, therein lies the problem. Because what's the single biggest expense you have at a Saturday night bracket race? The purse."
To be clear, cultivating grassroots loyalty pays dividends, but sometimes track promoters find out that prize money doesn't always matter as much to racers as is generally assumed. "We're always looking for something new to keep racers interested and coming to the track," said Wayne Delmonte of Lebanon Valley Dragway, West Lebanon, New York. "Two years ago we went to what most tracks don't do, we went to a second-round winner money. So basically, if you won second round, you got money back. Which isn't much—it doesn't even cover your entrance fee. We just found out that a lot of racers never even come and pick up their purse when it's that little. I don't know if they feel bothered by it. They had to know it, because we announce every weekend, 'If you won second round you need to pick up your money.' And the amount of racers that don't come in for second-round winner money was quite surprising."
Making sure the prize money is spread deep through the field seems to move the needle for most series and tracks, however. "Our Fonda 200, which is a 200-lap event at Fonda Speedway coming up in September, this year I raised the green money up to $1,000 to start that event because of the extra laps," said Brett Deyo, series director with the Short Track Super Series, a touring series for modifieds based in Delaware.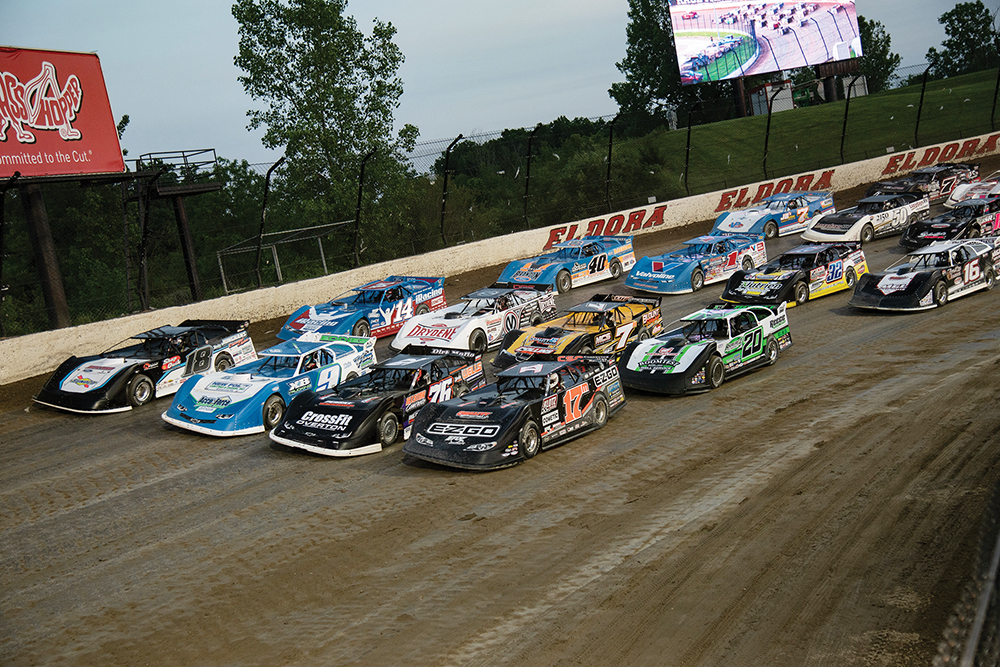 "It's $53,000 to win that race, but we moved the green money up to $1,000 to try and attract some of the smaller teams," Deyo explained. "I found, to be honest, paying more in the middle to the back sometimes can bring you more cars than the front. The big names are going to come whether it's $5,000, $10,000, because they race for a living and they need to. But it's the smaller teams, the hobby teams, the drivers that have a full-time job or own their own business, those are the teams we need to target to make sure the car count stays up."
"I'd say, the last few years, promoters have really been making an effort at spreading the money throughout the field, so it's not such a top-heavy purse," said Shawn Miller of Inside Line Promotions, Lewistown, Pennsylvania, which specializes in marketing and promotion for the motorsports industry. 
"That's been a big topic in grassroots racing over the last few years," he continued. "That's great to offer the big money, and that's what's on the billboards and social media graphics, what it pays to win. But almost as important, or maybe as important, is 'What does it pay to start?' And can we make sure the guys that are making the show and finishing 20th are happy that it's a big event and that shows in their pay, and not just the guy who's going to win the event."
For the moment, at least, the big-money-to-win events are cruising through the motorsports ocean like giant tankers, pulling smaller vessels in their wake. "Our goal is to retain as many people in our pit area on a weekly basis as we possibly can, to defend against these predatory events that want to suck our core out of the pit area every week. I do believe tracks are suffering from the volume of big-money races that are taking place," said Bader. "I also think that the big-money race is novel, it's the new shiny toy. But I think it will run its course. I don't know that this type of racing can sustain long-term. Because again, there are going to be so few winners and so many losers."
Also complicating the subject of racing purses is just how much money many of today's racers are willing to spend to compete. How can a local track that's paying $1,500 to win lure a racer traveling the country in a six-figure motorhome with a fleet of expensive support equipment, but who believes the purses should cover all his costs?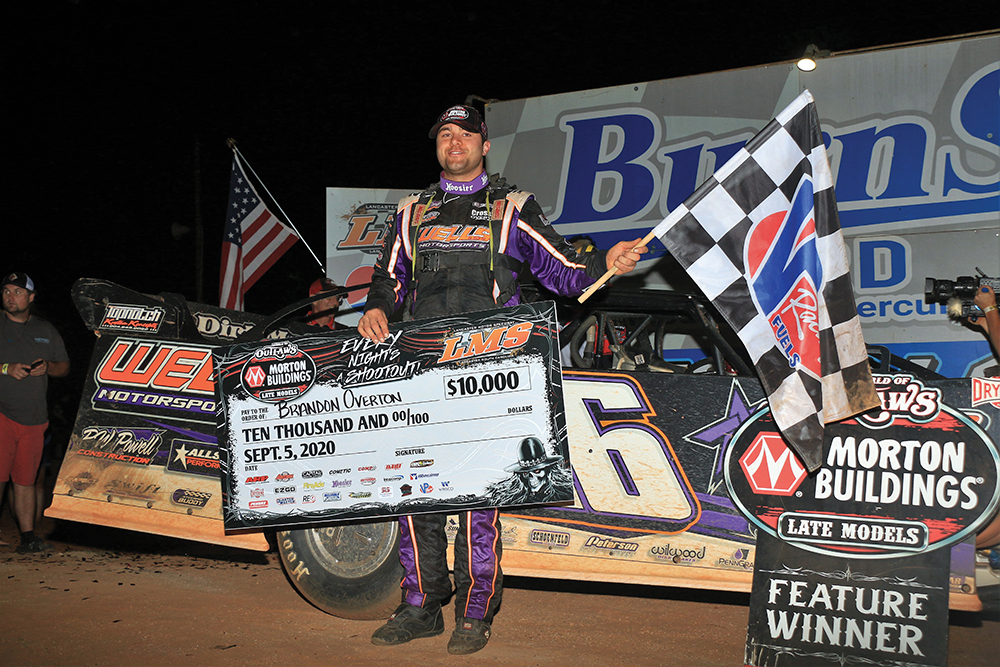 "Racing back in the day, you had a lot more people that were racing for fun because they were racing at home tracks, and that's just what they did on Saturday nights and they enjoyed it," said James Sawyer, general manager at Volusia Speedway Park, Barberville, Florida. "And now you have so many more people that are racing as a living or as a business, so they have to look at the same revenue costs and sponsorships just like we look at it from the promoter's side of things, as to what kind of money and purses can we pay, and who can help fund it."
"What none of us could have probably anticipated 30 or 40 or 50 years ago was the wealth in the sport and the manner in which racers are traveling across the country coming to our race tracks," said Bader.
"I think the drivers sometimes don't really consider the effect of where they race on what they get paid," said Deyo. "With our tracks, especially Fonda in New York, because we have so many neighboring tracks, I look hard at who goes where. I have probably one of the higher purses in the region that we race on Saturday nights, and when I see drivers racing on Friday for 60% of the purse, it definitely makes you question your business model. I've always said that drivers set their purses just as much as promoters do by selecting where they race." 
Attempting to make prize money work more efficiently for the racer has led to new ways of looking at the subject. The Bandits Outlaw Sprint Series, based in Dallas, Texas, was started to try to find a more sustainable model for sprint car racing, said Darin Short. What that led to was a rulebook oriented toward keeping costs low, equalizing opportunity, and making the purse go further, as well as making high-finishing payouts more accessible.
The Bandits Outlaw Sprint Series restricts the amount of horsepower that can be transmitted from the engine through the tires to the race track. It does this in part by limiting the top wing angle to 20 degrees, which limits downforce, which in turn saves tires and other components on the car that are stressed when the wing angle is high. There's a minimum weight limit of 1,500 pounds, and when weight must be added it has to be placed in front of the motor plate.
"We have guys with open trailers parked next to people that have 48-foot trailers that are able to race side-by-side with a much lesser budget," Short said. "The other trick is, we do not allow you to race with more than one pair of rear tires all night long." Making teams run the same tires in the heat race as the feature keeps deeper-pocketed teams from slapping on fresh tires for the feature and pressing their advantage. "You cannot buy a win in our series," Short said.
"At the end of the night, you've got a $350-less tire bill, and effectively what this means is you just got paid $350 more to race. You've still got that money in your pocket. Whereas if you would have slapped on those tires, you're just so used to that, it's the way it's always been. Well, no, that's not the way it has to be," he said.
From the Other Side
For racers to understand the ins-and-outs of prize money, it helps to peek behind the curtain at what tracks and promoters face to put on the show. They might be surprised to discover that some long-held beliefs are out of date.
"I think the racing community is very smart—look at the manner in which they are traveling around the country," said Bader. "A lot of these folks are white-collar professionals, well-to-do, or highly compensated blue-collar folks, so there's a lot of money in the pit area. There was a time when the track operator was the wealthiest guy on property, and now he's probably one of the poorest guys on property. There's not a lot of money to be made in this sport. Now remember, we are a sport, we're an outdoor entertainment, we're subject to weather, we're subject to the economy, we're subject to fuel prices, we're now subjected to a pandemic. I think there is a misconception that tracks and promoters are just making a lot of money. And that is not true. That is absolutely not true."
The costs involved in keeping a track operational just keep expanding, according to our sources. "I think sometimes a lot of the other costs are overlooked," said Short Track Super Series' Deyo. "You might think, 'Oh, there's not that many employees here,' but when you start adding up all the corner workers and ticket booth people, concession people, security, I think that's underestimated. Just Porta Potties alone at our race track in Delaware, I spend $2,800 a month. You have to have them, it's the right thing to do for the people that are attending the event. Other improvements, sound system improvements, equipment failures, there's just so much. There's a lot of other expenses," he said. "Imagine Walmart existed and had to pay taxes and all the other expenses but could only open 20 out of 365 days."
Many trackside services, too, often get taken for granted, but they aren't free. Somebody is paying. "Where I can really shine is the off-track experience, creating a culture, and all of these creature-comfort features like free electricity in the pits," said Bader. "I mean, I have a $300,000 electric bill every year because we can hook up close to 300 motorhomes in our pit area for free. Flush bathrooms, the fact that a human being answers the phone every minute of every day as opposed to voicemail. There are a lot of services that go into running a race track." 
Counting cars at the track may not give a clear picture of the economics at work either. "A lot of racers say, 'Oh, you have X amount of cars there, you're making millions of dollars every year.' Well, that's not true for any facility with racing anymore," said Delmonte. "It's a tough sell to make money at a race track, especially if you have a lease on your facility or don't own it outright and have a mortgage, that's just another added bill. And it's got to come from somewhere. The way sponsorships are going these days, the sponsors aren't handing out the money like they used to. So, you're relying on one of two things—either the spectator coming through the gate, or the racer."
Away from a track-level view of the money situation, a wider angle can paint a bleaker picture. Short, who has been promoting sprint car races for 40 years, said the 21st century has been one upheaval after another for the economics of racing. He traces it back to the rising costs following 9/11. "This is when the wheels fell off the wagon in this sport," he said. Rising gas and diesel prices made transportation costs skyrocket, keeping racers and fans closer to home, and raising prices for parts. Steel and aluminum prices also increased dramatically, touching all areas of racing. Behind the scenes, another cost began ratcheting up—track insurance. "Everybody started to sue everybody for any little thing that happened at the race track, because they could find a lawyer and make it happen. That became a huge issue over the past 20 years."
Future Money
Of course, large-scale forces are still at work even now that affect racing, some of which may benefit both drivers and promoters. 
"Streaming revenue is a newer revenue stream for the sport, and it's still developing," explained World of Outlaws' Carter. "We reinvest a lot of the resources that we create through the series, either through ticket sales or sponsorship, and streaming revenue is becoming a bigger and bigger part of that. Our reinvestment is being made in different ways. We're reinvesting back into the fan experience, we've reinvested into the large-scale video screens, we've done some staffing on promotions, and we have enhanced the prize money along the way. Five years ago, 10 years ago, it wasn't a measurable factor, and now it's becoming a bigger part of the resources created by the events and how they get managed back in." 
For the Short Track Super Series, streaming has been a big positive that has led directly to better prize money, reported Deyo. "For us, we were able to run in Louisiana last fall during hunting season when I knew we weren't going to get big grandstand gates and pay big purses," he admitted. "I paid $20,000 to win on a Saturday in Chatham, Louisiana, last November, and I wouldn't have been able to do that without the livestreaming. And that's definite. To me, it adds a third gate. It has always been that promoters look at back gate, which is the pits, front gate, which is the stands. To me, now you have three gates to work with because you have the livestream option. It opens the door for some bigger payouts. 
"For us," Deyo continued, "because we are such a Northeast-based division with our modifieds, it really has opened the door for us to go to other places. We went to Tri-County in North Carolina last year, Cherokee in South Carolina, we went to Ark-La-Tex, which is basically on the Texas border. We went to Chatham, Louisiana, and I've raced in Florida for two consecutive January and February events, and none of that I don't think we'd have been able to do without the option of giving our Northeast fans the ability to watch from home."
Deyo expects streaming will have an expanded role in filling in the gaps for a fragmented audience. "The other thing I see is, especially for weekly racing, a husband that likes to go to the races every Saturday, his wife wants to go camping one weekend. If you have no livestreaming you lose everything from that family—they're gone, they're not at your race track. But if you have the livestreaming option and they go to the lake camping, they can sit down, get it on their computer, watch it on the TV at the campground. So you get something from them. I see that as a gain, too."
The jury is still out as to whether livestreaming will do much to add revenue and enhance purses at smaller venues. After all, there's not much of a streaming market for a weekly bracket program.
Delmonte at Lebanon Valley Dragway is wary of the possible incentives being introduced. "If you give that person the opportunity to stay home in their seat and you charge them whatever it is, say $12 to stream that event, when you come through the gate that's $12 per person. They can stream the event for $12 and have 20 friends over and watch the races," he said.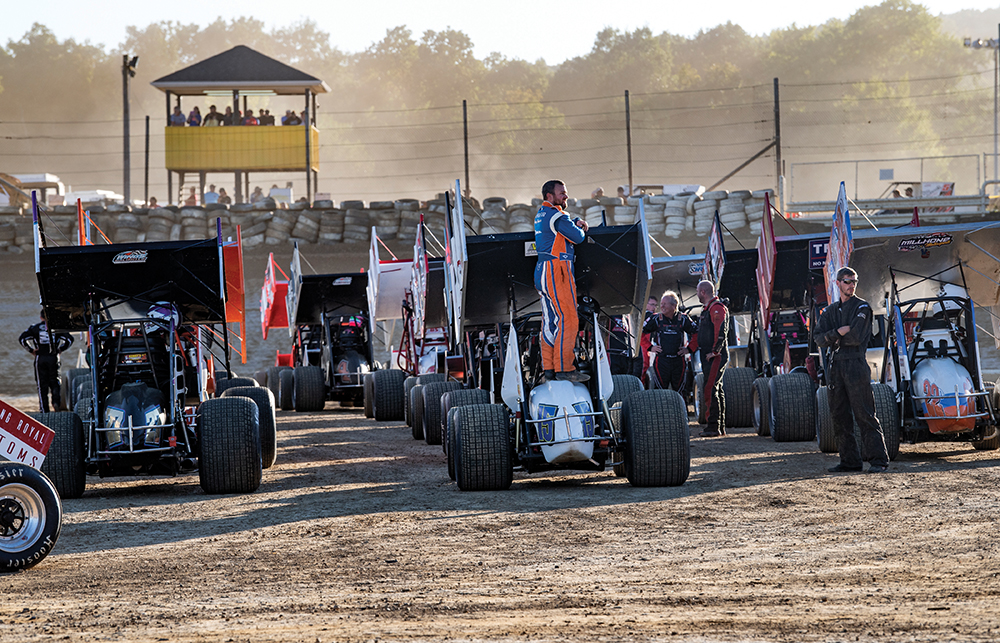 Short with the Bandits Outlaw Sprint Series is also conscious of how lopsided the benefits of livestreaming can be. "I am completely not a fan," he said. "I know the race tracks are getting something from online streaming. It depends on what the contract is. But those are huge venues. That's only huge venues that can service several thousands of people that those types of economics can work in. If you have a race track—like the bulk of race tracks in this country—it might only hold a couple thousand people in the stands. Those are the tracks that are going to have a problem with this, the whole online streaming revenue platform. There's just not enough series out there that are that high end, that command that many viewers."
Short sees the potential danger of creating a legion of "couch customers," and those fans don't contribute at the gate, let alone line up to purchase beer and hot dogs at the concession stand. Livestreaming made sense during the pandemic when fans were kept from the tracks, but there are big questions to be answered going forward, he believes. "If the track ends up getting left with an empty bag, because somebody comes in and basically uses their venue and their event to just make money, and it doesn't help the track, well then I've got a real problem with it," Short said. "The tracks better be making sure they're getting their end covered."
Many of the stakeholders we spoke with see purse payouts rising as the pandemic recedes in the rearview mirror, and most have already announced boosts for 2021. In February, Lebanon Valley Dragway announced a $20,000 bump in year-end points payouts for the Summit ET Series. "That's more than a double increase from last year for what we had Super Pro to win," Delmonte said. "In the past couple years, we've offered, basically, to win the Super Pro points championship was $2,100. For this season, we're upping it to $5,000. Pro was the same thing, $2,100, and we upped that to $3,500 this year, just hoping that more guys want to join our points system and come on a weekly basis to compete for that championship."
World Racing Group has also announced bigger payouts in 2021 for both World of Outlaws series. "At the World of Outlaws level, we increased both the sprint car and the late model base prize money for a standard event," Carter explained. "For the sprint cars we increased that about $3,000 a night, on a standard purse. And on the late models, we increased that about $9,000 on a standard purse. So effectively, the sprint cars and late models World of Outlaws base purse is exactly the same. That's a nice raise for everybody that's racing, and it's based on the continued resurgence in the sport and the increased attendance and the resources that are being made available to everybody by just promoting the sport better. We were able to implement those for 2021 and are already in place. The long and short of that, with everybody else that followed, it's an extra million-and-a-half dollars over the sport in 2021 alone just in the baseline purses and everybody else that followed suit."
For an industry still on the rebound from pandemic lockdowns, rising purses is a hopeful sign. "It has been coming for a long time. You could see enough of the trends," Carter said. "We would probably have done it in 2020 if we had a better year, but we're ready for it in 2021." 
SOURCES
–
Bandits Outlaw Sprint Series
sprintcarbandits.com
Inside Line Promotions
insidelinepromotions.com
Lebanon Valley Dragway
dragway.com
Short Track Super Series
shorttracksuperseries.com
Summit Motorsports Park
summitmotorsportspark.com
Volusia Speedway Park
volusiaspeedwaypark.com
World of Outlaws
worldofoutlaws.com
Money Talks…Or Does It?
–
The pressure was on.
It was the mid- to late-1990s, and several Indiana dirt tracks were facing pushback from racers to increase their purse for weekly traditional sprint car programs. Weekly programs had been paying in the range of $600 to $800 to the winner, and tracks such as Bloomington, Gas City, Putnamville, Lawrenceburg, Kokomo, and Haubstadt began bumping purses to the $800 to $1,000 range in hopes of continuing to attract cars.
As this was happening, promoter Keith Ford of Paragon Speedway made a surprising announcement. Ford—an old-school promoter with a strong independent streak—announced that Paragon's Saturday night program would pay $500 to win, and $100 to start. And there was a caveat: Every car would run a feature race. If the car count exceeded a set number, a second feature would be added. And, if needed, a third feature.
People throughout the state laughed. "Wow, Paragon won't get any cars!" was the conventional wisdom. Why would anyone drive past a track paying $900 and race somewhere else for $500?
Soon enough, on a weekly basis Paragon was drawing enough cars to run multiple features, and their pit area was filled with eager racers. The robust weekly program—and the unique purse format—would continue unchanged for more than a decade.
Those racers could have easily chosen to race for a higher purse at a nearby track. However, the higher purses also meant a traditional program, in which only the top 20 to 24 racers would run the feature. Everyone else ran a 15-lap B-main and loaded for the ride home. The lure of Paragon was the guarantee of running a feature race—along with a minimum of $100.
The reasoning of many racers was immediately obvious: I'm willing to race for less money if I'm guaranteed to run a feature.
It was yet another example of the tricky and complex issue of purses in motorsports. There is a bedrock truth in racing—particularly at the grassroots level—that has been proven over and over again: The majority of racers are driven not by economics, but by passion.
Don't misread this and think that money isn't important to racers—quite the contrary. It's just that it isn't typically the driving force that keeps them in the sport.
In short-track racing, a purse with big up-front money is sexy. "$10,000 to win!" "$25,000 to win!" "$50,000 to win!" Those races tend to generate a lot of attention, and fans are often drawn to such events because they believe they will see the best racers. But it has become more and more common to see many racers pass up a high-dollar event to race elsewhere for a fraction of the money.
Why? There are often myriad reasons, but typically the central issue is they don't think they can win at the bigger race. Most racers would get far more enjoyment from winning a $1,000 race than making $1,000 for running 10th.
Any serious discussion of purse structure involves as much psychology as finance. Racers will tell you they deserve more money (they're probably right) and many view the purse as a measure of the respect they command. If you offered the World of Outlaws sprint cars a $100 top prize they would probably be offended, and rightfully so.
And racers have a fierce and dogged belief that they deserve their fair share when it comes to payouts. But what exactly is their fair share? And would more money make racers more loyal, and happier? Not necessarily, and that's where things immediately get very complicated.
A quick poll of drivers, mechanics, and team owners—at every level, top to bottom—reveals a surprising lack of understanding of the financial ecosystem of motorsports. A racer looks at a full grandstand and assumes the track is making a pile of money, very much unaware of the costs involved with running a track or series. (By the same token, very few series owners or officials have a full understanding of just how expensive it is to field a race car today.) There isn't a lot of transparency in this business on either side, and it's been that way since day one.
And the advent of streaming has brought another dimension; many racers assume tracks and series are making another pile of money from streaming. It's inevitable that racers will begin to insist on a piece of the streaming pie as well.
Aside from emotional considerations, there is a practical element to the issue of racing purses. The bottom line is that it costs a lot to go racing, and the money has to come from somewhere. For most teams that "somewhere" is a mix of race winnings, sponsorship, and family or business money. With everything combined, the team is able to keep going, more or less.
The best practical advice for every series and track is this: Get to know your racers. Talk to them until you have a clear idea of how they operate, how much it costs to be competitive, and their goals and ambitions. Don't assume; ask. And then listen very carefully.
In a perfect world the purse is an equitable share of the total revenue and is enough to keep the racer going up and down the road. And it's equally crucial that the promoter is still able to get to the bank on Monday morning—with a deposit.
And here's a footnote to that earlier story about Indiana sprint car racing in the 1990s: What everyone quickly realized is that both purse structures were feasible. The traditional setup worked well for most tracks, while the unique, guaranteed-to-run-a-feature structure worked for Paragon. The bonus was that Paragon soon became a development track, where many young racers got plenty of laps each weekend to build their skills before moving up the ladder.
Malcomb Forbes once observed, "The answer to 99 of 100 questions is money." He was right, of course. But that doesn't mean it's simple. —Dave Argabright