HEATING UP THE 410 COMPETITION
Image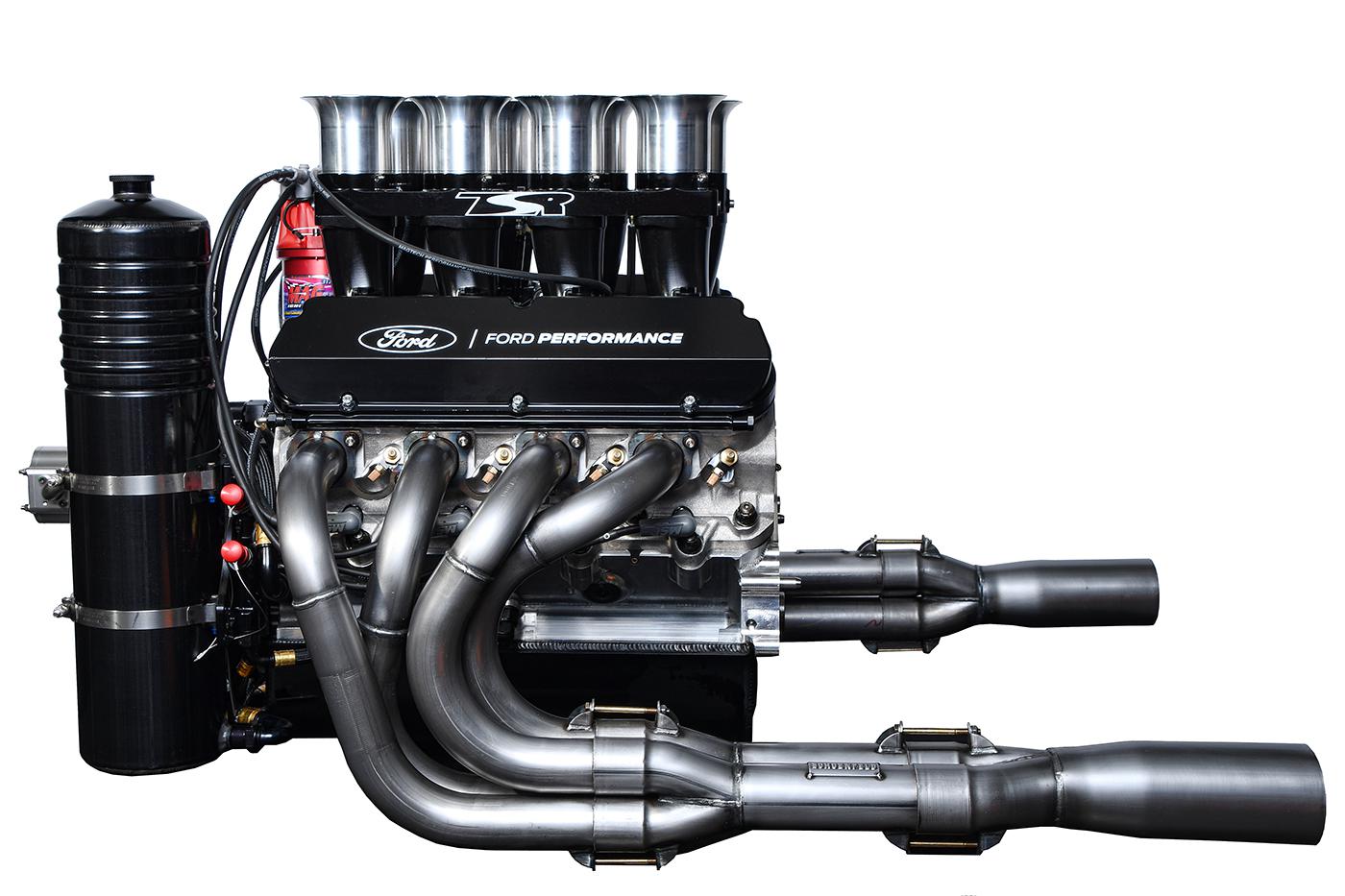 Ford Performance and Toyota Racing Development are both putting the finishing touches on their purpose-built 410-cubic-inch sprint car engines. With a fresh approach that focuses on performance, durability, and low weight, these new mills could soon be setting the pace for open wheel fields.
With some classes boasting power-to-weight-ratios that would make a Formula One driver jealous, top-tier sprint car racing is one of the most demanding forms of motorsports around. The 1,400-pound tube chassis race cars employ a wholly unique blend of suspension tuning and aerodynamic aids, and since it's a direct-drive powertrain, striking the right balance between horsepower and gearing is absolutely crucial. And when you've got nearly a thousand naturally aspirated ponies on tap, engine reliability is an ongoing concern.
The long-standing power plant of choice for sprint car racing is an all-aluminum 410-cubic-inch pushrod V8. The GM-based small block has been a staple of the sport for decades, with engine builders like Kistler, Gaerte, and Donovan supplying their own iterations of the worked-over motor to teams across the country. Viable alternatives for those looking to go a different route with their engine choices have traditionally been slim, but now Ford Performance and Toyota Racing Development are poised to shake up the status quo.
As they seek to expand their presence in the popular racing discipline, both automakers are in the midst of developing 410-cubic-inch sprint car engines of their own. Although these mills currently lack the many hours of refinement that have helped to make the GM engine a cornerstone of the sport, they each benefit from a contemporary engineering approach that has the potential to improve performance while also addressing concerns about the rising costs required to campaign a competitive car.
FORD PERFORMANCE GETS THE FPS 410 UP TO SPEED
Ford's new methanol-fed 410 is a Windsor-based block and features a 4.135-inch bore, a 3.800-inch stroke, a 90-degree bank angle, and a compression ratio that's expected to be greater than 16:1. In terms of output, the team targeted figures over 900 horsepower and 700 pound-feet of torque to achieve a general sense of parity with the rest of the field while maintaining their focus on keeping the package robust, reliable, and affordable.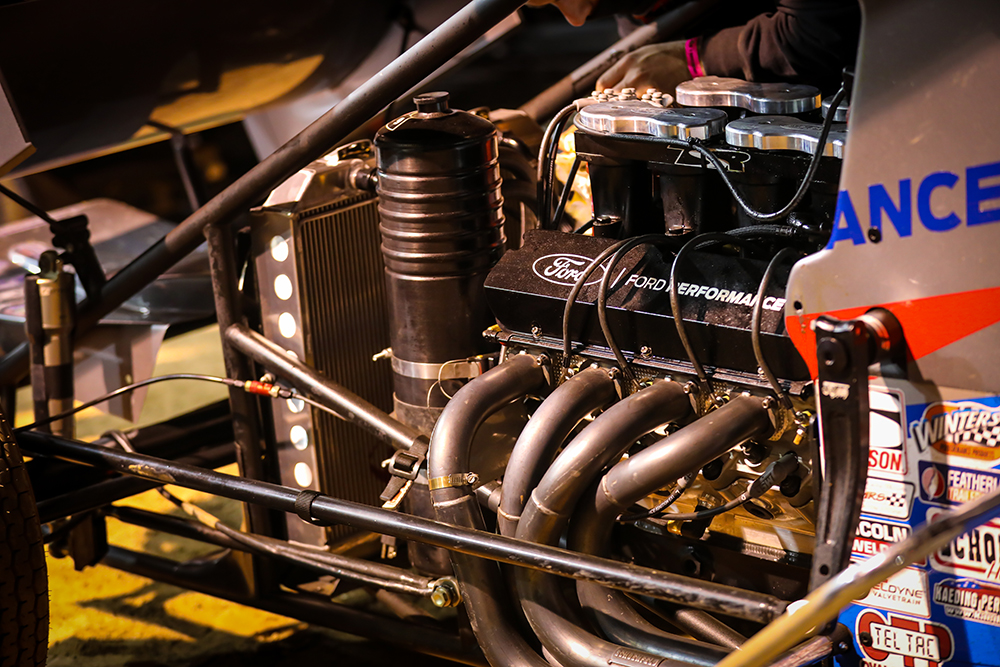 "The program originally kicked off back in 2016, when Tony (Stewart) and Stewart-Haas Racing (SHR) signed with Ford," explained Christian Hertrich, Motorsports Powertrain Supervisor for Ford Performance in Dearborn, Michigan. "Part of the agreement was that we would support Tony's sprint car program, and an element of the game plan was to change the power plant over to a Ford engine. Development was a little slow-going initially, as we were sort of wrapping our heads around what the sprint car engine was going to be. So in 2017 and into 2018, we started working on some cylinder head stuff and putting together what the structure of the engine was going to look like. By 2019, we were ready to move on to using Ford's analytical tools for data collection and dyno testing."
While the partnership between SHR and Ford was the catalyst that set the gears in motion for the FPS 410, Hertrich told us that Ford saw other opportunities associated with the project. "A lot of the racing that Ford supports is grassroots, and interest in sprint cars is huge among our fanbase," he said. "Right now, the sprint car world is dominated by Chevy; you see a smattering of Ford engines here and there, but ultimately, we were getting outclassed. So it was really about getting our stamp on it, being more directly involved, and giving the Ford name a bigger footprint in the discipline."
Hertrich said the team used Stewart's Chevy engine for baseline targets and went from there. "Well, you never want to be worse off than where you started, of course. So we used the Shaver engine to establish baseline targets that we needed to beat in different applications, whether that's a short track or mile track. And at the same time, we also wanted to make sure we weren't adding any weight. That's critical in the sprint car world, so we had to make sure we weren't putting mass where it wasn't needed."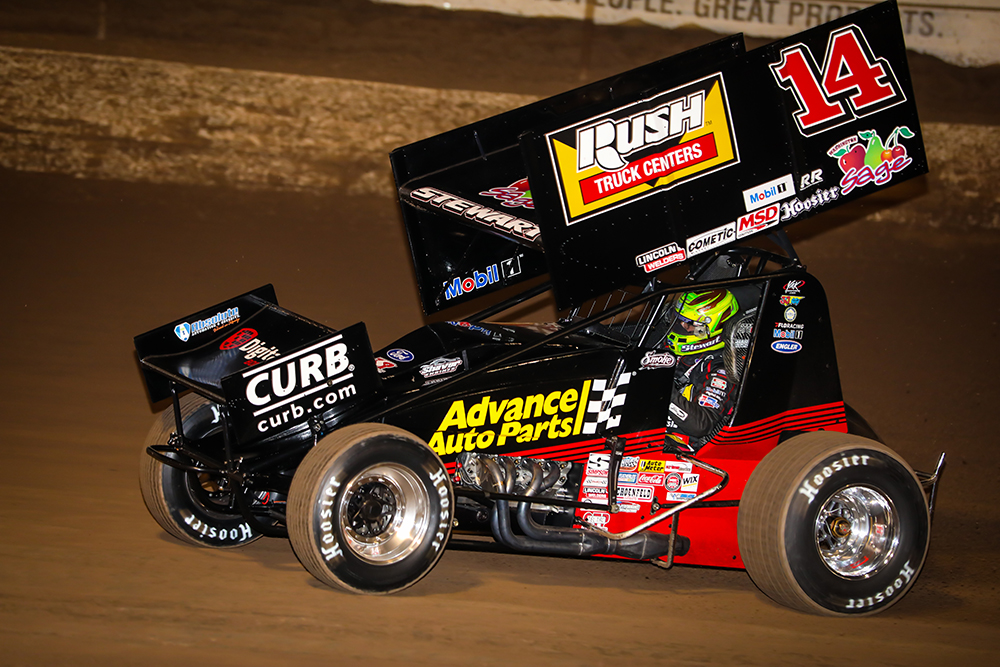 Yet, with more than 90 races on the calendar each season, durability was paramount. "It's not NASCAR or Formula One, where there's just tons and tons of money to throw at the program, so you absolutely have to prove the engine out," Hertrich explained. "It has to be cost efficient, so part of the mission was to make sure that these things we're doing are not super expensive. You've also got to be able to run week-in, week-out with the same engine and not send it back to rebuild, because otherwise your costs are going to be a nightmare. So one of the goals was to maximize the number of races this engine could handle before it needs to be torn down. That's a specific metric for us, so we needed to make sure that we met or exceeded that target number."
Hertrich admitted that the Windsor-based block was already a stout piece to begin with, so the biggest improvements came from the cylinder head they developed for the FPS 410. "Cylinder heads are very temperature sensitive—we really needed to keep those temps down to increase durability and maintain cylinder pressures. So the cooling system was a big focus as well, making sure that we're controlling the flows and we're even from cylinder to cylinder."
It's a sentiment that's echoed by Ricky Warner, crew chief for Tony Stewart Racing in Brownsburg, Indiana. "Durability, along with drivability and performance are a big deal with this new engine. The Chevys were pretty bulletproof, so there's a lot of work to be done to get it to that level."
Built around the World of Outlaws' rule set for 410 winged cars, the engine made its debut at an All Star Circuit of Champions event at I-96 Speedway on August 16, 2019. Development is still ongoing, but Hertrich said the early results are promising. "We won almost immediately after releasing it—Tony took a win with it in the second or third race it competed in. Tony was our proof point for the engine with the All Star series. We would get data from there and get some miles on the engine without worrying about messing up Donny Schatz's season in World of Outlaws."
Schatz incorporated the new engine into his program for the 2020 season, but with a limited calendar, vetting of the engine is still underway. "But we've come out swinging for 2021," Hertrich stated in March. "We've won three or four races out of the first six or seven events, so we're very happy with the performance thus far." Going forward, Shaver Racing Engines in Torrance, California, will be handling the rebuilds of the FPS 410.
Warner noted that as the program ramps up and Ford prepares to finalize the spec with an eye toward offering up an engine package for other teams, the last hurdle is parts availability. Beyond components like the MAHLE pistons, CP-Carrillo rods, Bryant Racing crank, and Jesel valvetrain parts that are used in the package, the engine also utilizes a unique U-joint made by Winters Performance, of which they are the sole supplier.
"It hasn't taken much to get this engine up to speed," Warner said. "There are just some components that are unique to this engine package that need to be made more readily available now."
TOYOTA RACING DEVELOPMENT JOINS THE FRAY
Toyota Racing Development (TRD) isn't quite at the same stage with its 410 engine program as Ford Performance is—we reached out for comment and they asked us to check back in with them when they're a bit farther along. But after speaking to Tom Rider of Rider Racing Engines in Mechanicsburg, Pennsylvania, the picture of what this engine will ultimately look like is a bit clearer.
Rider Racing Engines, along with Speedway Engine Development in Indianapolis, Indiana, will serve as the engine builders of the new Toyota mill, which is designed around the rule sets for World of Outlaws, All Star Circuit of Champions, USAC, and other sprint car series' 410 classes.
"When they contacted us in 2019, they were looking to do a new design from the ground up," Rider said. "And one of the main goals was to create an engine that would be available for anyone to buy or build—it wasn't going to be specific to a few in-house cars or something like that. And that changes some of the thought process in terms of design. They also wanted to keep the costs similar to the GM engine while also delivering output and weight that's similar or better."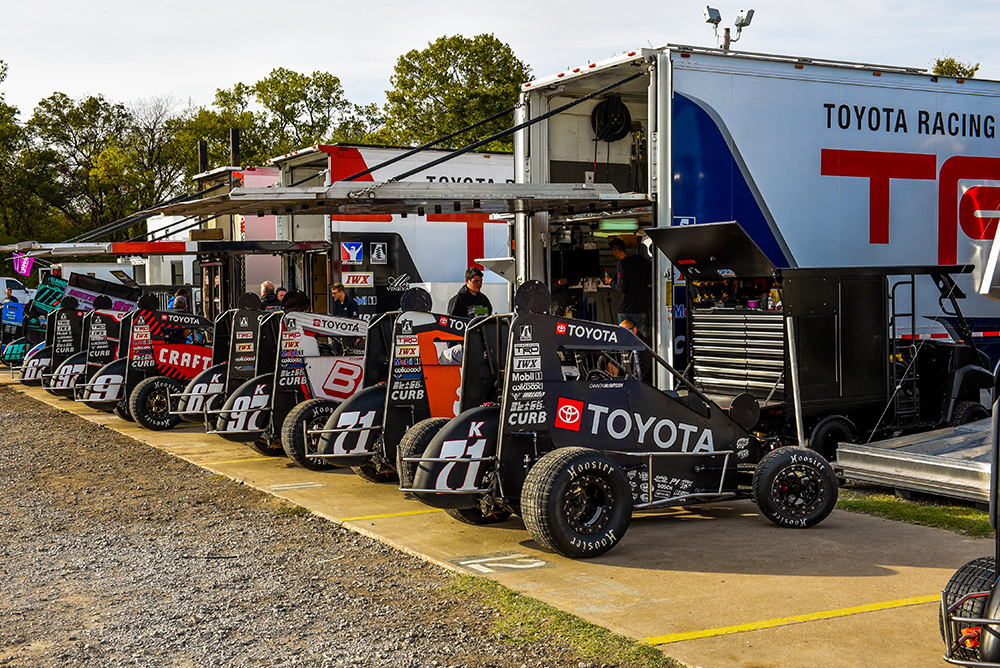 Although development is ongoing, initial testing puts the engine's output at around 915 hp and 685 lb-ft while weighing in at a few pounds lighter than the GM engine. The engine features an all-new aluminum block casting with a purpose-built aluminum head that's designed specifically for sprint car racing.
As with the Ford project, Rider said the TRD engine program is part of an effort to establish a larger footprint in sprint car racing. "TRD has been heavily involved with grassroots racing for a while now, and this is a segment that they want to be a bigger part of."
SOURCES
–