Image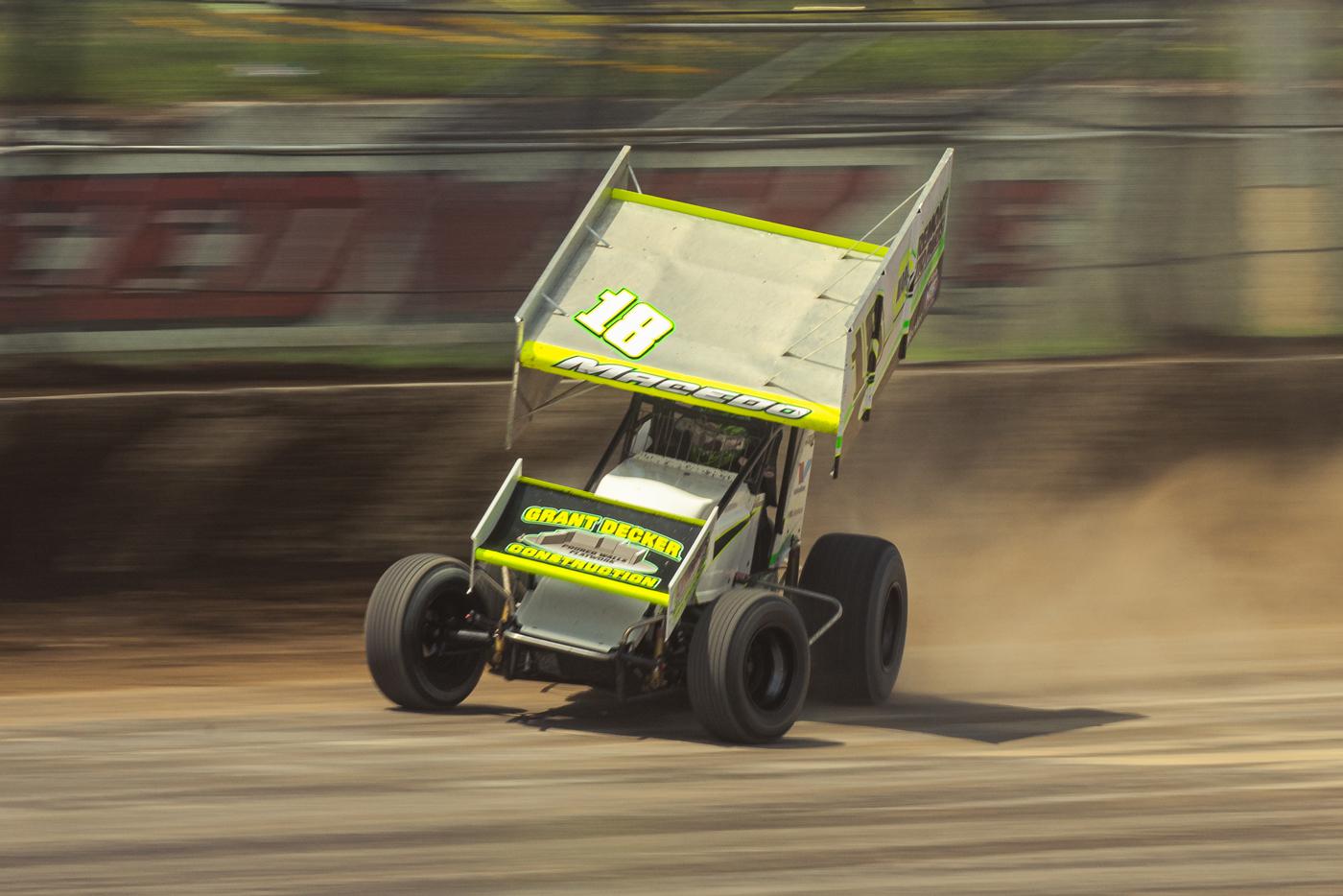 Promoters, sanctioning bodies, and racers alike are exploring options to make sure open wheel racing remains a vital and flourishing part of American motorsports.
It's a story we've heard several times, this particular version from Jerry Gappens of Eldora Speedway in Rossburg, Ohio: "In 1979, I bought a brand-new-everything, pan-to-injectors engine for the sprint car I raced in high school from Earl Gaerte for $10,000, ready to bolt in the car."
Today, a competitive sprint car engine "is in the $60,000–$65,000 range," Gappens said. "Same thing with midgets. If you want a Toyota or another front-running engine, it's going to cost $45,000–$50,000.
"It seems like technology just drives costs up," he said. "This has been part of the industry for a long time, but it seems more magnified now. It's getting up to where a sprint car or midget engine is close to what it would cost for a NASCAR Cup-series engine. It doesn't make sense why we do that to try to win a $1,500 feature on a Friday or Saturday night, or even a $3,000 or $5,000 feature. Somebody's going to have to figure out how to get their arms around it."
Getting that genie back in the bottle will be challenging, Gappens acknowledged. "Racers are going to be racers. They're going to find what Roger Penske called the 'unfair advantage,' anything you can do from a technology standpoint to make your race car go faster than the next guy's."
What, then, can be done to make sure the open wheel show goes on in the face of what seems like ever-increasing costs? 
Longtime Problem
"It's the engines, there's no doubt about it, and we've been fighting this for a long time," observed John McCoy of Knoxville Raceway, Knoxville, Iowa. There was a time, he explained, "years ago, when we would get the engine builders together at the Nationals or at the PRI Show" to discuss rising costs. "The same engine builders are around today, but there's no consensus. Nobody would agree on any one area. Everything was discussed, and everything was shot down, so it's kind of disheartening."
Still, McCoy said he's "not all negative. About seven or eight years ago we started noticing, talking to the teams, that engines were just getting better, the materials that they use in the engines was a lot better. I just heard today from a guy who has a team and builds his own engines that the blocks in the 410 world are heavier, beefier than they used to be. I've never been told that by anybody before. I think that's for the better."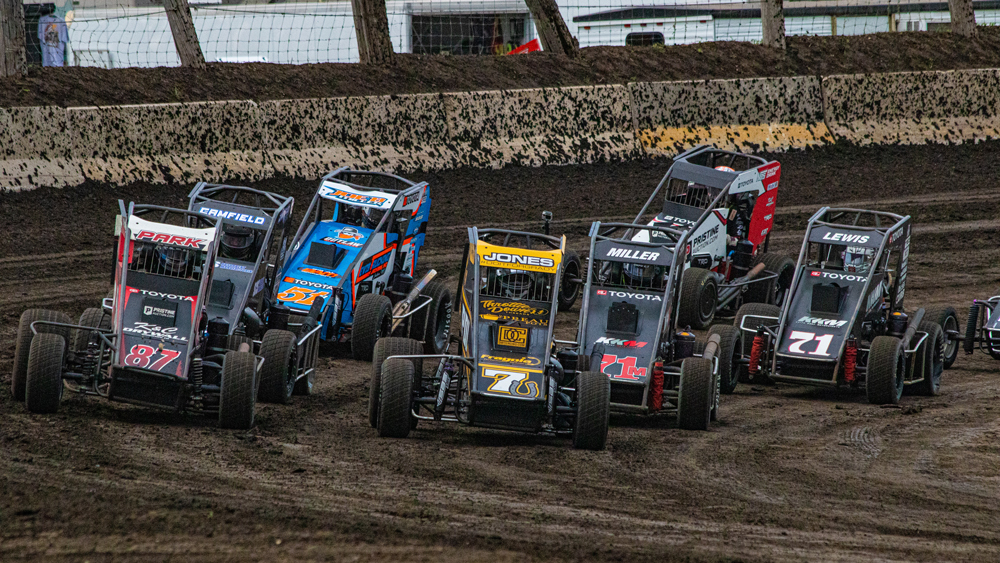 McCoy also said some of the sprint car racers running at Knoxville "have built their engines a little looser. They're not making quite as much horsepower, so they last longer."
"In midget racing 10–15 years ago we used to have four or five engine builders, and a lot of teams built their own engines," said Kenny Brown of POWRi, Belleville, Illinois. "Today, very few build their own engines, and we only have two engine builders out there right now." 
Brown recalled that "back in 2005, Esslinger had the ST motor that you could run 50 nights. The speeds of that motor were off a little bit, 10–20 mph on a bigger track, but on a short track like the Chili Bowl you couldn't tell. As a matter of fact, that's all Sammy Swindell ran was the ST short track motor and won all those races with it. We as a sanctioning body failed to hold that motor down there, failed then to limit horsepower, limit cubic inches, limit everything back then. If we could back up time, that motor would still be $25,000, and we'd have more people in the sport."
Lower-Cost Alternatives
The rising cost of racing engines isn't new, and neither are the efforts to come up with lower-cost options. 
"Here in the last few years, they've had sealed crate engines, both in sprints and in late models," said Gappens. "I think it's great to have a company like General Motors that can sell you an engine, and you just have to put a few bolt-on parts on it and drop it in the car and race. A crate engine is about $8,000; you might have to put a couple more in it, but for $10,000 you can run a crate series. Most people in the grandstands can't tell what kind of engine is in a race car when you're on any track that's a half-mile or under."
At Knoxville "we have an all-aluminum Chevy 525 class that goes within three seconds of the fastest car on the race track that night," said McCoy. "It's a great class. Other than the engine, every other rule on the car is the same." The Chevrolet Performance CT525 "is an entry-level engine, at $18,000, and we have guys who have been running them for three years. At Knoxville, that's 45 races. They don't have to do anything to them. Just change the oil, take them to the car wash, and learn how to set up their race car." The class had "20–22 cars for a couple years, and it did exactly what it was supposed to do: Six of them moved up into our 360 class." 
There are also midget racing series enjoying success with a production-based engine format. One is the USAC Midwest Thunder SpeeD2 Midget Series, based in Troy, Ohio, which arose in the wake of USAC's waning Ford Focus series in the Midwest, Greg Watson explained.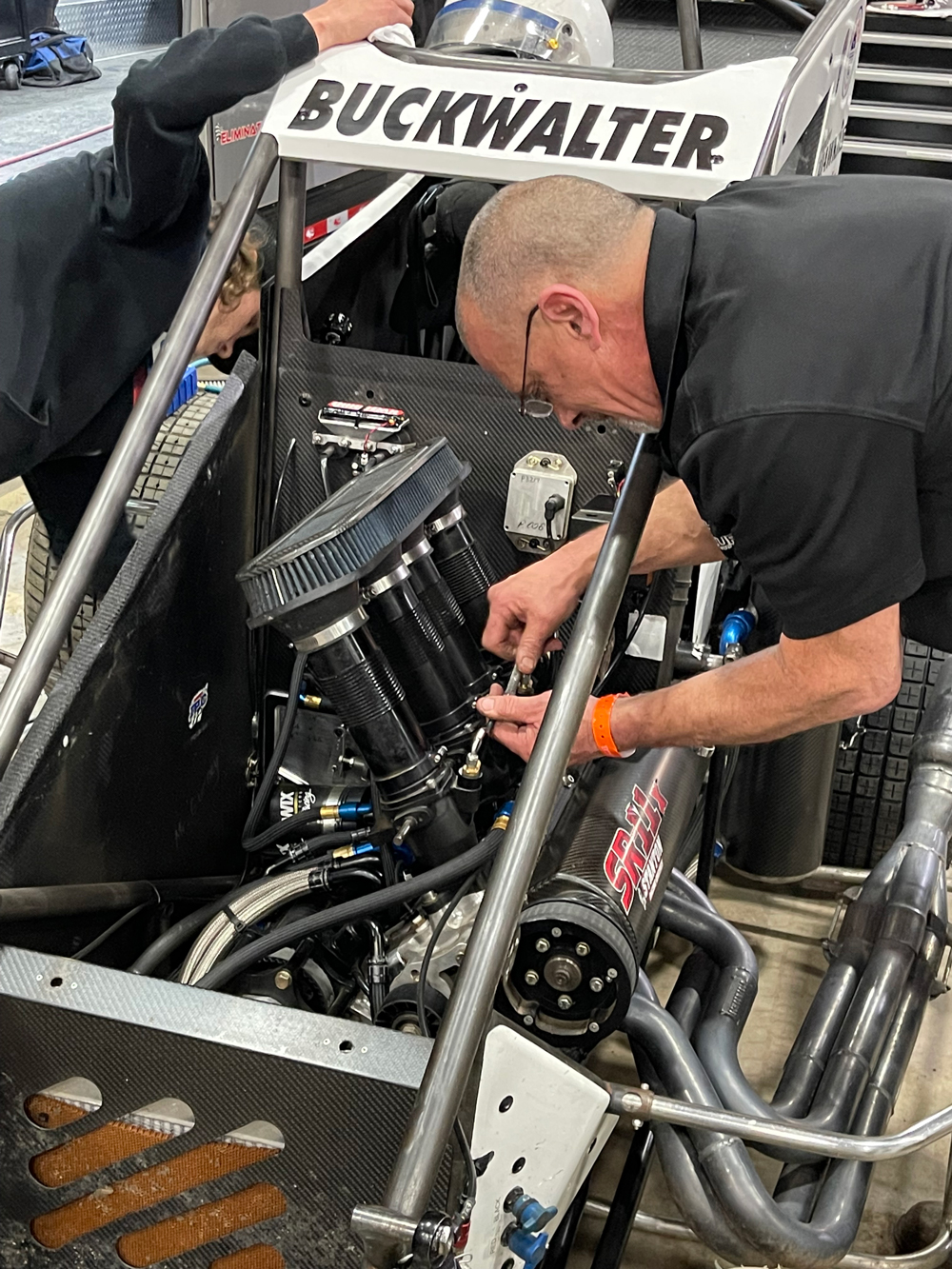 "After the 2015 season, my partner, Chuck Taylor, and I approached USAC and proposed opening the motor package rules to allow the Chevy Ecotec and Honda A24 motors, but still use the stock OEM internal guidelines that the Focus series had followed." That means "everything internally in the engine is required to be OEM parts in their original places. The intent is to have an OEM long-block you can bolt aftermarket parts to." 
Engine costs vary, depending on who's doing the building. Watson told us junkyard long-blocks can be found for as little as $600, to which a racer would add "$7,000–$8,000 of bolt-ons" such as injection, ignition, pumps, header, crank adapter, and oil pan. Remanufactured engines are available "from $2,500–$3,000. Or you can go to a number of engine builders and get a race-ready Honda or Ecotec built to comply with the series' rules for around $12,000–$14,000." 
The Midwest Thunder midgets "are slightly slower than the national cars," Watson pointed out. "They're 400 horsepower, we're 225–240, so the cars behave differently. I don't know if the casual fan picks up on it unless they see them side-by-side, but we're talking two- to three-tenths per second slower than the national cars on a quarter-mile track. But we are known for close, competitive racing, which a lot of times makes up for that slight speed differential." Car counts last year averaged 23 per race, with a high of 32. 
"These midgets are exactly the same from a chassis/body specification standpoint as national midgets," Watson said. "Somebody could buy a used national midget, and it wouldn't require anything from a fabrication standpoint to run with us. There are a lot of midgets across the country that are just sitting or only come out for the Chili Bowl. This is a way for someone to buy those cars at a reasonable price, put in an affordable engine, and go racing." 
The Badger Midget Auto Racing Association (BMARA) in Sun Prairie, Wisconsin, began as a production-engine series and transitioned into purpose-built SESCO engines. "In 2015–2016, we looked back at that production-based program, what used to work, and realized if we could utilize production engine parts, we could drastically reduce the cost of the engines," said Robbie Ray. "The predominant three engines we utilize are Honda, Chevrolet, and Mazda, all roughly 2.4 liters."
The BMARA engines "only use three parts of those engines: the engine block, crankshaft, and cylinder head," Ray said. "We allow our competitors to build their engines with performance parts to increase longevity and performance." For example, "you can do whatever you want with compression, because regardless of what style of piston you're going to put in it, you're spending about the same amount of money. Piston manufacturers don't change price based on what the compression ratio is, they only change their price based on how many you buy and what size they are. So why would we not allow the performance gain you'd get from having the domed piston for the same money? We want them to go fast. It's still auto racing, still a sport that requires fast cars, right? We want to get the most performance for the least amount of money."
Ray said a BMARA engine "costs $25,000 or less," while a rebuild is in the $3,000–$5,000 neighborhood, "so we have drastically reduced the costs" compared to the Toyota or SR11 engines used in national midget series, "and we did not reduce overall speed. We are virtually turning the exact same lap times today at Angell Park Speedway, our home track in Wisconsin, as we were turning when we were utilizing purpose-built engines." 
Car counts for BMARA events "have averaged in the mid- to upper 20s over the past three to four years," Ray said. He noted that the number of people purchasing cars has grown so much "that we've expanded to two series in 2023. We just launched a new series called MARA, the Midget Auto Racing Association, which will be based in Illinois, as a second division for the Badger Midgets." 
The American Racing Drivers Club (ARDC) changed its engine rules in 2020 to align with BMARA's production-based engines. "The cost of these OEM-based engines makes midget racing more affordable and enable others to experience just how much fun midget racing really is," said Shannon Mausteller. "The only difference between what they're doing and what we're doing is we are grandfathering in Gaerte and Fontana engines. We have a good group of members with Gaerte engines, so we're not going to get rid of them." 
Mausteller said he had a recent request from a racer who wanted to run an SR11 engine, "but I turned it down." He explained that in the past, "we had two or three racers who could afford high-dollar engines, and that cost us the guys who couldn't afford them, so we're not going down that road. 
"Racers are their own worst enemy," Mausteller continued. "When you try to control costs, there will be somebody who wants to spend more money. So it's a constant battle to appease that person and still bring in somebody who doesn't have a lot of money. I believe as a club, coming out and having a good time is a key to bringing more race cars. I don't always agree that it's a money issue." 
Not Just the Engines
Engine costs are not the only reason open wheel racing has become so expensive. 
"One of the biggest costs right now is fuel for your truck to get to the track," said Brown. "You can spend $600–$800 round trip with a toter home or a diesel truck. When fuel stays up, that makes it difficult to get to the track week in and week out."
"When the cost of gas or diesel goes up, it significantly impacts our participation," agreed Ray. To keep travel costs down for BMARA racers, "we drew a circle around our home base, and we try not to travel more than 150–200 miles beyond our home base," he said, "except maybe once a year for a special race." 
The cost—and availability—of tires is another concern. "Unfortunately, Hoosier got caught off guard," said Brown of the tire maker's pandemic-related shortages. "The cost for materials has gone up like everything else, and then there's the labor issue. It's tough to get labor to produce tires when you have companies like Amazon out there offering $20 an hour." Yet he believes "Hoosier has rebounded really well, by getting it down to one tire in sprint car and one tire in late models. We're working with them, as are all the other sanctioning bodies, to get down to one midget tire, which should be coming this year as well."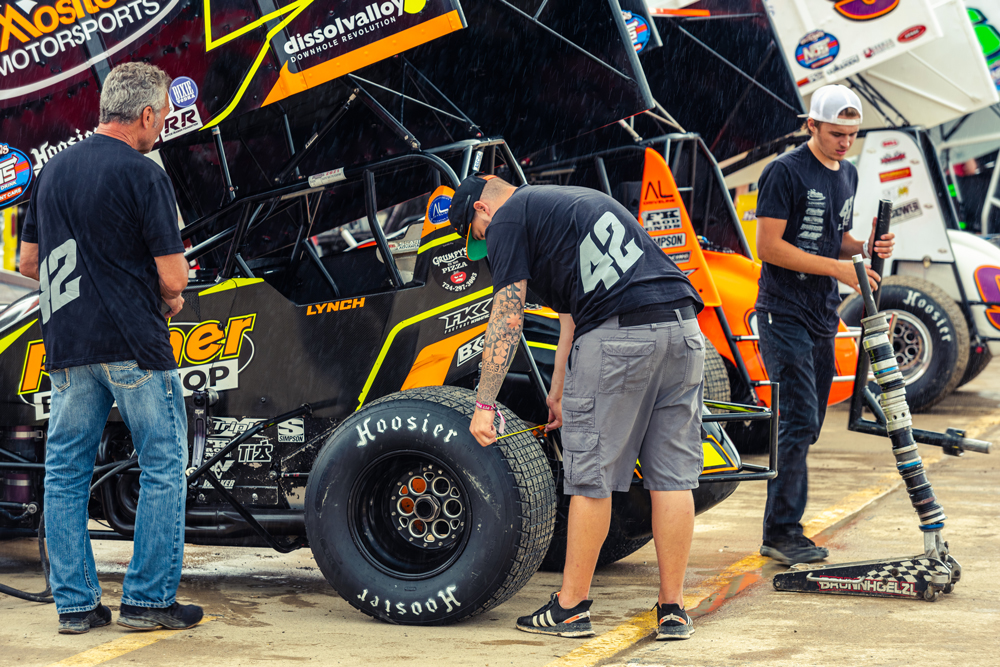 Different series have different strategies to cope with tire costs. For 2023, BMARA "is going to disallow the [Hoosier] SP2 tire that we have used previously and go to the SP3 to try to get more longevity out of the tire," Ray said. 
At ARDC, "we opened up the tire compound rule, so it's any Hoosier, no compound restrictions," Mausteller said. "We have people who have run the Chili Bowl, and they want to be able to run those tires. People have tires from other groups. That's fine, run them." 
Watson told us the Midwest Thunder Midgets worked a deal with some of the national midget teams in their area to be able to go through their discarded tires, which are often used only once, and "take what we thought we could use, and sell them to our guys." That not only significantly reduced the number of tires those national teams had to dispose of, "but a right rear tire that sells new for $250, we sell them for $50, and that $50 goes into our points fund and is returned back to our members at the end of the year. Guys might get two to three runs out of those, which is a heck of a deal. We don't prohibit new tires, but there are people winning races on those tires that we sold them for $50."
Help from the Other Side
Purses and points funds payouts are another way to help defray the costs of racing, but are they rising in line with the costs? In a few cases, yes. 
In July, Eldora Speedway will host its third Eldora Million, offering a winner's purse of $1,002,023. "This will be the first time a sprint car driver will race for a winner's check worth $1 million," said track owner Tony Stewart. 
"And it's not just a million to win, but the preliminary nights will be more inclusive to where we're going to have more features," Gappens added. "More cars will be able to run a feature and make money than a normal one-off special normally showcases." 
Gappens realizes "the bench racers will say, 'Instead of paying a million, why don't you pay $500,000 and take the other $500,000 and put it down through the field?' That would be great, and it would benefit a lot more teams, but the truth is, from a ticket selling standpoint, and to get the national attention that you need, the million dollars does that trick. If it's $500,000 or $200,000 to win, people in the industry know about it and appreciate it, but it doesn't make that spectacle. When you're going to Eldora, and it's paying a million to win, you can feel that throughout the evening. There's electricity in the air. Those people don't want to be anywhere else in the world."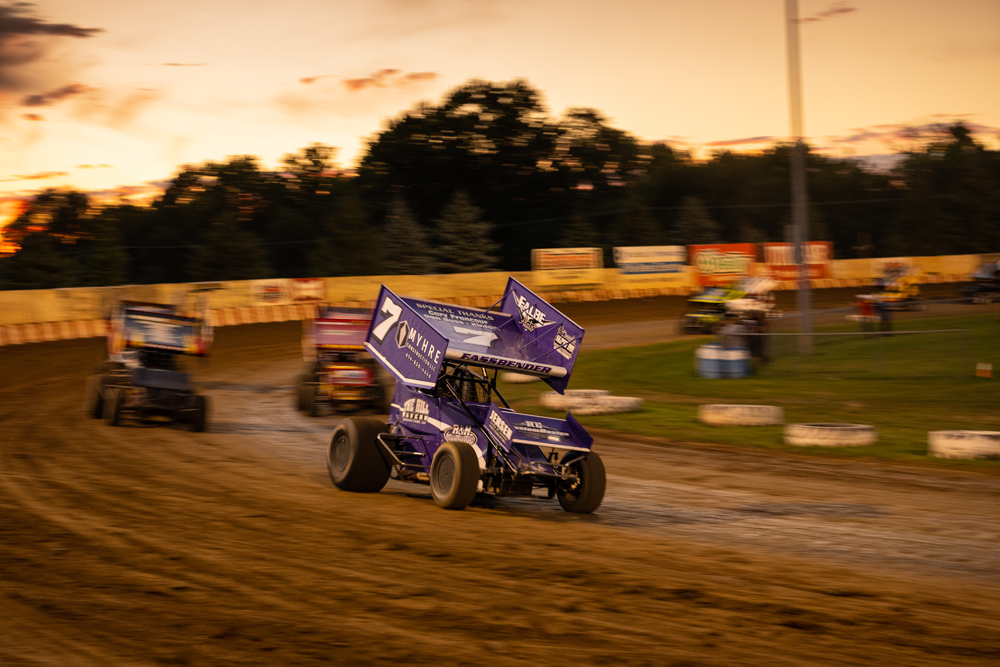 Knoxville Raceway also announced that the purse for the 2023 Knoxville Nationals/360 Nationals in August is going up. The winner's purse grows from $175,000 to $185,000, and McCoy said "we also added some money all through the features on Saturday night. Saturday night we added approximately $150,000 to the purse on the 410 Nationals. On the 360 Nationals we moved it up from $15,000 to win to $20,000 to win, plus we're doing $500 per lap. So if you were to win the race and led all 30 laps, that race would pay $35,000."
The purse increase was paid for by raising the ticket price "a little bit," McCoy said. "But all the money we raised went into that purse." 
That strategy doesn't apply just to the big-name specials. "You have to either increase the price of a ticket or increase the number of people coming to races," Ray said. "That can be extremely hard to do." BMARA is "slowly increasing our purse over time to help, but there's so much competition for the entertainment dollar today that it's very hard for promoters to raise ticket prices." 
Ray credited Gregg McKarns, the promotor of Angell Park Speedway, with doing "a fantastic job of promoting the race track and enticing people to come to the race track. He's created value packs for families, and he's done a very good job of making sure the grandstands are full of people when we go to race there." Ray acknowledged that "purses have not gone up at the rate we'd like to see them go up, but we believe over time we'll see them increase, as long as promoters stay at it and continue to increase the number of people in the stands."
Some track promoters are getting creative about how they spend—and raise—their purse money. 
"In our 410 series that we started last year, rather than putting tow money and pit passes in there for the top 10, we took all that money and put everything into the purse so it would pay good," Brown said. "For example, our wing series is $5,000 to win, $500 to start. We felt it was more important to give it back to everyone." 
"When I ran Gas City," Gappens recalled, "I did a thing called the Twin 20s, which were twin 20-lap features. I increased the pit pass by $5, but the teams were getting two purse payouts that night with no additional travel and for one admission. Fans were getting two features, and I increased the front gate $5. But then, instead of an $8,000 payday that night, there was $16,000, and everybody had a chance to race in both features. That was the first time drivers came up and said, 'Thanks for doing this. This was a good idea.'"
At Knoxville, there are two organizations that help put funds into racer payouts, McCoy said. "Our Knoxville Raceway Charitable Organization does all of our 50/50s, and every dime of it goes back to the racers. This year they bought all of them who were in our points fire bottles." 
Knoxville also has a 360 Booster Club, made up of local businesses, which augments the 360 purses. "You know, it's easier for individuals to find money sometimes from brands and fans than it is the track," McCoy said. "People think the track is going to pocket half of it, but that's not true here." McCoy said club organizer Al Dehaai "has really worked his butt off. This group is adding probably close to $2,000 to the purse every week. We immediately put it all in the races. We pay now $2,000 to win and feather it back to about half of the 410s, $600 for 10th and back to $350 to start the race. That's unheard of for any weekly 360 show, I believe. That's what you have to do—figure out other ways to get the purse."
Sources
American Racing Drivers Club (ARDC)
ardcmidget.com
Badger Midget Auto Racing Association (BMARA)
bmara.com
Eldora Speedway
eldoraspeedway.com
Knoxville Raceway
knoxvilleraceway.com
POWRi
powri.com
USAC Midwest Thunder 
SpeeD2 Midgets
facebook.com/midwestthundermidgets/