Special Report: Spheres of Influence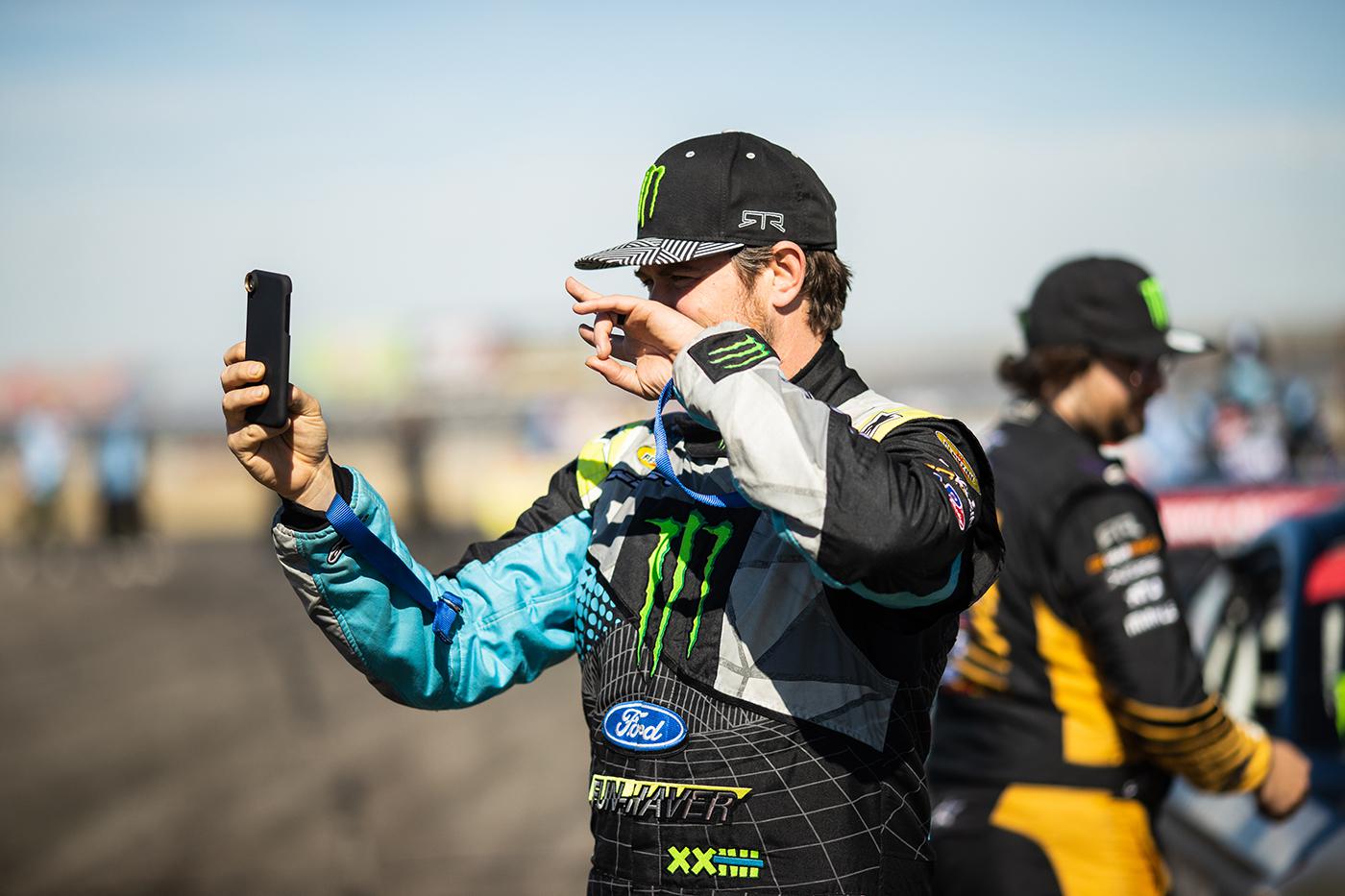 Armed with massive followings, racing and performance content creators are extending their reach from social media to the real world. So how much "influence" do they actually have?
For those of us more familiar with traditional media and marketing, social media posts by so-called "influencers" may seem like casual, even goofy, slice-of-life or behind-the-scenes photos and videos.
And compared to the more serious automotive-related content we're used to seeing in trade and enthusiast magazines, they basically are. 
But that's exactly the point. Talk to a racing-industry influencer about their relationship with their audience and words like "authentic," "relatable," "organic" and "credible" come up often. Their job is not to "push product." Instead, their influence comes from portraying a life on social media that their followers can experience vicariously online and then emulate in real life by buying the same products that the influencers use. Look more closely at an influencer's posts and the nuts-and-bolts information is often there, though in some cases it may be presented more informally than in a technical magazine article. Then again, depending on the influencer, the post may be just as technical, if not more so, than what a magazine could execute in a few pages. If a picture is worth a thousand words, the value of video with accompanying audio, produced by a likeable, knowledgeable influencer, can be exponentially greater than that.
Measuring that value, though, can be as complex as the influencer is casual. Traditional marketing terms can apply—return on investment, cost per thousand, and so on. Yet navigating the metrics of social media can be tricky, especially for those unclear on the differences between likes, reach, engagement, and other analytics. 
To get a better idea of how influencers operate, how they benefit racing, and how a company can use an influencer to promote their brand, we recently spoke with several influencers in the motorsports space, along with some of the manufacturers and marketing companies that have relationships with them, and others with a front-row view of the influencer phenomenon.
What is an Influencer?
Influencers permeate social media culture in every area of interest. In the racing industry, the role of the influencer "isn't much different than an influencer in sneaker culture or food culture," said Jim Liaw of Formula Drift, Long Beach, California. "It's someone who is relevant to the audience, someone who the audience perceives as having some expertise or some connection with that particular hobby or skillset. The reason they have such influence is because they are felt by their followers as one of them. They may be famous or well off, but they still speak and relate to them more like a peer than some formal entity trying to educate them."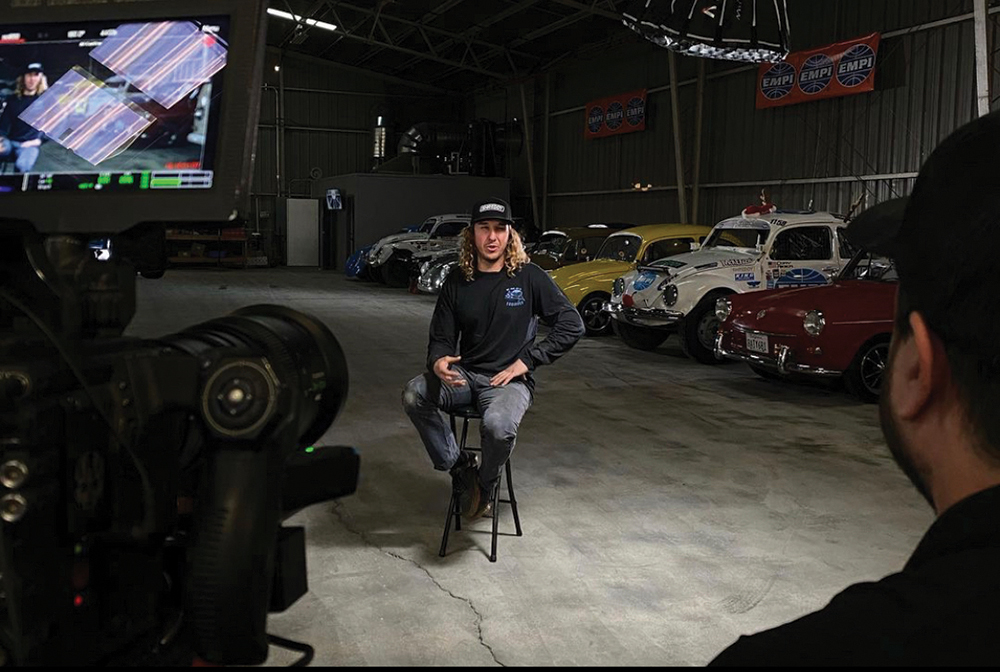 An influencer "can be anyone who produces content on a level that people pay attention to, from 1,000 to a million or two million followers," said Jesse Kiser of Earnest Marketing, Winston-Salem, North Carolina. "You'll have people who produce very general, everyman content, and people who produce very hardcore, knowledge-based content. Both types are influencers."
"What's great about working with influencers is that they have these huge followings and are in touch with their audience," said Jeanette DesJardins of Car Chix, Crestview, Florida, an organization that promotes women in motorsports. "If I'm selling a product, and I want my product to be taken in positively, I'd reach out to one of these influencers rather than running a Facebook ad. They know what their audience likes and how their audience will respond. They know how to put products and services in front of their audience without being so sales-y or pitch-y."
"I don't really like the term 'influencer,'" said Emelia Hartford, whose most recent social media posts center around her twin-turbocharged, 1,000-horsepower C8 Corvette. "I tend to refer to myself as a 'builder' and 'driver' and sometimes 'content creator.' But the term defines someone who inspires and motivates a group of people toward a cause. From a company's standpoint, it can be a voice of a brand helping connect products to consumers in a more authentic way than classical marketing. From a hobbyist standpoint, I think it's someone who motivates people to follow their passion. At the end of the day, we all are influencers. Humans tend to look to their peers for direction or validation, and I think that's really the root of how this whole influencer concept came to light."
The authenticity Hartford mentioned stems from the fact that the products being featured by an influencer are often the same ones he or she would, or has already, bought for their own car.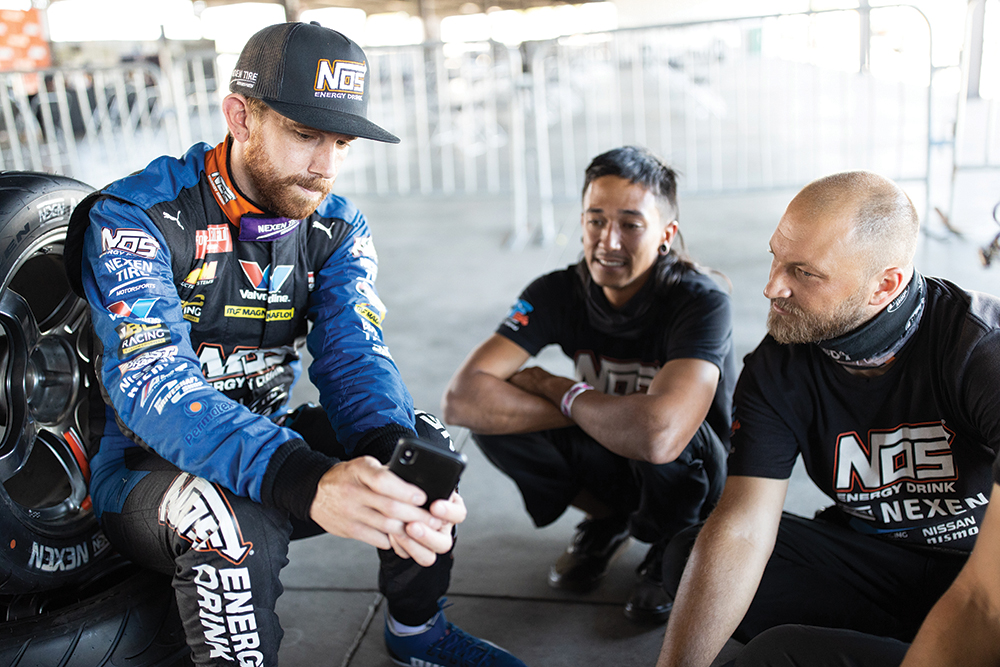 "An influencer understands the product and wants to represent the company in full fashion with a product that they would actually spend their money on," said Blake Wilkey, whose Shreddy Lyfe brand and burgeoning career as an off-road racer took off with "Urban Assault," a 2016 guerilla-style video of him blasting around San Diego, California, in a highly modified off-road buggy. "I'm not selling something I don't stand behind 100%. If I have a question about a product, I test it first. Influencers have to know the product, trust the product, and be able to provide information to the consumer, so if someone sends them a direct message they can engage and provide that information to the audience."
"Within the automotive industry, an influencer is somebody who can show the automotive lifestyle and how products and brands incorporate into it," said Alex Taylor, an influencer who first got into drag racing with her father at age 16 and campaigns Badmaro, her twin-turbocharged 1968 Camaro. In Taylor's posts and videos, "I add my personality to try to keep people entertained. It's like a TV show, but I bring in the educational side, so the company gets the information out that it wants, and people listen to it without feeling like it's an advertisement."
"Everybody wants to live a certain lifestyle, and when you can't live that lifestyle, you try to live it through other people," said Casey Currie of Currie Enterprises, Corona, California. Taylor is one of a select few influencers Currie works with. "She's passionate about racing, and old cars, all the time. She captures it in a way that makes it interesting for other people to watch."
Influencer/Racer
Taylor and Wilkey were among several influencers we contacted who are also racers. Taylor started racing first and "sort of fell into the influencer space." Wilkey has been able to parlay the driving skills on display in his videos into sanctioned off-road races, most recently at the King of the Hammers event in Johnson Valley, California, where he won the Class 11 race for stock-bodied VWs. 
"In our series it can go in two directions," Liaw said of Formula Drift. "We've had competitors who have grown in popularity and essentially went from a racer to assuming [their] role as influencer. And there are influencers who are enmeshed in car culture and want to dabble in drifting."
An example of the former is drifter Ryan Litteral, who entered the influencer field "with an accredited following, working for many years to grow a fan base based off my efforts in the motorsports field," he explained. "Competing in the top series of drifting in the world, I can showcase and present products being used at their max potential."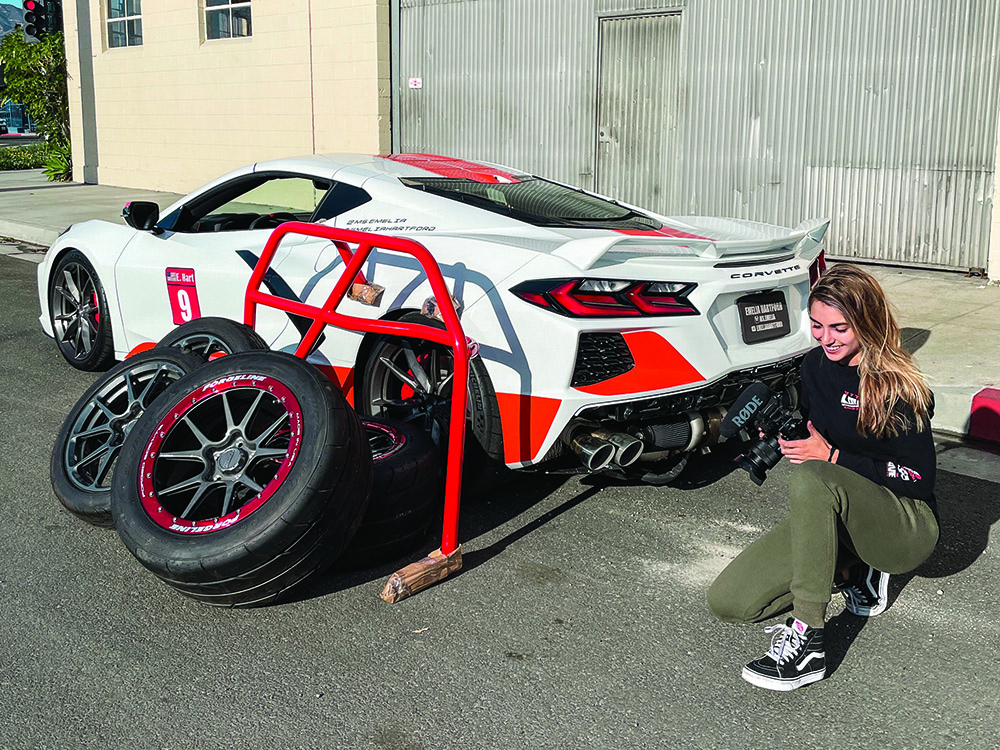 Given his double-threat marketing reach as a racer and influencer, Litteral prefers to describe his relationships with manufacturers as partnerships, not sponsorships. "When you have a partnership, not only do you sponsor me with ad space on the side of the vehicle, now you've gained a contracted employee outside of your company to spread the gospel and the knowledge of your products through social media channels and on track."
On the other side of the equation is an influencer like Adam LZ. "He is immensely popular as an influencer," Liaw said. "He builds cars, travels, talks about car culture and what he does. He got interested in drifting, started with grassroots competitions, and had the talent and ability to work his way up to our tier-one category." To Liaw, Adam LZ "has more to offer a brand partner" because "once they plug into his program, whether he's ranked third at the end of the season or thirteenth, he will still have multimillions of viewers per week."
"If we're leveraging the accomplishments of a racer on our own social media, we're not getting new eyeballs," said Chris Law of Haltech, Lexington, Kentucky. "We're just reaching people already following Haltech, reinforcing our vision with our existing audience. With an influencer, we're reaching new people who didn't understand what Haltech was before this specific influencer gave them an insight into how the customer experience is with us."
It's that reach beyond the track that gives an influencer an advantage over a non-socially engaged driver, according to Taylor. "A driver who's not using a social platform has a limited window of people who might see them at the track," she explained. "You might give out a sticker or get a mention, but it's very structured. People have to be paying attention to notice it. An influencer would use a product within their daily life. You don't just see it on the weekend at a race. You have access to these social platforms on a 24-hour basis."
"Reach is definitely different between the racer and vlog-style social media influencers," said Reggie Wynn of Turbonetics, Moorpark, California. Wynn works with several influencers, including Hartford. "Once you get started with their YouTube videos, it's almost like watching a series. You want to binge-watch them going through the whole build process, what products they're going to use, and how they got their car to that point. With a racer you don't necessarily go that deep into the process." 
Recognizing that advantage is why many racers are "building a fan base" online, Hartford said. "It is a lot of work to stay active in the digital space while honing skills on the race track. But people make decisions based on trusted information, and if that information is coming from the top expert, or their role model, they are going to trust it much more than classical marketing. Brands, especially in the automotive space, are really just starting to see how valuable that is compared to other forms of marketing."
Choosing an Influencer
"What one manufacturer is looking for in an influencer will differ from another manufacturer," said Law. "We're looking for someone who has an audience that we see as pre-qualified potential customers. We specifically want to reach the do-it-yourselfer who wants to tackle automotive modifications. And we want to stress our easily accessible technical support. It's important that the type of content that they're putting out is targeted in a way that makes sense with our target demographic and in line with the goals that we have." Litteral is one of those influencers "who fits that mold," Law said. "He's a professional-level motorsports athlete who works on his car."
Mike Hamrick at Wilwood Engineering, Camarillo, California, said his company's approach "is not about how many parts we sell working with an influencer. It's about whether the influencer can convey our message and help educate people in that marketplace. We don't want it to look like an infomercial. It's not, 'Look at these brand-new brake pads. They're the best thing ever!' It's more, 'Wilwood gave me these sets of brake pads to help me figure out what's the best to make our program work better, to make it safer for us to go faster.'"
Wilwood has been working with Wilkey since Hamrick met the influencer at the 2019 SEMA Show. "Five years ago, he was this kid down in San Diego, hooning around in a VW off-road car. Since all that happened and he got that social media influencing side to his persona, he has more followers on Instagram than Wilwood does. After meeting him I asked my son, who was 19 at the time, what he thought of Blake. He said, 'He's a cool dude, legit.' That's all I needed to know. I went back to Wilwood and said, 'We need to help this guy out, and he's going to do good things for us.' At the end of the day, he already has, and he's even buying products from us."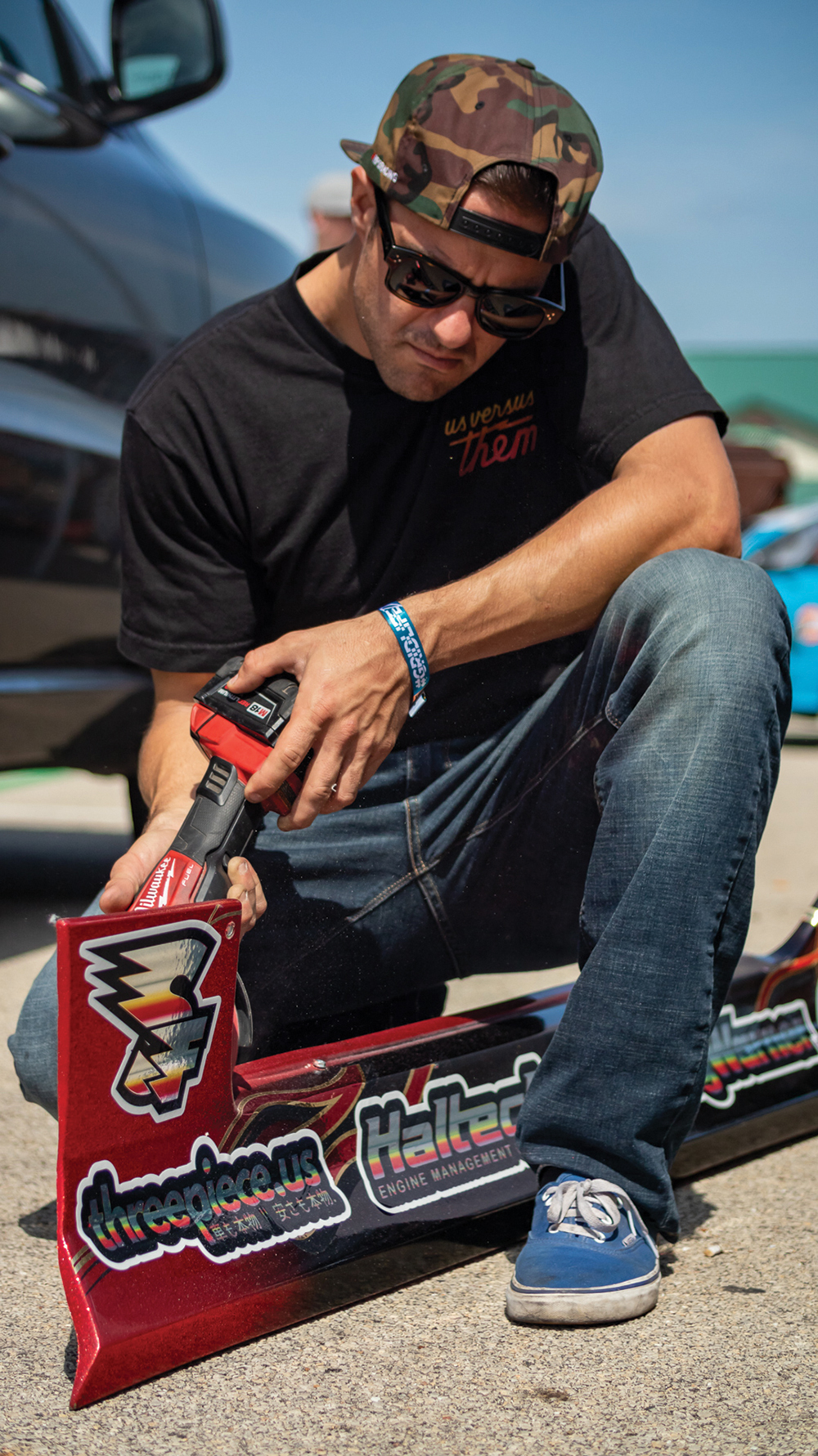 Wilkey's laid-back persona makes him relatable to his followers, but his work ethic demonstrates a level of professionalism necessary to best represent his manufacturer partners. 
"Through my daily story posts I'm just waking up early and grinding it out, day in and day out, showcasing the process it takes for my program to work, whether it's video shoots, getting cars prepped and ready to go racing, or informative techniques around the shop that can make someone's life easier," he explained. "I try to share everything and anything I can to help better the audience, keeping it as organic and real as possible so the audience can see that it's a valuable product for them to invest in if it's relatable to them."
"Businesses should look at finding influencers who are professionals, but that's actually pretty difficult," Kiser noted. "Part of an influencer's appeal is the fact that their followers think they can be their friends. The influencers are personable. They're cool. They're casual guys in T-shirts. You may not think of them as being professional, but they have to be someone who produces good, well-thought-out content to want to sponsor them."
Running the Numbers
The ubiquity of social media means researching influencers as potential partners is just a few clicks away. 
"Go on social media and see who has the biggest following," said DesJardins. "You'll find them right away by paying attention to your personal news feed and seeing what people are sharing. Search the hashtags. The people considered top posters are the people with the largest engagement. Go through their pages, not just on one platform but on all of them. See how often they're posting and see what they're posting about."
When interviewing a potential influencer, "ask to see a screen shot of their analytic data from their social media pages," she added. "You can do it from Twitter, Instagram, Facebook, and YouTube. You might be surprised. Someone could have 1,000 likes on a post, but their reach is low or down. Are they paying for their posts to be boosted? In my opinion, impressions, how many times someone sees a post, have way more value than likes."
For Currie, it's "the interaction Alex [Taylor] has with other car enthusiasts that's important, not how many followers she has or how many likes she has. Likes can be bought. To me it comes down to the interaction. They're influenced to buy their own car or buy some component that she's putting on her car."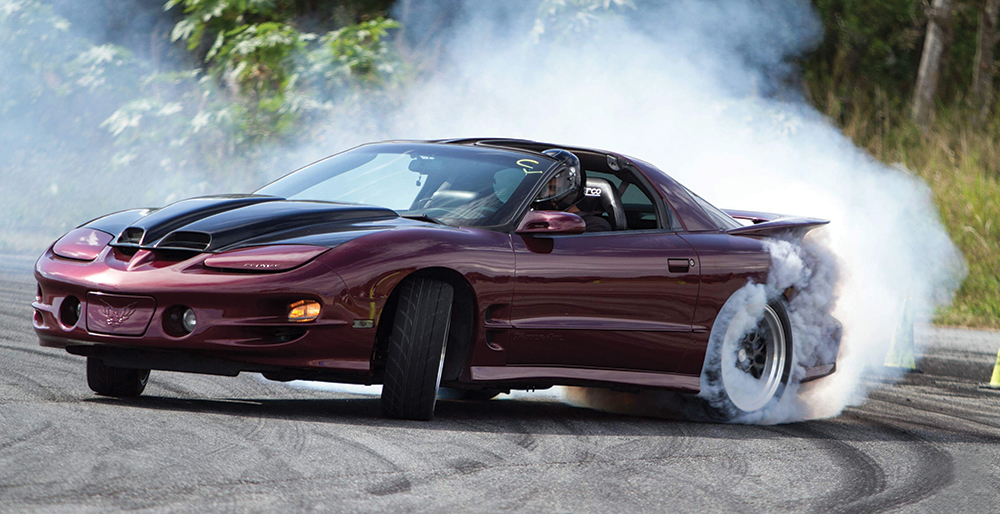 Currie's point about the number of followers an influencer may have was echoed by others. When a racing company is reviewing an influencer for a potential partnership, more emphasis should be placed on who their followers are than on how many they have. 
"I'd like as much data as an influencer can provide me," Kiser said. "They can give me a lot of actual data about who their audience is, not just the number of eyeballs. If you're going to give me an audience of 10,000 who want to buy my stuff or a million, I'm going to take the 10,000 if you can prove to me that your 10,000 align with the data I have on who's buying my product." 
That was a real-world lesson learned by Kiser. "I gave product to a guy with a million-and-a-half followers, and it did not result in one sale," he said. On the other hand, one of his clients, Tick Performance, works with a drift racer and influencer named Kenny Slides. "What he does is very much in our wheelhouse. Any time our products are on his car, they're talked about. We can see real comments, tags, messages, and sales. We get all kinds of engagement working with him. Don't always think big-time. Think where your customer is, who your customer is watching, and what they're doing." 
DesJardins had this tip about followers: "Say there are two people on one of those YouTube shows about cars. One's a guy, one's a girl. The girl more than likely will have a much bigger following than the guy, but a lot of people could be following her not because she's cool and into cars, but because she may be easy on the eyes and [they] find her entertaining. Her co-star may have a fraction of the followers, but it's likely they're all car people following that guy. 
"You have to watch the numbers," DesJardins added. "Some of these companies or influencers may be buying followers—then you have ghost followers, fake accounts that are just bots that will never do anything for you or the influencer."
Making the Deal
"Kind of old school" is how Wynn described his approach to making a deal between an influencer and Turbonetics. "We go on more of a handshake type of thing. With an influencer who has a heavy social media following, we just ask that when they do post, that they hashtag and tag us in the product."
"To me it's a casual deal," Currie told us. "If we know we can fulfill a need, if you have more horsepower or bigger tires than a stock rearend can handle, come to us and we'll get you squared away. It comes down to personal relationships." 
Currie admitted, though, to being "careful with who we work with. We keep the circle tight. We don't go out there and do a lot with influencers. We work with higher-end influencers who we feel are strong for our brand, and who will do a good job for our brand."
"It's almost like hiring a person," said Kiser. "Look at their character. Can I trust them? You do that by looking at their content, at how they handle their proposal, how they give you content, how they ask for things, what they're willing to offer. The more specific an influencer can be, the more specific the conversation can be."
Any relationship with an influencer should start with both sides agreeing on the partnership's goals, Taylor said. "Get everybody on the same page. Is this about reach? Sales? Decide on that beforehand so you can tailor the content to fit that. Then I go back and forth with the companies to make sure we are on target."
At Haltech, "we have a semi-formal contract procedure that outlines expectations of both parties, what we're expecting in exchange for product or monetary sponsorship," said Law. "For an influencer it's a little more open-ended than for a sponsored racer. We want them to have the freedom to create the content they have been creating, but there are some limitations placed on how they present the product. We ask in contract that they don't sugar-coat anything with the installation process. We want them to show reaching out for technical support when and if they need it."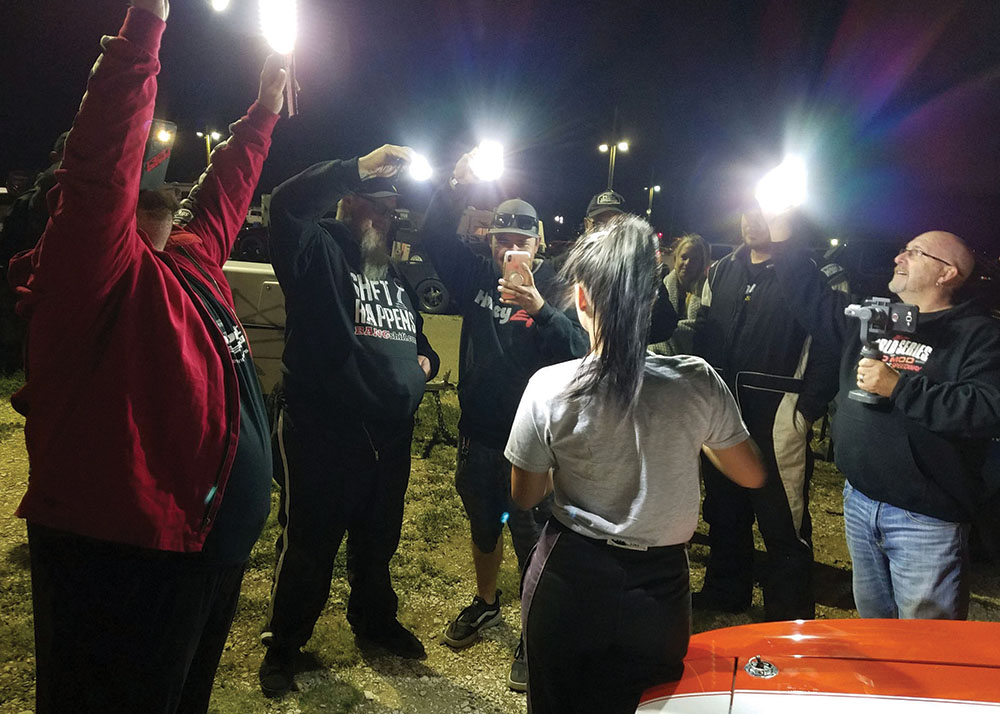 The contract also specifies, though, that "the image of the product should always be held in highest regard," Law added. "They should always be looking at what the end user thinks of the product before publishing content they're creating." That stipulation was added to the contract after a situation where an influencer "had an issue with a product, and he used a click-bait-y title that made it seem like the product had done damage to the vehicle," Law explained. "It hadn't, but it got them some engagement, which is what they were after." Worse, there were "quite a few comments in the comments section that blamed the product we had supplied to the influencer, even though they had explained in the content that it was their fault. The damage was done, and they didn't do enough to mitigate that."
Whether it's done with a handshake or a formal contract, compensation for an influencer often consists of parts donations or partial sponsorship of parts. 
For Kiser, payment boils down to "cost versus reward. If we're sponsoring an influencer with a $7,000 transmission, that is a very different discussion than if an influencer wants a camshaft for a couple hundred bucks. We would need a lot of content for that transmission."
An influencer who is also a professional racer, however, will require monetary compensation. "Race programs don't run on product, especially year in and year out," Law said. 
"If you want to work with Steph Papadakis or with Vaughn Gittin Jr., these are the top accredited teams, but they have seven-figure budgets, so you have to pay to play," Litteral said. "A company might be able to get more for their dollar working with a privateer team that's up-and-coming. Someone like me, in terms of justifying the spend, we're able to provide all our impressions and engagements. Due to our CPM (cost per thousand impressions) value, I think we give a lot of return for what we are requesting on the initial investment from a company." 
"You don't always need a lot of money to work with an influencer," Kiser pointed out. "If you give an influencer something they can't get on their own—time, resources, convenience—they should be able to work with you."
Ultimate Goal
"Here's the biggest thing companies need to understand," Litteral said. "I can give you everything in the world. I can give you all the high-gloss shots and rad camera footage. But if you don't take that into your own hands to use for your own brand and market it effectively between the sales team and marketing department for things outside of what we are directly doing, then you're wasting your time."
It's those things "outside of what we are doing" that are key to maximizing an influencer's reach, Litteral said. "We want to hit a new demographic. That's the biggest thing. Look at skateboarding. Why is skateboarding successful? Because anybody can buy a $100 skateboard. They have a professional side to it, and they have a street side to it. Ball sports are the same way. It's a very obtainable thing and a very cool thing. 
"Well, everybody drives a car," he continued. "So how do we meet new customers, get more people aware and involved? How do we correlate what we do into everyday life? How does it pertain to the layman? Say you have really cool wheels, you showcase that. Or a shift knob, or aesthetic parts, or ECUs that get better gas mileage. Show people they are cool, so they want to put them on their car. I think that's the ultimate goal here. Sell more product and make more money. We have to think bigger, make it bigger." 
SOURCES
–
Car Chix
carchix.com
Currie Enterprises
currieenterprises.com
Earnest Marketing
earnestmarketingnc.com
Formula Drift
formulad.com
Haltech
haltech.com
Emelia Hartford
emeliahartford.com
instragram.com/ms.emelia
Ryan Litteral
instagram.com/ryanlitteral
Alex Taylor
alextaylorracing.com
instagram.com/alextaylorracing
Turbonetics
turboneticsinc.com
Blake Wilkey
shreddylyfe.com
instagram.com/blakewilkey357
Wilwood Engineering
wilwood.com