Image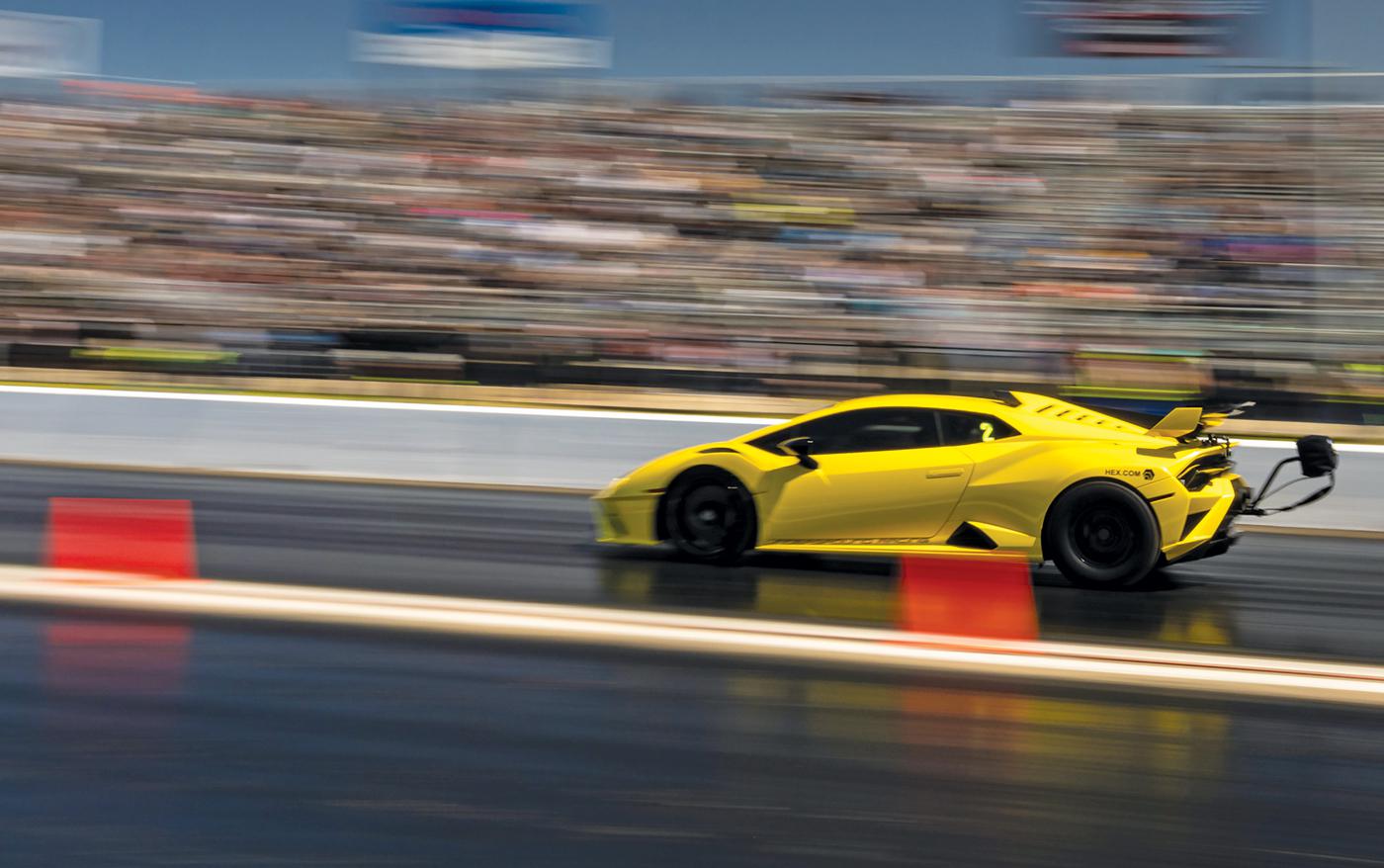 Big power and minimal restrictions equate to some seriously fast machines in half-mile and roll racing.
Over the past few years, half-mile and roll racing have carved out their own niches in the world of drag racing. While both have roots in illicit street events, organizers like Shift-S3ctor and TX2K have made significant strides in their quests to legitimize these unique formats while also making them safer and more accessible.
Both half-mile and roll racing tend to attract competitors with production-based, street-driven vehicles. With minimal rules outside of safety equipment, the appeal tends to be less about perfecting technique and more about discovering what man and machine are capable of when unburdened by conventional track lengths and sanctioning body mandates. That means the shops that support half-mile and roll racing are tuning for power, stability, and above all else, outright speed.
Gintani
Alex Marukian of Gintani in Van Nuys, California, said that late-model sports cars like the Chevrolet Corvette, Porsche 911, Nissan GT-R, Audi R8, and Lamborghini Huracán tend to be common sights at these events. While some competitors show up with cars that are essentially showroom stock, those who are pushing the envelope are typically working with horsepower levels that can push these cars beyond 200 miles per hour before the end of a pass.
"Because of the power we're making, the fastest cars tend to be all-wheel drive," Marukian explained. "And because of the speeds that these cars are hitting at the top end, tire choice is also really important. If you try to use a big drag radial, it can get pretty sketchy at the top end." Instead, Marukian said competitors tend to gravitate toward DOT-legal road course tires like the Toyo Proxes R888 for a better balance of grip and high-speed stability.
He cited the shop's recent Lamborghini Huracán EVO build as an example of how purpose-built half-mile and roll racing cars tend to differ from traditional drag racing builds. Outfitted from the factory with a naturally aspirated 5.2-liter V10 making more than 630 horsepower, a stout dual-clutch gearbox, and an all-wheel-drive system that was developed to tolerate repeated hard launches—along with aerodynamics and suspension systems that were developed specifically for high-speed stability—the platform is ideal for this type of racing. But for shops like Gintani, it's just a good place to start.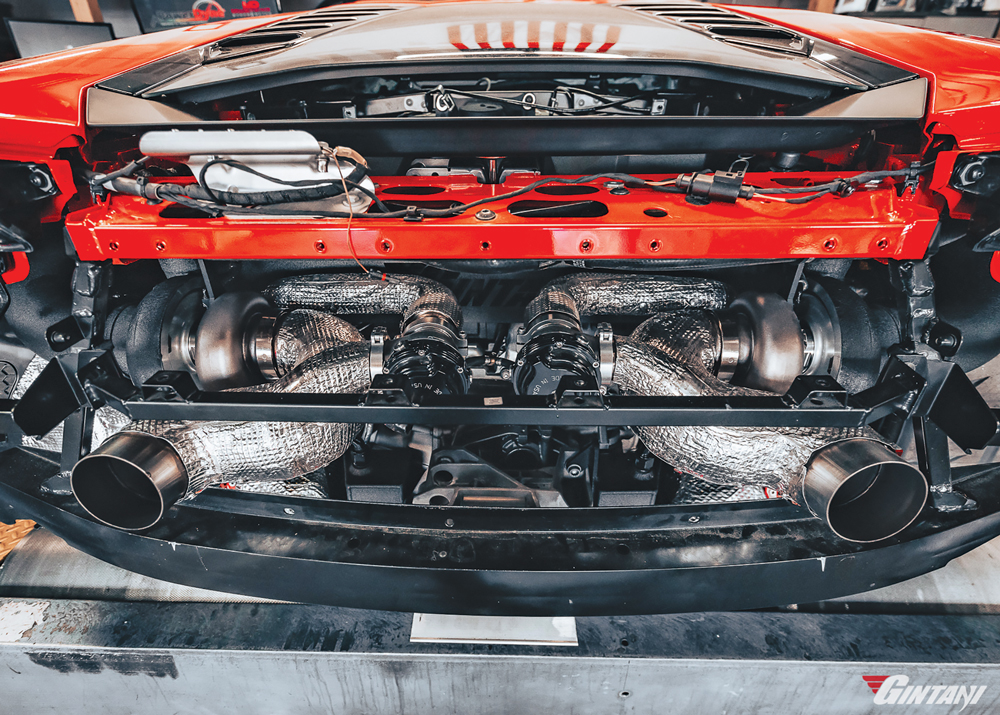 Now packing a pair of turbochargers, the V10 is churning out upwards of 1,600 hp while retaining the stock bottom end, a combination that helped catapult the car to a record-setting 220-mph run in the standing half-mile last year. While Gintani offers factory ECU tuning for vehicles like the Huracán and other platforms, Marukian said that bigger builds tend to move over to standalone systems from companies like MoTeC and Syvecs. "That adds features like anti-lag, boost-by-gear, and full traction control adjustability."
He also noted that due to the nature of half-mile racing, which sees these cars operating at wide-open throttle for a significantly longer period of time than in quarter-mile drag racing, the shop tends to focus less on big dyno numbers and more on overall efficiency. "It's fairly easy to strap the car on the dyno and get that 1,600 wheel hp number on a glory pull. Heat soak is the biggest challenge here, so what's important to us is making sure that we're maintaining that 1,600 whp all the way through the half-mile."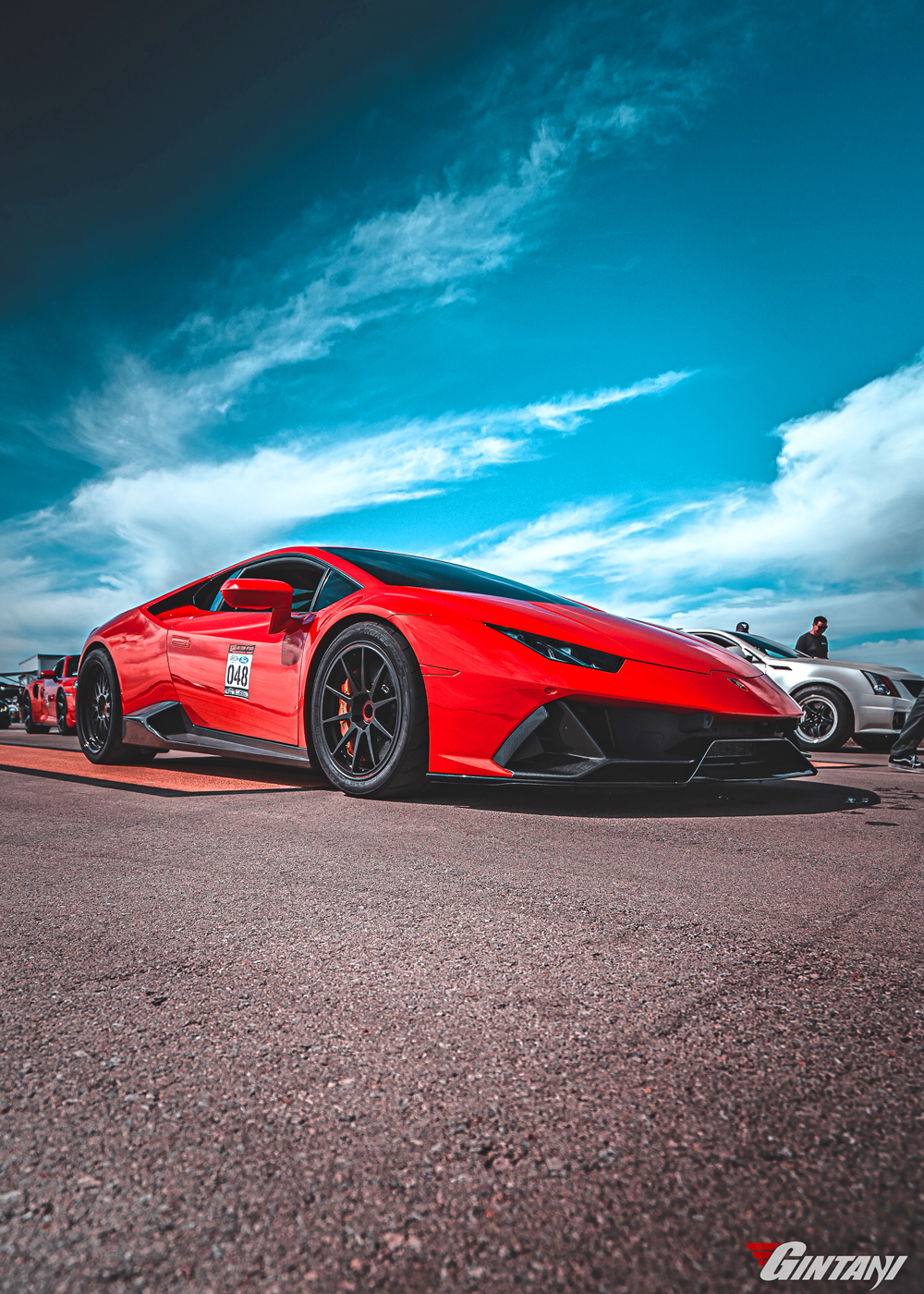 To get that consistency, Gintani uses bigger turbos than are required to reach a specific horsepower number, and they are paired with oversized intercoolers to keep temperatures in check throughout the run. "When you go to these events, you'll see people constantly going into the pits and swapping out ice packs," Marukian explained. "We don't use ice tanks. Instead, we run the freon from the air conditioning system through a water tank. When people are sitting there in the staging lanes with their cars shut off so the ice doesn't melt, we're enjoying the AC in our car, and the water going through the system is still freezing cold."
Vengeance Racing
"When half-mile first started, it was purely street cars going out on abandoned runways to see how fast they could go, and the speeds were maybe 150–160 mph," said Ron Mowen of Vengeance Racing, Cumming, Georgia. "But as the sport gained popularity, we started seeing people coming out with more purpose-built cars with aero and gearing that had been dialed in for half-mile. Now at pretty much any event you'll see Corvettes, Mustangs, and Vipers with 2,000 or 3,000 hp, and cars cracking the 250-mph barrier. We've even seen a Pro Mod out there."
But maximum horsepower and sheer velocity aren't always the name of the game. With builds like Vengeance Racing's own C5 Corvette Z06, the target has been a bit more specific. "We've been campaigning that car since about 2008," Mowen explained. "It started by just putting a big naturally aspirated motor in it. We really didn't know what to do with the car at that point, so we decided to take it out to a half-mile event, and we ended up winning the naturally aspirated class." The build has evolved significantly in the years since, and the team is currently gunning for 200 mph in the half-mile without the aid of any power adders.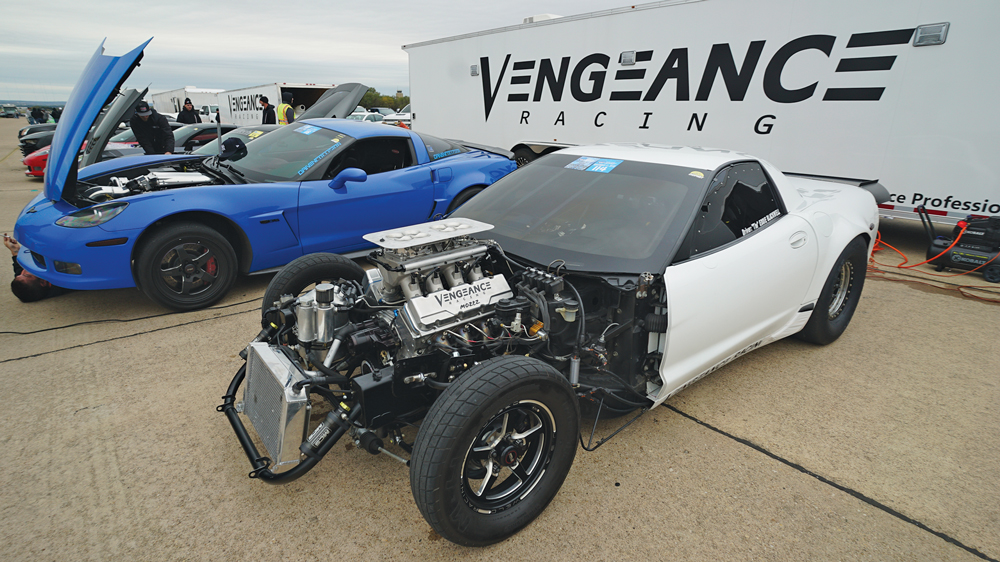 To get there, Vengeance Racing equipped the Z06 with a 451-cubic-inch LS engine that Mowen described as a "miniature Pro Stock motor." The combination consists of a filled LSR block with aluminum rods, Mozez canted valve heads, and a valvetrain that was designed to keep the motor happy at 10,000 rpm. The result is an NA motor that dishes out 1,140 hp. With the help of a six-speed sequential gearbox, significant weight reduction, and other strategic upgrades, it has propelled the Z06 to 199.7 mph on three separate occasions.
Despite not quite hitting the goal yet, Mowen said this Z06 is by far the fastest naturally aspirated LS-powered car being used for this type of racing. "Moving to the sequential transmission allowed us to pick up some pretty substantial mph," he added. "It has a sixth gear 1:1 instead of fourth gear being 1:1, so we're able to keep the engine revs within 500 rpm of peak power at all times."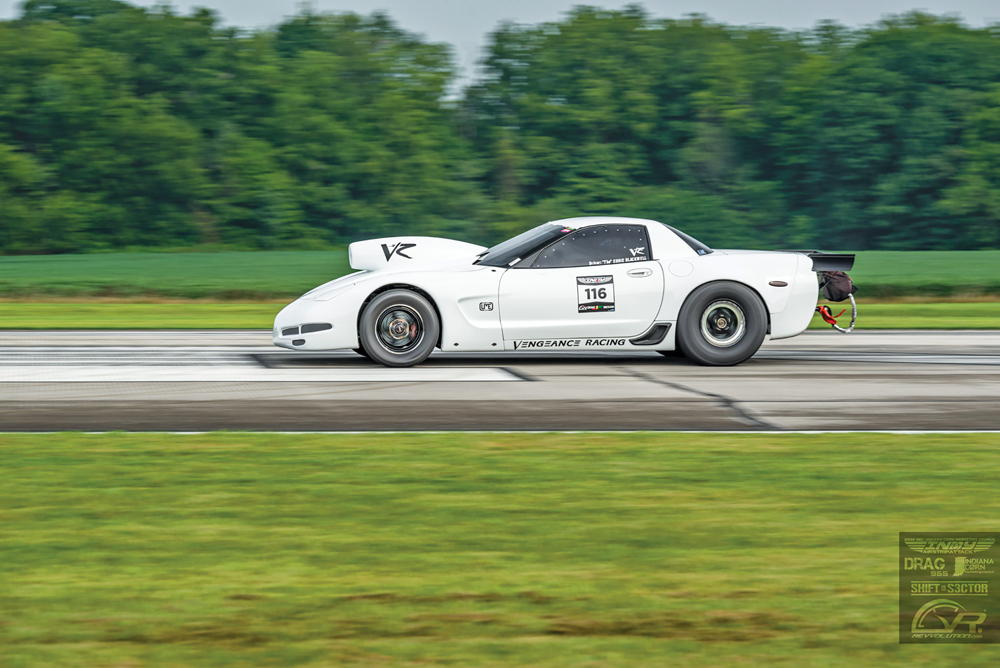 A single-piece front end makes maintenance easier while also removing some pounds, and a drag wing is installed out back to keep the rear stable at high speeds. "In terms of aero, ideally you want to block off as much of the nose as you can to prevent air from getting into the engine bay without a place to escape, because that will create a lot of drag on the car," he said. "Some folks will also remove their mirrors and tape up hood and fender gaps with racer's tape to make the car as slippery as possible. If you have an intercooler and you have to let some airflow in up front, you want to make sure there's a way for that air to escape from the engine bay in order to minimize that drag."
The C5 is also equipped with a full rollcage, racing seats, harnesses, and a fire suppression system. "Shift S3ctor is one of the more popular half-mile event organizers out there, and it does require safety equipment based on your speeds," Mowen said. "At 150 mph, it's pretty basic stuff—long sleeves, pants, and a Snell-approved helmet that's in accordance with current regulations. When you get up to 180 mph, you're in a fire suit, you must have a rollbar—similar to the things you'd expect to see in a 10-second car at an NHRA event. But, outside of that, we've taken additional steps on our own that go beyond what's required. We were racing at another organizer's event several years ago and a racer was killed, so we implemented our own safety standards at that point. Anyone who races under our umbrella with our support is required to have a harness bar with safety harnesses, a full fire suit, a Snell-approved helmet and a HANS device, and fire suppression at a minimum."
English Racing
Considering the array of high-buck exotics that normally attend half-mile and roll race events, it can be tough for a team to really stand out in the crowd, but English Racing in Camas, Washington, manages to turn heads wherever it competes.
"When I first started campaigning this car, it was like, 'What's going to happen at 200 mph in an Acura Integra? Probably a lot of things,'" said Myles Kerr with a laugh. "So we started out slow. At the first half-mile event we went to with it, I think I only did 160 mph."
Hitting 160 mph in a standing half-mile in a third-generation Integra is still pretty impressive in its own right, but these days the Acura regularly shames all manner of hardcore sports cars, having gone as fast as 216 mph at an event in 2021. "When we started moving in this direction with the build, it was a 700-hp street car. Sort of a weekend toy—there was no aero on it or anything like that."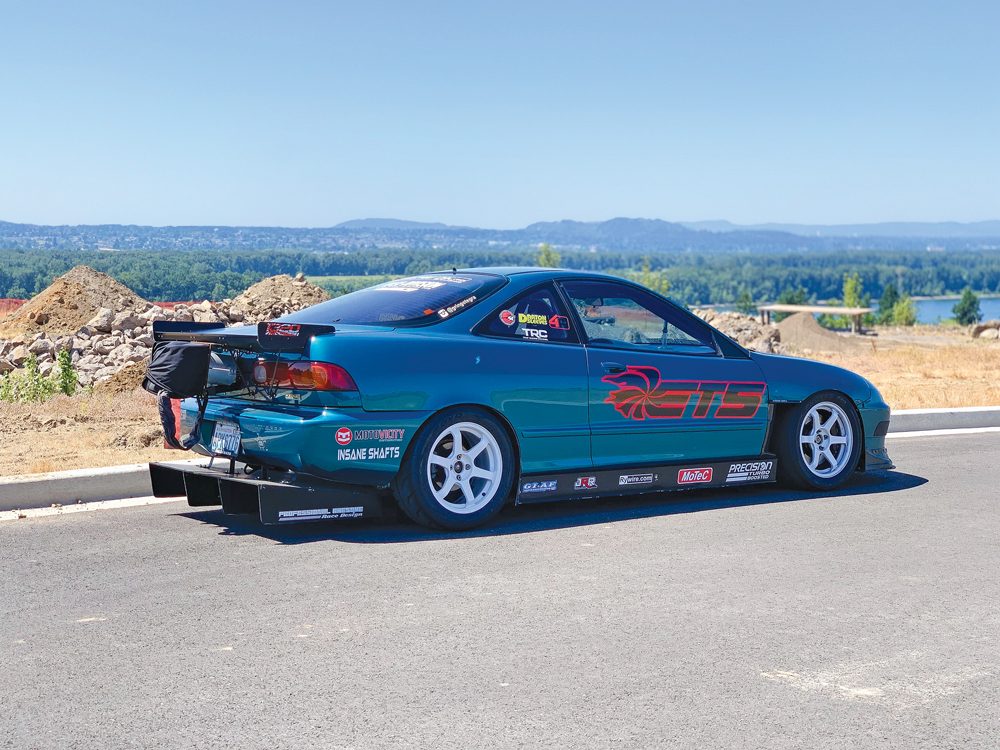 These days the Integra is dishing out in excess of 1,400 hp thanks to its four-cylinder, 1.9-liter GSR powerplant, which has been outfitted with Darton sleeves, BME rods and pistons, a ported head, cams and valvetrain upgrades from GSC Power Division, and a Precision Next Gen 7685 turbo that's running roughly 70 pounds of boost.
Although it's a front-wheel-drive platform, the Integra now puts power down to all four corners by way of a five-speed manual transmission out of a Honda CRV that has been upgraded with a billet bellhousing and a billet transfer case (along with other strengthening measures), as well as the rear differential from a 1990s Honda Civic wagon, a model that was available with factory four-wheel drive.
"Previously it would have required fabrication to make this all work," Kerr added. "But a lot of people are starting to race these cars in the drag world, so manufacturers are starting to make parts for this conversion—it's basically a kit now." To hold all the power, the Integra is also outfitted with a two-piece carbon driveshaft from Driveshaft Shop, along with upgraded front and rear axles.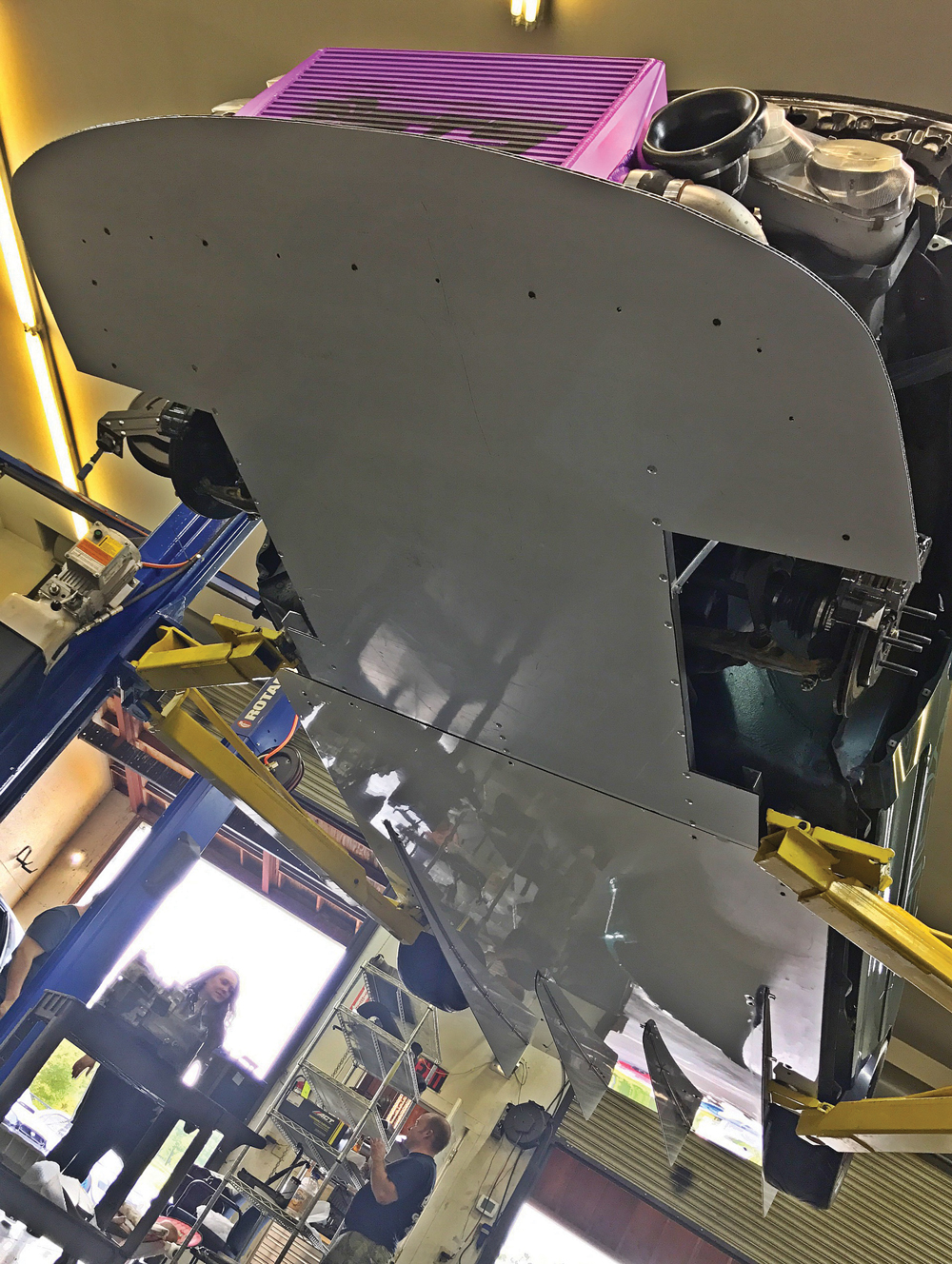 Making the power and putting it to the ground were only part of the equation, though. "Early on with half-mile stuff, I noticed that the car would start to wander from side-to-side across the track at about 170 mph," Kerr said. "It was clear that we needed to do some aero work." The team put together a front splitter and flat-bottomed the car before later adding a rear diffuser and a rear wing with a wicker bill to complete the package, upgrades that immediately improved high-speed stability. But without the benefit of wind tunnel testing, Kerr said that a lot of it came down to trial and error.
"I learned the hard way that I needed a hood vent, too," he added. "When I first built the front splitter I had a big opening in the front bumper from the intercooler. The first pass was over 180 mph and it blew the splitter off. My fix at the time was cutting a hole in the hood to let air out of it. But, when air comes in it must find a way out!"
Carrying speeds far beyond what the factory ever expected for the platform with much more downforce, the suspension needed to be stiffened in order to prevent the car from squatting to the bump stops at speed, too. The car is currently equipped with a set of coilovers with 1,200-pound spring rates up front and 1,000-pound rates in the rear to firm things up at speed. Shock position sensors also allow the team to review data after a run to see how the system is reacting to adjustments.
Kerr noted that English Racing provides full track support for its customers, a service that includes the maintenance and data analysis required to eke every last ounce of performance out of their cars. "If you're doing 210 or 220 mph in the half-mile, stuff is going to need to be looked at between rounds. At a certain point, these cars really need a team behind them rather than just an individual."
SOURCES
English Racing
englishracing.net
Gintani
gintani.com
Vengeance Racing
vengeanceracing.net